Actor James Woods Gloats Over Death Of Random Twitter Troll He Sued To Unmask [Updated]
from the stay-classy dept
See the update at the end...
by Mike Masnick
October 21, 2016
NOTICE: THIS WORK MAY BE PROTECTED BY COPYRIGHT
YOU ARE REQUIRED TO READ

THE COPYRIGHT NOTICE AT THIS LINK

BEFORE YOU READ THE FOLLOWING WORK, THAT IS AVAILABLE SOLELY FOR PRIVATE STUDY, SCHOLARSHIP OR RESEARCH PURSUANT TO 17 U.S.C. SECTION 107 AND 108. IN THE EVENT THAT THE LIBRARY DETERMINES THAT UNLAWFUL COPYING OF THIS WORK HAS OCCURRED, THE LIBRARY HAS THE RIGHT TO BLOCK THE I.P. ADDRESS AT WHICH THE UNLAWFUL COPYING APPEARED TO HAVE OCCURRED. THANK YOU FOR RESPECTING THE RIGHTS OF COPYRIGHT OWNERS.
Actor James Woods is an asshole. Let's just put that front and center.
As you may recall, a little over a year ago,
Woods sued a random Twitter user who went by the pseudonym "Abe List." "List" frequently mocked Woods, including calling him "clown-boy" and a "cocaine addict." Woods then sued for defamation, demanding $10 million, and tried to unmask List.
This was
ridiculous for any number of reasons, not the least of which is calling much more attention to what a thin-skinned jackass Woods is from anonymous Twitter users.
But, more importantly, such
hyperbolic statements in an internet forum are not defamation -- rhetorical hyperbole certainly doesn't meet the standard for defamation of a public figure. On top of that, trying to unmask an anonymous speaker is really, really sketchy, and there's a very high bar.
Oh, and did we mention that Woods himself has a long history of similar rhetorical hyperbole on Twitter, including making statements about others smoking crack?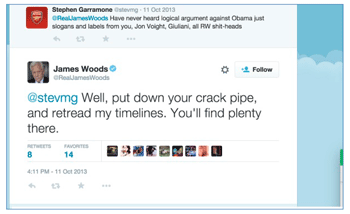 James Woods @RealJamesWoods
@stevmg Well, put down your crack pipe, and retread my timelines. You'll find plenty there.
11 Oct 2013
California, of course, has a strong anti-SLAPP law, and Abe List, with the help of lawyers Lisa Bloom and Ken "Popehat" White, sought to use it to get the case kicked out. While the judge initially agreed that Woods' lawsuit was a SLAPP suit, he eventually changed his mind, and said that Woods could find out who Abe List really is. List appealed to California's 2nd District Court of Appeal soon after that ruling earlier this year. Since then the case had moved forward with both sides filing opening briefs.
However, apparently "List" just died. There are no details, but List passed away -- and with it, the case is over.
The court docket shows that on Thursday, his lawyers filed for the case to be dismissed based on List's death and the court quickly dismissed the case and closed it. No matter what you think of anything, this is not a great situation. Someone died.
And total asshole James Woods decided to not just gloat about it, but to rub everyone's face in it. First, he pretended that the dismissal was because he was going to win the case: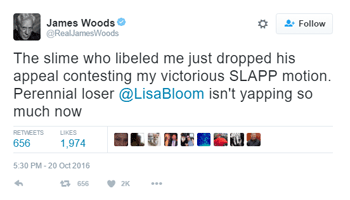 James Woods @RealJamesWoods


The slime who libeled me just dropped his appeal contesting my victorious SLAPP motion. Perennial loser @LisaBloom isn't yapping so much now


20 Oct. 2016
That's so obnoxious
that you might even overlook the fact that Woods here flat out admits he filed a SLAPP lawsuit.
Bloom, quite reasonably offended, pointed out that her pseudononymous client had died and it's pretty obnoxious to gloat over a default victory like that.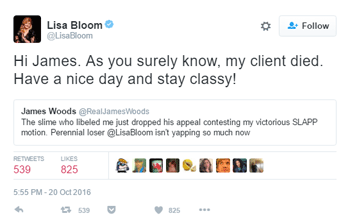 Lisa Bloom @LisaBloom
Hi James. As you surely know, my client died. Have a nice day and stay classy!
20 Oct 2016
Just to put an exclamation point on what a total and complete jackass he is, Woods
responded to others pointing out that the client died by gleefully celebrating his death and hoping it was "in agony."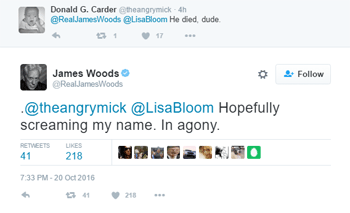 James Woods @RealJamesWoods
@theangrymick @LisaBloom Hopefully screaming my name. In agony.
20 Oct 2016
He doubled down on that
with another person, talking about how he'll follow people "to the bowels of hell."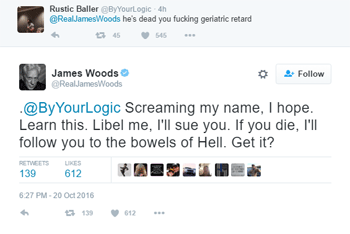 James Woods @RealJamesWoods
@ByYourLogic Screaming my name, I hope. Learn this. Libel me, I'll sue you. If you die, I'll follow you to the bowels of Hell. Get it?
20 Oct. 2016
That's sickening. Like, literally. I feel ill. What kind of person would celebrate anyone's death? Even someone they dislike? I have no idea if James Woods is a "cocaine addict" but he sure is an extreme asshole.

Oh, and kinda creepy too.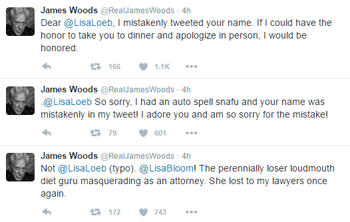 James Woods @RealJamesWoods
Dear @LisaLoeb. I mistakenly tweeted your name. If I could have the honor to take you to dinner and apologize in person, I would be honored.
James Woods @RealJamesWoods
@LisaLoeb So sorry, I had an auto spell snafu and your name was mistakenly in my tweet! I adore you and am so sorry for the mistake!
James Woods @RealJamesWoods
Not @LisaLoeb (typo) @LisaBloom! The perennially loser loudmouth diet guru masquerading as an attorney. She lost to my lawyers once again.
I asked Ken White if he had anything to say about this
and he replied:
It was a privilege to represent Abe Doe. He was passionate about many issues and a fierce and incisive debater, not afraid to mix it up with his own attorney. He challenged me just as easily as he challenged others.

I was proud to help him fight a contemptible censorious lawsuit, and am very sad about his passing.
Update: And, of course, James Woods has now deleted many of those tweets I have above, but added a new one, attacking the lawyer, Lisa Bloom, for mentioning Abe's death. You know, the one he was gloating over.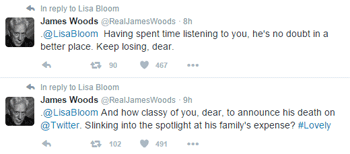 James Woods @RealJamesWoods
@LisaBloom Having spent time listening to you, he's no doubt in a better place. Keep losing, dear
James Woods @RealJamesWoods
@LisaBloom

And how classy of you, dear, to announce his death on @Twitter. Slinking into the spotlight at his family's expense? #Lovely
Another update:
According to Eriq Gardner at THResq, despite Abe's death, Woods and his lawyers are going to continue the case to try to unmask who Abe really was.