Popehat v. James Woods SLAPP-down Match; Coming Soon To A Court Near You
from the can-i-get-front-row-seats? dept
by Mike Masnick
Techdirt
August 28, 2015
NOTICE: THIS WORK MAY BE PROTECTED BY COPYRIGHT
YOU ARE REQUIRED TO READ

THE COPYRIGHT NOTICE AT THIS LINK

BEFORE YOU READ THE FOLLOWING WORK, THAT IS AVAILABLE SOLELY FOR PRIVATE STUDY, SCHOLARSHIP OR RESEARCH PURSUANT TO 17 U.S.C. SECTION 107 AND 108. IN THE EVENT THAT THE LIBRARY DETERMINES THAT UNLAWFUL COPYING OF THIS WORK HAS OCCURRED, THE LIBRARY HAS THE RIGHT TO BLOCK THE I.P. ADDRESS AT WHICH THE UNLAWFUL COPYING APPEARED TO HAVE OCCURRED. THANK YOU FOR RESPECTING THE RIGHTS OF COPYRIGHT OWNERS.
A month ago, we wrote about actor James Woods bizarrely suing a trollish Twitter user who had been mocking Woods on the site. The whole lawsuit seemed ridiculous. The specific tweet that sent Woods over the edge was this anonymous user (who went by the name "Abe List") saying "cocaine addict James Woods still sniffing and spouting." Soon after our post on the subject, Ken "Popehat" White posted an even better takedown entitled James Woods Punches the Muppet. That post has now been updated with a brief note that White has now been retained to defend the anonymous Twitter user. And, if that gets you excited for what to expect in the legal filings, well, you don't have wait. As first reported by Eriq Gardner at the Hollywood Reporter, White has filed the John Doe's opposition to Woods' attempt to unmask the guy. And it's worth reading.
Problem number one with Woods' suit is laid out right at the beginning of the filing, which is that Woods himself has a habit of accusing others of using illegal drugs as well, just as Abe List did: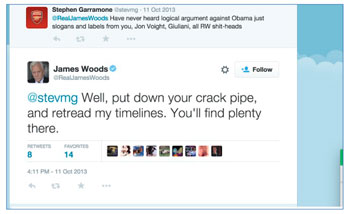 The filing shows other tweets from Woods that have similar words that Woods complained about Abe List using, such as "clown" and "scum." As the filing notes, it appears Woods thinks that he can use those insults towards others, but if anyone uses them towards him, it's somehow defamatory.
Plaintiff, an internationally known actor, is active on Twitter, a social media platform. There he is known for engaging in rough-and-tumble political debate. Plaintiff routinely employs insults like "clown" and "scum," and even accuses others of drug use as a rhetorical trope....

But Plaintiff apparently believes that while he can say that sort of thing to others, others cannot say it to him. He has sued Mr. Doe for a derisive tweet referring to him as "cocaine addict James Woods still sniffing and spouting" in the course of political back-and forth.... He also complains, at length, that Mr. Doe has called him things like a "clown" and "scum." Naturally, Plaintiff has himself called others "clown" or "scum" on Twitter.
The filing, quite reasonably, notes that these kinds of hyperbolic claims cannot be seen as defamatory, and since there's no legitimate claim here, there is no reason to do expedited discovery or to unmask Abe List, who is entitled to have his identity protected under the First Amendment.
Oh, and, not surprisingly, White will be filing an anti-SLAPP motion shortly, which may mean that Woods is going to have to pay for this mess that he caused.
The filing also notes that while Woods sent a subpoena to Twitter to try to seek Abe List's identity, the company turned it down as deficient. The full two page letter is in the filing below as Exhibit B, but a quick snippet on the First Amendment concerns:
First, Twitter objects because you have provided no documentation showing that the Court considered and imposed the First Amendment safeguards required before a litigant may be permitted to unmask the identity of an anonymous speaker. As courts have recognized, a trial court must strike a balance "between the well-established First Amendment right to speak anonymously, and the right of the plaintiff to protects its proprietary interests and reputation through the assertion of recognizable claims based on the actionable conduct of the anonymous, fictitiously-named defendants." Dendrite Int'l, Inc. v. Doe No. 3,775 A.2d 756, 760 (N.J. Super. A.D. 2001). Accordingly, before a service provider such as Twitter may be compelled to unmask an anonymous speaker, (1) a reasonable attempt to notify the user of the request and the lawsuit must be made, and (2) the plaintiff must make a prima facie showing of the elements of defamation. See Krinsky v. Doe, 72 Cal. Rptr. 3d 231, 239, 244-46 (Cal. Ct. App. 2008). Moreover, under California law, the party seeking discovery must demonstrate "a compelling need for discovery" that "outweigh[s] the privacy right when these two competing interests are carefully balanced." Digital Music News LLC v. Superior court of Los Angeles, 226 Cal. App. 4th 216, 229 (2014) (citing Lantz v. Superior court, 28 Cal. App. 4th 1839, 1853-54 (1994).

It does not appear that you will be able to meet these standards. The speech at issue appears to be opinion and hyperbole rather than a statement of fact. Further, the target of the speech is a public figure who purposefully injects himself into public controversies, and there has been no showing of actual malice. Attempts to unmask anonymous online speakers in the absence of a prima facie defamation claim are improper and would chill the First Amendment rights of speakers who use Twitter's platform to express their thoughts and ideas instantly and publicly, without barriers.
Meanwhile, Woods has already filed a response in which he is still seeking to uncover the name of Abe List, and which repeats more ridiculous claims about the whole thing, starting off with the simply false claim that the original "cocaine addict" tweet was likely seen by "hundreds of thousands" of Woods' followers. That's wrong. They would only see if they followed both Woods and the Abe List account, which very few did.
The filing, somewhat hilariously, claims that calling someone "a joke," "ridiculous," "scum" and "clown-boy" are not protected by the First Amendment. Which makes me wonder what law school Woods' lawyers went to. Because that's just wrong:
AL's outrageous claim appears to be the culmination of a malicious on-line campaign by AL to discredit and damage Woods' reputation, a campaign which began as early as December 2014. In the past, AL has referred to Woods with such derogatory terms as a "joke," "ridiculous," "scum" and "clown-boy." ... Although AL's rantings against Woods began with childish name calling, it has escalated beyond the protections of free speech, i.e., the First Amendment does not permit anyone to falsely represent to the public that another person is addicted to an illegal narcotic.
Um... but Woods himself did exactly that (see above). It's standard hyperbolic speech, which is clearly not defamatory especially when mocking a public figure like Woods who has a history of using the same sort of hyperbolic insults on Twitter. Even more ridiculously, Woods' lawyers claim that by saying that the statement was a joke, that's Abe List admitting that he knew it was a false statement. I can't see that argument flying. I can see it backfiring big time once the anti-SLAPP motion is made.
So, what about those similar tweets made by Woods himself? His lawyers tell the court to ignore those piddly things.
... to the extent AL or TG attempt to argue that the Court should consider other statements on their Twitter accounts, or any previous tweets by Mr. Woods, the argument is a red herring. First, there is no reason any of Mr. Woods' followers, all of whom were exposed to the defamatory statements, would even bother to investigate the speakers and/or their Twitter sites to determine if they were reliable sources. As to Mr. Woods, we are not aware of any false statements of fact made by Mr. Woods and his sometimes sharp commentary on political matters is irrelevant to the allegations here.
Except, uh, again, Woods suggested someone smoked crack, just like Abe List joked that Woods was a cocaine addict. And, again, Woods and his lawyers are just wrong that all of Woods' followers would have seen Abe Lists' tweets. They're just factually wrong.
You never know how courts will rule in any particular case, no matter how ridiculous, but I have a hard time seeing how Woods gets out of this without having to pay two sets of lawyers -- his own and Ken White -- for filing a clearly bogus defamation case designed to shut up (and identify) an anonymous Twitter critic. No matter what, James Woods may not be a cocaine addict, but he has made it clear that he can dish it out but can't take it back when people make fun of him. What a clown.