Democrats' McCarthyism Hits Greens' Stein
by Nat Parry
March 9, 2017
NOTICE: THIS WORK MAY BE PROTECTED BY COPYRIGHT
YOU ARE REQUIRED TO READ

THE COPYRIGHT NOTICE AT THIS LINK

BEFORE YOU READ THE FOLLOWING WORK, THAT IS AVAILABLE SOLELY FOR PRIVATE STUDY, SCHOLARSHIP OR RESEARCH PURSUANT TO 17 U.S.C. SECTION 107 AND 108. IN THE EVENT THAT THE LIBRARY DETERMINES THAT UNLAWFUL COPYING OF THIS WORK HAS OCCURRED, THE LIBRARY HAS THE RIGHT TO BLOCK THE I.P. ADDRESS AT WHICH THE UNLAWFUL COPYING APPEARED TO HAVE OCCURRED. THANK YOU FOR RESPECTING THE RIGHTS OF COPYRIGHT OWNERS.
Four months since the upset election of Donald Trump over Hillary Clinton, one of the primary scapegoats of the Democrats for its stunning electoral failure remains the Green Party and its 2016 presidential nominee, Jill Stein. Pointing to final vote tallies in Pennsylvania, Wisconsin and Michigan that showed Trump's margin of victory as being below the total vote count for Stein, Democrats have coalesced around the conventional wisdom that Stein voters flipped the election by failing to unite behind the Democratic nominee.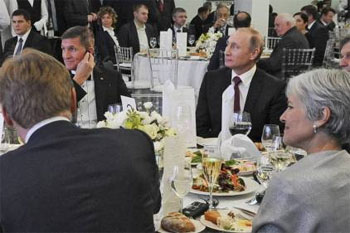 Jill Stein attending a dinner marking the RT network's 10-year anniversary in Moscow, December 2015, sitting at the same table as Russian President Vladimir Putin.
As Matthew Rozsa explains the thinking at Salon,
"if the Stein voters in those three states had all supported Clinton instead of Trump, the Republican candidate would have only received 260 electoral votes – 10 shy of the minimum necessary to become president."
If pigs could fly!
So there you have it. Stein spoiled the election. Case closed.
The problem with this analysis is its flawed logic that anyone's votes actually "belong" to anyone else
, and further, it rests on the false assumption that all of Stein's voters would have naturally voted for Clinton had the Green Party not been competing in the election.
The fact is, many of these voters were turned off by Clinton's hawkishness,
perceived ethical lapses
and close Wall Street ties, and would have never voted for her regardless of whether there was a third party alternative or not. Some would have stayed home, and others might have actually voted for Trump.
Early in 1984, a twenty-nine-year-old Arkansas trooper named Larry Douglass Brown was eagerly applying for work with the Central Intelligence Agency.

Brown was no ordinary state policeman or routine CIA applicant. Known at the mansion and the capitol -- and by CIA recruiters -- as Bill Clinton's "fair-haired boy," he was the governor's conspicuous favorite among the troopers assigned as his personal bodyguards. Ten years Brown's senior, Clinton treated the avid but less polished young man from Pine Bluff with an avuncular, patronizing warmth, urging on him books from his own collection and engaging in more substantive conversation than the small talk and ingratiating vulgarity he usually reserved for his state police escorts. Yet L.D., as his friends and colleagues knew him, was far more than a protege. His wife-to-be was Chelsea Clinton's nanny, his future mother-in-law the mansion's administrator. Guard and driver for many of the governor's trips out of state as well as around Arkansas, he was one of several troopers and other aides serving as procurer or cover in Clinton's ceaseless quest for extramarital sex -- and claiming what he called "residuals" among the women the governor wasn't interested in. He was also among those who saw evidence firsthand of the far more serious and sustained affair, dating from the mid-1980s, between Hillary Clinton and Rose partner Vince Foster.

As he told his story with impressive substantiation from other accounts a decade afterward, Brown had been privy to some of the Clintons' most personal liaisons, their biting relationship with each other, their behind-the-door bigotry toward "redneck" Arkansas, and other intimacies; he and a stoic Hillary had even talked earnestly about problems in their respective marriages. At one point in the early 1980s, Brown had come in contact with Vice President Bush during an official gathering. The "rather conservative" young officer, as one friend described him, had been impressed by Bush. Afterward Clinton had twitted him about his Republican "hero," though the two remained close. Regarded as among the better state police officers, Brown received some of the most sophisticated training that national law enforcement agencies offer regional police officers, including advanced courses provided by the DEA and Customs in intelligence gathering, drug importation, and conspiracy cases. Because of Brown's extensive training, Clinton handpicked him to serve on a state committee studying the drug epidemic to help develop educational programs in Arkansas, and Brown wrote several of the panel's position papers later cited as evidence of the state government's fight against narcotics.

Brown and the Clintons eventually had a falling-out when the governor reneged on a state job offer in 1985 and later on his half of a political bargain to raise the pay of the state police, whose association Brown headed. Brown gradually went from favorite to outcast, menaced with a prejudicial "investigation" of his work and smeared as a liar and incompetent by aides who not long before had been jealous of how much Clinton trusted and respected him. Yet the deeper break had begun in the autumn of 1984, when Brown had witnessed matters far more serious than the Clintons' personal excesses.

By Brown's repeated accounts, including hundreds of pages of testimony under oath and supporting documentation, the sum of the story was stark: The governor had clearly been aware of the crimes of Mena as early as 1984. He knew the Central Intelligence Agency was responsible, knew that there was major arms and drug running out of western Arkansas, believed the smuggling involved not only Barry Seal but also a cocaine dealer who was one of Clinton's most prominent backers, and seemed to know that approval of the Mena flights reached as high as Vice President Bush. Brown remembered how Bill Clinton had encouraged him to join in the operation -- "Clinton got me into this, the governor did," he would testify -- and how Clinton had then dismissed his repugnance at the evidence that Seal was trafficking cocaine under CIA auspices. The state policeman watched in "despair," his brother recalled, while the governor did nothing about the drug smuggling. Brown would still think a decade later that Bill Clinton "was surprised only in that I had found out about it."

Clinton had urged him to answer a newspaper ad for CIA employment that ran in the New York Times on April Fool's Day, 1984. "L.D., I've always told you you'd make a good spy," Clinton remarked to him when Brown showed him the paper and asked "if this is for real?" "Well, you know that's not his name," Clinton said of a personnel officer listed in the ad, "but you need to write him a letter." Brown did just that two days later. "Governor Clinton has been an inspiration for me to further my career in government service," he wrote, "and in particular to explore the possibilities of employment with your agency."

Clinton proceeded to show an avid interest in Brown's application. He urged Brown to study Russian for an intelligence career, and Brown characteristically took the advice to heart, practicing the foreign script in a copybook and artlessly, proudly informing the CIA of his "understanding of the Cyrillic alphabet." He and Clinton talked, too, of the role of an operations officer, with Clinton explaining the CIA's diplomatic cover abroad and the recruitment of informers. "It was strange, you know. He was into the fiction aspect of it and intrigue," Brown remembered.

At one point Clinton told him he would personally call the CIA on his behalf. "He, obviously, from all our conversations, knew somebody," Brown recounted in a sworn deposition. "I don't know who he called, but he said he would. He said he did. I made a note one day that he made a phone call for me." But in a private conversation Brown would go even further with the story of the call. Clinton, he said, had not bothered to go through any officeholder's liaison or other formal CIA channel in Washington but had simply telephoned someone directly at the agency, someone whom he knew on a first-name basis and with whom he talked for some time. As usual, Brown was impressed with his boss's knowledge and contacts. Early in the process the governor had begun to greet him whenever they met with a grinning question they both understood to refer to Brown's relationship with the CIA. "You having any fun yet?" Clinton would ask.

As part of his CIA application Brown was to submit a writing sample, and together he and Clinton chose as a topic the current foreign policy controversy over the wars in Nicaragua and El Salvador. "We decided that I would write a paper on Marxism in Central America. Governor Clinton and I." Typing in the troopers' guardhouse at the mansion because he had no typewriter at home, Brown wrote what he thought "a pretty decent essay," which he gave to Clinton to read. Some eight hundred words, it was a rough, largely unpunctuated, and simplistic rendition of the Reagan administration's own views, warning of the "growing threat of spreading Marxism south of this country's borders." Clinton made some word changes and suggested what he should "expound on," but the final essay remained, with Clinton's approval, very much "about defeating Marxism in Central America and aiding the Contras in the United States and the domino theory and all that," as Brown testified later.

At odds with more informed views of his own party in Congress and even in the Democratic foreign policy establishment, Clinton's response to Brown's essay is one of the few surviving marks of his opinions on the subject. To the extent that he agreed with what he left unaltered, it was obviously a reactionary, rightist approach to the raging controversy over Central America, accepting the myth that the leftist but fiercely independent Sandinistas were tools of Soviet expansion in the Western Hemisphere, implicitly viewing social revolution in the Americas as a sinister threat to US security. Whether conviction or calculation, the tone seemed well suited for CIA recruiters. Brown himself was never sure his essay reflected the governor's thinking, whatever Clinton's urgings to "expound." They had played the bureaucratic game. "To be quite frank, I think we both thought it was something they wanted to hear more or less," Brown testified in 1995.

By the end of the summer of 1984 -- four months after taking and passing a CIA entrance examination -- Brown had met with a CIA recruiter in Dallas, someone named Magruder, an "Ivy League-looking guy" who spoke "admiringly of Clinton," and whom Brown would later recognize in photographs and identify to congressional investigators in 1996 as a onetime member of Vice President Bush's staff. This was the man who asked him if he would be interested in "paramilitary" or "narcotics" work as well as "security." Brown said he wanted to be considered for such assignments and, in the course of the interview, duly signed a secrecy agreement. Somebody, he was told, would be giving him a call.

On September 5 he received formal notification of his nomination for employment. Scarcely a month later the expected CIA call came to his unlisted number at home. As Brown testified, the caller "talked to me about everything I had been through in the meeting in Dallas, . . . made me very aware that he knew everything there was to know." He asked Brown to meet him at Cajun's Wharf in Little Rock, a popular restaurant and bar off Cantrell Road in the Arkansas River bottoms just below the white heights. His name, he said, was Barry Seal.

At their meeting, the corpulent Seal was memorable for the athletic young state trooper. "Big guy. He had on one of those shirts that comes down ... outside your pants, big-guy kind of thing." Seal was cryptic but again seemed clearly to know details Brown had provided on his CIA application. "He knew about the essay and everything I had done, so absolutely there was no question in my mind," Brown testified. Seal also spoke vaguely about working for the CIA: "He'd been flying for the agency, that's all I knew." In conversations over the next few weeks, Seal referred casually to Clinton as "the guv" and "acted like he knew the governor," Brown recalled. He invited Brown to join him in an "operation" planned to begin at Mena's Intermountain Regional before sunrise on Tuesday, October 23, 1984.

Impressed with the gravity of it all, Brown told no one about the talk with Seal, except the governor, who seemed "excited" as usual at Brown's progress with the agency. Seal was nothing like the CIA Ivy Leaguer he had met in Dallas, Brown told Clinton. "El Gordo" Barry Seal "was kind of devil-may-care." Again Clinton seemed knowing, encouragingly nonchalant. "Don't sweat it, you can handle it," he told his bodyguard. "You'll have fun."

Arranging his shifts at the mansion to make time for the flight, Brown met Seal at the Mena airport in the predawn darkness and was surprised to find them boarding not a small private craft but a "huge military plane" painted a dark charcoal with only minimum tail markings, its engines roaring with a "thunderous noise," he remembered. "Scared the shit out of me just taking off."

Seal ordered him matter-of-factly to leave behind all personal identification, including his billfold, keys, and jewelry. Along with Seal at the controls sat a copilot whose name Brown never learned, and in the back of the aircraft sat two men, "beaners" or "kickers" the trooper called them. Though he did not know it, Brown was aboard the Fat Lady, and his later account marked the flight as one of Mena's routine gun-and-drug runs.

After a refueling stop in New Orleans and the flight to Central America, the C-123K dived below radar, then climbed and dipped again for the "kickers" to roll out on casters large tarp-covered palettes, which were swiftly parachuted over what Brown could see out the open cargo door was a tropical, mountainous terrain. Later Seal told Brown the loads were M-16s for the Contras. On the return they landed in Honduras, where Seal and the "kickers" picked up four dark green canvas duffel bags with shoulder straps, which Brown did not see again.

Back at Mena Seal handed Brown a manila envelope with $2,500 in small bills, presumably as payment for his time -- "used money just like you went out and spent," Brown recalled -- and said he would call him again about another "operation." As the ambitious young trooper testified later, he was diffident about this apparent audition with his CIA employers, reluctant to ask questions, even about the cash. "This guy [Seal] obviously knew what he was doing and had the blessing and was working for the agency and knew everything about me, so I wasn't going to be too inquisitive."

At the mansion on Brown's next shift following the run to Central America, Clinton greeted him with the usual "You having any fun yet?" though now with a pat on the back. With a "big smile" Brown answered, "Yeah, but this is scary stuff," describing "a big airplane" which he thought "kind of crazy." But Bill Clinton seemed unsurprised and unquestioning, casual as always about what Brown told him about the CIA, Seal, and Mena. "Oh, you can handle it," he said again. "Don't sweat it."

Brown was startled at the governor's obvious prior knowledge of the flight. "He knew before I said anything. He knew," Brown testified. Asked later under oath if he believed the Seal flight had been sanctioned by the governor, Brown would be unequivocal. "Well, he knew what I was doing. He was the one that furthered me along and shepherded me through this thing." Did he have any doubt that Clinton approved of the flight from Mena to Central America? "No," he testified. Did he believe the Seal run "a sanctioned and approved mission on behalf of the United States?" "Absolutely. I mean, there is no doubt."

Not long afterward, in the later fall of 1984, Seal called the trooper as promised, again inquiring about Clinton: "He always asked me first thing, how is the guv?" They talked about the first flight and Seal, ruminating on his service for the CIA, confirmed that they had dropped a load of contraband M-16s for the Contras. "That's all he talked about was flying and [the] CIA and how much work he had done for them, and that's all he did. That's all we would talk about," Brown recalled. They met again, this time at a Chinese restaurant near the Capitol, and arranged for Brown to go on another trip in late December.

On Christmas Eve, 1984, once more with the governor's encouragement, Brown again flew with Seal to Central America on what he still understood to be some kind of orientation mission for his CIA employment. Seal picked up two duffel bags on the return through Honduras, and just as before, back at Mena he offered Brown $2,500 in small bills. Yet this time Seal also brought one of the duffels to Brown's Datsun hatchback in the Intermountain Regional parking lot and proceeded to take out of it what the former narcotics investigator instantly recognized as a kilo of cocaine, a "waxene-wrapped package," as he called it, "a brick."

Alarmed and incensed, Brown quickly told Seal he "wanted no part of what was happening" and left, speeding back to Little Rock in mounting agitation, not least over the role of the state's chief executive. ''I'm just going nuts in my mind with all the possibilities," he would say. ''I'm thinking, well, this is, this is an official operation. Clinton got me into this, the governor did. It can't be as sinister as I think it is.... He knew about the airplane flights. He knew about it and initiated the conversation about it the first time I came back."

Returning to the guardhouse, Brown first called his "best friend," his brother Dwayne in Pine Bluff, who remembered his being "terribly upset" and later went to the mansion to see him when the Clintons were away. According to the two men, Brown told his brother part of what he had encountered, though without mentioning the CIA involvement. "Who's pushing this. Who is behind it?" his brother asked at one point. In reply, as each recalled clearly, Brown "nodded over towards the governor's mansion."

Brown decided to approach Clinton directly about what he had seen. When they were together soon after the second flight, a smiling Clinton seemed about to ask the usual question. But Brown was angry. He asked Clinton if he knew Barry Seal was smuggling narcotics. "Do you know what they're bringing back on that airplane?" he said to Clinton in fury. "Wait, whoa, whoa, what's going on?" the governor responded, and Brown answered, "Well, essentially they're bringing back coke." More than a decade later, Brown would testify to his dismay at Clinton's response: "And it wasn't like it was a surprise to him. It wasn't like -- he didn't try to say, what? ... He was surprised that I was mad because he thought we were going to have a cordial conversation, but he didn't try to deny it. He didn't try to deny that it wasn't coming back, that I wasn't telling the truth or that he didn't know anything about it."

In waving off Brown's questions about Mena, Clinton had made another remark as well, added as what seemed both justification and warning. "And your hero Bush knows about it," he told Brown. "And your buddy Bush knows about it."

Brown was chilled. ''I'm not going to have anything else to do with it ... I'm out of it," he told Clinton. "Stick a fork in me, I'm done," he added, an adolescent phrase from their shared Arkansas boyhood. The governor had tried to calm him: "Settle down. That's no problem." But Brown turned away, hurried to his car, and drove off, leaving behind his once-promising career. "I got out of there, and from then it was, you know, not good."

The trooper immediately called the CIA to withdraw his application, albeit discreetly. 'Just changed my mind," he recalled telling them. But he saw no recourse, no appeal to some higher level of government in a crime in which both the governor of the state and Washington were knowledgeable and thus complicit. "I mean if the governor knows about it ... and I work for the governor," he remembered thinking, "exactly who would I have gone to and told? I mean, the federal government knows that this guy is doing this ... I don't know what authority I would have gone to." More than a year later, as they were having drinks in Jonesboro, Brown would tell the commandant of the state police, Colonel Tommy Goodwin, but even then he acted out of a desire to confess his unwitting involvement rather than out of any expectation that Arkansas would move on the crimes. All the while, he was bothered by the role of his onetime hero at the mansion. "Number one," he would testify later of Bill Clinton, "he didn't deny it. I wanted him to tell me, oh, good gosh, that's terrible. We've got to report this. And I wanted him to deny knowing anything about it or to explain it away to me . . . they've got a big sting planned, and they're trying, you know, to make a case on such and such, but no. It was no surprise to him. He was surprised, I think -- this is what I think -- that Seal showed it to me. That's what I think to this day."

At the time, the bodyguard had been inconsolable. From the moment of the second flight on Christmas Eve, 1984, until L.D. left the governor's security detail in June 1985, his brother thought him at "a high level of despair." What the eager and patriotic young trooper had discovered about government, Dwayne Brown worried, had left him almost suicidal.

But perhaps what had most disturbed L. D. Brown was a direct reference by Clinton to a member of the governor's own inner circle. Clinton "throws up his hands" when Brown mentions the cocaine, as if a crucial, somehow rationalizing distinction should be made between the gunrunning and the drug trafficking.

"Oh, no," Clinton said, denying that the cocaine was related to the CIA Brown was hoping to join. "That's Lasater's deal."

***

Danny Ray Lasater would signify their most telling relationship of all -- the man Bill Clinton mentioned on impulse when he assured his security guard, "That's Lasater's deal."

Three years older than Clinton, Lasater was born in remote White County, Arkansas, not far from Jim McDougal's hometown and only miles from Whitewater. As a boy he had moved to Kokomo, Indiana, and after high school worked as assistant manager and manager of a local McDonald's. He was not yet twenty, he later told the FBI, when he became partners with

his father-in-law, a former sheriff,

and with a Kokomo car dealer in a fast-food restaurant. In a meteoric rise that others would later find remarkable, he and his partners would open their own chain of Ponderosa steakhouses, branching out into various states with a succession of investors. With someone else's ample capital, he would at twenty-three become part owner of a chain, and at twenty-nine a multimillionaire. Neither Lasater nor Ponderosa was ever charged with wrongdoing. But his quick fortune -- made in a largely cash industry that federal and state law enforcement saw increasingly exploited by organized crime and characterized by what one US attorney called the "skim and scam" of the cash profits by managers -- attracted the attention of investigators in several states.

Early in the 1970s Lasater took his company public, sold his shares, and invested his millions in thoroughbreds -- another industry rife with allegations of penetration by organized crime, drug-money laundering, and other corruption. With farms in Kentucky and Florida, Lasater would attract the top breeders, and his horses would be among the leading money winners. Along the way he developed a close relationship with Kentucky's Democratic governor, John Y. Brown, and other related figures, including Brown's old friend and partner Jimmy Lambert, whose links to the mob and conviction on drug charges in the mid-1980s would shake Kentucky and help shatter Brown's own presidential plans. The Lambert ties placed Lasater himself under investigation by the Kentucky State Police for his own relationship to organized crime. It was also "Jimmy," as Lasater told the FBI after Lambert's indictment, who gave him his "first" cocaine around 1978 at Lambert's Cincinnati and Lexington nightclubs. But by then Dan Lasater had moved back to Arkansas, first trying a new restaurant, then a more profitable Little Rock bond brokerage -- and, not least, acquiring a close relationship with another ambitious governor.

In Little Rock he became part of the drug scene, sniffing cocaine with the Clintons' friend Barrett Hamilton, Jr., and others in the white heights and holding raucous parties at his impressive home or his Quapaw Towers apartment, which happened to be ten floors above that of a local television reporter named Gennifer Flowers. In partnership with a state legislator, Lasater's "bond daddy" brokerage made a million dollars in profits by 1982 but was already infamous in local investment circles for its flow of cocaine as well as its shady financial practices. Lasater himself commonly snorted the drug at the office. "Cocaine was so pervasive in the investment banking community," a Lasater broker was reported to have confessed to a local judge, "that he feared it would be hard to stay away from the drug if he remained."

Like Red Bone's commodity brokerage in Springdale, Lasater's company received professional censure after censure -- in 1982 from the National Association of Securities Dealers for excessive markups and unlicensed sales, in 1983 for buying and selling bonds for a savings and loan without authority of the thrift's board, in 1984 for making more unauthorized trades, and over a period of time for violating multiple securities rules and regulations. The state securities commissioner under Frank White's governorship sanctioned the firm for "cheating customers" in 1982.

By 1983 Lasater had personally given thousands and had held fundraisers producing tens of thousands more for Clinton's gubernatorial campaigns, most crucially the 1982 comeback. As those most familiar with the governor's routine well knew, however, Danny Ray Lasater was never merely another big donor to be paid special deference but rather an extraordinary intimate whom Clinton visited regularly at his brokerage and who came to the mansion whenever he pleased, entering by the back gate and walking through the kitchen.

Entering through the domain of the mansion's commanding black cook, Elizabeth Ashley, was a privilege reserved only for family and the most senior staff. In the mid-1980s Lasater enjoyed it as no one else outside that circle. It was no wonder, as Clinton's closest aides knew, that the governor had turned to Lasater to give Roger Clinton a job or that the millionaire had loaned the governor's addicted half brother money to pay off a drug debt during Roger's 1983-84 crisis.

Lasater was given to "drop-ins," as trooper bodyguard Barry Spivey put it, "just kind of off-the-cuff. Day and night, weekends, all day, he just came when he wanted to." Spivey, who served at the mansion from 1979 to 1984, remembered that throughout his tour, "Dan never was shown in through the front door." Another trooper recalled that, "there is [sic] not many people that just drive through the back gate and their driver pulls them up and they go in the back door. . . . He was a fixture." Among the many ironies of the troopers' waving him through the back gate was that Lasater's chauffeur was not simply a "driver" but a convicted murderer who carried a gun and was widely known to deal drugs on the side.

The governor and the bond dealer saw each other frequently, and with the same familiarity, at Lasater's brokerage, where Clinton would stop for unscheduled visits, telling his state trooper escort to take him to Lasater's office if they happened to be in the vicinity. "A lot of times he would just be in the area and he would say run by Dan's or run by Lassiter's [sic] for a minute," Spivey testified. "We very seldom were in the area when he had any time on his hands that he didn't run in." Clinton's state police drivers would circle the block or simply sit and let the limousine idle while the governor and Lasater "would be upstairs and behind closed doors or something," as one remembered.

When Bill Clinton told L.D. Brown that the Seal cocaine smuggling was "Lasater's deal," he was not talking about someone he met from time to time or knew only in a limited context, but rather about the most intimate of friends and associates.

Beyond frequent private meetings at the mansion and Lasater and Company, there were extensive social contacts as well. Other troopers remembered accompanying Clinton to Lasater's large homes or his downtown apartment, to his private box at Hot Springs's Oaklawn track, where Lasater courted the governor's mother as well, or aboard his Lear jet. Some escorts, like Brown, were concerned about the cocaine spread so lavishly at Lasater's parties, extraordinary even amid what Brown called Little Rock's "real robust party atmosphere." At Lasater's apartment, one witness told the FBI in a handwritten statement, cocaine was given to high school girls in a special "graduation party," and on another occasion Lasater threw a party for a woman friend and impressed everyone with his extravagance by writing "Happy Birthday" in cocaine on the glass coffee table. At one typical gathering Brown tried to usher the governor out to avoid a scandal, though it was clear that Clinton knew about the rampant drugs. "There was a silver platter of what I thought was cocaine and I got the governor out of there. I said we need to go. Let's get out of here," the state trooper remembered. "He had to have seen it. There were a lot of people there, a lot of girls there. He had to have seen it. I mean, it was obvious. . . . He said something to Lasater and I got him out of there."

The millionaire would lend his plane to Clinton for campaign trips and, in 1985, for flying celebrities to a charity function organized by Hillary. In May 1983, less than five months after Clinton's triumphal return to the statehouse, trooper Barry Spivey would accompany Lasater and the Clintons on a flight to attend the Kentucky Derby, where they met the host governor, John Y. Brown, who was a friend of Clinton as well as Lasater but whose longtime positioning for the presidency was already beginning to be clouded by questionable associations. With Roger Clinton "running bets for Dan and Bill," as Spivey recalled, all of them made money on the winner, Sunny's Halo. But behind the gathering of smiling political notables was another reality as well.

Law enforcement agents would remember that 1983 Derby as one of the most heavily surveilled sporting events in history. State and federal plainclothes agents rubbed elbows with the celebrities and the crowd at Churchill Downs as part of a still incipient but widening probe of organized crime, money laundering, and other corruption in Kentucky and surrounding states. Lasater was among those being watched, though the FBI and other agents would not learn until later that Lasater had given a paper bag containing $300,000 in cash to Governor Brown by way of Jimmy Lambert. The Kentucky governor had asked Lasater for a million dollars, a Lasater partner told the FBI, but the broker had decided to give "only" $300,000. "I just took care of John Y's money problems," an associate recalled Lasater's telling him afterward....

Lasater enjoyed an impressive and ever-growing share of state business. Listed to underwrite state housing bonds in 1983, soon after Clinton was sworn in and only a year after the brokerage was formally established, Lasater and Company began to rake in management fees and still more in sales commissions. Despite being "the new boy," as a US attorney called him, Lasater suddenly ranked fifth in the established and competitive field of state housing bond underwriters, ahead of major concerns and longtime Clinton supporters such as Goldman, Sachs and Merrill Lynch. When, at Clinton's initiative, the Arkansas Development Finance Authority took over most of the lucrative state bond offerings in 1985 -- under legislation drafted in part by Webb Hubbell and with the governor and his political appointees to the ADFA board personally approving each issue -- Lasater and Company would continue to be a major beneficiary of the ubiquitous fees and commissions spread among Little Rock investment and law firms. In the brief period prior to the fall of 1986, ADFA would award it fourteen issues worth more than $600 million, and brokerage fees to Dan Lasater of $1.6 million.

At the same time, almost every Lasater public appearance in the mid-1980s would have its dark shadow. In Little Rock society the broker was a showy philanthropist for children's causes, but in private he was a relentless purveyor of cocaine.

In 1984 he purchased the fashionable Angel Fire ski resort in northern New Mexico for nearly $20 million and was given free rein to use Bill Clinton's name commercially to help promote the isolated development in the mountains east of Taos. Undercover law enforcement agents later found the resort a center for drug running, what a US Customs investigative report called "a large controlled-substance smuggling operation and large-scale money-laundering activity." While Lasater held "Arkansas Week" at the resort with Governor Clinton's endorsement and entertained politicians from Santa Fe as well as Little Rock, local New Mexico sheriffs and district attorneys were hearing reports from Angel Fire reminiscent of Mena -- strange nighttime traffic, sightings of parachute drops, even hikers' accounts of a "big black military-type cargo plane" seeming to come out of nowhere and swooping low and almost silently over a deserted mountain meadow near the remote ski area.

Over the same period, witnesses told investigators, Lasater was bragging about fixing horse races, "putting one in the boot," as he described it to an employee. He was also said to pay frequent visits to Las Vegas, where he allegedly laundered cash in the time-honored manner of the old mob-dominated casinos, losing money, according to an associate, and then winning it back, plus some.

-- Partners in POWER: The Clintons and Their America, by Roger Morris
The suggestion that smaller parties don't have a right to compete is also deeply anti-democratic and flies in the face of international standards for free and fair elections. Although Democrats rarely come out and openly state their desire for the Green Party to cease to exist, they do pointedly take issue with Green candidates competing in close elections, with the Democratic establishment seeing the Greens' challenge from the left as an affront that complicates their electoral strategies.
[Gregory Kafoury, Nader Campaign Organizer] Let me tell you, there were carrots and there were sticks. Nader was told, "If you don't run, we will lavish money on your organizations. We will lavish money anywhere you want it." Very extravagant sums of money were mentioned, and he was told face to face, "This is just the beginning."

[Ralph Nader] Oh, yes. I mean, I --through third parties, millions of dollars were offered for our programs and projects if I would drop out, or if I would not decide to run.

[Gregory Kafoury, Nader Campaign Organizer] And at the same time he was told, "If you do run, we will strangle your organizations. We will smother them. Your people will scream in pain at you for what we're gonna do to you."

-- AN unREASONABLE MAN, directed by Henriette Mantel
Whether they acknowledge it or not, what
Democrats seem to be suggesting is that people who do not identify with the candidates or positions of the Democratic Party simply should not have the option to vote for alternative candidates or to organize oppositional parties.
But according to an agreement signed by the United States in 1990 providing basic principles for democratic elections, individuals have the right "to establish, in full freedom, their own political parties or other political organizations" and governments must provide these parties the "necessary legal guarantees to enable them to compete with each other on a basis of equal treatment before the law and by the authorities."
Doubling Down
Despite these international commitments, the
Democrats have doubled down on their attacks against Stein in the months since the election, now claiming that not only did she spoil the election by siphoning votes from Clinton, but that she may have done so at the bidding of Russian President Vladimir Putin
– never mind the fact that Greens have been running presidential candidates in every U.S. election since 1996.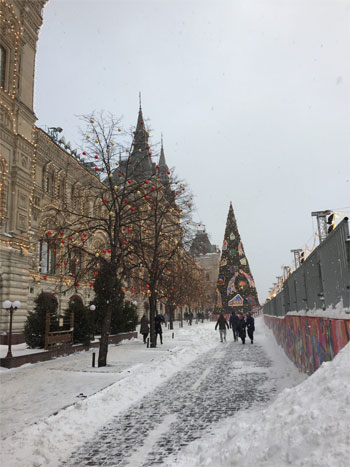 A wintery scene in Moscow, near Red Square. (Photo by Robert Parry)
Democratic Party operatives have spread salacious rumors suggesting that Stein is under Putin's control, using a photo taken in late 2015 of Stein sitting at a table with the Russian leader as proof of possible disloyalty or perhaps even treason.
Viewed within the current context of the "new Cold War" and as part and parcel of the Russian election-meddling allegations, the photo of Stein is all the evidence needed by many Democrats predisposed to assume the worst about the Green Party and its nominee.
It should be kept in mind however that Stein has never attempted to conceal the fact that she attended this "controversial" dinner, which was marking the RT network's 10-year anniversary, nor that she sat at a table with the Russian president.
In fact,
following the dinner, her presidential campaign issued a press release which stated matter-of-factly, "Stein attended a dinner Thursday night, sitting at the table with Russian President Vladimir Putin."

The press release described Stein's speech at the dinner in which she admonished both the United States and Russia for pursuing militaristic policies and spending too much money on a pointless arms race
.
"The United States is now embarking on a $1 trillion program to update its nuclear weaponry while we are slashing programs to fight hunger, address homelessness, and provide economic security for our people," Stein said. "In Russia also, money runs short for critical needs because of the heavy burden of military spending. Imagine how much better off the world would be if our two nations could lead the way for the major powers to reduce the size of our military establishments."
Stein also posted on Facebook that she "was in Russia to speak at an RT conference along with many other people, including many fellow activists from the peace movement." While there, she shared a video message on YouTube – recorded from Moscow's Red Square – in which she called for an end to militarism, and for an international order based on respect for human rights and international law.
Neo-McCarthyism
Despite her openness about her participation in the dinner, in these neo-McCarthyite times of wild speculation, baseless innuendo and general anti-Russian hysteria,
Democratic operatives and bloggers are raising questions about whether the dinner is proof that Stein is actually on the payroll of the Russian government. The insinuation is that her 2016 campaign for the presidency was intended to help throw the election in favor of Trump, acting at the behest of Putin.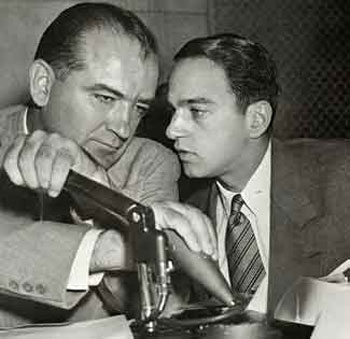 Lawyer Roy Cohn (right) with Sen. Joseph McCarthy.
Trolling Jill Stein's Twitter account with these sorts of accusations has seemingly become second nature to many Democratic Party supporters, with
every tweet by Stein responded to by dozens of hostile Democrats who continue to blame the Green Party for spoiling the election.
Typical is a response to a tweet Stein sent out on March 2 in support of ranked choice voting. "Democrats used a runoff vote for DNC chair, so why are they fighting runoff voting in places like CA & MN?," Stein tweeted.

"Are you trying to take focus off of your Russian buddy?" replied a Democratic partisan going by the name of Trice. "Is Vlad paying your bills or are you using the recount $ you scammed?"

A blogger named Bill Palmer went even further in a Feb. 24 post at the "Palmer Report." Pointing to a New York Daily News article which alleges that Michael Flynn was paid $40,000 to attend the dinner with Putin in Dec. 2015, Palmer notes that "this raises a serious question which Jill Stein must now answer: did the Kremlin also pay her to be at the dinner?"

At the Daily Beast, Casey Michel also suggested that Stein is accepting bribes from the Russian government. Michel wrote on Jan. 13, "it remains unclear who paid for Stein's trip to Moscow and her accommodations there."

MSNBC's Rachel Maddow has also promoted the Stein-as-Russian-agent conspiracy theory, implying recently that Stein's relative silence on the Russian-hacking story implicates her as a Kremlin stooge.

"So everybody's like, 'Wow, how come this like super, super aggressive opposition that we saw from these third-party candidates – how come they haven't said anything since this scandal has broken?'" Maddow said on Viceland's Desus & Mero show on Feb. 15.

"I don't know, Jill! I can't pronounce it in Russian!" Maddow said mockingly. "Hope you're really psyched about your Wisconsin vote totals!"
Useful Target
While it would certainly be interesting if Stein actually received money from the Russian government to appear at the RT dinner, it should be noted that
in her video message from Red Square, Stein started off by thanking Green Party supporters "for making this wonderful and inspiring trip possible." This is an indication from Stein that her grassroots campaign donors paid for the trip.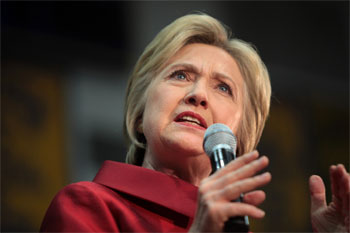 Former Secretary of State Hillary Clinton speaking with supporters at a campaign rally in Phoenix, Arizona, March 21, 2016. (Photo by Gage Skidmore)
It should also be pointed out that if Stein's loyalty to America is being called into question for attending this dinner, it would only be fair to raise suspicions about the national loyalties of all the others who attended the event, a guest list that included international diplomats, journalists, a former mayor of London, and senior statesmen.

But of course, these are not the targets de jure of the Democratic Party, which has instead zeroed in on Stein and the Green Party. This gives the appearance of selective outrage, amounting to little more than a smear job by those growing desperate to hold on to voters and donors at a time when a majority of Americans are clamoring for alternatives and identifying not as Democrat or Republican but as independent.
A survey last year by the Associated Press-NORC Center for Public Affairs Research reported that a full 90 percent of voters lack confidence in the country's political system while 70 percent said they feel frustrated about the 2016 presidential election and 55 percent reported feeling "helpless." Forty percent said the two-party structure is "seriously broken."

Another survey taken last summer found that 55 percent of Americans favored having an independent or third party presidential candidate to consider on the ballot, in addition to the two traditional party choices. Of those 29 years of age and younger, 91 percent expressed support for additional choices.

It is in this context of discontent that the current smears against the Green Party should be understood. The two dominant parties know that Americans are hungry for alternatives, so party operatives are working overtime to discredit the only viable alternatives that exist to the status quo.
It is an undemocratic strategy to sideline genuine competition, and is doubly irresponsible by claiming that a political figure is working at the behest of a foreign power – especially in these days of deepening division and a growing neo-McCarthyism.
As an added bonus, this undemocratic strategy does not appear to be helping the Democrats, and indeed, ever since the party decided some time last fall to zero in on
the "Russian hacking" story
as their primary line of attack, their poll numbers have plummeted. Their favorability rating has dropped from about 50 percent just before the election to a current low of about 39 percent. Their unfavorability rating is now 49 percent, the highest it's been for three years.
In August 2016, Politico reported top Democrats held a conference call discussing damage control surrounding future releases from WikiLeaks, apparently deciding to collectively allege the leaks will include fabricated content. In a desperate and sloppy attempt to create a link between Russia and Donald Trump, Newsweek writer Kurt Eichenwald wrote an article titled "Dear Donald Trump and Vladimir Putin, I am not Sidney Blumenthal." The article claimed the publication Sputnik and Trump coordinated an attack on Hillary Clinton.

In reality, Sputnik news editor and Georgetown graduate Bill Moran rushed to publish a story about a WikiLeaks email in which Clinton adviser Sidney Blumenthal copy and pasted an Eichenwald article about Benghazi and sent it to Clinton campaign chair John Podesta. Moran misidentified the writer of the piece as Blumenthal, and quickly wrote and published a story about it. Trump tweeted the article, and cited it during a speech at a rally in Pennsylvania.

Once Sputnik became aware the article had misinterpreted the email, they removed it. Eichenwald, without researching what had happened, claimed Trump citing the article was proof of a conspiracy between Trump and Russia. Eichenwald's article was used by Clinton partisans as evidence WikiLeaks had released fake documents.

Moran attempted to reach out to Eichenwald to correct his story. Eichenwald blocked him on Twitter, and the two engaged in bizarre correspondence via email, which was later published by Paste Magazine and confirmed as legitimate by Eichenwald.

-- Clinton Journalist Has Meltdown After His Russian Conspiracy Theory Is Debunked. Pro-Clinton mainstream media remains convinced there must be nefarious, pro-Kremlin incentives for anyone opposing her, by Michael Sainato
If the Democrats hope to reverse some of these trends, they might try developing policy ideas that help Americans rather than attacking progressives for throwing their support behind alternative parties, and perhaps consider giving it a rest with the McCarthyite smears against those perceived to be "Russian sympathizers."
Editor's Note: In line with this new McCarthyism,
a Jan. 6 report by the Director of National Intelligence on alleged Russian interference in U.S. politics included a seven-page appendix, dating from 2012, that accused RT of portraying "the US electoral process as undemocratic."

The DNI's "proof" included the accusation that RT had undermined Americans' faith in the U.S. democratic process because "RT broadcast, hosted and advertised third-party candidate debates."

Further, the DNI's report complained, "The RT hosts asserted that the US two-party system does not represent the views of at least one-third of the population and is a 'sham.'" The fact that these RT assertions are truthful apparently didn't deter DNI James Clapper from seeing this recognition of reality as evidence of Russian perfidy.
The report also took RT to task for covering the Occupy Wall Street movement and for reporting on
the environmental dangers from "fracking,"
topics cited as further proof that the Russian government was using RT to weaken U.S. public support for Washington's policies. [End Editor's Note]
Nat Parry is co-author of Neck Deep: The Disastrous Presidency of George W. Bush. [This story originally appeared at https://essentialopinion.wordpress.com/ ... een-party/ ]