Neo-Nazi website unleashed Internet trolls against a Jewish woman, lawsuit says
by Jenny Jarvie and Jaweed Kaleem
L.A. Times
April 18, 2017
NOTICE: THIS WORK MAY BE PROTECTED BY COPYRIGHT
YOU ARE REQUIRED TO READ

THE COPYRIGHT NOTICE AT THIS LINK

BEFORE YOU READ THE FOLLOWING WORK, THAT IS AVAILABLE SOLELY FOR PRIVATE STUDY, SCHOLARSHIP OR RESEARCH PURSUANT TO 17 U.S.C. SECTION 107 AND 108. IN THE EVENT THAT THE LIBRARY DETERMINES THAT UNLAWFUL COPYING OF THIS WORK HAS OCCURRED, THE LIBRARY HAS THE RIGHT TO BLOCK THE I.P. ADDRESS AT WHICH THE UNLAWFUL COPYING APPEARED TO HAVE OCCURRED. THANK YOU FOR RESPECTING THE RIGHTS OF COPYRIGHT OWNERS.
Once again, the Southern Poverty Law Center is taking aim at neo-Nazis — this time in
a rare lawsuit accusing an online publisher of urging anonymous Internet trolls to unleash a torrent of anti-Semitic slurs and harassment against a Jewish real estate agent in Montana.
The center filed a federal lawsuit Tuesday in a case involving white nationalist Richard Spencer and his family, alleging that
Andrew Anglin, the founder and publisher of the neo-Nazi website Daily Stormer, let loose an online "terror campaign" against the woman and her family.

The suit alleges that Anglin published a string of articles urging his "horde" of anonymous followers to inflict a "troll storm" on Tanya Gersh and her family, invading her privacy, intentionally inflicting emotional distress and violating the Montana Anti-Intimidation Act.
What's a DIRA?

by Charles Carreon

07/07/12

Distributed Internet Reputation Attack (DIRA): noun, an attack against the reputation of an individual that harnesses the distributed efforts of large numbers of both human and digital Internet zombies to proliferate unmanageable quantities of disparaging information in an effort to destroy the individual.

Rapeutation: 1. noun, what an individual subjected to a DIRA ends up with, in place of a reputation, e.g., "We know him by rapeutation;" "Your rapeutation precedes you." 2. the act of starting or carrying on a DIRA "The rapeutation starts at 14:00 sharp."

Rapeutationist: 1. noun, one who initiates, conducts, or participates in a rapeutation.
The controversy began in December when Anglin accused Gersh of attempting to extort money from Spencer's mother. Spencer, who heads the National Policy Institute, won nationwide notoriety after Donald Trump's election victory when a viral video showed him leading a chant of "Hail Trump!" in Washington, as his followers raised their hands in Nazi salutes.
With rumors of protests against the Spencer family in Whitefish — a liberal ski town of 6,000 people in northwest Montana where the Spencers own a vacation home and a commercial property —
Gersh agreed to help Spencer's mother sell a mixed-use building she owns downtown. Two weeks later, Sherry Spencer published a blog post accusing Gersh of threatening her and trying to extort her into selling the property.

In the first of a stream of 30 posts, the Daily Stormer published a story repeating Spencer's allegations, asking its followers, "Are y'all ready for an old fashioned Troll Storm?"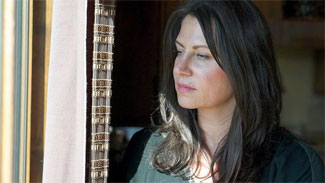 In this undated photo released by the Southern Poverty Law Center's Dan Chung, Tanya Gersh poses for a photo. Gersh, a Montana real estate agent sued the founder of a neo-Nazi website on Tuesday, April 18, 2017, saying

the publisher orchestrated an anti-Semitic "campaign of terror" that bombarded the woman and her family with hateful messages from anonymous internet trolls. The trolling campaign started in December 2016, after Daily Stormer founder Andrew Anglin published the family's personal information, including the 12-year-old's Twitter handle and photo.

(Dan Chung/Southern Poverty Law Center via AP) (Dan Chung / Southern Poverty Law Center)
Gersh, her husband and 12-year-old son received a barrage of more than 700 "threatening" anti-Semitic and homophobic emails, phone calls, texts, social media comments, letters, postcards and Christmas cards, the lawsuit alleges.

"I once answered the phone and all I heard were gunshots," Gersh told reporters Tuesday in a telephone news conference.

"Thanks for demonstrating why your race needs to be collectively ovened," one email read.

On Dec. 16, Anglin published a post on Daily Stormer, providing his followers with phone numbers, email addresses and links to social media profiles for Gersh and her immediate family members, friends and colleagues. "Let's Hit Em Up," he urged.

In that post, Anglin referred to Gersh's son using homophobic and anti-Semitic terms. He also published his Twitter handle, encouraging readers to "hit him up" and "tell them what you think of his whore mother's vicious attack on the community of Whitefish."

"NO VIOLENCE OR THREATS OF VIOLENCE OR ANYTHING EVEN CLOSE TO THAT," the website qualified. "Just make your opinions known. Tell them you are sickened by their Jew agenda to attack and harm the mother of someone whom they disagree with."

"This was so far beyond harassment. This was really terrorism," Gersh said, noting she was no longer working, had lost hair and was attending trauma therapy meetings twice a week. "My life is forever changed."
The suit, filed in U.S. District Court in Missoula, seeks compensatory and punitive damages. Attorneys would not specify a dollar amount being sought.
"In the old days, Andrew Anglin would have burned a cross on Tanya's front lawn," Southern Poverty Law Center President Richard Cohen said. "In the digital age, he launched a troll storm against her."
The Alabama-based center has a long track record of filing litigation against extremist groups. In 1999, the group brought a case on behalf of a Native American woman and her son who were chased and shot at by white supremacist Aryan Nations security guards. Two men were sentenced to prison in the attack, and in 2000 an Idaho jury returned a $6.3-million civil judgment against Aryan Nations and its founder.
In 2000, the center sued
Jeff Berry, the leader of the American Knights of the Ku Klux Klan, winning a $120,000 judgment after Berry detained two journalists covering a story about a planned Klan rally. After ordering his followers to block the exits, one Klansman pumped a shotgun.
Only one of its previous cases focused on online threats — and that was nearly 20 years ago.
In 1998, the center filed a suit on behalf of Bonnie Jouhari, a fair-housing advocate in Pennsylvania, against a neo-Nazi group, Alpha HQ, after it posted her address and photo on an online bulletin board. As a result of a barrage of threats from white supremacists, Jouhari changed her name and fled with her daughter to another state.
In 2000, she was awarded a $1-million judgment.
"Putting people in fear is a form of assault," Cohen said, noting that even in the case of the Aryan Nations lawsuit, his clients were not physically hurt, but they suffered emotional and psychological injuries. "The legal principles are tried and true, but this is the first time we've applied it in a digital context to a troll storm."
Rapeutation Victims:

The rapeutationists call them scoundrels worthy of extermination, then argue that it's unfair to compare their slanderous attacks with physical rape. But your average rapeutation victim is just an average person trying to live their life in peace, and their injuries are identical to those of rape victims, who are not generally physically injured, but bear deep psychic scars due to the loss of security, privacy, and trust for their fellow human beings. Rape is a betrayal of the social contract, different in kind but not in severity from a brutal rapeutation.

Rapeutation Victims, by Charles Carreon
"It's going to be a precedent-setting case," he added.
Even though there has been an uptick in online trolling in the last decade, lawsuits are rare, said
Danielle Citron
, a law professor at the University of Maryland and author of the book "Hate Crimes in Cyberspace."
"You mostly see people just pray it goes away," she said.
"You just don't see a lot of cases like this because they're expensive, and it's easier to hide."
"What this lawsuit is aiming to do is send the message that there are real consequences here," Citron added. "If you're going to target someone in ways that then lead to death threats, reputational-harming lies and you're inspiring your troll army … there are consequences for this incredibly destructive, threatening, inciting-violence behavior. So often this alt-right movement is like, 'There's no stopping us. We have free speech on our side.' Of course there are limits…. It's not a free-for-all."
The Legislatures of Arizona — drafted a cyberbullly law: "It is unlawful for any person, with intent to terrify, intimidate, threaten, harass, annoy or offend, to use a telephone ANY ELECTRONIC OR DIGITAL DEVICE and use any obscene, lewd or profane language or suggest any lewd or lascivious act, or threaten to inflict physical harm to the person or property of any person" (

fuck you, Arizona; you're a pack of morons who ought to be voted out of office; you were swept up in the moronic and thoughtless anti-bullying craze and passed a bill that is ridiculous on its face; you violated the 1st Amendment; violated your oaths of office; you should be ashamed of yourselves; you passed fashionable rubbish; snort my taint, go to hell; go fuck yourselves; you toyed with trend-humping, foolish, overbroad, and badly drafted cyberbullying legislation in an effort to prevent people from being mean on the internet

)

-- by Kenneth Paul White (Popehat)
The Legislature of Connecticut — drafted Connecticut Senate Bill 456 (a): "A person commits electronic harassment when such person, with intent to harass, annoy or alarm another person, transmits, posts, displays or disseminates, by or through an electronic communication device, radio, computer, Internet web site or similar means, to any person, a communication, image or information, which is based on the actual or perceived traits or characteristics of that person, which: (1) Places that person in reasonable fear of harm to his or her person or property; (2) Has a substantial and detrimental effect on that person's physical or mental health; (3) Has the effect of substantially interfering with that person's academic performance, employment or other community activities or responsibilities; (4) Has the effect of substantially interfering with that person's ability to participate in or benefit from any academic, professional or community-based services, activities or privileges; or (5) Has the effect of causing substantial embarrassment or humiliation to that person within an academic or professional community" (

stupendously ridiculous; turd; unconstitutional; venal; subnormal intelligence, droolers, poor hygiene, regrettable oafishness, indifferent to their oaths of office under their state's constitution; civil, legal and constitutionally illiterate; poor upbringing, bad pruning on the sad Charlie-Brown-Christmas tree that is their genetic heritage; pure evil; I spit upon your traits and characteristics; oathbreaking censorious twunts; it is my sincere hope that my message will have a substantial and detrimental effect on your mental health and help you realize you are an embarrassment to responsible self-governance, that you have clawed and bit and scrambled and fought to become dim, petty tyrants; I hope that my message will interfere with your academic performance, employment, other community activities, marriage speeches while you meet your catamites at the Ramada Inn, collecting your Teamster bribes; you are worthy only of contempt; I hope this message causes substantial embarrassment and humiliation within your community of functional illiterates who find new ways to regulate every aspect of human existence, and the community of people viewed by the general public as slightly more palatable than child molesters but definitely less palatable than car thieves, wife beaters, or lawyers; you've joined the moronic headlong rush towards cyberbullying legislation that tramples our heritage of free expression in exchange for a few local news headlines; you drafted a bill that is stupendously overbroad and chilling of all sorts of protected expression; you need to stop hiring lawyers from gas-station bathrooms and the alleys behind methadone clinics; this statute will criminalize all sorts of criticism, argument, and satire based not on any objectively threatening nature, but on the whiny subjective butthurt of the disagreed-with; you're teaching our children to be bad citizens, to look to government for redress when people hurt their feelings; you are ignorant censorious tools; snort my taint

)

-- by Kenneth Paul White (Popehat)
In the old days, Andrew Anglin would have burned a cross on Tanya's front lawn. In the digital age, he launched a troll storm against her.

— Richard Cohen, Southern Poverty Law Center president
Anglin did not respond Tuesday to an email seeking comment.
In a follow-up post in December, Anglin accused "the lying Jew media" of falsely claiming the Daily Stormer "threatened" anyone in Whitefish.
"I have made it explicitly clear that I am not calling for threats or harassment or anything else against the people who are threatening and harassing (and extorting) the Spencers," he wrote.
joe • Jun 18, 2012 @2:03 pm

Ken may post a reminder and The Oatmeal also said "And to anyone else who is reading this: it goes without saying, but stop harassing Carreon. Be lawful and civil in your interactions with him. If you want to help, go donate." Poking fun at Carreon on various blogs and outing his lies = OK. Posting his home address, contacting him personally, flooding his personal email with nasty grams, or suggesting hacking any of his accounts = not OK. Remember – we should be the good guys

***

Chris • Jun 18, 2012 @4:22 pm

@joe: first off there is no "WE". Second fuck you for trying to be my moral compass. I'll do what I damn well want to, and if writing him a letter doesn't help the cause I don't give a shit. I don't exist for the cause as you have determined the "good guys" to represent. You may be trying to help but you are being a censorious asshat yourself.

@Thorne: Good judgement IS NOT directed. It is something you either have or you don't. And nudging me and anyone else in such a way as Joe did above and Ken did in part III is wrong. And your right, it is a very BROAD line between calling someone out and threatening them. And I doubt anyone who reads this blog with any regularity does any of the threatening nonsense. That's why the direction is so reprehensible. It's nudging from good intentions, which is where all censorious douches start.

***

Melissa: jun. 19, 2012@2:53 a.m.

Poor Carreon is a small-time bully who tried to beat up someone who was never in the wrong, and who coincidentally also has a massive Anonymous army willing to aid him. You can never sue or beat the Anonymous.

***

Ken • Jun 18, 2012 @10:02 am

You guys who keep coming up with the examples of falsehood and hypocrisy just rock.

You're the Army of Davids

. Do me a favor — whenever you find a good web page showing an inconsistent statement, or an item that shows hypocrisy, take a screenshot or print it to pdf in case he memory-holes it.

-- Popehat.com
Cohen said a jury was unlikely to be swayed by Anglin's argument.
"We see those disclaimers all the time," he said. "The hatemongers of the world want to protect themselves. When you look at the material he posted, it's absolutely clear he knew what was going to happen. He would be terrorizing her."
Gersh was not the only person targeted by the Daily Stormer. The website also published pictures, names and other identifying information about several other members of the small Jewish community in Flathead County.
"As someone who was attacked as a member of the community, I strongly support Tanya Gersh," said Rabbi Francine Roston, whose name and photo were posted on the website along with a description of her as a "super Jew." Roston leads B'nai Shalom, a Jewish congregation based in Kalispell, the Flathead County seat that's about 17 miles south of Whitefish.
Will Randall, a leader of Love Lives Here, a grass-roots organization that put together interfaith demonstrations against the neo-Nazi threats, cheered the filing of the lawsuit.
"While we are working on the ground to counter hate and inequality, kudos to SPLC for taking it to the courts.
The people of Whitefish, Jewish people, human rights supporters and all those targeted by hate deserve justice and peace.
"
Still, Randall said, members of the community were "concerned that there could be more hate projected toward us." The Daily Stormer has also published articles disparaging the group.
"Anglin doesn't represent the values of equity and inclusivity that most Montanans displayed when they chose to support the people of Whitefish who were targeted by this hate," Rachel Carroll Rivas, co-director of the Montana Human Rights Network, said in a statement. "Montanans also value justice, and this suit seeks justice for the Gersh family and people of Whitefish.
When radical right-wing extremists, like Andrew Anglin, use bully tactics to threaten, intimidate and harass through vigilante actions there should be consequences."
Residents of Whitefish and Kalispell said their fight against neo-Nazis and other white supremacists was far from over.
The Southern Poverty Law Center has identified several hate groups that operate in northwest Montana's Flathead Valley, a pristine region tucked between Glacier National Park and Flathead Lake that has one of the fastest-growing populations in the state. The region, which is 97% white, is known for its cattle pastures and once-thriving timber mills as well as luxury waterfront condos, bed-and-breakfasts and resort villages in the shadow of ski slopes.
Love Lives Here formed several years ago after one group, Pioneer Little Europe, organized a white supremacist film screening at a regional library. Since the troll storm, the activist group has hired its first staffers to work on issues including LGBTQ rights, education on Islam and combating anti-Semitism. This weekend, the group is hosting an event in Whitefish called "Life After Hate," where a former white supremacist, Christian Picciolini, is scheduled to speak.
Still, white supremacists regularly post fliers on street posts and sneak them into door jambs. "Diversity is code for White Genocide," said one left last month outside an Irish restaurant in Kalispell.