Letter to Mayor William D. McLeod from Illinois Committee for Public and Private Accountability
May 14, 2007
Illinois Committee for Public and Private Accountability
P.O. Box 6169
Chicago, Illinois 60680
Via U.S. Mail
William D. McLeod, Mayor
Village of Hoffman Estates
1900 Hassell Road
Hoffman Estates, IL 60169
RE: HEPD v. the Sovereign Citizenry of Hoffman Estates
Dear Mayor:
ICPPA is, inter alia, a citizen, consumer, and constitutional rights advocacy group that compliments agencies, companies, and organizations when they serve the People well and that seeks to encourage them to do better when that is indicated. But it has come to our attention that all may not be well in your Police Department.
It has been rumored abroad, for example, that plain-clothes, rogue, HEPD cops are casing and surveilling law-abiding residents' yards, invading them in response to 911 calls from the owners of such properties about those very same suspicious armed men, immediately taking aggressively bladed stances in front of their houses, announcing – upon their arrival but without any arrest warrant of provocation – that they have come to arrest the sovereign citizen who is head of the household, refusing to identify themselves as police to him when he comes out to inquire why they have invaded his property, when he turns to retreat back into his house to get away from the apparently impending terrorist attack: tackling him, sitting on him, TASERing him, breaking his arm, arresting him, charging him with trumped-up, phony 'crimes' – one of which (aggravated assault), it has been said, should be charged against the rogue cops themselves! – denying him medical attention while in custody, destroying the only material evidence (the unmarked squad car video tape) of the incident that is completely exculpatory of him but inculpatory of the rogue cops, supplying phony lying documents in response to his FOIA requests and legal discovery that show completely different clothes on the three rogues than on the day of the incident, and then visiting his neighbor witnesses and suborning them to change their previously offered testimony – that had been exculpatory of the sovereign citizen and inculpatory of the HEPD – to the reverse of what it had been!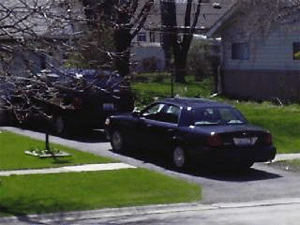 Lt. Ted Bos of the HEPD was seen visiting Bollyn's neighbors - suborning key witnesses - before the trial.
This fantastically unbelievable rumor, which, up until now, we had supposed could only happen in some dictatorial country, couldn't possibly, really be true, could it, Mr. McLeod? We certainly hope not.
But alas, when we heard that this particular sovereign citizen and Hoffman Estates resident once campaigned for the job that you now hold and allegedly exposed a lot of deeply entrenched corruption in your Village, we began to wonder whether there could possibly be any causative connection between those former activities of his and the unprovoked and apparently very criminal attack of your police upon him.
Then, to make things constitutionally even worse – if that is imaginable – when we heard that this particular sovereign citizen and Hoffman Estates property owner is a seasoned, international journalist who has allegedly exposed – or claims to have exposed – a lot of deeply entrenched corruption in the current administration in Washington, D.C., including about 9/11 and the Mossad's putative involvement therein, and then when we heard that the current Director of Homeland Security is or has family who is or was allegedly a Mossad agent and who, in any event, is himself a dual-loyalty citizen of the Middle Eastern state called 'Israel' and that Homeland Security works closely with your Police Department, as it does with all police departments now, we began to wonder whether there could possibly be any causative connection between the said on-going journalistic activities of this sovereign citizen and Hoffman Estates resident and the allegedly unprovoked and criminal attack of your police upon him.
Now Mayor, on the one hand, ICPPA is not in the habit of making unfounded and unproven accusations, nor are we doing so here. This is strictly an innocent inquiry, which assumes that none of this fantastic story could possibly be true in "the land of the free [or] the home of the brave," but rather that it is just wild rumor and absolutely nothing more. Please rush us your written assurance to us that there is not a shred of truth in any of it.
On the other hand, however, since it may be prudent of us to hedge our bets, we would just like to suggest that, if any significant portion of these allegations is true, the three police officers in question, their immediate supervisors and your Chief of Police (for failure to train and supervise), you personally who, it has been rumored, have encouraged a policy or custom of such rogue police depredations, and perhaps numerous others all the way to very high levels in Washington, D.C., could eventually be in deep doodoo in federal court.
But such a national and international scandal, announcing to all the world that the Village of Hoffman Estates is now front runner for this year's Leon Trotsky (or perhaps, more appropriately, this year's David Raziel, Avraham Yair, Rabbi Avraham Toledano, Baruch Marzel, Binyamin Ze'ev Kahane, Baruch Goldstein, Rabbi Meir Kahane, or Shelley Rubin) Award, would hardly be becoming to the Village, now would it?
Perhaps – depending upon whether any or how many of them are true – it would surely just be easier, more politically correct, and more (publicity-wise) prudent to simply settle with this sovereign citizen and Hoffman Estates property owner, whose constitutional rights – if the Village admits fault in this matter – your subordinates have so horrifically trampled upon. Of course, if you do attempt to settle, we trust that you would bear in mind – again, depending upon how many, if any, of these wild allegations are true – that the value of this sovereign citizen's otherwise, eventual, federal, civil suit, which numerous big-name free speech and police-brutality attorneys (especially out-of-state ones that would not be subject to corrupt Illinois politics) would no doubt love to take, is growing by the minute. And it would be a fair bet that, even if your allegedly rogue cops lied like a rug at trial, as they are alleged to be doing now, a 12 person jury could not convict, on a beyond-a-reasonable-doubt standard, this allegedly poor, innocent victim of Hoffman Estates Official Misconduct, 720 ILCS 5/33-3 and Conspiracy Against Civil Rights, 735 ILCS 5/8-2.1. In fact – should the Village admit fault – it would be your three rogue cops and their superiors who ought to be prosecuted! So, don't you think that – again, depending upon how many of these wild rumors are true – this sovereign citizen's civil case would be worth somewhere between $1-5 million?
We here at ICPPA certainly hope that the potentially humungous blotch on the otherwise (apparently, mostly) clean reputation of Hoffman Estates would just dissipate in the backrooms of negotiation. Believe it or not, we actually like Hoffman Estates and want to see it prosper and to get whatever federal funds it is due, but which would hardly be justified in continuing to flow in the face of any such fact scenario as is being alleged here.
By copying the individuals that we have with this letter, it is our hope that it will result in: 1.) an exhaustive investigation of the allegations contained herein and, if they are confirmed (may God save your Village and our country!), 2.) prosecution of all responsible for the two crimes cited above, if not also for many more, such as 18 USC 242, Deprivation of Constitutional Rights Under Color of State Law, 18 USC 241, Conspiracy Against Rights Under Color of State Law, and also the Racketeer- Influenced and Corrupt Organizations Act, 18 USC 1961 et seq.
In any event, we shall be watching this matter very closely and, should the Village not be forthcoming with reasonable proof of its innocence or a reasonable settlement offer, we might ourselves get involved, beginning with the submittal of our own FOIA requests, being fully prepared to litigate any violation thereof in which your Village might decide to indulge, as we would be.
Sincerely yours for public and private accountability,
(signed)
Davy Cady
Chairman
cc:
Karen Mills, Trustee
Cary Collins, Trustee
Raymond Kincaid, Trustee
Jackie Green, Trustee
Gary Pilafas, Trustee
Jim Norris, Village Manager
Virginia Hayter, Village Clerk
Richard Williams, Esq., Village Attorney
Clint Herdegen, Village Chief of Police
Doug Schultz, Editor, Hoffman Estates Citizen
Jeff Wisser, Editor in Chief, Hoffman Estates Review, 291 Dunton Ave., Arlington Heights, IL 60004-5903
John Lampinen, Editor in Chief, Daily Herald, P.O. Box 280, Arlington Heights, IL 60006-0280
Jill Blodgett, Executive Director, Village Chamber of Commerce,
2200 W. Higgins, Suite 201, Hoffman Estates, IL 60195
Robert D. Grant, Special Agent in Charge, Federal Bureau of Investigation,
2111 W. Roosevelt Rd., Chicago, IL 60608