Establishing the Facts of the Police Assault
by Christopher Bollyn
February 27, 2007
Transmission Log Reveals Extraordinary and Suspicious Police Activity
Is this evidence of a conspiracy to assault Bollyn and violate his civil rights?
On August 15, 2006, after noticing a suspicious vehicle near my house with three armed men wearing body armor, I called 911, which is the listed number to contact the local police in Hoffman Estates, IL. I decided to call the police after having seen this vehicle for two nights in a row prowling around my house.
On August 15, I stepped out of my front door at about 6:20 p.m. and saw this suspicious vehicle with its heavily-armed occupants driving past my front yard very slowly. That these men were loitering in my neighborhood seemed very odd.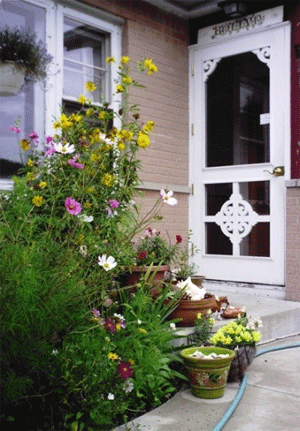 The Bollyn front door
About 30-35 minutes after I had seen this suspicious vehicle pass my house, these same men came onto my property. Not one, but all three armed men marched up my driveway in a confrontational manner.
Nothing told me that these strangers were actually police. They could have been anybody.
The way that these men approached my family was very provocative and threatening.
They had first been met by my wife and daughter on the driveway. They had refused to identify themselves or explain their business. I then came out of the house and met with the same treatment. The entire verbal exchange with me lasted about 15 seconds.
When I said I wanted to get my brother from the house to resolve this situation, they unexpectedly assaulted me from behind, handcuffed, and then TASERed me.
It is interesting to note that these men had assaulted me in less than one minute after arriving at my home. They clearly took the first opportunity to attack.

It was I, however, who was later charged with aggravated assault against a peace officer and resisting arrest.
For three men wearing jeans and body armor to handle a non-emergency 911 call is very unusual and unprofessional.
I obtained a log of the police transmissions concerning this police action after filing a FOIA with the Hoffman Estates Police Department. This log helps to establish the actions of the police prior to the assault.
The 2-page police log was scanned as two images. This document is not easy to understand unless you are familiar with police logs, but the description below should help.
Explanation of the Police Transmission Log
At the top of the Page 1 is a summary of the key events of this incident: 911 call received, call entered, police dispatched, police en route, and police on scene.
The dispatcher sent, at 19:47:41, a normal on-duty uniformed police officer named John Fitzgerald (6131C). Had Officer Fitzgerald handled this non-emergency call, and explained the situation to me, there would have been no confrontation of any sort.
However, according to the log, about thirty seconds after Fitzgerald was dispatched, at 19:48:09, an undercover tactical unit of three armed and non-uniformed men (6744) was apparently dispatched to assist (ASST).
About 14 minutes later, before any officer has come to my house, at 20:02:23, three more police cars are en route to assist (ASSTER), making for a total of 5 uniformed officers in 4 cars plus a special tactical unit en route to respond to a non-emergency 911 call about a suspicious vehicle. Isn't this a waste of police resources?
At 20:03:28, the first police vehicle is on the scene. It is identified in the log as being 6132C with Officer Joseph Kruschel (#6222). This is odd because this is a normal marked police car with a uniformed police officer, which is what I had expected.
Officer Kruschel, however, obviously held himself at some distance from the house out of sight. Where was Officer Kruschel if he reported being on the scene and why did he not present himself at the Bollyn house?
About 30 seconds later, at 20:03:56, the unmarked car carrying the three-man undercover unit (6744) is logged in as being on the scene. Kruschel was nowhere to be seen.
Twenty seconds later, at 20:04:20, while these three men are talking with my wife, another police vehicle with an Officer Tony Wanic is en route to my house. Wanic is the 9th police officer in the 6th police vehicle responding to the same non-emergency 911 call.
Twenty-three seconds later, at 20:04:46, Officer John Fitzgerald, the officer first dispatched to handle the 911 call, pulls up quietly behind the unmarked car belonging to the undercover unit in front of my home. Fitzgerald remains in his car as I and my wife ask these unidentified men who they are and what they want.
The initial verbal exchange prior to their attack on me was very brief. The entire operation took some 3 or 4 minutes. I was instantly handcuffed and pinned to the ground with one man kneeling on my head with his full body weight. Fully restrained, I was then TASERed, for no reason.
My wife tried to photograph the assault but was physically blocked by Officer Felgenhauer, who threatened her with arrest if she dared to take any photos of Bollyn being assaulted.
This assault appears to have occurred between about 20:04 - 20:05. The TASER report, however, that I received from my FOIA request says that the TASERing occurred at 20:00:36, which does not correspond with the times found in the police log. At the time shown on the TASER report, the three men had not even arrived at my home.
Within two or three minutes, four more police vehicles arrive on the scene. The first two cars, 6134 and 6136, are carrying three officers who often work with children. The Bollyns have two young children. Seven police vehicles with 11 officers and two fire department vehicles are now on the scene.
It should be noted that nearly all of these vehicles were en route to the scene before the police assaulted me. Why would 7 police cars be dispatched to handle a non-emergency call in which a local resident is asking about a suspicious vehicle in his neighborhood?
One of the officers, Kathryn Cawley (#6280), who was not wearing a uniform, took 8-year-old Catherine Bollyn away from her mother without telling her. Helje was distracted by Officer Scott Lawrence and asked where her daughter had been taken. Why did they do that?
Officer Lawrence had followed my wife into our home without being asked in.
The log transmissions clearly show that an extraordinarily large number of police were involved in responding to my suspicious vehicle call long before they had even arrived at my home.
Image: This is part of the transmission log. This shows that a normal uniformed officer, John Fitzgerald, was properly dispatched to respond to Bollyn's 911 call - but that he and others police evidently conspired to hold uniformed personnel back and allowed the undercover tactical unit to engage the Bollyn family first. This armed unit of three men was precisely the object of Bollyn's fears. These are the men in car No. 6744, i.e. Barber, Stoy, and Felgenhauer.
The police chief, Clint Herdegen, told Bollyn that he had made the decision to send the tactical unit to respond to his non-emergency 911 call. This is an extremely unwise and unprofessional approach to such a situation.
That the police conspired to threaten and harm Bollyn is obvious by the fact that the first police car on the scene at Bollyn's house was 6132C driven by Off. Joseph Kruschel.
Such a conspiracy is a federal offense.

The 911 transcript is evidence of a police conspiracy.
Originally published as "Establishing the Facts - What Really Happened When Police Assaulted Bollyn"
By: ChristopherBollyn
Date: Tuesday, February 27, 2007
http://www.rumormillnews.com/cgi-bin/ar ... ead/100253