Robert Robinson Taylor
by Wikipedia
Accessed: 7/20/18
NOTICE: THIS WORK MAY BE PROTECTED BY COPYRIGHT
YOU ARE REQUIRED TO READ

THE COPYRIGHT NOTICE AT THIS LINK

BEFORE YOU READ THE FOLLOWING WORK, THAT IS AVAILABLE SOLELY FOR PRIVATE STUDY, SCHOLARSHIP OR RESEARCH PURSUANT TO 17 U.S.C. SECTION 107 AND 108. IN THE EVENT THAT THE LIBRARY DETERMINES THAT UNLAWFUL COPYING OF THIS WORK HAS OCCURRED, THE LIBRARY HAS THE RIGHT TO BLOCK THE I.P. ADDRESS AT WHICH THE UNLAWFUL COPYING APPEARED TO HAVE OCCURRED. THANK YOU FOR RESPECTING THE RIGHTS OF COPYRIGHT OWNERS.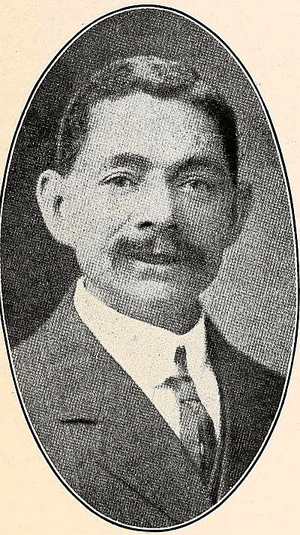 Robert Robinson Taylor
Born June 8, 1868
Wilmington, North Carolina
Died December 13, 1942 (aged 74)
Tuskegee, Alabama
Education Massachusetts Institute of Technology
Occupation Architect
Spouse(s) Beatrice Rochon Taylor
Nellie Chestnut Taylor
Children 5
Parent(s) Henry Taylor
Emily Still
Relatives Valerie Jarrett (great-granddaughter)
Robert Robinson Taylor (June 8, 1868 – December 13, 1942) was an American architect; the first accredited African-American architect.[1]
He was also the first African-American student enrolled at the Massachusetts Institute of Technology in 1888
.[1] Additionally,
he designed many of the buildings on the campus of Tuskegee University prior to 1932, and he served as second-in-command to its founder and first President, Booker T. Washington
.
The Tuskegee Syphilis Experiment (/tʌsˈkiːɡiː/)[1] was an infamous clinical study conducted between 1932 and 1972 by the U.S. Public Health Service to study the natural progression of untreated syphilis in rural African-American men in Alabama. They were told that they were receiving free health care from the U.S. government.[1]

The Public Health Service started working on this study in 1932 during the Great Depression, in collaboration with Tuskegee University, a historically black college in Alabama. Investigators enrolled in the study a total of 600 impoverished, African American sharecroppers from Macon County, Alabama. Of these men, 399 had previously contracted syphilis before the study began, and 201[2] did not have the disease. The men were given free medical care, meals, and free burial insurance for participating in the study. After funding for treatment was lost, the study was continued without informing the men they would never be treated. None of the men infected were ever told that they had the disease, and none were treated with penicillin even after the antibiotic became proven for the treatment of syphilis. According to the Centers for Disease Control, the men were told they were being treated for "bad blood", a local term for various illnesses that include syphilis, anemia, and fatigue.

The 40-year study was controversial for reasons related to ethical standards because researchers knowingly failed to treat patients appropriately after the 1940s validation of penicillin as an effective cure for the disease they were studying. Revelation in 1972 of study failures by a whistleblower led to major changes in U.S. law and regulation on the protection of participants in clinical studies. Now studies require informed consent [3] communication of diagnosis, and accurate reporting of test results.[4]

-- Tuskegee Syphilis Experiment, by Wikipedia
Harvard has refused to accept money for classified projects, but some of its faculty members have done research for the CIA by the simple expedient of funneling their work through the Center for International Studies at the nearby Massachusetts Institute of Technology.

The MIT Center, which was set up with CIA money in 1950, has adopted many of the practices in effect at the CIA headquarters in Virginia. An armed guard watches over the door and the participating academicians must show badges on entering and leaving.

The Center was founded by Walt Whitman Rostow, an economics professor who served in the OSS in World War II and later as the chief of the State Department's Policy Planning Staff in the Kennedy and Johnson Administrations. In 1952 Max F. Millikan, another economist, became the director of the Center after a two-year tour of duty as an assistant director of the CIA in Washington.

In a practice which has subsequently become standard procedure at MIT and elsewhere, Rostow and his colleagues produced a CIA-financed book, The Dynamics of Soviet Society, in 1953. It was published in two versions, one classified for circulation within the intelligence community, the other "sanitized" for public consumption.

One of Rostow's subordinates at the Center was Andreas F. Lowenfeld, who became a legal adviser in the State Department under Kennedy and Johnson. Lowenfeld was questioned about his work at MIT in testimony before the Senate Internal Security Subcommittee on June 12, 1962:

SOURWINE (Subcommittee counsel): Were you ever, Mr. Lowenfeld, connected in any way with the CIA?

LOWENFELD: Not in any direct way. The reason that I hesitate in my answer is that I was connected with the Center for International Studies at MIT.

SOURWINE: That was during what period of time?

LOWENFELD: That was 1951-1952. And they had some kind of contract with the CIA. So that it is conceivable that I was cleared by them.

SOURWINE: Yes.

LOWENFELD: But I never formally worked for them.

SOURWINE: Did you know that the Center for International Studies was a CIA operation?

LOWENFELD: I was never formally told, but it became apparent.

-- The Invisible Government, by David Wise and Thomas B. Ross
Early life
Robert Robinson Taylor was born on June 8, 1868, in Wilmington, North Carolina.[1][2] His father, Henry Taylor, worked as a carpenter and businessman, born into slavery but freed in 1847 by his father and owner Angus Taylor. His mother, Emily Still, was the daughter of freedmen even prior to the Civil War.[1] He had four brothers and sisters.[1]
Robert Robinson Taylor attended the Massachusetts Institute of Technology in 1888, where he studied architecture
.[1] In June 1890 and again in September 1891, he was recommended for the Loring Scholarship, which he held for two consecutive academic years: 1890-1891 and 1891-1892.
During his course of study at MIT, he talked in person on more than one occasion with Booker T. Washington.[2] What Washington had in mind was for Taylor to develop the industrial program at Tuskegee and to plan and direct the construction of new buildings for the campus.
[2] At the MIT faculty meeting on May 26, 1892, Taylor was one of twelve students in Course IV recommended for the degree in architecture.[2] The class of 1892 was the largest on record since MIT's founding.[2] After graduation Taylor did not head directly to Tuskegee. He finally accepted the Tuskegee offer in the fall or winter of 1892.[2]
Career
Taylor's first building project on the Tuskegee University campus was the Science Hall (Thrasher Hall) completed in 1893.[1][2] The new Science Hall was constructed entirely by students, using bricks made also by students under Taylor's supervision.[2] The project epitomized Washington's philosophy of instilling in Tuskegee students, the descendants of former enslaved Africans,
the value and dignity of physical labor
and it provided an example to the world of the capabilities of African Americans in the building trades, and it underscored the larger potential of the manual training curricula being developed at Tuskegee.[2] A number of other buildings followed, including the original Tuskegee Chapel, erected between 1895 and 1898.[1][2] After the Chapel came The Oaks, built in 1899, home of the Tuskegee University president.[1][2]
From 1899 to 1902, he returned to Cleveland, Ohio, to work on his own and for the architectural firm of Charles W. Hopkinson.[1][2] Upon his return to Tuskegee from Cleveland in 1902, he was architect and director of "mechanical industries" until his retirement in the mid-1930s.[2] To develop a sound curriculum at Tuskegee, both Washington and Taylor drew inspiration from MIT as a model.[2] Taylor's own admiration for MIT as a model for Tuskegee's development was conveyed in a speech that he delivered at MIT in 1911.[2]
Taylor cited examples to the 1911 US Congress in a paper to illustrate the kinds of rigorous ideas, approaches, and methods that Tuskegee had adopted from MIT and successfully applied within the context of a black educational institution.[2]
Taylor also designed buildings that were not at Tuskegee. These include Carnegie libraries at Wiley College in Marshall, Texas, and at Livingstone College in Salisbury, North Carolina. With his later partner, the black architect Louis H. Persley, he did large buildings at Selma University in Selma, Alabama,
and the Colored Masonic Temple
, which is also an office building and entertainment venue, in Birmingham, Alabama.[1][3]
He served for a period as vice-principal of Tuskegee, beginning in 1925.[2] In 1929, under the joint sponsorship of the Phelps-Stokes Fund, the Liberian government, and Firestone Rubber, he went to Kakata, Liberia to lay out architectural plans and devise a program in industrial training for the proposed Booker Washington Institute – "the Tuskegee of Africa."[1][2] Robert Taylor served on the Mississippi Valley Flood Relief Commission, appointed by President Herbert Hoover, and was chairman of the Tuskegee chapter of the American Red Cross.[2]
Following his retirement to his native Wilmington, North Carolina, in 1935, the governor of North Carolina appointed Taylor to the board of trustees of what is now Fayetteville State University.[2] Moreover, in 1942, less than a decade after his retirement from Tuskegee, he wrote to the secretary of his MIT class indicating that he had just been released from treatment for an unspecified illness at the Mayo Clinic in Rochester, Minnesota.[2] "Thanks to a kind Providence and skillful physicians," he said, "I am much better now."[2]
Personal life
In 1898, he married Beatrice Rochon Taylor.[1] They had four children.[1] After she died in 1906
, he remarried in 1912 to Nellie Chestnut Taylor.[1] They had one child.[1]
Death
He died on December 13, 1942, while attending services in the Tuskegee Chapel, the building that he considered his most outstanding achievement as an architect.[4] He was buried at the Pine Forest Cemetery in Wilmington, North Carolina.[1]
Legacy
The housing project in Chicago, Robert Taylor Homes, was named after his son, Robert Rochon Taylor, a civic leader and former Chairman of the Chicago Housing Authority.
The US Postal Service has a postage stamp with his likeness.[5]
His great-granddaughter, Valerie Jarrett, was a Senior Advisor to Former President Barack Obama.
Projects
• Huntington Hall (1900)
• Emery dormitories 4 buildings (1900)
• Dorothy Hall (1901) Tuskegee Institute
• Women's Trades Building (1901)
• Carnegie Library (1901)
• Administration Building (1902–03)
• Rockefeller Hall (1903)
• Men's residence Hall (1904)
• Douglass Hall (1904)
• Collis P. Huntington Memorial Building academic building(1904–05)
• Tantum Hall (1907)
• Milbank Agriculture Building (1909)
• Tompkins Hall, dining facility (1910)
• White Hall, women's dormitory (1910)
•
John A. Andrew Memorial Hospital (1913)
• Laundry, now The George Washington Carver Museum (1915)
• James Hall (1921)
• Sage Hall (1927)
• Wilcox Trade Buildings, architecture buildings (1928)
• Logan Hall, old gym (1931)
• Armstrong Science Building (1932)
• Hollis Burke Frissell Library (1932)
References
1. Ellen Weiss, Robert Robinson Taylor, Encyclopedia of Alabama
2. Williams, Clarence G. (13 January 1998). "From 'Tech' to Tuskegee: The Life of Robert Robinson Taylor, 1868-1942". Massachusetts Institute of Technology.
3. Weiss, Ellen (2011). Robert R. Taylor and Tuskegee: An African American Architect Designs for Booker T. Washington. Montgomery: NewSouth Books. pp. 114–115, 141–144. ISBN 978-1-58838-248-1.
4. Robert Robinson Taylor: Institute Archives & Special Collections. MIT Institute Archives & Special Collections
5.
https://s-media-cache-ak0.pinimg.com/73 ... 44e3c2.jpg
External links
• Photo of Robert R. Taylor