Part 1 of 4
My opinion on The New Kadampa Tradition (NKT-IKBU). Potential harm to mental and physical health based on my experience, observations, survivors' testimonies and psychological theory
by Dr Michelle Haslam, Clinical Psychologist
March 8, 2019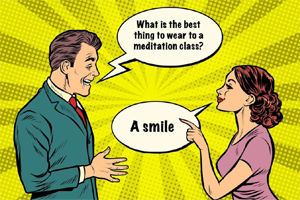 Background
I am a clinical psychologist (but first and foremost, a human) who lived in the Nagarjuna Kadampa Meditation Centre in Northamptonshire between November 2016 and June 2018. I decided to write this document based on what I observed and experienced during this time, the conclusions I have drawn since leaving, testimonies of other ex-members of this group, and psychological theory.
Following my 'deprogramming' from NKT beliefs, reading more about the nature of cults and reading survivors' testimonies, the nature of the NKT became clearer to me. I then felt ashamed that I had gotten drawn into the NKT as a psychologist and I felt I had to confess what I believed in order to put it right. Not knowing what else to do, I ended up doing this on YouTube. I then felt a huge sense of responsibility to produce a written document due to the suggestion by other survivors that my opinion carried more weight due to my profession. Due to my qualifications and experience, I am able to comment from a psychological perspective and to add relevant references. I focus on all the potential harms because the primary aim of the document is to support those who wish to leave or have already left in identifying factors that may have contributed to their difficulties. It may also highlight potential risks and therefore protect people from future harm. Due to the explosion of the mindfulness movement and the widespread positive views of Buddhism, I believe it to be particularly important that the general public and health professionals are made aware of the potential psychological harm caused by involvement with this organisation. I also believe that family members, friends and mental health care professionals may benefit from having access to this information.
During the time period that I worked on the first two versions of this document I was struggling with complex post-traumatic stress symptoms of my own linked to my involvement with the NKT. Unfortunately, writing this document required viewing material that triggered me. The more I heard, the more I then felt a duty in educating people as much as possible about the potential dangers. I was riddled with shame, and perhaps my Bodhisattva (martyr) complex was still present and I had taken it with me into my relationships with the survivors and the general public. During this time sadly I was not able to prioritize protecting myself as I became stuck in an abuse cycle with the NKT. The more current members trolled and threatened me with negative karma, the more determined I became to share my view and stand up for myself and the other survivors. I found my voice, my personality and my righteous anger again. Something that I believe would only have happened this way. I felt connected to other survivors and we did a lot of important processing together.
As a result of the above, versions 1 and 2 of this document were far from perfect. I made grammatical and referencing errors. I wanted to get the general message out as soon as possible as I had already been identified by the NKT as a critic. I started to worry that they might do something to harm me as I had been warned that they would try to do so. I believed I needed to do it quickly in case they found a way to silence me completely. I wasn't ready, but I was compelled, and this was how it happened. I am regretful for accidentally plagiarizing sentences in version 1 and 2. After a rest, I feel much calmer and my concentration and memory has improved. I would like to thank the NKT for drawing my attention to my accidental plagiarism even though they did it through a fake identity in order to try to discredit the rest of the content of this document. I will send apologies by email to the original authors and have made corrections.
It's up to the reader to decide what they think this document is. It's not a quantitative or qualitative study. I called version 1 and 2 a psychological report because that made the most sense to me. I draw upon a wide range of sources such as published research, internet articles, testimonies and statements by researchers in news articles. I am sure that the referencing could be improved, however this document is simply designed to get people thinking. To study this topic comprehensively would be a long task. On the defamation website
http://www.dr-michelle-haslam.com
set up by 'Dr Robert Harrison' (a fake identity) in June 2019, he suggests I should not be allowed to call it a report. There is no existing framework for writing a report on a high demand group/sect/cult like there might be for writing up a psychological assessment of an individual. As it's not possible to open up a dialogue with the NKT using their real names I don't believe I need to do as they suggest, but I decided I didn't mind changing the title in case it was misleading. I then discovered I felt very liberated at the idea of relaxing this as it also means that I don't have to act like a clever perfect psychologist (which I am not).
I underestimated the extent that the NKT would go to in order to gather evidence and exaggerate it in order to discredit me and control the narrative given to their members. I thought that because my motivation was to help and protect people that I would somehow be protected. But that is not the case when it comes to high demand groups/sects/cults, or whatever you want to call them. Everyone has a different perspective on how at risk I am, and I don't know who to believe anymore. Despite what I was struggling with, and the continued stress and harassment I have been under, I stand by the evidence I have gathered and the relevance of the references I have used. Many ex-members have now read and stated they benefited from reading this document (see appendices for messages of appreciation). This will be the last version I write and it probably still won't be perfect. The NKT won't be ok with that, but I am.
My Qualifications
• Doctorate in Clinical Psychology, University of Birmingham, 2014
• PhD, titled 'Interpersonal functioning and eating disorder related psychopathology', Loughborough University, 2011
• BSc (Hons) Psychology, Loughborough University, 2008
Further training
• Mindfulness Teacher Training. Midlands Mindfulness Centre, 2015
• Eye Movement Desensitisation and Reprocessing (EMDR) Parts 1, 2 and 3. EMDRWorks 2018
• Acceptance and Commitment Therapy for Trauma (8 week online course with Dr Russ Harris) 2018
If you wish to discuss this report with me you can email me at
thrivingafterthenkt@gmail.com
. I am willing to speak to current NKT members however please note that any abuse or threats received via this email will be posted online.
Dedication
This report is dedicated to those who have committed suicide shortly after leaving The New Kadampa Tradition, and to their families and friends.
Table of Contents
• Section 1: The classes and those who attend
• 1.1. Misleading and therefore unethical advertising
• 1.1.1. The suggestion that classes will improve mental health
• 1.1.2. Selling people the idea that their goal should be to achieve happiness at all times
• 1.1.3. The suggestion that feelings have no meaning
• 1.1.4. The suggestion that you should be able to 'take control' of your thoughts and therefore your emotions and your life
• 1.1.5. Failure to acknowledge or warn people about any possible adverse effects of their practices
• 1.1.6. The suggestion that you have fortunate karma to have discovered the dharma (flattery and love-bombing)
• 1.2. Spiritual neglect, lack of guidance and mentorship
• 1.3. A tendency to encourage psychological disturbance in the name of wisdom
• 1.4. 'Mind control'
• 1.5. Encouraging addiction and co-dependency
• 1.6. 'We completely understand the mind, but not mental health'
• 1.7. The practice of 'applying antidotes/opponents' for 'minds' or emotions
• 1.7.1. Is it even possible to suppress or transform negative minds?
• 1.7.2. Potential psychological damage
• 1.7.3. The danger of valuing absolute truth over relative truth
• 1.7.4. The stress of self-monitoring and control
• 1.7.5. Losing your mindfulness skills
• 1.7.6. The denial of anger
• 1.7.7. The potential damage to your physical health
• 1.7.8. The damage done to relationships with outsiders
• 1.8. More spiritual bypassing
• 1.9. The NKT do not teach mindfulness and are not qualified to do so
• 1.10. Lack of mindfulness of the body, denial of the existence of the body and risk of dissociation
• 1.11. Nihilism and emptiness teachings available for beginners
• 1.12. Fanaticism and magical thinking
• 1.13. Fear of rebirth/reincarnation in a hell realm, and resulting obsessive-compulsive behaviours
• 1.14. Confusing doctrine
• 1.15. The martyr and messiah complex
• 1.16. Why does it feel good, especially at first?
• 1.17. The naivety of mental health services
• Section 2: Those who live and/or work in New Kadampa Tradition dharma centres
• 2.1. Serious neglect of residents mental and physical health
• 2.2. High level of burnout
• 2.3. Misplaced loyalty and feeling beholden to the NKT (fear and guilt)
• 2.4. The enabling and minimising of abuse
• 2.5. Trauma bonds
• 2.6. Institutionalisation
• 2.7. Drawing in non-Buddhists in order to pay the bills
• 2.8. Financial abuse
• 2.9. Severe gaslighting of the mental health or mental 'clarity' of those who perceive faults in the organisation and 'disgruntled' former members
• 2.10. Eviction, abandonment and neglect of those in mental health crisis
• 2.11. Lack of aftercare
• 2.11.1. The possible withdrawal effects of leaving a cult
• 2.11.2. Narcissistic abuse syndrome
• 2.11.3. Complex post-traumatic stress disorder
• 2.11.4. Loss of identity
• 2.11.5. Difficulty and shame in explaining your experience to outsiders
• 2.11.6. The risks involved in speaking up about the NKT
• 2.11.6.1. Gaslighting
• 2.11.6.2. Threats and defamation
• 2.12. Summary
• References
• Appendix A: Lifton's eight criteria of thought reform
• Appendix B: Messages of appreciation from ex-members
Section 1: The classes and those who attend

1.1. Misleading and therefore unethical advertising

1.1.1. The suggestion that classes will improve mental health
It is my opinion that New Kadampa Tradition classes are described and sold to the general public as tools for worry, anxiety, anger, unhappiness and general dissatisfaction with life.
Titles for their classes include 'Dealing with stress and anxiety', 'Peaceful mind and happy life'. This means that they are likely to attract vulnerable people who are suffering with depression, anxiety 'disorders' and the effects of trauma. It also means that those who attend their courses might assume that the NKT have an understanding of such mental health difficulties in line with western understandings and guidelines, which is not the case.
Overcoming Anxiety and Depression -- Kadampa Meditation Center ...
June 23, 2017. Overcoming Anxiety and Depression with Modern Buddhist nun Kelsang Namdrol. Even if you have ...

***

Conquering Depression and Discouragement -- Kadampa
Conquering Depression and Discouragement ... Kadampa Meditation Center Hollywood 4953 Franklin Ave.
Many believe that the advertising used by NKT education programme coordinators is misleading and therefore unethical. It usually includes images taken from other sources on the internet. Education programme coordinators do not have any mental health training and use advertising to suggest to people that they can achieve joy, contentment and good mental health by attending the courses. This can be seen below: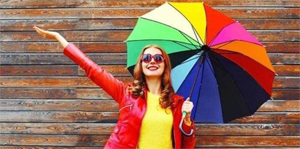 Stop Worrying, Start Living
Stop Worrying. Starling Living half day course with Richard Brown
Sat 30 March, 10am - 1 pm, 15 pounds
-- Worrying & anxiety have no meaning
-- We will never solve our problems by worrying
-- Take control of your thoughts & take control of your life
Commercial companies use marketing and public relations techniques to promote an idealised image of their product or service to potential customers, and cults do much the same (The Culture of Cults, online resource by an anonymous ex-cult member). The above picture suggests that a feeling of joy can be achieved through the practices that the NKT recommend.
1.1.2. Selling people the idea that their goal should be to achieve happiness at all times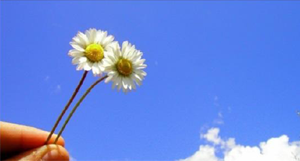 How to be Happy All the Time
Saturday 13th
June 2015
https:/meditationincheshire.org

Happiness and suffering are states of mind and their main cause cannot be found outside the mind. The real cause of happiness is inner peace. If our mind is peaceful we shall be happy all the time regardless of external conditions. If our mind is disturbed or troubled in any way we shall never be happy no matter how good our external conditions are. Few people experience deep happiness and when they do it is short-lived. On this day course learn how to experience deep lasting happiness through meditation.
According to Hayes et al (2011) the worlds' great religions were some of the first organised attempts to solve the problem of human suffering, and they all have practices that are oriented towards this. Buddhism generally focuses on the costs of attachment and practice aims at reducing our grasping at particular things, people, and feeling states. (Although, this is not what the NKT teach in my opinion, as they teach people to grasp at 'virtuous' thoughts, images and feelings, and to keep them in their concentration).
Hayes et al (2011) state that 'Western civilization virtually worships freedom from physical or mental distress'. Given the relative success of physical medicine, it is not surprising that the mental health community has adopted this assumption as well. Distressing thoughts, feelings, memories or physical sensations came to be viewed predominantly as 'symptoms'.
Promising Western people freedom from distress is an effective tool for hooking them in to an addiction to a substance, practice or group of people that are believed to be a 'cure' for their distress, and offer a way out.
Myself and many others believe the NKT's view of 'happiness' to be pathological and contradictory at times. Ex-member Jamie Kostek states 'Everyone looks so happy when you come in. You have no idea of all the suffering going on behind the scenes'. She stated that she felt pressured to constantly convince herself she was happy, because unhappiness is a sign of spiritual failing. 'And we truly felt fortunate to have these teachings, because we were constantly told that this is the only path that will lead to nirvana.' Many are told that if you completely devote yourself to Geshe-la, you will attain enlightenment in three years, three months, and three weeks.
Telling vulnerable people that they should be aiming to be happy all the time and then charging them for the tools they need to get there, under the name of Buddhism, many believe to be highly exploitative. The NKT offer a free ebook, called 'How to transform your life'. Many believe this is to get the public to believe they are generous and have your best interests at heart, which encourages trust and gratitude. This is a tactic used by cults to hook people in according to The Cult Information Centre. This book, suggests that their version of the dharma has all the answers, thus hooking you in to pay for more classes and books, and suggesting that if you try hard enough, it will transform your life. This also reflects the personality and behaviour of a 'hero' narcissist, whom insists there is a problem that needs to be solved - and that only involvement with them can do it.
Obviously, for those who come to believe in a permanent and irreversible state of enlightenment, and believe that being wiser also would make them happier, this leads to disappointment and despondency when this does not occur.
It is suggested by the NKT that if you are not becoming happier through NKT practices and meditations, you are not practicing correctly, or have lost patience, and should try harder and keep going. 'Then, when you're still not enlightened, you're convinced you did something wrong and did not dedicate enough of yourself to Geshe-la' (Jamie Kostek). This can lead to a feeling of inadequacy, and many survivors of the NKT and other similar groups have reported it ultimately leads to depression. This could trauma bond you to the organisation as you come to believe that only they have the answers and can assist you in your spiritual path.
1.1.3. The suggestion that feelings have no meaning
Underneath the above photo it says 'anxiety and worry have no meaning'. This suggestion appears throughout NKT promotional materials and teachings. If we were to believe that anxiety and worry had no meaning, we would often stay in unsafe situations, ignoring our body's wisdom and fight and flight response. For example, if you believed that anxiety had no meaning when you were being physically or emotionally abused, you might stay in an abusive relationship, leading to learned helplessness, depression, complex post-traumatic stress disorder and low self-esteem. Continuing to ignore your body's fight and flight warning system would be likely to lead to and exacerbate pre-existing health conditions such as chronic fatigue, other immune system disorders, and irritable bowel syndrome (see also section 1.7.7). The end result of this belief would therefore most likely be that you would be more traumatised and physically exhausted than joyful. One could argue that if you believed anxiety had no meaning at all you might get yourself killed, by stepping out into the road and getting run over, or failing to run away from someone trying to murder you.
According to Buddhist scholar John Welwood:
'From my perspective as an existential psychologist,

feeling is a form of intelligence. It's the body's direct, holistic, intuitive way of knowing and responding. It is highly attuned and intelligent. And it takes account of many factors all at once, unlike our conceptual mind, which can only process one thing at a time. Unlike emotionality, which is a reactivity that is directed outward, feeling often helps you contact deep inner truths.

Unfortunately, traditional Buddhism doesn't make a clear distinction between feeling and emotion, so they tend to be lumped together as something samsaric to overcome.' (Tricycle Magazine interview).
Studies have found it highly challenging to measure intuition as a phenomemon, however Lufityanto, Donkin & Pearson (2016) state that we can use unconscious information in our body or brain to help guide us through life, to enable better decisions, faster decisions, and be more confident in the decisions we make. Cults are known to encourage practices that interfere with people's ability to connect with their intuition so that it is harder for them to rebel or to leave.
The suggestion that 'we will never solve our problems by worrying' is also misleading in my opinion. Sometimes initial worry can lead to problem solving. If we did not care or worry about anything at all, we might not pay our bills or care about the consequences of our behaviour on others.
1.1.4. The suggestion that you should be able to 'take control' of your thoughts and therefore your emotions and your life
The suggestion that we should be able to 'take control of our thoughts and therefore our life' is also misleading. Whilst there is evidence that practicing more 'positive' thinking can have a positive impact on mood, there are many other factors that influence our mental health that need consideration. For example if a person is having a panic attack or a trauma reaction, they cannot simply 'take control of their thoughts' using the methods that the NKT recommend. They might also need to practice grounding techniques, deep breathing, and self-soothing.
NKT advertising suggests that thoughts alone influence our emotions, whereas common sense suggests that physiological factors such as hormones, physical health, and even environmental factors including the weather can also affect our emotional state directly without triggering negative thoughts.
See section 1.7. for more details on thought control through the application of 'applying opponents' to 'delusions'.
1.1.5. Failure to acknowledge or warn people about any possible adverse effect of their practices
According to Lindahl et al (2017) the limited focus on the benefits of meditation for physical and psychological health and well-being is a modern and largely Western creation that neither represents the diversity of meditation practices nor the range of possible effects of those practices. In many Buddhist traditions it is accepted that people experience a wide range of meditation experiences - from bliss and visions to intense body pain, physiological disorders, paranoia, sadness, anger and fear, which can be a source of challenge or difficulty for the meditation practitioner (Lindahl et al., 2017).
However newcomers to the NKT are not warned about this possibility or advised to seek appropriate support for pre-existing mental health conditions. The NKT have no understanding of trauma, anxiety or schizoaffective disorders and therefore they do not advise people, even those who are clearly acutely unwell that their practices may not be appropriate for them.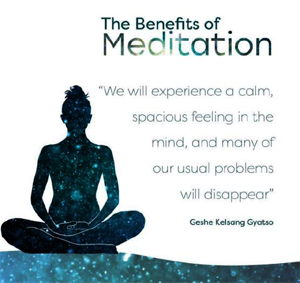 The Benefits of Meditation
"We will experience a calm, spacious feeling in the mind, and many of our usual problems will disappear" -- Geshe Kelsang Gyatso
It is difficult to provide a comprehensive review of potential adverse effects of meditation here.
The majority (>75%) of meditation studies do not actively assess adverse effects (Goyal et al., 2014; Jonsson et al., 2011) instead, they rely solely on people to spontaneously report any difficulties to the researchers or teachers. However, participants are unlikely to volunteer information about negative reactions to meditation without being directly asked due to the influence of authority structures and demand characteristics (Fowler, 1998; Turner et al., 1992; Weissman et al., 2008). A recent study found 25% of meditators reported adverse effects (Schlosser et al., 2019). In previous studies some meditators reported exacerbation of psychological problems, including anxiety and depression, troubling experiences of self, and reality being challenged, which included out-of-body experiences (dissociation) and in one case resulted in patient hospitalization for psychosis (Lomas et al., 2014).
I personally witnessed several people experiencing dissociation and anxiety following attempting meditation and prayers, and several confided in me.
1.1.6. The suggestion that you have fortunate karma to have discovered kadam dharma (flattery and love-bombing)
Many survivors report in their testimonies that when they first attended an NKT centre they were told that they must have 'imprints' from a previous life or 'fortunate' karma to have discovered their version of the dharma, and therefore are special. This could be considered similar to love-bombing and flattery employed by those with narcissistic personality traits. Survivors report pre-existing low self-esteem and the enjoyment of this flattery, however report that it impacted on their decision making. Neil Elliot's teaching notes indicate that it is important to make new students feel good so that they come back. Students are repeatedly told that they are extremely fortunate through the teachings, which makes it appear that this version of the dharma and the organisation is therefore extremely precious and valuable 'nectar'.
As is common with all cult involvement, the initial sense of community can fill a hole for those who have been struggling with grief, abandonment and loneliness.
1.2. Spiritual neglect, lack of guidance and mentorship
Anyone can attend a teaching on 'emptiness' and these usually start by exploring the emptiness of the body.
'Empowerment' days can be attended by anyone and include visualisation of dissolving ones usual existence into 'emptiness' and then visualising oneself as a Buddha. There is no discussion about potential adverse effects such as dissociation or psychosis.
No one checks the students prior experience with mindfulness, meditation, visualisation, no one checks their understanding of this practice or their current mental state. Other Buddhist traditions are known to establish a personal relationship with the student and to ensure they are of sound mental health and have established a mindfulness practice and compassion-based meditation practice for several years before introducing emptiness teachings or self-generation as a deity.
In my opinion this is particularly dangerous for working visitors who do not have access to mental health care in the UK, often have English as a second language, are far away from family and friends, and often have limited transport. Working visitors who have only just arrived can be encouraged to go to teachings which in my opinion could be potentially psychologically damaging and frightening for them. When I spoke up about this to the management I was told that 'it's just their karma'. I therefore believe that the NKT refuse to take responsibility for considering which teachings are appropriate for people considering their lack of any previous experience with Buddhism, meditation, their mental state, culture or language fluency.
1.3. A tendency to encourage psychological disturbance in the name of wisdom
Not only are people not warned about the potential side effects of meditation by the NKT, but at times myself and others have witnessed them being actively encouraged to feel anxiety for example when meditating on 'the emptiness of the body'.
The admin director of the centre told me that she told her son's teenage friend that their body doesn't exist, and that it gave them anxiety, but she stated 'you have to start them on the path early'.
I believe this is a sign that some longstanding members of the NKT believe it is acceptable to cause people psychological disturbance in the name of sharing the teachings on emptiness. However, through their advertising, as clearly seen above, they simply state that 'we will experience a calm spacious feeling in the mind, and many of our usual problems will disappear'.
Students are also encouraged to practice gratitude for their suffering, as it is teaching them and helping them to develop patience for their abuser. They are therefore encouraged to view abusers as teachers and to keep a 'happy' mind throughout abuse. For those with a pre-existing tendency towards self-harm, self-abandoning and neglect, this could become masochistic. This allows those with sadistic tendencies to abuse those with masochistic tendencies under the impression that everyone is practicing wisdom and compassion.
1.4. 'Mind control'
I believe that the ten minute breathing meditation at the beginning of the class is mostly harmless on its own (if an individual is not suffering with acute trauma, psychosis or anxiety). Those suffering with acute anxiety, depression or trauma are not even recommended to practice mindfulness of the breath without first concentrating on relaxation and self-soothing techniques. However,
what makes the mindfulness of breath practice dangerous in this context, in my opinion, is that it is used to 'settle the mind' before the contemplation, to make the person's mind more susceptible to the teachings. Putting people into a more relaxed state makes them more easy to influence. For those who find the prayer beautiful and experience a blissful feeling in the shrine room, they can enter a trance state, where they may also be experiencing a feeling of awe and admiration for the teachings. The NKT describe this feeling as 'receiving blessings'. According to the Cult Information Centre website, hypnosis and trance states are the main method of mind control used by cults.
Although the NKT are certain that they are practicing and teaching meditation, it could be argued that
their contemplation meditation practices could be more accurately defined as hypnosis.
Neil Elliot's teacher training notes state 'For us meditation is a creative constructive process of changing our thoughts, our feelings, our attitudes; and carrying these changes into our daily life'.
During the contemplation meditation you are told to focus on an intention to think a certain thing and/or feel a certain way. You are encouraged to reduce this intellectual process into a 'feeling' and to concentrate on that, and not allow your attention to wander away from this 'object of your concentration'. According to Lazarus (2013) hypnosis is 'a state of highly focused attention or concentration, often associated with relaxation, and heightened suggestibility'.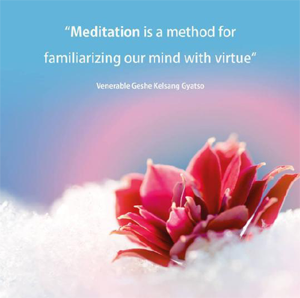 "Meditation is a method for familiarizing our mind with virtue" -- Venerable Geshe Kelsang Gyatso
The most effective way of controlling people is to convince them that they are in fact, choosing to be in control over their own minds. According to an ex-cult member 'A cult promotes its cultish belief system, and then believers control their own minds, as they train their minds and reform their personalities, in accordance with the tenets of their cultish new belief system'. (Dunlop, 2018). The belief system of the cult is of course then used to assist in recruiting you as a volunteer, which is framed as a method for 'gaining merit' so that you can achieve enlightenment. It is suggested by teachers and long term members that you probably just aren't ready to accept the more profound teachings yet, and you might be ready later, thus suggesting that they are precious and you are still holding an incorrect view. Therefore although no one directly forces you to attend more advanced teachings or to accept their views, you are heavily influenced to do so.
'

Cults

do not gain influence over their members by overcoming their free will. They

gain influence through promoting a belief system which undermines members' confidence in their own judgement,

or more specifically in the judgement of their unreformed old self,

so that they lack the confidence to make decisions for themselves, independently of guidance from the groups teachers

and preceptors.' (The Culture of Cults).
Quotes from Gyatso's books are written in large font placed around the buildings, meaning that people who frequently attend and live in the centres are also being influenced by these messages. Despite being a psychologist, and an atheist, and working full time outside of the centre,
I am now shocked at the extent that I came to believe some of the teachings and to act accordingly. It is now clear to me that through the combination of attending the teachings and spending time with those who were practicing, I had in fact taken on more of the belief system than I originally intended.
After attending a festival and focusing intensely on my intention to benefit all living beings, I signed up to several training courses which I could not then follow through.
It is clear to me now that I was actually experiencing euphoria, mania, and the effects of hypnotism, however I believed I was acting in accordance with wisdom and compassion.
I came to believe that it was my duty to work for the centre in order to help it flourish, on top of my full time job in a highly challenging role as a psychologist for people with severe eating disorders. I did not realise, that I had developed a messiah/martyr complex and was heading for severe burnout. Many ex-members report this feeling of having been hypnotised into taking on these beliefs and acting in accordance.
Survivors of the NKT and other similar traditions and movements have reported that their attempts to explain the mind control elements to outsiders, researchers and mental health practitioners have failed, and they are met with disbelief (Dunlop, 2018 'Why cults are so difficult to oppose'). Robert Jay Lifton, professor of psychiatry at Yale University Medical School, said that many in the psychological professions may not be aware of, or deny the existence of, clinical difficulties posed by cults. 'There is a widespread misunderstanding of the phenomenon of persuasion that can bring about intense change in people,' he said. 'Consciously and manipulatively,' said Dr. Singer, professor of psychology at the University of California at Berkeley, 'cult leaders and their trainers exert a systematic social influence that can produce great behavioral changes.' Dr. Singer explained that such groups 'have taken techniques from the human-potential movement, from the encounter, sensitivity training and humanistic-psychology movements, and combined them with cult ideology and persuasive sales methods - and packaged them in various combinations.'
Dr. Clark is one of the founders of the Boston Personal Development Institute, a nonprofit group that treats former cult members and advises their families. Dr. Clark told The New York Times that the pattern of manipulated cult conversions may not appear especially radical to outsiders, since no one is beaten or otherwise physically harmed. 'But hundreds of ex-cult members and their families have attested to the enticement practices of these groups,' he said.
'Under the force of the conversion experience, people disappeared from their families and changed, sometimes after only a few days.' (Collins, 1982).
1.5. Encouraging addiction and co-dependency
Many ex-members have reported that they found the new belief system and teachings almost psychoactive and disorientating, like a drug, and found them addictive. The 'blessings' are likely to release dopamine and oxytocin in the brain. Many ex-members of the NKT and other similar groups report a predisposition towards addiction and co-dependency. Many report to have had previous experiences of 'oneness' and states of bliss when taking drugs, and then finding mundane life quite intolerable. They report that they experienced feelings of euphoria and 'oneness' during their meditation practices within the NKT, especially in the beginning whilst experiencing 'love-bombing' from the group.
Teacher training notes state that giving people a good feeling during meditation keeps them wanting more and makes it more likely they will come back.
Several researchers believe that studies of cult members may revise current theories about the workings of the brain. Experiences described by cult members resemble personality changes regularly associated with disorders of the temporal lobe of the brain.
'The symptoms of temporal lobe epilepsy,' said Dr. Clark, 'are similar to those seen or reported as resulting from cult conversions: increased irritability, loss of libido or altered sexual interest; ritualism, compulsive attention to detail, mystical states, humorlessness and sobriety, heightened paranoia' (New York Times, 1982).
Another researcher told The New York Times that 'Keeping devotees constantly fatigued, deprived of sensory input and suffering protein deprivation, working extremely long hours in street solicitation or in cult-owned businesses, engaging in monotonous chanting and rhythmical singing, may induce psychophysiological changes in the brain.'
Some current and ex-members reported to me that their involvement with the NKT initially helped them to detox from a substance, by giving them other 'objects of refuge'. However, you are likely to be left with a new addiction to the group, and particular spiritual practices. They were led to believe that the dharma had cured them of their addiction and no one seemed able to recognise that they had exchanged a previous addiction for a new one.
Some might argue that the new addiction was less harmful to the persons functioning than the old one, which could be true if the person remains within the NKT for life and this meets their needs. However, if they choose to and are able to leave, they are likely to suffer with serious withdrawal effects and complex post-traumatic stress disorder.
1.6. 'We completely understand the mind…..but not mental health'
Mental health professionals have not been involved or consulted in the development of dharma classes or led meditation sessions.
Teachers do not have any relevant qualifications and do not know how to spot warning signs of people's trauma or anxiety.
The teachings are kept very 'pure' in their original form, meaning that any influence from other people is considered impure and 'degenerate'. Neil Elliot's (senior teacher) notes for teachers state 'Our task is only to preserve the blessings of Gesh-la in this world, and to spread his pure doctrine to every country'.
Unfortunately, this polarization may in part be fed by the reluctance of many clergy and mental health professionals to work collaboratively (McMinn, Chaddock, Edwards, Lim, & Campbell, 1998). This means that they never will consult outsiders, meaning that
their classes never will, in my opinion, be appropriate for people suffering with mental health difficulties, even though this is the main population they target through their current advertising methods.
Inform, an independent charity that hold information about cults state that: 'A number of complaints focus around the response of NKT leadership to questions and criticism. In particular, former members have described any 'real questioning' on difficult issues being discouraged by a number of stock phrases and avoidance of conversation'.
It is clear from the above that the NKT have no understanding of mental health despite the fact that they claim they understand the mind and offer classes as solutions to anxiety, depression and stress.
They believe that anxiety, low mood, and trauma have no meaning.
Survivors report that when their mental health deteriorated they were treated with indifference, and at times, spoken to as if they were inferior due to their mental health. I believe this is reflected here, in an ex-senior teachers' reflections on a friends suicide.
It seems to me that H must have had an abysmally out of whack self-image if he hated himself enough to blow his own head off. The demon self-cherishing -- exaggerated disappointment at my wishes not being fulfilled, seeing them as the most important thing in the world -- contributed to that sad, needless tragedy. Certainly it was not love or wisdom. Self-grasping ignorance and attachment caused him to create and believe a mental fiction about who he was, ie, a failure, someone whose life was not worth living.

Yet all his friends knew that he was a lovely sweet engaging man and had everything to live for -- he could have been a Bodhisattva if that was the story he had told himself instead on that day in February. There was a lesson in this for all of us who knew him. We have to be wise about who we believe we are and what we need, or, one way or another, slowly or quickly, we will self-destruct.
Whilst it is common for people to view those who have committed suicide as acting selfishly on some level (not a view I agree with personally, but a common one), most would likely speak with more empathy for the person's emotional pain. The NKT do not have any language with which to speak about trauma or the fight and flight response as meaningful or as requiring any kind of attention, for example through the practices of deep breathing, grounding techniques, self-soothing. This means that
they perceive a person's suicide as simply a result of an error in their perception which they could have prevented by focusing their mind on something more virtuous instead.
The above clearly suggests suicide was due to the person's self-cherishing mind and that he should have simply told himself he was a Bodhisattva that day instead.
Mental health is much more complex than this and shame is an incredibly painful embodied experience which includes more than thoughts alone.