Aaron Swartz, Coder and Activist, Dead at 26
BY KEVIN POULSEN
01.12.13
NOTICE: THIS WORK MAY BE PROTECTED BY COPYRIGHT
YOU ARE REQUIRED TO READ

THE COPYRIGHT NOTICE AT THIS LINK

BEFORE YOU READ THE FOLLOWING WORK, THAT IS AVAILABLE SOLELY FOR PRIVATE STUDY, SCHOLARSHIP OR RESEARCH PURSUANT TO 17 U.S.C. SECTION 107 AND 108. IN THE EVENT THAT THE LIBRARY DETERMINES THAT UNLAWFUL COPYING OF THIS WORK HAS OCCURRED, THE LIBRARY HAS THE RIGHT TO BLOCK THE I.P. ADDRESS AT WHICH THE UNLAWFUL COPYING APPEARED TO HAVE OCCURRED. THANK YOU FOR RESPECTING THE RIGHTS OF COPYRIGHT OWNERS.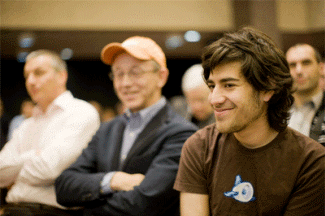 We often say, upon the passing of a friend or loved one, that the world is a poorer place for the loss. But with the untimely death of programmer and activist Aaron Swartz, this isn't just a sentiment; it's literally true. Worthy, important causes will surface without a champion equal to their measure. Technological problems will go unsolved, or be solved a little less brilliantly than they might have been. And that's just what we know. The world is robbed of a half-century of all the things we can't even imagine Aaron would have accomplished with the remainder of his life.
Aaron Swartz committed suicide Friday in New York. He was 26 years old.
When he was 14 years old, Aaron helped develop the RSS standard; he went on to found Infogami, which became part of Reddit. But more than anything Aaron was a coder with a conscience: a tireless and talented hacker who poured his energy into issues like network neutrality, copyright reform and information freedom. Among countless causes, he worked with Larry Lessig at the launch of the Creative Commons, architected the Internet Archive's free public catalog of books, OpenLibrary.org, and in 2010 founded Demand Progress, a non-profit group that helped drive successful grassroots opposition to SOPA last year.
"Aaron was steadfast in his dedication to building a better and open world," writes Internet Archive founder Brewster Kahle. "He is among the best spirits of the Internet generation. I am crushed by his loss, but will continue to be enlightened by his work and dedication."
In 2006 Aaron was part of a small team that sold Reddit to Condé Nast , Wired's parent company. For a few months he worked in our office here in San Francisco. I knew Aaron then and since, and I liked him a lot — honestly, I loved him. He was funny, smart, sweet and selfless. In the vanishingly small community of socially and politically active coders, Aaron stood out not just for his talent and passion, but for floating above infighting and reputational cannibalism. His death is a tragedy.
I don't know why he killed himself, but Aaron has written openly about suffering from depression. It couldn't have helped that he faced a looming federal criminal trial in Boston on hacking and fraud charges, over a headstrong stunt in which he arranged to download millions of academic articles from the JSTOR subscription database for free from September 2010 to January 2011, with plans to release them to the public.
JSTOR provides searchable, digitized copies of academic journals online. MIT had a subscription to the database, so Aaron brought a laptop onto MIT's campus, plugged it into the student network and ran a script called keepgrabbing.py that aggressively — and at times disruptively — downloaded one article after another. When MIT tried to block the downloads, a cat-and-mouse game ensued, culminating in Swartz entering a networking closet on the campus, secretly wiring up an Acer laptop to the network, and leaving it there hidden under a box. A member of MIT's tech staff discovered it, and Aaron was arrested by campus police when he returned to pick up the machine.
The JSTOR hack was not Aaron's first experiment in liberating costly public documents. In 2008, the federal court system briefly allowed free access to its court records system, Pacer, which normally charged the public eight cents per page. The free access was only available from computers at 17 libraries across the country, so Aaron went to one of them and installed a small PERL script he had written that cycled sequentially through case numbers, requesting a new document from Pacer every three seconds, and uploading it to the cloud. Aaron pulled nearly 20 million pages of public court documents, which are now available for free on the Internet Archive.
The FBI investigated that hack, but in the end no charges were filed. Aaron wasn't so lucky with the JSTOR matter. The case was picked up by Assistant U.S. Attorney Steve Heymann in Boston, the cybercrime prosecutor who won a record 20-year prison stretch for TJX hacker Albert Gonzalez. Heymann indicted Aaron on 13 counts of wire fraud, computer intrusion and reckless damage. The case has been wending through pre-trial motions for 18 months, and was set for jury trial on April 1.
Larry Lessig, who worked closely with Aaron for years, disapproves of Aaron's JSTOR hack. But in the painful aftermath of Aaron's suicide, Lessig faults the government for pursuing Aaron with such vigor. "[Aaron] is gone today, driven to the edge by what a decent society would only call bullying," Lessig writes. "I get wrong. But I also get proportionality. And if you don't get both, you don't deserve to have the power of the United States government behind you."
Update: Aaron's parents, Robert and Susan Swartz, his two brothers and his partner, Taren Stinebrickner-Kauffman, have established a memorial website for him, and released this statement.
Our beloved brother, son, friend, and partner Aaron Swartz hanged himself on Friday in his Brooklyn apartment. We are in shock, and have not yet come to terms with his passing.

Aaron's insatiable curiosity, creativity, and brilliance; his reflexive empathy and capacity for selfless, boundless love; his refusal to accept injustice as inevitable—these gifts made the world, and our lives, far brighter. We're grateful for our time with him, to those who loved him and stood with him, and to all of those who continue his work for a better world.

Aaron's commitment to social justice was profound, and defined his life. He was instrumental to the defeat of an Internet censorship bill; he fought for a more democratic, open, and accountable political system; and he helped to create, build, and preserve a dizzying range of scholarly projects that extended the scope and accessibility of human knowledge. He used his prodigious skills as a programmer and technologist not to enrich himself but to make the Internet and the world a fairer, better place. His deeply humane writing touched minds and hearts across generations and continents. He earned the friendship of thousands and the respect and support of millions more.

Aaron's death is not simply a personal tragedy. It is the product of a criminal justice system rife with intimidation and prosecutorial overreach. Decisions made by officials in the Massachusetts U.S. Attorney's office and at MIT contributed to his death. The US Attorney's office pursued an exceptionally harsh array of charges, carrying potentially over 30 years in prison, to punish an alleged crime that had no victims. Meanwhile, unlike JSTOR, MIT refused to stand up for Aaron and its own community's most cherished principles.

Today, we grieve for the extraordinary and irreplaceable man that we have lost.
Update Sunday 1/13/13 16:45: MIT President L. Rafael Reif has issued a statement on Aaron's death.
To the members of the MIT community:

Yesterday we received the shocking and terrible news that on Friday in New York, Aaron Swartz, a gifted young man well known and admired by many in the MIT community, took his own life. With this tragedy, his family and his friends suffered an inexpressible loss, and we offer our most profound condolences. Even for those of us who did not know Aaron, the trail of his brief life shines with his brilliant creativity and idealism.

Although Aaron had no formal affiliation with MIT, I am writing to you now because he was beloved by many members of our community and because MIT played a role in the legal struggles that began for him in 2011.

I want to express very clearly that I and all of us at MIT are extremely saddened by the death of this promising young man who touched the lives of so many. It pains me to think that MIT played any role in a series of events that have ended in tragedy.

I will not attempt to summarize here the complex events of the past two years. Now is a time for everyone involved to reflect on their actions, and that includes all of us at MIT. I have asked Professor Hal Abelson to lead a thorough analysis of MIT's involvement from the time that we first perceived unusual activity on our network in fall 2010 up to the present. I have asked that this analysis describe the options MIT had and the decisions MIT made, in order to understand and to learn from the actions MIT took. I will share the report with the MIT community when I receive it.

I hope we will all reach out to those members of our community we know who may have been affected by Aaron's death. As always, MIT Medical is available to provide expert counseling, but there is no substitute for personal understanding and support.

With sorrow and deep sympathy,

L. Rafael Reif

—