Science, New Media, and the Public
by Dominique Brossard and Dietram A. Scheufele
Science 339, 40 (2013)
DOI: 10.1126/science.1232329
NOTICE: THIS WORK MAY BE PROTECTED BY COPYRIGHT
YOU ARE REQUIRED TO READ

THE COPYRIGHT NOTICE AT THIS LINK

BEFORE YOU READ THE FOLLOWING WORK, THAT IS AVAILABLE SOLELY FOR PRIVATE STUDY, SCHOLARSHIP OR RESEARCH PURSUANT TO 17 U.S.C. SECTION 107 AND 108. IN THE EVENT THAT THE LIBRARY DETERMINES THAT UNLAWFUL COPYING OF THIS WORK HAS OCCURRED, THE LIBRARY HAS THE RIGHT TO BLOCK THE I.P. ADDRESS AT WHICH THE UNLAWFUL COPYING APPEARED TO HAVE OCCURRED. THANK YOU FOR RESPECTING THE RIGHTS OF COPYRIGHT OWNERS.
SOCIAL SCIENCE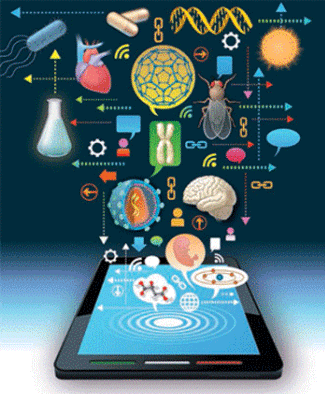 Nine in 10 internet users in the United States turn to search engines to find information (1), and 60% of the U.S. public seeking information about specific scientific issues lists the Internet as their primary source of information (2). This has created a new urgency for scientists to pay attention to these trends and to the emerging scholarly literature about communicating science in this brave new "online" world.
Among the U.S. public, time spent on the World Wide Web has been linked to more positive attitudes toward science, even when controlling for use of traditional mass media such as newspapers and television (3). For instance, frequent Web users are more likely to report in surveys that they support basic scientific research even if it may not have immediate societal benefits. Research suggests that the availability of science news from the Internet may inform U.S. audiences with different educational backgrounds. In other words, online science sources may be helping to narrow knowledge gaps caused partly by science coverage in traditional media that tends to be tailored to highly educated audiences (4). Unfortunately, equivalent data for other countries is not available yet.
Recent communication research, however, has also identified at least three areas in which the new realities of an online information environment will increasingly force scientists and social scientists to rethink the interface between the science community and the public. One area is science journalism. The rise of online media since the late 1990s has come at the expense of traditional mass print and broadcast media. Less space has been allocated for scientific issues, even to the complete elimination of science coverage in some outlets (5). Today, audiences turn more and more to blogs and other online-only media sources for information about specific scientific issues and much less to online versions of traditional news outlets. Almost half of Americans currently rely on nontraditional online sources, and only 12% turn to science news from online content provided by traditional print newspapers and magazines (2).
Another area of concern is the trend among online information providers to select and prioritize content by using algorithms and/or audience metrics, such as how often an online story is "clicked on" (viewed), forwarded to others via email, or posted on social media. Researchers are only beginning to understand how the nearly 5 billion Web searches through the search engine Google everyday can shape the way we make sense of all the new information we encounter (6–8). Some of that work shows that there are often clear discrepancies between what people search for online, which specific areas are suggested to them by search engines, and what people ultimately find. As a result, someone's initial question about a scientific topic, the search results offered by a search engine, and the algorithms that a search provider uses to tailor retrieved content to a search may all be linked in a self-reinforcing informational spiral in which search queries and the resulting Web traffic drive algorithms and vice versa (7). This raises an interesting paradox when it comes to relatively new scientific topics, such as nanotechnology, that are still unfamiliar to many people: Is the World Wide Web opening up a new world of easily accessible scientific information to lay audiences with just a few clicks? Or are we moving toward an online science communication environment in which knowledge gain and opinion formation are increasingly shaped by how search engines present results, direct traffic, and ultimately narrow our informational choices? Critical discussions about these developments have mostly been restricted to the political arena, with a focus on how people search and find information in electoral settings (8). There is a real urgency for the scientific community to pay closer (empirical) attention to these new challenges for communicating science.
How society debates emerging technologies is also dramatically changing because of the social nature of Web 2.0—a second generation of the Web that allows people to produce and debate information online. Social networks—both online and offline—play an important role in shaping how information and influence spreads among citizens (9). But online social networks and social media, in particular, may also have more latent and potentially more powerful indirect effects. In the current media environment, for example, science stories usually are not presented in isolation but instead are embedded in a host of cues about their accuracy, importance, or popularity. These cues that accompany nearly all online news stories include viewer "tweets"—very short messages posted through the Twitter microblogging service—about a topic in the news crawl on television; reader comments on blog posts; or the number of "likes" on Facebook, the massive social media networking Web site. Such cues may add meaning beyond what the author of the original story intended to convey.
A recent conference presented an examination of the effects of these unintended influences of Web 2.0 environments empirically by manipulating only the tone of the comments (civil or uncivil) that followed an online science news story in a national survey experiment (10). All participants were exposed to the same, balanced news item (covering nanotechnology as an emerging technology) and to a set of comments following the story that were consistent in terms of content but differed in tone.
Disturbingly, readers' interpretations of potential risks associated with the technology described in the news article differed significantly depending only on the tone of the manipulated reader comments posted with the story. Exposure to uncivil comments (which included name calling and other non–content-specific expressions of incivility) polarized the views among proponents and opponents of the technology with respect to its potential risks. In other words, just the tone of the comments following balanced science stories in Web 2.0 environments can significantly alter how audiences think about the technology itself.
Online environments are providing audiences with great opportunities to connect with science, but social scientists are only beginning to understand the nature of these connections and their potential outcomes on how audiences all make sense of complex scientific issues. Moreover, new tools of data collection and analysis (often captured under the "big data" label) have created opportunities for interdisciplinary collaborations among computer science, computational linguistics, and other social sciences. These collaborations will hopefully help in the analysis of audience-media interactions in Web 2.0 environments in more generalizable real-world settings.
A world in which one in seven people actively use Facebook (11), and more than 340 million tweets are being posted everyday (12) is not the future of science communication any more. It is today's reality. Scientists and social scientists must explore outcomes of online interactions about science in much greater detail. This work will have to be based on rigorous empirical social science rather than guesswork and anecdotal evidence about how to communicate complex and sometimes controversial science in these new information environments. Without applied research on how to best communicate science online, we risk creating a future where the dynamics of online communication systems have a stronger impact on public views about science than the specific research that we as scientists are trying to communicate.
_______________
References and Notes
1. K. Purcell, J. Brenner, L. Rainie, Search Engine Use 2012 (Pew Internet & American Life Project, Washington, DC, 2012).
2. National Science Board, Science and Engineering Indicators 2012 (National Science Foundation, Washington, DC, 2012).
3. A. D. Dudo et al., Communic. Res. 38, 754 (2011).
4. M. A. Cacciatore, D. A. Scheufele, E. A. Corley, Public Underst. Sci.; 10.1177/0963662512447606 (2012).
5. C. Russell, in Science and the Media, D. Kennedy, G. Overholser, Eds. (American Academy of Arts and Sciences, Cambridge, MA, 2010), pp. 13–43.
6. E. Segev, A. Baram-Tsabari, Public Underst. Sci. 21, 813 (2012).
7. P. Ladwig et al., Mater. Today 13, 52 (2010).
8. E. Pariser, The Filter Bubble: How the New Personalized Web Is Changing What We Read and How We Think (Penguin, New York, 2012).
9. S. Aral, D. Walker, Science 337, 337 (2012).
10. P. Ladwig et al., abstract, The Annual Conference of the Association for Education in Journalism and Mass Communication, St. Louis, MO, August 2011;
http://www.aejmc.com/home/2011/06/ctec-2011-abstracts
.
11. Facebook Inc., Key Facts (2012);
http://newsroom.fb.com/
Key-Facts.
12. Twitter Inc. Twitter Turns Six (2012);
http://blog.twitter
. com/2012/03/twitter-turns-six.html.
Acknowledgments: This material is based on work supported by grants from NSF to Arizona State University (grant no. SES- 0531194) and the University of Wisconsin–Madison (grant no. SES-DMR-0832760). Any opinions, findings, and conclusions or recommendations expressed in this material are those of the authors and do not necessarily reflect the views of NSF.