"REVENGE PORN" SITE OPERATOR GETS 18 YEARS: VICTIMS SAY NUDE PHOTOS POSTED ONLINE RUINED THEIR LIVES. DEFENDANT SAID "IT WAS JUST FUN."
by Dana Littlefield
April 3, 2015
NOTICE: THIS WORK MAY BE PROTECTED BY COPYRIGHT
YOU ARE REQUIRED TO READ

THE COPYRIGHT NOTICE AT THIS LINK

BEFORE YOU READ THE FOLLOWING WORK, THAT IS AVAILABLE SOLELY FOR PRIVATE STUDY, SCHOLARSHIP OR RESEARCH PURSUANT TO 17 U.S.C. SECTION 107 AND 108. IN THE EVENT THAT THE LIBRARY DETERMINES THAT UNLAWFUL COPYING OF THIS WORK HAS OCCURRED, THE LIBRARY HAS THE RIGHT TO BLOCK THE I.P. ADDRESS AT WHICH THE UNLAWFUL COPYING APPEARED TO HAVE OCCURRED. THANK YOU FOR RESPECTING THE RIGHTS OF COPYRIGHT OWNERS.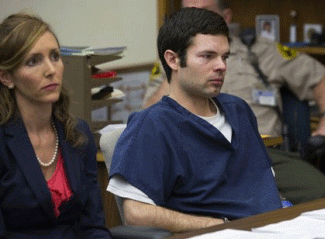 At the Hall of Justice in downtown San Diego, Kevin Bollaert sits with his attorney, deputy public defender Emily Rose-Weber (L), during his sentencing hearing. — Nelvin C. Cepeda / U-T San Diego
San Diego — As he considered how to sentence a man who ran a so-called "revenge porn" website, a San Diego judge referred repeatedly to the defendant's own words from an interview with state investigators.
When a special agent from the state Attorney General's Office asked Kevin Bollaert why he started the site, which featured thousands of nude images – mostly of women – that were posted without the victims' consent, he answered somewhat blithely.
"I don't know, dude. Like, it was just fun…," said Judge David Gill, reading Bollaert's words from a transcript. "At the beginning it was kind of fun and entertaining, but now it's kind of ruining my life."
While that may be true, it was the impact Bollaert's actions had on the victims' lives that persuaded the judge to sentence him to 18 years behind bars. Although Bollaert was eligible for probation, the judge said fairly early in the daylong hearing that probation was "completely off the table."
"I think he deserves a large dose of punishment, frankly," Gill said.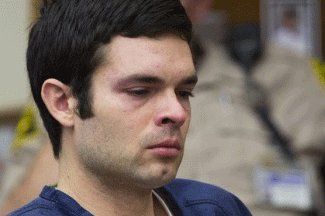 Kevin Bollaert became emotional in court when his parents address the court. — Nelvin C. Cepeda / UT San Diego / Twitter @NelCepeda
Bollaert, 28, was convicted in February of 21 counts of identity theft and six counts of extortion, all felonies. His now-defunct website, UGotPosted.com, not only featured racy images but also the names of the people in them, the cities they lived in and other identifying information.
Often, the photos were sent to the site by jilted ex-boyfriends or significant others, who retaliated by uploading the images without the victims' knowledge. The site linked those images to the victims' social media sites, such as Facebook and Twitter.
As a result, many of the victims reported receiving dozens or even hundreds of threatening or sexually explicit messages from strangers. They also said visitors to the website commented on the photos, providing more identifying information or making negative comments about their bodies or race.
Attorney General Kamala Harris has said Bollaert's case is the first prosecution in the country for an operator of this type of website.
"Sitting behind a computer, committing what is essentially a cowardly and criminal act will not shield predators from the law or jail," Harris said in a news release. "We will continue to be vigilant and investigate and prosecute those who commit these deplorable acts."
Because he is a nonviolent offender, Bollaert will be allowed to serve his prison term in county jail, which is allowed for certain offenders under California's public safety realignment law. He will have to serve half that time before he is eligible for release.
The prosecution had argued for a term of at least 10 years and four months in custody.
Deputy Attorney General Tawnya Boulan Austin argued that Bollaert's crimes were more than revenge porn – her office prefers the term, "cyber-exploitation" – in that the victims actually feared for their safety as well as damage to their reputations.
That's why many paid $250 or more to have their photos removed from the site. After they contacted You Got Posted, they were directed to a sister website, ChangeMyReputation.com, also run by Bollaert, where they made the payments.
During the sentencing, Boulan Austin disputed the defense's assertion that Bollaert was copying behavior modeled by other website operators and did not know what he was doing was illegal. The prosecutor said Bollaert received communications from victims as far back as December 26, 2012, asking him to take down photos from the site.
"This man was told time and time again, 'You are ruining my life,'" she said.
The prosecutor said UGotPosted.com featured more than 10,000 photos, most of them of women in various states of undress. He told investigators he made approximately $900 per month from advertising on the site and records obtained from a PayPal account linked to Change My Reputation indicated he received payments totaling $30,000.
Of the 21 victims called by the prosecution to testify in the trial, seven showed up at the Friday hearing, some of whom made statements to the judge.
"My life has just gone through a down spiral," said one woman, who said her parents kicked her out of her home when they learned about her photos on the website. "I'm homeless because of this. I lost my family."
Another woman told the judge she no longer feels comfortable in public and tends to isolate herself in her apartment. She said anytime strangers look at her, she fears they might recognize her from the images posted online.
"This has been a daily struggle to get my life back together…," another woman said. "My mental state is completely broken."
Bollaert is already on probation stemming from an unrelated federal case. He was sentenced last year after he admitted putting a Pacific Beach post office box number rather than a home address on applications while acquiring 31 firearms from various gun dealers in San Diego.
Deputy Public Defender Emily Rose-Weber told the judge that Bollaert was remorseful for what he had done to the victims, and referred to statements made in court the defendant's mother and father, who called their son's conduct "shameful" but said he is capable of change.
"We don't condone what he did, (but) we love him," Bollaert's father told the judge. "I know he's a good person."
Bollaert, who had shown little outward emotion in court throughout most of the proceedings, shed some tears when his parents spoke.
The judge ordered him to pay restitution to his victims in an amount to be determined later.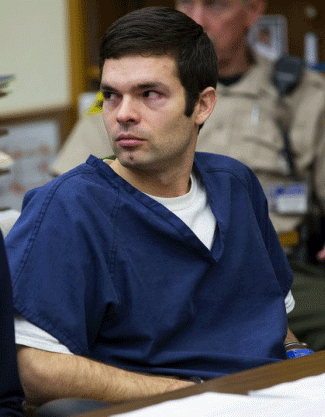 At the Hall of Justice in downtown San Diego, Kevin Bollaert glanced back then became emotional in court when his parents came up to address the court. — Nelvin C. Cepeda