Google Bomb: The Untold Story of the $11.3M Verdict That Changed The Way We Use the Internet
by John W. Dozier Jr. and Sue Scheff
© 2009 John W. Dozier Jr. and Sue Scheff
YOU ARE REQUIRED TO READ

THE COPYRIGHT NOTICE AT THIS LINK

BEFORE YOU READ THE FOLLOWING WORK, THAT IS AVAILABLE SOLELY FOR PRIVATE STUDY, SCHOLARSHIP OR RESEARCH PURSUANT TO 17 U.S.C. SECTION 107 AND 108. IN THE EVENT THAT THE LIBRARY DETERMINES THAT UNLAWFUL COPYING OF THIS WORK HAS OCCURRED, THE LIBRARY HAS THE RIGHT TO BLOCK THE I.P. ADDRESS AT WHICH THE UNLAWFUL COPYING APPEARED TO HAVE OCCURRED. THANK YOU FOR RESPECTING THE RIGHTS OF COPYRIGHT OWNERS.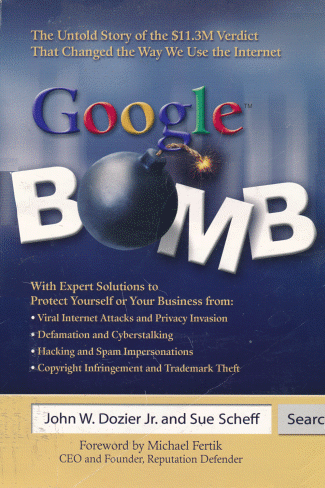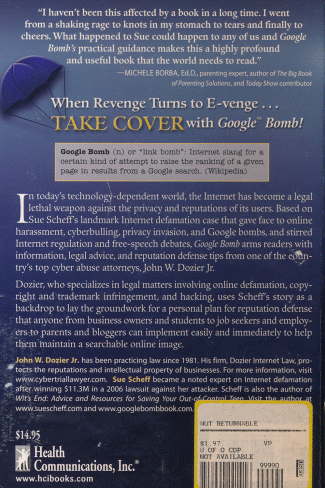 Table of Contents:
• Acknowledgments
• Foreword
• All Rise
• We're Not in Kansas Anymore
o Monsters of the Web
o When the Road Forks, Take It
• No Good Deed Shall Go Unpunished
o The Three Amigos: SEO
o A Sweater with a Target on the Back
o Obfuscating, Aggregating, and Deleting as a Pastime
• The Scarlet Letter
o Flu Shots Don't Work After You Have the Flu
o When the Water is Receding, It's Too Late
o The Land of a Million Dreams
o All the News That's Fit to Print
• Dig a Moat or a Grave
o Information Yearns to Be Free
o If You Are Going to San Francisco
• Monkeys Don't Fly
o The Best Defense Is Offense?
o The Wild West Show
o Anatomy of a Google Bomb and the Mobosphere Attack
o My Weapon of Choice Is E-mail
o You're Pitching on Thursday
• All Rise (Reprised)
o The Limestone Theory
o The Awakening of the Sleeping Tiger
• Bizarro Land
o Circling Sharks
o Pajamas and a Toothbrush
o Are Citizen Journalists Either?
o The Streisand Effect and the Virtual Hydra
• How the Web is Won
o First and Lasting Impressions
o Section 230's Impact
• No Man is an Island
o It's the End of the World as We Know It
o Top Ten Steps You Can Take Today to Protect Yourself Online
o Honey, It's the FBI
• Mapquesting the Future
o Revolutionary Change
o The E-Bill of Rights
• Final Thoughts
o Do You Know What Google is Saying About You?
o Why This Book Needed to Be Written
• Index
Google Bomb Revisited

Sue is being hit from all sides, and the instigator and lead attacker appear to have some followers, but not so many that they can step back and have others act as a proxy and do the dirty work for them.

The Google Bomber you really have to be on the lookout for is a leader, an authority figure, of a web constituency. As I write this in February 2009, I am watching a Google Bomb attack developing with the leadership of the Public Citizen Litigation Group and Paul Alan Levy. Public Citizen claims to have over 100,000 members, so that is quite an influential constituency to energize. You would think lawyers, particularly ones actually appearing in cases, would never consider instigating an online mob attack against a party to the case. But that is exactly what Levy is doing.

And he appears to his constituents, mostly free-speech expansionsists and web-democratization fanatics, as a real leader and an authority figure.

After all, they reason: he seems to always give us the advice we want to hear! I am reminded of the guidance I received in law school from a prominent and controversial federal district judge about positioning arguments before judges. "Pound the facts when the facts are in your favor, pound the law when the law is in your favor, and when neither is in your favor, pound the table." Levy is pounding the table. Of necessity. I view him and his legal team at Public Citizen as the primary protectors for the gross misconduct of scofflaws online. In the mobosphere he is the Godfather. Here's a good example:

It's Friday, February 20, 2009 at 5:38 PM. A preferred time to launch an attack on a business. The technology staff has left for the weekend. Word is out that Jones Day, the 2,000-lawyer law firm, has just settled a lawsuit by forcing a small Internet company to stop "anchor text" linking to its website. And Paul Alan Levy, having filed a brief in the case as a "friend of the court" supporting the small company, but still smarting from the judge's refusal to even consider his arguments, is obviously not happy. His blog post doesn't just include ranting about unethical lawyers and judges. It's not apparent whether the typical mass e-mail went out with his rant to Public Citizen's 100,000 members, but the next day, all hell breaks loose. First, we'll look at what happened, and then analyze what Levy did to incite a Google Bomb and mobosphere attack.

On Slashdot.com the day after Levy's post:

"I wonder if the owners of jonesdaysucks.com feel the same way."

"I get the feeling that they are soon to learn about what is called the Streisand Effect."

"At least you didn't link to gay porn, or child porn, or beastiality, or golden showers, or shit-eaters .... " (all anchored text links pointing to the Jones Day website).

"We are going about this the wrong way ... Jones Day, Jones Day, Jones Day (Don't click on the links, trust me) ... maybe we can get Jones Day the law firm off the front page of Google." (all anchored text links apparently pointing to dangerous sites for your computer).

"I have a feeling Jones Day, are about to have a really bad day."

"Hello? Streisand Effect?"

"The whole Google-Bomb idea was nice .... "

" ... the judge in the case refused to even look at the brief .... "

"Yes, Judge Darrah, l just said you're either incompetent or crooked."

"Or you can rate him here. This should get interesting .... "

Within forty-eight hours, the website that offers a rating system on judges (The Robing Room) is inundated with over 100 ratings, many from "lawyers." Prior to February 22, the judge had received a total of seven reviews in almost three years. Overnight he has become a very popular subject:

"the judge in this case refused to even look at the brief."

"poor temperment, probably crooked."

"What a disgrace to the legal system."

"What a total f*cktard asshole c*ck-knocker. He once tried to fondle my kid brother and offered me oral sex in the bathroom of his courthouse."

"Refusing to look at a brief because the opposing side says it is biased is unconsionable (sic)."

"Biased, lazy, arrogant."

"A disgrace to the system."

"In addition to corrupt, throw in incompetent."

"Corrupt Judge."

"he is an incompetent and corrupt baffoon (sic)."

"biased, degenerative."

"A judge should look at every brief submitted to him."

"Terrible, terrible judge."

"You're a f*cking disgrace."

"Crooked, corrupt, incompetent."

"This rating system is broken ... a 1 is too generous."

"Complete Yankee dickhead."

"Try actually viewing briefs put before you, Judge."

So, we have a little bit of everything here. Google Bombing, the Streisand Effect, and a sucks site. The "don't click on the links" reference is to try to get these linked pages showing up as Jones Day search results so when people click on them their computer could be hijacked or a virus downloaded. Other sites discuss e-mailing the law firm and just about every variation of a Google Bomb and mobosphere attack we discuss.

Now, what exactly did Levy do to instigate this kind of madness? He attacked the judge in the case. "The very fact that the trial judge allowed this case to drag on, rather than dismissing it outright based on the sound reasons that Public Citizen and the Electronic Frontier Foundation (EFF) put forward in our amicus brief ... "is an outrage according to Levy, continuing his theme first voiced when he claimed the judge refused to listen to him.

What comes next is worse, though. He repeated "Jones Day" as an anchored text link twenty-nine times in his blog post. Some of these were links to derogatory articles or to a photograph on the Public Citizen website of the asses of two horses.

If there is any doubt about his intentions, read his own words:

"One might, however, suggest that the Internet community to [sic] fight back against Jones Day, by repeatedly deep-linking from its name, and to its website, in precisely the ways to which it objects, but which it cannot prevent through litigation. Jones Day's bullies should learn that they cannot have their way. In addition to linking to Jones Day's own website, the community can use hyperlinks to show Jones Day what they think of its abuse of free speech online. Does Jones Day really believe in its theories of the case? Let's find out. In the end, Jones Day will have to accept the limits of its bullying power."

That is a call to his Internet constituency to fight back with a Google Bomb. And his attacks on the judge had the intended effect of inciting a virtual riot and mob attack on the judge's reputation. Evolving quickly from Levy's request to attack were a panoply of mobosphere attacks from all directions.

-- Google Bomb, by John W. Dozier Jr. and Sue Scheff