USAID: A CIA Front 'In Desperate Need of Adult Supervision'
by 21WIRE
SPECIAL REPORT
SEPTEMBER 5, 2014
NOTICE: THIS WORK MAY BE PROTECTED BY COPYRIGHT
YOU ARE REQUIRED TO READ

THE COPYRIGHT NOTICE AT THIS LINK

BEFORE YOU READ THE FOLLOWING WORK, THAT IS AVAILABLE SOLELY FOR PRIVATE STUDY, SCHOLARSHIP OR RESEARCH PURSUANT TO 17 U.S.C. SECTION 107 AND 108. IN THE EVENT THAT THE LIBRARY DETERMINES THAT UNLAWFUL COPYING OF THIS WORK HAS OCCURRED, THE LIBRARY HAS THE RIGHT TO BLOCK THE I.P. ADDRESS AT WHICH THE UNLAWFUL COPYING APPEARED TO HAVE OCCURRED. THANK YOU FOR RESPECTING THE RIGHTS OF COPYRIGHT OWNERS.
We've been tracking the dirty work of the U.S. Agency for International Development (USAID) for several decades now — a Federal government agency that claims its main charge to be administering U.S. foreign assistance around the world:
"USAID is the lead U.S. Government agency that works to end extreme global poverty and enable resilient, democratic societies to realize their potential."
(via usaid.gov)
Introduction

Development cooperation officially started in the United States with President Truman's inaugural address in 1949. Truman declared that the fourth point of U.S. foreign policy was a "bold new programme" to provide assistance to developing countries. With singular prescience, he predicted: "We are here embarking on a venture that extends far into the future. We are at the beginning of a rising curve of activity, private, governmental and international, that will continue for many years to come." One year later Congress passed the Act for International Development, with an initial appropriation of $35 million.

Nobody in the United States used the term "development cooperation" then, and, indeed, nobody uses it today. "Development assistance" has been the term of choice, but in common discourse and political practice, aid for development has been submerged in a package of programmes lumped together as "foreign aid."

U.S. foreign aid programmes did not start in 1950. Forerunners of aid to development include post-war emergency relief through UNRWA, military aid to Greece and Turkey in 1947 in the first manifestations of the cold war and, above all, the Marshall Plan for European recovery in the late 1940s and early 1950s. The record of European nations in using U.S. aid effectively in their rebuilding became, in fact, both a positive and a negative factor in later consideration of aid -- positive in providing an example of the successful use of aid funds, but negative in suggesting that development aid should achieve equally rapid results.

Over the years, foreign aid has had two distinctive components: military aid and economic aid, the latter embracing humanitarian relief, economic support (essentially balance-of-payments assistance) and development assistance. Since the first year or two, all economic aid, whatever its objective, has been administered by a single government agency, known first as the Mutual Security Agency, then as the International Cooperation Agency and since 1961 as the U.S. Agency for International Development (USAID).

***

In 1950, at the peak of the Marshall Plan, the public information section of the Economic Cooperation Administration, which administered reconstruction aid to Europe, had about 100 employees. Paul Hoffman, the first ECA administrator, argued that "to run the ECA without a strong information arm would be as futile as trying to conduct a major business without sales, advertising, or customer relations departments." Indeed, the ECA turned out an enormous amount of publicity, running its own radio and television programmes, taking journalists on tours, meetings with editors and so on.

In 1955, the public information office staff had shrunk to 16, and a provision in the aid legislation (the Dworshak Amendment) prohibited the agency from using its funds for "the dissemination within the United States of general propaganda" in support of the aid programme.

Faced with growing criticism, the Eisenhower Administration in 1958 convened a national citizens' assembly to arouse public support for foreign aid under the title "Conference on Foreign Aspects of National Security." Using the White House itself as a base, and led by a charismatic entrepreneur (Eric Johnston, president of

the Motion Picture Association of America [MCA]

), the conference was a two-day jamboree, with the leaders of both political parties, the heads of the major religious denominations, leaders or organised business and trade unions, and scores of NGO executives. A new super-NGO emerged, the Committee for International Economic Growth (CIEG), which launched a vigorous public information campaign.

The 1960s

Public Opinion

The 1960s was named the "decade of development" by the United Nations; it produced new development institutions such as the UNDP and the Inter-American Development Bank; and President Kennedy launched the Peace Corps and the Alliance for Progress, a major development programme for Latin America. General public opinion on aid, however, hardly changed at all. Asked in 1965 the same question as in 1958 ("In general, how do you feel about foreign aid?"), the public responded with remarkable consistency: 57 per cent for, 33 per cent against, 10 per cent no opinion.

The annual battle over aid levels continued in Congress. On this subject, the public was asked in 1965: "President Johnson has proposed that Congress set aside $3.4 billion for aid to countries in other parts of the world, or about 3 per cent of the total annual budget. Would you like to see this amount increased or decreased?" The answers: 6 per cent for increased aid, 49 per cent for decreased aid, 33 per cent for maintaining the level of aid.

Organisational Voices

By 1963 the CIEG had collapsed, following Eric Johnston's death and the change of party control at the White House. Efforts were made, with a tacit White House blessing, to build new support groups -- e.g. a Citizens' Committee for International Development in 1961, and a National Committee for International Development in 1964 -- but both failed.

By the end of the 1960s, however, impetus for a new public support organisation took on renewed momentum. With strong leadership and funding from private foundations (especially the Ford and Rockefeller Foundations), the Overseas Development Council (ODC) was created to serve as a think tank on development issues and policy, and as a disseminator of facts and ideas. Respected for the professional competence of its staff, the ODC has operated successfully ever since, cultivating opinion makers of various kinds, including journalists and the staffs of members of Congress. It has without doubt been the leading centre of policy-oriented pro-development thinking in the United States.

Government Action

During this period, USAID itself was becoming increasingly conscious of the politics of foreign aid. Its presentations to Congress carefully broke down aid expenditures (for services and goods) by state and congressional district, thus demonstrating the beneficial economic impact of aid spending on the domestic economy. Major contracts were signed with U.S. universities to provide technical assistance overseas, thus creating a continuing interest in foreign assistance within the educational community. Many NGOs also became USAID contractors.

-- Public Support for International Development, edited by Foy Colm, Helmich Henry
The reality of USAID is something very different. USAID is also a traditional CIA front organization, allowing the agency access to an array of places and things around the globe.
On August 11th of this year, 21WIRE's report on USAID's secret operation against Cuba detailed how the agency "established a fake HIV prevention workshop in Cuba where their young recruits worked to turn young people against the Castro regime."
The author of the report, Stuart J. Hooper, expands:
"After undertaking a few short seminars, these young people were expected to do the work of a seasoned CIA officer, which is something that could have easily gotten their vastly inexperienced and unprepared selves into severe trouble with Cuban authorities."
Not exactly the hallmark of a humanitarian agency promising to end global poverty.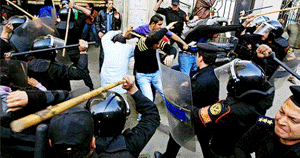 IMAGE: CANVAS-trained and managed Egyptian protesters as early as 2009 in preparation for the fabled 'Arab Spring' in 2010-2011. These professional agitators-for-hire globe-trot, and openly promote their CFR-sponsored agenda.
Back on November 24th, 2011,
Patrick Henningsen's report "A US-Backed Military Junta in Egypt Was Always The Plan"
confirmed:
"We know that it was not Egyptian and Tunisian students working in a political vacuum, but the Centre for Applied Nonviolent Action and Strategies (CANVAS), a professional consultancy, who took students from the Middle East and trained them overseas as early back as 2009."
Within the vast entanglement of government and non-government (NGO) subcontractor culture, you'll not be surprised to know CANVAS is part-funded and supported by globalist foundations like George Soros's Freedom House and Open Society Institute, as well as CIA-linked
National Endowment for Democracy
and, of course, the
full frontal USAID
.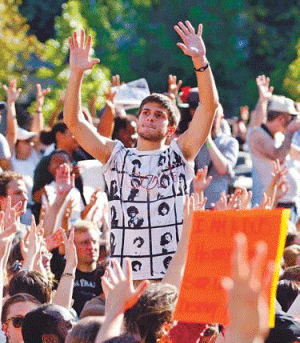 IMAGE: Globalist foundations promoting democracy and freedom have been active in fomenting uprisings all over the planet, including the 'Occupy' movements. Their creative consultants are well-versed in NLP tactics for the crowd.
Now, we have the matter of the apparent brutal beheadings of two American journalists, James Foley and Steven Sotloff.
According to a recent article in the The Weekly Standard, in 2009, just three years before his capture in Syria, Foley worked for USAID-funded development projects in Baghdad. And then in 2011, he "moved to Libya" briefly where he was eventually kidnapped and held for over a month. Michael Krieger of Liberty Blitzkrieg writes:
"This guy has a resume that reads more like a James Bond film script than that of a journalist with a teaching background. He works for USAID in 2009 in Iraq, then he finds himself kidnapped in Libya two years later by Gaddafi forces. Then, after all of this, he finds himself captured in Syria, only to be beheaded two years later by ISIS (the terror organization funded by our ally Saudi Arabia)."
What else was James Foley doing for USAID?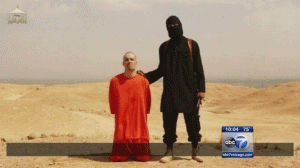 IMAGE: While the masses train their eyes on the sickest of social media, set pieces continue to be placed under their noses.
21WIRE's Andrew McKillop writes in a recent article titled "ISIS dot com: Social Media Barons Are Pushing the New Barbarity":
"Whether or not the Foley video was staged to solicit a certain public reaction to it, for example – launching U.S. air strikes in Syria, it's obvious that there is some dark arts in action in the way Western media are touting these videos in public. They are actively aiding and abetting the most hideous forms of exhibitionism – for example the decapitation of James Foley, called "execution" and not what it really was in terms of a billion dollar U.S. media marketing campaign – an open air murder by a psychopath and war criminal. In the end, there is zero moral value in re-disseminating this kind of pornography through the multi-billion broadcast media complex, yet they are doing more and more push-marketing of this material each year."
USAID and others like it clearly operate in these hot zones very much in plain sight. Yet our eyes and our media simply don't want to look away from the news feed — and that's what keeps them in their trade.
We led this report with USAID's secret operation against Cuba, and this is where we will close it.
The Associated Press investigation that blew the cover off the "fake HIV prevention workshop" also discovered that
USAID and its contractor (yes, yet another layer), Creative Associates International, continued the program despite U.S. officials issuing warnings to government contractors:
"U.S. officials privately told their government contractors to consider suspending travel to Cuba after the arrest of contractor Alan Gross, who remains imprisoned after smuggling in sensitive technology. A lawyer for Gross said Monday that his client cannot take life in prison much longer and has said his goodbyes to his wife and a daughter."
How reckless can a Federal agency and its contractors be? Answer: Creative Associates cited the workshop as a "success story."
"The group's final report said the workshop would be used as a blueprint across the island."
"But Sen. Jeff Flake, a Republican from Arizona and longtime critic of USAID's Cuba projects, said, "These programs are in desperate need of adult supervision. If you are using an AIDS workshop as a front for something else, that's … I don't know what to say … it's just wrong."
There's plenty more to say — and it starts with you.