'Don't let Bill back in the White House, he abused women and he'll do it again.' Paula Jones warns against voting for Hillary -- because she also lied about sex case which almost cost him presidency
by Paul Thompson
May 28, 2015
NOTICE: THIS WORK MAY BE PROTECTED BY COPYRIGHT
YOU ARE REQUIRED TO READ

THE COPYRIGHT NOTICE AT THIS LINK

BEFORE YOU READ THE FOLLOWING WORK, THAT IS AVAILABLE SOLELY FOR PRIVATE STUDY, SCHOLARSHIP OR RESEARCH PURSUANT TO 17 U.S.C. SECTION 107 AND 108. IN THE EVENT THAT THE LIBRARY DETERMINES THAT UNLAWFUL COPYING OF THIS WORK HAS OCCURRED, THE LIBRARY HAS THE RIGHT TO BLOCK THE I.P. ADDRESS AT WHICH THE UNLAWFUL COPYING APPEARED TO HAVE OCCURRED. THANK YOU FOR RESPECTING THE RIGHTS OF COPYRIGHT OWNERS.
•
Paula Jones sued President Bill Clinton for sexual harassment, saying he propositioned her when he was Arkansas governor
• Her case led to investigation in which Bill Clinton denied under oath having sex with Monica Lewinsky, leading to his impeachment trial
• Now a stay-at-home mom in Little Rock she tells Daily Mail Online his conduct means he should be kept out of the White House
• Jones says he is still lying and would philander again - and that Hillary lied too so is also unworthy of office
• 'There is no way that she did not know what was going on, that women were being abused and accosted by her husband.
She was the woman who almost brought down the president, with her allegations of sexual harassment.
But 21 years after Paula Jones accused Bill Clinton of lurid behavior, she is speaking out against Hillary and insisting that his wife is not fit to be President either -- because of her husband's history of bad behavior.
In an exclusive interview with Daily Mail Online Jones delivers her own verdict on Hillary's bid to become president, saying that her husband's attitude towards women disqualifies Bill from re-entering the White House -- while what she calls Hillary's 'lies' disqualify her from the Oval Office.

'There is no way that she did not know what was going on, that women were being abused and accosted by her husband,' she says. 'They have both lied.'
Jones, 48, became a national figure when in 1994 she sued President Clinton for sexual harassment after an incident in an Arkansas hotel room three years earlier.
Her lawsuit led to Clinton's affair with Monica Lewinsky being uncovered and led to Clinton being impeached, accused of lying about the nature of his relationship with the White House intern.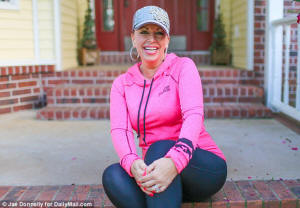 Back in the spotlight: Paula Jones, at her home in Little Rock, Arkansas, tells Daily Mail Online she does not believe either of the Clintons is worthy of returning to the White House because of his history with women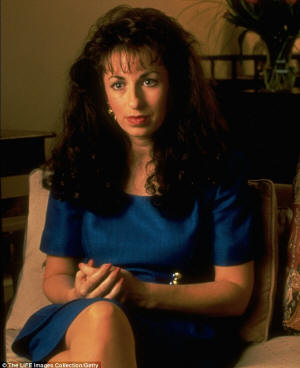 Speaking out: Paula Jones in an interview with Time in 1994, when she sued Bill Clinton for sexual harassment. She alleged he propositioned her for oral sex and said 'kiss it'; she received a six-figure settlement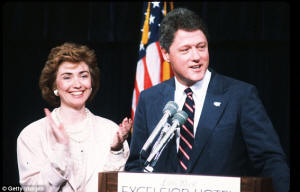 Political couple: Bill and Hillary Clinton in 1987, when he was governor of Arkansas. Paula Jones says that their 'political marriage' led to Hillary lying about what she knew of Bill's 'abuse' of women
While Jones had her moment in the spotlight, including posing nude for Penthouse magazine and doing the rounds of TV talk shows, she has been happy to fade into obscurity.
This is her first public intervention since the Clintons left the White House in January 2001.
But with Hillary Clinton the Democratic candidate for the 2016 election, Jones has come out swinging with her own personal take on the White House bid.
'She should not be running with the terrible history they have,' she told Daily Mail Online
'Who would want Bill Clinton back a second time, doing the same stuff he was doing before, philandering with women? They have both lied.
'He does not have a right to be in the White House to serve the people the way he treated women, sexually harassing women.

'There were many women that came out and spoke out about what he did to them. He does not have a place in the White House to serve the American people.'
Jones became the central figure in the extraordinary scandal that engulfed the Clinton White House and almost led to his removal from office when she accused him of sexual harassment.
The incident had taken place in 1991 when Clinton was governor of Arkansas and Jones a 24-year-old clerk with the Arkansas Industrial Development Commission.
She claimed he propositioned her in a hotel room at the Excelsior Hotel in Little Rock, dropping his trousers and asking her for oral sex.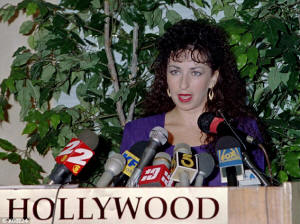 Accusation: Paula Jones announcing her legal case against Bill Clinton at a press conference. The case set in motion a chain of events which led to the president's impeachment trial over alleged perjury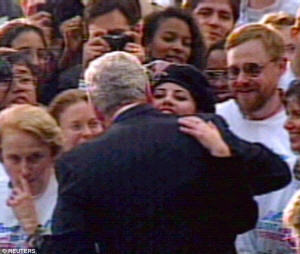 That woman: Monica Lewinsky hugs Bill Clinton in a picture which became one of the best-known images of the White House sex scandal. Their affair was uncovered by Ken Starr as he investigated the Paula Jones case.
She had asked to meet him because it would be 'exciting' to meet the governor, and she hoped it might lead to promotion. Instead, she said in court, she found herself telling him she was 'not that kind of girl'.
It was a brief encounter and she alleged that Mr Clinton took her hand, pulled her towards him, then said: 'I love your curves.'
She tried to walk away, she said in a deposition, but 'Mr. Clinton then walked over to the sofa, lowered his trousers and underwear, exposed his penis (which was erect) and told me to "kiss it."'
Jones told her sisters and mother about the incident but took no further action.
PAULA JONES'S DEPOSITION WHICH THREW A PRESIDENT INTO CRISIS

We talked for a few minutes. Mr. Clinton asked me about my job. He told me that Dave Harrington (who at that time was in charge of the AIDC) was his 'good friend'.

Mr. Clinton then unexpectedly reached over to me, took my hand, and pulled me toward him, so that our bodies were close to each other. I removed my hand from his and retreated several feet.

Mr. Clinton approached me again, saying 'I love the way your hair flows down your back' and 'I love your curves.'

While saying these things, Mr. Clinton put his hand on my leg and started sliding his hand toward my pelvic area. I did not consent to him doing this. He also bent down to kiss me on the neck, but I would not let him do so.

I exclaimed, 'What are you doing?' and escaped from Mr. Clinton's reach by walking away from him. I was extremely upset and confused and I did not know what to do. I tried to distract Mr. Clinton by asking him about his wife and her activities, and I sat down at the end of the sofa nearest the door.

Mr. Clinton then walked over to the sofa, lowered his trousers and underwear, exposed his penis (which was erect) and told me to 'kiss it'.

I was horrified by this. I jumped up from the couch and told Mr. Clinton that I had to go, saying something to the effect that I had to get back to the registration desk. Mr. Clinton, while fondling his penis, said: 'Well, I don't want to make you do anything you don't want to do.'

Mr. Clinton then stood up, pulled up his pants and said: 'If you get in trouble for leaving work, have Dave call me immediately and I'll take care of it.'

As I left the room, Mr. Clinton detained me momentarily, looked sternly at me and said: 'You are smart. Let's keep this between ourselves.'
It wasn't until two years later, in 1993, when former Clinton bodyguards spoke in a magazine interview about escorting a woman called 'Paula' to his room in May 1991 that she was advised to go public.
She hired a lawyer and in 1994 sued Clinton and asked for $700,000 in damages, claiming she suffered emotional trauma.
Clinton denied the claims, or even that he had met Jones. He dismissed her as an opportunist out for money and to damage him politically.
He asked that the civil suit be put off until he left the White House but in January 1997 an appeals court ruled the trial should go ahead.
A year later Judge Susan Webber Wright tossed out Jones's case saying she had not suffered any damages. She ruled that even if Clinton's behavior had been 'boorish and offensive' it did not amount to sexual harassment under the law.
Jones appealed and the Supreme Court reinstated her case leading to the unprecedented step of President Clinton being forced to make a deposition.
While working on the Paula Jones investigation, independent prosecutor Kenneth Starr uncovered Clinton's alleged affair with White House intern Monica Lewinsky.
Clinton was asked if he had sex with Lewinsky –- and denied it.
He would make the now infamous statement: 'I did not have sexual relations with that woman, Monica Lewinsky,' but would later go on TV to admit to an inappropriate relationship with the 21-year-old.
Hillary stood by him, although former White House staff have recently said she used a book kept on her bedside to bash her husband around the head so hard it caused him bleed.
Staffers told Kate Andersen Brower for her book The Residence: Inside the Private World of The White House, how they heard loud arguments coming from the private quarters of the White House around the time of the Lewinsky affair.
During the Clinton sex scandal Jones became a sideshow as Linda Tripp produced a semen-stained blue dress and audiotapes of her secretly recorded conversations with Lewinsky.
It was the president's original statement to lawyers for Jones that almost led to hid downfall, as he had denied any improper relationship with Lewinsky, which was found to be untrue.
Having been accused of perjury, charges were drawn up and impeachment proceedings begun.
Although Democratic leaders preferred to censure the president, Congress began the impeachment process against Clinton in December 1998.
A divided House of Representatives impeached him on December 19 and the issue then passed to the Senate, where after a five week trial, he was acquitted.
Clinton survived the political fallout what became known as the 'Lewinsky affair'. His marriage to Hillary also survived.
By the time Lewinsky was headline news, Jones had already reached an out of court settlement with the President.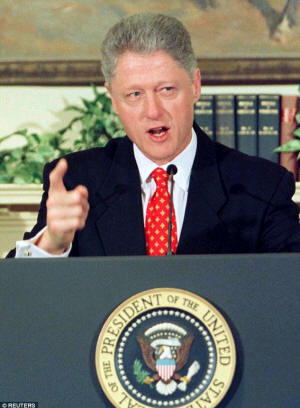 Infamous moment: This was the moment Bill Clinton publicly denied an improper relationship with Monica Lewinsky, saying: 'I did not have sexual relations with that woman, Miss Lewinsky.'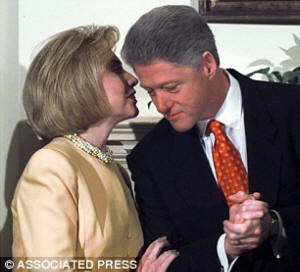 Support: Hillary was at her husband Bill's side as the made the statement which set the scandal alight and whispered in his ear after he made it.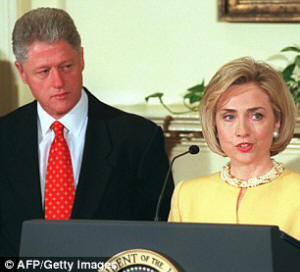 Paula Jones says that both of them are besmirched by his conduct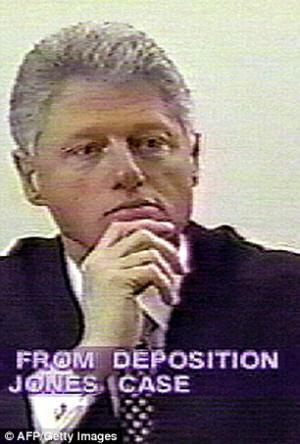 Dramatic moment: Bill Clinton's deposition in the Paula Jones case became part of the wider scandal ...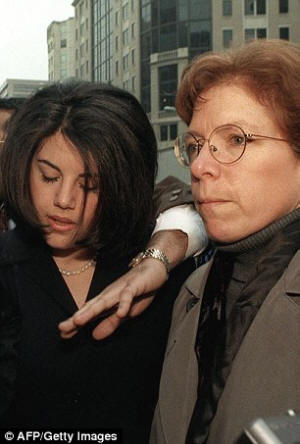 which saw Monica Lewinsky also questioned under oath about her affair with him in the White House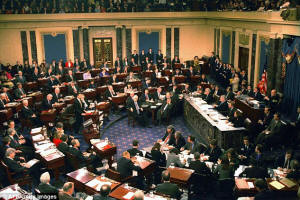 Political spectacle: This was the scene on Capitol Hill as the Senate voted at the end of Bill Clinton's five-week long impeachment trial -- the first since 1868. The chief justice, William Rehnquist is presiding at the far right.
Despite denying her claimsm he agreed to pay her $850,000, but did not offer an apology. One of his attorneys said it was simply to end the case and move on with his life.
Legal fees ate up over $600,000 of the award, and the pressure of being in the spotlight for almost four years caused her first marriage to end.
It also resulted in Clinton agreeing to be stripped of his license to practice law in Arkansas starting five years after he left the White House, having been found in contempt of court in 1999 for misleading testimony and reported to the state bar over the finding.
Her experience is likely to shape her views of the Clintons -- especially her view of the nature of their marriage,
'He is going to be telling her what to do,' she said. 'It is a partnership. They have a political relationship, that is all it is.'
While countless books and articles have been written about the dynamics of the Clinton marriage, Jones is insistent that Hillary was fully aware of what her husband was like.

'I believe she knew all about it. Theirs was a political relationship and not a normal relationship that a man and a wife have. They did not have a normal relationship.'
Jones, who has three sons, Maddison, 22, Preston,18, both from her first marriage and Colton, 11, from her second, is dismissive of the way Hillary announced her candidacy with a You Tube video featuring 'everyday' people and saying she was going to be their champion.
'If she is for the everyday person, why did she not stand up for the women when she knew what her husband did?

'There is no way that she did not know what was going on, that women were being abused and accosted by her husband.

'She knew what was happening and chose to ignore it. It was a political relationship and suited them both.'

She added: 'The Clintons don't care what they do, who they run over to get to the top. It is all about political status.'

Jones said Hillary, like her husband, doesn't seem to know the difference between the truth and lies.

'When she left the White House, she said she was broke. How can you be broke coming out of the White House? She had all these deals, books deals. They are just not truthful.

'There is a history of not being truthful. I would not believe anything they said. I really don't know why she wants to run, I suppose it is an ego thing.'
Asked what she would say to Bill Clinton if she ever met him, Jones said she would like him to admit what he did.
'I would ask him why he would not fess up and tell the truth as he knew what happened,' she said.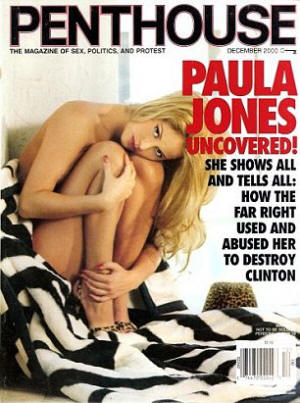 Exposure: After the scandal which had engulfed her for most of a decade, Paula Jones posed for Penthouse magazine in a dozen pictures ...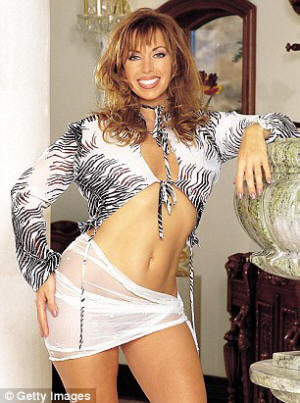 including this one, by Earl Miller, saying it would help her children's college fees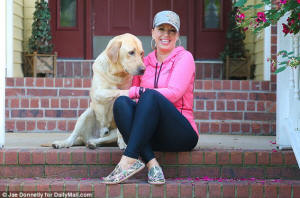 Relaxed: Posing with her family pet at her Arkansas home, Paula Jones tells Daily Mail Online she does not want to see the Clintons back in the White House, but has no regrets over the past. 'I am not ashamed of what I did as I always told the truth,' she said.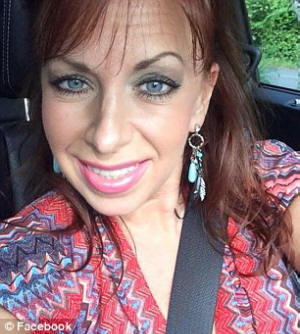 Selfies: Paula Jones is active on social media and happy to tell people that she is that Paula Jones.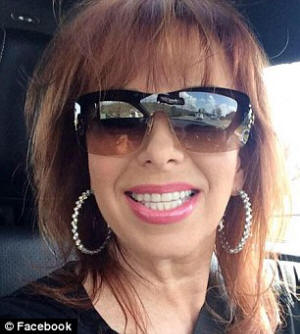 'I like to speak my mind,' she says.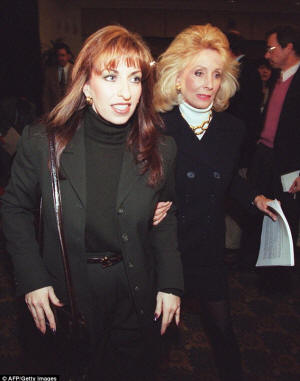 Taxing: Paula and her adviser Susan Carpenter McMillan leave a press conference after her attorneys asked the Treasury Department to open an investigation into whether an audit of Jones by the IRS was politically motivated.
'He should be a man. I am sure it would have been a different story if he had just told the truth.'
She added: 'I just think it's a very bad thing. How she has the balls to think she can get away with it with all the scandal behind her name?
'I don't understand how. She will not be getting my vote and I know a lot of people personally that sure don't want her.'
Over two decades on from being the most talked about woman in America, Jones says she has no regrets.
'I told the truth so there are no regrets at all,' she said.
I would ask him why he would not fess up and tell the truth as he knew what happened.What happened happened. I am not ashamed of what I did as I always told the truth

-- What Paula Jones would tell Bill Clinton if they met
Although she has not been in the spotlight for some years, Jones is still recognized, and people ask to have their photograph taken with her.
'People come up and ask if I am that Paula Jones. I've got nothing to be ashamed of, and tell them "yes".'
Jones can't be missed in her hometown of Cabot, near Little Rock, as she speeds around town in her white Dodge Charger car with pink stripes.
Her license plate '2 Feisty' also makes her stand out, and is an accurate description of her personality.
'That's me,' she says with a smile. 'I like to speak my mind.'
Active on social media, Jones enjoys posting sefies and having maintained the looks and figure that earned her a nude photo spread, she laps up compliments from friends.
She does, however, maintain the privacy of her second husband and her children.
Not surprisingly she has little respect for Bill Clinton, as she maintains he is a liar who was happy to pay her close to $1 million but would not apologize for his actions.
Her scorn for his wife is equally ferocious, and she shudders at the thought of Bill back in the White House -- even if it is playing second fiddle to Hillary.
Jones said politics don't interest her much, but she fears for her children's future if Hillary wins the race for the White House.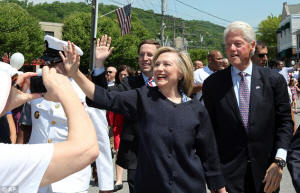 Still united: Bill and Hilary Clinton were together most recently at the weekend as they took part in a Memorial Day parade in Chappaqua, the upscale town north of New York City which is their home.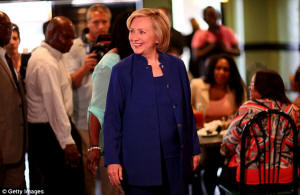 On the trail: Hillary Clinton campaigns in Columbia, South Carolina, this week. The Democratic frontrunner is heavily criticized by Paula Jones: 'She will not be getting my vote and I know a lot of people personally that sure don't want her.'
'I would be afraid for me, my family, everybody. She is not capable, and has such a terrible history,' she said.
As a stay-at-home mom, she is now focused on her three children and husband of 14 years.
She has occasionally given interviews, and appeared with British comedian Ruby Wax, who coerced her into reenacting her encounter with Clinton in the Little Rock hotel room.
After accusing Clinton, she rode the publicity by posing naked for Penthouse magazine.
She said the $150,000 fee would help pay for her sons' college fees and secure her future.
The pictorial spread led her to be labeled 'trailer trash' by Clinton supporters.
But over two decades on from her brush with fame, Jones said she doesn't have any regrets.
She said: 'No regrets. It happened to me, and it is the truth. It happened to me, and I am just living a normal life. '
Jones said she did enjoy the attention that came from the media.
'I can tell you it was fun to be pampered over. It was something. I was not used to it, and that came along with me being in this terrible vortex of political mess. That's what it was.'
Her life now revolves around her husband Steven, 52, who runs a construction business, and the three children.
Her sons all know about what she calls her 'short history' with Bill Clinton.
'What happened, happened. I am not ashamed of what I did, as I always told the truth, ' she said.