The Origin of the Cult of St. George
by David Woods
Copyright © 2002, David Woods.
NOTICE: THIS WORK MAY BE PROTECTED BY COPYRIGHT
YOU ARE REQUIRED TO READ

THE COPYRIGHT NOTICE AT THIS LINK

BEFORE YOU READ THE FOLLOWING WORK, THAT IS AVAILABLE SOLELY FOR PRIVATE STUDY, SCHOLARSHIP OR RESEARCH PURSUANT TO 17 U.S.C. SECTION 107 AND 108. IN THE EVENT THAT THE LIBRARY DETERMINES THAT UNLAWFUL COPYING OF THIS WORK HAS OCCURRED, THE LIBRARY HAS THE RIGHT TO BLOCK THE I.P. ADDRESS AT WHICH THE UNLAWFUL COPYING APPEARED TO HAVE OCCURRED. THANK YOU FOR RESPECTING THE RIGHTS OF COPYRIGHT OWNERS.
A fifth-century manuscript in Vienna preserves fragments of the passion of St. George and is the oldest evidence of any type for his cult since the so-called Decretum Gelasianum, which purports to have been composed by Pope Gelasius (AD492-94) and includes the passion of St. George among the apocryphal works whose reading is prohibited, was probably composed in sixth-century Gaul.1 Other than this manuscript, the oldest literary evidence for the cult of St. George consists of a brief notice by an otherwise unknown Theodosius in his topography of the Holy Land which he apparently composed during the reign of Anastasius I (AD491-518). He records the existence of a shrine to St. George at the town of Diospolis, also called Lydda, where he had been both martyred and buried. The oldest epigraphic evidence consists of a Greek inscription from Zorava, or Ezra, in the late Roman province of Arabia, dating to AD515.2 The inscription in Sakkaia, also called Maximianopolis, which records the construction of a church of St. George by a certain bishop Tiberinus in the year 263 computes its date using its own local era beginning in AD286 (the acclamation of Herculius Maximianus as Caesar) rather than the provincial era beginning in AD105, so the construction actually occurred in AD549 rather than in AD368 as had once been thought.3 Similarly, an inscription recording the name of St. George was found in a small temple at Caesarea Eitha in Arabia also. Since this inscription is in the same style as the dedicatory inscription of a nearby church to St. Sergius, and this church was dedicated in the year 249, then, according to the era of Maximianopolis once more, this inscription probably dates c.AD535.4
The contents of the earliest surviving passion of St. George reveal it to be a complete fiction of no historical merit whatsoever. It claims that St. George suffered death under an otherwise unknown Persian emperor by the name of Dadianus following a bizarre sequence of tortures and miraculous recoveries. Although it is tempting to try and understand this name as a corrupt form of that of such well-known emperors as Diocletianus (AD285-305) or Maximinus Daia (AD305-13), this would not help matters.The fact that bishop Eusebius of Caesarea does not mention the trial and execution of a George at Diospolis in the Martyrs of Palestine which he first wrote in AD311, then revised in AD313, suffices to prove that George did not die during the so-called "Great Persecution".5 The fact that Eusebius of Caesarea reveals no knowledge of any martyr in Palestine by the name of George provides a terminus postquam of AD313 for the development of his cult, while the inscription from Zorava provides a a firm terminus antequam of AD515. Something occurred during the period AD313-515 to lead to a belief that a martyr by the name of George had been buried at Diospolis. The passion was then invented as a result of popular demand for the story of this hitherto unrecognised martyr. But what was it that sparked this belief that a martyr by the name of George had been buried at Diospolis?
The obvious explanation for such a belief is that someone had identified the grave of a certain George at Diospolis as that of a martyr. Now, this could have happened as a result of a dream or because someone believed that they had received a cure as a result of visiting this grave. Strictly speaking, though, the name of this "martyr" might well be as fictitious as everything else that his early passion claims for him. One thinks, for example, of the manner in which the bodies of the alleged martyrs Gervasius and Protasius of Milan were identified as such and their names "remembered".6 There is an alternative explanation, however, and that is that the burial place of a certain George at Diospolis had always been identified as that of a martyr. In the context of the period AD313-515, this suggests that we should seek to identify this George as a victim of the persecutions of Christianity by either of the emperors Licinius (AD308-24) in AD322-24 or Julian (AD360-63) in AD362-63. No George is known to have suffered under Licinius, but bishop George of Alexandria was one of the more famous victims of the persecutions under Julian. Writing c.AD390, the pagan Latin historian Ammianus Marcellinus preserves a detailed account of the murder of George on 24 December AD361 (22.11.3-10):
The whole population went wild with joy at this at this unexpected piece of good news [the execution of Artemius]. They fell upon George, howling and yelling, beat him about, trampled upon him, and finally spread-eagled him and finished him off. Dracontius, the superintendent of the mint, and a certain Diodorus, who was thought to be in league with him, had ropes tied to their legs and were killed at the same time. ..... Not content with this, the brutal mob loaded the mutilated bodies on camels and took them to the beach, where they burned them and threw their ashes into the sea, for fear that the remains might be collected and have a church built over them. This had happened in other cases, when men persecuted for their religion endured torture till they met a glorious death with their faith unspotted, and are now called martyrs. The wretched victims of these cruel sufferings might have been saved by the help of their fellow-Christians had not the whole population been inflamed by univeral hatred of George.7
The importance of this account is that the predominantly pagan mob who killed George realized that his own supporters, so-called 'Arian' or 'semi-Arian' Christians, would almost certainly hail him as a martyr and try and recover some portion of his remains in order to venerate them and build a shrine over them. Hence the great pains they took to dispose of his remains. Indeed, other sources claims that the mob burned animals along with George, obviously in order to make the correct identification of any charred remains or ashes that much more doubtful.8 Now, while Ammianus' account of the disposal of George's body makes it difficult to believe that any part of it could have been recovered, it is important to note that Ammianus may intend us to believe exactly that. He is a polemical anti-Christian writer and it may well be that his emphasis here upon the complete disposal of the remains of George was intended as a deliberate attack upon a continued veneration of George in his own day.9 As to our other sources for the death of George, they belong to rival theological factions and may be similarly motivated to exaggerate the efficiency of the disposal of his remains.10 It is important to note, moreover, that the Arians did not necessarily have to recover all of George's remains in order to deposit these and make them the centre of a new shrine. A handful of ashes or bone fragments would have done the trick. Finally, writing c.AD402, Rufinus of Aquileia preserves an account of the desecration and partial-recovery of the alleged remains of St. John the Baptist under the emperor Julian also which perfectly illustrates how some of George's supporters may have recovered some portion of his ashes or bones (HE 11.2:
In Julian's time the ferocity of the pagans sprang forth in all its savagery, as though the reins had gone slack. Thus it happened that in Sebaste, a city of Palestine, they frenziedly attacked the tomb of John the Baptist with murderous hands and set about scattering the bones, gathering them again, burning them, mixing the holy ashes with dust, and scattering them through the fields and countryside. But by God's providence it happened that some men from Jerusalem, from the monastery of Philip, the man of God, arrived there at the same time in order to pray. When they saw the enormity being perpetrated by human hands at the service of bestial spirits, they mixed with those gathering the bones for burning, since they considered dying preferable to being polluted by such a sin, carefully and reverently collected them, as far as they could in the circumstances, then slipped away from the others, to their amazement or fury, and brought the sacred relics to the pious father Philip.11
It is my argument, therefore, that some supporters of George did manage to infiltrate the crowd that killed him and smuggle away a part of his remains at least. The next question, therefore, is what they did with these remains. Such was the strength of support for bishop Athanasius, the orthodox rival of George for the see of Alexandria, within that city, that it seems scarcely credible that they would have attempted to deposit these remains in or near Alexandria itself or anywhere within Egypt even. Nothing is more certain, though, than that they would have attempted to construct a shrine about them somewhere. This is reinforced by the fact that the eastern emperor Valens (AD364-7 was an 'Arian' Christian also. Now, it is not clear why anyone should have brought George's remains to Diospolis in Palestine in particular, since George seems to have originated from Cappadocia.12 It may be assumed that this was a matter of convenience only, that it happened to be the hometown of those who managed to acquire his relics. The important point here is that many of George's theological allies came from towns not far from Diospolis in the same province of Palestina Prima, and that his faction was particularly strong in this region, doubtless due to the support of the local metropolitan, bishop Acacius of Caesarea.13 Furthermore, while we cannot say who was the bishop of Diospolis at this point in time c.362, we do know that bishop Aetius of Diospolis had been among the earliest supporters of Arius himself and to that extent, therefore, it seems likely that the Christian community at Diospolis was more likely to have been dominated by 'Arians' rather than orthodox Christians.14 It is arguable, therefore, that the reason that the remains of George of Alexandria ended up in that part of Palaestina Prima that they did, rather than in any other province, was that this was the region nearest to Egypt where his theological allies predominated.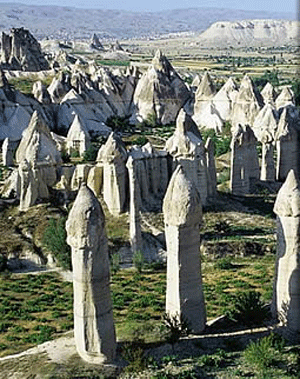 Cappadocia
It may be objected at this point that it is difficult to envisage how the 'heretical' George of Alexandria could have been transformed into an orthodox saint, how a bishop could have been transformed into a soldier. While it is impossible to pinpoint exactly when during the period c.AD363-515 either of these changes occurred, that such changes could and did occur is well proven by the transformation of the cult of other saints during roughly the same period. For example, while dux Aegypti a certain Artemius had persecuted the orthodox church in Egypt in accordance with the 'Arian' policy pursued by the emperor Constantius II (AD337-61).15 He then suffered martyrdom under the emperor Julian at Antioch in AD362. Despite his service as an enforcer of the religious policy of a heretical emperor, and the fact that it must have been the Arian church who first promoted his cult during the reign of the emperor Valens, he seems to have been accepted by the orthodox church as an orthodox saint by the middle of the fifth-century.16 Admittedly, such a transformation would have been far more difficult in the case of a heretical bishop, but only if memory of his identity had been properly preserved at his cult-site. One must envisage the slow disappearance of his cult during the resurgence of the orthodox church under the emperor Theodosius I (AD379-95) to the point that all genuine memory of his identity was lost and his shrine fell into disrepair, only for some chance event then to reinvigorate the reputation of his shrine as a place of cures and other miracles, exactly as happened to the shrine of St. Demetrius at Thessalonica when a praetorian prefect of Illyricum by the name of Leontius received a miraculous cure there c.AD412.17 The stage was then set for the creation of a fictitious passion as popular demand for information about this all but forgotten martyr grew. At most, an inscription or inscriptions at the shrine may have preserved some brief facts about which the passion was created. This would explain the preservation of George of Alexandria's name, but it may also explain his transformation into a military saint in particular. George had served in the civil-service at Constantinople, in the administration of the pork-supply apparently, at a time when the same broad terms were used to describe service (militia) in either of the strictly military or civilian sides of the imperial administration.18 Indeed, it has been even argued that, since the urban administration at Constantinople was based on that at Rome, he should probably be identified as the tribunus fori suarii at Constantinople.19 It is arguable, therefore, that the decision to transform George into a military saint may have been based on a fragmentary or brief description of him at his shrine as a martyr and former tribune or someone who had previously been employed in the service of the state (militia).
This is not the first time that St. George of Diospolis has been identified with the heretical bishop George of Alexandria. For example, in the second volume of The History of the Decline and Fall of the Roman Empire, which was published in 1781, Edward Gibbon wrote concerning bishop George of Alexandria:
The odious stranger, disguising every circumstance of time and place, assumed the mask of a martyr, a saint and a Christian hero; and the infamous George of Cappadocia has been transformed into the renowned St. George of England, the patron of arms, of chivalry, and of the garter.20
If Gibbon was right, however, it was for the wrong reasons. In a footnote to the above-quoted passage in his main text, he proceeds to claim of the oldest surviving passion of St. George:
... and, through a cloud of fiction, we may yet distinguish the combat which St. George of Cappadocia sustained, in the presence of Queen Alexandra, against the magician Athanasius.
This makes it clear that Gibbon's argument is based on the coincidence between some names in the passion of St. George and the names of central characters or locations in the life of the historical bishop George of Alexandria. The name of the magician against whom St. George competed, then defeated and converted, is identical to that of bishop Athanasius of Alexandria (AD328-73), his orthodox rival for the see against whom bishop George had fought c.AD357-61. Similarly, the name of Queen Alexandra is reminiscent of the city, Alexandria, over which bishops George and Athanasius had fought. To this one might add that the name of one of the junior kings who put St. George to the test, Magnentius, is that of a western usurper AD350-53. However, the passion of St. George contains as many names again which cannot be explained in reference to the known facts of the life of bishop George. These are the names of the emperor Dadianus himself, of Anatolius, one of his generals, of Scholastica, a woman whose ox he resurrected from the dead, and of Tranquillinus, another junior king. It is not clear, therefore, that any significance at all should be attached to the occurrence of the names of Athanasius, Alexandra, and Magnentius in the passion. On the contrary, the oldest passion of St. George re-echoes many of the themes present in the oldest versions of the passion of St. Christopher, another military martyr, to the extent that one suspects that its original author used a passion of St. Christopher as the starting point for much of his fiction rather than any account of the life and times of either of the rival bishops of Alexandria, George and Athanasius.
_______________
Notes:
1. These fragments, from a palimpsest (Cod. Vindob. lat. 954) have been edited by Karl Krumbacher, Der heilige Georg in der griechischen Überlieferung (Munich, 1911), 1-3. The standard edition of the Latin text of the Decretum Gelasianum, together with an English translation, is available online.
2. W.K. Prentice (ed.), Publications of an American Archaeological Expedition to Syria in 1899-1900. Part III: Greek and Latin Inscriptions (New York, 1908), no. 437a. See Frank Trombley, Hellenic Religion and Christianization c.370-529, 2 vols. (Leiden: E.J. Brill, 1995), for the full context of this and of the other inscriptions mentioned here. Writing c.AD690, bishop John of Nikiu claims that when Christians expelled the Jews from Alexandria following inter-communal violence in AD412, they converted their synagogues into churches and named one after St. George (Chron. 84.97). See Robert H. Charles, The Chronicle of John Coptic Bishop of Nikiu (London, 1916), 102. While one does not doubt that there was indeed a church of St. George in Alexandria at the time at which John was writing and that it may well have been a synagogue once, one may question whether it necessarily received the same name that it bore c.AD690 as early as c.AD412.
3. W.D. Waddington, Recueil des inscriptions grecques et latines de la Syrie (Paris, 1870), no. 2158. The date 368 can be found in older literature, e.g. Hippolyte Delehaye, Les légendes grecques des saints militaires (Paris; Picard, 1909), 48. On the era of Maximianopolis, see now J. Koder and M. Restle, 'Die Ära von Sakkaia (Maximianopolis) in Arabia', Jahrbuch der össtereichischen Byzantinistik 42 (1992), 79-81.
4. Waddington (n. 3), no. 2126. On the shrine to St. Sergius at Eitha, see Elizabeth Key Fowden, The Barbarian Plain: Saint Sergius between Rome and Iran (Berkeley: University of California Press, 1999), 105-7.
5. On this text, see Timothy D. Barnes, Constantine and Eusebius (Cambridge, Mass: Harvard University Press, 1981), 148-63.
6. See Neil McLynn, Ambrose of Milan: Church and Court in a Christian Capital (Berkeley: University of California Press, 1994), 209-19.
7. Trans. Walter Hamilton, Ammianus Marcellinus: The Later Roman Empire (AD354-378) (Harmondsworth: Peguin Classics, 1986), 247.
8. Epiphanius, Panarion 76.1.2; Socrates, HE 3.2.10; Chronicon Paschale s.a.362. It is suspicious that none of these sources support Ammianus' claim that the charred remains of St. George were thrown into the sea afterwards.
9. See Timothy D. Barnes, Ammianus Marcellinus and the Representation of Historical Reality (CSCPh 56; Ithaca: Cornell University Press, 1998), 79-94.
10. Writing c.AD376, bishop Epiphanius of Salamis thinks it necessary to explain at length why George was not to be honoured as a martyr, a sure sign that some were according him exactly that status by this date (Panarion 76.1.3-. This apparent knowledge of a growing cult of St. George is all the more interesting in that Epiphanius had been the superior of a monastery at Eleutheropolis, not far from Diospolis, at the time of his election as bishop of Constantia c.AD366.
11. Trans. Philip R. Amidon, The Church History of Rufinus of Aquileia: Books 10 and 11 (New York; Oxford University Press, 1997), 85.
12. There is some dispute about this matter since Ammianus Marcellinus states that George came from Epiphania in the province of Cilicia Secunda (22.11.4) while bishops Athanasius of Alexandria (De Synodis 37.1; Hist. Arian. 75.1) and Gregory of Nazianzus (Or. 21.16) describe him as a Cappadocian.
13. The best evidence for the theological allies of George of Alexandria lies in the list of those who signed a creed with him at the council of Seleucia in 359 (Epiphanius, Panarion 73.26), 42 bishops in addition to himself. Signatories included bishops Acacius of Caesarea, Eutychius of Eleutheropolis, Eusebius of Sebaste, Charisius of Azotus, and Elisha of Diocletianopolis - so revealing the strength of the Arians in the coastal strip within which Diospolis lay.
14. Theodoret, HE 1.4, 20.
15. See David Woods, 'The Final Commission of Artemius the Former Dux Aegypti', Byzantine and Modern Greek Studies 23 (1999), 2-24.
16. Theodoret, HE 3.14.1. In general, see Virgil S. Crisafulli and John W. Nesbitt, The Miracles of St. Artemios (MM 13; Leiden: Brill, 1997).
17. See David Woods, 'Thessalonica's Patron: Saint Demetrius or Emeterius?', Harvard Theological Review 93 (2000), 221-34; also James Constantine Skedros, Saint Demetrios of Thessaloniki: Civic Patron and Divine Protector 4th-7th Centuries CE (HTS 47; Harrisburg: Trinity Press International, 1999), esp. 29-39.
18. On George's early imperial career, see Athanasius, Hist. Arian. 75; Gregory of Nazianzus, Or. 21.6.
19. See Thomas A. Kopecek, A History of Neo-Arianism I (PM 8; Cambridge, Mass. 1979), 142-44.
20. David Womersley (ed.), The History of the Decline and Fall of the Roman Empire by Edward Gibbon (London: Allen Lane, 1994), 903.