Beatrice Webb
by Wikipedia
NOTICE: THIS WORK MAY BE PROTECTED BY COPYRIGHT
YOU ARE REQUIRED TO READ

THE COPYRIGHT NOTICE AT THIS LINK

BEFORE YOU READ THE FOLLOWING WORK, THAT IS AVAILABLE SOLELY FOR PRIVATE STUDY, SCHOLARSHIP OR RESEARCH PURSUANT TO 17 U.S.C. SECTION 107 AND 108. IN THE EVENT THAT THE LIBRARY DETERMINES THAT UNLAWFUL COPYING OF THIS WORK HAS OCCURRED, THE LIBRARY HAS THE RIGHT TO BLOCK THE I.P. ADDRESS AT WHICH THE UNLAWFUL COPYING APPEARED TO HAVE OCCURRED. THANK YOU FOR RESPECTING THE RIGHTS OF COPYRIGHT OWNERS.
Martha Beatrice Webb, Lady Passfield (née Potter; 22 January 1858 – 30 April 1943) was an English sociologist, economist, socialist and social reformer. Although her husband became Baron Passfield in 1929, she refused to be known as Lady Passfield. She coined the term collective bargaining.[1]
Along with her husband Sidney Webb and numerous others, she co-founded the London School of Economics and Political Science and played a crucial role in the forming of the Fabian Society.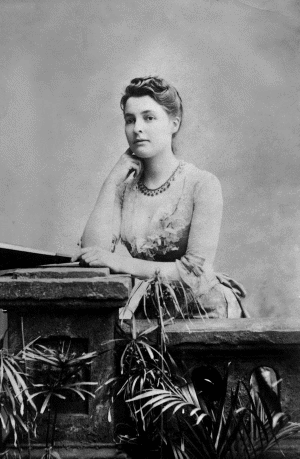 Webb, photographed circa 1875
Biography
Beatrice Potter was born in Standish House in the village of Standish, Gloucestershire, the daughter of a businessman Richard Potter and Laurencina Heyworth, daughter of a Liverpool merchant. Her grandfather was Radical MP, Richard Potter. From an early age she was self-taught and cited her influences as the cooperative movement and the philosopher Herbert Spencer with whom she became acquainted after an early stay with relatives in Lancashire.
In 1882, she had a relationship with Radical politician Joseph Chamberlain, by then a Cabinet minister. After this relationship failed, she took up Social Work and assisted her cousin Charles Booth who was carrying out a pioneering survey of the Victorian slums of London, bringing her own experiences as rent-collector in the model dwellings at Katherine Buildings, Aldgate, operated by the East End Dwellings Company. Upon the death of her father, Potter inherited an endowment of £1,000 pounds a year which she used to support herself during this research. In 1890 she was introduced to Sidney Webb whose help she sought in this research and in 1891 she published The Co-operative Movement in Great Britain, based on her experiences in Lancashire. Marrying Webb in 1892, the two remained together and shared political and professional activities, becoming active members of the Fabian Society. With support from the Fabians, she co-authored books and pamphlets on socialism and the co-operative movement including The History of Trade Unionism in 1894 and Industrial Democracy in 1897. In 1895, a donation from Henry Hutchinson, a solicitor from Derby, was used by the Society to found the London School of Economics and Political Science.
Minority Report to Royal Commission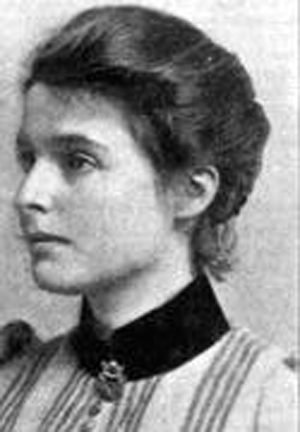 Between 1905 and 1909, Beatrice Webb was a member of the Royal Commission on the Poor Laws and Relief of Distress 1905-09. The Commission was established by the Conservative government of AJ Balfour, and reported to the Liberal government of HH Asquith.[2][3] Webb headed the minority report which outlined a welfare state which would "secure a national minimum of civilised life ... open to all alike, of both sexes and all classes, by which we meant sufficient nourishment and training when young, a living wage when able-bodied, treatment when sick, and modest but secure livelihood when disabled or aged". William Beveridge, who was later to author the Beveridge Report in 1942, worked as a researcher for the Webbs on the Minority Report.
Later career
In 1913, she co-founded with her husband the New Statesman, a political weekly edited by Clifford Sharp with contributions from many philosophers, economists and politicians of the time including
George Bernard Shaw
and John Maynard Keynes.
In late 1914, the Webbs became members of the Labour Party. At this time, their leadership of the Fabian Society was facing opposition from H.G. Wells, who lampooned them in his 1911 novel The New Machiavelli as 'the Baileys', a pair of short-sighted, bourgeois manipulators. They were also opposed from the left in the Labour Party by the Guild Socialists and the historian and economist G.D.H. Cole. During this time, Webb collaborated with her husband in his writings and policy statement such as Labour and the New Social Order in 1918 and his election in 1922 to the parliamentary seat of Seaham in Durham.
In 1928 the Webbs retired to Liphook in Hampshire, where they lived until their deaths.
In 1932, Sidney and Beatrice travelled to the Soviet Union and later published in support of the Soviet economic experiment with Soviet Communism: A New Civilisation? and The Truth About Soviet Russia
. When she died in 1943, Webb's ashes were interred in the nave of Westminster Abbey, close to those of her husband, and were to be joined subsequently by the remains of Clement Attlee and Ernest Bevin.
Webb as co-operative theorist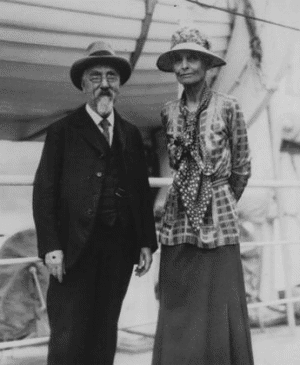 Beatrice and Sidney Webb during a trip to the Soviet Union in 1932
Webb made a number of important contributions to political and economic theory of the co-operative movement. It was, for example, Webb who coined the terms "Co-operative Federalism" and "Co-operative Individualism" in her 1891 book Cooperative Movement in Great Britain. Out of these two categories, Webb identified herself as a co-operative federalist; a school of thought which advocates consumer co-operative societies. Webb argued that consumers' co-operatives should form co-operative wholesale societies (by forming co-operatives in which all members are co-operatives, the best historical example being the English Co-operative Wholesale Society) and that these federal co-operatives should undertake purchasing farms or factories. Webb dismissed the idea of worker co-operatives where the people who did the work and benefited from it had some control over how it was done, arguing that – at the time she was writing – such ventures had proved largely unsuccessful, at least in ushering in her form of socialism led by volunteer committees of people like herself.[4] Examples of successful worker Cooperatives did of course exist then as now. In some professions they were the norm. But Webb's final book, The Truth About The Soviet Union celebrated central planning.
Family
Webb's nephew, Sir Stafford Cripps, became a well-known British Labour politician in the 1930s and 1940s, serving as British ambassador to Moscow during World War II and later as Chancellor of the Exchequer under Clement Attlee. His daughter, Peggy, went on to marry the Nana Joe Appiah, a noted African statesman and tribal chieftain who served as something of a founding father of the Republic of Ghana.
Her niece, Barbara Drake, was a prominent trade unionist and a member of the Fabian Society. Another niece, Katherine Dobbs, married the journalist Malcolm Muggeridge, whose experience reporting from the Soviet Union subsequently made him highly critical of the Webbs' optimistic portrayal of Stalin's rule. Their books, Soviet Communism: A new civilization? (1935) and The Truth About Soviet Russia (1942) have been widely denounced for adopting an uncritical view of Stalin's conduct during periods that witnessed a brutal process of agricultural collectivization as well as extensive purges and the creation of the gulag system.[5]
Archives
Beatrice Webb's papers, including her diaries, are among the Passfield archive at the London School of Economics. For a small online exhibition featuring some of these papers see 'A poor thing but our own': the Webbs and the Labour Party. Posts about Beatrice Webb regularly appear in the LSE Archives blog, Out of the box.
Bibliography
Works by Beatrice Webb
• Cooperative Movement in Great Britain (1891)
• Wages of Men and Women: Should they be equal? (1919)
• My Apprenticeship (1926)
• Our Partnership (1948)
Works by Beatrice and Sidney Webb
• History of Trade Unionism (1894)
• Industrial Democracy (1897)
• The Webbs' Australian Diary (1898)
• English Local Government Vol. I-X (1906 through 1929)
• The Manor and the Borough (1908)
• The Break-Up of the Poor Law (1909)
• English Poor-Law Policy (1910)
• The Cooperative Movement (1914)
• Works Manager Today (1917)
• The Consumer's Cooperative Movement (1921)
• Decay of Capitalist Civilization (1923)
• Methods of Social Study (1932)
• Soviet Communism: A New Civilization? (1935)
• The Truth About Soviet Russia (1942)
References
1. "A Timeline of Events in Modern American Labor Relations". Federal Mediation and Conciliation Service (United States).
http://www.fmcs.gov/internet/itemDetail ... emID=15810
. Retrieved 2010-08-18. "1891: The term "collective bargaining" is first used by Mrs. Sidney Webb, a British labor historian."
2. BBC Radio 4 Women's Hour discussion on 1909 Minority Report
http://www.bbc.co.uk/radio4/womanshour/ ... _wed.shtml
3. From the Workhouse to Welfare, edited by Ed Wallis (Fabian Society and Webb Memorial Trust, 2009)
4. Potter, Beatrice, "The Co-operative Movement in Great Britain", London: Swan Sonnenschein & Co., 1891.
5. See, e.g., Robert Conquest, The Great Terror (1968 and subsequent editions).