Harold Harmsworth, 1st Viscount Rothermere
by Wikipedia
Accessed: 9/3/19
NOTICE: THIS WORK MAY BE PROTECTED BY COPYRIGHT
YOU ARE REQUIRED TO READ

THE COPYRIGHT NOTICE AT THIS LINK

BEFORE YOU READ THE FOLLOWING WORK, THAT IS AVAILABLE SOLELY FOR PRIVATE STUDY, SCHOLARSHIP OR RESEARCH PURSUANT TO 17 U.S.C. SECTION 107 AND 108. IN THE EVENT THAT THE LIBRARY DETERMINES THAT UNLAWFUL COPYING OF THIS WORK HAS OCCURRED, THE LIBRARY HAS THE RIGHT TO BLOCK THE I.P. ADDRESS AT WHICH THE UNLAWFUL COPYING APPEARED TO HAVE OCCURRED. THANK YOU FOR RESPECTING THE RIGHTS OF COPYRIGHT OWNERS.
TIBETAN REFUGEES

Sir. – Recent devastating events in Tibet caused over 15,000 Tibetans to cross the perilous Himalayas into India. It may be a long time before these unfortunate people can safely return to their overrun country. Our own consciences should allow us neither to neglect nor forget them.

The Indian Government has manfully coped with this addition to its own problems at home. In this country we are bound in honour to help relieve needs of the Tibetan refugees, because from 1905 to 1947 there was a special relationship between Tibet and the United Kingdom – a relationship handed on to the new India.

On balance we think it wisest to concentrate chiefly on collecting money which can be used for the benefit of the refugees, not least in the purchase of necessary antibiotics and other medicaments. The Tibet Society has opened a Tibet Relief Fund for which we now appeal in the hope of a generous response. Donations should be sent to the address below or direct to the National Bank Ltd. (Belgravia Branch), 21 Grosvenor Gardens, S.W.I.

Yours faithfully,

...

Harmsworth

... The Tibet Relief Fund, 58 Eccleston Square, S.W. I., Letter to the Times, July 31, 1959, p.7.

-- Tibet Society, by tibetsociety.com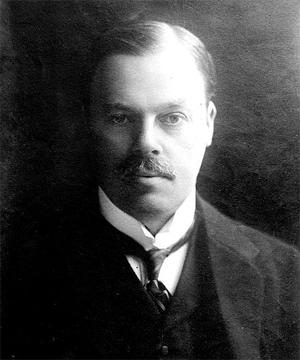 The Right Honourable The Viscount Rothermere PC
Lord Rothermere
President of the Air Council
In office
26 November 1917 – 1918
Preceded by The Viscount Cowdray
Succeeded by The Lord Weir
Personal details
Born 26 April 1868
London
Died 26 November 1940 (aged 72)
Bermuda
Nationality British
Spouse(s) Mary Lilian Share
Children
Harold Alfred Vyvyan St. George Harmsworth (1894–1918)
Vere Sidney Tudor Harmsworth (1895–1916)
Esmond Cecil Harmsworth (1898–1978)
Parents
Alfred Harmsworth (barrister)
Geraldine Mary Maffett
Relatives
Cecil Harmsworth (brother)
Alfred Harmsworth (brother)
Leicester Harmsworth (brother)
Occupation Publisher
Harold Sidney Harmsworth, 1st Viscount Rothermere, PC (26 April 1868 – 26 November 1940) was a leading British newspaper proprietor, owner of Associated Newspapers Ltd. He is known in particular,
with his brother Alfred Harmsworth
, the later Viscount Northcliffe, for the
development of the Daily Mail and Daily Mirror. He was a pioneer of popular journalism.
During the 1930s, he was known to be a supporter of Nazi Germany, purportedly having become convinced that the National Socialist Party would help restore the German monarchy. He cultivated contacts to promote British support for Germany.
Background
Harmsworth was the son of Alfred Harmsworth, a barrister, and the brother of
Alfred Harmsworth, 1st Viscount Northcliffe
, Cecil Harmsworth, 1st Baron Harmsworth, Sir Leicester Harmsworth, 1st Baronet, and Sir Hildebrand Harmsworth, 1st Baronet.
Alfred Harmsworth (3 July 1837 – 16 July 1889) was a British barrister, and the father of several of the United Kingdom's leading newspaper proprietors, five of whom were honoured with hereditary titles – two viscounts, one baron and two baronets. Another son designed the iconic bulbous Perrier mineral water bottle.[1]

Alfred Harmsworth was born on 3 July 1837 in Marylebone, London, the only son of Charles Harmsworth and Hannah Carter.[2]

On 21 September 1864, at St Stephen's Church, Dublin, he married Geraldine Mary Maffett (1838–1925), one of the eight children of William Maffett, a land agent in County Down, and his second wife Margaret Finlayson. They lived in Dublin until 1867, when they moved to London, initially to St John's Wood, and later to Hampstead when the family's fortunes declined, in part due to Harmsworth's "fondness for alcohol", although they were always short of money, in part due to having so many children.[2][3]

The Harmsworths had 14 children, three of whom died in infancy:[4]

Alfred Harmsworth, 1st Viscount Northcliffe (1865–1922)
Geraldine Adelaide Hamilton Harmsworth (1866–1945), married Sir Lucas White King, mother of Cecil Harmsworth King[4]
Harold Harmsworth, 1st Viscount Rothermere (1868–1940)
Cecil Harmsworth, 1st Baron Harmsworth (1869–1948)
Sir Leicester Harmsworth, 1st Baronet (1870–1937)
Sir Hildebrand Harmsworth, 1st Baronet (1872–1929)
Violet Grace Harmsworth (1873–1961), married William Wild[3]
Charles Harmsworth (1874–1942)
St John Harmsworth (1876–1933)
Maud Harmsworth (1877–187?)
Christabel Rose Harmsworth (1880–1967)
Vyvyan George Harmsworth (1881–1957)
Muriel Harmsworth (1882–188?)
Harry Stanley Giffard Harmsworth (1885–188?)

Christabel was named after the suffragette Christabel Pankhurst, as Harmsworth was an ardent believer in women's suffrage.[3] In 1939, there were five Lady Harmsworths.[4]

Harmsworth was a barrister of the Middle Temple and one of the standing counsel for the Great Northern Railway.[5] He has been described as an "unsuccessful" barrister.[6] It was not until after his death that the press empire created by his sons "really took off".[4] Harmsworth was the founder of the Sylvan Debating Club, for which he served as Secretary for a number of years.

Harmsworth died on 16 July 1889.[2] He is buried at East Finchley Cemetery. He died of cirrhosis of the liver, as did his son Hildebrand, both in their 50s.[3]

-- Alfred Harmsworth (Barrister), by Wikipedia
Harmsworth was educated at St Marylebone Grammar School, which he left to become
a clerk for the Board of Trade. In 1888 he joined his elder brother Alfred's newspaper company, and in 1894 he and his brother purchased the Evening News for £25,000.
Career
In 1896 Harmsworth and his brother Alfred together founded the Daily Mail, and subsequently also launched the Daily Mirror. In 1910 Harmsworth bought the Glasgow Record and Mail, and in 1915 the Sunday Pictorial. By 1921 he was owner of the Daily Mirror, Sunday Pictorial, Glasgow Daily Record, Evening News, and Sunday Mail, and shared ownership of the company Associated Newspapers with his brother Alfred, who had been made Viscount Northcliffe in 1918.
His greatest success came with the Daily Mirror, which had a circulation of three million by 1922.
When his elder brother died in 1922 without an heir, Harmsworth acquired his controlling interest in Associated Newspapers for £1.6 million, and
the next year bought the Hulton newspaper chain, which gave him control of three national morning newspapers, three national Sunday newspapers, two London evening papers, four provincial daily newspapers, and three provincial Sunday newspapers.

In 1926 Harmsworth sold his magazine concern, Amalgamated Newspapers, and moved into the field of provincial newspaper publishing. In 1928 he founded Northcliffe Newspapers Ltd and announced that he intended to launch a chain of evening newspapers in the main provincial cities. There then ensued the so-called "newspaper war" of 1928–29, which culminated in Harmsworth establishing new evening papers in Bristol and Derby, and gaining a controlling interest in Cardiff's newspapers. By the end of 1929 his empire consisted of fourteen daily and Sunday newspapers, with a substantial holding in another three.
Rothermere's descendants continue to control the Daily Mail and General Trust.
Rothermere was an active member of the Sylvan Debating Club, founded by his father. He first attended as a visitor in 1882 and later served as Treasurer.
Viscount Rothermere used the Daily Mail to heavily campaign for a free trade area covering the British Empire
, coupled with high tariffs from elsewhere.
He even founded his own party to promote this objective, the United Empire Party.
[1]
Honours
Harmsworth was created a baronet, of Horsey in the County of Norfolk, in 1910.[2] He was raised to the peerage as Baron Rothermere, of Hempstead in the County of Kent, in 1914.[3]
Public life
Rothermere served as President of the Air Council in the government of David Lloyd George for a time during World War I, and was made Viscount Rothermere, of Hampstead in the County of Kent, in 1919.
[4] In 1921, he founded the Anti-Waste League to combat what he saw as excessive government spending.
In 1930, Rothermere purchased the freehold of the old site of the Bethlem Hospital in Southwark. He donated it to the London County Council to be made into a public open space, to be known as the Geraldine Mary Harmsworth Park in memory of his mother,[5] for the benefit of the "splendid struggling mothers of Southwark".[6]
Revision of the post-World War I treaties
Rothermere strongly supported revision of the Treaty of Trianon in favour of Hungary. On 21 June 1927, he published an editorial in the Daily Mail, entitled "Hungary's Place in the Sun", in which he supported a detailed plan to restore to Hungary large pieces of territory it lost at the end of the First World War. This boldly pro-Hungarian stance was greeted with ecstatic gratitude in Hungary.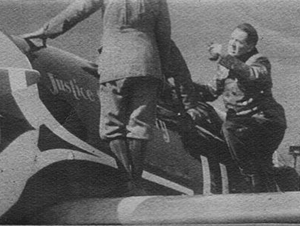 Transatlantic flight of Endresz György with Justice for Hungary – 15th of July, 1931
Many in England were caught off-guard by Rothermere's impassioned endorsement of the Hungarian cause; it was rumoured that the press baron had been convinced to support it by the charms of a Hungarian seductress, later identified as the Austrian Stephanie von Hohenlohe, a princess by marriage. Rothermere's son Esmond was received with royal pomp during a visit to Budapest, and
some political actors in Hungary later went so far as to inquire about Rothermere's interest in being placed on the Hungarian throne.
Rothermere later insisted he did not invite these overtures, and that he quietly deflected them. His private correspondence indicates otherwise.[7]
He purchased estates in Hungary in case Britain should fall to a Soviet invasion.
There is a memorial to Rothermere in Budapest.
Appeasement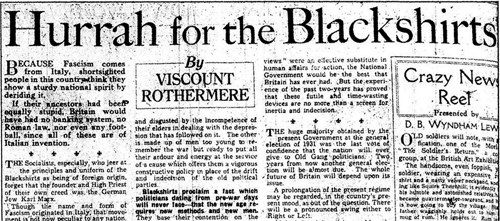 The "Hurrah for the Blackshirts" article by Lord Rothermere
"Blackshirts proclaim a fact which politicians dating from pre-war days will never face -- that the new age requires new methods and new men."
In the 1930s Rothermere used his newspapers to try to influence British politics, particularly reflecting his strong support of the appeasement of Nazi Germany, and is considered "perhaps the most influential single propagandist for fascism between the wars" by historian Martin Pugh.[8] For a time in 1934, the Rothermere papers championed the British Union of Fascists (BUF), and were again the only major papers to do so. On 15 January 1934 the Daily Mail published a Rothermere-written editorial entitled "Hurrah for the Blackshirts", praising Oswald Mosley for his "sound, commonsense, Conservative doctrine".[9]
Rothermere visited and corresponded with Hitler on multiple occasions, such as after the 1930 elections that saw the Nazi Party dramatically increase its seats in the Reichstag, which Rothermere welcomed.[10] In gratitude for this foreign support, Hitler granted Rothermere an exclusive interview.[10] On another occasion, On 1 October 1938, Rothermere sent Hitler a telegram in support of Germany's invasion of the Sudetenland, and expressing the hope that "Adolf the Great" would become a popular figure in Britain.[11]
He was also aware of the military threat from the resurgent Germany. He warned J. C. C. Davidson, then Chairman of the Conservative Party, about it. In the 1930s Rothermere fought for increased defence spending by Britain. He wrote about it in his 1939 book My Fight to Rearm Britain.[10]
His interest in the Fascist movement seems to have been chiefly as a bulwark against Bolshevism
, while apparently being blind to some of the movement's dangers.[10]
Numerous secret British MI5 papers related to the war years were declassified and released in 2005. They show that Rothermere wrote to Adolf Hitler in 1939 congratulating him for the annexation of Czechoslovakia, and encouraging him to invade Romania. He described Hitler's work as "great and superhuman".[11][12]

The MI5 papers also show that at the time Rothermere was paying an annual retainer of £5,000 per year to Stephanie von Hohenlohe, suspected by the French, British and Americans of being a German spy, as he wanted her to bring him closer to Hitler's inner circle. Rothermere also encouraged her to promote Germany to her circle of influential English contacts. She was known as "London's leading Nazi hostess". The secret services had been monitoring her since her arrival in Britain in the 1920s and regarded her as "an extremely dangerous person".
As the Second World War loomed, Rothermere stopped the payments and their relationship deteriorated into threats and lawsuits, which she lost.[11] [12]
He appears in Dennis Wheatley's 1934 novel Black August about an attempted Communist takeover of Britain, under the name of "Lord Badgerlake" (mere is another word for lake). Badgerlake supports a paramilitary force called the "Greyshirts", which backs the government during the uprising. Any connection with Fascism is disclaimed, and the novel does not end with a dictatorship. (In fact, the new Government repeals the Defence of the Realm Act to guarantee the liberty of the subject.)
Interest in aviation
In 1934, Rothermere ordered a Mercury-engined version of the Bristol Type 135 cabin monoplane for his own use as part of a campaign to popularise commercial aviation. First flying in 1935, the Bristol Type 142 caused great interest in Air Ministry circles because its top speed of 307 mph was higher than that of any Royal Air Force fighter in service. Lord Rothermere presented the aircraft (named "Britain First") to the nation for evaluation as a bomber, and in early 1936 the modified design was taken into production as the Blenheim Mk. I.
Grand Falls, Newfoundland
In 1904, on behalf of his elder brother Alfred, Harmsworth and Mayson Beeton, son of Isabella Beeton, the famed author of Mrs Beeton's Book of Household Management, travelled to Newfoundland to search for a supply of timber and to look for a site to build and operate a pulp and paper mill. While searching along the Exploits River they came across Grand Falls, named by John Cartwright in 1768. After the two British men purchased the land, they had a company town built to support the lumber workers. It developed as Grand Falls-Windsor.[13][14]
Family
Lord Rothermere married Lilian Share, daughter of George Wade Share, on 4 July 1893. They had three sons, the two elder of whom were killed in the First World War:
• Captain The Hon. Harold Alfred Vyvyan St George Harmsworth MC (born 2 August 1894), died of wounds on 12 February 1918, aged 23, after serving with the 2nd Bn. Irish Guards in France. A week after his death he was awarded the Military Cross. He is buried in Hampstead Cemetery.[15]
• Lieutenant The Hon. Vere Sidney Tudor Harmsworth (born 25 September 1895), killed in action during the first day of the Battle of the Ancre on 13 November 1916, aged 21, while serving with the Hawke Bn. 63rd (Royal Naval) Division, Royal Naval Reserve. He is buried in the Ancre British Cemetery at Beaumont-Hamel on the Somme.[16]
•
Esmond Harmsworth, 2nd Viscount Rothermere (29 May 1898 – 12 July 1978)
Viscountess Rothermere, as she had become, died on 16 March 1937.[17]
Bibliography
• Rothermere, Harold S.H., Warnings and Predictions, Eyre & Spottiswoode Ltd., 1939
• Viscount Rothermere, My Fight to Rearm Britain, London: Eyre & Spottiswoode Ltd., 1939
References
1. Twitter, Dominic Ponsford (16 February 2017). "Hitler, the Daily Mail and how Lord Rothermere showed he has learned the lessons of history". Press Gazette. Retrieved 17 January 2019.
2. "No. 28400". The London Gazette. 26 July 1910. p. 5392.
3. "No. 28797". The London Gazette. 30 January 1914. p. 810.
4. "No. 31427". The London Gazette. 1 July 1919. p. 8221.
5. "Bethlem Hospital (Imperial War Museum) | Survey of London: volume 25 (pp. 76-80)". British-history.ac.uk. 22 June 2003. Retrieved 14 July 2011.
6. "Geraldine Mary Harmsworth Park - Southwark Council". Southwark.gov.uk. 17 February 2010. Retrieved 14 July 2011.
7. Romsics, Ignác (2004), "Hungary's Place in the Sun: A British Newspaper Article and its Hungarian Repercussions", in Péter, László (ed.), British-Hungarian Relations since 1848, London: University of London. School of Slavonic and East European Studies, pp. 195–204
8. Pugh, Martin (2006). Hurrah For The Blackshirts!: Fascists and Fascism in Britain Between the Wars. Random House. p. 41. ISBN 1844130878.
9. Sassoon, Donald (2006). Culture of the Europeans: From 1800 to the Present. HarperCollins. p. 1062.
10. Philpot, Robert. "How Britain's Nazi-loving press baron made the case for Hitler".
http://www.timesofisrael.com
. Retrieved 17 January 2019.
11. Norton-Taylor, Richard (1 April 2005). "Months before war, Rothermere said Hitler's work was superhuman". the Guardian. Retrieved 16 September 2018.
12. Tweedie, Neil and Day, Peter. "When Rothermere urged Hitler to invade Romania", The Daily Telegraph (1 March 2005)
13. Address to Kiwanis and Rotary Club of Grand Falls-Windsor Archived 11 February 2007 at the Wayback Machine
14. "Grand Falls-Windsor Heritage Society". Grandfallswindsor.com. Archived from the original on 5 July 2007. Retrieved 14 July 2011.
15. "Casualty".
http://www.cwgc.org
.
16. "Casualty".
http://www.cwgc.org
.
17. "Person Page". thepeerage.com.
• Ignác Romsics. Hungary's Place in the Sun. A British Newspaper Article and its Hungarian Repercussions.
•
http://www.ssees.ucl.ac.uk/confhung/romsics.pdf
Further reading
• Boyce, D. George (May 2008). "Harmsworth, Harold Sidney, first Viscount Rothermere (1868–1940)". Oxford Dictionary of National Biography. Oxford University Press. Retrieved 12 December 2008.
External links
• Hansard 1803–2005: contributions in Parliament by the Viscount Rothermere
• Page at Spartacus
Wikimedia Commons has media related to Harmsworth family.
• Newspaper clippings about Harold Harmsworth, 1st Viscount Rothermere in the 20th Century Press Archives of the ZBW