Part 1 of 2
Coocoola [Kukula] of Sikkim: Lacham Kusho, That's Going with the Gods
by Simon Schreyer
Journalism on Culture and Adventure
simonside.net
[Google translated from German]
NOTICE: THIS WORK MAY BE PROTECTED BY COPYRIGHT
YOU ARE REQUIRED TO READ

THE COPYRIGHT NOTICE AT THIS LINK

BEFORE YOU READ THE FOLLOWING WORK, THAT IS AVAILABLE SOLELY FOR PRIVATE STUDY, SCHOLARSHIP OR RESEARCH PURSUANT TO 17 U.S.C. SECTION 107 AND 108. IN THE EVENT THAT THE LIBRARY DETERMINES THAT UNLAWFUL COPYING OF THIS WORK HAS OCCURRED, THE LIBRARY HAS THE RIGHT TO BLOCK THE I.P. ADDRESS AT WHICH THE UNLAWFUL COPYING APPEARED TO HAVE OCCURRED. THANK YOU FOR RESPECTING THE RIGHTS OF COPYRIGHT OWNERS.
Coocoola of Sikkim was a daring daughter of Tibet. She embodied integrity, grace and compassion. Heinrich Harrer (Seven Years in Tibet) saw in her the ideal balance between the old East and the Western Modern.

Coocoola's life story begins like a medieval fairytale and ends like a world political thriller

. Life picture of a fascinating woman who lost her home twice but never resigned.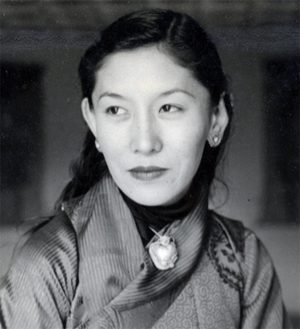 Cloudy clouds nestle in dark green mountainside. Thick mists of late monsoon drift through tea plantations and rice fields in slow motion. We are located in the fashionable, British hill station Darjeeling, in the north of India. The third highest mountain in the world towers above everything: the five-peaked Kangchenjunga (8586 m), "the five treasure chambers of snow". His powerful presence can only be guessed on the horizon at this time of the year.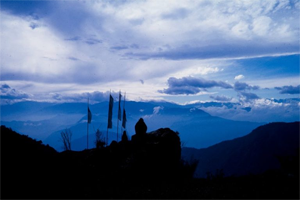 Here is born on September 6, 1924, in the Tibetan Year of the Wood Mouse, Princess Coocoola. Posterity knows its full name as: Semla (Princess) Pema Tsedeun Namgyal Yabshi Phönkhang, her spiritual nickname is Lacham Kusho ("Noble Consort of the Gods"). But even in her childhood, an English governess finds a lasting nickname when playing hide-and-seek - Coo-Coo-La.
Coocoola's father is the Chögyal (king) of Sikkim, Tashi Namgyal (1893-1963)
, a filigree sovereign and a subtle landscape painter with a penchant for melancholy, who ever before, even before the cocktail hour, one or two behind the gilded Binde tilts to shoulder the burden of representation. With the numerous spirits of the royal palace of Gangtok he maintains good contact, at night and also in broad daylight. Like them he floats silently through the palaces.
Tashi Namgyal
In all the photos that exist of him, the Chögyal of Sikkim works, one can not say it in other words: raptured. He also wears round darkened glasses on almost all photos.
His hypnotic paintings, decorated with mystical vignettes of purple glaciers, blue-green lakes and yellow sunlit skies, are in the style of Nicholas Roerich (with whom he is known)
or Rockwell Kent (whom he admires). What they lack is three-dimensionality, which may be due to an eye condition - the painting monarch is almost blind in the right eye.
He comes from the Tibetan vassal family of the Namgyal
(literally: "the victorious"), whose ancestor Guru Tashi, a Tanguten prince, in the 13th Century from Kham in eastern Tibet on the Himalayas south migrated.
The Namgyal are priest kings, Himalayan aristocracy. Since the 17th century, they have not only dominated Sikkim, but also Bhutan and Ladakh on the order of Lhasa.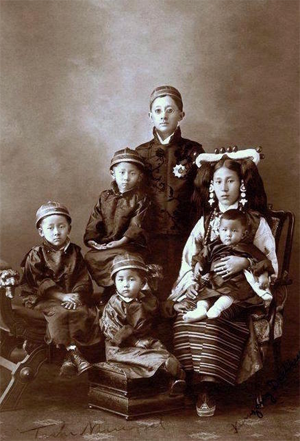 The Sikkim Royal Family, 1926: Tashi Namgyal with his sons Choley (l.) And Palden Thondup (r.). Beside him his wife, Kunzang Dechen Tshomo, with Kula (Pema Chöki) on her lap and Coocoola at her feet.
Coocoola's mother, Kunzang Dechen Tshomo, is a much more robust person and resolute personality. It is on the one hand also a Namgyal, on the other hand from the ancient, Central Tibetan family of Ragashar (literally: "radiant", "beautiful") originating from Dokhar, which refers directly to one of the six primitive families of Tibet, the Ghazie clan.
Dundul Namgyal married Yangchen Dolkar (dbyangs can sgrol dkar) from the aristocratic Ragashar family (ra ga shar, also known as Dokhar) and had five children. Their second youngest son Tseten Gyurme was recognized as the Seventh Drigung Chetsang, Tendzin Trinle Lhundrub ('bri gung che tshang 07 bstan 'dzin 'phrin las lhun grub, b. 1946), one of the two heads of the Drigung Kagyu tradition.

-- Tsarong Dundul Namgyal, b.1920 - d.2011, by Tenzin Dickyi
Legend has it that these six families originated from the love affair between two semi-divine beings: a monkey powerful in language and teleportation, and a Dakini (or "Khandroma") dancing through the spheres, a veritable demon girl. (* see bonus )
Based on this legend, the Ragashar family has been living in Lhasa for a family home just across the Choglakhang, Tibet's holiest temple. The daughters of the house are in high esteem among the aristocrats and are sought-after pieces of jewelery to decorate their own family tree. They are also considered as genealogical strengthening of the same, because the Ragashar women are predominantly of balanced temperament, full of sense of class and stately.
High Cabinet Ministers of the Dalai Lama and rich merchants in Lhasa and Shigaze regularly stop for the hand of a ragashar. So does Tashi Namgyal, the XI. Chögyal of Sikkim followed by the Ragashar-daughter Kunzang Dechen Tshomo to Gangtok and three sons (Kunzang Paljor aka Choley, Palden Thondup and Jigdal Tsering aka George) and three daughters (Pema Tsedeun aka Coocoola, Pema Chöki aka Kula and Sonam Palden aka Jeanla). Because she has another daughter through an extramarital relationship with a monk, she lives separated from her husband near Gangtok.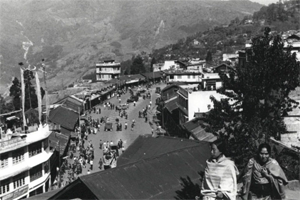 Market scene in Sikkim's capital Gangtok, circa 1950.
Coocoola is a curious, fat and friendly child. Like her siblings, she is traditionally educated at St. Joseph's Convent in Kalimpong, one of the best British schools in India. She starts dating at the age of 13 (in Sikkim alcohol is not as taboo as in India), starts smoking, reads European literature (Stendhal, Dante and Kipling), secretly watches movies with Marlene Dietrich and Greta Garbo.

She spends her teenage years thriving like a wild orchid, in Kalimpong's international atmosphere full of Indian traders, mysterious European travelers and spies of all the great powers of that charged era.
Like tectonic plates, the fields of world politics are converging, the quake can no longer be far away. The royal children of Sikkim feel that too.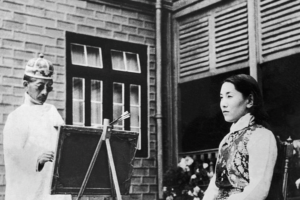 Sikkim's King Tashi Namgyal paints Coocoola, his eldest daughter, in the garden of the palace. Photo: Palden Thondup
Russia, China and the United Kingdom are more or less openly vying for the mineral and mineral rich Tibet, the water tower of Asia. More than three billion people in Southeast Asia live off the waters of the eight rivers that spring from the Tibetan Plateau
. Immortalized in an ancient iconographic culture, marked by the Bön's primitive animistic religion and
tamed by the compassionate message of the Buddha, Tibet
is an independent theocracy at that time. Almost independent.
There are no police in our sense of the word. Evil-doers are publicly sentenced. The punishments are pretty drastic but they seem to suit the mentality of the population. I was told of a man who had stolen a golden butter-lamp from one of the temples in Kyirong. He was convicted of the offence, and what we would think an inhuman sentence was carried out. His hands were publicly cut off and he was then sewn up in a wet yak-skin. After this had been allowed to dry, he was thrown over a precipice.....

He told us something about the life of the robbers. They lived in groups in three or four tents which serve as headquarters for their campaigns. These are conducted as follows: heavily armed with rifles and swords they force their way into a nomad's tent and insist on hospitable entertainment on the most lavish scale available. The nomad in terror brings out everything he has. The Khampas fill their bellies and their pockets and taking a few cattle with them, for good measure, disappear into the wide-open spaces. They repeat the performance at another tent every day till the whole region has been skinned. Then they move their headquarters and begin again somewhere else. The nomads, who have no arms, resign themselves to their fate, and the Government is powerless to protect them in these remote regions. However, if once in a way a district officer gets the better of these footpads in a skirmish, he is not the loser by it for he has a right to all the booty. Savage punishment is meted out to the evildoers, who normally have their arms hacked off. But this does not cure the Khampas of their lawlessness. Stories were told of the cruelty with which they sometimes put their victims to death. They go so far as to slaughter pilgrims and wandering monks and nuns.

-- Seven Years in Tibet, by Heinrich Harrer
For the League of Nations has, despite the XIII. Dalai Lamas's request for recognition of state independence in 1913, gave no clear answer. Too large are the secret and less secret interests of the major powers in accessing Tibet
, which has its own language and writing, a government with a council of ministers, stamps, passports, envoys, its own national flag and above all its own currency (Srang) - everything Insignia of sovereignty, which can no longer be seen in China since the boxer rebellion of 1911 and the decline of the empire.
In 1903, under the power-blinded super-imperialist Lord Curzon and the religiously abducted General Younghusband, the British undertook an equally insidious and cruel "expedition" to Tibet in order to anticipate a supposed Russian campaign. The English writer and China correspondent of the Times, Peter Fleming (brother of James Bond inventor Ian), will later speak in his preface to the English first edition of Heinrich Harrer's Seven Years in Tibet of a campaign that "of both daring and was characterized by compassion".

In fact, British troops show little compassion as they cross the border into Tibet and face a small army. In a massacre, the British mow down more than a thousand poorly armed Tibetans with Maxim machine guns (mostly by back shots when most of the Tibetan soldiers are already fleeing) and succeed in establishing a trade mission in Lhasa.
All contacts to the XIII. The Dalai Lama had failed until then, due to the Tibetans' unwillingness to answer the British. A single envelope from the Potala Palace had reached London, its contents: a brittle breeze of yak-dung.
When Younghusband camped with his troops in 1904 before Lhasa, the XIII. Dalai Lama has already fled to Mongolia. Negotiations on a British protectorate and the construction of a road link between Tibet and India are therefore not concluded. Understandably, London has since diplomatically held back on the issue of independent Tibet. However, only superficially:
through a treaty with the Manchu dynasty in 1906 on the inviolability of Tibet and a second agreement with Russia the following year, which grants the Chinese sovereign rights over Tibet, the British care for even more hopeless confusion about the independence of Tibet.

Much of the political situation in Sikkim, whose border is a few kilometers north of Darjeeling and Kalimpong is unclear for many decades. This can be illustrated by the fact that the two places once belonged to Sikkim and were "leased" by British India, albeit with no time limit and no return - except that it is the tiny country (Sikkim is about the size of the Austrian Salzburg) is spared military annexation.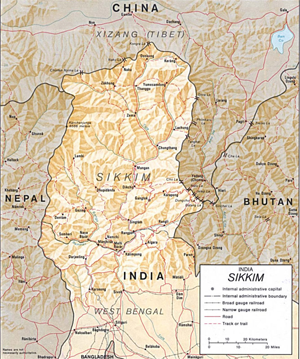 The mountain dwarf state between Nepal and Bhutan has been under the protectorate of British India in this ambiguous way since the mid-19th century. In 1868, the British refuse an invasion of Tibetans who want to regain their sovereignty over Sikkim. In 1918 Sikkim received full self-government and in 1922 became a member of the Chamber of Princes, the unification of all Indian principalities. Tashi Namgyal is thus established as a recognized ruler of his tiny country, he leads free elections, begins to reform the country and to establish closer trade relations with India.
This is the world where Princess Coocoola grows up with her siblings. Against her two older brothers, who are full of practical jokes, she has to prevail early. The family is not without quirks and rich in individual, strong personalities. But without exception, all members of the Namgyal clan of Sikkim are of benevolence, occasionally sarcastic humor and passionate sophistication. It would take the bizarre Ingenuity of a Wes Anderson as a director, if one wanted to implement the everyday life in the Royal Palace of Gangtok adequately artful and funny for the cinema.
Palden Thondup is interested in technology, is a passionate Leica photographer whose images are published in the National Geographic Magazine, and amateur radio broadcasters with international license, plus he has a great deal of Buddhist-philosophical knowledge. He wants to occupy scientific subjects in Cambridge and then become a monk in one of the three major abbeys of Lhasa.
However, just like his father, Tashi (whose older brother Sidkeong contracted jaundice in 1914 and fell victim to a regurgitation with intravenously administered brandy), he is denied this call to a contemplative life. As the eldest son of Tashi Namgyal, the trained pilot Choley Paljor crashes 1941 in an aerial battle over Peshawar, Thondup stands as successor to the throne of Sikkim.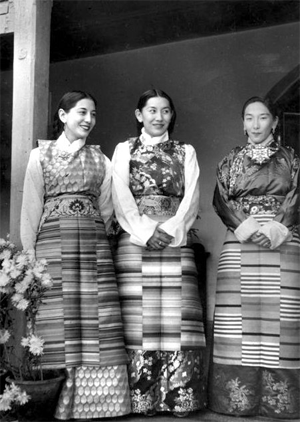 Three Graces: The Royal Daughters Sikkims, from left to right: Pema Chöki (Kula), Pema Tsedeun (Coocoola), Sonam Palden (Jeanla). Photo: Pinterest
The youngest brother Jigdal Tsering, called George-La, suffers from panic attacks. He is of a touching character but of the spiritualized worldly devotion of the Father, or - who knows - blessed with the supernatural devotion to a more eternal, timeless world; a world beyond politics, intrigues and vanities.
When he is to be married, it is his eldest sister Coocoola, who introduces him to a number of dignified young ladies at a garden party in Kalimpong. She eventually manages to pair him with a delightful Tibetan named Suang-La. Even the youngest sister Jeanla is of a deeply withdrawn character, speaks little and hardly goes out of the house. She is still, albeit late in life, the mother of a boy who is recognized as a high reincarnation.
Pema Chöki (or "Kula", as she is called in Gangtok), Coocoola's middle sister, 15 months younger, is extroverted, well-read, and very pretty. Like Jeanla, she pursued her father, with a thin face, a few lovely spots of birthmark around the corners of her mouth and a quick comprehension. She becomes one of the best students in West Bengal and for a few years a teacher at Gangtok Elementary School.
Fosco Maraini, the Florentine photographer, poet and scholar, gets to know young Kula as a member of a Giuseppe Tucci expedition as he makes a stop in Gangtok before heading into the glowing plateaus of Tibet.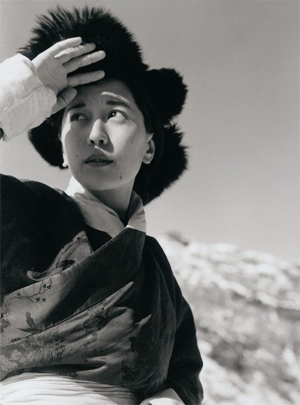 Kula, Coocoola's younger sister, skiing at Nathu-La, 1948. Photo: Fosco Maraini
In his classic Secret Tibet (1952), whose iconic cover adorns Kula in a traditional Tibetan fur hat, Maraini Sikkim describes in beautiful colors - steaming, breathing, digesting jungles; hundreds of species of butterflies; steep, wooded hillsides and an almost firework-like botanical variety; the tiny fairytale town between two hilltops and the associated fairytale palace - even if this is more reminiscent of a larger bungalow.
At dinner in the palace of Gangtok, he observes the old, venerable king, who in delicate maneuvers fights with a pea that does not want to be impaled on a fork. He befriends the digestive at the fire with Kula and she returns as blatantly as guileless his flirting attempts, but without compromising even for a second.
Rather, she is a caring hostess and urbane emissary of her Tibetan culture, who brings him fresh fruit and a gramophone with music by Mozart, Brahms and Scarlatti on his return to Gangtok. The two talk about European literature, Milarepa, the peculiarities of the Tibetan Gods sky and their fiancée, whom she will soon follow to Lhasa.
Coocoola is married at 16, so very early, as is the custom among the Tibetans. Actually Coocoola wants to study, but then a letter from Tibet arrives for her in the palace of Gangtok. The heraldic seal shows five yak tails - highest Lhasa nobility. Sey Kusho Gompo Tsering Phönkhang, called Phöntsok, governor of Gyantse and eldest son of an influential Yabshi family who has already spawned two Dalai lamas, wants a Sikkimese princess to be his wife. Chögyal Tashi does not pressure his daughter. He allows Coocoola to start her studies, but the Phönkhangs insist on a speedy wedding.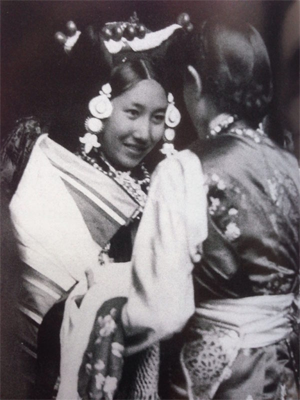 Coocoola at her wedding, 1941, with her aunt Chöni Dorji, later Queen of Bhutan.
Coocoola now makes her own condition, which is almost never expressed in polyandrian Tibet: she will only marry the eldest son, Gompo Phöntsok, and not his younger brother.
Vielmännerei does not meet their views.
When the parents-in-law also set aside her younger brother at the wedding, she repeats her unheard-of request.
Coocoola is thus the first woman in Tibet's history who, at her own request, marries only one man and not his brothers.
Whether the younger Phönkhang brother tasted this unintentional abuse or not is not known.
For the move from Sikkim to Tibet, Coocoola is provided with a tiny entourage with two court ladies, a porter and two horses. She will often ride this nearly three-week ride across the Nathu-La ("Passing Ears") and through the Chumbi Valley to Gyantse and Lhasa, passing the majestic snow cone of the Chomolhari (7330m, "Lady of the Gods").
Also with her three children (Jigme, Chimie and Sodenla), which she gives birth in the forties and fifties. In the caravan, she almost always stays in the saddle - only when passing villages and settlements she retreats into a Palanquin - and is a
lways armed with a muzzle loader and a Luger pistol, which she knows how to deal with. The area, especially between Phari and Gyantse, is notorious for both brash and daring bandits.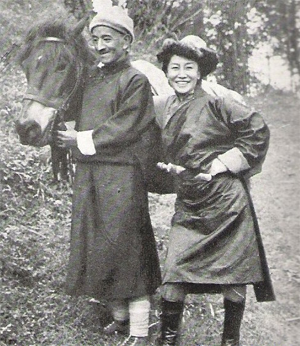 Sense of adventure: Coocoola with a Horse Man, on the way between Gangtok and Chumbi.
The life of the Tibetan aristocracy in Lhasa takes place between picnics, festivals and days long wedding celebrations on the riverbank. Since she belongs to the uppermost social class of old Tibet, Coocoola lacks nothing.
She comes through the dealers of Barkhor fashionable fabrics and patterns from India and Europe, reads Vogue, Claudine and Harper's Bazaar and makes top-stylish dresses for themselves and their girlfriends. Thanks to the presence of film cameras, the first documented catwalk shows in Tibet are created.
In 1942 and 1943, a two-man camera team from the Office of Strategic Services, a division of the US Army (and precursor to the CIA), visited Sikkim and Tibet. In the resulting film Inside Tibet, the viewer encounters in the first scene of the seventeen-year-old Kula, who inspects highly interested gifts of Americans in front of the palace of Gangtok, next to her the British ambassador Sir Basil Gould.
In the scenes created in Lhasa (at 15:32 and 27:58 minutes), Coocoola is seen with her first baby on the flat roof of the Phönkhang house, and later (at 26:07) with relatives (slightly tipsy) and her husband in front of him Estate Tsarongs. The package of a gift from the American filmmaker to the then seven-year-old XIV. Dalai Lama is missing a bow and so Coocoola provides her headband made of red velvet. The gift, personally selected by President Franklin D. Roosevelt, is a watertight wristwatch that the adolescent Dalai Lama later sank in the goldfish pond of Norbulingka Park to test its waterability - and never again.
In the house of Tsarongs, with its exhilaratingly colorful garden and a willow and poplar grove on the Kyi Chu ("happy river"), Coocoola goes in and out. Tsarong Dzasa, her uncle, is a self-made man and Tibetan folk hero, who was formerly Commander-in-Chief of the Tibetan Army and high minister in favor of the XIII Dalai Lama stood. Since his political withdrawal he has been a merchant, bridge builder, importer of steel, head of coinage and, with regard to the feudal system, an outspoken proponent of modernization.
Tsarong is enterprising and open-minded. He wants to learn about the world outside of Tibet and has a keen interest in all things Western: He has cameras, theodolites, telescopes and magazines from New York and Europe in his house. And he also grants the two Austrians Heinrich Harrer and Peter Aufschnaiter lodgings in the guesthouses of his extensive property when they set foot in Lhasa in the spring of 1946 after fleeing Tibet for two years.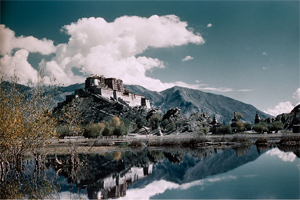 Forbidden City: Lhasa, 1948, with the Potala Palace under a light blue autumn sky. Photo: Heinrich Harrer
At first glance Heinrich Harrer is in love with Coocoola and will describe her as one of the most beautiful women in the world in his memoirs. In Seven Years in Tibet (1952) she also mentions: "She was of that indescribable charm of the Asian, which is characterized by the ancient culture of the Orient. At the same time she was quite modern, smart and educated, educated in the best schools in India. (...) You could talk to her like the most witty lady in a European salon, she was interested in culture and politics and everything that was going on in the world. She often talked about women's equal rights, but until then there was still a long way to go ...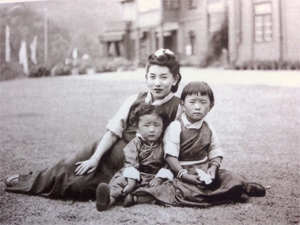 Coocoola and her first two children Chimie and Jigme in the late forties. Photo: Heinrich Harrer
... Coocoola distinguished herself from the other Tibetan women not only by her charming face, but above all by her slender figure, which she did not cover in several layers of thick fabrics, but like the Europeans, tightly wrapped in colorful silk. We could see each other on invitations, but hardly speak, and there were always staff at the English lessons she gave me. She had been brought up to the west and to me like a bridge to Europe.
If I remember this affection today, I especially remember the Tibetan words for my feelings. To fall in love is to say 'Shem wa' and means to lose soul, to refer to a woman as his lady of the heart is called 'Nying dug', translated 'The heart meet'. Both were probably the case. "
Other writers and travelers from the United Kingdom, the United States and India also sing about their encounter with Coocoola. For example, Indian Envoy Nari Rustomji (author of Enchanted Frontiers ) or quarrelsome cult leader and scholar Sangharakshita who writes about Sikkim's eldest princess in Facing Mount Kangchenjunga: "It was like a magical tropical butterfly fluttering across my path. Coocoola has four characteristics rarely found in a single woman: beauty, charm, intelligence and joie de vivre. And she possesses all these qualities in a much higher degree than is occasionally found in different women ...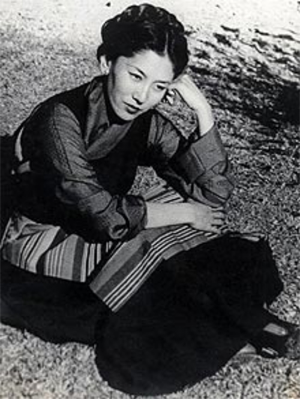 Coocoola in the late fifties. Photo: The Telegraph
More than that, these qualities find their way into all their little, seemingly insignificant gestures - be it a puzzled look under her long eyelashes, the serene way she blows cigarette smoke from her nostrils, or a few whispered words in her full, clear and musical voice. Not only that, she enhances the effect of her personality with sumptuous costumes, which she wears in the unshakeable self-understanding and knowledge of her royal blood. The effect is subtle, devastating."
In the autumn of 1950, the darkest premonitions of the thirteenth century come to pass in Tibet. Dalai Lama and the terrible prophecies of the oracles: The military-upgraded China invades Tibet. In the following decades, architecturally, but also mentally, hardly any stone should stay on top of another. The violent occupation, secretly tolerated by all global powers, puts an end to the old Tibet.
The thousand-year-old, colorful culture of Tibet, marked by a peaceful inner vision of the spirit
, is banned ...
... and the feudal lordship of the monasteries brutally and with force of arms replaced by a grotesque distortion of socialism.
Of course, Tibet would have had to go the way to modernity and democracy on its own (a British road between Bengal and Lhasa would certainly have made a start), but the invasion by the so-called "People's Liberation Army" Mao Zedong is in no way a legitimate one answer to this omission.
On the contrary, it does not seem even today that even the Chinese military and power stars had even an idea of ​​what they would bring about horror, famine and blind destructive rage over an autochthonous, profoundly religious folk community. But of course Mao and his "terrible four" were not concerned with the happiness of his or any people, but with power, land and mineral resources.
Coocoola returns to Sikkim following the Chinese invasion of Lhasa, along with her husband Phöntsok, who will never overcome the loss of his homeland. It organizes spying and search teams to rescue scattered friends and relatives from the hands of Chinese military personnel in Tibet
- including the Tyrolean agricultural scientist and Tibetologist Peter Aufschnaiter, who, however, is not found, because he, waiting for political development, on the West Tibets to Nepal settles.