Sheikh Abdullah
by Wikipedia
Accessed: 4/1/19
NOTICE: THIS WORK MAY BE PROTECTED BY COPYRIGHT
YOU ARE REQUIRED TO READ

THE COPYRIGHT NOTICE AT THIS LINK

BEFORE YOU READ THE FOLLOWING WORK, THAT IS AVAILABLE SOLELY FOR PRIVATE STUDY, SCHOLARSHIP OR RESEARCH PURSUANT TO 17 U.S.C. SECTION 107 AND 108. IN THE EVENT THAT THE LIBRARY DETERMINES THAT UNLAWFUL COPYING OF THIS WORK HAS OCCURRED, THE LIBRARY HAS THE RIGHT TO BLOCK THE I.P. ADDRESS AT WHICH THE UNLAWFUL COPYING APPEARED TO HAVE OCCURRED. THANK YOU FOR RESPECTING THE RIGHTS OF COPYRIGHT OWNERS.
Far from being bowed from her time in jail, over the next four years Freda increased her efforts to bring freedom to the Indian subcontinent. She continued giving speeches in towns and villages, championing the exploited, fighting injustice, and working around the clock to earn a living to support the family.

Increasingly her attention was drawn to Kashmir, the exquisitely beautiful but politically volatile state in northwest India famed for its snow-capped peaks, verdant pastures, and Dal Lake with its charming houseboats.

The lure was their close friend Sheikh Mohammad Abdullah, president of Kashmir's first political party, the National Muslim Conference, which he founded in 1932. In June 1939 he changed the name to the more secular sounding All Jammu and Kashmir National Conference. The Bedis and Sheikh Abdullah had much in common. Both believed in equal rights for all sections of society regardless of caste, creed, or religion. Both were adamant about overthrowing imperialism, which in Sheikh Abdullah's case took the form of the Raj-appointed maharaja of Jammu and Kashmir, Hari Singh. Self-rule was the mutual goal.

Sheikh Abdullah was a towering figure. He wore long regal robes and called himself "the lion of Kashmir." Like BPL, he was charismatic, forceful, and extremely determined. He was also a hunted man. The maharaja was after him, and so were the law enforcers of the British Raj.

When he was banned from entering Kashmir, he rushed for sanctuary with Freda and BPL in The Huts. ….

Freda, however, went several steps further. In order to get Sheikh Abdullah's messages to his many thousands of followers, she elected to carry them herself, disguised in a burka. Inevitably she was discovered and given forty-eight hours to get out of Kashmir. Freda announced, "I'm going to do nothing of the kind," and surreptitiously continued carrying messages.

During these years, fighting for Kashmir, Freda's tenacity and courage became legendary. When the police discovered her staying in a hotel owned by a Sheikh Abdullah sympathizer in Srinagar, they stormed it, forcing her eviction. She found refuge with a houseboat owner on Dal Lake, who hid her in the kitchen. The police were hot on her heels; discovering her hiding place, they roughed up the houseboat owner and his family. Freda returned from her mission to find them in tears and beating their chests. Without a moment's hesitation she sprang into action.

"Mummy immediately got into a rowboat that took her to shore, where she climed into a tonga (horse-drawn carriage) to look for the policemen," reports Ranga. "She found them at a tea shop. After asking them why they had molested the family, she took off her shoe and began to hit them. They ran for their lives, nonplussed that a British woman was beating them.

"Mummy was quite expecting to be arrested again, and was ready for it, but the maharaja thought better of it. He didn't want the scandal of incarcerating her with its attendant publicity of what she had done – it made the police look too silly."

On another occasion it was Freda herself who was hurt – and this time she had taken Ranga with her. They were in Srinagar for a riverboat procession down the Jhelum River

to celebrate the fact that Sheikh Abdullah was willing to embrace all faiths in his case

. As the boats, with Freda, Ranga, BPL, and all of Sheikh Abdulla's top guns, sailed down the river, they saw the maharaja's people gathering on the banks to protest.

"As the boats passed under the bridges, they hurled stones down on us, including mummy, who lay on top of me to protect me. Many people got injured, but I was OK. As for Mummy, she just carried on. She was utterly fearless," said Ranga…..

During her treks in the Kashmiri hills, Freda met the renowned British writer Rumer Godden (author of Black Narcissus and The Greengage Summer, among other highly esteemed literary works) … The two women became close friends…..

Another illustrious figure who came into Freda's life at this time was Jawaharlal Nehru, who was to become India's first prime minister. He had met Freda in the early thirties at a Congress convention and

admired her greatly, especially after her imprisonment

. In addition to Indian self-rule, he too was keenly interested in socialism and women's emancipation. Nehru passionately loved Kashmir, his ancestral home, and took every opportunity to go there. At such times Freda would often drop in, and she became close friends with his daughter, Indira, who was just six years younger, and also Oxford educated. The relationship was sealed when Freda and BPL were invited to Indira's wedding to Feroze Gandhi (no relation), in 1942.

Ranga was at the celebration. "I remember it was held in a large house – and Mummy was the only British face there. Afterward we went to have breakfast with Nehru. We all stayed friends for years. Indira's sons, Rajiv and Sanjay, and became our playmates. Many years later Indira attended my wedding to Umi."

For all her political work, her teaching, her family, her marriage, and her writing, it would be wrong to think that Freda had forsaken her spiritual quest. Far from it. If anything, living in India had only heightened her deep yearning for spiritual nourishment and education. She did yoga (even in jail) and read as much spiritual literature as she could, including the Koran, the Bhagavad Gita, and the Bible, searching for the eternal verities that lay beyond dogma. "I am going through the Old Testament again, leaving out the Rules and the begats. The Gita says that all paths lead to Me. That I believe," she said…..

An interesting side effect of Freda's daily meditation practices, she said, was an increase in her clairvoyance: "I got many internal revelations, even visions," she said later in a radio interview in New York. She discovered she could receive messages via dreams, for example. On one occasion Freda was able to reassure an old college friend living in Malaysia during the outbreak of the war that her missing husband was not dead, as she feared, because she had dreamed of her, her two children, and her husband escaping from the Japanese. Sure enough, four years later the husband emerged from the jungle where he had been hiding and was reunited with his family.

By 1943, the war was beginning to turn against Germany, and two years later, in May 1945, peace was finally declared, ending the global onslaught of terror, destruction, and death…. Now, she felt, her job was nearing completion and it would be safe for her to have another child. She would have the time and energy to devote to a new baby, unlike with Tilak. Freda promptly became pregnant.

She had another prophetic dream in which she saw a Tibetan figure holding a boy in front of him. He said to her, "Take care of him." However, at this point in her life, she knew no Tibetans – they had yet to pour out of their homeland into exile. The dream was a harbinger of things to come.

On January 16, 1946, Freda gave birth to her second son, whom they named Kabir, after the sixteenth-century much-loved mystic poet and saint who preached peace between Hindus and Muslims, and the oneness of all religions. From the outset, Freda regarded Kabir as a special child and the closest to her of all her children.

Sheikh Abdulla sent a congratulatory telegram from Riasi jail where he was serving one of his many prison sentences. "He will grow up, I am sure, as a very handsome boy

and his forehead depicts him to be a great thinker and revolutionary

. May he live long and have a happy life."….

LUTHER:

Here the hurricane, of which Balzac spoke, embraces forehead, eyes and nose, no marble dome is arched above it; but this flaming volcano of energy and thoughtfulness rests upon mouth and chin as upon a rock of granite. Even the smallest feature of the powerful face testifies to energy and thirst for achievement.

-- The Foundations of the Nineteenth Century, by Houston Stewart Chamberlain

In 1947, as Independence neared, Freda returned to England to attend a large socialist conference and to see her mother and show her the new child. On August 15, 1947, at the stroke of midnight, while she was in England, Indian Independence was declared….

She would have dearly loved to be there celebrating with her husband and all her friends, but BPL had warned her to stay away. Already the tension between Hindus and Muslims was mounting, and BPL knew the bloodshed that was about to occur. He had written her an urgent letter saying, "Don't come back to Lahore at this time, whatever you do."

He was right. At the same time an independent, free India was born, a brand-new country, the Muslim state of Pakistan was also created, out of what had formerly been known as the Punjab.

It should have been a moment of great joy and celebration. Instead India awoke to a bloodbath. Rather than being united under the banner of freedom, the subcontinent was abruptly split apart on the basis of religion. A massive cross-migration had begun, with thousands of Muslims fleeing India to get to Pakistan, and Hindus and Sikhs going in the opposite direction to India….

Lahore was ablaze, with riots in the streets as gangs of Sikhs and Muslims clashed…. It was estimated that more than half a million people were killed and more than a million made homeless….

According to Kabir, the ever-confident BPL faced the crisis head-on. "Father was in Lahore, right on the border. He helped people going both ways! He pretended to be whoever might be useful in the moment – he could speak all languages – and would talk his way out of every situation each time he was confronted."….

Packing their meager belongings, Freda, BPL, Ranga, and baby Kabir moved to Kashmir, the beautiful land north of the Punjab. The idealistic, romantic, basic, and communal life in The Huts was over. A new era was beginning.

In the last few weeks of 1947, the Bedis moved into a fine gabled house on the edge of Dal Lake that was equipped with comforts and conveniences unheard of in The Huts. They had been drawn not by the landscape but by their great friend Sheikh Abdullah, who was now prime minister of the conjoined State of Jammu and Kashmir. He was promising everything they believed in –

religious harmony between Muslims, Sikhs, Hindus, Christians and Harijans (the Untouchables); female emancipation; and land reform

. They were delighted to support him. In Freda's eyes, Sheikh Abdullah was virtually a saint.

"He is a Moses-like figure who had, along with his party, led the Kashmiris out of the virtual slavery of the maharaja's kingly rule to responsible government, and given a new self-respect to these gifted people. To this country, whose beauty is tragically silhouetted against the great, unchanging poverty of its peasants and working classes, he and his government have brought fresh faith and a new approach, " she said…..

Right now, her hero and his state were in deep trouble. Tens of thousands of tribal warriors were pouring over the northwestern frontier from Pakistan, hell-bent on taking Srinagar, with its airport, and making it their own. These were the Pathans, the famous fiercest Islamic fighting force in the world, who were raping, pillaging, and hacking to death every infidel they could find in revenge for the massacres carried out on their Muslim brothers in the border areas. They were stopped at Baramulla, a town a few miles upstream from Srinagar, but not before the town had been reduced to ashes, and its inhabitants – including the Irish nuns at the Baramulla Convent and a priest and nurses in the Baramulla Hospital – had been butchered.

Freda and BPL nobly rushes to the rescue….

Kashmir balanced precariously on the brink as it struggled to decide where it was going to place itself – whether it would join with the Muslims in the newly formed Pakistan or accede to union with India.

The tug-of-war was fraught, passionate, and vicious….

"The first thing Mummy did when we got to Kashmir was to get a group together and go to the church to clean it up. I was with her. Statues had been defaced and were lying smashed. She got down on her hands and knees to clean the blood of the floor and walls.

The marauders had used machetes – blood was everywhere. The horror of it only urged her on," recalled Ranga, who was fourteen years old at the time.

The second thing Freda did was to rush to the aid of the multitude of refugees arriving daily from the occupied territories in a constant stream of misery…..

Freda focused on the women and children, setting up twenty-three milk-ad-relief centers and recruiting a band of Kashmiri girls to help her….

Ranga witnessed what his mother went through. "It was a nightmare. Utter chaos. Everything had shut down, including the schools.

Mummy worked around the clock, leaving at seven a.m. and coming home around ten p.m. She was organizing it all – the camps, the food, the medical supplies, the tents. Selfless volunteers were coming in from everywhere, and Mummy organized them too.

She was absolutely hands-on."

Freda wasn't the only eminent Englishwoman helping the refugees. Edwina Mountbatten, wife of the last viceroy of India, tirelessly worked with the displaced and wounded after Independence, and she, too, appeared by Freda's side.

She declared herself deeply shocked by what she saw in Srinigar but was full of admiration at the sight of the women engaged in the relief effort.

"It is always true that good comes out of evil and that there is no doubt that this crisis has brought out women to play their full part in their country's affairs, which

would otherwise have taken years of evolution to achieve

," she wrote in a letter to Sheikh Abdullah.

Edwina Mountbatten and Freda Bedi were clearly united in their outlook and mission. Edwina's next move bore all the hallmarks of Freda's persuasive powers.

On returning to Delhi she persuaded Nehru (with whom she was particularly close) to send more government help to the Kashmirir refugees, which he duly did….

BPL was far away in Delhi, working to reopen the trade lifeline, shut since the war, which was essential to Kashmir's economy. So she was alone with Ranga and Kabir, with only Rufus the Great Dane to guard them.

To protect herself and her family, Freda did the unthinkable. She took up arms by joining a women's militia – the Women's Self-Defence Corps – started by some feisty members of the Communist Party affiliated with Sheikh Abdullah's National Conference Party. They demanded to be trained and given arms in the face of the countless women being raped, abducted, and killed all around them. For Freda, a follower of Gandhi, it was a radical but necessary step. She spent hours drilling on a parade ground, learning to shoot a gun and lob a grenade alongside seventh other women, all volunteers gleaned from all classes, who had pledged to protect not only themselves but the citizens of Srinagar itself….. It was a big story, and was reported with pride in The People's Age, a newspaper to which BPL contributed.

"For the first time on the soil of India there is being built an army of women trained to use the rifle and other modern weapons of war. The women of Kashmir are the first in India to build an army of women trained to use the rifle. By their example they have made Indian history, filled our chests with pride, and raised our country's banner higher among the great nations of the world."

The writing bears all the hallmarks of BPL's communist rhetoric and with it the pledge to achieve female emancipation.

Nehru came to inspect the Women's Self-Defence Corps, and press photographs reveal Freda standing boldly upright, rifle in hand, the only white face among a sea of brown ones. The training took up hours of her precious time, but in the end she never had to shoot anyone.

By the beginning of 1949, things were quieting down a little.

On January 1, a cease-fire had been established following the condemnation of the Kashmir crisis by the United Nations.

The maharaja, Sir Hari Singh, had fled, and much to Freda's approval Hindus, Muslims, Sikhs, Harijans, and Christians began living peacefully side by side, in the capital at least.

For the next few years, Freda and BPL got down to building up a new "enlightened" society. "Kashmir with its socialist government and its young leaders can lead India and rebuild this miserable country.

I have great faith in it and love it, too. It's beautiful, rich in talent and natural resources," she claimed.

For the first (and last) time, BPL was bringing in a regular salary – employed in various capacities by Sheikh Abdulla's government. Freda's portfolio was massive. Not only did she continue her work with the refugees, she also established a Houseboatmen's and Domestic Workers Unemployment Relief School, giving technical training to the children of classes hard hit by the stoppage of the lucrative tourist trade.

She was delighted that the training carried with it a monthly cash payment for each child, thus enabling hard-hit families to buy food.

She and BPL also rewrote more than ninety school and college textbooks. "Kashmir was the first part of India to reorganize its teaching materials so that the books fitted in with the new world and the new free India that our children now live in" she boasted.

In a brief respite from her heavy workload, Freda managed to become pregnant again…. She wrote to Olive, "The latest family news is that we are expecting a sister (finally a sister) for the boys in early September." …. (How Freda knew that her unborn baby would be female is unknown.)

On September 15, 1949, Freda gave birth to a girl. They called her Gulhima (shortened to Guli), meaning "Rose of the Snows" ….

Never one to forsake her calling for motherhood,

the very next year, Freda was back at work, this time as a member of the Board of English and Philosophic Studies in the newly founded Jammu and Kashmir University. By the autumn of 1950 she had taken on the additional role of visiting professor in the pioneering college, newly established in Srinagar especially for Kashmiri girls wanting to get their BA or BS degrees.

She worked late into the night, diligently marking all the papers.

"We hope to produce our first graduates by the summer of 1952. There are 160 girls studying at the college"….

More work was in store. In 1950, all of North India suffered the most dreadful floods.

Freda became Secretary of the Government Flood Relief Committee for Srinagar and Suburbs…..

There was time for a social life. Freda was very highly regarded throughout Kashmir, and with their connections the Bedis became a celebrated couple, frequenting many high-society cocktail parties…..

The Bedis' house, with its beautiful gardens bordering on Dal Lake and its open-door policy, became a magnet for many business-people, international holidaymakers, educators, and journalists alike, including the celebrated American photojournalist Margaret Bourke-White, of Life magazine fame. "She was an elderly lady, yet she hung on telegraph poles to get her story," remembered Ranga.

In spite of her extraordinary workload, her husband, and her children, Freda still pursued her spiritual quest, trying to find a path that would fulfill all her deepest yearnings for ultimate Truth and Freedom. Her search was exceptionally meticulous. Following her nonsectarian bent, she decided to take one religion at a time and study it thoroughly. For one year she practiced Islam, praying five times a day and observing the feast days. When a Canadian Jewish professor and his wife visited Kashmir, she studied Judaism with a green-leather-bound Torah that they gave her. Then she observed the Hindu fasts and studied the gods: Shiva, Ganesh, Krishna – all were equally important to her. And of course, she became thoroughly acquainted with Sikhism the religion of her husband's forefathers.

One day she met a Tibetan Buddhist lama in Srinagar, the head of a Ladakhi monastery visiting from the other side of the continent. It was a brief encounter, but something resonated deeply within Freda….

By 1951, the thorny political issue of offering the people of Kashmir a plebiscite to let them decide whether they wanted to join Pakistan or accede to India hung heavily in the air. Freda was torn. While she believed in the people's right to choose, she was adamantly against Pakistan's propaganda, with its call for Islamic separation and the holocaust she feared would irrevocably follow, with Hindus and Sikhs the losers.

"There will be a tough fight when and if a plebiscite takes place. The other side uses low weapons – an appeal to religious fanaticism and hatred, which can always find a response. We fight with clean hands. I am content as a democrat that Kashmir should vote and turn whichever way it wishes, but I know a Pakistan victory would mean massacre and mass migration of Hindus and Sikhs – and I hate to face it. God forbid it should happen," she said.

For the first time she revealed an anticommunist leaning. "I feel the British Press – with the exception of our friend Norman Cliff on the News Chronicle – is Pakistan minded, and while I realize that Pakistan and Middle East oil interests are linked, I think it is a great injustice to Kashmir.

While a very brutal invasion and a lot of propaganda from the Pakistan side has been trying to make the state communist minded, it has valiantly stuck to his democratic ideas and built up this very war-torn, hungry world."

BPL was valiantly doing his part in promoting counterpropaganda (a role given to him by Sheikh Abdullah's administration)

, churning out publicity and articles both in Delhi and in Kashmir. One day in 1952, things went catastrophically wrong.

BPL had a huge argument with his old friend Sheikh Abdullah, who was about to make a speech ratifying the plebiscite.

Kabir said, "My father warned him that India would never accept such a move and that Sheikh Abdullah would be jailed. He was also afraid that a plebiscite would deepen the split already existing in the state and would destroy the work that he, Mummy, and others had been carefully building up over the fragile early years to promote harmony and improve the living conditions of all the people. Kashmir had a huge Muslim majority, but anti-Pakistan feeling was also very high In Kashmir. That was what my father was working with, especially with his counterpropaganda. His ultimate commitment and hope was that Kashmir would be joined to secular India, with its democratic principles. Sadly the best of friendships ended in a bitter battle."

The minute his argument with Sheikh Abdullah was over, BPL went home, packed up all his household goods and his family, and within twenty-four hours had moved everyone to Delhi. He could no longer stay in a Kashmir that he felt was heading for trouble, and in the employ of a man whose policies he no longer believed in. His prediction was right. In 1953, Sheikh Abdullah was dismissed as prime minister, arrested on charges of conspiracy against the state, and jailed for eleven years. In Delhi, BPL never stopped petitioning for his release.

-- The Revolutionary Life of Freda Bedi, by Vicki Mackenzie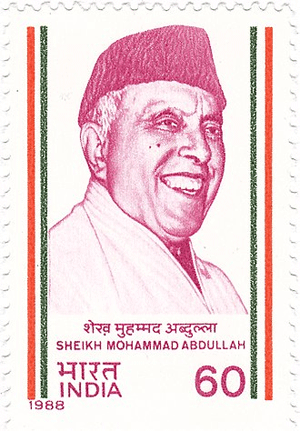 Mohammed Abdullah Sheikh
Sheikh Abdullah on a 1988 stamp of India
3rd Chief Minister of Jammu and Kashmir
In office
25 February 1975 – 26 March 1977
Succeeded by Governor's rule
In office
9 July 1977 – 8 September 1982
Preceded by Governor's rule
Succeeded by Farooq Abdullah
2nd Prime Minister of Jammu and Kashmir
In office
5 March 1948 – 9 August 1953
Preceded by Mehr Chand Mahajan
Succeeded by Bakshi Ghulam Mohammad
Member of Constituent Assembly of India
In office
9 December 1946 – 24 January 1950
President of the Jammu & Kashmir National Conference
In office
October 1932 – August 1981
Personal details
Born 5 December 1905[1]
Soura, Jammu and Kashmir, British India
Died 8 September 1982 (aged 76)[1]
Srinagar, Jammu and Kashmir, India
Political party Jammu & Kashmir National Conference
Spouse(s) Begum Akbar Jahan Abdullah
Children Farooq Abdullah, Suraiya Abdullah Ali
Alma mater Islamia College Lahore
Aligarh Muslim University[2]
Mohammed Abdullah Sheikh (5 December 1905 – 8 September 1982) was a Kashmiri politician who played a central role in the politics of Jammu and Kashmir, the northernmost Indian state. The self-styled "Sher-e-Kashmir" (Lion of Kashmir), Abdullah was the founding leader of the Jammu & Kashmir National Conference and the 2nd Prime Minister of Jammu and Kashmir. He agitated against the rule of the Maharaja Hari Singh and urged self-rule for Kashmir.[3]
He served as the 2nd Prime Minister of the Princely State of Jammu and Kashmir after its accession to India in 1947[4] and was later jailed and exiled. He was dismissed from the position of Prime Ministership on 8 August 1953 and Bakshi Ghulam Mohammad was appointed as the new Prime Minister. The expressions 'Sadar-i-Riyasat' and 'Prime Minister' were replaced with the terms 'Governor' and 'Chief Minister' in 1965.[5] Sheikh Abdullah again became the Chief Minister of the state following the 1974 Indira-Sheikh accord and remained in the top slot till his death on 8 September 1982.[6]
Early life
Abdullah Sheikh was born in Soura, a village on the outskirts of Srinagar, eleven days after the death of his father Sheikh Mohammed Ibrahim. His father was a middle class manufacturer and trader of Kashmiri shawls. He was a descendent of a Hindu named Ragho Ram, who was converted to Islam in 1722 by the saint Rashid Balkhi and after conversion changed his name to Sheikh Mohammed Abdullah, as per Abdullah's autobiography Atish-e-Chinar.[7]
According to Abdullah Sheikh, his step brother mistreated his mother and his early childhood was marked by utter poverty. His mother was keen that her children should receive proper education and, so, as a child, he was first admitted to a traditional school or Maktab where he learnt the recitation of the Quran and some basic Persian texts like Gulistan of Sa'di, Bostan, Padshanama, etc. Then in 1911 he was admitted to a primary school where he studied for about two years.
However, their family barber Mohammed Ramzan prevailed upon his uncle to send him back to school. He had to walk the distance of ten miles to school and back on foot but in his own words the joy of being allowed to obtain a school education made it seem a light work. He passed his Matriculation examination from Punjab University in 1922.[8]
Higher studies
After matriculation he obtained admission in Shri Partap College, the leading college of Kashmir. He also went to the Prince of Wales College in Jammu.[1] Then he took admission in Islamia College, Lahore and graduated from there. In 1930, he obtained an M.Sc. in Chemistry from Aligarh Muslim University.[1] During his college days he was an eye witness of the protests of the workers of the Government Silk Factory during the Silk Factory Workers Agitation and the sight of workers agitating for their rights made a deep impression on him and was an important factor in motivating him to struggle for the rights of the people of the Jammu and Kashmir State.[9]
Political activism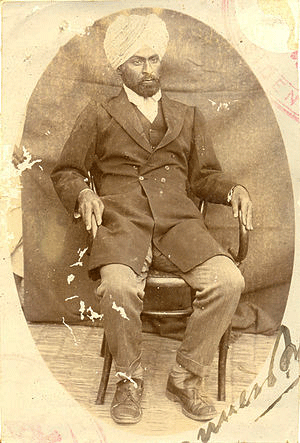 Kashmiri polymath and lawyer Molvi Abdullah. His lectures motivated Abdullah Sheikh and other educated Muslim youth to struggle for justice and fundamental rights
As a student at Aligarh Muslim University,[2] he came in contact with and was influenced by persons with liberal and progressive ideas. He became convinced that the feudal system was responsible for the miseries of the Kashmiris and like all progressive nations of the world Kashmir too should have a democratically elected government.
Muslim Conference
Abdullah Sheikh and his colleagues were greatly influenced by the lectures of a Kashmiri polymath and lawyer Molvi Abdullah.[10] Molvi Abdullah's son Molvi Abdul Rahim, Abdullah Sheikh and Ghulam Nabi Gilkar were the first three educated Kashmiri youth to be arrested during the public agitation of 1931.[11]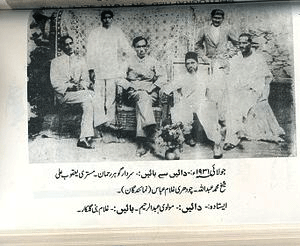 Abdullah Sheikh with other leaders of 1931 agitation. Sitting R to L: Sardar Gohar Rehman, Mistri Yaqoob Ali, Sheikh Abdullah, Chaudhary Ghulam Abbas. Standing R: Molvi Abdul Rahim, L:Ghulam Nabi Gilkar
Kashmir's first political party the Kashmir Muslim Conference with Abdullah Sheikh as President, Chaudhary Ghulam Abbas as general secretary, and Molvi Abdul Rahim as Secretary was formed on 16 October 1932. In his presidential address Abdullah Sheikh categorically stated that the Muslim Conference had come into existence to struggle for the rights of all oppressed sections of the society and not Muslims alone. It was not a communal party and would struggle for the rights of the oppressed, whether Hindu, Muslim or Sikh, with the same fervor. He reasserted that the struggle of Kashmiris was not a communal struggle.[12]
In March 1933 the Muslim Conference constituted a committee which included Molvi Abdullah and nine other members for the purpose of establishing contacts with non-Muslim parties and exploring the possibility of forming a joint organisation. Those nine members were Khwaja Saad-ud-din Shawl, Khwaja Hassan Shah Naqshbandi, Mirwaiz Kashmir, Molvi Ahmad-Ullah, Mirwaiz Hamadani, Agha Syed Hussain Shah Jalali, Mufti Sharif-ud-din, Molvi Atiq-Ullah and Haji Jafar Khan. According to Abdullah Sheikh this effort was not successful because of the unfavourable reception of the idea by the non-Muslim parties.[13] Abdullah Sheikh campaigned to change the name of the Muslim Conference to National Conference, under the influence of among others Jawaharlal Nehru. After a prolonged and vigorous campaign a special session of the Muslim Conference held in June 1939 voted to change the name of the party to National Conference. Of the 176 members attending the session, 172 members voted in favour of the resolution.[14] According to Abdullah Sheikh the support of Chaudhary Ghulam Abbas of Jammu was very important in motivating the members to vote for this change.[15]
Electoral politics
As a result of the 1931 agitation, the Maharajah appointed a Grievances Commission with an Englishman B.J. Glancy as President who submitted its report in March 1932.[16] Subsequently, a Constitutional Reforms Conference also presided over by B.J. Glancy recommended the setting up of an elected Legislative Assembly (Praja Sabha). Consequently, a Praja Sabha with 33 elected and 42 nominated members elected on the basis of separate electorates for Hindus and Muslims was established in 1934.[17] Women and illiterate men without sufficient property, or title, or annual income of less than Rupees four hundred did not have the right to vote. Roughly less than 10% (according to Justice Anand only 3%) of the population were enfranchised.[18]
Even after the formation of Praja Sabha in 1934 as recommended by the Commission real power continued to remain in the hands of the Maharajah.[19]
Seventeen years later in 1951, the government of Kashmir with Sheikh Abdullah as Prime Minister held elections to a Constituent Assembly on the basis of universal adult suffrage. Sheikh Abdullah's Government had been accused of rigging in these elections to the Constituent Assembly.[20]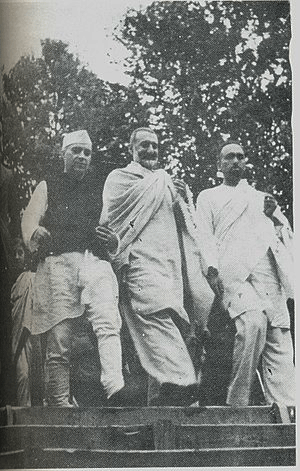 Sheikh Abdullah with Nehru and Badshah Khan (centre) at Nishat Garden in 1945
Sheikh Abdullah was introduced to Jawaharlal Nehru in 1937 and as he too was a leader of the Indian National Congress was demanding similar rights for people of British India[21] and had formed The All India States Peoples Conference[22] for supporting the people of Princely States in their struggle for a representative government the two became friends and political allies.
National Conference
He introduced a resolution in the working committee of the Muslim Conference for changing its name to National Conference on 24 June 1938 to allow people from all communities to join the struggle against the autocratic rule of the Maharaja.[23] Meanwhile, he along with his liberal progressive friends, many of whom were not Muslim like Kashyap Bandhu, Jia Lal Kilam, Pandit Sudama Sidha, Prem Nath Bazaz and Sardar Budh Singh drafted the National Demands[24] the forerunner of the famous Naya Kashmir (New Kashmir) Manifesto (which was a charter of demands for granting a democratic constitution committed to the welfare of the common people of Kashmir)[25]
He presented these demands to the Maharajah in a speech on 28 August 1938.[26] The Maharajah was not willing to accept these demands and so he along with many of his companions was arrested for defying prohibitory orders and sentenced to six months imprisonment and a fine. His arrest provoked a public agitation in which volunteers called Dictators (so called because they had the authority to defy laws that was forbidden for normal law-abiding party members) courted arrest. This agitation was called off on the appeal of Mohandas K. Gandhi. He was released after serving his sentence on 24 February 1939 and accorded a grand reception by the people of Srinagar on his return. Speeches were made at the reception stressing the importance of unity among Hindus, Muslims and Sikhs.[27] Subsequently the resolution for changing the name of Muslim Conference to National Conference was ratified with an overwhelming majority by the General Council of the Muslim Conference on 11 June 1939 and from that date Muslim Conference became National Conference.[28]
Quit Kashmir agitation
In May 1946 Sheikh Abdullah launched the Quit Kashmir agitation against the Maharajah Hari Singh and was arrested and sentenced to three years imprisonment but was released only sixteen months later on 29 September 1947.[29] According to prominent columnist and writer A. G. Noorani, Quit Kashmir was ill-timed and illogical. (See Tehreek e Hurriyat e Kashmir By Rashid Taseer (Urdu) volume 2-page 29 for "National Demands" discussion and see Chapter 12-page 310-313 regarding presentation of "Naya Kashmir" Manifesto to Maharaja Hari Singh. Full text of "Naya Kashmir" manifesto is given from page 314 to 383. English translation of this text is available at Wikisource. Also see relevant chapters from Atish e Chinar regarding 1931 agitation (Chapters 9, 10 and 11) Glancy Commission (Chapter 15) formation of Muslim Conference (Chapter 18) meeting with Nehru (Chapter 23), reasons for change in name of Muslim Conference to National Conference (Chapter 24) and becoming president of All India States Peoples Conference (Chapter 31). His arrest and subsequent release following the Quit Kashmir agitation is discussed in Chapter 34-page 372-389.) [30]
Head of Government

Head of emergency administration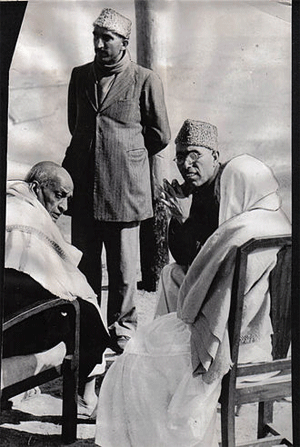 Sheikh Mohammed Abdullah (right), chosen to head interim government in Kashmir, confers with Sardar Patel, deputy premier of India
Maharaja Hari Singh appealed to Lord Mountbatten of Burma the Governor-General of India for Indian military aid. In his Accession Offer dated 26 October 1947 which accompanied The Instrument of Accession duly signed by him on 26 October 1947, Maharaja Hari Singh wrote "I may also inform your Excellency's Government that it is my intention at once to set up an interim Government and ask Sheikh Abdullah to carry the responsibilities in this emergency with my Prime Minister."[31][32]
Lord Mountbatten accepted the accession after a meeting of the Defence Committee on 26 October 1947. In accepting the accession unconditionally he wrote, "I do hereby accept this Instrument of Accession. Dated this twenty seventh day of October, nineteen hundred and forty seven".[33] In the covering letter to Hari Singh, he wrote "In consistence with their policy that in the case of any State where the issue of accession has been the subject of dispute, the question of accession should be decided in accordance with the wishes of the people of the State, it is my Government's wish that, as soon as law and order have been restored in Kashmir and its soil cleared of the invader, the question of the State's accession should be settled by a reference to the people".[34] Also in his letter to the Maharaja Lord Mountbatten wrote "My Government and I note with satisfaction that your Highness has decided to invite Sheikh Abdullah to form an Interim Government to work with your Prime Minister." The support of Mahatma Gandhi and Prime Minister, Jawaharlal Nehru, was a key factor in getting Sheikh Abdullah appointed as Head of the emergency administration by the Maharaja.[35]
As a consequence, Sheikh Abdullah was appointed head of an emergency administration by an order issued by the Maharaja which was undated except for the mention October 1947 in place of the date. He took charge as Head of the Emergency Administration on 30 October 1947.[36]
He raised a force of local Kashmiri volunteers to patrol Srinagar and take control of administration after the flight of the Maharaja along with his family and Prime Minister Meher Chand Mahajan to Jammu even before the Indian troops had landed. This group of volunteers would serve as the nucleus for the subsequent formation of Jammu and Kashmir Militia.[37] This, Sheikh Abdullah hoped, would take over the defence of Kashmir after the Indian army was withdrawn. This was articulated in his letter to Sardar Patel dated 7 October 1948 in which he wrote, "With the taking over of the State forces by the Indian Government, it was agreed that steps would be taken to reorganise and rebuild our army so that when the present emergency is over and the Indian forces are withdrawn the State will be left with a proper organised army of its own to fall back upon."[38] (Sheikh Abdullah has alleged that most of the Muslim soldiers of the Militia were either discharged or imprisoned before his arrest in 1953.[39] The Militia (dubbed as Dagan Brigade) was converted from a State Militia to a regular unit of the Indian Army on 2 December 1972 and redesignated the Jammu and Kashmir Light Infantry)[40]
Sheikh Abdullah spoke at the UN Security Council on 5 February 1948 thus: "The (tribal) raiders came to our land, massacred thousands of people — mostly Hindus and Sikhs, but Muslims, too — abducted thousands of girls, Hindus, Sikhs and Muslims alike, looted our property and almost reached the gates of our summer capital, Srinagar."[41]
Prime minister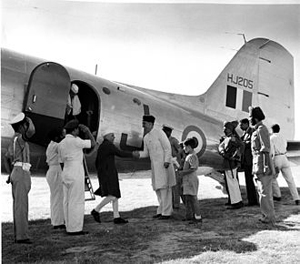 Sheikh Abdullah receiving Nehru in Srinagar, 1947.
Sheikh Abdullah took oath as Prime Minister of Kashmir on 17 March 1948.[42]
Return to activism

Arrest and release
On 8 August 1953 he was dismissed as Prime Minister by the then Sadr-i-Riyasat (Constitutional Head of State) Dr. Karan Singh, son of the erstwhile Maharajah Hari Singh, on the charge that he had lost the confidence of his cabinet (not the house).[43] He was denied the opportunity to prove his majority on the floor of the house[44] and his dissident cabinet minister Bakshi Ghulam Mohammed was appointed as Prime Minister.[45] Sheikh Abdullah was immediately arrested and later jailed for eleven years, accused of conspiracy against the State in the infamous "Kashmir Conspiracy Case".[46]
According to Sheikh Abdullah his dismissal and arrest were engineered by the central government headed by Prime Minister Jawaharlal Nehru.[30] He has quoted B.N. Mullicks' statements in his book "My Years with Nehru"[47] in support of his statement.[30] A.G. Noorani writing in Frontline supports this view, as according to him Nehru himself ordered the arrest.[48] On 8 April 1964 the State Government dropped all charges in the so-called "Kashmir Conspiracy Case".[49] Sheikh Abdullah was released and returned to Srinagar where he was accorded an unprecedented welcome by the people of the valley".[50]
After his release he was reconciled with Nehru. Nehru requested Sheikh Abdullah to act as a bridge between India and Pakistan and make President Ayub to agree to come to New Delhi for talks for a final solution of the Kashmir problem. President Ayub Khan also sent telegrams to Nehru and Sheikh Abdullah with the message that as Pakistan too was a party to the Kashmir dispute any resolution of the conflict without its participation would not be acceptable to Pakistan. This paved the way for Sheikh Abdullah's visit to Pakistan to help broker a solution to the Kashmir problem.[51]
Sheikh Abdullah went to Pakistan in spring of 1964. President Ayub Khan of Pakistan held extensive talks with him to explore various avenues for solving the Kashmir problem and agreed to come to Delhi in mid June for talks with Nehru as suggested by him. Even the date of his proposed visit was fixed and communicated to New Delhi.[52] On 27 May while he was en route to Muzaffarabad in Pakistani-administered Azad Jammu and Kashmir news came of the sudden death of Nehru and the Sheikh after addressing a public rally at Muzaffarabad returned to Delhi.[53] On his suggestion President Ayub Khan sent a high level Pakistani delegation led by his Foreign Minister Zulfikar Ali Bhutto along with him to take part in the last rites of Jawaharlal Nehru.[54]
After Nehru's death in 1964, he was interned from 1965 to 1968 and exiled from Kashmir in 1971 for 18 months. The Plebiscite Front was also banned. This was allegedly done to prevent him and the Plebiscite Front which was supported by him from taking part in elections in Kashmir.[55]
After Indo-Pakistan war and creation of Bangladesh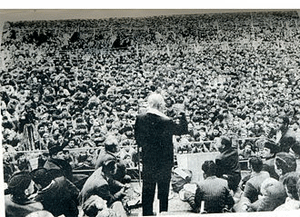 Sheikh Abdullah addressing a mammoth gathering at Lal Chowk Srinagar in 1975
In 1971, the declaration of Bangladesh's independence was proclaimed on 26 March by Sheikh Mujibur Rahman, and subsequently the Bangladesh Liberation War broke out in erstwhile East Pakistan between Pakistan and Bangladesh joined later by India, and subsequently war broke out on the western border of India between India and Pakistan, both of which culminated in the creation of Bangladesh. Sheikh Abdullah watching the alarming turn of events in the subcontinent realised that for the survival of this region there was an urgent need to stop pursuing confrontational politics and promoting solution of issues by a process of reconciliation and dialogue rather than confrontation. Critics of Sheikh hold the view that he gave up the cherished goal of plebiscite for gaining Chief Minister's chair. He started talks with the then Prime Minister Indira Gandhi for normalising the situation in the region and came to an accord called 1974 Indira-Sheikh accord with Indira Gandhi, then India's Prime Minister, by giving up the demand for a plebiscite in lieu of the people being given the right to self-rule by a democratically elected Government (as envisaged under article 370 of the Constitution of India) rather than the puppet government which till then ruled the State.[56]
Return to power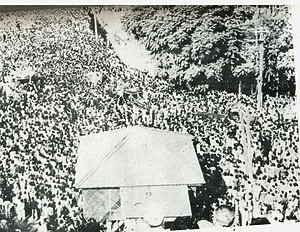 Sheikh Abdullah's funeral procession
He assumed the position of Chief Minister of Jammu and Kashmir. The Central Government and the ruling Congress Party withdrew its support so that the State Assembly had to be dissolved and mid term elections called.[57]
The National Conference won an overwhelming majority in the subsequent elections and re-elected Sheikh Abdullah as Chief Minister.[58] He remained as Chief Minister till his death in 1982.
Abdullah, described as a six feet four inches (1.93 m)[59][60][61] to six feet six inches (1.98 m) tall man,[62] was fluent in both Kashmiri and Urdu. His biography in Urdu entitled Atish-e-Chinar was written by the noted Kashmiri author M.Y. Taing and published after Sheikh Abdullah's death. It is often referred to as his autobiography as Taing claimed that he only acted as an amanuensis.[63] It is based on extensive interviews that Taing had with Sheikh Abdullah and provides valuable information on Sheikh Abdullah's family background, early life, ringside glimpses of happenings in Kashmir at a crucial juncture in its history, and his viewpoint about the political events in Kashmir in which he himself played a central role.[64]
After his death his eldest son Dr. Farooq Abdullah was elected as the Chief Minister of the State.
Personal life
In 1933 he married Akbar Jahan, the daughter of Michael Harry Nedou, of Slovak and Brisith descent, and his Kashmiri wife Mirjan.[65] Michael Harry Nedou was himself the proprietor of a hotel at the tourist resort of Gulmarg[66] (The writer Tariq Ali claims that Akbar Jehan was previously married in 1928 to an Arab Karam Shah who disappeared after a Calcutta newspaper Liberty reported that he was actually T. E. Lawrence (Lawrence of Arabia)[67] a British Intelligence officer. He claims that Akbar Jehan was divorced by her first husband in 1929.)[68]
Commentaries

Pakistani view
The government of Pakistan in 1947 viewed Abdullah and his party as agents of Nehru and did not recognise his leadership of Kashmir.[69] He spoke against Pakistani government in United Nations by comparing it with Hitler's rule, and he also endorsed Indian stand on Jammu and Kashmir. However, there was a change in Pakistan's viewpoint with the passage of time. When he visited Pakistan in 1964 he was awarded a tumultuous welcome by the people of Pakistan. Among the persons who received him was Chaudhary Ghulam Abbas his once colleague and later bitter political enemy who earlier in his book Kashmakash had denounced Sheikh Abdullah as a turncoat and traitor. Chaudhary Ghulam Abbas embraced him and in his speech described him as one of the greatest leaders of the subcontinent and a great benefactor of the Muslims of the subcontinent.[70][71] President Ayub Khan and his then Foreign minister Zulfikar Ali Bhutto discussed the Kashmir problem with him. The government of Pakistan treated him as a state guest.[72] Sheikh Abdullah had the rare distinction of having poems in his praise written by three major Pakistani Urdu poets namely Hafeez Jullundhri, Josh and Faiz Ahmed Faiz who admired his lifelong struggle against injustice and for democratic rights of the common man.[73]
See also
• List of Kashmiris
• History of Jammu and Kashmir
• Kashmir conflict
• Instrument of Accession (Jammu and Kashmir)
• Kashmiriyat – a socio-cultural ethos of religious harmony and Kashmiri consciousness.
• Political Parties in Kashmir in 1947
• List of topics on the land and the people of "Jammu and Kashmir"
• Kashmir Conspiracy Case
• List of political families
Notes
1. Hoiberg, Dale H. (2010) p 22-23
2. Tej K. Tikoo (19 July 2012). Kashmir: Its Aborigines and Their Exodus. Lancer Publishers. pp. 185–. ISBN 978-1-935501-34-3. Retrieved 26 February 2013.
3. Guha, Ramachandra. "Opening a window in Kashmir." Economic and Political Weekly (2004): 3905-3913.
4. Lamb, Alastair. The Myth of Indian Claim to Jammu and Kashmir: A Reappraisal. World Kashmir Freedom Movement.
5. Noorani, A.G. Article 370 : a constitutional history of Jammu and Kashmir (1. publ. ed.). New Delhi: Oxford University Press. ISBN 9780198074083.
6. Rakesh Ankit, "Sheikh Mohammad Abdullah of Kashmir, 1965–1975: From Externment to Enthronement." Studies in Indian Politics 6.1 (2018): 88-102 online.
7. Hussain 2013, pp. 8–9.
8. Abdullah & Taing 1985, pp. 1–14.
9. Abdullah & Taing 1985, p. 36.
10. Abdullah & Taing 1985, p. 67.
11. Abdullah & Taing 1985, p. 94.
12. Abdullah & Taing 1985, pp. 156–160.
13. Abdullah & Taing 1985, p. 163.
14. Abdullah & Taing 1985, p. 239.
15. Abdullah & Taing 1985, p. 238.
16. Justice A.S. Anand (2006), p28
17. Regulation No1. of Samvat1991 (22 April 1934)
18. Justice A.S. Anand (2006), p30
19. Justice A.S. Anand (2006), p36
20. APHC: White Paper on Elections In Kashmir
21. Abdullah & Taing 1985, pp. 226–227.
22. Abdullah & Taing 1985, p. 228.
23. Abdullah & Taing 1985, p. 232.
24. Rasheed Taseer (1973) vol2, p29
25. Rasheed Taseer (1973) vol2, p314-383
26. Rasheed Taseer (1973) vol2, p25
27. Rasheed Taseer (1973) vol2, p25-40
28. Abdullah & Taing 1985, p. 237.
29. Abdullah & Taing 1985, pp. 327–389.
30. Abdullah & Taing (1985, pp. 566–567)
31. Maharaja Hari Singh's letter requesting Indian Assistance against tribal raids. Satp.org (26 October 1947). Retrieved on 2018-12-07.
32. Accession Of Jammu And Kashmir State To India. Text Of Letter Dated 26 October 1947 From Hari Singh, The Maharaja Of Jammu & Kashmir to Lord Mountbatten, The then Governor General of India.
33. Acceptance Of Accession By The Governor General Of India. Jammu-kashmir.com (26 October 1947). Retrieved on 2018-12-07.
34. Rediff On The NeT Special: The Real Kashmir Story. Rediff.com (2 June 1999). Retrieved on 7 December 2018.
35. Abdullah & Taing 1985, pp. 462–464.
36. Abdullah & Taing 1985, p. 431.
37. Abdullah & Taing 1985, pp. 413–414.
38. Sandeep Bamzai (2006), p73
39. Abdullah & Taing 1985, p. 567.
40. PIB Press release Press Information Bureau Govt of India 16 September 2004
41. "Excerpts of Sheikh Abdullah's February 5, 1948, speech in the UN Security Council".
http://www.satp.org
. Retrieved 2017-04-13.
42. Sandeep Bamzai (2006), p252
43. Abdullah & Taing 1985, pp. 593–594.
44. Abdullah & Taing 1985, p. 607.
45. Abdullah & Taing 1985, p. 600.
46. Abdullah & Taing 1985, pp. 711–717.
47. B.N. Mullick (1972)
48. A.G. Noorani (2006)
49. Abdullah & Taing 1985, p. 752.
50. Abdullah & Taing 1985, pp. 755–757.
51. Abdullah & Taing 1985, pp. 774–778.
52. Abdullah & Taing 1985, p. 782.
53. Abdullah & Taing 1985, p. 786.
54. Abdullah & Taing 1985, p. 787.
55. Abdullah & Taing 1985, pp. 817–825.
56. Abdullah & Taing 1985, pp. 827–838.
57. Noorani, A. G. (16 September 2000), "Article370: Law and Politics", Frontline, 17 (19)
58. Abdullah & Taing 1985, pp. 860–882.
59. C. Bilqees Taseer, The Kashmir of Sheikh Muhammad Abdullah, p. 330
60. Korbel 1966, p. 17.
61. Russel Brines, The Indo-Pakistani conflict, p. 67
62. Hugh Tinker, "Accursed Paradise" in New Society, Volume 6, p.25
63. Abdullah & Taing 1985, Preface.
64. Hussain 2013, p. 2.
65. Nyla Ali Khan. "Retrieving Lost Histories".
http://www.counterpunch.org
. Retrieved 15 November 2018.
66. Abdullah & Taing 1985, p. 193.
67. Mubashhir Hassan (2008)
68. Tariq Ali (2003), p 230
69. Sandeep Bamzai (2006), p242.
70. Abdullah & Taing 1985, p. 783.
71. The WEEKLY "AAINA" 15 July 1970, p19
72. Abdullah & Taing 1985, p. 779.
73. Abdullah & Taing 1985, pp. 265–268.
Sources
• Ankit, Rakesh. "Sheikh Mohammad Abdullah of Kashmir, 1965–1975: From Externment to Enthronement." Studies in Indian Politics 6.1 (2018): 88-102 online
• Guha, Ramachandra. "Opening a window in Kashmir." Economic and Political Weekly (2004): 3905-3913. online
• Abdullah, Sheikh; Taing, M. Y. (1985), Atish-e-Chinar (in Urdu), Srinagar: Shaukat Publications Often referred to as Sheikh Abdullah's autobiography. It has not been copyrighted in deference to Sheikh Abdullah's wishes.
• Hussain, Syed Taffazull (23 November 2013) [first published in 2009], Sheikh Abdullah – A Biography: The Crucial Period 1905–1939, Indianopolis: WordClay, ISBN 978-1-60481-309-8
• Korbel, Josef (1966), Danger in Kashmir, Princeton University Press
References[edit]
• A.G. Noorani (2000), "Article370: Law and Politics". Frontline Volume 17 – Issue 19, 16–29 September, (Discusses illegality of Central Govt and Parliament's Actions in amending Article 370 without concurrence of Constituent Assembly of Kashmir)
• A.G. Noorani (2006), "Nehru's legacy in foreign affairs". Frontline Volume 23 – Issue 15 :: 29 July 11 August 2006 (Discusses Nehru's role in arrest of Sheikh Abdullah and erosion of Article 370)
• B.N. Mullick (1972): My Years with Nehru (Provides evidence of Nehru's role in dismissal and arrest of Sheikh Abdullah. B.N. Mullick was head of Indian Intelligence Bureau at the time of his arrest)
• Hoiberg, Dale H., ed. (2010). "Abdullah, Sheikh Muhammad". Encyclopædia Britannica. I: A-ak Bayes (15th ed.). Chicago, Illinois: Encyclopædia Britannica Inc. pp. 22–23. ISBN 978-1-59339-837-8.
• Justice A.S. Anand (2006) The Constitution of Jammu and Kashmir. Universal Law Publishing Co. ISBN 81-7534-520-9
• Mubashir Hassan (18 July 2008), "The Nedous and Lawrence of Arabia", The Nation (Pakistan), archived from the original on 9 January 2009, retrieved 22 July 2008
• Rasheed Taseer (1973): Tareekh e Hurriyat e Kashmir (URDU). Muhafiz Publications Srinagar Volume 2 gives an account of events in Kashmir from 1932 to 1946 as seen by a local journalist.
• Sandeep Bamzai (2006): Bonfire of Kashmiryat Rupa & Co. New Delhi. ISBN 81-291-1060-1
• Tariq Ali (2003): The Clash of Fundamentalism. Verso Books. London. ISBN 978 1 85984 457 1
• Syed Taffazull Hussain (2009): Sheikh Abdullah – A biography:The Crucial Period 1905–1939. Wordclay. Indianapolis.IN. ISBN 978-1-60481-309-8 (Annotated 2015 edition with 38 References and 650 footnotes is available at http:// books.google.co.in.It has chapters on The Kashmir Committee, Jinnah's first visit to Kashmir, and describes errors of omission and commission in Atish e Chinar all for the first time.)
• APHC: White Paper On Elections in Kashmir (undated): (retrieved on 5 November 2008)
• Hussain Haqqani (2005): Pakistan Between Mosque and Military. Vanguard Books. Lahore. ISBN 969-402-498-6
• Baba Pyare Lal Bedi, Freda Marie (Houlston) Bedi (1949): Sheikh Abdullah: his life and ideals
• Ravinderjit Kaur (1998): "Political Awakening In Kashmir. South Asia Books. ISBN 978-8-17024-709-8
• Brenda M King (2005): "Silk and empire"Manchester University Press ISBN 978-07190-6701-3. Describes Sir Thomas Wardle's role in establishing modern filatures in Kashmir and his dream of making Kashmir a competitor for China and Japan in the international silk market.
External links
• Newspaper clippings about Sheikh Abdullah in the 20th Century Press Archives of the German National Library of Economics (ZBW)