Thomas de Hartmann
by Wikipedia
Accessed: 7/10/19
NOTICE: THIS WORK MAY BE PROTECTED BY COPYRIGHT
YOU ARE REQUIRED TO READ

THE COPYRIGHT NOTICE AT THIS LINK

BEFORE YOU READ THE FOLLOWING WORK, THAT IS AVAILABLE SOLELY FOR PRIVATE STUDY, SCHOLARSHIP OR RESEARCH PURSUANT TO 17 U.S.C. SECTION 107 AND 108. IN THE EVENT THAT THE LIBRARY DETERMINES THAT UNLAWFUL COPYING OF THIS WORK HAS OCCURRED, THE LIBRARY HAS THE RIGHT TO BLOCK THE I.P. ADDRESS AT WHICH THE UNLAWFUL COPYING APPEARED TO HAVE OCCURRED. THANK YOU FOR RESPECTING THE RIGHTS OF COPYRIGHT OWNERS.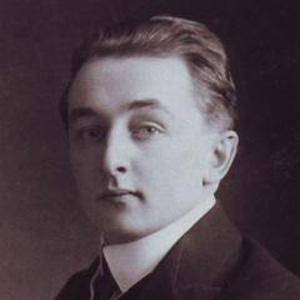 Thomas de Hartmann
Born Thomas Alexandrovich de Hartmann
September 21, 1885
Khoruzhivka, Poltava Governorate, Russian Empire (now Ukraine)
Died March 28, 1956 (aged 70)
New York City, New York, United States
Nationality Russian
Alma mater Saint Petersburg Conservatory
Occupation Composer
Known for Setting Gurdjieff's writing to music
Spouse(s) Olga Arkadievna de Schumacher (1885-1979)
Thomas Alexandrovich de Hartmann (Russian: Фома́ Алекса́ндрович Га́ртман; September 21, 1885 – March 28, 1956) was
a Russian composer and prominent student and collaborator of George Gurdjieff.
Biography
Thomas de Hartmann was born in Khoruzhivka, Poltava Governorate, Russian Empire, now Sumy Oblast, Ukraine. At the age of 18 he received his diploma from the Saint Petersburg Conservatory.
He studied conducting in Munich with Felix Mottl before World War I.
Thomas de Hartmann was a graduate of the Imperial Conservatory of Music. He studied musical composition with three of the greatest Russian composers of the 19th century: Nikolai Rimsky-Korsakov, Anton Arensky and Sergei Taneyev. His piano teacher was Anna Yesipova, the second wife and former student of Theodor Leschetizky. Most of De Hartmann's compositions were for voice and piano. In 1907, his ballet The Pink Flower, produced by Nikolay Legat with Vaslav Nijinsky and Tamara Karsavina in the cast, was presented at the Imperial Opera.
The Tsar was so impressed that he himself granted De Hartmann exemption from military duty so that he might study conducting in Munich.
[1]
In Munich, Thomas de Hartmann met the artist, former Sufi student and later stage impresario, Alexander de Salzmann; they were both friends of Rainer Maria Rilke and Wassily Kandinsky. Later, in Russia, after the beginning of World War I, De Hartmann would introduce De Salzmann to George Gurdjieff.[2]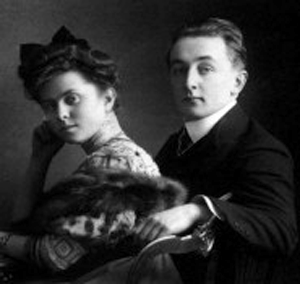 On November 12, 1906 Thomas married Olga Arkadievna (Arkadaevna) de Schumacher (August 28, 1885 - September 12, 1979), a celebrated opera singer. Olga was a daughter of Arkady Alexandrovich von Schumacher (June 7, 1855 - June 8, 1938) and Olga Konstantinovna von Wulffert (1860 - April 3, 1939), who both died in Paris.
Arkady was a high official in the tsarist Russian government in St. Petersburg.

Thomas was a great-nephew of Eduard von Hartmann, the author of Philosophy of the Unconscious
(3 vols.), vol. 1 of which was published in Germany in 1869. This work later became well-known in America and England.[3]
Association with Gurdjieff
De Hartmann was already an acclaimed composer in Russia when he first met Gurdjieff in 1916 in St. Petersburg. From 1917 to 1929 he was a pupil and confidant of Gurdjieff. During that time, at Gurdjieff's Institute for the Harmonious Development of Man near Paris,
De Hartmann transcribed and co-wrote much of the music that Gurdjieff collected and used for his movements exercises.[4][5]

De Hartmann wrote Our Life with Mr. Gurdjieff together with his wife Olga de Hartmann, who was Gurdjieff's personal secretary for many years.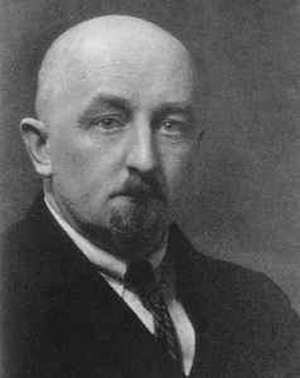 In 1951 De Hartmann and his wife moved to the United States from France. He died on March 28, 1956, in New York City. After her husband's death, Olga collected many of Gurdjieff's early talks in the book Views from the Real World (1973). She died at her home in Nambé, Santa Fe County, New Mexico on September 12, 1979. Both she and her husband are buried in the Princeton Cemetery, Princeton, New Jersey.
Music
De Hartmann's four-act ballet La Fleurette Rouge (The Red Flower) was performed in 1906. Vaslav Nijinsky, Anna Pavlova, and Michel Fokine danced principal roles in performances at the Imperial opera houses of Moscow and St. Petersburg.
He composed the music for Wassily Kandinsky's The Yellow Sound.
The music he wrote with Gurdjieff was later adapted by Laurence Rosenthal for the 1979 Peter Brook film Meetings with Remarkable Men.
In 1982, the Guggenheim Foundation premiere of Kandinsky's opera Der gelbe Klang was made possible thanks to a complete rearrangement by Gunther Schuller of De Hartmann's hitherto lost work. It is not known whether De Hartmann completed a full score but it is clear why Konstantin Stanislavski could not understand the work when de Hartmann proposed it for the Moscow Art Theatre in 1914.[6]
Recordings
• The complete Piano Music of Georges I. Gurdjieff and Thomas de Hartmann, Cecil Lytle, pianist, 6-CD boxed set, [1], Celestial Harmonies 19904-2
• The Music of Gurdjieff/de Hartmann, three disc set, [2]Triangle Editions, TCD1001-1003, 1989
• The Thomas de Hartmann Project',' by Elan Sicroff, seven-disc set of solo piano, chamber and vocal works (Basta Music 3093472, September 2016)
• G.I. Gurdjieff: Sacred Hymns," by Keith Jarrett, ECM 1174, September 198
• Hidden Sources -Gurdjieff, De Hartmann, by Alessandra Celletti (KHA Records, 1998)[7]
• Sacred Honey -Gurdjieff, De Hartmann,[8] by Alessandra Celletti
• Echoes From the Real World - Gurdjieff, De Hartmann, 21 compositions for solo piano; Mario Sollazzo, pianist. [3], KHA Records, Italy, 2015
References
1. Crunden, Robert Morse (2000). Body and soul: the making of American modernism. Basic Books. p. 408. ISBN 0-465-01485-2. ...Thomas de Hartmann had been an established composer in St. Petersburg
2. Lachman, Gary (2005). A Dark Muse. Basic Books. p. 240. ISBN 978-1-56025-656-4.
3. von Hartmann, Eduard (1893). Philosophy of the Unconscious (in German and English). I. K. Paul, Trench, Trübner & Co., Ltd. Speculative results according to the inductive method of physical science
4. Gurdjieff in Tbilisi - also Image of Thomas de Hartmann
5. Nott, C.S. (1961). Teachings of Gurdjieff - A Pupil's Journal. Penguin Arkana. p. 9. ISBN 0-14-019156-9.
6. Hines, Thomas Jensen (1991). Collaborative form: studies in the relations of the arts. Kent State University Press. p. 99. ISBN 0-87338-417-2. ...to see the obscure stage work performed for the first time ever...
7. "Hidden sources - Press Review".
http://www.kha.it
. Retrieved 2017-12-24.
8. "Sacred Honey |||||| New Album". Alessandra Celletti | official site. 2018-02-23. Retrieved 2018-05-30.
External links
• Thomas de Hartmann: A Composer's Life By John Mangan
• Thomas de Hartmann page from Gurdjieff International Review
• Thomas de Hartmann on IMDb
• Thomas de Hartmann papers at Yale University Music Library
• Thomas de Hartmann grave at Princeton Cemetery