James Klugmann
by Wikipedia
Accessed: 6/25/19
NOTICE: THIS WORK MAY BE PROTECTED BY COPYRIGHT
YOU ARE REQUIRED TO READ

THE COPYRIGHT NOTICE AT THIS LINK

BEFORE YOU READ THE FOLLOWING WORK, THAT IS AVAILABLE SOLELY FOR PRIVATE STUDY, SCHOLARSHIP OR RESEARCH PURSUANT TO 17 U.S.C. SECTION 107 AND 108. IN THE EVENT THAT THE LIBRARY DETERMINES THAT UNLAWFUL COPYING OF THIS WORK HAS OCCURRED, THE LIBRARY HAS THE RIGHT TO BLOCK THE I.P. ADDRESS AT WHICH THE UNLAWFUL COPYING APPEARED TO HAVE OCCURRED. THANK YOU FOR RESPECTING THE RIGHTS OF COPYRIGHT OWNERS.
The release of James Klugmann's Security Service (MI5) files in 2002 has been invaluable in the research for this book…. Material is normally only released after 50 years and the files themselves are only released after the death of the subject. This means we do not know what other material was held by MI5 on Klugmann beyond the early 1950s. (The relevant Special Operations Executive (SOE) files were released in 1997, though earlier War Office material alluded to some SOE activities)….

Much of the relevant material from the KGB and Soviet Intelligence archive in Moscow has either not been available for researchers or subject to restricted or intermittent access. I am grateful therefore for the pioneering work carried out by Nigel West with the help of Oleg Tsarev in making public details of

KGB/NKVD files held on British agents, which provided evidence of James Klugmann's recruitment by Soviet intelligence and the role he played in the subsequent recruitment of John Cairncross…..

they provide a range of insight into different parts of his life during the Cold War period. The files contain material from telephone checks on his home and at the Communist Party's King Street, Covent Garden offices in central London – as well as transcripts from meetings picked up by hidden microphones placed in the King Street meetings rooms – copies of mail obtained by Home Office warrant; Special Branch reports written up from public meetings attended by their officers and details of observation provided by MI5 'watchers.' The first serious interest taken by MI5 in Klugmann's activities occurred during the student delegation he led to China in 1938. Thereafter,

the file includes correspondence related to his controversial role in the Special Operations Executive during World War II

– including a long and particularly revealing debriefing with CPGB official Bob Stewart that MI5 recorded in August 1945 and the frank exchanges between MI5 and his SOE superiors – and subsequently during the Cold War when he was regarded as a security threat. The disappearance of Guy Burgess and Donald Maclean sparked increased MI5 surveillance, as did other developments concerning the Cambridge spy circle, while his work on behalf the Party, as its expert on Yugoslavia and Eastern Europe, in contacts with Eastern European embassies, and in his other work in the leadership of the Party, was regularly monitored.

***

On an early spring evening in 1937, two university friends met at the entrance to Regent's Park in London. They were among the most brilliant linguists of their generation and had recently left Cambridge with outstanding prospects. They shared common interests in French and German literature which had sustained their friendship after university. Their left-wing politics had further brought them together in the resistance to the rise of Nazism in Germany, and at a time of acute international political crisis they were both committed to the anti-fascist movement.

John Cairncross was Scottish, slim and engaging, if a little taciturn. He had just taken up a post at the Foreign Office. He was 23 years old. His friend James Klugmann was shorter, Jewish and slightly chubby. He was over on a brief visit from Paris, where he was researching French literature and working for an international student association. He was 25 years old.

On this particular spring evening, as they made their way towards a more secluded part of the park, Klugmann's demure wit, avuncular personality and political enthusiasms were absent. An awkward few minutes of uneasy pleasantries came to an end as another figure stepped forward from the trees and Klugmann, after introducing him to his younger friend, promptly made his excuses and slipped away into the shadows. Cairncross and Klugmann would not meet again for 30 years, both their friendship and their own futures tainted by the consequences of those few minutes in Regent's Park. The visitor was Arnold Deutsch, introduced by his code name 'Otto,' who in the same park three years earlier had recruited Kim Philby to Soviet intelligence.

For Cairncross, whose attraction to communism did not last beyond Cambridge and who had never taken out a Party membership card, the meeting meant the beginning of an espionage career he had not sought and did not expect to be thrust upon him. For Klugmann, another reluctant spy, who had already decided to dedicate his life to communism, this untimely and distasteful rendezvous had been ordered by the British Communist Party leadership. His friendship with Cairncross and his growing reputation in the communist movement – it was the Communist International (Comintern) in Moscow which funded his role as leader of the World Student Association – meant that he was the only one who could deliver the young Foreign Office official to Soviet intelligence….

Following the wider availability of archives and the erosion of Cold War polarities, it is no longer possible to omit the question of espionage from the wider history of that period….

A brilliant pupil who excelled at an early age and won all the prizes at Gresham's School, an outstanding Cambridge student destined – according to his professors and peers – for an academic career, Klugmann eschewed personal ambitions and put his immense intellectual talents at the service of the Communist Party. This was not a unique decision, given the ultimate sacrifices made by his close friends John Cornford and David Guest who died in the Spanish Civil War. However, for him it meant a lifelong commitment as a communist intellectual.

At its peak it took him from talent-spotting at Cambridge to leading the international student movement in Paris and a unique role in the Special Operations Executive (SOE) with its origins in the 'boat university' he set up en route to Cairo and culminated with his sermons to exiled Croatian communists as they prepared for dangerous assignments.

He was a brilliant teacher, and a lucid and eloquent exponent of Marxism and the Communist Party's policy; the hopes he invested in the future drove his lecturing, writing and research.

As the leading communist student of his generation Klugmann found himself both intellectual mentor to his Cambridge comrades and sought after by the Comintern. It was the combination of these two realities, at a time of more tenuous political loyalties, that dragged him briefly – and reluctantly – into the espionage world, an experience that would haunt him for the rest of his life.

His commitment came with severe costs for his personal and political allegiances. As a 'Cold War' intellectual whose loyalties to Moscow shaped many of his political judgments in the early 1950s, he was obliged to meet intelligence agents and Eastern European embassy officials at the time he himself was being pursued by British intelligence, following the disappearance of his friends Guy Burgess and Donald Maclean. In 1956, a year of turbulent and tumultuous events in the communist world, he was found wanting by those who had considered him with 'intellectual guru' in earlier years and now looked to him for leadership. Instead, he put his loyalty to the Party before his better judgment and for a while reverted to what for him was the unenviable role of the Communist Party functionary. The expert on Yugoslav communism and friend of Tito and the partisans was required by his party – under pressure from Moscow – to denounce his former ally, which he achieved through a very disingenuous work, From Trotsky to Tito….

Eric Hobsbawm, who knew him better than most, has written, 'He gave nothing away.' [1]

***

The rise of the student left at Cambridge was part of a wider shift among the student generation.

At University College London (UCL), the Gower Socialist Society was formed in autumn 1931. A Marxist society was set up at the LSE [London School of Economics], which would later involve Peter Floud, Michael Straight and briefly John Cornford, before the latter two went up to Trinity College. In Oxford, at the end of 1931, Frank Strauss Meyer, a wealthy American postgraduate and Dick Freeman set up the October Club, inspired by the Soviet revolution and without any official help from the Communist Party of Great Britain (CPGB). The October Club for a while matched the activities of the Cambridge communists. Its founding objective was: 'the study of communism in its world, social, economic and cultural aspects.' [21]

Meyer had previously been an active member of the Oxford Labour Club and had set up a 'Marxist study group; after becoming impatient with the Labour Party and the left.' Freeman was a friend of the left Labour intelligectual John Strachey and had 'worked on a collective farm in Russia the summer before, coming back full of enthusiasm.' Meyer explained that he and Freeman (and others they nominated) would have 'complete control over its policies and activities.' Through their contact with the CPGB leaders they initially used the Party as a vehicle for organizing speakers and Meyer claimed that Emile Burns, the Party's head of propaganda, 'was taken aback by the whole thing and didn't know quite what to do about it.' [22]

The major breakthrough in bringing together the different communist student organizations took place at Klugmann's house in Hampstead during the Easter vacation in 1932, when his parents were away. The meeting followed a circular from Harry Pollitt, the Communist Party's general secretary, which – almost certainly acting on Comintern instructions – encouraged the formation of student cells.

Klugmann, Kitty and Maurice Cornforth set up the meeting in discussion with the Party leadership at King Street. Present at this meeting were representatives from the communist cells and societies of Cambridge, UCL, the LSE and the October Club, as well as Clemens Palme Dutt from the Party leadership, and Dave Springhall, who had recently been at the International Lenin School in Moscow and had just been elected to the Party's Central Committee. [23] Springhall, a tough-talking organizer, would later be convicted for espionage and expelled from the Party. At this time he was a rising influence in the leadership, with a special interest in cultivating Comintern links and along with Clemens Palme Dutt would be one of Klugmann's main contacts at King Street while he was at Cambridge. The meeting established a National Student Bureau – with Meyer its first secretary – and identified the need for a stronger communist strategy in the universities in order to win leading positions, bring in outside speakers and dominate existing left and labour associations. This strategy quickly paid off, with more cells, members and a growing communist presence beyond the three largest centres (Cambridge, Oxford and the LSE) to include 12 more universities in Britain. They also set up their own newspaper the Student Vanguard, which replaced the Outpost (a Cambridge communist paper), and was edited by Meyer, Guest and Cornforth.

This strategy strengthened communist presence in the colleges as a rival to Labour student associations

, culminating in the disaffiliation of the CUSS and other bodies from the University Labour Federal (ULF) and the creation of the Federation of Student Societies the following year. For all present at the Lancaster Road meeting, the message was clear:

they were joining an international political organization with roots in the October Revolution which drew its inspiration from the Soviet Union. No one present at the meeting would have been in any doubt that the Party had close underground links with Moscow, though these were regarded as official and authorized by the Party. [24]

Despite his now firm communist convictions, Klugman was not yet an open communist. In fact he did not officially join the Party until the following year. Like Donald Maclean, his decision not to join earlier was partly the result of familial pressure; to varying degrees, they both lived in the shadow of their fathers. Maclean had endured growing tensions with his father, who had served as a minister in what his son saw as Ramsay MacDonald's 'traitorous' National Government. Despite this, Maclean felt unable to join the Communist Party until his father's death in June 1932. Klugmann's father was not a government minister but a respected businessman and free trader. Klugmann had experienced many arguments at home about his and his sister's political views. Only after his father's death on Easter Saturday, 26 Marc 1932, did he feel sufficiently liberated to make the full commitment that his politics were now demanding.

***

James Klugmann was on the way to becoming an open communist, as he would remain for the rest of his life. It was not unusual to take part in communist activity prior to officially joining the Party.

Much of the work of the Student Bureau, like that of the Party as a whole, operated in clandestine ways; according to Frank Strauss Meyer, it communicated on a 'strictly conspiratorial basis,' involving 'mail drops, coded references to individuals' and secretly maintaining its HQ in a private apartment, with records held in code.

[1] This is not surprising. Communists had until recently regularly been imprisoned for perceived subversive activities in the General Strike or agitation among servicemen.

The Hampstead meeting had an immediate effect in Oxford just weeks later when a group of ten leading communist students joined the CPGB, and attendances at October Club meetings grew rapidly, resulting in an estimated rise from around 150 to 300 by the end of 1932. Oxford communists would soon be strengthened by the arrival of Bernard Floud and Philip Toynbee, who would go on to be leading officers.

According to Meyer, by the end of its first year the October Club had around 25 actual Communist Party members and links to various other left-wing associations. Meyer went down from Oxford in June 1932 to take up a research position with the social anthropologist Bronislaw Malinowski at the LSE, where he continued his communist activities, leaving Freeman in charge of the October Club. [2]

Meyer found that the LSE suited his political activities, and his role as secretary of the CPGB's Student Bureau enabled him to coordinate political activities, leading the LSE communist 'unit' into – in his words – 'a powerful organization which eventually controlled most of the student activities of the School and was able to achieve my election as President.' [3]

The expansion of communist influence in university colleges and the work of the Student Bureau led to more united work, supported by the growth of radical student literature. The Student Vanguard newspaper offered a forum for discussion of communist activities across the country

, with the tone of the new journal reflecting the rapidly changing political atmosphere. It proclaimed, 'The Student Vanguard makes no pretence at impartiality. It is written by students who are convinced that conditions in every section of social existence are more and more facing a radical alteration in society.' [4]

Much urgency was given to opposing war, following the League of Nations' inability to prevent Japan's invasion of the Chinese region of Manchuria and the rise of fascism and militarism during 1933. At the Oxford Union in February, the motion 'This House will in no circumstances fight for king and country' was passed with a large majority

, an unprecedented development described by Winston Churchill a few days later as 'shameless and squalid,' and the subject of virulent attacks on communists and pacifists by the conservative press. In fact,

the procrastination of the League of Nations had weakened the pacifist case for many on the left, a growing number of whom were now looking towards the Soviet Union for an alternative.

Maurice Dobb's visits there had informed his politics. At the Cambridge Union in May 1932, in a debate which revived the union from its 'smug contentment' and 'air of aggressive Victorian prosperity,' [5] Dobb spoke in favour of the motion 'That this House sees more hope in Moscow than Detroit.' He spoke enthusiastically of the increase in literacy, the Five Year Plan and the yearly increase in production, contrasting it with the millions of unemployed in America, gangsterism and the consequences of capitalist crisis. According to the reviewers, it was 'an outstanding speech, […] the most interesting and competent speech that the house has heard for a long time.' [6] The motion was passed by 62 votes to 36 and contributed to growing confidence amongst students on the left. One of the speakers against was George Kitson Clark, Klugmann's personal tutor. Despite the difference in their political views, Kitson Clark was to remain an important friend to Klugmann, offering support and advice on his academic career and future plans, and they would spend early evenings together discussing world affairs. Kitson Clark argued, no doubt with some difficulty given the depression and rising unemployment, that the worker was 'better protected' in England than in Russia. [7]

Like many of his contemporaries, Klugmann had been excited about the events taking place in the Soviet Union. This sense of enthusiasm and optimism was not confined to the economy but included the wider society, revolutionary ideals and the notion of progress they embodied:

Literature, art, the whole culture of the Soviet Union, was dominated by construction, great buildings, great damns, great schemes. The novels were full of it, the hero was the hero of construction, the villain, the saboteur. And this contrasted with 'poverty in the midst of plenty,' the destruction of wealth that was taking place under capitalism in its crisis. [8]

What Klugmann saw as the Soviet Union's 'cultural achievements' included the silent films of the era – he had already seen some of the early socialist and avant-garde cinema with Donald Maclean in London in school holidays at the end of the 1920s. Now he devoured the silent films of the Soviet director Sergei Eisenstein, notably Battleship Potemkin and October, and Vsevolod Pudovkin's 'revolutionary trilogy': Mother, The End of St Petersburg and Storm Over Asia.

If the Soviet Union was the country which had made the first communist revolution, then Klugmann turned his thoughts to Germany for the next. In addition to studying German at university, he had taken vacation language classes in Munich and Berlin as well as occasional family holidays to Wiesenbronn and was impressed by the way in which Marxism had influenced German left-wing culture. He was an 'addict' of German expressionist theatre and had become well acquainted with the works of Bertolt Brecht, Georg Kaiser and Ernst Toller, and would see their plays at the Festival Theatre in Cambridge, or when he was back in London, at the Gate Theatre in Villiers Street, Charing Cross. In the plays of Brecht and Toller Klugmann found a deep revolutionary culture. [9]

It was therefore a terrible shock – a 'bombshell' – to hear of Hitler's advance in January 1933 and the dismantling of the progressive advances made by the German left. This was probably the event which finally triggered Klugmann into joining the Party a month later. The Reichstag fire and the rise of Nazism in the German elections had crystallized the threat of fascism and war. His Marxist beliefs, shared and nurtured in regular discussions with Kitty, Maurice Cornforth, David Guest, Kiernan, Maclean and others, now had a much wider audience and he was proving himself an able theoretician and organizer.

-- The Shadow Man: At the Heart of the Cambridge Spy Circle, by Geoff Andrews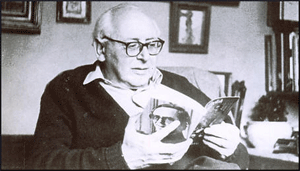 Norman John Klugmann (London, 27 February 1912 – London, 14 September 1977), generally known as James Klugmann,[1] was a leading British Communist writer who became the official historian of the Communist Party of Great Britain.
Background and Early Career
Born Norman John Klugmann, in 1912 in Hampstead, he later adopted the name James His father was a tobacco pipe merchant, the family lived on Haverstock Hill, Hampstead, London. His sister Kitty Cornforth was also a committed Communist, marrying Maurice Cornforth. Harry Hodson, in his memoirs, recalls visiting the Klugmann family home and recounts of James Klugmann, that "his background was impeccably bourgeois."
Educated at The Hall School, Hampstead, Gresham's School and Trinity College, Cambridge (at both of which he was a friend and contemporary of the spy Donald Maclean), Klugman joined the Communist Party of Great Britain (CPGB) in 1933 whilst studying at Cambridge, where he won a double first.
Klugmann was at pains to deny any connection with spying during his lifetime and a long period of secret service surveillance on him threw up no obvious proof. He had however been on the fringes of such activity, which no doubt gave rise to suspicion, along with his university friendships of some of those who were involved in espionage. With the defection of Vasili Mitrokhin it was revealed that Klugmann was a KGB agent, under the codename MER, who was instrumental in recruiting the Cambridge Five.[2]
In 1935, Klugmann gave up an academic career to become Secretary of the World Student Association, based in Paris, travelling widely across the world. This role, which involved the building of the Popular Front against fascism, first attracted the attention of the British Security Service (MI5). The Service's description of James for its operatives, which was put on file around 1938, said: "Height about 5 ft 8 in (173 cm), light build, broad brow, small featured face, fuzz of greyish hair, probably wears glasses, not remarkably Jewish but rather foreign appearance."
In 1936 Klugmann met Arnold Deutsch, the head of recruitment for NKVD agents based in England. Deutsch's main objective was to get Klugmann to help recruit John Cairncross as a spy. Klugmann became an important figure in the network. However, as he was known to the police as an active member of the Communist Party of Great Britain meant that he was not used as a spy. However, he was given the codename MAYOR and was used to compile reports on other agents.[3]
Deutsch reported to Moscow: "Mayor (James Klugmann) is a party functionary who devotes himself entirely to the party. He is a quiet and thoughtful man. Modest, conscientious, industrious and serious. Everybody who knows him likes him and respects him…. He is known to the British police as an active communist. He is used to legal work and therefore incautious. But if his attention is drawn to this he will act as required." [4]
Career in Yugoslavia with Special Operations
He had joined the Royal Army Service Corps as a private in 1940 but, having a natural flair for languages, he was soon transferred to the Special Operations Executive (SOE), who apparently ignored his communist sympathies. It was claimed by the official historian of SOE that when Klugmann was recruited into SOE by Brigadier Terence Airey (an old boy of his school), MI5 reported that he was not known to them. In fact, the relevant files had been destroyed at Wormwood Scrubs by a German air raid.[5] In February 1942 Klugmann was posted to the Yugoslav Section of SOE as an intelligence and coordination officer, based in Cairo. Klugmann became critical of the Serb Royalist leader General Draza Mihailovic, who was the chief beneficiary of British aid and support in the resistance movement in Yugoslavia. Klugmann's reports influenced thinking at the Political Warfare Executive, Secret Intelligence Service (M16), the Foreign Office, and BBC.[citation needed] He suggested that the Communist leader Tito and his partisans were killing more Germans than Mihailovic's Cetniks despite smaller numbers.
Churchill switched his support to Tito (see Yugoslavia and the Allies). Some eight understrength Wehrmacht divisions and Bulgarian and Croatian Ustase units were employed in Yugoslavia during 1943 and 1944 fighting the partisans. Yugoslavia was the only country during World War II that liberated itself with little military assistance from the Allies. Although this move was one favoured by Stalin, Tito and Stalin later fell out and became bitter critics. Klugmann rose to the rank of major, an unlikely outcome given his general disposition. He was under constant surveillance, suspected of being an NKVD agent along with Guy Burgess, Donald Maclean and Anthony Blunt, all of whom he knew at Cambridge, and one of whom, Maclean, had been a friend at Gresham's. Proof of this was found in the KGBs archives and it is confirmed that John "James" Klugmann was a KGB talent-spotter and agent who was instrumental in recruiting the Cambridge Five.[6] During his time in SOE and later whilst a civilian in UNRRA (United Nations Relief and Rehabilitation Administration) in Yugoslavia he supported Soviet aims.
Post-war career
Klugmann remained a devout Communist all his life and went on to play a significant role in the CPGB becoming responsible for the Education branch. After his wartime service, he became a member of the executive committee of the British Communist Party and editor of Marxism Today. Michael Straight (later owner and editor of The New Republic and chairman of the National Endowment for the Arts), an American who had studied at Trinity College, Cambridge, and who had become friends there with Blunt, Kim Philby, Donald Maclean and Guy Burgess described Klugmann as "a warm-hearted and compassionate intellectual whose commitment to Communism left him no time for such minor preoccupations as taking a bath or cleaning his fingernails."
One of the most active and overt British communists of his generation, Klugmann became an influential left-wing journalist after the war and wrote the first two volumes of the official History of the Communist Party of Great Britain, which was continued by Noreen Branson. He also wrote the controversial From Trotsky to Tito justifying, to a British communist audience, policy towards Tito's Yugoslavia.
Books by James Klugmann
• The History of the Communist Party of Great Britain: Formative and Early Years 1919–1924 (Vol. 1) ISBN 0-85315-372-8
• The History of the Communist Party of Great Britain: The General Strike 1925–26 (Vol. 2) ISBN 0-85315-374-4
• Wall Street's Drive to War (Communist Party, 1950)
• From Trotsky to Tito (Lawrence & Wishart, 1951) ASIN B0006DBG3G
• The Peaceful Co-existence of Capitalism and Socialism (People's Publishing House 1952) ASIN B0007K14QM
• Dialogue of Christianity and Marxism (Lawrence & Wishart, 1967) ASIN B000G9OYD4
• What Kind of Revolution?: A Christian-Communist Dialogue (Panther, 1968) ISBN 0-586-02580-4
• The Future of Man (Communist Party of Great Britain, 1971) ISBN 0-900302-20-8
• Marxism Today: Theoretical and Discussion Journal of the Communist Party (Communist Party of Great Britain, 1975) ASIN B0006DLHUI
External links
• James Klugmann Archive at marxists.org
• History of the Communist Party of Great Britain
• Books by James Klugmann at Amazon.com
Notes
1. Concise Dictionary of National Biography
2. The Mitrokhin Archive Vol.I pg. 82-85
3. Biography of James Klugmann
4. Arnold Deutsch, report on James Klugmann (April 1937)
5. Foot, M.R.D. (1999). The Special Operations Executive 1940–1946. Pimlico. pp. 46–47. ISBN 0-7126-6585-4.
6. The Mitrokhin Archive Vol.I pg.82-85