Larry Brilliant
by Wikipedia
Accessed: 11/24/19
NOTICE: THIS WORK MAY BE PROTECTED BY COPYRIGHT
YOU ARE REQUIRED TO READ

THE COPYRIGHT NOTICE AT THIS LINK

BEFORE YOU READ THE FOLLOWING WORK, THAT IS AVAILABLE SOLELY FOR PRIVATE STUDY, SCHOLARSHIP OR RESEARCH PURSUANT TO 17 U.S.C. SECTION 107 AND 108. IN THE EVENT THAT THE LIBRARY DETERMINES THAT UNLAWFUL COPYING OF THIS WORK HAS OCCURRED, THE LIBRARY HAS THE RIGHT TO BLOCK THE I.P. ADDRESS AT WHICH THE UNLAWFUL COPYING APPEARED TO HAVE OCCURRED. THANK YOU FOR RESPECTING THE RIGHTS OF COPYRIGHT OWNERS.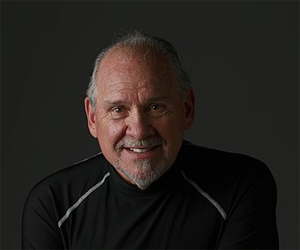 Larry Brilliant
Born Lawrence Brilliant
May 5, 1944 (age 75)
Detroit, Michigan, United States
Alma mater MPH - University of Michigan
M.D. - Wayne State University School of Medicine
Known for One of the leaders of the successful World Health Organization (WHO) smallpox eradication program.
Spouse(s) Girija Brilliant
Children
Joe Brilliant
Jon Brilliant
Iris Brilliant
Scientific career
Fields Epidemiology
Lawrence "Larry" Brilliant (born May 5, 1944) is an American epidemiologist, technologist, philanthropist, and author of "Sometimes Brilliant."
Brilliant, a technology patent holder, has been the CEO of public companies and venture backed start-ups.
He was the inaugural Executive Director of Google.org,[1] the charitable arm of Google established in 2005, and the first CEO of Skoll Global Threats Fund, established in 2009 by eBay founder Jeff Skoll to address climate change, pandemics, water security, nuclear proliferation, and conflict in the Middle East
. Brilliant currently serves as the Chairman of the Board of Ending Pandemics, and is also on the boards of the Skoll Foundation, Salesforce.org, The Seva Foundation, and Dharma Platform.
Dharma Platform was founded in 2015 by statistician Jesse Berns and data scientist Michael Roytman. During their time working for the United Nations in Iraq, they witnessed first-hand the challenges and setbacks that come with data collection and management. Rather than responding to outbreaks, much of their time was spent cleaning spreadsheets, making pivot tables and hiring consultants.

They created Dharma Platform to give people the tools they need to collect, manage and translate data—freeing up valuable time for what matters most.

-- About Us, by Dharma Platform
From 1973 to 1976, Brilliant participated in the successful World Health Organization (WHO) smallpox eradication program.
Early life
Born in Detroit, Michigan, Brilliant received his undergraduate training as well as his MPH degree (Masters in Public Health) from the University of Michigan, where he worked on the staff of the Gargoyle Humor Magazine, and his M.D. from Wayne State University School of Medicine. He moved to California for his internship at the California Pacific Medical Center, and developed parathyroid cancer from which he recovered. Brilliant is board certified in preventive medicine and public health.
In 1969, a group of American Indians from many different tribes, calling themselves Indians of All Tribes, occupied the Alcatraz island in San Francisco. A call went out for doctors to help a pregnant woman there give birth and Brilliant joined their occupation as unofficial doctor. The Indians on Alcatraz named the baby "Wovoka" after a Northern Paiute medicine man.[2]
Career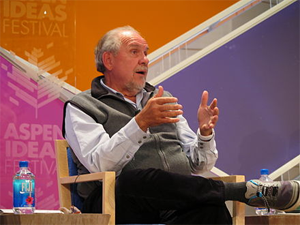 Brilliant in 2015
After the US government forced the Indians of All Tribes off Alcatraz, Brilliant became a media darling which led to a movie company casting him in Medicine Ball Caravan—a sequel to the hit Woodstock Nation—playing a doctor in a film about a tribe of hippies who follow the Grateful Dead, Jefferson Airplane, Jethro Tull, and Joni Mitchell.[3] The cast was paid with airline tickets to India. Brilliant and some others cashed their tickets in and rented a bus to drive around Europe, which then turned into a relief convoy to help victims of the 1970 Bhola cyclone in Bangladesh (then East Pakistan).

Civil unrest stopped the relief caravan so he spent several years in India studying at a Himalayan ashram with Neem Karoli Baba (a Hindu sage) from whom he received the name Subramanyum. After about a year Neem Karoli Baba advised Brilliant to eradicate smallpox, a project on which he would spend the next several years. He participated, as a medical officer, in the World Health Organization (WHO) smallpox eradication program that in 1980 certified the global eradication of smallpox.[4] Brilliant found that Indian officials became more receptive to his efforts when they learned of Neem Karoli Baba's involvement, to which he credits a significant portion of the program's success.[5] Brilliant contributed a seven-page account of his experiences to the book Miracle of Love: Stories of Neem Karoli Baba.[5]

In December 1978, he became a co-founder and chairman of Seva Foundation, an international, non-profit, health foundation. Seva's projects in places like Tibet, Nepal, India, Bangladesh, Cambodia, Tanzania, Ethiopia, and Guatemala have given back sight to more than 3 million blind people through surgery, self-sufficient eye care systems, and low cost manufacturing of intraocular lenses. One important contribution of his was his helping to set up the Aravind Eye Hospital in Madurai, India.
When he returned to the United States, he became a professor of international health at the University of Michigan as well as starting numerous charitable and business ventures.
In 1985, he co-founded, with Stewart Brand, The Well, a prototypic online community that has been the subject of multiple books and studies.
Time magazine said, "Well was a huge hit, a precursor of every online business from Amazon.com to eBay."[6]
He spent the first half of 2005 as a volunteer helping out in the tsunami in Sri Lanka and working in India with WHO in the campaign to eradicate polio.
On February 22, 2006, Google Inc. appointed him as the Executive Director of Google.org, the philanthropic arm of Google,[7] a position which he held until April, 2009,[8] when he joined the Skoll Foundation, as its President, the philanthropic organization established by former eBay president Jeff Skoll.[9]
In July 2006, he was awarded the TED Prize, granting him $100,000 and 'One Wish to Change the World'[10] which he presented at TED in July 2006. As his prize nominator summed up, "'Dr. Brilliant' is a name to live up to, and he has."[11] His one wish that he presented at the conference was, "To build a powerful new early warning system to protect our world from some of its worst nightmares."[12]
In May 2013, he gave the commencement speech at Harvard School of Public Health,
On Nov. 5, 1962, the Reverend Martin Luther King visited the University of Michigan. It was a dramatic time. The world teetered on the brink of nuclear madness during the Cuban Missile Crisis. Federal troops were on patrol after the first black student was admitted to Ole Miss.

...

He said that "the arc of moral universe is long, but it bends towards justice".

...

Here is what I ask of you: Imagine that arc of history that Martin Luther King inspired is right here with us. The arc of the universe needs your help to bend it towards justice. It will not happen on its own. The arc of history will not bend towards justice without you bending it. Public health needs you to insure health for all. Seize that history. Bend that arc. I want you to leap up, to jump up and grab that arc of history with both hands, and yank it down, twist it, and bend it. Bend it towards fairness, bend it towards better health for all, bend it towards justice![13]
Personal life
Brilliant is married to Girija (formerly Elaine) and has three children: Joe, Jon, and Iris Brilliant. Girija holds a PhD in public health administration and is an equal partner in many of her husband's enterprises. Co-founder of Seva Foundation,[14] she was instrumental in the World Health Organization's smallpox eradication program.
Film
Brilliant has worked on numerous films including Contagion, Unseen Enemies, the award winning HBO film Open Your Eyes (as producer), Saint Mis'Behaving (about his friend, the clown, Wavy Gravy),
Fierce Grace
, the CNN film Unseen Enemy, Medicine Ball Caravan, Hare Rama Hare Krishna, and Oscar nominated The Final Inch.
Brilliant also acted as an extra in the 1971 Bollywood movie Hare Rama Hare Krishna, which depicts hippie culture. He said, "When shooting for the song sequence 'Dum Maro Dum' (which glorifies smoking marijuana), Dev Anand was looking for certain types of foreigners..."[15] Brilliant is a featured interviewee in the 2009 feature-length documentary, Saint Misbehavin': The Wavy Gravy Movie, as the social activist's real-life physician.
Writings
• Sometimes Brilliant, HarperOne[16]
• Brilliant, Larry (1995). "Were you talking to God?". In Ram Dass (ed.). Miracle of Love: Stories about Neem Karoli Baba (3rd ed.). Hanuman Foundation. ISBN 1887474005.
• Girija E. Brilliant and Lawrence B. Brilliant: Himalayan Numismatics, Chelsea, Michigan, Spring 1983.
References
1. Goodell, Jeff (April 2008). "The Guru of Google". Rolling Stone.
2. Hoge, Patrick (24 February 2006). "Larry Brilliant: Doctor Looks to Use Technology to Aid Global Health Care". Wall Street Journal. Archived from the original on 1 November 2007. Retrieved 2007-07-26.
3. Harriet Rubin (2000). "Dr. Brilliant Vs. the Devil of Ambition". fastcompany.com. Archived from the original on 2007-09-27. Retrieved 2007-07-26.
4. "Smallpox". WHO. 2000. Archived from the original on 2007-09-21. Retrieved 2007-07-26.
5. Jump up to:a b Ram Dass (1995). Miracle of Love: Stories about Neem Karoli Baba. Hanuman Foundation. 4th ed., Chapter 9: The Stick That Heals, pp. 155-161. ISBN 978-1-887474-00-9.
6. Taylor, Chris (April 21, 2003). "Will You Buy WiFi?". TIME. Retrieved 2007-07-26.
7. Hafner, Katie (September 14, 2006). "Philanthropy Google's Way: Not the Usual". NY Times. Retrieved 2007-07-25.
8. Dr. Larry Brilliant (April 14, 2009). "Brilliant Takes on Urgent Threats". Google. Retrieved 2009-06-25.
9. "Google loses Brilliant to rival foundation". The Guardian. 15 April 2009.
10. Zetter, Kim (2006-02-23). "Brilliant's Wish: Disease Alerts". Wired.com. Retrieved 2007-08-01.
11. "Larry Brilliant: TED Prize wish: Help stop the next pandemic" (Streaming Video). TED (conference). July 2006. Retrieved 2007-07-25.
12. Bruno Giussani (March 23, 2006). "Larry Brilliant: Can the Internet help stop pandemics?". LunchoverIP. Retrieved 2007-07-25.
13. "" HSPH News " Commencement 2013: Larry Brilliant's address". Harvard School of Public Health. May 30, 2013. Retrieved 2013-11-22.
14. Seva Foundation: History Archived 2014-01-06 at the Wayback Machine
15. "Executive Director of Google praising the Ramayana and Mahabharata!". 2008-05-21. Archived from the originalon 2007-10-25.
16. [1]
External links
• Are Social Entrepreneurs Heroes? Larry Brilliant on BBC The Forum
• Larry Brilliant on Twitter
• Seva Foundation (Co-Founder)
• Larry Brilliant, President, Skoll Global Threats Fund, Profile at Skoll Foundation
• Larry Brilliant at TED
o TED Prize Wish: Larry Brilliant wants to stop pandemics, a TED talk (TED2006)
o Larry Brilliant makes the case for optimism, a TED talk (Skoll World Forum 2007)