Part 2 of 2
Demographics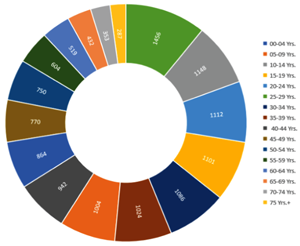 Distribution of people by age:
00-04 Yrs. 864, 05-09 Yrs. 1,004, 10-14 Yrs. 1,148, 15-19 Yrs. 1,101, 20-24 Yrs. 1,112, 25-29 Yrs. 1,456, 30-34 Yrs. 1,086, 35-39 Yrs. 1,024, 40-44 Yrs. 942, 45-49 Yrs. 770, 50-54 Yrs. 750, 55-59 Yrs. 604, 60-64 Yrs. 519, 65-69 Yrs. 432, 70-74 Yrs. 353, 75-79 Yrs. 162, 80 Yrs.+ 125[67]
The district is divided into Upper and Lower Mustang. The northern two-thirds of the district (Upper Mustang or former Lo Kingdom), Tibetan language and culture prevails, is home to the Lopa, a Bhotiya people. The southern third or the Thak is the homeland of Thakali people who speak Thakali dialects and have a synthesis of Tibetan and Nepalese culture. The main languages spoken are Bhote, Sherpa, and Nepali.[7] The main caste/ ethnic groups are Gurung (45%) and Thakali (17%).[7]
As one moves southward, the Tibetan culture becomes less evident. Inhabitants of Lo in Upper Mustang are Tibetan in language and culture, whereas inhabitants from Panchgaon and Thak Satsae in Lower Mustang speak Thakali, a Tibeto-Burman language. Inhabitants of mid-Mustang of Baragaon speak both Tibetan and a language similar to Thakali.
There are 3,305 households in the district. The distribution of households by ethnic/caste group shows that about 59.3 percent are Gurung, 24.5 percent Thakali and 8.2 percent Kami/Damai. Magar, Thakuri and other account 3.1, 2.9 and 2.1 percent population respectively. Gurung and Thakali are the dominant ethnic groups in Mustang District's population.[16] In the district as a whole, Janajati population constitutes 86.8 percent of the total population whereas Dalit accounts for 8.2 percent and the remaining are 5.0 percent.[16]
According to demographic data published by Population and Housing Census 2011 (National Report),[67] 13,452 people lives in Mustang spread across an area of 3,573 km2 (1,380 sq mi). Which makes it the second least populated district, and with a population density of 4 per km2, also the second least densely populated district. 7,093 or them were male, and 6,359 were female. Age of first marriage for Mustang people are varied — 15–19 Years 1,603, 20–24 Years 3,016, 25–29 Years 1,677, and others 1,030 (Total married 7,326).[67] According to the 1992 Census, the total population of the district was 14,319, not including area residents such as government and army officials, police, development workers, and Tibetan refugees.[3]
Language
At the time of the 2011 Nepal census 40.3% of the population in the district spoke Nepali, 21.7% Lhopa, 19.4% Gurung, 12.1% Thakali, 2.3% Magar, 1.0% Tamang, 0.6% Sherpa and 0.5% Rai as their first language.[68]
Ethnicity
Among the Gurung, Thakkali and Bhote people, there also were 33 foreigners — 13 Indians, 3 Chinese, and 17 from other countries.
Religion
In 2011, The population of Mustang was divided between 60.17% Buddhists (8,095 people) and 37.46% Hindus (5,040 people). There also were 152 Christians, 98 Böns, 19 Kiratis, 5 animist or Prakritis and 3 Muslims.[67]
According to Aita Bahadur Thakali (District Livestock Service Office, Jomsom) 75 percent of the population is Buddhist and 25 percent is Hindu.[13]
Health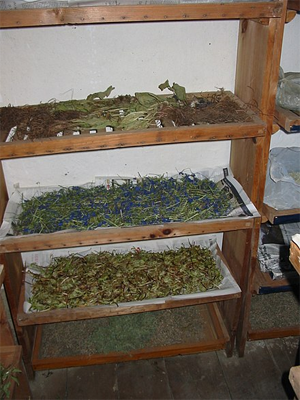 Drying medicinal plants in Jharkot, Muktinath
For 14,981 people Mustang District had a total of 17 health posts, with a health post to population ration of 1:881. While that is better than the national average of 1:5663, these posts cannot be easily accessed because of the remoteness of locations and ruggedness of terrain.[66] There are 10 health posts and five sub health posts scattered throughout Lete, Kobang, Tukche, Marpha, Eklebhatti, Jarkot, Kagbeni and Chame. Jomsom has the only hospital.[7]
Because of low access to facilities and other socio-cultural factors, for most people in Mustang, traditional herbal medicines are the popular mode of medical care and Amchis (traditional Tibetan healers) are the local medical experts.[66] Local Amchis use 72 species of medicinal plants to treat 43 human ailments.[16] They use different forms of medication including pastes (60 species), powders (48), decoctions (35), tablets (7), pills (5), cold infusions (5), and others means, administered through oral, nasal, topical and other routes. Most people here have deep faith in the Amchis.[66]
Amchis have a unique method of maintaining quality of the medicine. They collect medicinal plants always on their own, because only they have experience extensive enough to identify the right plants. Also, only an Amchi knows when to collect the plants, as the timing, while very important in capturing active principles of the plants, varies by days, even months.[66]
Then they store their herbs in bags made from the skin of Moschus chrysogaster (Himalayan musk deer), tied twice with a thread. Tying a herb in musk deer skin helps it, according to Amchis, to remain effective for a couple of years. Horn and urine of musk deer and tortoise bones, as well as parts of other animal are also used along with plant parts.[66]
They use a stone slab to grind their medicine, because they believe the heat created by an electric grinder would degrade the active principles of the plant powder, reducing its quality. Powdered ingredients are then mixed with water. Sufficient amount of additives are also added. Plant parts are commonly prepared using water, hot or cold, as the solvent (100 species), but occasionally remedies are prepared with milk (14 species), honey (2), jaggery or Indian cane sugar (2), ghee or Indian clarified butter (2) and oil (1) in preparing pills in round or rectangular shapes. The mix is then boiled until water is completely evaporated making it easy to shape the pills.[66]
Education
The literacy rate in Mustang District is high. The pace of development started late in Mustang District, including The communication and transportation.[16] Schools in the district are operated largely by non-government groups on private support, with negligible state involvement. Text books are transported by mules to reach remote villages, which as a result arrive late. Most teachers, hired on contract, are unable to hold a conversation in the supposed language of instruction, the mother tongue of the students. The curricula developed with European funding is largely unfamiliar to government teachers. The district school superintendent also does not visit these areas regularly because of their remoteness.[69] The total population aged 5 years & above in Mustang is 12,588, of whom 8,334 (66.20%) can read & write, 305 (2.42%) can read only 305, 3,945 (31.33%) can neither read nor write.[67]
Out of a total 8,451 literate people 275 were beginners, 3,650 primary (1-5), 1,631 lower secondary (6 -8), 721 secondary (9 -10), 836 SLC & equivalent, 509 intermediate & equivalent, graduate & equivalent 208, post graduate equivalent & above 51, Others 73, Non-formal education 471, Not stated 26.[67] In 2017, Most of the students in Mustang were not in an age-appropriate class and did not progress to higher education.[69] It is to be noted that education has improved dramatically in the past two decades in Upper Mustang, and some schools supported by international charities are better than many public schools in rural Nepal, although it is uncertain if the schools can sustainable.[69]
A total of 768 people had SLC or higher education in 2011. Of them 164 studied Humanities and Arts, 170 studied Business and Administration, 167 Education, 43 Social & Behavioral Science, 47 Science, 13 Engineering, Manufacturing and Construction, 12 Health, 11 Agriculture, Forestry & Fishery, 9 Mathematics and Statistics, 8 Law, 3 Computing, and 1 Journalism and Information. 120 did not state their academic stream in the 2011 census.[67] In 2017, Nepal Fine Arts Academy recently organised an art workshop for students of Mustang District in Jomsom.[70]
Economy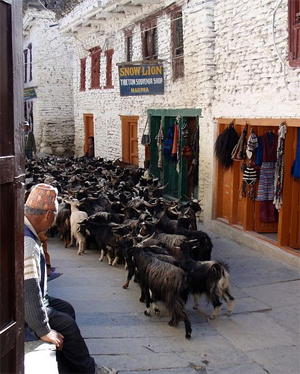 Goats in Marpha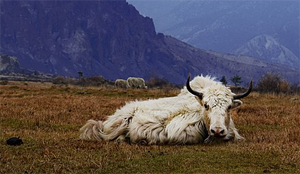 Yaks in Mustang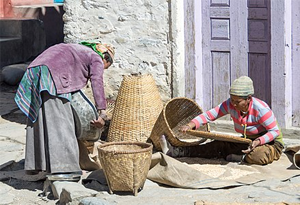 Chaffing grain in Kagbeni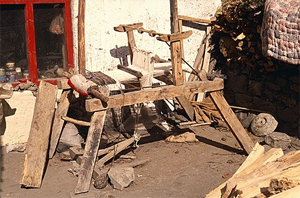 Loom in Muktinath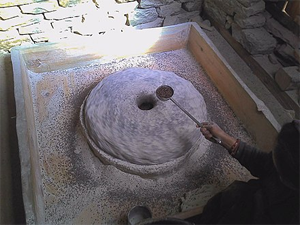 Pani ghatta in Jomsom
Mustang was an important route of crossing the Himalayas between Tibet and Nepal. Many salt caravans travelled through Mustang in the old times.[14] Once a major thoroughfare for the trade of salt and grain between Tibet and Nepal's southern hills, the Mustang District in Nepal's western Himalayas remains a trading route to this day.[3] For centuries, caravans travelled along the Kali Gandaki river trading salt, yak wool, cereals, dried meat spices and more in Tibet, China and India.[4] and the Kali Gandaki gorge was used as a trade route between India and Tibet for centuries.[71] The mountain pass of Kora La is one of the oldest routes between the two regions. It was historically used for salt trade between Tibet and Nepalese kingdoms.[31]
The border has been closed since the 1960s. However, there is a semiannual cross-border trade fair during which the border is open to local traders.[31] In 2012, Nepal and China agreed to open 6 more official border crossings, Kora La being one of them.[72] In July 2016, Nepalese government announced that they expected the border crossing to be open within and year to become the third most important crossing between the two countries.[73]
Kora La is currently being planned as vehicle border crossing between China and Nepal.[74] Nepal is expecting to regain some of the strategic importance of Mustang with the construction of the road to connect China with Nepal through Mustang. Once completed the road is expected to become a highly accessible Himalayan corridor and the district is expected to change significantly. There also is a fear of losing the culture and identity of the region.[4]
Agriculture is the dominant economic activity in the district in which 80.65 percent people are engaged in the district.[16] People of Mustang are engaged in a traditional form of agro-pastoralist economy common to the mountainous regions of Nepal.[49] Business (6.82%), government service (1.91%), house work (3.50%), foreign employment (3.97%) and others (3.14%) are others occupation types besides agriculture.[16]
Many people in Mustang depend on sheep and mountain goat rearing for livelihood. Some of the points of attraction of animal husbandry are: access to pastureland, proximity to the Kora La border pass, and favourable market prices, as well as and technical help and subsidy from District Livestock Services Office.[75] Yak-cow hybrids (called jhopa, or dzo) are employed as draft animals. Horses are reared largely for transport.[49] In 2016, Mustang earned Nepalese rupee 270 million by exporting 13,000 sheep and 9,000 mountain goats. In 2017, the district supplied at least 25,000 sheep and mountain goats to different markets of Nepal during the Dashain festival. An estimated number of 9,000 mountain goats assumed as imported from Tibet in 2017, though traditional Tibetan traders are increasingly prioritizing Chinese markets.[75]
In the summer, goats, cows and sheep are grazed daily in herds in local alpine meadows. During the winter they are stall-fed with leaves, grass and crop wastes, cut and stored in the growing season as preparation for winter. The livestock provides the manure essential to maintain soil fertility, and thus is an significant link in the local agro-pastoral farming-system. Inorganic fertilisers or pesticides are not used.[49]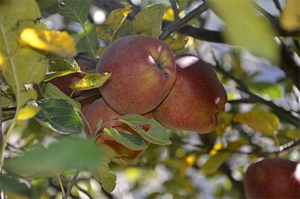 Mustang Apple at Marpha
Mustang is sometimes called the capital of apples in Nepal. District Agriculture Development Office (DADO) reports that despite the fact that a total of 1,115 hectares of land is considered suitable for apple-farming in Mustang, apple is planted in only 415 hectares of land. Mustang produced 5,300 tons of apples in 2017, an increase by 800 tons over 2016. Price of apples also increased in 2017. In 2016, apples were sold at Nepalese rupee 80 which had reached रु 100 in 2017.[76] Barley, wheat and buckwheat are grown in terraced farms, while vegetables and fruits are grown in orchards.[49] At Mebrak and Phudzeling sites of Upper Mustang, there is evidence of cultivation of buckwheat, naked barley, cannabis, lentils and other crops dated between 1000 and 400 BCE. In Kohla, there is evidence of cultivation of barley, free-threshing wheat, foxtail millet, buckwheat and oats dated 1385–780 BCE.[77]
Though agro-pastoralism still provides the socio-economic backbone of Msutang,[78] alternative livelihood like tourism, transport and labour migration are now emerging along agro-pastoralism. As a result, many has abandoned agriculture or animal husbandry as source of livelihood generally in Mustang and neighbouring district of Manag, and specifically in Jharkot, over the last couple of decades.[79][78] Both number of people living in the district, their animal herds and the number of large households in a village are down from before. In Muktinath VDC the number of households came down to 169 from a high of 216 in 2001.[79] Though agro-pastoralism still provides the economic and social backbone of Msutang. Many of the terraced fields are now abandoned.[78]
Living and lifestyle
Building material
Building material

Following are distribution of households by building material:

• By foundation material: Mud bonded bricks/stone 3,097, Cement bonded bricks/stone 146, RCC with pillar 3, Wooden pillar 31, Others 7, Not stated 21

• By inner wall material: Mud bonded bricks/stone 2,366, Cement bonded bricks/stone 303, Wood/planks 29, Bamboo 9, Unbaked brick 565, Others 10, Not stated 23

• By roof material: Thatch/straw 31, Galvanized iron 192, Tile/slate 83, RCC 26, Wood/planks 20, Mud 2,902, Others 23, Not stated 28

• By toilet type: Without toilet 1,211, Flush toilet 1,382, Ordinary toilet 696, Not stated 16

National Population and Housing Census 2011 (National Report)
Tenancy and ownership

Following are distribution of households by amenities:

• By tenancy: Owned 2,278, Rented 706, Institutional 182, Others 139)

• By ownership: Both house & land 266, Land only 118, Neither house nor land 2,911

• By size: One person 465, Two persons 610, Three persons 744, Four persons 602, Five persons 434, Six persons 280, Seven/eight persons 120; Nine or more persons 99

National Population and Housing Census 2011 (National Report)
People in the district are mostly holds small housing units for dwelling.[16] According to demographic data published by Population and Housing Census 2011 (National Report), Mustang had 3,305 households in the district, second lowest in Nepal, with an average household size of 4.01.[67]
Improved transportation has brought many changes to Upper Mustang. According to GMA News Online, "Kerosene lamps have given way to solar panels, denim sneakers have replaced hand-stitched cowhide boots and satellite dishes are taking over the rooftops of homes," and the local Lopa people are "swapping handspun Tibetan robes for made-in-China jeans."[80]
When government-owned Nepal Television first came to Upper Mustang in 2007, people used to pay 20 rupees (18 cents) for a three-hour sitting in someone's house.[80] In 2011, 1,033 households had cable television, 1,237 households had radio, and 451 had television without a cable connection. 101 households had computers, 48 had internet, 240 had telephones, and 2,353 households had mobile phones. 89 households had motor vehicles, 224 had motorcycles, 9 had bicycles, and 455 had other vehicle (i.e. animal-drawn or human-drawn vehicles). 202 households had refrigerators.[67] There are seven police stations established in Nechung, Thinkar, Kagbeni, Phedi, Jomsom, Ghasa and Lete. Jharkot and Jhong has post offices, while there is a bank, an airport and Nepalese Army's High Altitude and Mountain Warfare School in Jomsom.[7]
More than 91.65 percent population of the district is benefited by secured drinking water supply whereas 8.35 percent population of the district is unsecured. Tap/pipe water are considered as secured system of water supply. In Mustang District 3029 households use tap/pipes, 174 using river/streams, 76 households use spout water, and 9 households using wells/kuwas.[67][16]
Energy
Mustang District is not much facilitated by the National Electricity Grid. So, alternate sources of energy are mostly used in this district. In the past, diyalo (heartwood) and pine wood were mostly used for illuminating homes, but now other methods like iron stoves, solar water heating systems, back-boilers, smoke water heaters, etc. have taken increasingly being popular. Fire wood, Cow dung, LP gas are the main fuel used as domestic source of energy in rural areas of Mustang District. About 54.01 percent households apply wood/firewood as the domestic energy for cooking purposes. Cow dung is used by 24.99 percent households. Most of the businesses and hotels of the district use LP gas (18.12%) as cooking fuel. Local people collect firewood mostly from the forest.[67][16]
1,785 households in Mustang use wood or firewood as cooking fuel, 52 households use kerosene, 599 households use LP gas, 826 households use cow dung, 24 use electricity, while cooking fuel of 19 households are unknown. As lighting fuel, 3,177 use electricity (including 824 solar electricity using households), 71 use kerosene, while 39 households did not report their lighting fuel.[67] The lower part of Mustang has recently been connected to the National Electricity Grid. This project is attempting to connect Upper Mustang too. Right now, most of the households of Upper Mustang benefit from micro-hydro projects. But, these projects can only be operated for about 6–7 months due to freezing of rivers in winter. The VDCs facilitated with electricity from National grid are Kunjo, Lete, Kobang, Tukuchhe, Marpha, Jomsom, Kagbeni, Mukthinath and Jhong. A sub-station of 504 Kilowatts has been established in Kobang.[16]
For lighting, hydro-electricity is widely used by the rural population. Nearly 71.20 percent households depend on electricity for light. Areas within southern VDCs - Kunjo, Lete, Kobang, Tukuche, Marpha and Jomsom- are connected with national grid for electricity supply. Still more than 25.48 percent household use solar systems for light, kerosene (2.15%) and other sources of energy (1.18%).[67][16] The Hydro Power Project of Chokhopani generates 744 KW of electrical energy. There are two micro-hydro plants currently working and two are under construction.[16] Despite significant potential, solar and wind power generation have not been met with much success in Mustang as of 2017,[81][82] though Alternative Energy Promotion Centre (AEPC) maintained that, together with neighboring Manang District, Mustang has a potential of 2500 MW of wind electricity.[83] 853 households have solar home systems for lighting in 10 VDCs.[16]
Transport and Himalayan trade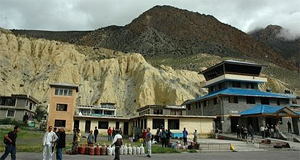 Jomsom Airport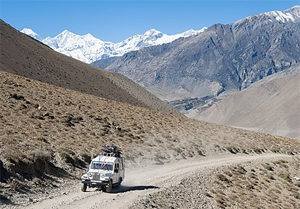 Jeep going from Jomsom to Muktinath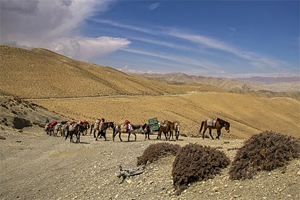 Horse caravan in Upper Mustang
Upper Mustang of Nepal is on an ancient trade route between Nepal and Tibet exploiting the lowest 4,660 metres (15,300 ft) pass Kora La through the Himalaya west of Sikkim. This route remained in use until China's annexation of Tibet in 1950. China eventually decided to revitalize trade and in 2001 completed a 20 kilometres (12 mi) road from the international border to Lo Manthang.[84] Across the TAR border is Zhongba County of Shigatse Prefecture. China National Highway 219 follows the valley of the Yarlung Tsangpo River some 50 kilometres (31 mi) north of the border. Till today Manang and Humde are accessible only on feet or on horseback.[7]
Meanwhile, Nepal is building a road north along the Kali Gandaki River, to within 9 kilometres (6 mi) of Lo Manthang as of 2010. But, road-building from the south was inhibited by difficulties along the Kali Gandaki Gorge, and proceeded incrementally. In 2010, a 9 kilometres (6 mi) gap remained but the road was completed before 2015 and is suitable for high clearance and four-wheel drive vehicles. Currently, the easiest and only widely used road corridor, from Kathmandu to Lhasa—named Arniko Highway in Nepal and China National Highway 318 in the TAR—traverses a 5,125 metres (16,810 ft) pass. This is some 465 metres (1,530 ft) higher than Kora La. Lo Manthang is served 20 kilometres (12 mi) by unpaved road from a border crossing into Zhongba County of Shigatse Prefecture, TAR. This road continues about 50 kilometres (31 mi) from the border to China National Highway 219, which follows the valley of the Yarlung Tsangpo River.
Airlines / Destinations

Gorkha Airlines / Pokhara[85]

Nepal Airlines / Pokhara[86]

Simrik Airlines / Pokhara[87]

Sita Air / Kathmandu, Pokhara[88]

Tara Air / Pokhara[89]
Mustang is accessed by air through Jomsom Airport at Jomsom which is operating 50 kilometres (31 mi) south of China at the approximate boundary between the southern Thak and northern Lo sections of the valley since 1960s. Jomsom Airport is a STOL airport located on the bank of the Kali Gandaki River serving Jomsom and the Mustang District.[90][91][92] The airport resides at an elevation of 8,976 feet (2,736 m) above mean sea level.[90][92] It serves as the gateway to the Mustang District that includes Jomsom, Kagbeni, Tangbe, and Lo Manthang, and to Muktinath temple, which is a popular pilgrimage for Nepalis and Indians.[93]
The airport is capable of handling aircraft from the Nepalese Army Air Service. It has one asphalt paved runway designated 06/24 which measures 2,424 by 66 feet (739 m × 20 m).[91][92] There is a down slope of 1.75% up to about 418 feet (127 m) from the threshold of runway 06.[92] There are also scheduled flights from Kathmandu and daily flights between Pokhara and Jomsom during daylight hours in good weather.
The airport is available throughout the year but visibility is not adequate for visual flight rules (VFR) flight about 15% of the time. As the wind often prevents airport operation after midday, airlines schedule flights to Jomsom for the early morning when wind speeds are low.[94] In the 2013 movie Planes produced by DisneyToon Studios and released by Walt Disney Pictures one of the stops in Wings Across the World race is Nepal where the Planes land in Mustang. There also are 5 helipads in Muktinath, Thotong Phedi, Ghermu, and Bahundanda.[7]
Tourism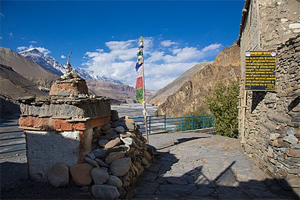 The sign says, "Now you are entering the restricted area of "Upper Mustang". It is not allowed to proceed further from here without holding special trekking permit issues by the department of immigration, Kathmandu. You must have to register yourself at ACAP'S check-post and visitor's information centre. Illegal entry to Upper Mustang will be illegal. Thank you. -- NTNC/ACAP" (Kagbeni)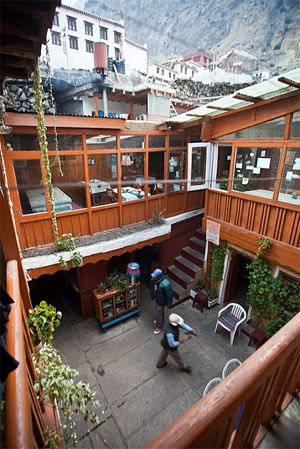 Guest House in Marpha
The kingdom was closed to foreigners, with rare exceptions, until 1992.[3] Professor David Snellgrove and Italian scholars Giuseppe Tucci and Michel Peissel travelled to Mustang in the 1950s. Their tales of a Tibetan kingdom in an arid and locked off from the rest of the world ignited the interest in Mustang District.[14] The first westerner in Mustang was Toni Hagen, Swiss explorer and geologist, who visited the Kingdom in 1952 during one of his travels across the Himalayas. French Michel Peissel is considered the first westerner to stay in Lo Manthang, during the first authorised exploration of Mustang in 1964.[95]
Lo was out-of-bounds for foreigners until 1992.[4] Although it is now open on a restricted basis to foreign travellers, tourism to the region is still strictly restricted and hard to access. The Nepalese government have introduced a surcharge for anyone trekking past Kagbeni, which marks the border of Upper Mustang.[14] Foreign tourists are required by the Nepalese Department of Immigration to acquire special permits, pay fairly steep fees of US$50 per day per person, and be accompanied by a liaison (guide) to protect local tradition and environment from outside influence.[4][3][96] Annapurna Conservation Area Project (ACAP) check post/info posts are spread along the trails in Jomsom, Muktinath, Kagbeni and Lo Manthang.[7]
The ancestral isolation of Mustang helped to retain its ancient culture largely unviolated, and it survives as one of the last bastion of traditional Tibetan life.[4] In this ancient forbidden kingdom traditions have survived longer than in Tibet proper following its annexation by China.[4] The lower Mustang areas (much of Baragaon, Panchgaon, and Thak Sat Sae along the Annapurna Circuit) are among the most heavily trekked routes in Nepal.[3] The scenery of the trail ranges from forests of bright rhododendron fields to rocky cliffs and desert. The culture along the trekk is a rich combination of Hindu and Tibetan Buddhism. The trail's highest point is Muktinath at 3800 m, (a popular Hindu and Buddhist pilgrimage site for centuries. The Kali Gandaki Gorge is part of the popular trekking route from Pokhara to Muktinath. The gorge is within the Annapurna Conservation Area.[71]
Drinks, smokes and food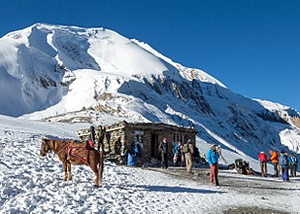 Tea-house on Thorong La pass that serves butter tea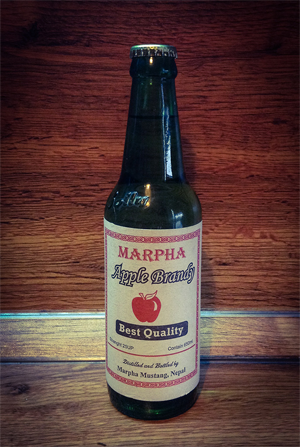 Brandy from Marpha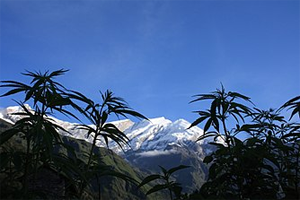 Canabis plants in Lete, in front of Dhaulagiri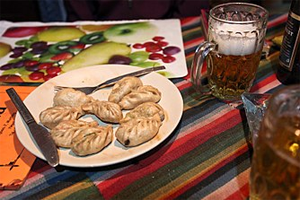 Momo and local beer served at a guest house in Kagbeni
Some of the top tourist attractions are Lomanthang, Muktinath, the Mustangi royal palace, Tibetan art and culture, and trekking in the Annapurna Circuit.[97] In addition to trekking routes through the Lo Kingdom (Upper Mustang) and along the Annapurna Circuit (lower Mustang), the district is also famous for the springs and village of Muktinath (a popular Hindu and Buddhist pilgrimage site), apples, and Marpha brandy made from a variety of fruits (pear, apricot, apple) produced on a farm managed by the Pasang Sherpa. There are safe water stations in Ghasa, Near Lete at ACAP museum, Kobang, Tukche, Marpha, between Jomsom and Dhapus Peak, Kagbeni and Muktinath. Thorung, Phedi, Letdar, Manang, Humde, Pisang, Chame, Bagarchhap, and Tal has the most famous view points in the district.[7]
Most tourists travel by foot over largely the same trade route used in the 15th century. Over a thousand western trekkers now visit each year, with just over 2000 foreign tourists in 2008.[43] August and October are the peak visiting months. On August 27, 2010, local youth leaders in Mustang threatened to bar tourists beginning October 1, 2010 due to the refusal of the Nepalese government to provide any of the $50 per day fee to the local economy. Visitation, however, continued uninterrupted beyond that date.[98] Now that upper Mustang is open to foreigners on a restricted basis, the Lopa have increased the number of horses kept in the hopes of benefiting from tourism. Trekkers in this and other restricted areas of Nepal are required by government regulation to porter in all food and fuel, thereby minimising environmental impact.[3]
According to the Annapurna Conservation Area Project (ACAP), a total of 39,017 tourists visited Mustang District in 2016. According to Tulasi Dahal, the Jomsom Chief of ACAP, 15,478 of these visitors were from India alone. It shows a considerable rise in the number of tourists over the 23,272 who visited in the previous year. The highest number of tourists arrived in the month of May with 6,816 visitors and the lowest was recorded in January with 365.[97]
External links
• Traditional Political Systems of Mustang, Nepal
• Facts about mustang district
• Mustang - Central Bureau of Statistics
• Early travels & explorations in Mustang
• Last ruler of remote Buddhist kingdom dies in Nepal
Sky caves
• New Death Ritual Found in Himalaya—27 De-fleshed Humans
• The ancient mysteries of Mustang Caves
• A fortress in the sky, the last forbidden kingdom of Tibetan culture
Cultural transformation
• Modernizing Mustang: A Hidden Tibetan Kingdom Meets Its Future
• Mustang: A Kingdom on the Edge
• Road brings jeans, satellite TV to Himalayan Shangri-La
• Inside Nepal's forgotten medieval kingdom
Languages
• Loke
• Bote
• Nepal Languages
References
1.
http://ddcmustang.gov.np/ne-brief-introduction/
2. "National Population and Housing Census 2011 (National Report)" (PDF). Central Bureau of Statistics. Archived from the original (PDF) on 2013-05-25.
3. Pasture Management, Indigenous Veterinary Care and the Role of the Horse in Mustang, Nepal
4. Mustang: The Last Lost Kingdom
5. Kaushik. "The mysterious caves of Mustang, Nepal". Amusing Planet. Retrieved 29 December2016.
6. Loba, Mustang in Nepal
7. Great Himalayan Trail: Preparatory Study
8. Principality of Mustang, Nepal
9. Xinhua News Agency. "Nepali deputy PM asks district "king" to step down". China View News. Retrieved 3 January 2017.
10. The Map of Potential Vegetation of Nepal - a forestry/agroecological/biodiversity classification system (PDF), Forest & Landscape Development and Environment Series 2-2005 and CFC-TIS Document Series, No.110., 2005, ISBN 87-7903-210-9, retrieved 22 November 2013
11. Shrestha, Mani R.; Rokaya, Maan B.; Ghimire, Suresh K. (2005). "Vegetation pattern of Trans-Himalayan zone in the North-West Nepal". Nepal Journal of Plant Sciences. 1: 129–135. Retrieved Feb 7, 2014.
12. Banerji, Gargi; Basu, Sejuti. "Climate Change and Himalayan Cold Deserts: Mapping vulnerability and threat to ecology and indigenous livelihoods" (PDF). Pragya. Gurgaon, Haryana, India. Retrieved February 7, 2014.
13. Transhumant Pastoralism in Yak Production in The Lower Mustang District of Nepal
14. Kingdom of Mustang
15. Peissel, Michel (October 1965). "Mustang, Nepal's Lost Kingdom". National Geographic. Retrieved 2017-02-10. high point of 4660 m at Kora La on the Mustang-TAR border, the lowest drivable corridor through the Himalayas linking the Tibetan Plateau via Nepal to the tropical Indian plains
16. Resource Mapping Report–2014, District Development Committee Mustang
17. Dilli Prasad Poudel, Livelihood and Common-Pool Resources, University of Bergen
18. Annapurna (1:100,000 map), Nepal-Kartenwerk der Arbeitgemeinschaft für vergleichende Hochgebirgsforschung Nr. 9, Nelles Verlag, Munich, 1993. Also see Google Earth
19. The Raja of La, for instance, continued to pay tithes to Lhasa until the 1950s. For more information about the historical connections between Tibet and Mustang, see Jackson 1978, Vinding 1988, and Ramble 1993 a and b.
20. Flagspot
21. Peissel, Michel (1992) [1967]. Mustang - A Lost TIbetan Kingdom (2nd ed.). Book Faith India, Delhi. pp. 227–31.
22. Sven Hedin's Transhimalaya (published 1909 by MacMillan & Co, Ltd, London), Vol II, pgs. 78-79 in the Chapter headed "A peep into Nepal"
23. Snellgrove, David (1989). Himalayan Pilgrimage, a Study of Tibetan Religion by a Traveller through Western Nepal (Second ed.). Boston & Shaftesbury: Shambhala.
24. Cowan, Sam (17 January 2016). "The curious case of the Mustang incident". The Record. Retrieved 2017-02-10.
25. "Chinese Troops Kill a Nepalese; 18 Captured in Reds' Raid Across Border -- 'Urgent' Protest Sent to Peiping". New York Times. 30 June 1960. Retrieved 2017-02-10.
26. Elleman, Bruce; Kotkin, Stephen; Schofield, Clive (2014). "China-Nepal Border". Beijing's Power and China's Borders: Twenty Neighbors in Asia. Routledge. p. 211. ISBN 9781317515654. Retrieved 2017-02-10.
27. 中华人民共和国和尼泊尔王国边界条约 [China-Nepal Border Agreement] (in Chinese). 1961-10-05 – via Wikisource.
28. China View news
29. "The Karmapa's Great Escape (December 28, 1999 – January 5, 2000)". Karmapa – The Official Website of the 17th Karmapa. Retrieved 2017-02-10. we were not discovered and arrived in Mustang, Nepal, on the morning of December 30, 1999
30. Crossette, Barbara (31 January 2000). "Buddhist's Escape From Tibet, by Car, Horse and Plane". New York Times. Retrieved 2017-02-10.
31. Murton, Galen (March 2016). "A Himalayan Border Trilogy: The Political Economies of Transport Infrastructure and Disaster Relief between China and Nepal". Cross-Currents E-Journal. ISSN 2158-9674. Retrieved 2017-02-09.
32. "中国边海防巡礼之昆木加哨所" [Tour of Chinese Border Guards and Coast Guards - Kunmuja Border Outpost]. chinamil.com.cn (in Chinese). Retrieved 2017-02-11. 西藏军区最西边的哨所——昆木加哨所
33. Last ruler of remote Buddhist kingdom dies in Nepal, The Star Online
34. Wild, windy and harsh, yet stunningly beautiful; The Sunday Tribune; April 21, 2002
35. Royal Ark
36. Finkel, Michael. "Sky Caves of Nepal". National Geographic. Retrieved 27 August 2013.
37. Bond, Anthony. "Mystery of the ancient kingdom discovered in Nepal where thousands of caves are carved 155ft off the ground". Daily Mail. Retrieved 27 August 2013.
38. BBC. "The ancient mysteries of Mustang's caves". BBC. Retrieved 29 December 2016.
39. Sharma, Gopal. "Explorers find ancient caves and paintings in Nepal". Reuters. Retrieved 3 January 2017.
40. Rahman, Maseeh. "Shepherd leads experts to ancient Buddha cave paintings". The Guardian. Retrieved 3 January 2017.
41. Owen, James. ""Shangri-La" caves yield treasures, skeletons". National Geographic. Retrieved 3 January 2017.
42. Shepherd leads experts to ancient Buddha cave paintings; Guardian Unlimited; May 4, 2007.
43. Gopal Sharma, Explorers find ancient caves and paintings in Nepal, Reuters, May 3, 2007, Accessed October 28, 2012
44. "Final District 1-75 Corrected Last for RAJPATRA" (PDF). Ministry of Federal Affairs and Local Development. MoFALD. Retrieved 12 April 2017.
45. "हेर्नुहोस्, तपाईं कुन गाउँपालिका वा नगरपालिकामा पर्नुभयो?". Setopati. Retrieved 9 June 2017.
46. "यी हुन् थपिएका गाउँपालिका र नगरपालिका (सूचीसहित)". Online Khabar. Retrieved 2017-06-16.
47. "स्थानीय निकाय भङ्ग, अधिकारसम्पन्न ७४४ स्थानीय तह क्रियाशील". सेतोपाटी. २८ फाल्गुण २०७३. Retrieved २८ फाल्गुण २०७३. Check date values in: |accessdate=, |date= (help)
48. "The Panchayat System under King Mahendra".
49. Flexibility of Scope, Type and Temporality in Mustang, Nepal. Opportunities for Adaptation in a Farming System Facing Climatic and Market Uncertainty
50. J. Dixon and A. Gulliver, Farming Systems and Poverty: Improving Farmers' Livelihoods in a Changing World, FAO and World Bank, Rome and Washington DC, Italy and USA, 2001
51. A farming system is defined as "any level of unit(s) engaged in agricultural production as it is wedded in a social, political, economic, and environmental context". Ref: B.L. Turner and S.B. Brush, Comparative Farming Systems, p. 13, The Guildford Press, New York, USA, 1987
52. Donald A Messerschmidt, The Thakkali of Nepal
53. Who are the Thakkali, Indigenous Voice
54. The Bem-chag Village Record and the Early History of Mustang
55. Michael Vinding, The Thakali: A Himalayan Ethnography, page 359, Serindia Publications, Inc., 1998, ISBN 0906026504
56. Mustang District, Caravan Himalaya Adventure
57.
http://www.ramanuja.org/sv/bhakti/archi ... /0045.html
58. "General Information about Muktinath".
59. Mittal, Sushil (2004). The Hindu World. New York: Routledge. p. 499. ISBN 0-203-67414-6.
60. Zurick, David (2006). Illustrated Atlas of the Himalayas. Lexington: University Press of Kentucky. p. 153.
61. "Nepal Census 2001". Nepal's Village Development Committees. Digital Himalaya. Archived from the original on 12 October 2008. Retrieved 15 November 2009..
62. People of Nepal
63. Mustang: The Forbidden Kingdom Archived 2007-06-30 at the Wayback Machine, Royal Mountain Travel, 2004, Accessed May 3, 2007.
64. Upper Mustang Trek Archived 2013-06-02 at the Wayback Machine, Osho World Adventure Pvt. Ltd., Accessed June 2, 2013.
65. Rajan Kathet, Yarlung, Nepali Times
66.The use of medicinal plants in the trans-himalayan arid zone of Mustang district, Nepal, BioMed
67. National Population and Housing Census 2011 (National Report)
68. 2011 Nepal Census, Social Characteristics Tables
69. Pawan Dhakal, Education is the most neglected service in two of Nepal's most neglected districts, Nepali Times, 28 April 2017
70. Nepali art could benefit from Mustang, The Kathmandu Post
71. Nepal Department of National Parks and Wildlife Conservation website Archived 2009-07-11 at the Wayback Machine
72. Prithvi Man Shrestha; Jaya Bahadur Rokaya (24 March 2016). "Nepal, China rush to open Hilsa border". Kathmandu Post. Retrieved 2017-02-10. Nepal has also given priority to opening this border point along with Kimathanka and Korala in Mustang.
73. Tripathi, Binod (8 July 2016). "'Korala border to open within a year'". Kathmandu Post. Retrieved 2017-02-10.
74. Tripathi, Binod (19 Jun 2016). "China extends road up to Korala border". Kathmandu Post. Retrieved 2017-02-10.
75. Mustang to supply 25,000 sheep and mountain goats for Dashain, my Republica
76. Apple production increases in Mustang, Republica
77. Report: September 2011, Tibet Archaeology
78. T.H. Aase, R.P. Chaudhary and O.R. Vetaas, Farming flexibility and food security under climatic uncertainty, Manang, Nepal Himalaya. Area 2010, 42, 228–238.
79. Sustainable Development Plan of Mustang, National Trust for Nature Conservation (NTNC)/Government of Nepal/United Nations Environmental Program (UNEP), Kathmandu, Nepal, 2008.
80. Ammu Kannampilly (AFP), Road brings jeans, satellite TV to Himalayan Shangri-La, GMA News Online,July 18, 2016
81. Santosh Pokharel, Mustang starts generating electricity from wind, My Rebuplica, August 16, 2017
82. Nepal is saving the planet but not its own citizens, Kathmandu Tribune
83. Sameer Pokhrel, Nepal is saving the planet but not its own citizens, Kathmandu Tribune, August 31, 2017
84. "New highway divides isolated Buddhist kingdom of Mustang". Taipei Times. Taipei, Taiwan. AFP. May 19, 2007. Retrieved Dec 14, 2013.
85. "Destinations". Gorkha Airlines. Archived from the original on March 28, 2010. Retrieved 8 June2010.
86. "Schedule Effective from 15 May, 2010 to 30 October, 2010". Nepal Airlines. Retrieved 7 June2010.
87. "Simrik Airlines Flight Schedule". Retrieved 15 August 2016.
88. "Destinations". Sita Air. Archived from the original on 16 August 2010. Retrieved 6 June 2010.
89. Tara Air Destinations Archived 2016-08-22 at the Wayback Machine
90. Airport information for Jomsom, Nepal (VNJS / JMO) at Great Circle Mapper.
91. Jomsom Airport at AirportGuide.com
92. Final Report on the Accident Investigation of 9N-ABO at Jomsom Airport, on 16 May 2013
93. "Nepal plane crash: 11 Indians among 15 dead, Times of India 14 May 2012". Retrieved 14 May2012.
94. "NATIONAL AIRPORTS PLAN Current Situation and Diagnostic" (PDF). Civil Aviation Authority of Nepal. Retrieved 27 June 2017.
95. Peissel, Michel [1967]. Mustang, a Lost Tibetan Kingdom, Books Faith, 2002
96. Nepal Trekking Permit Fees, TAAN Nepal, Accessed June 2, 2013.
97. Rastriya Samachar Samiti, 39,000 tourists visited Mustang in 2016, The Himalayan Times, January 12, 2017
98. Mustang to Bar Tourists