George Hawthorne Scidmore
by Consul Edwin L. Neville
American Consular Bulletin
Published Monthly by the American Consular Association
Vol. v, No. 2, Washington, D.C., February, 1923
NOTICE: THIS WORK MAY BE PROTECTED BY COPYRIGHT
YOU ARE REQUIRED TO READ

THE COPYRIGHT NOTICE AT THIS LINK

BEFORE YOU READ THE FOLLOWING WORK, THAT IS AVAILABLE SOLELY FOR PRIVATE STUDY, SCHOLARSHIP OR RESEARCH PURSUANT TO 17 U.S.C. SECTION 107 AND 108. IN THE EVENT THAT THE LIBRARY DETERMINES THAT UNLAWFUL COPYING OF THIS WORK HAS OCCURRED, THE LIBRARY HAS THE RIGHT TO BLOCK THE I.P. ADDRESS AT WHICH THE UNLAWFUL COPYING APPEARED TO HAVE OCCURRED. THANK YOU FOR RESPECTING THE RIGHTS OF COPYRIGHT OWNERS.
George Hawthorne Scidmore
In the death of George H. Scidmore, Consul General at Yokohama, Japan, the Service has lost its oldest member,
the Government has lost a faithful servant, and the many who knew and loved him have lost a friend who cannot be replaced. Mr. Scidmore's life and work cover a period in the nation's history and in the history of its public service which it is hard for those of us who follow in the traditions he helped to create adequately to appreciate.
He was born at Dubuque. Iowa, October 12, 1854. His father, George B. Scidmore, of old New England stock, coming from Hereford to Cambridge, Massachusetts, in 1635 [???], was one of the early railroad builders in what is now called the Middle West.
His mother, Eliza Sweeny Brooks, was of English and Irish ancestry and came of a family that settled at Canton when Ohio was one of the younger States of the Union. George's early life, after the death of his father, was spent at Madison, Wisconsin, from which State he was appointed to the Service.
As a boy of seven or eight he saw his brother march away to war,
and later, as a boy in Washington, he saw the nation slowly recover from its wounds and embark on the period of material development which was so marked a feature of our history subsequent to the Civil War. It was a period of laxness in Government administration and left an indelible impression on his mind. With the faith in and love for his country which one would expect from a man of his ancestry and upbringing, he believed that the nation would one day demand that its public offices be administered on a basis of service rather than upon a basis of political caprice. He lived to see his faith a reality.
In 1876, after graduation from the National (now George Washington) University as LL.B., he was admitted to the bar of the District of Columbia. He subsequently studied jurisprudence in England and France, and the study of the law and its development remained the dominant interest of his life. He used to insist that the perusal of a law report was frequently as interesting as a popular "thriller" and much more satisfying. His library contained practically every legal treatise of any importance and represented a collection that few private libraries could equal.

Shortly after his admission to the bar young Scidmore was appointed consular clerk (a position now referred to as consular assistant), in which capacity he served the Government in many posts until 1907, when he was appointed Consul at Nagasaki, Japan. He was one of thirteen whom President Grant and Secretary Fish are said to have referred to as Consular Cadets, in the hope that they were the nucleus of a civil service that would serve the country in a manner analogous to military and naval officers
. It was thirty years before the Consular Service really emerged from the darkness, but George Scidmore never doubted the outcome. The ordeal was frequently trying, as a glance at the organization of the Service in the early days will show.
The Consul in those days was without supervision of any kind. He sometimes was in doubt as to what department of the Government he was responsible. Part of his accounts were sent directly to the Treasury, only such funds being accounted for to the Department of State as were specifically allotted to him by that Department. Some Consuls received a salary and others were compensated only by fees, but all of them retained what were referred to as "unofficial fees." This class of fees consisted of notarial fees primarily, and consequently an office that collected large notarial fees was a desirable post from the point of view of an applicant for a position as Consul.

As a Consul's tour of duty usually coincided, in point of time, with the term of office of the administration that appointed him, the officer naturally felt that he should make the most of his opportunities.
It would be a mistake, of course, to include all Consular officers in the category of those who "made hay while the sun shone," but it is undeniably true that
a very large proportion of the appointees were men who were anything but a credit to the country they were supposed to represent. Conditions were so bad that in 1871 the Treasury sent an agent to investigate conditions obtaining in the Consular Service in South America, Asia, and Africa. His report, published in 1872,1 disclosed a state of affairs that would appall our hard-working Consuls General at Large. There were many instances of downright fraud in supposed payment of seamen's relief to nonexistent seamen; vessels in which there was no American interest whatever were given the protection of the American flag for a consideration, and in countries where disturbed political conditions existed local inhabitants were, likewise for a consideration, nominated Vice or Deputy Consuls or Consular Agents by the American Consul. Some officers kept no books and sent in no accounts at all.
As they were not bonded or inspected, there was little the Government could do in the matter beyond dismissing the Consul. While this action might rid the Government of an obnoxious individual, it contained no assurance that the next appointee would be any better than the officer who had been dismissed.
In the matter of subordinates, the situation was, if possible, worse than that of principal officers. The Consul nominated his own staff, and the appointment as Deputy or Vice Consul seems to have been merely a formal act on the part of the Secretary of State. This was only natural, after all, as there was practically no allowance for clerk hire and the Consul usually either had to compensate his clerks from his own funds or find some one who was willing to work without pay. This naturally led to abuses, some of which have been referred to. There was no transportation fund, and the Consul and his subordinates were left to their own devices or the tender mercies of relatives, local residents, or the good nature of railroad and steamship companies in getting to and returning from their posts. As would be expected under the circumstances, the relation of the Consul to steamship companies was the source of much scandal, resulting frequently in a working partnership that was found mutually profitable.
In 1856, in an appropriation bill, Congress had provided for thirteen consular clerks, to be appointed by the President, at a salary of $1,000 per annum and removable only for cause. These officers were to be under the orders of the Secretary of State, who could assign them to duty wherever the need arose. It does not appear that much was done under this act; in fact, very little could be done, as subsequent appropriation bills frequently omitted the item altogether. It was, however, included in the Revised Statutes, first edition, 1873-1874. The appropriation bill of 1874 provided that after five years of service the compensation of consular clerks should be at the rate of $1,200 per annum.
In 1876 the corps was finally filled, and since that time has been one of the most valuable branches of the Service. For many years it was the only branch that was free from partisan interference, and it was the beginning of the Consular Service as we know it today.
As a consular clerk, then, George H. Scidmore began his service.
His first assignment was to the Consulate at Liverpool, in July, 1876. Liverpool then, as now, was a shipping port of importance, and Mr. Scidmore always referred to his stay there with much pleasure. He learned ships and shipping at first hand in a school that demanded decision of character. Disputes had to be settled on the spot; there was no cabling for instructions, and Mr. Scidmore's intimate acquaintance with Admiralty law and maritime practice were largely due, he stated, to the training he received at Liverpool in dealing with ships, crews, and cargo on the Mersey.

In 1877 he was placed in charge of the Consular agency at Dunfermline, Scotland, as Vice Consul, remaining there until July 5, 1878, when he was assigned to duty at the Consulate General at Paris.
It was during his stay at Paris that he first made the acquaintance of the telephone, to which he always had an aversion that amounted at times to active hostility. He claimed that he had been made telephone-shy by an exhibition instrument that was installed in his office without his knowledge. He stated that he never recovered from the shock of having a raucous bell ringing in his ears, followed by a flood of French directed in and out of an inanimate contraption.
In 1880 Mr. Scidmore returned to the United States, and the following year was assigned to the Consulate General at Yokohama, or Kanagawa, as the office was then called.

The Consular establishment in Japan, and particularly the office at Yokohama, had in times past been the object of much adverse comment. The report to which reference has already been made disclosed some very unsavory practices in vogue.

Until 1899 the Consuls in Japan exercised extraterritorial jurisdiction. Many of them were without any legal training, and practically all the time the offices were without properly qualified subordinates. If the principal officer happened to be a capable man, conditions were not so bad. But in case of departure on leave, the office too frequently was left in the hands of a poorly equipped officer, and the fate of litigants in the Consular Court can be better imagined than described. There were no settled methods of litigation, and it was pure chance if the officer in charge happened to know enough about the law and court procedure to conduct a trial. In criminal cases, even if the principal officer who sat as judge had some knowledge of the rules of evidence, it was seldom that any subordinate in the office knew how to conduct a prosecution. To this office Mr. Scidmore was assigned on February 24, 1881.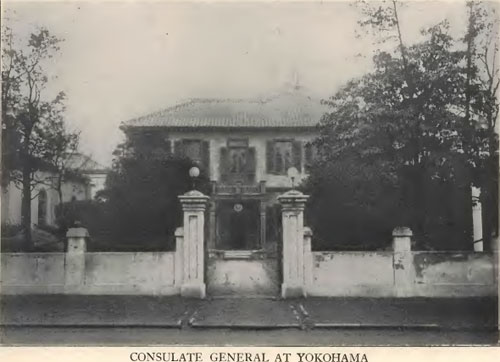 Consulate General at Yokohama
The Consulate at Kanagawa had been raised to a Consulate General in 1874, and was made a supervisory office. The Consul General was Thomas B. Van Buren. Frequent complaints came from the office that it was understaffed and that the growing trade of Yokohama with the United States called for assistance in the Consulate beyond the uncertain and too often unreliable clerks that could be employed locally. Moreover,
lack of subordinates with some legal qualifications had greatly handicapped the Consul General in taking care of the judicial functions of his office. Scidmore's assignment was the result.

His first efforts were directed, on the legal side, to compiling a digest of cases which had come before the Consular Court and attempting to define the character and limits of Consular jurisdiction. This digest he afterwards expanded and published in book form under the title of "Consular Jurisdiction in Japan." This volume became a manual for practicing attorneys in the Consular Courts. During this period Mr. Scidmore was allowed to engage in the private practice of law at Yokohama, and was recognized as one of the leading lawyers of the Far East, practicing before the British as well as before our own Consular Courts.
He used to relate an amusing incident in his career as a practicing lawyer which, he claimed, showed the danger of writing a book. He was pleading in a civil suit before the British Consular Court when his opponent asked the judge if the "learned counsel" on the other side was not a recognized authority in matters of law. The judge replied in the affirmative, whereupon the opposing attorney quoted "Consular Jurisdiction" to the detriment of Scidmore's client. "After that," Mr. Scidmore used to say, "I earned more fees by keeping my legal knowledge out of print and my clients out of court."
In addition to his other activities, Mr. Scidmore lectured at this period to the English Law College at Tokyo.

In September, 1884, Mr. Scidmore was appointed Vice Consul at Hiogo and Osaka, the office now known as Kobe, where he remained in charge until June, 1885, when he was appointed Vice Consul General at Shanghai, China, taking charge of the office until his return to Yokohama in December of the same year.
In 1891 Mr. Scidmore was instructed to proceed to the Fiji Islands and investigate the claims of American citizens to lands in that archipelago which had been disallowed in part or in toto by the British Government. In 1874 the British Government assumed control of the government of these islands and set up a land commission to settle the metes and bounds of privately owned land and to grant title. The task was a complicated one. The lands in the possession of Europeans and Americans had been acquired by possession, by gift, or by purchase from native chiefs. None of the Fijians could read, and very few of the settlers had any very clear idea of what a deed was; besides, none of the land had been surveyed, and the boundaries in each case were usually purely traditional. The results of the Crown investigation and the number of claims it disallowed caused a great deal of adverse comment from the local white residents. The German and American residents appealed to their home Governments against what they considered confiscations, while the Privy Council in London was deluged with petitions from British subjects in the Fiji Islands appealing against the decisions rendered. Mr. Scidmore spent over a year in the islands, from December, 1893, until January, 1894, investigating claims. During this period he visited practically every island of importance and made a very valuable collection of articles illustrating the manners and customs of the people. This collection he afterwards presented to the Star of the Sea School in Nagasaki.
His report on the status of the land titles was published in Foreign Relations for 1895.

Upon his return to Yokohama he served in the Consulate General until the outbreak of the Russo-Japanese war, when he was detailed to the Legation at Tokyo as legal adviser. Our great trade with the Far East, together with the fact that the war was the first one fought under modern conditions between fairly equal parties, raised many unique questions of international law.
It was always a source of pride to Mr. Scidmore, and it should be intensely gratifying to the Service, to remember that even with the limited number of career men then in its ranks the Service was capable of meeting a new situation; that the Department could call upon one of its staff in a distant country for special duty with the knowledge that he was equal to the task.
During Mr. Scidmore's detail to the Embassy (to which the Legation was raised) the Service was reorganized (1906), and he was appointed Consul at Nagasaki
, "as a matter of routine official procedure," as he used to phrase it, on March 30, 1907.
Nagasaki from a scenic standpoint is the finest port in Japan and one of the most beautiful in the world. Our Consulate there was established in 1859, and is thus our oldest Consulate in the Japanese Empire. From a commercial standpoint the port is important only as a shipping point or coaling and provision and repair station. But it has a wealth of historical association as the only port in Japan that has been continually in touch with the western world since the Europeans first went to the Far East in the sixteenth century. For over three hundred years the Dutch maintained a "factory" or commercial depot at Nagasaki and were allowed to send one or at times two ships a year for purposes of trade—the only contact permitted with Europe. To this day "Hollander" or "Oranda" is the word used by' the peasants of the vicinity to designate an Occidental.

After two years at Nagasaki, Mr. Scidmore was appointed Consul at Kobe in June, 1909, taking charge as Consul of the office where he had been Vice Consul in charge twenty-five years before. Kobe is the seaport for central Japan, and has grown up since the country was opened to foreign trade. Mr. Scidmore remained there only a few months, being appointed Consul General at Seoul on August 27, 1909, where he remained four years until his appointment as Consul General at Yokohama in November, 1913.

In August, 1910, Korea was formally annexed to the Japanese Empire.
Until this time extraterritorial jurisdiction had been exercised by Consular establishments in the country, and at certain open ports, notably Chemulpo, there was a certain area in which the subjects or citizens of treaty powers carried on a municipal government. These matters had been the subject of treaty arrangement with Korea.
The extension of Japanese laws to the country required many adjustments of a legal nature, which were drawn up in the form of a protocol. In this work Mr. Scidmore's intimate knowledge of extraterritorial procedure and his familiarity with Japanese laws and administration were invaluable.
It is a tribute to his foresight that none of the arrangements he made for the adjustment of American rights have since been found unworkable or the source of friction.
Mr. Scidmore arrived in Yokohama in the winter of 1913 and remained until his death, on November 27, 1922—his last tour of duty—as Consul General. This office has always been our principal Consular establishment in Japan. Yokohama is the seaport for Tokyo and eastern Japan and the chief port from which Japanese produce is shipped to the United States. It is as well the first port of the Far East to be reached by vessels from the west coast of America. The importance of the port and office was recognized very early in our relations with Japan, and Consul General Van Buren accordingly obtained a perpetual lease from the Japanese Government of the land upon which the Consulate General is now located. The annual rental is $87.35.
At the time the lease was made, however, it was found impossible to obtain an appropriation to compensate the owner of some buildings which were upon the plot, so the Consul General purchased the buildings himself. The buildings subsequently were purchased in part by succeeding Consuls General or descended to their heirs, who leased them to the Government. The buildings had to be leased to the Government, for the grant of the ground lease expressly reserved the land for the use of the United States for a Consulate. Upon Mr. Scidmore's arrival he found that the buildings were owned in part by his predecessor, Consul General Sammons, who had been transferred to Shanghai, and in part by the heirs and assigns of a previous incumbent. In 1915 Mr. Sammons, who had owned one office building for a number of years, presented his title to the United States, stating that he had received his initial investment in rents. Mr. Scidmore obtained title to the other buildings for the Government, and the property now stands in the name of the United States. The buildings are the same structures which were there when Consul General Van Buren obtained them in the 70's, and they were not new then.
George Hawthorne Scidmore, Eliza Ruhamah Scidmore, Eliza Sweeny Brooks Scidmore
A sketch of Mr. Scidmore's life would be incomplete without a reference to his mother, with whom he made his home until her death in 1916. Those who were privileged to know her did not wonder at her son's devotion to duty. Their house was a little piece of America set down in the Far East, and to them and their kindly hospitality and friendly counsel many a young American owes a debt of gratitude that cannot be forgotten.
Early in the summer of 1922 Mr. Scidmore suffered a slight stroke while attending a public function. He seemed to recover, however, and no anxiety was felt until the autumn, when
a visit to the dentist disclosed an abcess in his jaw. Attempts to remove it showed that the infection was deep seated. He appeared to rally after the operation, but his heart was not equal to the strain and he passed away peacefully while asleep on the morning of November 27, 1922. In accordance with the provisions of his will, his remains were cremated and buried with his mother in the Foreign Cemetery at Yokohama.
Mr. Scidmore was a man of varied interests. He was an ardent yachtsman and for years was active in the Yokohama Yacht Club, where he was a leading figure.
He was a member of the Asiatic Society of Japan, a thirty-second degree Mason, and a member of many social clubs and organizations in the Far East.
It would be difficult to overestimate the respect and confidence which Mr. Scidmore commanded in the Service, particularly among the men in Japan. His wide knowledge, his unfailing courtesy and helpfulness, and his single-minded devotion to duty were an inspiration to those who came in contact with him. There seemed to be nothing in the wide range of Consular work upon which his judgment and advice were not eagerly sought and freely given. Even when he could not be consulted, many a Consular officer began the consideration of a difficult situation by asking himself, "What would Scidmore do in this instance?" Technical proficiency and success in his career are the things which immediately suggest themselves in considering his long career; and they are, of course, a requisite and in his case a badge of confidence and esteem. But those who knew and loved him best like to think of him as an American gentleman—a worthy representative of the land he loved and to whose service he gave his all.
TO GEORGE H. SCIDMORE
In Memoriam
By Lillian Miller
Is this all we have left to us of you,
A little pinch of ashes, puff of dust,
Covered with fragrant petals white and red?
Can it be this little casket hides that head
With the silver of its hair, the deep-set blue,
Keen, sensitive, of those most kindly eyes?
Can it be this soft, damp earth as red as rust
Will come between us and that genial smile?
Or that the man we knew, so gentle, wise,
Warm-hearted, steady, true, has finished now
Of his life's journey this, the last long mile?
One day we saw you full of hearty zest;
The next found us so truly unaware
Of your quick going that we thought it jest
When told that death had stopped to kiss your brow. When told that death had stroked your silver hair.
Now though we cannot help but sorely weep,
Yet we rejoice you trod no tortured path
But sank serene into the arms of sleep.
And so into the ebon arms of death,
And so rose to the radiant arms of peace.
Here where the pleasant vines will gently creep,
And roses will give out their warm sweet breath
And year by year guard you with soft increase,
We lay your ashes facing to the west,
High on a hill, in their last sheltered rest
Beside her whom you ever loved the best,
One with her before birth, now one in death.
Below, the sea dreams rainbow dreams for you.
The distant hills will watch, one peerless crest,
Snow-gleaming, or a soft grey summer shadow.
Rising from russet wastes or emerald meadow,
Will guard you all the endless seasons through.
And we, your friends, will scatter past blue seas.
Leave this a foreign, though a friendly, land.
Our voices fall on many a far. strange breeze
But always, somehow, you will be there too,
A silver thread run through our memories.
Here where chrysanthemum petals softly lie,
Crushed by our sorrowful feet upon the stones.
We stand around your flower-hidden bier
And with moist eyes, in hushed and reverent tones
Pledge you our hearts beneath the coral sky,
Pledge us to guard your name and hold it dear.
And these few humble, laboring words of praise.
Of tender praise, are but as lowly leaves
Picked from the laurel of your honored days
Won by long service to an end immortal;
And though infinity divides, and my heart grieves,
I would be glad if some day you should gaze
On this my song as on the least white petal
Dropped from these flowers that stand in crystal sheaves.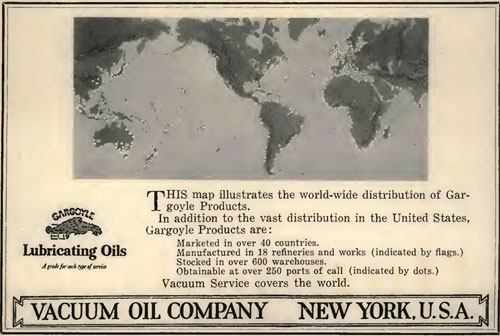 Vacuum Oil Company, New York, U.S.A.
Gargoyle Lubricating Oils: A grade for each type of service
This map illustrates the world-wide distribution of Gargoyle Products.
In addition to the vast distribution in the United States, Gargoyle Products are:
Marketed in over 40 countries.
Manufactured in 18 refineries and works (indicated by flags.)
Stocked in over 600 warehouses.
Obtainable at over 250 ports of call (indicated by dots.)
Vacuum Service covers the world.
_______________
Notes:
1. A report on the Consular Service to the Secretary of the Treasury by De. B. Randolph Keim, Govt. Print. Off., 1872. [34]