Edwin Arnold
by Theosophy Wikipedia
Accessed: 3/25/19
NOTICE: THIS WORK MAY BE PROTECTED BY COPYRIGHT
YOU ARE REQUIRED TO READ

THE COPYRIGHT NOTICE AT THIS LINK

BEFORE YOU READ THE FOLLOWING WORK, THAT IS AVAILABLE SOLELY FOR PRIVATE STUDY, SCHOLARSHIP OR RESEARCH PURSUANT TO 17 U.S.C. SECTION 107 AND 108. IN THE EVENT THAT THE LIBRARY DETERMINES THAT UNLAWFUL COPYING OF THIS WORK HAS OCCURRED, THE LIBRARY HAS THE RIGHT TO BLOCK THE I.P. ADDRESS AT WHICH THE UNLAWFUL COPYING APPEARED TO HAVE OCCURRED. THANK YOU FOR RESPECTING THE RIGHTS OF COPYRIGHT OWNERS.
The third wife of Sir Edwin Arnold was Tama Kurokawa, whom he married in 1897, and she inherited all of his available estate, which probably included his copyrights. The estate of Dame Tama Arnold has not, however, been traced. The will of Sir Edwin Arnold (probate London, 21 April 1904) also refers to the marriage settlements with his first wife Katherine Elizabeth Biddulph (mentioning two children: Edwin Lester Arnold and Lilian Katherine Earle) and with his second wife Fannie Channing (mentioning another son: Gilbert Emmerson Arnold). The UK WATCH Office has also found the will of an Edwin Lester Gilbert Arnold (probate Brighton, 21 June 1973), who may have been a grandson but would not necessarily have been an heir.

-- Contact for Edwin Arnold, Sir 1832-1904, by University of Reading, WATCH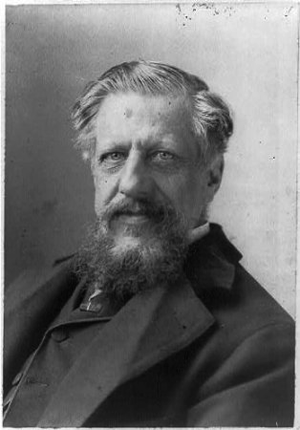 Edwin Arnold
Sir Edwin Lester Arnold, M.A., K.C.I.E., C.S.I.(June 10, 1832 – March 24, 1904) was an English poet and journalist, who is most known for his poetic story of Gautama Buddha,
The Light of Asia
. He mastered Sanskrit, Arabic, Turkish, and Persian languages and was a skilled artist.
Personal life and career
Edwin Lester Arnold was born at Gravesend, Kent, on June 10, 1932, as the second son of a Sussex magistrate, Robert Coles Arnold. The young Arnold was educated at King's School, Rochester, King's College in London, and University College, Oxford.
He won Oxford's prestigious Newdigate Prize in 1852, for a poem called "Belshazzar's Feast."
Arnold took a position as a schoolmaster at King Edward's School, Birmingham for several years.
In 1855, he married Catharine Elizabeth Biddulph (1831-1864), and the couple had four children - Edwin [Edwin Lester Arnold], Julian [Julian B. Arnold-Lindon], Katharine [Lilian Katherine Earle], and Arthur. In 1856 he accepted a post in India as Principal of the Government Sanskrit College at Poona and served there for seven years
, returning to England with his wife because of her ill health. [1]
Catharine died in 1864 shortly after Arthur's birth. His next wife was Jennie Fanny M. S. Channing (1837-1889) of Boston, with whom he had two more sons - William and Gilbert Emerson. The family lived in Kensington during these year. Son Emerson Arnold wrote of this period:
Obliged by circumstances to remain under grey Western skies and labor for more than forty years in London on the staff of the Daily Telegraph, his heart remained in India and every moment of his scanty leisure was devoted to the study of her languages, religions and philosophy.[2]
After returning to England, Arnold worked as a journalist at the Daily Telegraph, eventually becoming editor-in-chief during a forty-year career. He is credited with arranging for his newspaper to work with the New York Herald to sponsor the journey of H. M. Stanley to discover the course of the Congo in Africa. In 1874, Arnold first suggested a transcontinental railroad for Africa, using the phrase "a Cape to Cairo railway" subsequently popularized by Cecil Rhodes.

Queen Victoria named Arnold in 1888 as Knight Commander of the Indian Empire.
The next year, Fanny passed away. Arnold spent some time in Japan, where he met his third wife, Tama Kurokawa (1869-1962), whom he brought back to London. Sir Edwin died on March 24, 1904.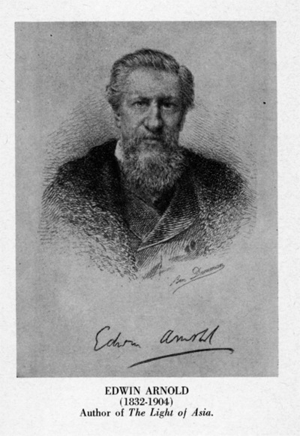 Edwin Arnold
Association with Theosophists
Early Theosophists greeted the publication of The Light of Asia in July, 1879 with glowing reviews. Madame Blavatsky herself wrote at length in the first issue of the Theosophical Society's journal The Theosophist in October, 1879.
Other reviews, analyses, and quotations followed.
Arnold knew Helena P. Blavatsky well and expressed his admiration for her extraordinary mental attainments

; he recalled an occasion when he asked if she knew the date of a Sanskrit grammarian and she was able to give it without hesitation.[3]
When Arnold was asked in an interview, "Are Esoteric Buddhists and Theosophists the same?", he answered:
That depends upon what you mean by

Theosophists

. if you mean the Theosophists of the school of

Blavatsky

,

Sinnett

and

Olcott

, I will say that

they are so closely connected with Buddhism that the Buddhist Scriptures ought to be their text-books

, and I don't seen how you can do this without a knowledge of Sanskrit.

I knew Madame Blavatsky very well and am acquainted with Col. Olcott and A. P. Sinnett, and I believe there is no doubt that the Theosophical movement has had an excellent effect upon humanity. It has made a large number of people understand what all India always understood, and that is the importance of invisible things. The real universe is that which you do not see, and the commonest Indian peasant knows that to be true by inheritance. The Theosophists have impressed upon the present generation the necessity of admitting the existence of the invisible.

The senses are very limited, and everybody ought to know that behind them lies an illimitable field of development.[4]
Colonel Henry Steel Olcott, President-Founder of the Theosophical Society, met Arnold in 1884.
He gave this account shortly after Arnold's death in 1905:
I made his personal acquaintance at London in the year 1884, at the hospitable board of Mrs. Tennant... I lunched with him at his house and he kindly presented me with some of the original MS. of his world-famous Buddhist book. Later, when he revisited India, coming via Ceylon I organised, at the request of the high priest, Sumangala, his reception at Colombo, and drafted the address of the High Priest. His feelings towards me were cordial, and I may almost say that in him, I have lost a personal friend. His poetised translations from the Sanskrit most ably render the sense of the ancient books. He must have had a great faculty of concentration, for he told me, at his house, that he had written the most touching passages of

The Light of Asia

in the compartment of a railway carriage, in the company of some dealers of Billingsgate market, who were loudly discussing between themselves, the price of fish.[5]
In a biographical sketch, Boris de Zirkoff wrote,
Judging by his works and his philosophy of life,

Sir Edwin Arnold formed an integral part of the widespread spiritual Movement

which was regenerated in the latter half of the nineteenth century. In part,

his work paralleled that of the Theosophical Society, helping to make the religion and philosophy of Buddhism and Hinduism known and appreciated by the western world.

The Light of Asia

and

The Song Celestial

undoubtedly led to widespread interest in these subjects and

helped to create an attitude in which theosophical ideas would be found congenial

. We are all indebted to this great scholar.[6]
Founding of Maha Bodhi Society
In 1885, Arnold published articles in Daily Telegraph drawing attention to the Buddha Gaya (Bodh Gaya) Temple, site of Gautama Buddha's enlightenment. The temple had been abandoned and was in deplorable condition. On January 22, 1891, the
Anagarika Dharmapala
, accompanied by Japanese priest Kozen Gunaratna, visited the site, and felt a tremendous urge to take action.
On May 31, 1891, the Budh-Gaya Mahabodhi Society was formed, with Arnold as one of the founding members. The High Priest of Ceylon, H. Sumangala was President, Col. Olcott was Director and Chief Advisor, and Dharmapala was General Secretary. The new Society solicited contributions to maintain a staff at the Buddha Gaya site, and the Society convened an International Buddhist conference at the site in October, 1891.
The temple complex was gradually restored, and the Maha Bodhi Society continues to be active in India and several other countries.
Vegetarianism
Arnold was very active in support of vegetarianism.
He founded a Vegetarian Club in Bayswater with Dr. Josiah Oldfield, who shared rooms with Mohandas K. Gandhi for a time. Oldfield served as president, Arnold as vice-president, and Gandhi as secretary.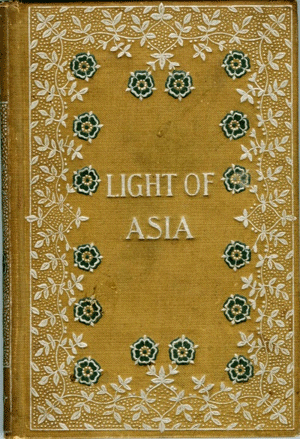 Cover of 1879 American Caldwell edition.
The Light of Asia
The most famous of Arnold's works is
The Light of Asia
, a book-length poem depicting the life of Gautama Buddha. Published in July, 1879 in London and also by two companies in New York,
the book immediately caught the attention of Theosophists. A lengthy review was printed in the very first issue of The Theosophist, in October 1879. The book was praised by the reviewer, Madame Blavatsky, for its literary qualities and for its treatment of the subject. The reviewer wrote, "if any Western poet has earned the right to grateful remembrance by Asiatic nations and is destined to live in their memory, it is the author of the "Light of Asia."[7]

Madame Blavatsky requested that each year on the anniversary of her death, her friends should gather and read from The Light of Asia and the Bhagavadgītā.[8] That tradition continues to this day among Theosophists around the world, and is known as White Lotus Day.
Dozens of editions and translations have been produced since 1879, and the work is widely available in libraries worldwide.
Other writings
• "Belshazzar's Feast" - poem written while in college in 1852; won the Newdigate Prize for English Verse.
• "Griselda, a Tragedy" - poem published in 1856.
• Works of Herodotus - translation from Greek in 1861.
• The Book of Good Counsels - translation from the Sanskrit of the Indian classic "Hitopadeça." 1861.
• Education in India. 1862
• A History of the Administration in India under the Late Marquis of Dalhousie. 1862–64.
• The Poets of Greece - a collection of fine passages. 1869.
• Mahābhārata. 1881.
• Pearls of the Faith; or, Islam's Rosary Being the Ninety-nine Beautiful Names of Allah, with Comments in Verse from Various Oriental Source. (1883).
• The Secret of Death. (1885).
• The Song Celestial. (1885). A poetic rendering of the Bhagavadgītā.
• Sa'di in the Garden; or, The Book of Love. 1888. This is a poem on a part of the "Bôstâni" of the Persian poet Sa'di.
• Poems National and Non-Oriental. 1888.
• Light of the World. 1891. This is an epic poem about the life of Jesus Christ.
• India Revisited. 1891. Prose.
• Potiphar's Wife, and Other Poems. 1892.
• The Iliad and Odyssey of Asia. 1892.
• Seas and Lands. 1893. Prose.
• Japonica. 1983. Prose describing Japan.
• Tiphar's Wife. 1892.
• Adzuma, the Japanese Wife: a Play in Four Acts. 1893.
• The Tenth Muse and Other Poems. 1895.
• The Queen's Justice. 1899. Dedicated to his Japanese wife Tama Kurokawa.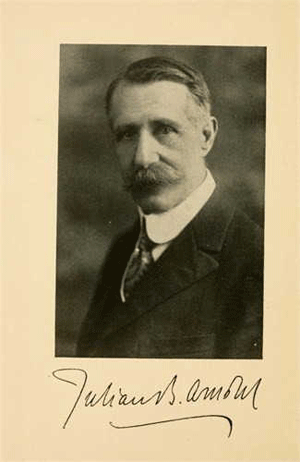 Julian B. Arnold
Sons Julian and Emerson as Theosophists
Sir Edwin's son Julian Tregenna Biddulph Arnold (1860-1954) was active in the American Theosophical Society:
In a recent number of The Messenger, I [the editor, A. P. Warrington] mentioned

a series of lectures which Mr. J. B. Lindon, one of our members residing in Chicago, had given at Besant Hall

under the designation "Twilight Talks." These lectures were so successful and drew such large audiences that a program of a new series of historical lectures has been announced by the same lecturer, which by the time this issue reaches the mails will be well on the way.

Our members no doubt have learned from recent newspaper accounts that

Mr. Lindon is none other than Mr. Julian B. Arnold, the son of the late Sir Edwin Arnold,

the illustrious poet, scholar and interpreter of Indian ideals, whom Theosophists the world over have loved and revered for his immortal work.

When Mr. Julian B. Arnold came to America seven years ago he launched out in the chemical business, and for that and other reasons he adopted an old family name, so that he became known as J. B. Lindon.

Owing to the encouragement which he received in his recent venture in the lecturing field, he has felt that he should no longer suppress his real identity.

I am sure that all Theosophists will join me in the hope that Mr. Arnold may some day become widely traveled as a lecturer throughout our country, where we hope he will always feel that he has a true home.[9]
Julian B. Lindon was admitted to the American Theosophical Society on November 23, 1910, sponsored by Minna Kunz and Mrs. Kochersberger of the Adyar Lodge of Chicago. After July 16, 1915, he was known as Julian B. Arnold, according to membership records.[10] He wrote at least thirteen articles for Theosophical journals.
As Warrington hoped, Arnold did go on to a career as a lecturer.[11]
Edwin Gilbert Emerson Arnold (1872-????), M.D., M.R.C.P., a medical officer in Fiji, also called himself a Theosophist. He wrote of the evocative quality of his father's "pen-pictures of Indian life":
To anyone who, like myself, is a convinced student of Theosophy and Oriental occultism the phenomenon is all the more striking. For his works reveal an expert and deep knowledge of Eastern philosophy which is amazing.

I hold the view very strongly myself that the explanation lies in previous Indian incarnations. My father, although very patriotic and intensely British in many ways, was always a semi-Oriental; in outlook, tastes, manners and thoughts, and even in appearance. I believe that his brief visit to India resuscitated the subconscious memories of former lives spent there and that these gave him his wonderful knowledge and insight and his love for and attraction to Eastern life and philosophy.[12]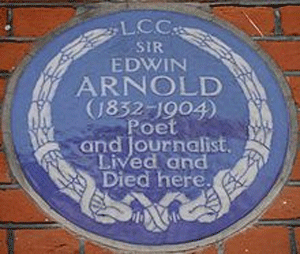 Plaque at 31 Bolton Gardens, Kensington
Awards and legacy
While at university in 1852, Arnold won the Newdigate Prize for his poem "Belshazzar's Feast."
In recognition of Light of Asia, Arnold was decorated by the King of Siam with the Order of the White Elephant. The Turkish Sultan conferred on him the Imperial Order of Osmanli. The Shah of Iran awarded the Order of the Lion and Sun for Sa'di in the Garden and the Emperor of Japan awarded the Order of the Rising Sun.[13]

In 1888 he was created Knight Commander of the Indian Empire by Queen Victoria.

Arnold was an honorary member of the International Buddhist Society. When he revisited Indian and Ceylon, "he was received with much honor and, above all, was ceremoniously presented at Kandy with the yellow robe and begging-bowl of a Buddhist priest."[14]
Explorer H. M. Stanley named a mountain in Africa after Edwin Arnold.
At Oxford University, his ashes and a plaque have been installed in a University College Chapel memorial, and the Sir Edwin Arnold Memorial Scholarship was established to encourage study of Oriental languages and literature.
A blue plaque has been placed at 31 Bolton Gardens, Kensington, where the Arnold family lived for many years.[15]
Other resources
•
The Union Index of Theosophical Periodicals lists over 80 articles by or about Edwin Arnold.
Many are simply quotations of his works.
• Papers of Sir Edwin Arnold (1832-1904) at University College Archives at Oxford University.
• Warner, C.D. Warner, et al. "Sir Edwin Arnold (1832–1904)." The Library of the World's Best Literature. An Anthology in Thirty Volumes. 1917. At bBrtleby.com.</ref>
Notes
1. Ted G. Davy, "Arnold, Edwin," Theosophical Encyclopedia (Quezon City, Philippines: Theosophical Publishing House, 2006), 49. Available at Theosopedia.
2. Emerson Arnold, "Edwin Arnold," World Theosophy v2 (1932), 978.
3. Ted G. Davy, "Arnold, Edwin," Theosophical Encyclopedia (Quezon City, Philippines: Theosophical Publishing House, 2006), 49. Available at Theosopedia. Original source was "An Evening with Sir Edwin Arnold" in A Year Under the Shadows of St. Paul's by E. C. Paget, published in Calgary, Alberta in 1908.
4. Boris de Zirkoff, "Arnold, Sr. Edwin," Collected Writings Volume 12 (Wheaton, Illinois: Theosophical Publishing House, 19xx), 722. Reprinting an Alliance Forum interview reported in The Lamp of December, 1895.
5. Henry S. Olcott, "Sir Edwin Arnold," Supplement to The Theosophist 25.7 (April, 1904), xviii-xix.
6. Boris de Zirkoff, "Arnold, Sr. Edwin," Collected Writings Volume 12 (Wheaton, Illinois: Theosophical Publishing House, 19xx), 717.
7. "'The Light of Asia' as Told in Verse by an Indian Buddhist,"The Theosophist 1.1 (October, 1879), 20-25.
8. Sylvia Cranston, H. P. B.: The Extraordinary Life and Influence of Helena Blavatsky, (New York: Putnam, 1993), 429.
9. Anonymous [A. P. Warrington, editor], "Sir Edwin Arnold's Son," The Messenger 2.12 (May, 1915), 510.
10. Membership Ledger Cards. Microfilm roll 1. Theosophical Society in America Archives.
11. 1940 US Census.
12. Emerson Arnold, "Edwin Arnold," World Theosophy v2 (1932), 978.
13. C.D. Warner et al, "Sir Edwin Arnold (1832–1904)," The Library of the World's Best Literature. An Anthology in Thirty Volumes. 1917. At bBrtleby.com.
14. Emerson Arnold, "Edwin Arnold," World Theosophy v2 (1932), 978.
15. English Heritage web page Accessed August 18, 2012.