James George (diplomat)
by Wikipedia
Accessed: 7/9/19
NOTICE: THIS WORK MAY BE PROTECTED BY COPYRIGHT
YOU ARE REQUIRED TO READ

THE COPYRIGHT NOTICE AT THIS LINK

BEFORE YOU READ THE FOLLOWING WORK, THAT IS AVAILABLE SOLELY FOR PRIVATE STUDY, SCHOLARSHIP OR RESEARCH PURSUANT TO 17 U.S.C. SECTION 107 AND 108. IN THE EVENT THAT THE LIBRARY DETERMINES THAT UNLAWFUL COPYING OF THIS WORK HAS OCCURRED, THE LIBRARY HAS THE RIGHT TO BLOCK THE I.P. ADDRESS AT WHICH THE UNLAWFUL COPYING APPEARED TO HAVE OCCURRED. THANK YOU FOR RESPECTING THE RIGHTS OF COPYRIGHT OWNERS.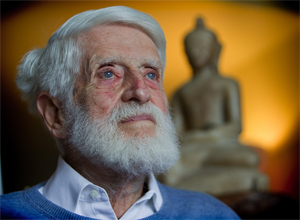 James George, 92-year-old former high commissioner to India and former ambassador to Iran, relaxes in his Toronto apartment. In the 1960s, the Dalai Lama asked Canada to resettle Tibetan refugees. Canada refused. George convinced Trudeau (an old friend of his) to do it. In 1971, 228 Tibetan refugees came - in small groups and at different times - to Quebec, Ontario, Manitoba and Alberta.
After his escape, Rinpoche spent two years in India during which time he was discovered by an English social worker, Freda Bedi, and with her co-founded a school for refugee tulkus, the Young Lama's Home School. While in India, determined to go to the West, he learned English so rapidly that he became useful as a translator for the Tibetan community.

Rinpoche stayed for a few months with James George, who was at that time the Canadian High Commissioner to India and Nepal and who later became the leader of the Gurdjieff movement in Canada. At this time, Rinpoche was awarded a scholarship to study at Oxford University in England, but when he told George that he was going to England, George replied, "Rinpoche, you are too big for England; you are going to America!"

...

During the 1968 visit to Bhutan, on his way through India, Rinpoche had re-visited his old friend James George. George reports that Rinpoche told him that "although he had never been there [Shambhala] he believed in its existence and could see it in his mirror whenever he went into deep meditation." George describes witnessing Rinpoche gazing into a small hand-mirror and describing in detail the Kingdom of Shambhala. As George says, "... There was Trungpa in our study describing what he saw as if he were looking out of the window."

-- Warrior-King of Shambhala: Remembering Chogyam Trungpa, by Jeremy Hayward
James George (born September 14, 1918 in Toronto, Ontario) is a Canadian diplomat, political and environmental activist, author, and "spiritual seeker."[1]
A founder of the Threshold Foundation and president of the Sadat Peace Foundation, he led the Friends of the Earth international mission[2] to Kuwait and the Persian Gulf to assess post-war environmental damage.
[3]
Education
George received a Littauer Fellowship to Harvard University,[4]
and was a 1940 Rhodes Scholar
for Ontario, studying at Upper Canada College, Trinity College, and University of Toronto, and was awarded an Honorary Doctorate of Sacred Letters by Trinity College, University of Toronto, at its May 2008 <personally present> Convocation.
[5] While a student at the University of Toronto, he was a member of the Alpha Delta Phi Fraternity.[6]
The secret society of Cecil Rhodes is mentioned in the first five of his seven wills. In the fifth it was supplemented by the idea of an educational institution with scholarships, whose alumni would be bound together by common ideals — Rhodes's ideals. In the sixth and seventh wills the secret society was not mentioned, and the scholarships monopolized the estate. But Rhodes still had the same ideals and still believed that they could be carried out best by a secret society of men devoted to a common cause. The scholarships were merely a facade to conceal the secret society, or, more accurately, they were to be one of the instruments by which the members of the secret society could carry out his purpose.

This purpose, as expressed in the first will (1877), was:

"The extension of British rule throughout the world, the perfecting of a system of emigration from the United Kingdom and of colonization by British subjects of all lands wherein the means of livelihood are attainable by energy, labour, and enterprise, . . . the ultimate recovery of the United States of America as an integral part of a British Empire, the consolidation of the whole Empire, the inauguration of a system of Colonial Representation in the Imperial Parliament which may tend to weld together the disjointed members of the Empire, and finally the foundation of so great a power as to hereafter render wars impossible and promote the best interests of humanity."

-- The Anglo-American Establishment: From Rhodes to Cliveden, by Carroll Quigley
Career
George served in the Royal Canadian Naval Volunteer Reserve during World War II, attaining to the rank of Lt. Commander, following which
he represented Canada at the United Nations. Between 1955 to 1957 he's deputy director at the Intelligence division
at the External affairs in Ottawa. He's later
deputy representative of the Canadian representation to NATO
between 1957 and 1960 <personally present>. Other Canadians working at the same time at NAtO are Hugh Hambleton.[5] He then served as
High Commissioner of Canada to Sri Lanka
(Ceylon) 1960–64,then in Paris at the Canadian embassy, [7]
High Commissioner to India and Ambassador to Nepal
1967–72,[5] and Ambassador to Iran and the Gulf States 1972–77.[8] Commonwealth Secretary-General Arnold Smith credited George with
helping to contain the conflict between India and Pakistan in 1971, when East Pakistan became Bangladesh.
[4]
Retiring from diplomatic service in 1977, George turned his attention to ecological and spiritual issues full time. While directing Threshold Foundation he helped to found in London (1978–82), he played a leading role in the adoption by the International Whaling Commission of a moratorium on high seas whaling and to ban all whaling in the Indian Ocean and the Antarctic.[4]
In 1984, he co-founded the Anwar Sadat Peace Foundation to promote peace in the Middle East, and the following year was a founder of the Rainforest Action Network.
[5] More recently, he has worked to develop wind power resources in British Columbia, and has been helping to develop new technology to make the desalination of seawater more affordable.[4]
His publisher's bio describes George as "first and foremost a spiritual seeker."[9]
During his years of diplomatic service, he met numerous spiritual thinking and teachers, including Krishnamurti, Thomas Merton, Yogaswami of Sri Lanka, Dr. Javad Nurbakhsh, Dudjom Rinpoche, and Chogyam Trungpa Rinpoche. Across six decades he has been a devoted practitioner of the Gurdjieff Work, and was a close disciple of the late Madame de Salzmann, G.I. Gurdjieff's primary student.[9]
"You see, my boy, what coincidences occur in our Great Universe.

This etherogram refers to your favorites in connection with the 'ape-beings' I just mentioned. It was sent to me from Mars and informs me, among other things, that the three-centered beings of the planet Earth are once more troubled by the 'ape question.'

"I must first tell you that on account of their abnormal being-existence, there was long ago crystallized and there is periodically intensified in the presence of those peculiar three-brained beings arising and existing on the planet Earth a strange factor, producing from time to time a 'crescendo impulse,' under the action of which they wish to find out at any cost whether they have descended from these apes or the apes have descended from them.

"Judging from the etherogram, this time the question is agitating chiefly the biped beings who breed on the continent called 'America. '

"Although this question always troubles them somewhat, every once in a while it becomes for a long time, as they express it, the 'burning question of the day. '...

"In my opinion your favorites could get a correct answer to this question that always agitates them of how the apes arose, if only they really knew how to apply another of the maxims of our dear Mullah Nasr Eddin, who often used to say:

'The cause of every misunderstanding must be sought in woman. '

"If they had made use of this wise maxim to resolve their enigmatic question perhaps they would have finally discovered the origin of these fellow countrymen of theirs.

"As the subject of the genealogy of these apes is indeed exceedingly complicated and unusual, I shall inform your Reason about it from every possible aspect.

"The fact is that neither are your favorites descended from apes nor are apes descended from them, but the cause of the arising of these apes is in this case—as in every other misunderstanding there—their women.

"First of all I must tell you that none of those terrestrial ape-beings now arising there in various exterior forms ever existed before the second 'transapalnian perturbation', it was only after this disaster that the genealogy of their species began.

"The cause of the arising of these 'misconceived' beings —as well as that of all events more or less serious in the objective sense that occur on the surface of that ill-fated planet—stemmed from two sources totally independent of each other.

"The first, as always, was the same lack of foresight on the part of certain Most High, Most Saintly Cosmic Individuals, and the second was, once again, those abnormal conditions of ordinary being-existence established by your favorites themselves.

"The point is that during the second transapalnian perturbation, besides the chief continent of Atlantis many other large and small land masses entered within the planet, and new land masses appeared in their place. These displacements of various parts of the common presence of this unfortunate planet lasted several of their days, accompanied by frequent planetary tremors and manifestations that could not fail to evoke terror in the consciousness and feelings of beings of every kind.

"During that period many of your three-brained favorites who, together with one-brained and two-brained beings of other forms, had chanced to survive unexpectedly found themselves upon other newly formed land masses in places that were entirely unfamiliar to them. It was just then that many of these strange 'keschapmartnian' three-brained beings of active and passive sex or, as they say, 'men' and 'women,' were compelled for a number of their years to exist apart, that is to say, without the opposite sex.

"Before continuing to relate how all this occurred, I must tell you in a little more detail about that sacred substance which is the final result of the evolving transformations of every kind of being-food and is formed in the presence of every being without distinction of 'brain system ' This sacred substance, elaborated in the presence of beings of every kind, is almost everywhere called 'exioëhary,' but your favorites on the planet Earth call it 'sperm. '

"Through the all-gracious foresight and command of our Common Father Creator and according to the actualization of Great Nature, this sacred substance arises in the presence of all beings, without distinction of brain system or exterior coating, in order that by its means they may consciously or automatically fulfill that part of their being-duty which consists in the continuation of their species. But in the presence of three-brained beings it also arises in order that they may consciously transform it for coating their higher being-bodies for their own being.

"Before the second transapalnian perturbation there, which the contemporary three-brained beings refer to as the 'loss of the continent of Atlantis,' in the period when various consequences of the properties of the organ kundabuffer had already begun to be crystallized in their presence, a being-impulse was gradually formed in them which later became predominant.

"This impulse is now called 'pleasure', and in order to satisfy it they were already beginning to exist in a manner unbecoming to three-centered beings, that is to say, most of them gradually began to remove this sacred being-substance from themselves for the satisfaction of this impulse alone.

"Well, my boy, from then on most of the three-brained beings of the planet Earth were not content to carry out the process of the removal of this substance, which is continuously elaborated in them, only at those periods normally established by Great Nature for beings in accordance with their organization, for the purpose of the continuation of their species. Owing to this, and also to the fact that most of them had ceased to utilize this substance consciously for coating their higher being-bodies, it came about that when they did not remove it from themselves in ways that by then had become mechanical, they naturally experienced a sensation called 'sirklinimana,' a state they describe as 'feeling out of sorts,' and which is invariably accompanied by what is called 'mechanical suffering.'

"Remind me at some opportune moment about those periods fixed by Nature for the normal process of the utilization of the exioëhary by beings of different brain-systems for the continuation of their species, and I shall explain this to you in detail.

"Well then, they like ourselves are only 'keschapmartnian' beings, and when this sacred substance, continuously and inevitably formed in them, is utilized normally for the continuation of their species by means of the sacred process 'elmooarno,' its removal from their presences must be accomplished exclusively with the opposite sex. But these three-brained beings who by chance had escaped disaster were no longer in the habit of utilizing this substance for coating their higher being-bodies and, as they were already existing in a manner unbecoming to three-brained beings, when they were obliged to exist for several of their years without beings of the opposite sex, they turned to various antinatural means for the removal from themselves of this sacred substance, exioëhary.

"The beings of the male sex had recourse to the antinatural means called 'moordoorten' and 'androperasty' or, as the contemporary beings would say, 'onanism' and 'pederasty,' and these antinatural means fully satisfied them.

"But for the three-brained beings of the 'passive sex' or, as they call them, 'women,' these antinatural means were not sufficiently satisfying, and so the poor 'women-orphans' of that time, already more cunning and inventive than the men, began to seek out beings of other forms and accustom them to be their 'partners.' Well then, it was after these 'partnerships' that there began to appear in our Great Universe those species of beings which, as our dear Mullah Nasr Eddin would say, are 'neither fish nor fowl.'

"As regards the possibility of this abnormal blending of two different kinds of exioëhary for the conception and formation of a new planetary body of a being, it is necessary to give you the following explanation:

"On the planet Earth, as on other planets of our Universe where 'keschapmartnian' beings breed and exist—that is, three-brained beings in whom the formation of the sacred exioëhary for the creation of a new being must take place exclusively in the presences of two beings of distinct, independent sexes—the fundamental difference between the sacred exioëhary formed in the presences of beings of opposite sexes, that is, in men and women, consists in this, that in the exioëhary formed in the presences of beings of the male sex, the localized 'holy affirming' or 'positive' force of the sacred Triamazikamno participates, while in the exioëhary formed in beings of the female sex there participates the localized 'holy denying' or 'negative' force of the same sacred law.

"Thanks to the all-gracious foresight and command of our Father of everything existing in the Universe, and in accordance with the actualizing power of Great Mother Nature, in certain surrounding conditions and with the participation of the third separately localized holy force of the sacred Triamazikamno, namely, with the 'holy reconciling' force, the blending of the exioëhary formed in two separate beings of distinct, independent sexes during the process of the sacred 'elmooarno' taking place between them brings about the arising of a new being.

"In the case I was speaking of, the abnormal blending of two heterogeneous kinds of exioëhary was possible only by virtue of a certain cosmic law known as the 'affinity of the numbers of the totality of vibrations,' which began to act owing to the second transapalnian perturbation on this ill-fated planet, and which then still continued to act on its common presence.

"Concerning this cosmic law, it is important to tell you that it arose and began to exist in the Universe after the fundamental sacred law of Triamazikamno had been modified by our Creator in order to render the Heropass harmless, and after its holy parts, until then entirely independent, had become dependent upon forces from outside. But, my boy, you will understand this cosmic law in all its aspects only when I shall explain in detail, as I have promised you, all the fundamental laws of world-creation and world-existence.

"Meanwhile, you should know that on normally existing planets anywhere in our Great Universe the exioëhary formed in the presence of a three-brained being having organs of perception and transformation for localizing the 'holy affirming' force of the sacred Triamazikamno, in other words, the exioëhary formed in a three-brained keschapmartnian being of the 'male' sex, can never be blended— owing to that same law—with the exioëhary formed in the presence of a two-brained keschapmartnian being of the opposite sex.

"On the other hand, when a special combination of cosmic forces occurs and this same law of the 'affinity of the numbers of the totality of vibrations' begins to act, the exioëhary formed in a three-brained keschapmartnian being of the 'female' sex can sometimes, in certain surrounding conditions, blend quite well with the exioëhary formed in two-brained keschapmartnian beings of the male sex, but only as the active factor in the actualizing process of the fundamental sacred Triamazikamno.

"In short, during those terrible years on that planet of yours, a phenomenon very rare in the Universe appeared, that is, a blending of the exioëhary of two keschapmartnian beings of different brain systems and of opposite sexes, and the result was the arising of the ancestors of these terrestrial 'misconceived' beings now called 'apes,' who give your favorites no peace, and from time to time so agitate their strange Reason.

"But when this terrible period was over, a relatively normal process of ordinary existence was reestablished on your planet, and your favorites of different sexes again began to find each other and exist together, and thereafter those 'ape-beings' actualized the continuation of their species among themselves.

"And this continuation of their species was possible because the conception for the arising of the first of these abnormal beings had taken place according to the same external conditions that in general determine the presences of future keschapmartnian beings of active or passive sex.

"The most interesting result of this highly abnormal manifestation of the three-brained beings of your planet is that there now exist a great many species of the descendants of these ape-beings, differing in exterior form, and each of these different species bears a striking resemblance to some form of two-brained quadruped being still in existence there.

"This came about because the blending of the exioëhary of the keschapmartnian three-brained beings of the female sex, which brought about the arising of the ancestors of those apes, proceeded with the active exioëhary of the various species of quadruped beings that exist there even until today.

"Indeed, my boy, during my last personal stay on the planet Earth, when I happened in the course of my travels to come across the various species of apes and, in accordance with a habit that has become second nature, I observed them, I ascertained definitely that the whole of their outer functioning and the so-called 'automatic postures' of each 'species' of these contemporary apes are exactly like those in the common presence of certain normally arisen quadruped beings there, and their 'facial features' are even exactly the same as those of particular quadrupeds. As for the 'psychic features' of all the different species of these apes, they are absolutely identical, even down to minute details, with those of the psyche of the three-brained beings of the 'female sex' there. "

At this point in his tales Beelzebub became silent. After a long pause he looked at his favorite Hassein with a smile that clearly expressed a double meaning.

--

Beelzebub's Tales to His Grandson: An Objectively Impartial Criticism of the Life of Man, by G.I. Gurdjieff
In 1968, he wrote a letter of recommendation for Yogi Bhajan on the occasion of his commencing his teaching mission in the West. [10]
66. During the period between June, 1978 and February,1985, the plaintiff was repeatedly struck or touched in a manner which any person of ordinary sensibilities would find to be highly offensive, and which caused the plaintiff pain and physical harm, as well as fear, apprehension and resulting mental and emotional harm. These incidents include, but are not limited to, beatings; involuntary sexual intercourse, sodomy and other sexual attacks; administration of ostensibly medical treatments; administration of bizarre rites; urination upon the plaintiff; and other particulars.

67. At the time of the initial sexual attacks upon the plaintiff by Bhajan, the plaintiff was a virgin, had never had a sexual relationship of any kind with any man, and had intended to remain a virgin until married.

68. From approximately 1980 through at least August 1985, the plaintiff lived under the constant threat, fear and reasonable apprehension of physical injury or death if she left the 3HO organization or failed or refused to obey the directives and commands of Bhajan, or maintained any outside relationships that were not specifically approved by Bhajan.

69. From December 1980 through May, 1985, the plaintiff also lived under the constant threat, fear and reasonable apprehension of physical injury or death if she resisted the sexual assaults of Bhajan.

70. From December 1980 through August, 1985, the plaintiff also lived under the constant fear and reasonable apprehension of physical injury or death if she revealed to any person her experiences while involved with the defendants cult or Bhajan.

71. In carrying out his sexual assaults, Bhajan was at times physically assisted by defendant Amrit Kaur and at times physically assisted by defendant Guru Ke, who would physically restrain the plaintiff.

72. None of the physical touching or other acts described in This Count were done with the voluntary, free or informed consent of the plaintiff, nor were any of the defendants privileged to carry out any of the acts described in This Count.

73. All of the acts of the defendants described in This Count were done willfully, wantonly and with conscious disregard for the rights of the plaintiff. The defendants conduct in this regard was outrageous, and shocking to the sensibilities of ordinary people.

74. As a direct, proximate and foreseeable consequence of the defendants acts as set forth above, the plaintiff has suffered the physical, psychological and economic injury set forth above at paragraphs 62 and 63, above. In addition the plaintiff suffered severe infections of her bladder, kidneys and other internal organs; injury to her rectum and colon; loss of hair; bloody noses; split lips; bruising over her entire body; swollen tongue to the point where she could not take solid food for several days; soreness and misalignment of her jaw; contraction of herpes simplex and lesser venereal diseases; two abortions; permanent scarring of her internal sex organs and her back; and the tearing of a mole from her back.

75. As a result of the aforementioned emotional trauma and psychological injury, the plaintiff has required extensive psychological counseling and treatment, which psychological counseling and treatment is expected to continue on into the future.

76. As a result of the aforementioned physical injuries the plaintiff has required treatment from a variety of medical doctors and specialists, which treatment is continuing to date and is expected to continue on into the future.

77. As a result of the aforementioned physical and psychological injuries, the plaintiff has been limited in the kind of employment she can accept since she left Bhajan's cult, and will continue to be so limited on into the future....

80. From the fall of 1978, and continuing until March 4, 1985, the defendants held the plaintiff in a state of involuntary captivity through a combination of mental coercion, false promises, threats of damnation and unspeakable spiritual torment which defendants knew to be false, and threats of public humiliation, grievous physical injury or death to the plaintiff and her family if she attempted to leave the physical confines of the defendants various compounds where Bhajan directed she live. Any one of the foregoing threats was, by itself, sufficient to constrain the plaintiff.

81. From January, 1981, and continuing until approximately April, 1983, the plaintiff was watched constantly by members of the defendants cult who wou ld report her every move to Bhajan, and telephoned and checked on nightly by Bhajan or another at the direction of Bhajan. This watch was to prevent her from leaving the ashram at Espanola, New Mexico without the permission of Bhajan, or to report her situation to anyone outside the cult.

82. From April, 1983, until the end of October, 1984, the plaintiff was at all times held under armed guard, and was in addition watched constantly by members of the cult, who would report her every move to Bhajan. This guard and close watch were to prevent the plaintiff from leaving the ashram at Espanola, New Mexico without the permission of Bhajan, or to report her situation to anyone outside the cult.

83. At the end of October 1984, and continuing until July 1984, the armed guard placed upon the plaintiff was relaxed somewhat. She was sometimes unaccompanied by armed guards during the day, but was still guarded at night, and still telephoned nightly by Bhajan or someone at the direction of Bhajan. Members of the cult, who would report her every move to Bhajan, also still watched the plaintiff constantly.

84. From July, 1984, until March 4, 1985, the armed guard on the plaintiff was relaxed still further. Armed guards did not accompany her during the day, and the guard on her at night consisted of the two guards stationed outside her home at the Espanola, New Mexico ashram. The plaintiff was still watched constantly by members of the cult, who would report her every move to Bhajan, and was still called nightly by Bhajan or someone at the direction of Bhajan.

85. All of the aforesaid acts were carried out at the direction of Bhajan, using the resources of the defendant corporations and outside agencies controlled by Bhajan, by Amrit Kaur and others, for the purpose of restricting the personal liberty and freedom of locomotion of the plaintiff....

92. During the period in which she was a member of the defendants cult, the plaintiff was systematically subjected to a variety of extreme, outrageous practices by the defendants, which were designed to cause her severe emotional distress. These practices included, but were not limited to:

(a) Subjecting her to the rapes, beatings, involuntary sexual contact and humiliation described in Count II, above.

(b) Subjecting her to the confinement and mental coercion described in Count III, above.

(c) Forcing the plaintiff to adhere to a regimen of yoga exercises, prayer, meditation and long hours of work which left little time for sleep, and which, when coupled with an extremely poor diet and bizarre fasts, had a mentally debilitating effect upon the plaintiff, leaving her confused, demoralized and unable to clearly think or reason.

(d) Harassing the plaintiff by telephoning her nightly and sending a guard to awaken her if she unplugged the telephone.

(e) Causing the plaintiff to be the subject of scorn and ridicule within the group in order to upset her and cause her anguish and humiliation.

(f) Repeatedly telling the plaintiff that she was now "useless" to men other than Bhajan, and that no other man would find her in any way attractive or desirable or wish to marry her.

(g) Telling the plaintiff that Bhajan saw in her "aura" that it was her "destiny" to be sexually attacked and die in an auto accident if she left the "protection" of Bhajan, and that she would wind up as a prostitute, and ultimately an accident victim, if she left (all of which "predictions" Bhajan knew to be groundless when he made them).

(h) Knowingly and intentionally subjecting the plaintiff to the aforementioned thought reform process which, by design, undermined and eventually completely destroyed the plaintiffs self-respect, self-esteem and that concept of self and self-worth known by mental health professionals as "ego". As an integral and necessary part of this process, the plaintiff was constantly harassed, ridiculed, threatened, berated and humiliated publicly and privately any time she attempted to assert her personal rights or independence, and was made to feel wrong, inferior, sacrilegious and spiritually bankrupt for even thinking about deviating from the behaviors prescribed by Bhajan. Any human faults or failings that the plaintiff had were emphasized and exaggerated, and the plaintiff was constantly under pressure to "confess" her inadequacies and "surrender" herself to Bhajan through the group....

103. The use of extortion and threats of physical violence to affect commerce is a standard practice of Bhajan, and is accepted without protest among Bhajans followers, including the other individual defendants named in this case. Specific examples of the use of extortion and threats of physical violence by Bhajan in order to affect commerce, assisted by the other defendants, include:

(a) In November, 1979, in Berkeley, California Bhajan threatened a follower with death if he did not move from the San Francisco area to Los Angeles and work as a messenger and assistant to the "Secretariat" (body of secretaries) of the Sikh Dharma Brotherhood corporation.

(b) In the winter of 1979, in Los Angeles, California, S. Premka Kaur Khalsa, then a secretary and assistant to Bhajan, later to become the "Secretary General" of Bhajans organization, was threatened with death by Bhajan if she ever left his service (hence, the service of the 3HO Foundation, the Sikh Dharma Brotherhood corporation, and the Sin Singh Sahib corporation).

(c) In May, 1985, in Los Angeles, California, Steven Epstein of San Antonio, Texas, was a follower of Bhajan, and was contributing large amounts of money to businesses controlled by Bhajan (including real estate ventures and Khalsa Sunshine, Inc.), and was receiving neither promised remuneration nor proper legal documentation in connection with the transactions. Epsteins wife, Carol, was demanding proper performance by Bhajan and the companies into which Steve Epstein was putting his money and time, and was threatening to divorce Steve Epstein if the matters were not straightened out. Bhajan responded by threatening Steven Epstein with death if he ever "quit working for" Bhajan, and threatening Mr. Epstein's wife that Bhajan, through his organization, would retaliate against Mrs. Epstein if she attempted to divorce her husband. The retaliation against Mrs. Epstein would take the form of harassing lawsuits so that Mrs. Epstein "would never have any peace," the hiring of psychologists to testify that she was an unfit mother for her children and a suit for custody over her children, and Mrs. Epstein being "thrown out into the street with nothing."

(d) In Tucson, Arizona in 1984 Mr. Brook Webb and three others involved in a landscaping company controlled by Bhajan were dissatisfied with the manner in which the local head of the 3HO ashram was running the business. Mr. Webb and the others threatened to quit and leave the company, taking a number of customers with them. Bhajan flew to Tucson and confronted Webb, threatening, inter alia, to kill Webb if he left the company.

-- Katherine Felt, Plaintiff, vs. Yogi Bhajan, by Gordon Reiselt, Esq., Singer, Smith and Williams and Peter N. Georgiades, Esq. & Robert S. Whitehill, Esq., Rothman, Gordon, Foreman and Groudine, P.A.
Personal life
George has been twice married, first to Caroline Parfitt, 1942–96, with whom he had three children: Daniel, Graham (who died in 2003) and Caroline Randolph (Dolphi).[4] He married Barbara Brady Wright in San Francisco on 1 January 2005, at the age of 86.[3]
In September 2007, CBC aired a short documentary about him titled "In the Spirit of Diplomacy," by independent film-maker Marco Mascarin. This piece used elements of a 1975 documentary by Paul Saltzman entitled "
Saint Demetrius Rides a Red Horse: James George Leaves India."
[5]
Publications
• George, James (1975). Achaemenid Orientations.
• George, James; Blackwelder, Brent (10 July 1991). "Oil Fires: A Middleast Chernobyl?". Toronto Star. p. A21.
• George, James (1 September 2002). ASKING FOR THE EARTH: Waking Up to the Spiritual/Ecological Crisis. Barrytown, NY: Station Hill Press. ISBN 978-1581770902.
• — (22 August 2009). The Little Green Book on Awakening. Barrytown, NY: Station Hill Press. ISBN 978-1-58177-112-1.
• — (2016). Last Call : Awaken to Consciousness (Paperback).
References
1. Fordham, Walter (October 2003). "Interview with James George: June 27th, 2003". Chronicles of Chögyam Trungpa Rinpoche. Retrieved 1 April 2015.
2. Cushman, Jr., John H. (25 June 1991). "Environmental Toll Mounting in Kuwait As Oil Fires Burn On". New York Times. Retrieved 1 April 2015.
3. Whittaker, Richard (24 December 2004). "Interview: James George: If Not Now, When? SF, CA 12/24/04". works & conversations. ServiceSpace. Retrieved 1 April2015.
4. "Abstracts 2009: On the writings of G.I. Gurdjieff". All & Everything International Humanities Conference. 2009. Retrieved 2 April 2015.
5. Fordham, Walter (2011). "Chronology: A partial timeline of James George's accomplishments and continuing activities". Chronicles of Chögyam Trungpa Rinpoche. Retrieved 1 April 2015.
6. Torontonensis. Toronto: University of Toronto Students' Administrative Council. 1939. p. 418.
7. "Heads of Post List : SRI LANKA". Foreign Affairs, Trade and Development Canada. Government of Canada. 3 October 2011. Archived from the original on 6 November 2014. Retrieved 1 April 2015.
8. "George, James (Career)". Foreign Affairs, Trade and Development Canada. Government of Canada. 3 October 2011. Archived from the original on 6 November 2014. Retrieved 1 April 2015.
9. "James George". Barrytown/Station Hill Press. 2008. Archived from the original on 6 October 2010. Retrieved 2 April 2015.
10.
https://www.3ho.org/yogi-bhajan/about-y ... -biography
External links
• THE SPIRITUAL DIPLOMAT short documentary profile of James George at age 94