Part 1 of 2
Chögyam Trungpa
by Wikipedia
Accessed: 6/30/19
NOTICE: THIS WORK MAY BE PROTECTED BY COPYRIGHT
YOU ARE REQUIRED TO READ

THE COPYRIGHT NOTICE AT THIS LINK

BEFORE YOU READ THE FOLLOWING WORK, THAT IS AVAILABLE SOLELY FOR PRIVATE STUDY, SCHOLARSHIP OR RESEARCH PURSUANT TO 17 U.S.C. SECTION 107 AND 108. IN THE EVENT THAT THE LIBRARY DETERMINES THAT UNLAWFUL COPYING OF THIS WORK HAS OCCURRED, THE LIBRARY HAS THE RIGHT TO BLOCK THE I.P. ADDRESS AT WHICH THE UNLAWFUL COPYING APPEARED TO HAVE OCCURRED. THANK YOU FOR RESPECTING THE RIGHTS OF COPYRIGHT OWNERS.
They kept pouring in, their numbers rising from thirty thousand [30,000] to seventy thousand [70,000].....

At one point during this stage of her life she had an inexplicable insight. Freda "saw" that Tibetan Buddhism would not only travel to the West but would take root there. And the ones who would bring it about would be the tulkus, Tibet's recognized reincarnated high lamas and spiritual masters, who held the essence of the teachings.....

In the early 1960s, Buddhism was still virtually unknown in the West, outside of a very small handful of scholars ... In the eyes of the intellectual Buddhist scholars, Tibetan Buddhism was regarded as degenerate -- shrouded in the magic and mystery fostered by those shamans of the Bon religion that existed in Tibet before Buddhism took root. There was too much ritual, too much Tantra, too much mumbo jumbo....

There was also the matter of reincarnation itself, which in the predominantly Christian West was still regarded as heretical. People had been burned at the stake and been killed en masse (such as the Cathars) for believing such anathema. In the 1960s and 1970s reincarnation was still a taboo subject. The Tibetans, however, not only completely accepted reincarnation as a given fact of life, they went farther than any other Buddhist country by devising a system to find specific rebirths of accomplished spiritual masters who had forsaken higher states of consciousness after death in order to be reborn in an earthly body solely to continue to teach others how to reach the same exalted state they had achieved. The voluntary return to this vale of tears was seen as the highest mark of altruism, brave and noble beyond measure. These were the tulkus, titled rinpoches, or "Precious Ones." They were the cream of Tibetan society, revered, feted, and sometimes unwittingly used as pawns in others' games of corruption. These were the people Freda was now planning to bring to the West to plant the seeds of the Buddha's teachings into American, European, and Australian soil for the first time.

Finding the right candidates, however, posed an enormous problem. The entire community of Tibetan refugees was in total disarray, with lamas, yogis, householders, carpenters, tailors, and others, mingling together in a homogenized, indistinguishable mass formerly unheard of in the conservative, strictly hierarchical society of old Tibet, where Tulkus were kept apart from the hoi polloi for fear of contamination ....

Undeterred by, or unaware of, these seeming obstacles Freda forged ahead with her dream. She had seen for herself what she thought were exceptional, special qualities in the handful of tulkus she had come across amid the mayhem of the camps. To her eyes they exuded an unmistakable refinement, wisdom, maturity, and dignity way beyond their years, which she was convinced would be as attractive to Westerners as it was to her....

Trungpa was installed as the principal of the Young Lamas Home School, and Akong was its manager. When all was complete, Freda had an audience with Nehru to thank him profusely for his help. Nehru smiled and said in a low, quiet voice, "It was not for you I did it." Nevertheless Freda had single-handedly planned and brought into being the Young Lamas Home School. She had succeeded in her pioneering task to bring the tulkus into the twentieth century, and she was on her way to realizing the next stage of her vision -- to bring them to the West.....

The tulkus were learning English and their lessons on the modern world with varying degrees of success. Freda's star student, Trungpa Rinpoche, however, was making exceptional progress, and Freda's aspirations for him became increasingly ambitious. He had a natural aptitude for English and had taken to reading the poets that Freda presented him with, especially T.S. Eliot. He was keen on history and geography too. Freda decided that he was ready to try to get into Oxford, her own university, where he would receive the finest education the West had to offer. With such credentials he would be perfectly equipped and have the clout to bring the sacred Buddhist teachings to the outside world in a language it could understand.

With the help of John Driver, an Englishman who was also tutoring Trungpa, Freda set about getting a Spalding Scholarship for Trungpa, and succeeded. In early 1963 Trungpa set sail for England accompanied by Akong Rinpoche, to enter into the arcane, privileged, and hallowed halls of Oxford University. It was another epic journey into the unknown, heralding as many adventures, pitfalls, and triumphs as they had met in their escape from Tibet.

-- The Revolutionary Life of Freda Bedi, by Vicki Mackenzie
On January 17, 1960, they crossed the border into India.

Rinpoche spent nearly four years in India, where he encountered a world vastly different from Tibet. He had grown up in an essentially medieval culture, and a very unusual one at that. It was one of the very few places on earth, at least in the twentieth century, where spirituality was uppermost in the minds and hearts of almost the entire population. Tibet was certainly not an idyllic society. Rinpoche often said that there was it great deal of corruption in Tibet, and that this was a contributing factor in its occupation by the communist Chinese. At the same time, he loved the land and the people, and he was completely immersed in a Buddhist world there.

In Tibet, he had been a very special and privileged person. In India, the Tibetans were refugees and were not generally treated very well, although kindness was extended to them by the Indian government and many individuals living in India. However, Rinpoche was no longer a person of high status, as he had been. He told me that, not long after arriving in India, he was invited to an English garden party. The hostess was passing around a tray of cucumber sandwiches, which she offered first to Rinpoche. He took the whole tray, thinking that she had made a nice lunch for him. Later, he was quite embarrassed by this.

Many of the Tibetan refugees ended up in camps. He stayed in the camps for a short time, but then he was able to relocate to Kalimpong, which was close to the seat that His Holiness the Karmapa established in Sikkim after escaping from Tibet. While he was in Kalimpong, Rinpoche studied thangka painting, and he produced beautiful paintings of Padmasambhava and his consort Yeshe Tsogyal, as well as other subjects. Later, he was able to bring these paintings with him to the West, and one of them hangs in my house today. He became friends with Tendzin Rongae, a wonderful thangka painter who had also recently arrived from Tibet and helped Rinpoche with his painting. Rinpoche became close to the entire Rongae family. While in Kalimpong, he learned that Dilgo Khyentse Rinpoche had also recently entered India and was living a few miles away, about an hour away by foot. Rinpoche used to walk over to see Khyentse Rinpoche and to receive teachings from him. Dilgo Khyentse was over six feet tall, very unusual for a Tibetan, and he had enormous warmth and presence. During this time, Rinpoche became friends with Khyentse Rinpoche's nephew Ato Rinpoche.

India is a significant place for Tibetans because it was the home of the Buddha and of many of the great teachers whose works are studied in Tibet. One could say that India is for Tibetans what the Middle East is for Jews, Muslims, and Christians. There are many Buddhist pilgrimage sites in India. Rinpoche was able to visit Bodhgaya, where the Buddha attained enlightenment, and other important sites.

In India, Rinpoche was also exposed to many non-Buddhist cultures for the first time. He came to love Indian food and to appreciate many things about the Indian culture. He encountered people from all over the world there. In particular, he met several English Buddhists who were extremely kind and helpful to him. Freda Bedi was one of these. She was an Englishwoman who had married an Indian, Baba Bedi. She worked for the Central Social Welfare Board of the Indian government helping Tibetan refugees, and she was so affected by her involvement with the Tibetans that she became a Buddhist herself. After her husband's death, she was one of the first Westerners to become a Tibetan Buddhist nun.

Rinpoche met her at the refugee camp in Bir, and she formed an immediate bond with him. From the earliest contacts he had with Westerners, he shone out like a light or a beacon to them. Lama Govinda, a Westerner and an early writer about Tibetan Buddhism, reported this quality. Lama Govinda met Rinpoche in northern India, just after Rinpoche's escape from Tibet. Many Tibetan refugees stayed at Lama Govinda's house in the Himalayas on their way south, and he said that Trungpa Rinpoche was the brightest of them all.

Freda Bedi helped Rinpoche resettle in Kalimpong, and later she asked him to help her establish a school to train young Tibetan monks, the Young Lamas Home School, in New Delhi, which moved to Dalhousie after about a year. He was delighted to do this, and with the blessings of His Holiness the Dalai Lama, Rinpoche became the spiritual advisor to the young monks at the school.

This was the first time that Rinpoche had ever lived in a secular society, and although at first he found it quite strange, he soon took to it. He went to meetings of a British women's club so that he could hear the poetry of

T.S. Eliot

read, and he used to go to the cinema in New Delhi. On his way out of Tibet, close to the border with India, he was exposed to alcoholic beverages for the first time. In one of the villages where they stopped, you couldn't drink the water, and everyone drank a kind of Tibetan beer. He had been hesitant to imbibe any alcohol since it was a violation of his monastic vows, but once he gave in, he enjoyed the experience, an din India he started to drink occasionally, though not openly. Tendzin Rongae and Rinpoche liked to get together and drink from time to time.

On the way out of Tibet, Rinpoche had fallen in love with a young Tibetan nun, Konchok Paldron, who was part of the escape party. He became clandestinely involved with her while he was in India. She was living in the refugee camp in Bir. She visited him at the Young Lamas Home School, and they took a mattress up on the roof of the building, where they spent the night together. She became pregnant and gave birth to Rinpoche's eldest son, Osel Rangdrol Mukpo, a short time before Rinpoche left for England. When she was pregnant, she made a pilgrimage to Bodhgaya, and their son was born there. She could no longer be a nun, so after Osel was born, she worked as a road laborer to support herself for some time. Later, she married and had another child.

Around this time, Rinpoche received a

Spaulding [Spalding] Scholarship

to attend Oxford University. This had come through the intercession of

Freda Bedi

and

John Driver

, an Englishman who tutored Rinpoche in the English language in India and helped him with his studies later at Oxford.

The Tibet Society

in the United Kingdom had also helped him to get the scholarship.

To go to England, Rinpoche needed the permission of the Dalai Lama's government. They would never have have allowed him to leave if they had known about his sexual indiscretion, nor do I think it would have gone over very well with the Tibet Society or his English friends in New Delhi. He and Konchok Paldron kept their relationship a secret

, and it was a long time before anyone knew that Rinpoche was the father of her child. This caused him a great deal of pain, although I also think that he hadn't yet entirely faced up to the implications of the direction he was going in his relationships with women. At that time, in spite of the inconsistencies in his behavior, he still seemed to think that he could make life work for himself as a monk. Rinpoche continued to stay in touch with Konchok Paldron and his son Osel, and a few years later, he returned to see them and to make arrangements for his son to come to England.

Rinpoche sailed from Bombay for England early in 1963, on the P&O Line, accompanied by his close friend Akong, who was to be a helper and companion to him at Oxford. Rinpoche had been working very hard on his English, but when he left India, he was still struggling with the language, speaking what would be called a form of pidgin English.

When Rinpoche and Akong docked in England, they were welcomed by members of the Tibet Society, and before his studies started at Oxford in the fall, Rinpoche spent time in London, where he met many of the most prominent members of the English Buddhist community. He was invited to give several talks at the Buddhist Society, and he attended a kind of summer camp they sponsored each year, where he gave a number of lectures.

Remembering High Leigh SUMMER SCHOOLS

The Buddhist Lodge

(now The Buddhist Society, London) ...

-- The 90th Anniversary of The Buddhist Society 1924–2014, by The Buddhist Society

... When he went up to Oxford, he had quite a challenge trying to bring his English up to speed so that he could understand the lectures and the books he was given to read. Rinpoche wanted to learn as much as he could about English history, philosophy, religion, and politics, but it was pretty tough going for him at the beginning. John Driver, who he had met in India and who had been instrumental in bringing him to England, returned to England and helped Rinpoche a great deal with his lessons, and Rinpoche never forgot this kindness. In the evenings, Rinpoche attended classes in the town of Oxford to improve his English. Years later, he still remembered how his teacher had made the class say words over and over, to improve their elocution, such as "policeman, policeman, policeman." Rinpoche proved himself a brilliant student of the English language. By the time he left England for America, his English vocabulary exceeded that of many of his students.

At Oxford Rinpoche was befriended by the Jesuits, who thought that

his tremendous enthusiasm for learning about the Christian religion made him a good candidate for conversion

. Of course, nothing could be further from the truth, but Rinpoche enjoyed their company and felt that here at least he had found Westerners who had some understanding of a wisdom tradition, even though it was not his own.

-- Dragon Thunder: My Life with Chogyam Trungpa, by Diana J. Mukpo, Carolyn Rose Gimian
Alongside this new emergency, Freda continued to pursue another hugely ambitious project. 'My two lama "sons" are coming to England in March ... wonderful young lamas,' Freda told Olive Chandler -- an indication of the strong emotional as well as spiritual bonds forged with these tulkus.24

Along with John [E. Stapleton] Driver, a scholar of Tibet who had spent several years in Kalimpong, she managed to secure a Spalding scholarship to allow Trungpa to study at Oxford University. Akong was to accompany him.

They were, in Cherry Armstrong's words, Freda's 'golden boys'.

She recognised in Trungpa, in particular, an exceptional spiritual presence and an ability to communicate and to inspire those with whom he came into contact. Both had formal roles at the school -- Trungpa as codirector (he described himself as the school's spiritual advisor) while Akong made sure that the place ran with tolerable efficiency. Anita Morris, who taught English both at Green Park and at Dalhousie, had mixed opinions of the two. 'Akong was very much taking care of the younger ones -- a lot of them were a lot younger. So if they had any pains or any problems, they would go to Akong,' she recalls. 'He'd be going down maybe to a doctor at Dalhousie if necessary or just for ordinary shopping and taking care of things. Whereas Trungpa just did his own thing, his bits of painting and that sort of stuff.'25 A Tibetan lama who knew both well at Dalhousie comments that Trungpa always wanted attention and prominence, while Akong was solid and reliable. Trungpa was already developing a reputation as something of a wild child. Although it was a well-kept secret, he apparently fathered a child with a Tibetan nun who came to Dalhousie to visit him. They took a mattress up on the roof of the school -- said Trungpa's English wife in her memoirs -- and spent the night there. That was not at all typical of the school, but not entirely untypical ofTrungpa.26 He was an enormously important figure in the spread of Tibetan Buddhism in North America and Europe and one of the first to teach westerners in English, but he had lifelong issues about sexual promiscuity and the use of drink and drugs.

At Ladakh Buddhist Vihar, Cherry remembers Trungpa and Akong sitting in their room studying maps of the London Underground and out-of-date bus timetables in preparation for their journey. They travelled by boat. On the day they were due to dock outside London, the pupils at the Home School -- by now back in Dalhousie -- held a prayer ceremony on an open patch of woodland on the hillside adjoining Kailash. 'They lit a fire of juniper branches and the smoke rose in a blue spire into the branches of the trees and on up into the cloudless sky. We sat on brightly patterned Tibetan rugs spread over the stony ant-infested ground and the lamas began their chanting. It was a happy, picnic-like affair around the scented bonfire, with kettles of hot buttery Tibetan tea.'27

At Tilbury, Cherry's parents were on hand to welcome the two Tibetans -- as were Anita Morris and other well-wishers -- and to provide them with an initial berth at the family home in High Wycombe. Once installed at Oxford, Trungpa and Akong were joined by an old friend and another alumnus of the Home School, Chime Rinpoche. They shared a small flat in St Margaret's Road, on the same street as Freda's old college, and Akong took work as a hospital orderly to help support the household. All three became powerful beacons of Tibetan Buddhism in the west.

-- The Lives of Freda: The Political, Spiritual and Personal Journeys of Freda Bedi, by Andrew Whitehead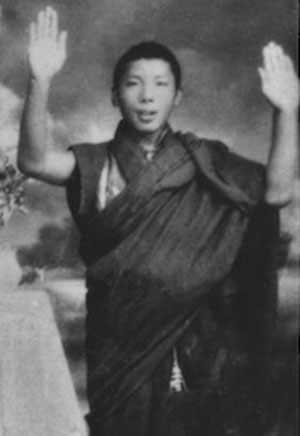 Chögyam Trungpa before 1959
Title Tulku
Personal
Born March 5, 1939
Nangchen, Kham region, Tibet
Died April 4, 1987 (aged 48)
Halifax, Nova Scotia
Cause of death Myocardial infarction and Liver cirrhosis[1]
Religion Buddhism
Nationality Tibetan
Spouse Lady Diana Mukpo
Children Sakyong Mipham Rinpoche, Tagtrug (Taggie) Mukpo, Gesar Mukpo
School Vajrayana
Lineage Kagyu and Nyingma
Senior posting
Teacher Jamgon Kongtrul of Sechen
Dilgo Khyentse Rinpoche
Khenpo Gangshar
Predecessor Chökyi Nyinche
Successor Choseng Trungpa
Reincarnation Trungpa Tulku
Website
http://www.shambhala.org/
Chögyam Trungpa (Wylie: Chos rgyam Drung pa; March 5, 1939 – April 4, 1987) was a Buddhist meditation master and holder of both the Kagyu and Nyingma lineages, the eleventh Trungpa tülku, a tertön, supreme abbot of the Surmang monasteries, scholar, teacher, poet, artist, and originator of a radical re-presentation of Shambhala vision.
Recognized both by Tibetan Buddhists and by other spiritual practitioners and scholars[2][3] as a preeminent teacher of Tibetan Buddhism, he was a major figure in the dissemination of Buddhism to the West,[4] founding Vajradhatu and Naropa University and establishing the Shambhala Training method.
Among his contributions are the translation of numerous Tibetan texts,[5] the introduction of the Vajrayana teachings to the West, and a presentation of the Buddhadharma largely devoid of ethnic trappings. Trungpa coined the term crazy wisdom.[6] Some of his teaching methods and actions were the topic of controversy during his lifetime and afterwards.
Biography

Early years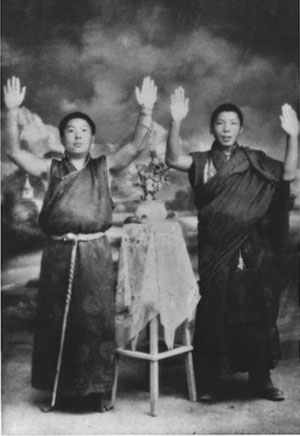 Khenpo Gangshar (left) and Chögyam Trungpa
Born in the Nangchen region of Tibet in March 1939, Chögyam Trungpa was eleventh in the line of Trungpa tülkus, important figures in the Kagyu lineage, one of the four main schools of Tibetan Buddhism. Among his three main teachers were Jamgon Kongtrul of Sechen, HH Dilgo Khyentse Rinpoche, and Khenpo Gangshar.
The name Chögyam is a contraction of Chökyi Gyamtso (Tibetan: ཆོས་ཀྱི་རྒྱ་མཚོ་, Wylie: Chos-kyi Rgya-mtsho), which means "ocean of dharma". Trungpa (Tibetan: དྲུང་པ་, Wylie: Drung-pa) means "attendant". He was deeply trained in the Kagyu tradition and received his khenpo degree at the same time as Thrangu Rinpoche; they continued to be very close in later years. Chögyam Trungpa was also trained in the Nyingma tradition, the oldest of the four schools, and was an adherent of the ri-mé ("nonsectarian") ecumenical movement within Tibetan Buddhism, which aspired to bring together and make available all the valuable teachings of the different schools, free of sectarian rivalry.
At the time of his escape from Tibet,[7] Trungpa was head of the Surmang group of monasteries.
Escape from Tibet
On April 23, 1959, twenty-year-old Trungpa set out on an epic nine-month escape from his homeland.[8][9] Masked in his account in Born in Tibet to protect those left behind,[10] the first, preparatory stage of his escape had begun a year earlier, when he fled his home monastery after its occupation by the Chinese People's Liberation Army (PLA).[11] After spending the winter in hiding, he decided definitively to escape after learning that his monastery had been destroyed.[12] Trungpa started with Akong Rinpoche and a small party of monastics, but as they traveled people asked to join until the party eventually numbered 300 refugees, from the elderly to mothers with babies – additions which greatly slowed and complicated the journey. Forced to abandon their animals, over half the journey was on foot as the refugees journeyed through an untracked mountain wilderness to avoid the PLA. Sometimes lost, sometimes traveling at night, after three months' trek they reached the Brahmaputra River. Trungpa, the monastics and about 70 refugees managed to cross the river under heavy gunfire,[13] then, eating their leather belts and bags to survive, they climbed 19,000 feet over the Himalayas before reaching the safety of Pema Ko.[14] After reaching India, on January 24, 1960 the party was flown to a refugee camp.[15][16]
Between 2006 and 2010, independent Canadian and French researchers using satellite imagery tracked and confirmed Trungpa's escape route.[17] In 2012, five survivors of the escape in Nepal, Scotland and the U.S. confirmed details of the journey and supplied their personal accounts.[18] More recent analysis has shown the journey to be directly comparable to such sagas as Shackleton's 1914/17 Antarctic Expedition.[19] In 2016 accumulated research and survivors' stories were published in a full retelling of the story,[20] and later in the year preliminary talks began on the funding and production of a movie.
Early teachings in the West
In exile in India, Trungpa began his study of English. In collaboration with Freda Bedi, who had initiated the project,[21] Trungpa and Akong Tulku founded the Young Lamas Home School and, after seeking endorsement from the Dalai Lama, were appointed its spiritual head and administrator respectively.[22]
In 1963, with the assistance of sympathetic Westerners, Trungpa received a Spalding sponsorship to study comparative religion at St Antony's College, Oxford University.[23][24] In 1967, upon the departure of the western Theravadan monk Anandabodhi, Trungpa and Akong Rinpoche were invited by the Johnstone House Trust in Scotland to take over a meditation center, which then became Samye Ling, the first Tibetan Buddhist monastery in the West (future actor and musician David Bowie[25] was one of Trungpa's meditation pupils there). In 1970, after a break with Akong, Trungpa moved to the United States at the invitation of several students.
Shortly after his move to Scotland, a variety of experiences, including a car accident that left him partially paralyzed on the left side of his body, led Trungpa to give up his monastic vows and work as a lay teacher.[26] He made that decision principally to mitigate students' becoming distracted by exotic cultures and dress and to undercut their preconceptions of how a guru should behave.[26] He drank, smoked, slept with students, and often kept students waiting for hours before giving teachings. Much of his behavior has been construed as deliberately provocative and sparked controversy. In one account, he encouraged students to give up smoking marijuana, claiming that the smoking was not of benefit to their spiritual progress and that it exaggerated neurosis. Students were often angered, unnerved and intimidated by him, but many remained fiercely loyal, committed, and devoted.
Upon moving to the United States in 1970, Trungpa traveled around North America, gaining renown for his ability to present the essence of the highest Buddhist teachings in a form readily understandable to Western students. During this period, he conducted 13 Vajradhatu Seminaries, three-month residential programs at which he presented a vast body of Buddhist teachings in an atmosphere of intensive meditation practice. The seminaries also had the important function of training his students to become teachers themselves.[27]
Introduction of the Vajrayana
Trungpa was one of the first teachers to introduce the esoteric practice of the Vajrayana to the West. According to Khenpo Tsultrim Gyamtso, "The one who mainly spread the Vajrayana in the West was Trungpa Rinpoche."[28] In contrast to its traditional presentation in Tibet, where the esoteric practices are largely the domain of the monastic sangha, in the US Trungpa introduced the Vajrayana to the lay sangha.[29]
The presentation of these teachings gave rise to some criticism. According to Trungpa's former student Stephen Butterfield, "Trungpa told us that if we ever tried to leave the Vajrayana, we would suffer unbearable, subtle, continuous anguish, and disasters would pursue us like furies".[30] Other Vajrayana teachers also warn their students about the dangers of the esoteric path.
Butterfield noted "disquieting resemblances" to cults, and "to be part of Trungpa's inner circle, you had to take a vow never to reveal or even discuss some of the things he did." But Butterfield also notes that "This personal secrecy is common with gurus, especially in Vajrayana Buddhism,"[31] and acknowledges that Trungpa's organization is anything but a cult: "a mere cult leaves you disgusted and disillusioned, wondering how you could have been a fool. I did not feel that charlatans had hoodwinked me into giving up my powers to enhance theirs. On the contrary, mine were unveiled."[32]
Meditation and education centers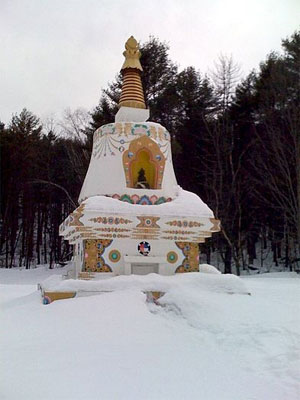 The purkhang at Karmê Chöling
In 1973, Trungpa established Vajradhatu, encompassing all his North American institutions, headquartered in Boulder, Colorado. Trungpa also founded more than 100 meditation centers throughout the world. Originally known as Dharmadhatus, these centers, now more than 150 in number, are known as Shambhala Meditation Centers. He also founded retreat centers for intensive meditation practice, including Shambhala Mountain Center in Red Feather Lakes, Colorado, Karmê Chöling in Barnet, Vermont and Gampo Abbey in Cape Breton, Nova Scotia.
In 1974, Trungpa founded the Naropa Institute, which later became Naropa University, in Boulder, Colorado. Naropa was the first accredited Buddhist university in North America. Trungpa hired Allen Ginsberg to teach poetry and William Burroughs to teach literature.
Trungpa had a number of notable students, among whom were Pema Chödrön, Allen Ginsberg, Peter Orlovsky, Anne Waldman, Diane di Prima, Peter Lieberson, John Steinbeck IV, José Argüelles, David Nichtern, Ken Wilber, David Deida, Francisco Varela, and Joni Mitchell, who portrayed Trungpa in the song "Refuge of the Roads" on her 1976 album Hejira.[33] Ginsberg, Waldman, and di Prima also taught at Naropa University, and in the 1980s Marianne Faithfull taught songwriting workshops. Lesser-known students Trungpa taught in England and the US include Alf Vial, Rigdzin Shikpo (né Michael Hookham), Jigme Rinzen (né P. Howard Useche), Ezequiel Hernandez Urdaneta (known as Keun-Tshen Goba after setting up his first meditation center in Venezuela), Miguel Otaola (aka Dorje Khandro), Francisco Salas Roche, and Francesca Fremantle. Rigdzin Shikpo promulgated Trungpa's teachings from a primarily Nyingma rather than Kagyü point of view at the Longchen Foundation.[34][35]
Shambhala vision
In 1976, Trungpa began giving a series of secular teachings, some of which were gathered and presented as the Shambhala Training,[36][37] inspired by his vision (see terma) of the legendary Kingdom of Shambhala. Trungpa had actually started writing about Shambhala before his 1959 escape from Tibet to India, but most of those writings were lost during the escape.[38]
In his view not only was individual enlightenment not mythical, but the Shambhala Kingdom, an enlightened society, could in fact be actualized. The practice of Shambhala vision is to use mindfulness/awareness meditation as a way to connect with one's basic goodness and confidence. It is presented as a path that "brings dignity, confidence, and wisdom to every facet of life." Trungpa proposed to lead the Kingdom as sakyong (Tib. earth protector) with his wife as queen-consort or sakyong wangmo.
Shambhala vision is described as a nonreligious approach rooted in meditation and accessible to individuals of any, or no, religion. In Shambhala terms, it is possible, moment by moment, for individuals to establish enlightened society. His book, Shambhala: The Sacred Path of the Warrior, provides a concise collection of the Shambhala views. According to Trungpa, it was his intention to propagate the kingdom of Shambala that provided the necessary inspiration to leave his homeland and make the arduous journey to India and the West.[39]
Work with arts and sciences
From the beginning of his time in the US, Trungpa encouraged his students to integrate a contemplative approach into their everyday activities. In addition to making a variety of traditional contemplative practices available to the community, he incorporated his students' already existing interests (especially anything relating to Japanese culture), evolving specialized teachings on a meditative approach to these various disciplines. These included kyūdō (Japanese archery), calligraphy, ikebana (flower arranging), Sadō (Japanese tea ceremony), dance, theater, film, poetry, health care, and psychotherapy. His aim was, in his own words, to bring "art to everyday life." He founded the Nalanda Foundation in 1974 as an umbrella organization for these activities.[citation needed]
Death
Trungpa visited Nova Scotia for the first time in 1977. In 1983 he established Gampo Abbey, a Karma Kagyü monastery in Cape Breton. The following year, 1984–85, he observed a yearlong retreat at Mill Village and in 1986 he moved his home and Vajradhatu's international headquarters to Halifax.
By then he was in failing health due to the auto accident in his youth and years of heavy alcohol use. On September 28, 1986, he suffered cardiac arrest,[40] after which his condition deteriorated, requiring intensive care at the hospital, then at his home and finally, in mid-March 1987, back at the hospital, where he died on April 4, 1987.
In 2006 his wife, Diana Mukpo, wrote, "Although he had many of the classic health problems that develop from heavy drinking, it was in fact more likely the diabetes and high blood pressure that led to abnormal blood sugar levels and then the cardiac arrest".[41] But in a November 2008 interview, when asked "What was he ill with? What did he die of?," Trungpa's doctor, Mitchell Levy, replied, "He had chronic liver disease related to his alcohol intake over many years."[42] One of Trungpa's nursing attendants reported that he suffered in his last months from classic symptoms of terminal alcoholism and cirrhosis,[43] yet continued drinking heavily. She added, "At the same time there was a power about him and an equanimity to his presence that was phenomenal, that I don't know how to explain."[44]
Trungpa is reported to have remained in a state of samādhi for five days after his death, his body not immediately decaying and his heart remaining warm.[45] His body was packed in salt, laid in a wooden box, and conveyed to Karmê Chöling. A number of observers have reported that his cremation there on May 26, 1987, was accompanied by various atmospheric effects and other signs traditionally viewed as marks of enlightenment. These included the appearance of rainbows, circling eagles,[46][47] and a cloud in the shape of an Ashe.[48][49]
Continuation of the Shambhala lineage
Upon Trungpa's death, the leadership of Vajradhatu was first carried on by his American disciple, appointed regent and Dharma heir, Ösel Tendzin (Thomas Rich), and then by Trungpa's eldest son and Shambhala heir, Sakyong Mipham Rinpoche.
The next Trungpa tülku, Chokyi Sengay, was recognized in 1991 by Tai Situ Rinpoche.