Phuntsog Wangyal - obituary
by The Telegraph
6:56PM BST 02 Jul 2014
NOTICE: THIS WORK MAY BE PROTECTED BY COPYRIGHT
YOU ARE REQUIRED TO READ

THE COPYRIGHT NOTICE AT THIS LINK

BEFORE YOU READ THE FOLLOWING WORK, THAT IS AVAILABLE SOLELY FOR PRIVATE STUDY, SCHOLARSHIP OR RESEARCH PURSUANT TO 17 U.S.C. SECTION 107 AND 108. IN THE EVENT THAT THE LIBRARY DETERMINES THAT UNLAWFUL COPYING OF THIS WORK HAS OCCURRED, THE LIBRARY HAS THE RIGHT TO BLOCK THE I.P. ADDRESS AT WHICH THE UNLAWFUL COPYING APPEARED TO HAVE OCCURRED. THANK YOU FOR RESPECTING THE RIGHTS OF COPYRIGHT OWNERS.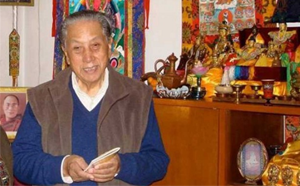 Phuntsog Wangyal was the co-founder of the Tibetan Communist Party who fell in with China only to fall foul of Mao's mandarins
Phuntsog Wangyal, who has died aged 92, co-founded the Tibetan Communist Party in the 1940s
; but despite giving up on an independent Tibet and unifying his party with that in China, he was jailed in Beijing and kept in solitary confinement for almost two decades.
Phunwang — as he was commonly known — might have appeared the ideal Chinese stooge in Tibet. But though
he considered the country's independence less important than the success of socialism
, he was eventually unable to turn a blind eye to the corruption of Chinese officials.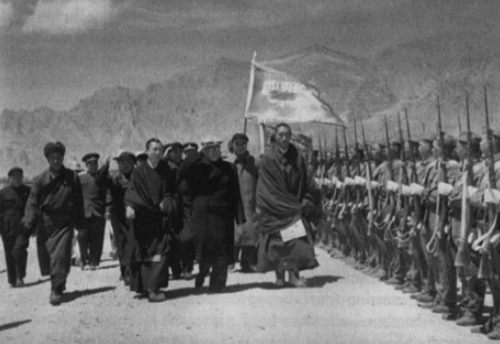 Phuntsog Wangyal (far left) with the Dalai Lama, Chen Yi, and the Panchen Lama in Lhasa,1956
"Phunwang showed that you could be a true Communist while at the same time proud of your Tibetan heritage," stated the Dalai Lama. Phunwang's stance, however, made him persona non grata in China. He was purged, finding himself locked up in Qincheng Prison
, a maximum-security facility near Beijing notorious for its harsh conditions and detention of political prisoners.
Phuntsog Wangyal Goranangpa was born in 1922 in Batang, in the province of Kham in eastern Tibet (now part of western Sichuan Province). The area was terrorised by the Chinese warlord Liu Wenhui, an ally of the Chinese nationalist Kuomintang. As a young boy out collecting walnuts, Phunwang witnessed Wenhui's troops carry out a brutal reprisal attack following a local uprising.



In his youth he was involved with the Tibetan Democratic Youth League, out of which he formed, in 1942, with Ngawang Kesang, the Tibetan Communist Party. Initially the party concerned itself with opposing the Kuomintang. But as a committed Marxist, Phunwang later proposed socialist reforms and the dismantling of Tibet's feudal structures.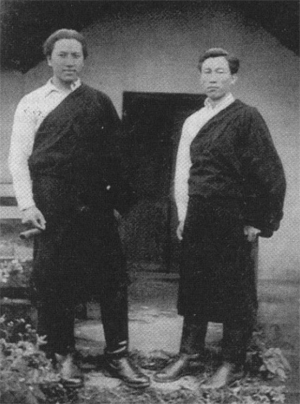 Phuntsog Wangyal (left) with Ngawang Kesang, in Kalimpong,1944
Shortly before the Chinese invasion of Tibet in 1950, Phunwang announced a merger of his party with the Communist Party in China. As a result many Tibetans called him a traitor.

After the invasion, Phunwang become integral to the Chinese administration in Tibet, having been assigned to accompany Zhang Guohua, commander of the Chinese Eighteenth Army, to Lhasa. He was also the official translator for the young Dalai Lama during his meetings with Mao Tse-tung in 1954-55.
By the end of the Fifties, however, the tide had turned.
Mao's Leftist movement targeted Phunwang as a potential agitator due to his criticism of ethnic Han officials. In 1958 he was placed under house arrest and obliged to undergo "self-criticism". He was jailed two years later, along with most of his family.
During his incarceration he was subjected to beatings, sound torture, poisonings and repetitive and intensive interrogation that was Kafkaesque in its obscurity. "They said they wanted me to confess my crimes," he recalled, "but spoke of them only in general, so I never knew exactly what they were accusing me of." Of all the horrors, "the total isolation was the hardest".
He was released from Qincheng Prison in 1978
, after which he went through a process of official rehabilitation before settling into life in Beijing, cut-off from the outside world.
In a placatory move the Chinese authorities later offered him the position of Chairman of the Tibet Autonomous Region government, which he declined. He kept away from the political stage for many years, instead choosing to immerse himself in academia. His books included New Exploration of Dialectics (1990) and Liquid Water Does Exist on the Moon (1994) in which he explored the science of philosophical dialectics.

In later life Phunwang worked to promote better relations between Tibet and China, campaigning for the return of the Dalai Lama to Lhasa, which he claimed would be "good for stabilising Tibet".
Then, in 2006, he returned to the political limelight with a series of letters to Hu Jintao, general secretary of the Chinese Communist party. In them Phunwang warned that if a permanent agreement was not found to solve "the Tibet Problem", it would become increasingly dangerous. "Comrade Jintao," he noted in one letter, "a single matchstick is enough for the arsonist but putting out the fire would take a great effort." The language turned out to be appallingly apt: since then a wave of young monks and nuns in Tibet have protested against persecution under Chinese rule by setting themselves on fire.
In 2004 he provided an epilogue to a book on his life, entitled A Tibetan Revolutionary.
"I worked hard for the liberation of the Tibetan nation and for national unity in the new China," Phunwang concluded.
"That work that brought unendurable difficulties, but as Beethoven said: 'I will seize fate by the throat. It won't lay me low.' That is what I believe I did. I did not let my suffering lay me low.
I did not disgrace my dear parents, countrymen, and the Tibetans of the Land of Snow."
Phunwang married, firstly, Tsilila. She died in prison in 1969. He is survived by his second wife, Tseten Yangdron, and by four children of his first marriage.
Phuntsog Wangyal, born 1922, died March 30 2014
********************************
Phuntsok Wangyal
by Wikipedia
Accessed: 3/15/20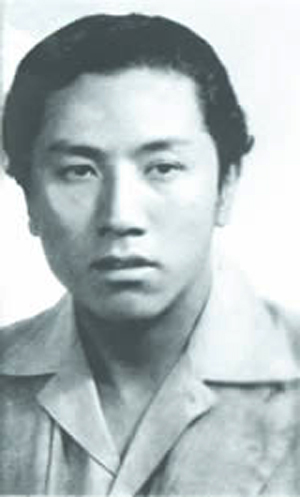 Phuntsok Wangyal Goranangpa
Born: 2 January 1922, Batang, Kham, Tibet
Died: 30 March 2014 (aged 92), Beijing, China
Nationality: China
Phuntsok Wangyal Goranangpa (2 January 1922 – 30 March 2014), also known as Phuntsog Wangyal,[1] Bapa Phuntsok Wangyal or Phünwang, was a Tibetan politician. He is best known for having founded the Tibetan Communist Party and was a major figure in modern Sino-Tibetan relations. He was arrested by the Chinese authorities in 1960 and subsequently spent 18 years in the infamous Chinese high security prison Qincheng in solitary confinement. He lived in Beijing until his death.
Biography
Phünwang was born in Batang, in the province of Kham in Tibet. Phünwang began his political activism at school at the special academy run by Chiang Kai-shek's Mongolian and Tibetan Affairs Commission in Nanjing, where he secretly founded the Tibetan Communist Party. Until 1949, he organized a guerilla movement against the Chinese Kuomintang which expanded military influence in Kham.
The Mongolian and Tibetan Affairs Commission (MTAC; Chinese: 蒙藏委員會; pinyin: Měng-Zàng Wěiyuánhuì) was a ministry-level commission of the Executive Yuan in the Republic of China (Taiwan). It was disbanded on September 15, 2017.

It was originally created during the Qing Dynasty in 1636 as Mongolian Bureau as a subsection of the Lifan Yuan, and oversaw the relationship of the Qing court to its Mongolian and Tibetan dependencies. During Kangxi Emperor rule, the bureau was renamed to Minority Affairs Council and renamed again to Ministry of Minority Affairs under Guangxu Emperor rule.

Following the 1911 revolution and collapse of the Qing dynasty, the section was replaced by Mongolian and Tibetan Affairs Agency under the Ministry of the Interior in April 1912. In July 1912, the agency was again renamed as Bureau of Mongolian and Tibetan Affairs and placed under the State Affairs Yuan. In 1914, it was reorganized and being placed directly under the supervision of President. On 1 February 1929, it was finally changed to Mongolian and Tibetan Affairs Commission (MTAC) with accordance to the Nationalist Government Organizational Law. After the Communist revolution in China, and the Republic of China's relocation to Taiwan, the MTAC ceased its activities in Tibet and Mongolia, although it served as a governmental body which assisted in the relationship between ethnic Mongols and Tibetans in Taiwan and increasing the communication between the Taiwanese and the Mongols as well as the Tibetans.

After the 1959 Tibetan uprising, Chiang Kai-shek announced in his Letter to Tibetan Compatriots (Chinese: 告西藏同胞書; pinyin: Gào Xīzàng Tóngbāo Shū) that the ROC's policy would be to help the Tibetan people overthrow the People's Republic of China's rule in Tibet. The MTAC sent secret agents to India to disseminate pro-Kuomintang (KMT) and anti-Communist propaganda among Tibetan exiles. From 1971 to 1978, the MTAC also recruited ethnic Tibetan children from India and Nepal to study in Taiwan, with the expectation that they would work for a ROC government that returned to the mainland. In 1994, the veterans' association for

the Tibetan guerrilla group Chushi Gangdruk

met with the MTAC and agreed to the KMT's One China Principle. In response, the Dalai Lama's Central Tibetan Administration forbade all exiled Tibetans from contact with the MTAC.

-- Mongolian and Tibetan Affairs Commission, by Wikipedia
The strategy of the Tibetan Communist Party under his leadership during the 1940s was twofold: influence and gain support for his cause amongst progressive Tibetan students, intellectuals and members of the powerful aristocracy in Central Tibet in order to establish a program of modernization and democratic (i.e. socialist) reform, while at the same time sustain a guerilla war against the rule of Liu Wenhui, an important warlord who affiliated with the Kuomintang. For sometime, Wangyal lectured at Tromzikhang on Barkhor square in the 1940s when it was used as a Republican school.[2]
Ladakh was claimed as part of Tibet by Phuntsok Wangyal.[3]
Phünwang's political goal was to see an independent and united Tibet, and to achieve a fundamental transformation of Tibet's feudal social structures. He was expulsed by the Tibetan government in 1949, and after joining the Chinese Communist Party's fight against the Kuomintang he fused his Tibetan party with the Chinese Communist Party, at the behest of the Chinese military leaders, which meant that he had to abandon his goals of an independent socialist Tibet.[4] He played an important administrative role in the organization of the party in Lhasa and was the official translator of the young 14th Dalai Lama during his famous meetings with Mao Zedong in Beijing in the years 1954-55.
In the 1950s, Phünwang was the highest-ranking Tibetan in the Chinese Communist Party, and although he spoke fluent Chinese, was habituated to Chinese culture and customs and was completely devoted to the cause of socialism and to the Communist Party, his intensive engagement for the well-being of the Tibetans made him suspicious to his powerful party comrades. Eventually, in 1958, he was placed under house arrest and two years later disappeared from the public eye. He was imprisoned in solitary confinement in Beijing for the next 18 years. During his imprisonment, his wife, a Tibetan Muslim from Lhasa who stayed behind in Beijing with their children, died while she was imprisoned, and all children were sent to different prisons. It was only in 1975 that his family was told that he was still alive and had been incarcerated in a maximum-security prison for political prisoners. Unbeknownst to Phünwang, his younger brother was also imprisoned in Qincheng for 16 years.
Phuntsok Wangyal Goranangpa was officially rehabilitated a few years after his release in 1978 but remained in Beijing without any outside contact.[5][6] Later, he was offered the position of Chairman of the Tibet Autonomous Region government, which he declined.
A biography has been published in English, where he particularly emphasises the need to better understand the interests of the Tibetan people in the context of peace and unity in the People's Republic of China.[7]
Later, he declared in an open letter to Hu Jintao that he should accommodate for the return of the Dalai Lama to Tibet, suggesting that this gesture would be "...good for stabilizing Tibet." In a third letter dated 1 August 2006, he wrote : "If the inherited problem with Tibet continues to be delayed, it is most likely going to result in the creation of 'The Eastern Vatican of Tibetan Buddhism' alongside the Exile Tibetan Government. Then the 'Tibet Problem', be it nationally or internationally, will become more complicated and more troublesome."[8]
In a letter Hu Jintao in 2007, Phuntsok Wangyal criticised cadres of the CCP whom, to support Dorje Shugden, "make a living, are promoted and become rich by opposing splittism".[9]
He died on 30 March 2014 at a Beijing hospital.[10]
Published works
• Liquid Water Does Exist on the Moon. Beijing: Foreign Languages Press, 2002, ISBN 7-119-01349-1.
• Witness to Tibet's History, Baba Phuntsok Wangyal. New Delhi: Paljor Publication, 2007, ISBN 81-86230-58-0.
• 平措汪杰(平汪):《平等團結路漫漫——對我國民族關係的反思》. Hong Kong: 田園書屋, 2014, ISBN 978-988-15571-9-3.
See also
• Literature portal
• Melvyn Goldstein, Dawei Sherap, William Siebenschuh. A Tibetan Revolutionary. The political life of Bapa Phüntso Wangye. U. of California Press, pp. 371, 2004
• Political prisoner
Notes and references
1. This is the form given in the Dalai Lama's autobiography Freedom in Exile
2. Hartley, Lauren R., Schiaffini-Vedani, Patricia (2008). Modern Tibetan literature and social change. Duke University Press. p. 37. ISBN 0-8223-4277-4.
3. Gray Tuttle; Kurtis R. Schaeffer (12 March 2013). The Tibetan History Reader. Columbia University Press. pp. 603–. ISBN 978-0-231-14468-1.
4. The prisoner by Tsering Shakya
5. Lectures critiques par Fabienne Jagou
6. Le dernier caravanier par Claude Arpi
7. Biography of a Tibetan Revolutionary Highlights Complexity of Modern Tibetan Politics
8. Baba Phuntsok: Witness to Tibet's History
9. Allegiance to the Dalai Lama and those who "become rich by opposing splittism" Archived 2008-10-25 at the Wayback Machine
10.
http://www.dnaindia.com/world/report-ti ... es-1973510