Samuel Liddell MacGregor Mathers
by Wikipedia
Accessed: 10/18/19
NOTICE: THIS WORK MAY BE PROTECTED BY COPYRIGHT
YOU ARE REQUIRED TO READ

THE COPYRIGHT NOTICE AT THIS LINK

BEFORE YOU READ THE FOLLOWING WORK, THAT IS AVAILABLE SOLELY FOR PRIVATE STUDY, SCHOLARSHIP OR RESEARCH PURSUANT TO 17 U.S.C. SECTION 107 AND 108. IN THE EVENT THAT THE LIBRARY DETERMINES THAT UNLAWFUL COPYING OF THIS WORK HAS OCCURRED, THE LIBRARY HAS THE RIGHT TO BLOCK THE I.P. ADDRESS AT WHICH THE UNLAWFUL COPYING APPEARED TO HAVE OCCURRED. THANK YOU FOR RESPECTING THE RIGHTS OF COPYRIGHT OWNERS.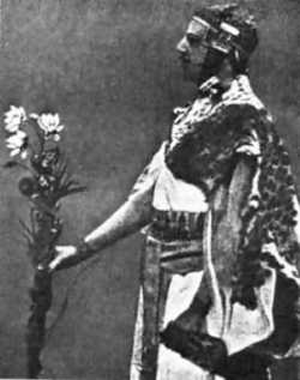 Samuel Liddell MacGregor Mathers
Samuel Liddell MacGregor Mathers, in Egyptian costume, performs a ritual of Isis in the rites of the Golden Dawn
Born: Samuel Liddell Mathers, 8 or 11 January 1854, Hackney, London, England
Died: 5 or 20 November 1918 (aged 64), Paris[1]
Residence: Bury St. Edmunds in Suffolk
Nationality: British
Alma mater: Bedford School
Occupation: Occultist, Known for Hermetic Order of the Golden Dawn
Spouse(s): Moina Mathers
Parent(s): William M. Mathers
Samuel Liddell (or Liddel) MacGregor Mathers (8 or 11 January 1854 – 5 or 20 November 1918), born Samuel Liddell Mathers, was
a British occultist. He is primarily known as one of the founders of the Hermetic Order of the Golden Dawn, a ceremonial magic order
of which offshoots still exist today.
Early life
Mathers was born on 8 or 11 January 1854 in Hackney, London, England. His father, William M. Mathers, died while he was still a boy. His mother, whose maiden name was Collins, died in 1885. He attended Bedford School, subsequently working in Bournemouth, Dorset, as a clerk, before moving to London following the death of his mother.
His wife was Moina Mathers (née Mina Bergson), sister of the philosopher Henri Bergson.
Lifestyle
Mathers added the "MacGregor" surname as a claim to Highland Scottish heritage, although there is little evidence of such in his family background. He was a practising vegetarian, or (according to some accounts) vegan, an outspoken anti-vivisectionist, and a non-smoker. It is known that his main interests were magic and the theory of war, his first book being a translation of a French military manual.
[2] He became more and more of an eccentric towards his later years, as was noted by
W. B. Yeats
.[3]
Freemasonry
Mathers was introduced to Freemasonry by a neighbour, alchemist Frederick Holland, and was initiated into Hengist Lodge No.195 on 4 October 1877. He was raised as a Master Mason on 30 January 1878. In 1882 he was admitted to the Metropolitan College of the Societas Rosicruciana in Anglia as well as a number of fringe Masonic degrees. Working hard both for and in the SRIA he was awarded an honorary 8th Degree in 1886, and in the same year he lectured on the Kabbalah to the Theosophical Society.
He became Celebrant of Metropolitan College in 1891 and was appointed as Junior Substitute Magus of the SRIA in 1892, in which capacity he served until 1900. He left the order in 1903, having failed to repay money which he had borrowed.[4]
Upon the death of William Robert Woodman in 1891, Mathers assumed leadership of the Hermetic Order of the Golden Dawn. He moved with his wife to Paris on 21 May 1892.[3] After his expulsion from the Golden Dawn in April 1900, Mathers formed a group in Paris in 1903 called Alpha et Omega (its headquarters, the Ahathoor Temple).[5] Mathers choosing the title "Archon Basileus".[6]
Translations
Mathers was a polyglot; among the languages he had studied were English, French, Latin, Greek, Hebrew, Gaelic and Coptic, though he had a greater command of some languages than of others. His translations of such books as The Book of Abramelin (14thC.), Christian Knorr von Rosenroth's The Kabbalah Unveiled (1684), Key of Solomon (anonymous 14thC.), The Lesser Key of Solomon (anonymous 17thC.), and the Grimoire of Armadel (17thC.), while probably justly criticised with respect to quality, were responsible for making what had been obscure and inaccessible material widely available to the non-academic English speaking world. They have had considerable influence on the development of occult and esoteric thought since their publication, as has his consolidation of the
Enoch
ian
magical system of John Dee
and Edward Kelley.
Criticism
In addition to many supporters, he had many enemies and critics.
One of his most notable enemies was one-time friend and pupil Aleister Crowley, who portrayed Mathers as a villain named S.R.M.D. in his 1917 novel Moonchild.
At the Turk's entrance he rose clumsily, then fell back into his chair. He was more than half intoxicated.

Akbar took the chair opposite to him. "We couldn't get it," he said; in a whisper, though there was nobody within earshot. "Oh, Dr. Balloch, Dr. Balloch! do try to understand! It was impossible. We tried all sorts of ways."

The doctor's voice had a soft suavity. Though a licensed physician, he had long since abandoned legitimate practice, and under the guise of homeopathy pursued various courses which would have been but ill-regarded by more regular practitioners.

His reply was horrible, uttered as it was in feline falseness, like a caress. "You foul ass!" he said. "I have to take this up with S.R.M.D., you know! What will he say and do?"

"I tell you I couldn't. There was an old man there who spoilt everything, in my idea."

"An old man?" Dr. Balloch almost dropped his hypocritical bedside voice in his rage. "Oh curse, oh curse it all!" He leant over to the Turk, caught his beard, and deliberately pulled it. There is no grosser insult that you can offer to a Mussulman, but Akbar accepted it without resentment. Yet so savage was the assault that a sharp cry of pain escaped him.

You dog! you Turkish swine!" hissed Balloch. "Do you know what has happened? S.R.M.D. sent a Watcher -- a bit of himself, do you understand what that means, you piece of dirt? -- and it hasn't returned. It must have been killed, but we can't find out how, and S.R.M.D. is lying half dead in his house. You pig! Why didn't you come with your storry at once? I know now what is wrong."

"You know I don't know your address," said the Turk humbly. "Please, oh please, leave go of my beard!"

Balloch contemptuously released his victim -- who was a brave enough man in an ordinary way, and would have had the blood of his own Sultan, though he knew that the guards would cut him to pieces within the next ten seconds, for the least of such words as had been addressed to him. But Balloch was his Superior in the Black Lodge, which rules by terror and by torture; its first principle was to enslave its members. The bully Balloch became a whimpering cur at the slightest glance of the dreaded S.R.M.D.....

The mystery of S.R.M.D.'s personality and abode were shrouded in the blackest secrecy. Akbar had but the vaguest ideas of the man; he was a formless ideal of terrific power and knowledge, a sort of incarnated Satan, the epitome of successful iniquity. The episode of the "Watcher" had not diminished the chief's prestige in his eyes; it was evidently an "accident"; S.R.M.D. had sent out a patrol and it had been ambushed by a whole division, as it were. So trivial a "regrettable incident" was negligibly normal.

Akbar had no thought but of S.R.M.D. as a Being infinitely great in himself; he had no conception of the price paid by the members of the Black Lodge. The truth is, that as its intimates advance, their power and knowledge becomes enormously greater; but such progress is not a mark of general growth, as it is in the case of

the White Brotherhood

; it is like a cancer, which indeed grows apace, but at the expense of the man on whom it feeds, and will destroy both him and itself in the long run. The process may be slow; it may extend over a series of incarnations; but it is sure enough. The analogy of the cancer is a close one; for the man knows his doom, suffers continual torture; but to this is added the horrible delusion that if only the disease can be induced to advance far enough, all is saved. Thus he hugs the fearful growth, cherishes it as his one dearest possession, stimulates it by every means in his power. Yet all the time he nurses in his heart an agonizing certainty that this is the way of death.

Balloch knew S.R.M.D. well; had known him for years. He hoped to supplant him, and while he feared him with hideous and unmanly fear, hated him with most hellish hatred. He was under no delusion as to the nature of the Path of the Black Lodge. Akbar Pasha, a mere outsider, without a crime on his hands as yet, was a rich and honoured officer in the service of the Sultan; he, Balloch, was an ill-reputed doctor, living on the fears of old maids, on doubtful and even criminal services to foolish people from the supply of morphia to the suppression of the evidence of scandal, and on the harvest of half-disguised blackmail that goes with such pursuits. But he was respectability itself compared to S.R.M.D.

This man, who called himself the Count Macgregor of Glenlyon, was in reality a Hampshire man, of lowland Scottish extraction, of the name of Douglas. He had been well educated, became a good scholar, and developed an astounding taste and capacity for magic. For some time he had kept straight; then he had fallen, chosen the wrong road. His powers had increased at a bound; but they were solely used for base ends. He had established the Black Lodge far more firmly than ever before, jockeyed his seniors out of office by superior villainy, and proceeded to forge the whole weapon to his own liking. He had had one terrible set-back.

Cyril Grey, when only twenty years of age, a free-lance magician, had entered the Lodge; for it worked to attract innocent people under a false pretence of wisdom and of virtue. Cyril, discovering the trick, had not withdrawn; he had played the game of the Lodge, and made himself Douglas's right-hand man. This being achieved, he had suddenly put a match to the arsenal.

The Lodge was always seething with hate; Theosophists themselves might have taken lessons from this exponent; and the result of Cyril's intervention had been to disintegrate the entire structure. Douglas found his prestige gone, and his income with it. Addiction to drink, which had accompanied his magical fall, now became an all-absorbing vice. He was never able to rebuild his Lodge on its former lines; but those who thirsted for knowledge and power and these he still possessed in ever increasing abundance as he himself decayed -- clung to him, hating and envying him, as a young ruffian of the streets will envy the fame of some robber or murderer who happens to fill the public eye.

It was with this clot of perverse feelings that Balloch approached the Rue Quincampoix, one of the lowest streets in Paris, and turned in at the den where Douglas lodged.

S.R.M.D. was lying on a torn soiled sofa, his face white as death; a mottled and empurpled nose, still showing trace of its original aggressive and haughty model, alone made for colour. For his eyes were even paler than the doctor's. In his hand was a bottle half full of raw whisky, with which he was seeking to restore his vitality.

"I brought you some whisky," said Balloch, who knew the way to favour.

"Put it down, over there. You've got some money."

Balloch did not dare to lie. S.R.M.D. had spotted the fact without a word.

Only a cheque. You shall have half to-morrow when I've cashed it."

"Come here at noon.

Despite the obvious degradation of his whole being, S.R.M.D. was still somebody. He was a wreck, but he was the wreck of something indubitably big. He had not only the habit of command, but the tone of fine manners. In his palmy days he had associated with some very highly placed people. It was said that the Third Section of the Russian Police Bureau had once found a use for him.

-- Moonchild, by Aleister Crowley
According to Crowley's memoirs, The Confessions of Aleister Crowley, Mathers was in the habit of ostensibly playing chess matches against various pagan gods. Mathers would set up the chessboard and seat himself behind the white pieces, with an empty chair opposite him. After making a move for himself, Mathers would then shade his eyes and peer towards the empty chair, waiting for his opponent to signal a move. Mathers would then move a black piece accordingly, then make his next move as white, and so forth. Crowley did not record who won.
Earlier, Crowley wrote in his Confessions that: "As far as I was concerned, Mathers was my only link with the Secret Chiefs to whom I was pledged. I wrote to him offering to place myself and my fortune unreservedly at his disposal; if that meant giving up the Abra-Melin Operation for the present, all right."
[7]
The Book of Abramelin tells the story of an Egyptian mage named Abraham (pronunciation: (ɛ́jbrəham)), or Abra-Melin, who taught a system of magic to Abraham of Worms, a Jew in Worms, Germany, presumed to have lived from c.1362–c.1458. The system of magic from this book regained popularity in the 19th and 20th centuries partly due to Samuel Liddell MacGregor Mathers' translation, The Book of the Sacred Magic of Abramelin the Mage; and partly to its importance within the

Hermetic Order of the Golden Dawn

, and later within the mystical system of Thelema (created in 1904 by Aleister Crowley).

Due to trust issues, Mathers used the least-reliable manuscript copy as the basis for his translation, and it contains many errors and omissions. The later English translation by Georg Dehn and Steven Guth, based on the earliest and most complete sources, is more scholarly and comprehensive. Dehn attributed authorship of The Book of Abramelin to Rabbi Yaakov Moelin (Hebrew יעקב בן משה מולין; ca. 1365–1427), a German Jewish Talmudist. This identification has since been disputed.

-- The Book of Abramelin, by Wikipedia
Death
Mathers died on 5 or 20 November 1918 in Paris. The manner of his death is unknown; his death certificate lists no cause of death. Violet Firth claimed his death was the result of the Spanish influenza of 1918. While this seems likely,
few facts are known about Mathers's private life
and thus verification of such claims is difficult.
See also
• The Book of Abramelin
• Hermetic Order of the Golden Dawn
• List of occultists
• Mathers table
• William Robert Woodman
References
1. Nevill Drury, The Dictionary of the Esoteric, Motilal Banarsidass Publ., 2004, p. 208.
2. S. L. MacGregor Mathers, Practical Instruction in Infantry Campaigning Exercise, Translated from the French ( London: City of London Publishing Co., 1884); cited in Christopher McIntosh, The Rosicrucians: The History, Mythology and Rituals of an Occult Order, page 111 (second revised edition, Crucible, 1987). ISBN 978-1852740252
3. William Butler Yeats, The Collected Works of W.B. Yeats, Volume III: Autobiographies, pages 452–453 (edited by William O'Donnell and Douglas N. Archibald, New York: Scribner, 1999 edition). ISBN 0-684-80728-9
4. History of the SRIA, T M Greenshill, MBE, published 2003
5. "Samuel Liddel MacGregor-Mathers", accessed 17 February 2007.
6. John Michael Greer, The Element Encyclopedia of Secret Societies and Hidden History, page 28 (HarperElement, 2006). ISBN 978-0-00-722068-7
7. Crowley, Aleister. The Confessions of Aleister Crowley. p. 194.
External links
• Biography from Kheper.net
• Biography from the Esoteric Order of the Golden Dawn
• Biography from the Hermetic Order of the Golden Dawn, Inc.
• The Truth about S.L. MacGregor Mathers
Works at the Internet Sacred Text Archive
• The Book of the Sacred Magic of Abramelin the Mage
• The Kabbalah Unveiled
• The Key of Solomon The King
• The Lesser Key of Solomon
• The Tarot
Published Works
• 2018 — The Tarot — Samuel Liddell MacGregor Mathers Edition by Eduardo Filipe Freitas ISBN 1986104028