Shyamji Krishna Varma
by Wikipedia
Accessed: 11/17/19
NOTICE: THIS WORK MAY BE PROTECTED BY COPYRIGHT
YOU ARE REQUIRED TO READ

THE COPYRIGHT NOTICE AT THIS LINK

BEFORE YOU READ THE FOLLOWING WORK, THAT IS AVAILABLE SOLELY FOR PRIVATE STUDY, SCHOLARSHIP OR RESEARCH PURSUANT TO 17 U.S.C. SECTION 107 AND 108. IN THE EVENT THAT THE LIBRARY DETERMINES THAT UNLAWFUL COPYING OF THIS WORK HAS OCCURRED, THE LIBRARY HAS THE RIGHT TO BLOCK THE I.P. ADDRESS AT WHICH THE UNLAWFUL COPYING APPEARED TO HAVE OCCURRED. THANK YOU FOR RESPECTING THE RIGHTS OF COPYRIGHT OWNERS.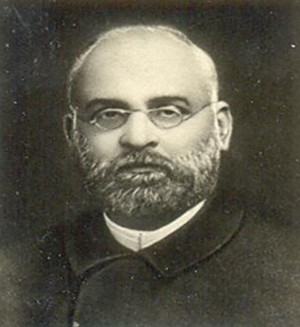 Pandit
Shyamji Krishna Varma
Native name
શ્યામજી કૃષ્ણવર્મા
Born 4 October 1857
Mandvi, Cutch State, British India (now Kutch, Gujarat)
Died 30 March 1930 (aged 72)
Geneva, Switzerland
Monuments Kranti Teerth, Mandvi, Kutch
Alma mater Balliol College, Oxford
Occupation Revolutionary, lawyer, journalist
Organization Indian Home Rule Society, India House, The Indian Sociologist
Movement Indian Independence Movement
Spouse(s) Bhanumati (m. 1875)
Parent(s) Karsan Bhanushali (Nakhua), Gomatibai
Shyamji Krishna Varma (4 October 1857 – 30 March 1930) was an Indian revolutionary fighter,[1] an Indian patriot, lawyer and journalist who founded the Indian Home Rule Society, India House and The Indian Sociologist in London. A graduate of Balliol College, Krishna Varma was a noted scholar in Sanskrit and other Indian languages. He pursued a brief legal career in India and served as the Divan of a number of Indian princely states in India.[2] He had, however, differences with Crown authority, was dismissed following a supposed conspiracy of local British officials at Junagadh[3] and chose to return to England. An admirer of
Dayanand Saraswati's
approach of cultural nationalism, and of
Herbert Spencer
, Krishna Varma believed in
Spencer's dictum
: "Resistance to aggression is not simply justified, but imperative".[2]
In 1905 he founded the India House and The Indian Sociologist, which rapidly developed as an organised meeting point for radical nationalists among Indian students in Britain at the time and one of the most prominent centres for revolutionary Indian nationalism outside India. Krishna Varma moved to Paris in 1907, avoiding prosecution.
Early life
Shyamji Krishna Varma was born on 4 October 1857 in Mandvi, Cutch State (now Kutch, Gujarat) as Shamji, the son of Krushnadas Bhanushali (Karsan Nakhua; Nakhua is the surname while Bhanushali is the community name), a labourer for cotton press company, and Gomatibai, who died when Shyamji was only 11 years old. He was raised by his grandmother. His ancestors belonged to Bhachunda (23°12'3"N 69°0'4"E), a village now in Abdasa taluka of Kutch district. They had migrated to Mandvi in search of employment and due to familial disputes. After completing secondary education in Bhuj he went to Mumbai for further education at Wilson High School. Whilst in Mumbai, he learned Sanskrit.[4]
In 1875, Shyamji married Bhanumati, a daughter of a wealthy businessman of the Bhatia community and sister of his school friend Ramdas. Then he got in touch with the nationalist Swami Dayananda Saraswati, a radical reformer and an exponent of the Vedas, who had founded the Arya Samaj. He became his disciple and was soon conducting lectures on Vedic philosophy and religion. In 1877, a public speaking tour secured him a great public recognition. He became the first non-Brahmin to receive the prestigious title of Pandit by the Pandits of Kashi in 1877.
He came to the attention of Monier Williams, an Oxford professor of Sanskrit who offered Shyamji a job as his assistant.[4]
Monier Williams was born in Bombay, the son of Colonel Monier Williams, surveyor-general in the Bombay presidency. His surname was "Williams" until 1887 when he added his given name to his surname to create the hyphenated "Monier-Williams". In 1822 he was sent to England to be educated at private schools at Hove, Chelsea and Finchley.

He was educated at King's College School, Balliol College, Oxford (1838–40), the East India Company College (1840–41) and University College, Oxford (1841–44).

He took a IVth-class honours degree in Literae Humaniores in 1844...

Monier Williams taught Asian languages, at the East India Company College from 1844 until 1858, when company rule in India ended after the 1857 rebellion. He came to national prominence during the 1860 election campaign for the Boden Chair of Sanskrit at Oxford University, in which he stood against Max Müller.

The vacancy followed the death of Horace Hayman Wilson in 1860. Wilson had started the university's collection of Sanskrit manuscripts upon taking the chair in 1831, and had indicated his preference that Williams should be his successor. The campaign was notoriously acrimonious. Müller was known for his liberal religious views and his philosophical speculations based on his reading of Vedic literature. Monier Williams was seen as a less brilliant scholar, but had a detailed practical knowledge of India itself, and of actual religious practices in modern Hinduism. Müller, in contrast, had never visited India.

Both candidates had to emphasise their support for Christian evangelisation in India, since that was the basis on which the Professorship had been funded by its founder. Monier Williams' dedication to Christianisation was not doubted, unlike Müller's.

Monier Williams also stated that his aims were practical rather than speculative. "Englishmen are too practical to study a language very philosophically", he wrote.

After his appointment to the professorship Williams declared from the outset that the conversion of India to the Christian religion should be one of the aims of orientalist scholarship. In his book Hinduism, published by SPCK in 1877, he predicted the demise of the Hindu religion and called for Christian evangelism to ward off the spread of Islam. According to Saurabh Dube this work is "widely credited to have introduced the term Hinduism into general English usage"

while David N. Lorenzen cites the book along with

Alexander Duff

(1839), India, and India Missions: Including Sketches of the Gigantic System of Hinduism, Both in Theory and Practice: Also Notices of Some of the Principal Agencies Employed in Conducting the Process of Indian Evangelization, &c. &c. J. Johnstone, for popularising of the term.

When Monier Williams founded the University's Indian Institute in 1883, it provided both an academic focus and also a training ground for the Indian Civil Service. Since the early 1870s Monier Williams planned this institution. His vision was the better acquaintance of England and India. On this account he supported academic research into Indian culture.

Monier Williams travelled to India in 1875, 1876 and 1883 to finance his project by fundraising. He gained the support of Indian native princes. In 1883 the Prince of Wales laid the foundation stone; the building was inaugurated in 1896 by Lord George Hamilton. The Institute closed on Indian independence in 1947.

In his writings on Hinduism Monier Williams argued that the Advaita Vedanta system best represented the Vedic ideal and was the "highest way to salvation" in Hinduism. He considered the more popular traditions of karma and bhakti to be of lesser spiritual value. However, he argued that Hinduism is a complex "huge polygon or irregular multilateral figure" that was unified by Sanskrit literature. He stated that "no description of Hinduism can be exhaustive which does not touch on almost every religious and philosophical idea that the world has ever known."

Monier-Williams compiled a Sanskrit–English dictionary, based on the earlier Petersburg Sanskrit Dictionary, which was published in 1872.

A later revised edition was published in 1899 with collaboration by Ernst Leumann and Carl Cappeller (sv).

-- Monier Monier-Williams, by Wikipedia
Oxford
Shyamji arrived in England and joined Balliol College, Oxford on 25 April 1879 with the recommendation of Professor Monier Williams. Passing his B.A. in 1883, he presented a lecture on "the origin of writing in India" to the Royal Asiatic Society. The speech was very well received and he was elected a non-resident member of the society. In 1881 he represented India at the Berlin Congress of Orientalists.
After completing his graduation in the year 1883, Shyamji Krishnaverma delivered a lecture on 'The Origin of Writing in India' in front of a large audience in the Royal Asiatic Society of England. Making an impact on the audience, Shyamji Krishnaverma became a non-resident member of the Royal Asiatic Society.

-- Forgotten Liberators: Shyamji Krishnaverma, by India Facts
Legal career
He returned to India in 1885 and started practice as a lawyer. Then he was appointed as Diwan (chief minister) by the King of Ratlam State; but ill health forced him to retire from this post with a lump sum gratuity of RS 32052 for his service. After a short stay in Mumbai, he settled in Ajmer, headquarters of
his Guru Swami Dayananda Saraswati
, and continued his practice at the British Court in Ajmer. He invested his income in three cotton presses and secured sufficient permanent income to be independent for the rest of his life. He served for the Maharaja of Udaipur as a council member from 1893 to 1895, followed by the position of Diwan of Junagadh State. He resigned in 1897 after a bitter experience with a British agent that shook his faith in British Rule.
Nationalism
Having read Satyarth Prakash and other books of
Swami Dayanand Saraswati
, Shyamji Krishna Varma was very much impressed with his philosophy, writings and spirit of Nationalism and had become one of his ardent admirers. It was upon Dayanand's inspiration, he set up a base in England at India House where were produced many revolutionaries like Madam Cama, Veer Savarkar, Lala Hardyal and Madan Lal Dhingra. Shyamji Krishan was also an admirer of Lokmanya Tilak and supported him during the Age of Consent bill controversy of 1890. However, he rejected the petitioning, praying, protesting, cooperating and collaborating policy of the Congress Party, which he considered undignified and shameful. In 1897, following the atrocities inflicted by the British government during the plague crisis in Poona, he supported the assassination of the Commissioner of Plague by the Chapekar brothers but he soon decided to fight for Indian Independence in Britain.
England
Ordained by
Swami Dayanand Saraswati
the founder of Arya samaj, Shyamji Krishan Verma upon his arrival in London stayed at the Inner Temple and studied Herbert Spencer's writings in his spare time. In 1900 he bought an expensive house in Highgate. His home became a base for all political leaders of India. Lokmanya Tilak, Lala Lajpat Rai, Gopal Krishna Gokhale, Gandhi, Lenin etc., all visited him to discuss the Indian Independence Movement. Avoiding the Indian National Congress, he kept in contact with rationalists, free thinkers, national and social democrats, socialists, Irish republicans, etc.
He was much inspired by Herbert Spencer's writings. At Spencer's funeral in 1903, he announced the donation of £1,000 to establish a lectureship at University of Oxford in tribute to him and his work. A year later he announced that Herbert Spencer Indian fellowships of RS 2000 each were to be awarded to enable Indian graduates to finish their education in England. He had also announced additional fellowship in memory of the late
Dayananda Saraswati
, the founder of Arya Samaj, along with another four fellowships in the future.
Political activism
In 1905, Shyamji focused his activity as a political propagandist and organiser for the complete independence of India. Shyamji made his debut in Indian politics by publishing the first issue of his English monthly, The Indian Sociologist, an organ and of political, social and religious reform. This was an assertive, ideological monthly aimed at inspiring mass opposition to British rule, which stimulated many intellectuals to fight for the independence of India.
Indian Home Rule Society
On 18 February 1905, Shyamji inaugurated a new organisation called The Indian Home Rule Society. The first meeting, held at his Highgate home, unanimously decided to found The Indian Home Rule Society with the object of:
1. Securing Home Rule for India
2. Carrying on Propaganda in England by all practical means with a view to attain the same.
3. Spreading among the people of India the objectives of freedom and national unity.
India House
Main article: India House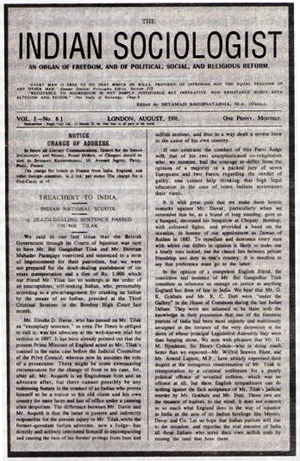 The Indian Sociologist, September 1908, London
As many Indian students faced racist attitudes when seeking accommodations, he founded India House as a hostel for Indian students, based at 65, Cromwell Avenue, Highgate. This living accommodation for 25 students was formally inaugurated on 1 July by Henry Hyndman, of the Social Democratic Federation, in the presence of Dadabhai Naoroji, Lala Lajpat Rai, Madam Cama, Mr. Swinney (of the London Positivist Society), Mr. Harry Quelch (the editor of the Social Democratic Federation's Justice) and Charlotte Despard, the Irish Republican and suffragette. Declaring India House open, Hyndman remarked, "As things stands, loyalty to Great Britain means treachery to India. The institution of this India House means a great step in that direction of Indian growth and Indian emancipation, and some of those who are here this afternoon may live to witness the fruits of its triumphant success." Shyamji hoped India House would incubate Indian revolutionaries and Bhikaiji Cama, S. R. Rana, Vinayak Damodar Savarkar, Virendranath Chattopadhyaya, and Lala Hardayal were all associated with it.[5]
Later in 1905, Shyamji attended the United Congress of Democrats held at Holborn Town Hall as a delegate of the India Home Rule Society. His resolution on India received an enthusiastic ovation from the entire conference. Shyamji's activities in England aroused the concern of the British government: He was disbarred from Inner Temple and removed from the membership list on 30 April 1909 for writing anti-British articles in The Indian Sociologist. Most of the British press were anti–Shyamji and carried outrageous allegations against him and his newspaper. He defended them boldly. The Times referred to him as the "Notorious Krishnavarma". Many newspapers criticised the British progressives who supported Shyamji and his view. His movements were closely watched by British Secret Services, so he decided to shift his headquarters to Paris, leaving India House in charge of Vir Savarkar. Shyamji left Britain secretly before the government tried to arrest him.
Paris and Geneva
He arrived in Paris in early 1907 to continue his work. The British government tried to have him extradited from France without success as he gained the support of many top French politicians.[citation needed] Shyamji's name was dragged into the sensational trial of Mr Merlin, an Englishman, at Bow Street Magistrates' Court, for writing an article in liberators published by Shyamji's friend, Mr. James.
Shyamji's work in Paris helped gain support for Indian Independence from European countries. He agitated for the release of Savarker and acquired great support all over Europe and Russia.[citation needed] Guy Aldred wrote an article in the Daily Herald under the heading of "Savarker the Hindu Patriot whose sentences expire on 24 December 1960", helping create support in England, too. In 1914 his presence became an embarrassment as French politicians had invited King George V to Paris to set a final seal on the Entente Cordiale. Shyamji foresaw this and shifted his headquarters to Geneva. Here the Swiss government imposed political restrictions during the entire period of World War I. He kept in touch with his contacts, but he could not support them directly. He spent time with Dr. Briess, president of the Pro India Committee in Geneva, whom he later discovered was a paid secret agent of the British government.
Post-World War I
He offered a sum of 10,000 francs to the League of Nations to endow a lectureship to be called the President Woodrow Wilson Lectureship for the discourse on the best means of acquiring and safe guarding national independence consistently with freedom, justice, and the right of asylum accorded to political refugees. It is said that the league rejected his offer due to political pressure from British government. A similar offer was made to the Swiss government which was also turned down. He offered another lectureship at the banquet given by Press Association of Geneva where 250 journalists and celebrities, including the presidents of Swiss Federation and the League of Nations. Shyamji's offer was applauded on the spot but nothing came of it. Shyamji was disappointed with the response and he published all his abortive correspondence on this matter in the next issue of the Sociologist appearing in December 1920, after a lapse of almost six years.
Death and commemoration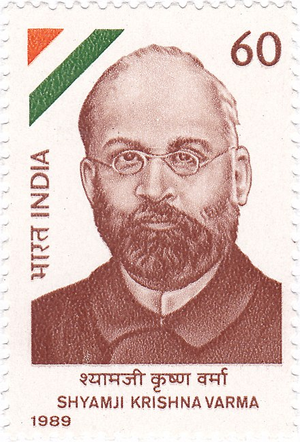 Shyamji Krishna Varma 1989 stamp of India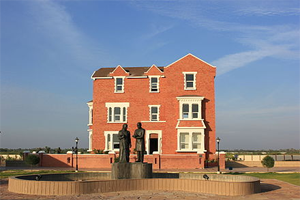 Kranti Teerth, Shyamji Krishna Varma Memorial, Mandvi, Kutch (replica of India House is visible in background)
He published two more issues of Indian Sociologist in August and September 1922, before ill health prevented him continuing. He died in hospital at 11:30 pm on 30 March 1930 leaving his wife, Bhanumati Krishnavarma.
News of his death was suppressed by the British government in India. Nevertheless, tributes were paid to him by Bhagat Singh and other inmates in Lahore Jail where they were undergoing a long-term drawn-out trial.[6] Maratha, an English daily newspaper started by Bal Gangadhar Tilak paid tribute to him.
He had made prepaid arrangements with the local government of Geneva and St Georges cemetery to preserve his and his wife's ashes at the cemetery for 100 years and to send their urns to India whenever it became independent during that period. Requested by Paris-based scholar Dr Prithwindra Mukherjee, the then Prime Minister Indira Gandhi agreed to repatriate the ashes. Finally on 22 August 2003, the urns of ashes of Shyamji and his wife Bhanumati were handed over to then Chief Minister of Gujarat State Narendra Modi by the Ville de Genève and the Swiss government 55 years after Indian Independence. They were brought to Mumbai and after a long procession throughout Gujarat, they reached Mandvi, his birthplace.[7] A memorial called Kranti Teerth dedicated to him was built and inaugurated in 2010 near Mandvi. Spread over 52 acres, the memorial complex houses a replica of India House building at Highgate along with statues of Shyamji Krishna Varma and his wife. Urns containing Krishna Verma's ashes, those of his wife, and a gallery dedicated to earlier activists of Indian independence movement is housed within the memorial. Krishna Verma was disbarred from the Inner Temple in 1909. This decision was revisited in 2015, and a unanimous decision taken to posthumously reinstated him.[8][9]
In the 1970s, a new town developed in his native state of Kutch, was named after him as Shyamji Krishna Varmanagar in his memory and honor. India Post released postal stamps and first day cover commemorating him. Kuchchh University was renamed after him.
The India Post has issued a postal stamp on shyamji Krishna Varma on 4 October 1989.
References
1. Chandra, Bipan (1989). India's Struggle for Independence. New Delhi: Penguin Books India. p. 145. ISBN 978-0-14-010781-4.
2. Qur, Moniruddin (2005). History of Journalism. Anmol Publications. p. 123. ISBN 81-261-2355-9.
3. Johnson, K. Paul (1994). The Masters Revealed: Madame Blavatsky and the Myth of the Great White Lodge. SUNY Press. p. 119. ISBN 0-7914-2063-9.
4. Sundaram, V. (8 October 2006) Pandit Shyamji Krishna Verma. boloji.com
5. ब्यावरहिस्ट्री डोट काम पर आपका स्वागत है. Beawarhistory.com. Retrieved on 7 December 2018.
6. Sanyal, Jitendra Nath (May 1931). Sardar Bhagat Singh.
7. Soondas, Anand (24 August 2003). "Road show with patriot ash". The Telegraph, Calcutta, India. Retrieved 3 February 2014.
8. "Modi dedicates 'Kranti Teerth' memorial to Shyamji Krishna Verma". The Times of India. 13 December 2010. Retrieved 12 November 2015.
9. Bowcott, Owen (11 November 2015). "Indian lawyer disbarred from Inner Temple a century ago is reinstated". The Guardian. Retrieved 12 November 2015.
Further reading
• Mr. Vishnu Pandya, Mr. Hitesh Bhanushali (1890). Krantiveer's Biography As A Story-Gujarati.
**************************
Forgotten Liberators: Shyamji Krishnaverma
by India Facts Truth Be Told
Accessed: 3/1/21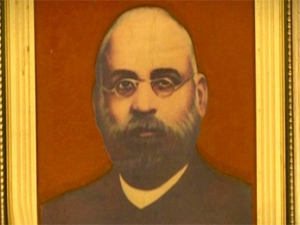 For decades, the serious practice of writing the authentic history of Indian Freedom Struggle has been going on in a selective manner where only some crusaders get the lion's share of the honor while others are frequently disregarded. The credit for this should go to a certain sort of scholars for whom the history of Freedom Struggle starts and finishes with the role of Mahatma Gandhi and Pandit Jawaharlal Nehru. These same scholars have presented Nehru as the sole nation-builder relegating other leaders of post-colonial India to a negligible space so much so that for decades, many Indians did not even know the decisive role played by Babasaheb Ambedkar in drafting our constitution or the massive project of unifying the nation that was executed by Sardar Patel.
However post-1990 both Babasaheb Ambedkar and Sardar Patel have started to get some credit but it is still way less than what they actually deserve. The same cannot be said about the leaders and freedom fighters of pre-1947 India. The time has now come to give an accurate and complete version about the history of the Indian Freedom Struggle as well as the role played by a host of freedom fighters excluding Gandhi and Nehru.
Indeed, if correct history was taught, Pandit Shyamji Krishnaverma would have been a household name by now. With about four days to go for the 67th Independence Day it is high time this praiseworthy patriot gets his correct place of honor. An outline of his illustrious life is given below.
Early Years and Education
Born at Mandvi village of Kutch District in Gujarat on the 4 October, 1857, Shyamji had his primary education in the village school at Mandvi and secondary education at Bhuj.
Around the year of 1876, he came in touch with
Swami Dayananda Saraswati
, the radical reformer and founder of the Arya Samaj. Swami Dayanand impressed with Shyamji's knowledge of Sanskrit, asked him to deliver lectures on the Vedas all across the then British India. The following year, Shyamji toured nationwide propagating the values of the Vedas, which brought him admiration from many prominent scholars. His knowledge as well as his oratory skills earned him the title of Pandit from the scholars of Kashi in 1877.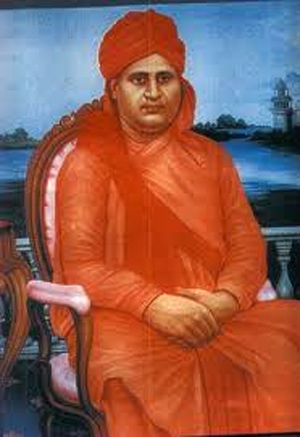 His deep knowledge of the Sanskrit language also caught the attention of
Monier Williams
, a professor of the subject in Oxford University. Williams, impressed with Shyamji's competence in Sanskrit offered Shyamji the post of his assistant. Shyamji accepted the post and arrived in England in 1879 and joined Balliol College on 25 April with the recommendation of professor Williams.
While there, Shyamji Krishnaverma also became the first Indian representative at the Berlin Congress of Orientalists in the year 1881. After completing his graduation in the year 1883, Shyamji Krishnaverma delivered a lecture on 'The Origin of Writing in India' in front of a large audience in the Royal Asiatic Society of England. Making an impact on the audience, Shyamji Krishnaverma became a non-resident member of the Royal Asiatic Society. Subsequently, he entered Temple's Inn and was one of the first Indians to clear the Bar-at law exams.
From 1885 till 1897, Shyamji resided in India serving as an advocate in the Mumbai High Court, followed by offering his services as the Diwan of Ratlam and Junagadh State. In 1897, a deadly plague hit Pune causing the death of several Indians and the situation was worsened by the clumsy response of the British Government, causing great outrage among general public. This prompted Shyamji to immigrate to England in March 1897 with a view to launch an uncompromising campaign against the exploitative and cruel regime of the British Establishment as well as create support in England and Europe for India's independence.
A Freedom Fighter in England
During the initial years, Shyamji would give fiery speeches in the free atmosphere of Hyde Park in London, calling for the support of progressive and sympathetic Britons in the right cause of India's emancipation. The famed sociologist and philosopher Herbert Spencer's writings were his chief inspiration during those days. On Herbert Spencer's first death anniversary on 8 December, 1904, Shyamji announced the launch of Herbert Spencer Indian fellowships of Rs. 2000 which would enable Indian graduates to pursue higher education in England. He also announced an additional fellowship in the memory of the late Swami Dayanand Saraswati.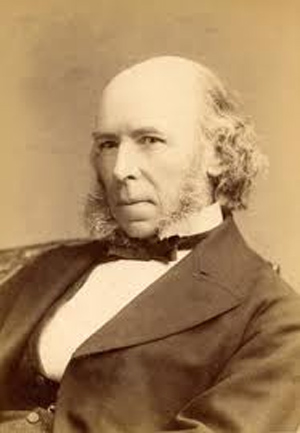 In January 1905, Shyamji decided to put his thoughts to print by publishing the first issue of "The Indian Sociologist" – an English journal with writings about political, social and religious reform. This pragmatic monthly served a great purpose in sensitizing the progressive Britons about British misrule in India besides creating many scholarly revolutionaries in India and abroad.
Shyamji was also swift in responding to the prevalent racism that Indian students had to face in England, when he decided to bring them together under one roof very close to his own residence. The house at 65 Cromwell Avenue in Highgate, London came to be known as the India House.
This very India House produced such great revolutionaries as Virendra Chattopadhyay, Lala Hardayal, PM Bapat and Veer Savarkar. India House was formally inaugurated on 1st July 1905 by Mr. H. M. Hyndman, a leader of the Social Democratic Federation in the presence of many dignitaries such as Dadabhai Nawroji, Lala Lajpat Rai, Madam Cama, and the positivist philosopher Hugh Swinney, among others.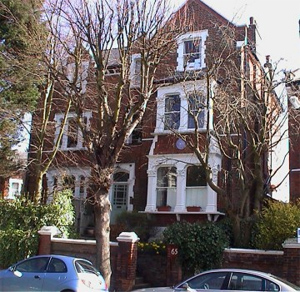 Though Shyamji Krishnaverma got the support of progressive Britons, the British government was incensed with his growing popularity. As a consequence, Shyamji was dismissed from the list of members of the Inner Temple in England on April 30, 1909. To avoid further harassment, he relocated to Paris in early 1907 and continued his work vigorously. The British government tried to extradite him from France but failed to do so since Shyamji was able to gain the confidence of many French as well as European politicians. He agitated for the release of Savarkar when the latter was imprisoned prompting the famous social-activist Guy Aldred to write an article in the Daily Herald under the title: "Savarker the Hindu Patriot whose sentences expire on 24th December 1960" which received a massive public response giving the British Raj a nasty headache. Following the outbreak of World War I in 1914, England and France entered into an alliance making it difficult for any anti-British activists to reside in Paris.
As a result, Shyamji shifted to Geneva to continue his struggle but with some restrictions due to the pledge of political inaction he had given to Swiss government during the entire period of war. During that time Shyamji's only support was Dr. Briess, the president of the Pro-India Committee in Geneva. However Shyamji was later shocked to discover that Dr. Briess was a paid spy of the British government. This revelation greatly frustrated Shyamji and drove him to further political isolation. But even then, Shyamji tried his best to acquire the support of the Swiss Federation and the League of Nations for India's freedom from British rule. Unfortunately Shyamji received a bland response from both. On March 30, 1930 this great revolutionary breathed his last.
Nehru Government's mistreatment of his legacy
Even though the British Government suppressed the news of his death, a belated tribute was paid by the valiant rebel Sardar Bhagat Singh and his co-revolutionists in Lahore Jail where they were undergoing a long-term, drawn out trial. Shyamji's wife Bhanumati donated the whole of Shyamji's Sanskrit and Oriental Library of to the Sorbonne University. Even today the memory of Shyamji and his wife is preserved in Sorbonne University. So deep was Pandit Shyamji Krishnaverma's conviction on India's eventual liberation that he made the prepaid arrangements with the local government of Geneva to preserve both his and his wife's ashes at the cemetery and to send their urns to India whenever it became independent.
But it appeared that the Government of post-independent India did not have much belief in Shyamji's patriotism as they never bothered to bring back his remains. Some historians believe it was because throughout his political life, Shyamji Krishnaverma always kept his distance from the Indian National Congress and never trusted it, (even though he was on amicable terms with certain Congressmen like Lajpat Rai). And so, since it was a Congress Government in power after 1947, they were repaying his incongruity in kind. Another point of view holds that because Shyamji opposed Mahatma Gandhi's pro-British stand during the Boer War in 1899, as well as his non-violent methods, Nehru the Prime Minister and Mahatma's pet disciple did not see it fit to honor an opponent of Mahatma. If true, both these views display petty political grudge and double standards as Nehru himself discarded many of the Mahatma's teachings.
Interestingly, about a decade before Mahatma Gandhi entered politics, the idea of Satyagraha was promoted by Shyamji Krishnaverma as can be seen in this writing from 1905:
'It is not necessary for Indians to resort to arms for compelling England to relinquish its hold on India… If the brown man struck work for a week, the Empire would collapse like a house of cards… If anyone refused to buy or sell any commodity, or to have any transaction with any class of people, he commits no crime known to the law. It is, therefore, plain that Indians can obtain emancipation by simply refusing to help their foreign master without incurring the evils of a violent revolution.'
But being a political realist, Shyamji accepted armed resistance as a last resort to finish the tyranny of the British Raj for which he established India House and nurtured great revolutionaries like Lala Hardayal and Veer Savarkar. True to his given designation, Pandit Shyamji Krishnaverma blended the rational views of the western scholars with the immortal wisdom enshrined in the Vedas, thus having an integrated worldview. While based in Europe, he enlightened his European hosts about the Vedas as well as Sanskrit literature. A proud Arya Samaji, he would have been labeled a 'Hindu fundamentalist' by today's 'secular' scholars.
Even though under Indira Gandhi's rule, a township in Kutch was named Shyamji Krishnaverma Nagar, his historical role was not disseminated to the general public. In 1998, the BJP government issued a postage stamp in his honour.
But it was the year 2003 that the then Chief Minister of Gujarat Narendra Modi carried out the promising task of bringing the ashes of Shyamaji Krishnaverma and his wife Bhanumati from Geneva. The sacred ashes were then taken in a 'Veeranjal Yatra' throughout the state culminating at Shyamji's birthplace Mandvi. Instead of applauding this noble act, the country's secular scholars decided to criticize Modi and BJP, exposing their warped view of history. Nevertheless, under CM Modi's supervision, a memorial called Kranti Tirth dedicated to Shyamji was built and unveiled in 2010 near Mandvi.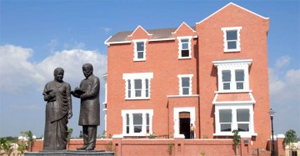 Now it can be hoped that the new government led by Prime Minister Narendra Modi would take necessary steps to propagate the life and teachings of a great nationalist upon whom I find the designation 'Pandit' more suitable. If talks could be initiated with authorities of both Geneva and Sorbonne University, the corpus of Shyamji's writings can be shared and disseminated within India so the masses can become aware of the breadth and depth of his erudition and pioneering service to the nation. This would also serve two purposes:
It would land another blow to the maligned statement that 'Hindu Nationalists' had no role in the 'Freedom Struggle.'
1. It would land another blow to the maligned statement that 'Hindu Nationalists' had no role in the 'Freedom Struggle.'
2. It would present the 'Congress Mukt' aspect of 'Indian Freedom Struggle' — that is, the non-Congress freedom fighters whose contribution in many cases was greater.
References:
1.
http://kskvku.digitaluniversity.ac/Content.aspx?ID=800
2.
http://www.countercurrents.org/comm-puniyani110903.htm