Chushi Gangdruk [NVDA: National Volunteer Defense Army]
by Wikipedia
Accessed: 11/24/19
NOTICE: THIS WORK MAY BE PROTECTED BY COPYRIGHT
YOU ARE REQUIRED TO READ

THE COPYRIGHT NOTICE AT THIS LINK

BEFORE YOU READ THE FOLLOWING WORK, THAT IS AVAILABLE SOLELY FOR PRIVATE STUDY, SCHOLARSHIP OR RESEARCH PURSUANT TO 17 U.S.C. SECTION 107 AND 108. IN THE EVENT THAT THE LIBRARY DETERMINES THAT UNLAWFUL COPYING OF THIS WORK HAS OCCURRED, THE LIBRARY HAS THE RIGHT TO BLOCK THE I.P. ADDRESS AT WHICH THE UNLAWFUL COPYING APPEARED TO HAVE OCCURRED. THANK YOU FOR RESPECTING THE RIGHTS OF COPYRIGHT OWNERS.
Another source of volunteers came via the international network she had established in Delhi, the Tibetan Friendship Group, through which Freda roped in pen pals, sponsors, and helpers for her tulkus and Tibetan refugees in general.

-- The Revolutionary Life of Freda Bedi, by Vicki Mackenzie
Dhotoe Chushi Gangdrug, Europe (Switzerland)

Name of Administrative Contact: Tashi Wangdü Khorlotsang

Street Address: Illnauerstr. 30

City, State/Province, Country and Postal Code: 8307 Effretikon, Switzerland

Telephone Number: 0041 52 343 89 70

Email Address:

lordtwk@bluewin.ch

Web Page URL (Address):

http://www.chushigangdrug.com/

Dhokham Chushi Gangdruk (New York) (USA)

Name of Administrative Contact: Doma Norbu

Street Address: Dhokham Chushi Gangdruk

75-22, 37th Avenue

Mail Box #326

City, State/Province, Country and Postal Code: Jackson Heights, NY 11372, USA

Telephone Number: +1 (646) 435-7880

Fax Number: +1 (646) 435-7880

Email Address:

dnorbu@chushigangdruk.org

Web Page URL (Address):

http://www.chushigangdruk.org/

Dhokham Chushi Gangdruk (DCG) is a non-governmental, non-religious, nonpartisan organization registered in the state of New York as a not-for-profit corporation and authorized under Section 501 (c)(3) of the United States Internal Revenue Code.

DCG's mission is to:

Work towards restoring the independence of Tibet through a non-violent movement.

Work towards the rights of the Tibetan people to determine their own political, economic, social, religious and cultural future under the sole leadership of His Holiness the Dalai Lama.

Preserve the unique Tibetan culture in-exile, which is being systematically destroyed by the Communist Chinese Government inside Tibet.

Look after the welfare of the veteran Chushi Gangdruk members.

-- Tibetan Friendship Group, by http://www.tibet.org
What many people may not know is that Trungpa first taught in Boulder at CU [Colorado University], and today the university shares with Columbia University the distinction of having three faculty members who specialize in modern Tibetan studies: McGranahan, Gayley and Associate Professor of Geography Emily Yeh, whose research focuses on environmental issues on the Tibetan Plateau and the Tibetan diaspora. All three women have traveled extensively in Tibet.

"I usually say we have three tenure-track, full-time specialists in Tibet, and that's three more faculty specializing in Tibet than you find at most universities," McGranahan says. "It's not a huge group … but it's an incredible opportunity (for research) and also for students."

McGranahan in recent years has been researching Tibetan guerillas who fought against the Chinese occupation in the 1960s and were trained by the CIA at Camp Hale, a U.S. Army facility near Leadville, Colo.

The combined academic heft of CU's [Colorado University's] Tibetan studies trio, Naropa and a new Boulder research branch of the New York-based Tsadra Foundation, which funds the translation of Tibetan Buddhist texts, have attracted attention and new opportunities to Boulder and Colorado.

A joint lecture series between CU [Colorado University] and Naropa, named in honor of Chogyam Trungpa, kicked off in 2013 with Janet Gyatso of Harvard University. John Makransky, professor of Buddhism and Comparative Theology at Boston University and a meditation teacher, will speak in September on compassion, the theme at Naropa's 40th-anniversary year.

"This is a step forward in the collaboration between the universities," Gayley says. "There is the perfect nexus for Buddhist studies in Boulder and (collaborations of this kind) will strengthen both programs."The lecture series was started with a seed grant from the Uberoi Foundation for Religious Studies, founded by the late Mahinder Uberoi, former chair of the Department of Aerospace Engineering at CU-Boulder.

In October, the Tibetan Translation and Transmission Conference, sponsored by the Tsadra Foundation, will bring some 200 Tibetan studies scholars and translators to Keystone. Andrew Quintman, assistant professor of Religious Studies at Yale University, will speak in Boulder as a lead up to the conference.

"Boulder is definitely a lightning rod for Buddhist and Tibetan studies," Gayley says. "I always have a wait list for my Buddhism classes, and I get 120 to 150 for the Foundation of Buddhism class. … It would be hard to garner that kind of interest anywhere else."

-- CU's [Colorado University's] expertise in Tibetan and Buddhist studies is

unusually deep

, by Clay Evans
A deep state (from Turkish: derin devlet), also known as a state within a state, is a form of clandestine government made up of hidden or covert networks of power operating independently of a state's political leadership, in pursuit of their own agenda and goals.

Examples include organs of state, such as the armed forces or public authorities (intelligence agencies, police, secret police, administrative agencies, and government bureaucracy). A deep state can also take the form of entrenched, career civil servants acting in a non-conspiratorial manner, to further their own interests. The intent of a deep state can include continuity of the state itself, job security for its members, enhanced power and authority, and the pursuit of ideological objectives. It can operate in opposition to the agenda of elected officials, by obstructing, resisting, and subverting their policies, conditions and directives. It can also take the form of government-owned corporations or private companies that act independently of regulatory or governmental control.[1]

-- Deep State, by Wikipedia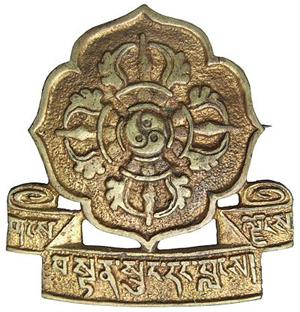 Chushi Gangdruk
ཆུ་བཞི་སྒང་དྲུག་
Badge of the "Tibetan Volunteer Defenders of the Faith". Inscription in Tibetan is gangs ljongs bstan srung dang blangs.
Leader(s) Andruk Gonpo Tashi
Dates of operation June 16, 1958–1974
Dissolved 1974[1]
Flag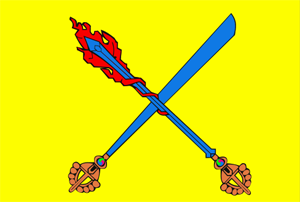 Chushi Gangdruk (Tibetan: ཆུ་བཞི་སྒང་དྲུག་, Wylie: Chu bzhi sgang drug, literally "Four Rivers, Six Ranges", full name: Tibetan: མདོ་སྟོད་ཆུ་བཞི་སྒང་དྲུག་བོད་ཀྱི་བསྟན་སྲུང་དང་བླངས་དམག་, Wylie: mdo stod chu bzhi sgang drug bod kyi bstan srung dang blangs dmag, "the Kham Four Rivers, Six Ranges Tibetan Defenders of the Faith Volunteer Army"[2]) was an organization of Tibetan guerrilla fighters, formally created on June 16, 1958, which had been fighting the forces of the People's Republic of China (PRC) in Tibet since 1956.
The Dokham Chushi Gangdruk organization, a charity set up in New York City and India with chapters in other countries, now supports survivors of the Chushi Gangdruk resistance currently living in India. Chushi Gangdruk also led The 14th Dalai Lama out of Lhasa, where he had lived, soon after the start of the Chinese invasion. During that time, a group of Chushi Gangdruk guerillas was led by Kunga Samten, who is now deceased.[3] Because the United States was prepared to recognize People's Republic of China in the early 1970s, CIA Tibetan Program, which funded the Chushi Gangdruk army, was ended in 1974.[4]
Name
Chushi Gangdruk "Four Rivers, Six Ranges" is the name traditionally given to the eastern Tibetan region of Kham where the gorges of the Gyalmo Nyulchu (Salween), Dzachu (Mekong), Drichu (Yangtse), and Machu (Huang Ho) rivers, all arising on the Tibetan Plateau, pass between six parallel ranges of mountains (Duldza Zalmogang, Tshawagang, Markhamgang, Pobargang, Mardzagang, and Minyagang) that form the watersheds for these rivers. "Chu" (choo) is the Tibetan word for "water", and "shi" (she) is the Tibetan word for 4. "Gang" is range, and "druk" (drewk) means 6.[5]
History

The Fall of Chamdo and signing of the Seventeen-Point Agreement
On 19 October 1950, the monastery where Ngabo Shapé was hiding was surrounded by the Chinese troops accompanied by a few Khampa guides, and here Ngabo Shapé and his officials and troops surrendered to the invading Chinese.[6] The Tibetan Government army in Chamdo was defeated, and the Communist Chinese army took over the city of Chamdo. In Drugu monastery, Ngabo Shapé signed the official surrender.
During the negotiation of the Seventeen-Point Agreement, when the negotiation broke down after Ngabo Shapé resisted to sign the agreement, Li Weihan threatened to order the Chinese troops to march into Lhasa. They decided it was more perilous to Tibet not to reach an agreement, therefore, they accepted the Chinese terms without asking Lhasa.[7] The Chinese were further furious when they were told that the Dalai Lama's seal was still in Yatung with him.[8] The Chinese made new seal for Ngabo Shapé to stamp the document when he exclaimed that he did not have his official seal to stamp the document, though he had with him the official seal as the Governor General of Kham.[9] Therefore, on 23 May 1951, Ngabo Shapé was forced to sign under duress the "Agreement of the Central People's Government and the Local Government of Tibet on Measures for the Peaceful Liberation of Tibet," commonly known as the "Seventeen-Point Agreement".[10]
Formation of Chushi Gangdrug
Andrug Gompo Tashi (also known as Andrug Jindak) established a people's army called Chushi Gangdrug. Like many other volunteered fighters, Andrug Jindak financed many of the freedom fighters and was accepted as their undisputed leader of the resistance army.
In order to mobilize more support across the different regions of Tibet, the names Tenshung Danglang Mak were appended to Chushi Gangdrug in order to address the pan-Tibetan composition of the people's army. It was not a Tibetan government army but rather a grassroots army of the Tibetan people. Tenshung Danglang Mak fought for the political and religious freedom of Tibet. Khampas and Amdowas had been fighting against the invading Chinese Communist troops since 1956 in different parts of Kham and Amdo. On 16 June 1958, a meeting of Chushi Gangdrug and their supporters was held in Lhodak Dhama Dzong with impressive cavalry parade, incense burnt to the Dalai Lama photograph, and then launched the Chushi Gangdrug yellow flag of the Tensik Danglang Mak with an emblem of two swords represented a deity and handles symbolic of Dorjee or thunderbolt and lotus flower.[11][12]
The formation of the Chushi Gangdruk Volunteer Force was announced on June 16, 1958. It was called National Volunteer Defence Army (NVDA). "Chushi Gangdruk" is a Tibetan phrase meaning "land of four rivers and six ranges," and refers to Amdo and Kham. The group included Tibetans from those regions of eastern Tibet, and its main objective was to drive PRC occupational forces out of Tibet. While central and western Tibet (Ü-Tsang) were bound by a 17-point agreement with the People's Republic of China, the PRC initiated land reform in eastern Tibet (including Amdo and Kham) and engaged in harsh reprisals against the Tibetan land-owners there.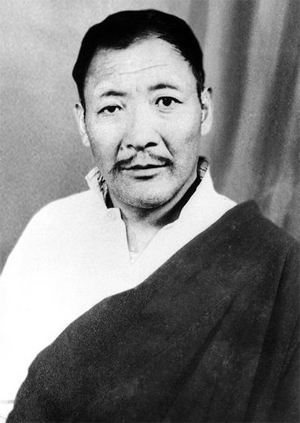 Andrug Gompo Tashi[13] before 1959
Under the direction of General Andrug Gonpo Tashi, Chushi Gangdruk included 37 allied forces and 18 military commanders. They drafted a 27-point military law governing the conduct of the volunteers. Their headquarters were located at Tsona, then later moved to Lhagyari.
Initially militia members purchased their own weapons, mainly World War II-era British .303 in, German 7.92 mm, and Russian 7.62 mm caliber rifles. Chushi Gangdruk contacted the US government for support. However, the State Department required an official request from the Tibetan government in Lhasa, which was not forthcoming. State Department requests were made and ignored in both 1957 and 1958.
CIA support
Without getting approval from the Dalai Lama, the US Central Intelligence Agency decided to go ahead to support the Chushi Gangdrug Tenshung Danglang Mak in the summer of 1959.[14] The CIA provided the group with material assistance and aid, including arms and ammunition, as well as training to members of Chushi Gangdruk and other Tibetan guerrilla groups at Camp Hale.
Chapter 3: The Prodigal Son

During the second week of September 1956, CIA officer John Hoskins arrived at Calcutta's Dum Dum Airport to a blast of late summer heat. At twenty-nine, he had already spent two years recruiting agents in Japan and another four shuttling between Washington desk assignments and vigorous tradecraft instruction. [1] Now assigned to the Calcutta consulate, his new post was an experiment of sorts. The CIA's Far East Division had just gotten permission to station its officers at any diplomatic mission where overseas Chinese were found in numbers. This meant superimposing Far East Division personnel outside of their home turf -- in this case, in India of the Near East Division. [2]

In Calcutta, Hoskins could choose from a wealth of Chinese targets. Topping the list was the PRC's consulate and the People's Bank of China branch, both of which had been opened following the 1954 Sino-Indian trade agreement. In addition, some 30,000 Chinese expatriates -- three-quarters of all those living in India -- made their homes in and around the city.

Hoskins landed the secondary assignment of preening non-Chinese sources in the Himalayan states along the Tibetan border. Just as case officer Kenneth Millian had found out four years earlier, however, the Indians went out of their way to obstruct such efforts. "Overseas Chinese were fair game for penetration," recalls Hoskins, "but the others were considered under Indian hegemony." [3] This was driven home when Mary Hawthorne, a CIA officer assigned to Calcutta, allowed Jigme Thondup (a Bhutanese royal who later became prime minister) and his family to spend the night at her apartment. When the Indians learned of the incident, their outcry was so shrill that Hawthorne was forbidden by her superiors to attempt any similar invitations. [4]

Mindful of Indian surveillance, Hoskins made plans for an exceedingly discreet approach to establish his own ties with Princess Kukula of Sikkim. As she was known to have an affinity for equestrian events, he first considered making an overture at the Tibetan pony races held in Darjeeling. But because the crowds were small and whites were sure to attract notice, Hoskins instead opted to wait until she came to Calcutta for one of the city's thoroughbred competitions. Blending with the event's large number of Western spectators, he approached the princess. But Kukula, Hoskins found, had more reservations than in the past. "She wanted to keep contacts strictly social," he concluded. "She was not serious about getting involved."

As things turned out, the services of the Sikkimese royals would soon prove redundant. When the United States learned that the Dalai Lama had gotten permission in early November to attend the Buddha Jayanti celebrations, the CIA scrambled to bypass Sikkim and establish direct links with Tibetan sources close to the monarch. [5]

None were closer than the Dalai Lama's two brothers in exile. The eldest, Thubten Norbu, already had a history of indirect contact with the agency via the Committee for a Free Asia. After he had been unceremoniously dropped from CFA funding in 1952, both he and his servant, Jentzen Thondup, had become stateless refugees in Japan. Not until 1955, following repeated appeals channeled through Church World Services, did he and Jentzen finally get new Indian identity cards and U.S. visas. Settling in New Jersey, Norbu began to earn a modest income teaching Tibetan to a handful of students as part of a noncredited course at Columbia University.

The other brother, Gyalo Thondup, was residing in Darjeeling. Six years Norbu's junior, Gyalo was the proverbial prodigal son. The problem was, he was the figurative son to a number of fathers. He was the only one of five male siblings not directed toward a monastic life. As a teen, he had befriended members of the Chinese mission in Lhasa and yearned to study in China. Although this was not a popular decision among the more xenophobic members of his family, Gyalo got his wish in 1947 when he and a brother-in-law arrived at the Kuomintang capital of Nanking and enrolled in college.

Two years later, Gyalo, then twenty-one, veered further toward China when he married fellow student Zhu Dan. Not only was his wife ethnic Chinese, but her father, retired General Chu Shi- kuei, had been a key Kuomintang officer during the early days of the republic. Because of both his relationship to General Chu and the fact that he was the Dalai Lama's brother, Gyalo was feted in Nanking by no less than Generalissimo Chiang Kai-shek.

The good times were not to last. With the communists closing in on Nanking during the final months of China's civil war, Gyalo and his wife fled in mid-1949 to the safer climes of India. Once again because of his relationship to the Dalai Lama, he was added to the invitation list for various diplomatic events and even got an audience with Prime Minister Nehru.

That October, Gyalo briefly ventured to the Tibetan enclave at Kalimpong before settling for seven months in Calcutta. While there, his father-in-law, General Chu, attempted to make contact with the Tibetan government. With the retreat of the Kuomintang to Taiwan, Chu had astutely shifted loyalty to the People's Republic and was now tasked by Beijing to arrange a meeting between Tibetan and PRC officials at a neutral site, possibly Hong Kong. [6]

Conversant in Chinese and linked to both the Dalai Lama and General Chu, Gyalo was a logical intermediary for the Hong Kong talks. The British, however, were dragging their feet on providing visas to the Tibetan delegation. Unable to gain quick entry to the crown colony, Gyalo made what he intended to be a brief diversion to the Republic of China (ROC) on Taiwan. But Chiang Kai- shek, no doubt anxious to keep Gyalo away from General Chu and the PRC, had other plans. Smothering the royal sibling with largesse, Chiang kept Gyalo in Taipei for the next sixteen months. Only after a desperate letter to U.S. Secretary of State Dean Acheson requesting American diplomatic intervention did the ROC relent and give Gyalo an exit permit.

After arriving in Washington in September 1951, Gyalo continued to dabble in diplomacy. Within a month of his arrival, he was called to a meeting at the State Department. Significantly, Gyalo's Chinese wife was at his side during the encounter. Because of the couple's close ties to Chiang, department representatives assumed that details of their talk would quickly be passed to the Kuomintang Nationalists. [7]

Gyalo, in fact, was not a stooge of Taipei, Beijing, or, for that matter, Washington. Despite State Department efforts to secure him a scholarship at Stanford University, he hurriedly departed the United States in February 1952 for the Indian subcontinent. Leaving his wife behind, he then trekked back to Lhasa after a six- year absence.

By that time, Beijing had a secure foothold in the Tibetan capital. Upon meeting this wayward member of the royal family, the local PRC representatives were pleased. As a Chinese speaker married to one of their own, Gyalo was perceived as a natural ally. Yet again, however, he would prove a disappointment. After showing some interest in promoting a bold land reform program championed by the Dalai Lama, Gyalo once more grew restive. In late spring, he secretly met with the Indian consul in Lhasa, and after promising to refrain from politicking, he was given permission to resettle in India. [8]

Although not exactly endearing himself to anyone with his frequent moves, Gyalo was not burning bridges either. Noting his recent return to Darjeeling, the U.S. embassy in early August 1952 cautiously considered establishing contact. Calcutta's Consul General Gary Soulen saw an opportunity in early September while returning from his Sikkim trek with Princess Kukula. Pausing in Darjeeling, Soulen stayed long enough for Gyalo to pass on the latest information from his contacts within the Tibetan merchant community. [9]

Although he had promised to refrain from exile politics, Gyalo saw no conflict in courting senior Indian officials. In particular, he sought a meeting with India's spymaster Bhola Nath Mullik. As head of Indian intelligence, Mullik presided over an organization with deep colonial roots. Established in 1887 as the central Special Branch, it had been organized by the British to keep tabs on the rising tide of Indian nationalism. Despite several redesignations before arriving at the title Intelligence Bureau, anticolonialists remained its primary target for the next sixty years.

Upon independence in 1947, Prime Minister Nehru appointed the bureau's first Indian director. Rather than suppressing nationalists, the organization now had to contend with communal violence and early problems with India's erstwhile Muslim brothers now living in the bisected nation of Pakistan.

Three years later, Mullik became the bureau's second director. A police officer since the age of twenty-two, the taciturn Mullik was known for his boundless energy (he often worked sixteen-hour days), close ties to Nehru, healthy suspicion of China, and (rare for a senior Indian official) predisposition against communism. Almost immediately, the Tibetan frontier became his top concern. This followed Beijing's invasion of Kham that October, which meant that India's military planners now had to contend with a hypothetical front besides Pakistan. Moreover, the tribal regions of northeastern India were far from integrated, and revolutionaries in those areas could now easily receive Chinese support. The previous year, in fact, the bureau had held a conference on risks associated with Chinese infiltration. [10]

Despite Mullik's concerns, Nehru was prone to downplay the potential Chinese threat. Not only did he think it ludicrous to prepare for a full-scale Chinese attack, but he saw real benefits in cultivating Beijing to offset Pakistan's emerging strategy of anticommunist cooperation with the West. "It was Nehru's idealism against hard-headed Chinese realism," said one Intelligence Bureau official. "Mullik injected healthy suspicions."

Astute enough to hedge his bets, Nehru allowed Mullik some leeway in improving security along the border and collecting intelligence on Chinese forces in Tibet. To accomplish this, Mullik expanded the number of Indian frontier posts strung across the Himalayas. In addition, he sought contact with Tibetans living in the Darjeeling and Kalimpong enclaves. Not only could these Tibetans be tapped for information, but a symbolic visit by a senior official like Mullik would lift morale at a time when their homeland was being subjugated. Such contact, moreover, could give New Delhi advance warning of any subversive activity in Tibet being staged from Indian soil. [11]

Of all the Tibetan expatriates, Mullik had his eye on Gyalo Thondup. Besides having an insider's perspective of the high offices in Lhasa, Gyalo had already passed word of his desire for a meeting. Prior to his departure for his first visit to Darjeeling in the spring of 1953, Mullik asked for -- and quickly received -- permission from the prime minister to include the Dalai Lama's brother on his itinerary. Their subsequent exchange of views went well, as did their tete-a-tete during Mullik's second visit to Darjeeling in 1954. [12]

Apart from such occasional contact with Indian intelligence, Gyalo spent much of the next two years removed from the tribulations in his homeland. To earn a living, he ironically began exporting Indian tea and whiskey to Chinese troops and administrators in Tibet. For leisure, he and his family were frequent guests at the Gymkhana Club. Part of an exclusive resort chain that was once a playpen for the subcontinent's colonial elite, the Gymkhana's Darjeeling branch was situated amid terraced gardens against the picturesque backdrop of Kanchenjunga. A regular on the tennis courts, the Dalai Lama 's brother was the local champion. [13]

In the summer of 1956, Gyalo's respite came to an abrupt end. The senior abbot and governor from the Tibetan town of Gyantse had recently made his escape to India and in July wrote a short report about China's excesses. Gyalo repackaged the letter in English and mailed copies to the Indian media, several diplomatic missions, and selected world leaders. One of these arrived in early September at the U.S. embassy in the Pakistani capital of Karachi, and from there was disseminated to the American mission in New Delhi and consulate in Calcutta. [14]

Although the letter was less than accurate on several counts, it served two important purposes. First, it corroborated the reports of China's brutality provided by the crown prince of Sikkim in June. Second, it brought Gyalo back to the attention of Washington as a concerned activist. For the past four years, there had been virtually no contact between him and American diplomats in India. In particular, he was completely unknown among CIA officers in Calcutta. [15]

This was set to change, and quickly. Once word reached India in early November that the Dalai Lama would be attending the Buddha Jayanti, John Hoskins got an urgent cable from headquarters. Put aside your efforts against the Chinese community, he was told, and make immediate contact with Gyalo. A quick check indicated Gyalo's predilection for tennis, so Hoskins got a racket and headed north to Darjeeling. After arranging to get paired with Gyalo for a doubles match, the CIA officer wasted no time in quietly introducing himself.

First impressions are lasting ones, and Hoskins was not exactly wowed by Gyalo's persona. "There was a lot of submissiveness rather than dynamism," he noted. At their first meeting, little was discussed apart from reaching an understanding that, to avoid Indian intelligence coverage in Darjeeling, future contact would be made in Calcutta using proper countersurveillance measures.

Later that same month, the Dalai Lama and a fifty-strong delegation departed Lhasa by car. Switching to horses at the Sikkimese border, the royal entourage was met on the other side by both Gyalo and Norbu, who had rushed to India from his teaching assignment in New York. The party was whisked through Gangtok and down to the closest Indian airfield near the town of Siliguri, and by 25 November the monarch was being met by Nehru on the tarmac of New Delhi's Palam Airport. [16]

By coincidence, three days after the Dalai Lama's arrival in New Delhi, Chinese premier Zhou En- Lai began a twelve-day stop in India as part of a five-country South Asian tour. Keeping with diplomatic protocol, the young Tibetan leader was on hand to greet Zhou at the airport. The two then held a private meeting, at which time the elderly Chinese statesman lectured the Dalai Lama on the necessity of returning to his homeland.

Zhou was not alone in his appeal. As eager as Nehru was to offset Chinese influence in Tibet, he, too, was against the Dalai Lama's seeking asylum -- especially on Indian soil. This was partly because India wanted to maintain good relations with China. This was also because New Delhi did not want to go it alone, and not a single country to date had recognized Tibetan independence. Fearing that the monarch's brothers would have an unhealthy effect on any decision, Indian officials in the capital did all in their power to keep Gyalo and Norbu segregated from their royal sibling. [17]

The Dalai Lama hardly needed convincing from his brothers, however. During his first private session with Nehru, he openly hinted about not going back to Lhasa. He also requested that the issue of Tibetan independence be taken up by Nehru and President Dwight Eisenhower at their upcoming summit in Washington in December. Nehru was not entirely surprised by all this: Gyalo had already sought out Mullik and told the Indian intelligence chief in no uncertain terms that his brother would opt for exile. [18]

As India's leadership digested these developments, the Dalai Lama departed the capital for an exhausting schedule of Buddha Jayanti festivities. He was still in the midst of this tour when Zhou returned to New Delhi for an encore visit on 30 December. In the interim, Nehru had had his Washington meeting with Eisenhower, and the Chinese premier had scheduled the stop specifically to discuss the outcome of that summit. As it turned out, however, Tibet was a major topic of conversation. In particular, Nehru used the opportunity to press Zhou about tempering China's harsh military and agrarian policies on the Tibetan plateau.

Tibet was clearly shaping into a litmus test for Sino-Indian relations. Anxious to broker a deal that would assuage both Lhasa and Beijing, Nehru summoned the Dalai Lama from his pilgrimage and underscored to the Tibetan leader that Indian asylum was not in the cards. But if that was bitter news, Zhou had earlier proposed a sweetener. While noting that China was ready to use force to stamp out resistance, he claimed that Mao now recognized the folly of rapid collectivization and pledged to delay further revolutionary reforms in Tibet.

Zhou and his senior comrades were by now gravely concerned over permanently losing the Dalai Lama. Leaving nothing to chance, Zhou was back in New Delhi on 24 January 1957 for his third visit in as many months.

Despite Beijing's lobbying, Gyalo and Norbu were still insistent that their brother choose exile. Torn over his future, the twenty-one-year-old monarch had already departed Calcutta on 22 January for Kalimpong, which by then was home to a growing number of disaffected Tibetan elite. Once there, he did what Tibet's leaders had done countless other times when confronted with a hard decision: he consulted the state oracle. Two official soothsayers happened to be traveling with his delegation; using time-honored -- if unscientific -- methods, the pair went into a trance on cue and recited their sagely advice. Return to Lhasa, they channeled. [19]

As far as the Dalai Lama was concerned, the ruling of his oracles was incontrovertible, and the decision was made all the easier by the fact that nobody seemed anxious to give him refuge. Flouting the suggestions of his brothers, he declared his intention to go home. He crossed into Sikkim in early March and was compelled to remain in Gangtok until heavy snows melted from the mountain passes. There, he finalized plans to set out for Lhasa by month's end.

Prior to November 1956, Tibet had never ranged far from the bottom of the priority watch list for those in the Far East Division at CIA headquarters in Washington. The agency had no officer assigned solely to Tibetan affairs; it, along with Mongolia and other peripheral ethnic regions under PRC control, barely factored as a minor addendum to the activities of William Broe's China Branch.

But as soon as the Dalai Lama received permission to attend the Buddha Jayanti, Broe felt it prudent to show heightened interest. Looking for a junior officer to spare, he soon settled on John Reagan. Twenty-eight years old, Reagan had joined the agency upon graduation from Boston College in 1951. He was soon in Asia, where he spent the next twenty-four months working on paramilitary projects in Korea. Switching to China Branch, he served two more years in Japan as part of the CIA's penetration effort against the PRC. Returning to the United States in 1955, Reagan divided the next twelve months between Chinese language training and trips to New York City to practice tradecraft against United Nations delegates.

As the branch's new man on Tibet, Reagan initially did little more than forward instructions for John Hoskins to make contact with Gyalo. He was silent on further guidance, primarily because senior U.S. policy makers had not yet ironed out a coherent framework for dealing with Lhasa. In earlier meetings between CIA and State Department officials during the summer of 1956, there had been those who felt that the Dalai Lama should flee to another Buddhist nation to offer a rallying cry for anticommunist Buddhists across Asia. Others, primarily inside the agency, believed that he could play a more important role as a rallying symbol in Lhasa among his fellow Tibetans. This eas still the CIA's operating assumption in late 1956: once the Dalai Lama was in India, the prevailing mood at agency headquarters was that he should eventually go home. [20]

Gyalo, meantime, was telling Hoskins that his brother had every intention of seeking asylum. With the Dalai Lama apparently intent on staying away from his homeland -- and therefore not conforming to the agency's preferred scenario of rallying his people from Lhasa -- Reagan was largely idle during most of the Dalai Lama's four-month absence from Tibet. [21]

Eventually, however, the CIA looked to hedge its bets.

Since the second half of 1956, a band of twenty-seven young Khampa men -- some still in their late teens -- had been growing restive in the enclave of Kalimpong. Most came from relatively wealthy trading families and had been spirited to India to protect them from the instability in their native province. Full of vigor, the entire group had ventured to New Delhi shortly before the Dalai Lama's Buddha Jayanti pilgrimage to conduct street protests. Once the Dalai Lama arrived, they sought a brief audience to make an impassioned plea for Lhasa's intercession against the Chinese offensive in Kham.

To their disappointment, the Dalai Lama counseled patience. "His Holiness only said things would settle down," recalls one of the Khampas. Undaunted, the twenty-seven young men shadowed the monarch during several of the Buddha Jayanti commemorative events. By early January 1957, this took them to Bodh Gaya, the city in eastern India where the historical Buddha was said to have attained enlightenment. While there, the Dalai Lama's older brother, Thubten Norbu, approached the Khampas and asked if he could take their individual photographs as a souvenir. Although it was an odd request, they complied. [22]

For the next few weeks, nothing happened. Frustrated by the Dalai Lama's repeated rebuffs, the Khampas sulked back to Kalimpong. Several Chinese traders were in town, some of whom were rumored to have links to the Nationalist regime on Taiwan. Desperate, the Khampas sounded them out on the possibility of covert assistance from Taipei. It was at that point that Gyalo Thondup arrived and requested a meeting with all twenty-seven. For most of the young Khampas, it was the first time they had spoken with the Dalai Lama's lay brother. As they listened attentively, Gyalo lectured them to steer clear of the Kuomintang. "The United States," he told them cryptically, "is a better choice." [23]

Less than a week later, the Dalai Lama arrived in Kalimpong, the oracles had their channeling session, and things changed dramatically. With the monarch's return journey now imminent, John Reagan in Washington scrambled to script a program of action. At its core, the plan called for a unilateral capability to determine how much armed resistance activity really existed in Tibet; further commitments could then be weighed accordingly.

The CIA had good reason to act with prudence. It already had a long and growing list of embarrassing failures while working with resistance groups behind communist lines. Perhaps none had been more painful than its experience against the PRC. There the agency's efforts had taken two tracks. The first was a collaborative effort with the Kuomintang government on Taiwan. Clinging to its dream of reconquering the mainland, the ROC in 1950 claimed to control a million guerrillas inside the People's Republic. Although a February 1951 Pentagon study placed the figure at no more than 600,000 -- only half of which were thought to be nominally loyal to the ROC -- Washington saw fit to support these insurgents as a means of appeasing a key Asian ally while at the same time possibly diverting Beijing's attention from the conflict on the Korean peninsula. [24]

To funnel covert American assistance to the ROC, the CIA established a shell company in Pittsburgh known as Western Enterprises (WE). In September 1951, WE's newly appointed chief, Raymond Peers, arrived on Taiwan with a planeload of advisers. A U.S. Army colonel who had earned accolades during World War II as chief of the famed OSS Detachment 101 in Burma, Peers quickly initiated a number of paramilitary efforts. A large portion of his resources was directed toward airborne operations, including retraining the ROC's 1,50O-man parachute regiment. Other WE advisers, meanwhile, were tasked with putting ROC action and intelligence teams through an airborne course. [25]

To deploy these operatives, WE turned to the agency's Far East air proprietary, Civil Air Transport (CAT). By the spring of 1952, CAT planes were dropping teams and singletons on the mainland, as well as supplies to resistance groups that the ROC claimed were already active on the ground. Some of the penetrations ranged as far as Tibet's Amdo region, where the ROC alleged it had contact with Muslim insurgents. [26]

Concurrently, the agency in April 1951 initiated a unilateral third-force effort using anticommunist Chinese unaffiliated with the ROC. Allocated enough arms and ammunition for 200,000 guerrillas, the CIA recruited many of these third-force operatives from Hong Kong, trained them in Japan and Saipan, and inserted them in CAT planes via air bases in South Korea. [27]

By the spring of 1953, both the ROC program and third-force effort were in their second years. Although the Pentagon's top brass (groping for ways to pressure Beijing during Korean cease-fire negotiations) were wistfully talking in terms of "sparking a coordinated anti-communist resistance movement throughout China," those running the CIA's infiltration program could hardly have been so optimistic. "None of the Taiwan agents we dropped were successful," said one WE adviser. The third-force tally was just as bad: all its operatives were either killed or taken prisoner, and CAT lost one plane during an attempted exfiltration that resulted in the capture of two CIA officers. [28]

That summer, an armistice sent the Korean conflict into remission. This provided the CIA with convenient cover to reassess its third-force track. Although it elected to maintain a China Base at Yokosuka, Japan, this unit was to handle primarily agent penetrations and low-level destabilization efforts; support for broader unilateral resistance got the ax.

Cooperative ventures with the ROC were not so easily nixed. Although Taipei had tempered its claims somewhat, it still pegged loyal mainland guerrilla strength at 650,000 insurgents. By contrast, a November 1953 estimate by the U.S. National Security Council (NSC) put the figure closer to 50,000. Despite this huge discrepancy, the NSC still advocated continued covert assistance to the ROC in order to develop anticommunist guerrillas for resistance and intelligence. Even temporary guerrilla successes, the council reasoned, might set off waves of defections and stiffen passive resistance. [29]

Chiang Kai-shek could not have agreed more. Eager to vastly increase the scope of guerrilla support, the generalissimo in 1954 asked Washington for some 30,000 parachutes. Turned down the first time, he made further high-priority appeals over the next two years. These parachutes were needed for an ambitious plan to drop 100-man units near major PRC population centers. Hoping to set off a chain of uprisings, Chiang optimistically talked in terms of uprooting Chinese communism in as little as two years. [30]

Hearing these plans, Washington patiently counseled against the proposed airborne blitz. On a more modest level, however, the CIA's assistance program continued unabated. In this, success was more elusive than ever. Despite inserting an average of two Nationalist agents a month through the mid-1950s, the ROC operatives were still being killed or captured in short order. [31]

Reasons for the lack of success against the People's Republic were legion. First, the infiltration program took at face value some of Taipei's claims about contact with a vast network of anticommunists on the mainland. In reality, such claims were wildly exaggerated, and precious little was known about events in the PRC countryside; even top PRC leaders were prone to mysteriously disappear from public view for months on end. [32] Second, in the unlikely event such resistance existed, the logistical challenge of maintaining support to these guerrilla pockets outstripped what could realistically be staged by Taiwan and the CIA. Third, the CIA's recent experience against the Soviet Union and its satellites had shown the folly of abetting insurgents in a tightly controlled police state; Beijing's omnipresent militia and party network were no less daunting. [33] Finally, even though the PRC's ruthless experimentation in social engineering had no doubt bred detractors by the score, the corruption of the Kuomintang regime hardly endeared Taipei to any disenchanted masses on the mainland.

Although these reasons might have made covert operations against the PRC a study in frustration, Tibet appeared to be different. Unlike many of Taipei's wishful claims about other areas of the mainland, Tibet had a resistance movement corroborated by multiple, albeit dated, sources. What the CIA needed was timely data that could give a current and accurate picture of this resistance. And given the historical animosity between Tibetans and lowland Chinese, the agency needed to gather this information without resort to ROC assistance.

In February 1957, John Hoskins was ordered by Washington to immediately identify eight Tibetan candidates for external training as a pilot team that would infiltrate their homeland and assess the state of resistance. Gyalo, who had been in Kalimpong making an eleventh-hour bid to convince his brother to seek asylum, was given responsibility for screening candidates among the Tibetan refugees already in India. Although the twenty-seven Khampas did not know it, Gyalo intended to make the selection from their ranks. Using the photographs taken by Norbu at Bodh Gaya, he sought guidance from two senior Khampas in town, both of whom hailed from the extended family of Gompo Tashi Andrugtsang, a prominent trader of Tibetan wool, deer horns, and musk.

With their assistance, Gyalo soon settled on his first pick. Wangdu Gyato-tsang, age twenty-seven, had been born to an affluent Khampa family from the town of Lithang. He was well connected: Gompo Tashi was his uncle, as was one of the senior Khampas helping Gyalo with the selection.

Wangdu also had the right disposition for the task at hand. Despite being schooled at the Lithang monastery from the age of ten, he did not exactly conform to monastic life. "He was hot tempered from childhood," recalls younger brother Kalsang.

A sampling of this temper came at age seventeen during a trip to the Tibetan town of Menling. Out of deference to the local chieftain, it was decreed that hats, firearms, and horse bells would be removed in front of the chief's residence. It was raining, however, so Wangdu continued wearing his cap. Spying this violation, the chieftain's bodyguard strode up and knocked the Khampa on the head. Without flinching, the young monk drew his pistol and shot the guard dead. [34]

On account of his family connections, Wangdu was spared punishment. In 1956, his family ties again came into play following the PLA's devastating attack on the Lithang monastery. On orders from uncle Gompo Tashi, Wangdu and his younger brother were bundled off to the safer environs of Kalimpong.

When approached by Gyalo, Wangdu immediately volunteered for the mission. Within days, five other Khampas were singled out (Washington now wanted a total of six trainees, not eight), but only Wangdu was given any hint of the impending assignment. Four were from Lithang; of these, three were Wangdu's close acquaintances, and one was his family servant. The fifth was a friend from the nearby town of Bathang (also spelled Batang). All were still on hand to attend the Dalai Lama's final open-air blessing in a Kalimpong soccer field shortly before the monarch headed back toward Tibet.

With the Dalai Lama en route to Lhasa, attention shifted in early March to smuggling the six Khampas out of India for training. This was easier said than done. Because of Nehru's determination to maintain cordial Sino-Indian ties, New Delhi's complicity remained out of the question. Moreover, the Khampas were refugees without proper identification, discounting overt travel via commercial airliner or boat. Brainstorming covert alternatives, several came to mind. "There was some talk in the Calcutta consulate about floating them off the Indian coast," said Gyalo, "then having them picked up by submarine." Consideration was also given to issuing fake Nepalese passports. [35]-- The CIA's Secret War in Tibet, by Kenneth Conboy and James Morrison
[
The Tibetan involvement with the U.S. came during the Cold War and decolonization period in world history that in the United States manifested as anticommunism, and in the People's Republic of China as anticapitalism. [15][16]

Allen Dulles, the CIA deputy director responsible for overseeing all CIA covert operations, saw an opportunity to destabilize Communist China.[17] The primary motive was more to impede and harass the Chinese Communists, than to render sufficient aid to the Tibetans.[18]
Surrender to Indian government
Chushi Gangdrug assisted the escape of the 14th Dalai Lama to India in March 1959. After this, the idea of any further battle with the Chinese Communist troops was abandoned. Andrug Jindak persuaded Kunga Samten Dewatshang in Tawang to surrender his weapons to the Indian authorities.[19] Shangri Lhagyal and other Chushi Gangdrug fighters handed over their weapons to the Indian officials at Tezpur, India. They crossed the border where they were greeted by a representative of the Tibetan Government, Tsedrung Jampa Wangdu.[20] On 29 April 1959, they handed over their rifles, ammunition, and all other weapons to the Deputy Commissioner of Tezpur district, and were permitted to take their gold, silver, and other valuables.[21]
The 14th Dalai Lama conferred the rank of Dsasak to Andrug Gompo Tashi in a letter: "You have led the Chushi Gangdrug force with unshakeable determination to resist the Chinese occupation army for the great national cause of defending the freedom of Tibet. I confer on you the rank of Dzasak (the highest military rank equivalent to general) in recognition of your services to the country. The present situation calls for a continuance of your brave struggle with the same determination and courage."[22] In addition, Andrug Jindak received some gifts of priceless religious relics including an earthen statue of God of Protection Jigchi Mahai and some holy beads.[23]
Later guerrilla operations
From 1960, Chushi Gangdruk conducted its guerrilla operations from the northern Nepalese region of Mustang.[24] In 1974, guerrilla operations ceased after the CIA, given the realignment of Sino-American relations initiated by President Richard Nixon, terminated its program of assistance to the Tibetan resistance movement and the Dalai Lama, the exiled Tibetan spiritual and temporal leader, taped a message telling the Tibetans to lay down their weapons and surrender peacefully.
See also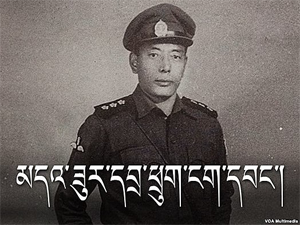 Ratuk Ngawang was in 'Four Rivers, Six Ranges', the Tibetan resistance force against the Communist Chinese
• List of organizations of Tibetans in exile
• Tibetan American
• Tibetan Resistance Since 1950
• Special Frontier Force
References

Citations
1. "Resistance and Revolution". Tibet Oral History Project. Archived from the original on 2017-06-27. Retrieved 2017-06-25. He went to India after the Nepalese Government disbanded the unit in 1974.
2. Goldstein, Melvyn: A History of Modern Tibet. Vol. 2. The Calm before the Storm, 1951-1955, University of California Press, London, 2007, p. 598
3. "Membership & Support". Chushigangdruk.org. Archived from the original on 2012-07-17. Retrieved 2012-06-10.
4. Stephen Talty (Dec 31, 2010). "The Dalai Lama's Great Escape". The Daily Beast.
5. Kunga Samten Dewatshang (1997). Flight at the Cuckoo's Behest, The Life and Times of a Tibetan Freedom Fighter. New Delhi: Paljor Publications. p. 113.
6. Ford, Robert (1990). Captured in Tibet. NY: Oxford University Press. pp. 136–137.
7. Knaus, J. K. (1999). Orphans of the Cold War: America and the Tibetan Struggle for Survival. NY: Public Affairs. p. 84.
8. Goodmann, M. H. (1986). The Last Dalai Lama, A Biography. London: Sidgwick & Jackson. p. 173.
9. Dalai Lama (2006). My Land and My People. New Delhi: Srishti Publishers & Distributors. p. 88.
10. INTERNATIONAL COMMISSION OF JURISTS (1959). "The Question of Tibet and the Rule of Law". International Commission of Jurists.
11. Knaus, J. K. (1999). Orphans of the Cold War: America and the Tibetan Struggle for Survival. NY: Public Affairs. p. 150.
12. Gyalo Thondup and Thurston, A. F. (2015). The Noodle Maker of Kalimpong, The Untold Story of My Struggle for Tibet. NY: Public Affairs. p. 176.
13. Thondup, Gyalo; Thurston, Anne F. (2015). The Noodle Maker of Kalimpong: The Untold Story of My Struggle for Tibet. Gurgaon, India: Random House India. p. 169. ISBN 978-818400-387-1. Most of the resisters in India were followers of Andrug Gompo Tashi, a wealthy, patriotic Kham trader from Litang where the resistance had begun with the introduction of China's so-called reforms. Popular outrage had been further fueled with the death and destruction unleashed when the Chinese attacked and bombed the local Litang monastery.
14. Knaus, J. K. (1999). Orphans of the Cold War. NY: Public Affairs. pp. 139.
15. McGranahan, C. (2018). Ethnographies of U.S. Empire: Love and Empire: The CIA, Tibet, and Covert Humanitarianism. Durham and London: Duke University. p. 334.
16. McGranahan, C. "Ethnographies of U.S. Empire: Love and Empire: The CIA, Tibet, and Covert Humanitarianism" (PDF).
17. Roberts II, J. B. (1997). "The Secret War Over Tibet". The American Spectator. December: 31-35.
18. Knaus, J. K. (1999). Orphans of the Cold War. NY: Public Affairs. pp. 139.
19. Kunga Samten Dewatshang (1997). Flight at the Cuckoo's Behest, The Life and Times of a Tibetan Freedom Fighter. New Delhi: Paljor Publications. p. 149.
20. Gompo Tashi Andrugtsang (1973). Four Rivers, Six Ranges: Reminiscences of the Resistance Movement in Tibet. Dharamsala: Information and Publicity Office of H.H. The Dalai Lama. p. 105.
21. Gompo Tashi Andrugtsang (1973). Four Rivers, Six Ranges: Reminiscences of the Resistance Movement in Tibet. Dharamsala: Information and Publicity Office of H.H. The Dalai Lama. pp. 105–106.
22. Gompo Tashi Andrugtsang (1973). Four Rivers, Six Ranges: Reminiscences of the Resistance Movement in Tibet. Dharamsala: Information and Publicity Office of H.H. The Dalai Lama. p. 101.
23. Gompo Tashi Andrugtsang (1973). Four Rivers, Six Ranges: Reminiscences of the Resistance Movement in Tibet. Dharamsala: Information and Publicity Office of H.H. The Dalai Lama. p. 101.
24. Cowan, Sam (17 January 2016). "The curious case of the Mustang incident". The Record. Retrieved 2017-02-10.
Sources
• Tsering Shakya, The Dragon in the Land of Snows - A History of Modern Tibet Since 1947, Columbia University Press, 1999, ISBN 0-231-11814-7.