Richard C. Blum
by Wikipedia
Accessed: 11/24/19
NOTICE: THIS WORK MAY BE PROTECTED BY COPYRIGHT
YOU ARE REQUIRED TO READ

THE COPYRIGHT NOTICE AT THIS LINK

BEFORE YOU READ THE FOLLOWING WORK, THAT IS AVAILABLE SOLELY FOR PRIVATE STUDY, SCHOLARSHIP OR RESEARCH PURSUANT TO 17 U.S.C. SECTION 107 AND 108. IN THE EVENT THAT THE LIBRARY DETERMINES THAT UNLAWFUL COPYING OF THIS WORK HAS OCCURRED, THE LIBRARY HAS THE RIGHT TO BLOCK THE I.P. ADDRESS AT WHICH THE UNLAWFUL COPYING APPEARED TO HAVE OCCURRED. THANK YOU FOR RESPECTING THE RIGHTS OF COPYRIGHT OWNERS.
"Tai Situpa's camp was trying to follow our every move, and revised their story as we discovered one fact after the next in the interviews," Shimatsu told me. "Dalai Lama camp, ditto. Representatives of Chinese President Jiang Zemin were eager to get the video and were overjoyed at the fact that they could get the real story. They admitted the episode was mysterious, that the Tibet Autonomous Region was blocking the President's inquiries about the affair. But they also said that the video was much too explosive for broadcast in China." Many journalists requested copies and television stations in Hong Kong, Taiwan, and elsewhere in Asia aired excerpts from the film.

Shimatsu's team discovered that a helicopter that picked up Ogyen Trinley in Nepal was owned by a company that had previously done work for the United States CIA, Fishtail Air. Even more suspicious, the Fishtail Air office had lost all flight records tor the day of Ogyen Trinley's pickup. "When Susanna Chung and Prakash Khanal broke the story of the Mustang escape route and the Fishtail Air helicopter pickup at Thorang-La, I rushed the story and video to the South China Morning Post in Hong Kong Internet news department," Shimatsu told me. "Their news producers were very excited and promised me five thousand dollars."

"Then we had to clear the story through editors of the print version of the newspaper. We were greeted by three editors. They were female, and I suspect two of them were MI-6 (British intelligence) agents. They killed the story with totally bogus questions, all of which were proven on tape and in notes. They wanted to know who our key contact was in Mustang (a businessman) but I refused to disclose his identity, since he could easily be killed by the Manang smugglers involved with the Karmapa escape." So the South China Morning Post killed Shimatsu's story.

Outside of East Asia, Shimatsu's film got little attention, and he attributes some of that to government influence and some to media bias. He claims that the United States government had an interest in Ogyen Trinley, perhaps because of lobbying by Tibetan rights groups in Washington who support the Dalai Lama. Shimatsu singled out the American Himalayan Foundation in particular, funded by San Francisco real-estate billionaire Richard Blum, husband of Senator Dianne Feinstein from California.

"Plus, most Western journalists, including Chinese journalists in Hong Kong, are pretty brainwashed by the 'human rights' nongovernmental organizations (NGOs), since

they wrongly assume that these NGOs are honest little guys fighting for truth and justice," rather than groups with their own biases

-- often in favor of Western governments -- that cause them to paint a one-sided picture of alleged rights abuses. Shimatsu felt that by making his film, he was striking a blow for press freedom. "This media monopoly made it all the more important to produce an independent documentary using portable DV mini- cameras, so

Flight of A Karmapa

was one of the first documentaries using this new media."

-- Buddha's Not Smiling: Uncovering Corruption at the Heart of Tibetan Buddhism Today, by Erik D. Curren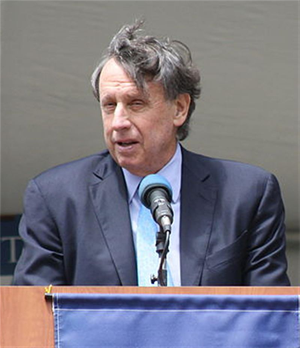 Richard C. Blum
Blum at UC Berkeley in 2009
First Gentleman of San Francisco
In role
January 20, 1980 – January 8, 1988
Preceded by Gina Moscone (First Lady)
Succeeded by Sherry Agnos (First Lady)
Personal details
Born Richard Charles Blum
July 31, 1935 (age 84)
San Francisco, California, U.S.
Nationality American
Spouse(s) Dianne Feinstein (m. 1980)
Alma mater University of California, Berkeley (BS, MBA)
Occupation Investment banker
Richard Charles Blum (born July 31, 1935[1]) is an American investment banker and husband of United States Senator Dianne Feinstein. He is the chairman and president of Blum Capital, an equity investment management firm that acts as general partner for various investment partnerships and provides investment advisory services. Blum also serves in various boards of directors of several companies, including CB Richard Ellis, where until May 2009 he served as the chairman of that board. He has been a regent of the University of California since 2002.[2]
Personal life and education
Blum was born in San Francisco, California, to a Jewish family and attended San Francisco public schools.[3] He received his B.S. in business administration in 1958 and an M.B.A. in 1959 from the Haas School of Business of the University of California, Berkeley.[4]
In the 1970s, Blum supported then Mayor of San Francisco George Moscone. After Moscone's assassination, Blum supported the new mayor Dianne Feinstein; they married in 1980.[3]
Career
Blum founded Blum Capital in 1975 and pioneered the firm's hybrid Strategic Block/Private Equity investment strategy. Mr. Blum previously served as Chairman of the board of directors of CB Richard Ellis, as well as serving as director on the boards of directors of three other portfolio companies: Fairmont Raffles Holdings International Ltd., Current Media, L.L.C. and Myer Pty Ltd. in Australia. Mr. Blum co-founded Newbridge Capital in the early 1990s and is Co-Chairman of TPG Asia V, L.P. (the successor fund to the Newbridge franchise that has been incorporated into Texas Pacific Group).[citation needed]
Mr. Blum has served on the boards of many prominent companies, including Northwest Airlines Corporation, Glenborough Realty Trust, Inc., Korea First Bank, URS Corporation and National Education Corporation. In addition, Mr. Blum is active in numerous non-profit organizations.
He is the founder and Chairman of the American Himalayan Foundation and is Honorary Consul to Mongolia and Nepal.
Mr. Blum also serves as a member of the Advisory Board of the Haas School of Business at the University of California at Berkeley.
Blum joined investment brokerage Sutro & Co. at the age of 23, becoming a partner before age 30.[3] At Sutro, Blum led a partnership that acquired Ringling Bros. and Barnum & Bailey Circus for $8m, selling it to Mattel four years later for $40m.[3] On the back of this deal Blum started in business for himself in 1975, founding what is now Blum Capital Partners;[3] a stake in URS Corp. was one of its first investments.[3]
On April 25, 2009, Blum was honored with the Berkeley Medal by UC Berkeley Chancellor Robert Birgenau in front of the 14th Dalai Lama. The talk was sponsored by his American Himalayan Foundation and the Blum Center for Developing Economies at UC Berkeley.[5]
Boards
On March 12, 2002, Blum was appointed by California Governor Gray Davis to a 12-year term as one of the Regents of the University of California,[6] and he was nominated for re-appointment to another 12-year term in 2014. Blum also serves on the boards of the following companies:
• CB Richard Ellis (Chairman)
• Newbridge Capital (co-Chairman)
• Current TV
• Blum Capital
Blum is also the primary owner of Career Education Corporation.[7]
Philanthropy
Blum has been a major contributor via the Blum Family Foundation to many charities and educational institutions. He has a strong interest in Tibet and Tibetan Buddhism and in 1981 he attempted to climb Mount Everest from the Tibetan side with Sir Edmund Hillary. He is the chairman and founder of the apolitical American Himalayan Foundation (AHF), which has given millions of dollars to build hospitals and schools in Tibet and Nepal but has refrained from political involvement with the Chinese control of Tibet. Other of Blum's not-for-profit endeavors include service as Trustee of The Carter Center; former Co-Chairman of The World Conference of Religions for Peace
; Member of Governing Council of The Wilderness Society;[8] member of the Board of Trustees of The Brookings Institution; member of the Board of Trustees of the American Cancer Society Foundation; member of the Board of Directors of the National Democratic Institute;[9] and is a Member of the Board of Trustees of the Richard C. Blum Center for Developing Economies at the University of California, Berkeley,to which he provided $15 million for the Center which is focused on finding solutions to address the crisis of extreme poverty and disease in the developing world.[10] He's given to the University of California at San Francisco (UCSF), Merced and Los Angeles (UCLA) and Sonoma State University, as well as Macalester College. He pledged $1.25 million to the University of San Francisco (USF) in 2007, and another $1.5 million to USF for "global education" in 2019.[11]
He has served on many other boards including the Seva Foundation, as Chairman of the Himalayan Foundation
, as a Trustee on Brookings Institute. He has also supported local charities including the San Francisco Food Bank and the John Burton Foundation for Children Without Homes. In the arts and culture, he has made grants to the Creative Visions Foundation, the Daniel Pearl Foundation, San Francisco's Asian Art Museum, the San Francisco Conservatory of Music, and the Geffen Playhouse in Los Angeles.[12]
Controversy
Blum's wife, Senator Dianne Feinstein, has received scrutiny due to her husband's government contracts and extensive business dealings with China and her past votes on trade issues with the country.
Blum has denied any wrongdoing.[13] URS Corp, which Blum had a substantial stake in, bought EG&G, a leading provider of technical services and management to the U.S. military, from The Carlyle Group in 2002; EG&G subsequently won a $600m defense contract.[3]
Blum and his wife have also received significant scrutiny and criticism due to his 75% stake in contractor Tutor Perini which received hundreds of millions to billions of dollars in military contracts in Iraq and Afghanistan during the US occupation of those countries.
[14][15] Critics have argued that business contracts with the US government awarded to a company controlled by Blum raise a potential conflict-of-interest issue with the voting and policy activities of his wife.[16]
In 2009, Feinstein introduced legislation to provide $25 billion in taxpayer money to the Federal Deposit Insurance Corp, a government agency that had recently awarded her husband's real estate firm, CB Richard Ellis, what the Washington Times called "a lucrative contract to sell foreclosed properties at compensation rates higher than the industry norms."[17]
The United States Postal Service has entered into an exclusive contract with CB Richard Ellis to sell buildings that currently house post offices.[18]
References
1. "AHF Annual Dinner : Events | American Himalayan Foundation" Archived July 28, 2014, at the Wayback Machine.
2. Rone Tempest (November 18, 2005). "Deal-Maker's Worlds Mesh at Party in S.F." Los Angeles Times.
3. Abate, Tom. (May 11, 2003). The man behind URS, next to Sen. Feinstein, San Francisco Chronicle, pp. I1-I2 |Although Jewish, the deeply philosophical Blum has taken a keen interest in Buddhism and Eastern philosophy
4. "Regent Richard C. Blum". regents.universityofcalifornia.edu. Regents of the University of California. Retrieved September 29, 2018.
5. Berkeley Welcomes Dalai Lama. The Daily Californian. April 29, 2009
6. Lederman, Doug (March 3, 2008) "At U. of California, a Systemic Governance Crisis". insidehighered.com
7. CounterPunch, February 26, 2010, DiFi and Blum: a Marriage Marinated in Money
8. Blum Biography Archived December 13, 2005, at the Wayback Machine at the University of California
9. "NDI Board of Directors: Richard Blum". National Democratic Institute. Retrieved October 2, 2012.
10. Maclay, Kathleen (April 19, 2006) Blum Center to develop sustainable solutions to issues facing world's poor. University of Berkeley.
11. [Educating Global Learners and Leaders with a Gift of $1.5 Million], University of San Francisco, Ashleigh Hollowell, April 30, 2019. Retrieved August 9, 2019.
12. Inside Philanthropy. Retrieved August 7, 2019.
13. Paddock, Richard C. (March 27, 2007) "Feinstein's husband steps out of her shadow". Los Angeles Times
14. "Windfalls of War". Archived from the original on March 12, 2008. Retrieved December 7, 2008.
15. "Winning Contractors". 2003. Retrieved July 29, 2019.
16. Byrne, Peter (January 24, 2007) Senator Feinstein's Iraq Conflict: Feinstein voted for appropriations worth billions to her husband's firms. North Bay Bohemian.
17. Neubauer, Chuck (April 21, 2009) EXCLUSIVE: Senator's husband's firm cashes in on crisis. In fact, Dianne Feinstein wrote a memo to the FDIC on her Senate letterhead informing the FDIC that they should award the contract to her husband. That contract paid Feinstein's husband for selling and managing each house a foreclosed bank had on file. Those fees paid Blum over $2,000 per month for each property he managed. The couple made hundreds of millions off of this deal and have yet to be brought up on criminal charges.Washington Times
18. Romney, Lee (December 7, 2013). "Berkeley making the rounds to save its historic post office". Los Angeles Times. Archived from the original on December 9, 2013. Riling many here is the exclusive deal with CBRE Group, whose chairman, Richard Blum, is married to U.S. Sen. Dianne Feinstein (D-Calif.).
External links
• Blum Capital Partners, L.P.
• Blum's Plums: Conflicts of interest benefitted Blum's firms during his term as a UC Regent Peter Byrne, North Bay Bohemian, February 21, 2007.