Chen Li-an [Lu-an/Lu an]
by Wikipedia
Accessed: 11/29/19
NOTICE: THIS WORK MAY BE PROTECTED BY COPYRIGHT
YOU ARE REQUIRED TO READ

THE COPYRIGHT NOTICE AT THIS LINK

BEFORE YOU READ THE FOLLOWING WORK, THAT IS AVAILABLE SOLELY FOR PRIVATE STUDY, SCHOLARSHIP OR RESEARCH PURSUANT TO 17 U.S.C. SECTION 107 AND 108. IN THE EVENT THAT THE LIBRARY DETERMINES THAT UNLAWFUL COPYING OF THIS WORK HAS OCCURRED, THE LIBRARY HAS THE RIGHT TO BLOCK THE I.P. ADDRESS AT WHICH THE UNLAWFUL COPYING APPEARED TO HAVE OCCURRED. THANK YOU FOR RESPECTING THE RIGHTS OF COPYRIGHT OWNERS.
The Taiwan Connection

Soon after leaving Rumtek, Situ found that his ambition would take him far. Outside of the stuffy atmosphere of the Karmapa's cloister, Situ made friends easily. In the days when Tibetan lamas were still considered exotic by outsiders, Situ connected on a human level with spiritual seekers from both East and West. Former Rumtek Abbot Thrangu became Situ's mentor after the two left the Karmapa's monastery. Thrangu introduced his protege to people such as Taiwanese minister Chen Lu An who would provide valuable support to Situ to achieve his vision for his own palatial monastery and later, for the Karma Kagyu.

During the 1980s, Thrangu made several visits to Taiwan, a Buddhist stronghold where interest in Tibetan teachers was growing as rapidly as this Asian Tiger's booming export economy. It was well known among Tibetan lamas that the best fund-raising was to be had in the overseas Chinese communities of East and Southeast Asia and North America.

"In 1984, Thrangu Rinpoche came up with an idea to get money in Taiwan," said Jigme Rinpoche, Shamar's brother, a lama in his own right and the director of two large monasteries in France since the mid-seventies. Like Shamar, Jigme lived at Rumtek in the sixties and seventies. Now in his late fifties, the soft-spoken, baby-faced Jigme exudes an air of motherly care that seems ill-suited to controversy; Yet, he has been the most outspoken of Shamar's supporters in criticizing Thrangu's role.

"Thrangu Rinpoche chose a monk, he was called Tendar," Jigme said. "He left Rumtek with Thrangu Rinpoche in 1975 and followed him to his retreat place Namo Buddha in Kathmandu. Thrangu Rinpoche had the idea to present this Tendar as a high lama."

With specific instructions from Thrangu, the new "Tendar Tulku Rinpoche" went to Taipei with the credentials of a spiritual master, in order to teach and raise funds for Thrangu's work in Nepal and elsewhere. Jigme told me that "Thrangu Rinpoche asked his own monks in Taiwan, who knew that Tendar was merely an ordinary monk, to keep his secret and pretend that Tendar was a high lama." The monks in Taiwan went along with Tendar's masquerade until the following year when Tendar himself, apparently fearful of discovery, backed out of the scheme, but not before raising enough money to demonstrate the potential of this approach to his boss Thrangu Rinpoche.

Thrangu later elaborated on this strategy and reportedly went on to promote dozens of undistinguished lamas to rinpoches. "These lamas owed their new status and loyalty to Thrangu Rinpoche personally," Jigme explained. "Later, Situ Rinpoche followed his lead, recognizing more than two hundred tulkus in just four months during 1991, as we learned from our contacts in Tibet."

In 1988, while traveling in Taiwan, Thrangu met with Chen Lu An. "Mr. Chen approached Thrangu Rinpoche with a plan to raise millions of dollars for the Karma Kagyu in Taiwan," explained Jigme Rinpoche. In exchange for a percentage of donations, a kind of sales commission that would go to his own Guomindang party, Chen offered to conduct a large-scale fund-raising campaign. Chen asked Thrangu to convey his proposal to the four high lamas of the Karma Kagyu: Shamar, Situ, Jamgon, and Gyaltsab Rinpoches.

Together, according to Jigme -- who said the Rumtek administration received reports from a dozen loyal monks in Taiwan who heard about this plan from their devotees and other Tibetans on the island -- Thrangu and Chen worked out the details of a plan to raise as much as one hundred million dollars by finding a Karmapa and then touring him around Taiwan.

Beforehand, they would create interest with a publicity campaign announcing the imminent arrival of a "Living Buddha" and promising that whoever had the chance to see the Karmapa and offer him donations would be enlightened in one lifetime. On his arrival, the tulku would perform the Black Crown ceremony at dozens of Tibetan Buddhist centers and other venues on the island.

"With such a plan," Jigme said, "according to our monks on Taiwan, Mr. Chen assured Thrangu Rinpoche that he would be able to get between fifty and a hundred people to donate one million dollars each, along with hundreds of others who would give smaller amounts."

According to Jigme's sources, Thrangu asked Chen to keep the plan to himself. He promised Chen he would personally inform the Karma Kagyu rinpoches of their plan and Chen's offer to carry it out. However, when Thrangu returned to India, he did not share the plan with Shamar, Jamgon, or Gyaltsab, but only with Tai Situ. Situ was reportedly excited by the plan. "Soon after," Jigme explained, "Thrangu Rinpoche took Situ Rinpoche on a secret trip to Taiwan to meet with Mr. Chen."

"Together, the three worked out the details of a fund-raising tour for their future Karmapa. The plan was worked out at least four years before they announced Ogyen Trinley. Situ Rinpoche and Thrangu Rinpoche wanted to bring Gyaltsab Rinpoche into their plans, but they didn't think they could trust Jamgon Kongtrul Rinpoche." In any event, they were apparently certain that Shamar would not agree to participate and would spoil the plan, probably exposing it as he had exposed an earlier idea of Thrangu's, to take over the Karmapa's Kaolung Temple in Bhutan.

By 1973, the dozens of monks that Thrangu had brought into exile in 1959 still lingered at a refugee camp in northern India, in uncomfortable conditions. Thrangu had long sought his own cloister in which to house them. He set his eye on one of the Karmapa's monasteries in Bhutan for this purpose. Originally a gift of the grandmother of the current king, the Kaolung Temple was located within the campus of a large secondary school in eastern Bhutan.

Abbot Thrangu must have known that the sixteenth Karmapa would not willingly grant him control of the temple. But Thrangu apparently thought that if he offered his monks as "caretakers," that he could quietly place more and more monks there, eventually making control of the temple a fait accompli. Thrangu shared the whole scheme with Shamar, asking for his help. Thrangu must have thought that he could trust his former student. But he was wrong in this. Shamar immediately shared his former teacher's plan with with Topga, who had no choice but to inform the sixteenth Karmapa, thus earning Thrangu a rebuke from the sixteenth Karmapa.

"Soon afterwards, the abbot resigned his duties at Rumtek," Jigme said. "Ever since that, Thrangu Rinpoche behaved coldly towards Shamar Rinpoche. Therefore, according to our monks in Taiwan, Thrangu told Mr. Chen that under no circumstances should Shamar Rinpoche hear of their dealings."

Khenpo Chodrak and other lamas who managed Rumtek before Situ and Gyaltsab took over the monastery in 1993 have confirmed that they received similar information from monks in Taiwan at the time. Of course, even if Chen and Thrangu were planning to tour the Karmapa around Taiwan as a fund-raiser, we cannot know what they would have done with the donations. It is possible that they would have subsidized expanded Buddhist missionary work. It is also possible, as Jigme has suggested, that the money would have been used to build support for Situ and his allies among local politicians in Sikkim and elsewhere.

***

By mid-morning, a total crowd of more than a thousand of Tai Situ's supporters had assembled in the monastery's courtyard. A tense standoff began outside the main temple. The Rumtek monks responsible for the shrine room locked the entrance and refused to hand over the keys. Situ and Gyaltsab led a crowd to the temple, and sat down in front of the locked doors. They held incense and chanted Karmapa chenno (Karmapa hear me), the mantra of the Karmapas. Their followers clamored for action from behind them.

The Rumtek monks began to lose control over the situation. Soon, officers sent by the Sikkim chief of police began to intervene on the side of the aggressors. "This was crossing the line between church and state, which broke India's constitution," Shamar said. "We can only guess that Mr. Bhandari must have had a very strong incentive to take such a risk." Bhandari knew that New Delhi could have taken strong measures against him for breaching the constitutional wall between church and state, up to dissolving his government and putting him in prison. As it turned out, after the Rumtek takeover, the central government did initiate an investigation into Bhandari's role to determine if his Sikkim administration had unlawfully interfered in religious affairs.

Shamar's supporters have claimed that Bhandari probably received a payment as high as one million dollars from Situ and Gyaltsab, to send state police and security forces into Rumtek in response to an incident that the two rinpoches would provoke. The money came, allegedly, from Situ's Taiwanese supporter, former government official Chen Lu An. But the only evidence for this payment, aside from hearsay. is inferential: Shamar's followers theorize that for Bhandari to openly defy India's constitution by invading a religious center, and thus risk punishment from New Delhi, the chief minister must have been well rewarded. However, both newspaper reports and government investigators have documented that Chen Lu An delivered a payment of $1.5 million to Bhandari a few weeks after the Rumtek takeover.

According to Indian journalist Anil Maheshwari, Chen visited India between November 28 and December 4, 1993 to attend a meeting organized by Karma Topden. As we have seen Topden was a leader of Situ's Joint Action Committee in Sikkim and the father of the would-be Gyathon Tulku, rejected by the Rumtek administration in the eighties. Situ Rinpoche was also present at this meeting, and Shamar's supporters claim that this meeting was connected to Bhandari receiving a second payment from Chen for the chief minister's role in the takeover of Rumtek four months earlier, in August.2 The Indian government launched an investigation, and in January 1994, the Ministry of External Affairs in New Delhi banned Chen from re-entering India. [3]

***

In November 1999, Thaye Dorje accepted an invitation to make a tour of Southeast Asia. This would be his first trip abroad. He met with thousands of devotees at dharma centers in Singapore and Malaysia. But he almost did not make it into Taiwan, according to Ngedon Tenzin. Earlier, we encountered him as the senior monk-official at Rumtek who had his monk's robe wrapped around his neck by angry local supporters of Situ when he and Gyaltsab took over the Karmapa's cloister in August 1993. Since 2004, as we have seen, Ngedon has served as the general secretary of Thaye Dorje's labrang, the post held by Topga Rinpoche until his death from cancer in 1997.

"Our staff obtained a Taiwanese visa for Gyalwa Karmapa Thaye Dorje weeks before he was supposed to enter Taiwan. We used the diplomatic passport issued to him by the Bhutanese government," Ngedon said. "But the day before he was due to fly into Taipei airport, officials in the Foreign Ministry tried to stop His Holiness Karmapa from coming in because of a technicality."

Immigration officials noticed that his passport said that Thaye Dorje was born in Tibet. As a result of its strained relations with Beijing, the Taiwanese government required travelers born in China to obtain a special permit to enter the island nation. Only the timely intervention of one of Thaye Dorje's supporters in Taipei saved the trip. This devotee used his influence in the Foreign Ministry to convince the manager of the relevant office to remain open after normal closing time at five o'clock to process an emergency permit for Thaye Dorje. The tulku was able to obtain clearance and fly into Taipei the next day.

Ngedon suspects that Chen Lu An, who by this time was a former government official but one who still enjoyed influence in the tight-knit administration of the island nation, tried to block Thaye Dorje's entry into Taiwan. "Through our devotees in Taiwan" we heard that Mr. Chen had already lined up perhaps fifty people willing to pay one million dollars each to carry the box for the Black Crown and hand it to Ogyen Trinley during the Black Crown ceremony," Ngedon said.

Here we might recall that Jigme Rinpoche accused former Rumtek Abbot Thrangu of planning with Chen to tour the next Karmapa around the island to raise funds, as we saw in chapter 8. Now, it appeared that Chen had started to put a similar plan into action with Tai Situ.

According to Ngedon, Chen had even more Taiwanese pledged to pay five hundred thousand dollars each to hand Ogyen Trinley the so-called Body, Speech, and Mind Objects during the ceremony -- a stupa or sacred pagoda, a statue of the Buddha, and a text of Buddhist scriptures. "Mr. Chen had made commitments to Karma Kagyu lamas in Taiwan, as well as monasteries around the world, from Kathmandu to New York, to distribute these funds. If His Holiness Thaye Dorje came to Taiwan, Mr. Chen's plan would be spoiled. We heard that he was practically sleeping in front of the Foreign Ministry office to stop Karmapa Thaye Dorje from getting into Taiwan."

-- Buddha's Not Smiling: Uncovering Corruption at the Heart of Tibetan Buddhism Today, by Erik D. Curren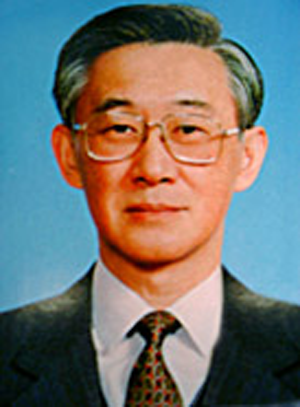 Chen Li-an (Chinese: 陳履安; pinyin: Chén Lǚ'ān; born 22 June 1937 in Qingtian, Zhejiang, Republic of China), sometimes spelled Chen Lu-an, is an electrical engineer, mathematician and former Taiwanese politician.
Early life
The son of former Vice President Chen Tsyr-shiou,
he earned his masters' and Ph.D. in mathematics from New York University.
He had a close friendship with Wang Yung-ching, a respected businessman. Wang later appointed Chen the headmaster of the private Ming-chi Technology College which Wang owned; Chen held the position from July 1970 to February 1972.
Political career
Chen served as Minister of Economic Affairs from 1988 to 1991, Minister of National Defense from 1991 to 1993, and President of the Control Yuan from 1993 to 1995. He resigned his post, left the Kuomintang, and declared his candidacy for the presidency in September 1995 to express his open criticism of Lee Teng-hui's Mainland policy.
Lin Yang-kang originally considered Chen as his vice-presidential running-mate in the 1996 ROC presidential election. However, Chen chose to run for president himself (with Wang Ching-feng as his vice-presidential candidate).
As Chen is a devoted convert to Tibetan Buddhism (he is ethnically Han), his campaign tour of the island featured a strong spiritual theme, projecting an image that some commented to be like an "ascetic monk".
After losing his bid in the presidential election with the lowest vote among the four candidates, Chen announced that he would retire from politics.
1996 Republic of China Presidential Election Result

President Candidate / Vice President Candidate / Party / Votes / %

Lee Teng-hui / Lien Chan / Kuomintang / 5,813,699 / 54.0

Peng Ming-min / Frank Hsieh / Democratic Progressive Party / 2,274,586 / 21.1

Lin Yang-kang / Hau Pei-tsun / Independent / 1,603,790 / 14.9

Chen Li-an / /Wang Ching-feng / Independent / 1,074,044 / 9.9

Invalid/blank votes / 117,160

Total / 10,883,279 /100
Later, as part of his efforts to promote Tibetan Buddhism, he founded the Hwa-yu Foundation (化育基金會), of which he serves as president and his eldest son, Chen Yu-ting (陳宇廷), serves as director. Chen also organized charities to financially assist ethnic minorities in mainland China and Nepal. From 1996 to 1998, he visited the Mainland China three times, meeting once with Jiang Zemin, General Secretary of the Communist Party of China.
While he still considered the Kuomintang a "rotten party",[1]
Chen endorsed the KMT candidate Lien Chan in the 2000 ROC presidential election, believing that Lien was unlike the rest of the Kuomintang.

In January 2001, Chen re-joined the Kuomintang, because he thought both the party and Taiwan needed him.
[2] Since 2002 Chen and his family have been investing and running various business in mainland China, Nepal and Macau.
Chen's last public appearance was in the Pan-Blue Coalition's protests shortly after the 2004 ROC presidential election. He showed his support for Lien Chan and James Soong.
Personal life
He is married to Tsao Chin (曹倩). His daughter, Chen Yu-hui, is a businesswoman (director of ABN AMRO) and wuxia novelist ("Duō qíng làng zǐ chī qíng xiá";多情浪子痴情侠).
See also
• Politics of the Republic of China
References
1. "Archived copy". Archived from the original on 14 January 2004. Retrieved 6 December 2003.
2. Lin, Chieh-yu (4 January 2001). "KMT exodus could cost party its majority". Taipei Times. p. 3. Retrieved 29 January 2015.