John E. Stapleton Driver
by Dilgo Khyentse Fellowship - Shechen
June 1, 2014
NOTICE: THIS WORK MAY BE PROTECTED BY COPYRIGHT
YOU ARE REQUIRED TO READ

THE COPYRIGHT NOTICE AT THIS LINK

BEFORE YOU READ THE FOLLOWING WORK, THAT IS AVAILABLE SOLELY FOR PRIVATE STUDY, SCHOLARSHIP OR RESEARCH PURSUANT TO 17 U.S.C. SECTION 107 AND 108. IN THE EVENT THAT THE LIBRARY DETERMINES THAT UNLAWFUL COPYING OF THIS WORK HAS OCCURRED, THE LIBRARY HAS THE RIGHT TO BLOCK THE I.P. ADDRESS AT WHICH THE UNLAWFUL COPYING APPEARED TO HAVE OCCURRED. THANK YOU FOR RESPECTING THE RIGHTS OF COPYRIGHT OWNERS.
The tulkus were learning English and their lessons on the modern world with varying degrees of success. Freda's star student, Trungpa Rinpoche, however, was making exceptional progress, and Freda's aspirations for him became increasingly ambitious. He had a natural aptitude for English and had taken to reading the poets that Freda presented him with, especially T.S. Eliot. He was keen on history and geography too. Freda decided that he was ready to try to get into Oxford, her own university, where he would receive the finest education the West had to offer. With such credentials he would be perfectly equipped and have the clout to bring the sacred Buddhist teachings to the outside world in a language it could understand.

With the help of John Driver, an Englishman who was also tutoring Trungpa, Freda set about getting a Spalding Scholarship for Trungpa, and succeeded. In early 1963 Trungpa set sail for England accompanied by Akong Rinpoche, to enter into the arcane, privileged, and hallowed halls of Oxford University.

It was another epic journey into the unknown, heralding as many adventures, pitfalls, and triumphs as they had met in their escape from Tibet.

-- The Revolutionary Life of Freda Bedi, by Vicki Mackenzie
Alongside this new emergency, Freda continued to pursue another hugely ambitious project. 'My two lama "sons" are coming to England in March ... wonderful young lamas,' Freda told Olive Chandler -- an indication of the strong emotional as well as spiritual bonds forged with these tulkus.24

Along with John [E. Stapleton] Driver, a scholar of Tibet who had spent several years in Kalimpong, she managed to secure a Spalding scholarship to allow Trungpa to study at Oxford University. Akong was to accompany him.

They were, in Cherry Armstrong's words, Freda's 'golden boys'.

She recognised in Trungpa, in particular, an exceptional spiritual presence and an ability to communicate and to inspire those with whom he came into contact. Both had formal roles at the school -- Trungpa as codirector (he described himself as the school's spiritual advisor) while Akong made sure that the place ran with tolerable efficiency. Anita Morris, who taught English both at Green Park and at Dalhousie, had mixed opinions of the two. 'Akong was very much taking care of the younger ones -- a lot of them were a lot younger. So if they had any pains or any problems, they would go to Akong,' she recalls. 'He'd be going down maybe to a doctor at Dalhousie if necessary or just for ordinary shopping and taking care of things. Whereas Trungpa just did his own thing, his bits of painting and that sort of stuff.'25 A Tibetan lama who knew both well at Dalhousie comments that Trungpa always wanted attention and prominence, while Akong was solid and reliable. Trungpa was already developing a reputation as something of a wild child. Although it was a well-kept secret, he apparently fathered a child with a Tibetan nun who came to Dalhousie to visit him. They took a mattress up on the roof of the school -- said Trungpa's English wife in her memoirs -- and spent the night there. That was not at all typical of the school, but not entirely untypical ofTrungpa.26 He was an enormously important figure in the spread of Tibetan Buddhism in North America and Europe and one of the first to teach westerners in English, but he had lifelong issues about sexual promiscuity and the use of drink and drugs.

At Ladakh Buddhist Vihar, Cherry remembers Trungpa and Akong sitting in their room studying maps of the London Underground and out-of-date bus timetables in preparation for their journey. They travelled by boat. On the day they were due to dock outside London, the pupils at the Home School -- by now back in Dalhousie -- held a prayer ceremony on an open patch of woodland on the hillside adjoining Kailash. 'They lit a fire of juniper branches and the smoke rose in a blue spire into the branches of the trees and on up into the cloudless sky. We sat on brightly patterned Tibetan rugs spread over the stony ant-infested ground and the lamas began their chanting. It was a happy, picnic-like affair around the scented bonfire, with kettles of hot buttery Tibetan tea.'27

At Tilbury, Cherry's parents were on hand to welcome the two Tibetans -- as were Anita Morris and other well-wishers -- and to provide them with an initial berth at the family home in High Wycombe. Once installed at Oxford, Trungpa and Akong were joined by an old friend and another alumnus of the Home School, Chime Rinpoche. They shared a small flat in St Margaret's Road, on the same street as Freda's old college, and Akong took work as a hospital orderly to help support the household. All three became powerful beacons of Tibetan Buddhism in the west.

-- The Lives of Freda: The Political, Spiritual and Personal Journeys of Freda Bedi, by Andrew Whitehead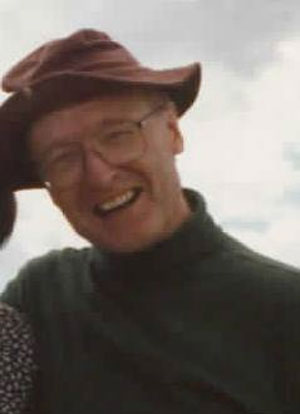 John E. Stapleton Driver was one of the first Europeans to meet and receive teachings from the great Tibetan lamas when they fled homeland in the 1950's. He was an integral part of this unique period of history.
John was born in 1931 in England.
He taught himself Tibetan from a textbook when he was young. In later years his natural linguistic ability gave him a wide knowledge of both occidental and oriental languages. He earned a degree in Classical Chinese at Oxford University (Merton and St. Antony's Colleges). During those studies he became interested in Tibetan and Sanskrit and related Buddhist teachings.
In the mid-1950's, he traveled to India to do research and field work for his Ph.D. on the Guhyagarbha Tantra. He lived in Kalimpong, a small town to which many of the most important Tibetan Buddhist teachers of the last century had fled.
He was a student of Jamyang Khyentse Cho Kyi Lodro and took numerous teachings from him in Sikkim and India.
The Fourth Dodrup Chen Rinpoche lived in John's house for some time and gave the Nyingtik Yab Shi empowerments there to him and

John Blofeld.
John was deeply devoted to Dilgo Khyentse Rinpoche and often met him informally to receive teachings.
In India,
John also taught English classes to Trungpa Rinpoche, Tulku Thondrup, Chime Wangmo (Dilgo Khyentse Rinpoche's daughter), and others.

He was instrumental, with Freda Bedi, in getting a scholarship to Oxford for Trungpa Rinpoche and continued to help him with his studies in England.





John translated

two great classics into English:

Tibet: Land of the Snows by Giuseppe Tucci
and R.A. Stein's Tibetan Civilization. He wrote a descriptive catalogue of the Tibetan manuscripts in the important Bodleian Collection that still provides invaluable material for researchers.
"It was not just the ideologists and theoreticians of national socialism who were closely concerned with Tibet, but also high-ranking intellectuals and scholars closely linked to Italian fascism.

First of all, Giuseppe Tucci, who attempted to combine Eastern and fascist ideas with one another, must be mentioned

(Benavides 1995)."

-- "The Shadow of the Dalai Lama," by Victor and Victoria Trimondi
He worked for The London Stock Exchange as part of the team setting up Talisman, the first computerized share-dealing system.
In 1979 he founded a consultancy, Flowergold Ltd, and one of his contracts was with The British Library, defining international cataloguing conventions and also facilitating technical compatibility with the Library of Congress.
.
His warm and personal relationship with Khyentse Rinpoche continued over the years and in 1990, he traveled to Tibet with him and a number of students on pilgrimage. John passed away on May 28th in England after a long illness that he faced with fortitude and courage.
******************************************
Donation of J.E. Stapleton Driver Collection of Tibetan texts to Bodleian
September 3, 2016
by yeshiuk.blogspot.com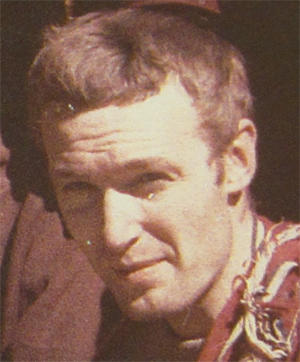 J.E. Stapleton Driver in Kalimpong, 1958
In May 2014, J. E. Stapleton Driver passed away.
Many in the Tibetan Studies field will know of the works he translated, Tibetan Civilisation (by R.A.Stein) and Tibet, Land of Snows (by G. Tucci).
Driver was a graduate of Merton College (in Classical Chinese, 1954), and then pursued his interests in Tibetan studies (Guhyagarbha Tantra) in Kalimpong, Gangtok and Kathmandu, 1957-60.
He returned to St Antony's College as a fellow to continue his researches (1961-65), and thus was in Oxford when the Tibetan Buddhist lama tulkus Trungpa Rinpoche, Akong Rinpoche and Chime Rinpoche first came to Oxford (1963).
In the early 1970s Driver created a descriptive catalogue of the Tibetan manuscripts and older xylographs held at Bodleian, which is still used today.
One of John Driver's sons, Felix Driver,
kindly got in touch earlier in 2016 to enquire whether the Bodleian Tibetan Collection would like to receive his father's Tibetan texts, and also the books, thangkas (scroll paintings) and Tibetan artefacts.
Bodleian readily agreed, and the Driver Collection has been formed.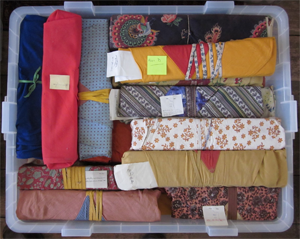 Sample box of wrapped texts ready for transport (136 texts in all)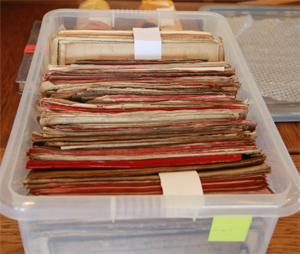 Sample box of loose texts ready for transport (estimated 400 smaller texts in all)
In future, the catalogue shelfmark heading for the manuscripts and early xylographs will be 'MS. Driver' followed by the relevant number. The catalogue records should appear on Karchak (online digital catalogue of Tibetan texts in Bodleian) when that is published online.
Meanwhile, back in the 1960s, Gene Smith had created a catalogue that included 35 of Driver's collection which had been microfilmed at the British Library. The catalogue was published by T.V.Wylie (U of Washington, 1969), the Driver Collection records are in vol. 2.
After 2 days of sorting through the collection, by Felix Driver and Charles Manson, eventually on July 7th 2016 the Driver Collection was transported to Weston Library to be deposited in the Special Collections storage. Thanks due to Edward Adcock and his team for facilitating the move so easily.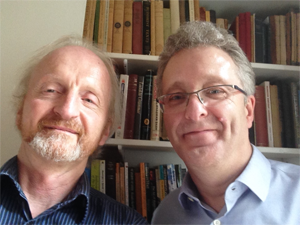 After the sorting, 2 happy people (Manson & Driver).
Subsequently on August 2nd,
Felix and his mother, Mrs Anne Driver, and sister Tabitha
were able to visit Weston Library to see where the collection is, and some Tibetan Studies scholars in Oxford were there for the happy occasion.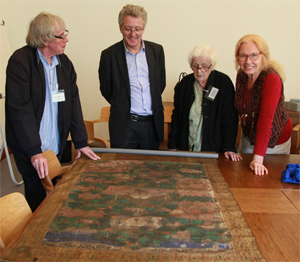 Robert Beer, Felix Driver, Anne Driver, Prof Heather Stoddard discussing a thangka from the Driver Collection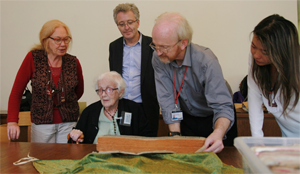 Inspecting a Tibetan xylograph text (Stoddard - Anne Driver - Felix Driver - Manson - Ujeed)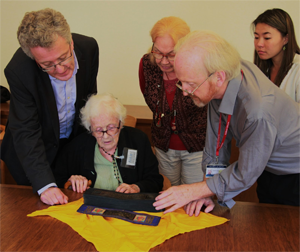 Inspecting a Tibetan manuscript (18th century) of the Driver Collection (F Driver - A Driver - Stoddard - Manson - Ujeed)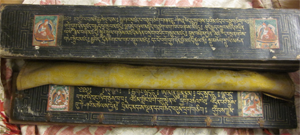 MS. Driver 1 (Weston Library)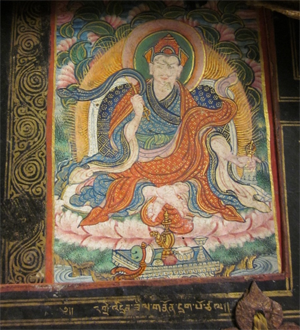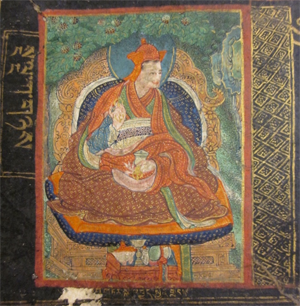 Much work to be done cataloguing the collection - updates will be forthcoming.
With many thanks to the Driver family.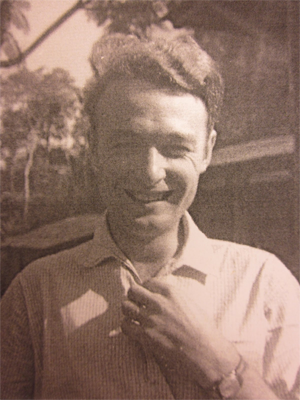 ******************************************
Marginal Amusement at the Bodleian
by Tibeto-Logic
December 21, 2011
Earlier today, under inspiration from the latest blog entry from Janus, I was doing an internet search for 'Hero Capable [of overcoming all comers all at] Once,' or, in the original tongue, Dpa'-bo Chig-thub. What to my great surprise could possibly pop up, but a rare catalog of Tibetan manuscripts and so forth that are kept at the Bodleian Library in Oxford, England. It's so rare it's not even a publication, really, just a typescript done, as you might expect, on a typewriter. I could hardly believe my eyes. What could explain this outrageously good fortune?
Answer: Descriptive Catalogue of the Tibetan Manuscripts Held at the Bodleian Library, Oxford, prepared by John E. Stapleton Driver in ca. 1970, and revised by David Barrett, 1993. Total page count: 152.
Some very thoughtful person put it up for us in a searchable PDF format. Here.[dead link]
You can find something entertaining already, 4 pages into it (there are no page numbers) in the entry for MS.Tibet.a.1, described as "a meditation text," with the title Bla mgon dbyer med kyi rnal 'byor thun mongs ma yin pa nyamsu len tshul rin chen dbang gi rgyal po'i do shal.

Someone wrote on the title page (I give it 'as is,' except for changing it into Wylie): 'di mang gi yi ge phal cher ma dag pa dang 'ga zhig rang zo byas pa'ang mang tsam 'dug pas zhu dag tong tshod mi 'dug go. This is there translated, "As the text in this is generally corrupt and in a good many cases even made up, there's no end to correcting it."

A second person wrote on the title page in a different hand: 'di 'bri mkhan dang khyed rang gnyis ka ma dag pas skyon dan[g] .... rang bzo byed mkhan gtso bo khyed rang 'dra. — khyed 'dra bas zhus dag gtong ba las ma gtang ba dga 'dug. This is translated, "Of the writer of this and yourself, the chief introducer of corruptions and inventions seems to be yourself." — "Rather than have someone like you make corrections, they were better not made at all."

And finally, at the end of the text, somebody wrote (in English? Well, no Tibetan is given): "It would shame you if a scholar were to see such a corrupt text, so I suggest you burn it."
The original text was purchased in 1885 from two of the Schlagintweit brothers: R.H. and A. If you are like me you may well have trouble keeping straight which of the five Schlagintweit brothers was which, in which case this webpage would be a big help.[dead link]
But what about the person given as the author of the text, the monk Legshé Ludrub (Legs-bshad-klu-sgrub)?
A quick search of TBRC [Buddhist Digital Resource Center] and a few other places turned up neither the title of this guruyoga text nor its author. Who can he be? Where's our good Doctor Watson?
John E. Stapleton Driver, in case you don't remember, was the one who translated R.A. Stein's Tibetan Civilization into English.
As part of this catalog, you can find some of the papers that were left behind by W.Y. Evans-Wentz (1878-1965) — famous editor of such well known works as The Tibetan Book of the Dead — after his own entry into the bar-do. Among these papers are some draft translations by Lama Kazi Dawa Samdrup.
Some of the Tibetan books here came from Solomon C. Malan (1812-1894), a friend and student of Csoma de Körös. For more about this, see P.J. Marczell, The Tibetan Mss. of the Malan Bequest in the Bodleian and Their Relation to the Life and Works of Csoma Körösi, Studia Asiatica, vol. 2, nos. 1-2 (2000), pp. 55-71. Get it for free (or not!) here.[dead link]
Other materials came from Samuel Turner (1749-1802), author of An Account of an Embassy to the Court of the Teshoo Lama in Tibet (London 1800).
(*My note: I guess this means Joseph White, since he did indeed marry Mary Turner, sister of Samuel.)
For more about this, see the late Michael Aris's article, A Note on the Resources for Tibetan Studies at Oxford, Bodleian Library Record, vol. 10, no. 6 (May 1982), pp. 368-375. Or look at
this page
of the Bodleian's own website (scroll down the page to the section about Tibet).
If the kind person who did this is still in a generous mood, I suggest they put up two other rare catalogs of Tibetan manuscripts that exist (however seldom) in typescripts. They are:
P. Denwood, Catalogue of Tibetan Mss and Block-prints outside the Stein Collection in the India Office Library (1975), in 145 pages. For a reference,
look here
.
E. Gene Smith, University of Washington Tibetan Catalogue, vols. 1-2 (Seattle 1969). For a reference,
look here
.
Or is this asking too much?