Sarat Chandra Das
by Wikipedia
Accessed: 12/5/19
NOTICE: THIS WORK MAY BE PROTECTED BY COPYRIGHT
YOU ARE REQUIRED TO READ

THE COPYRIGHT NOTICE AT THIS LINK

BEFORE YOU READ THE FOLLOWING WORK, THAT IS AVAILABLE SOLELY FOR PRIVATE STUDY, SCHOLARSHIP OR RESEARCH PURSUANT TO 17 U.S.C. SECTION 107 AND 108. IN THE EVENT THAT THE LIBRARY DETERMINES THAT UNLAWFUL COPYING OF THIS WORK HAS OCCURRED, THE LIBRARY HAS THE RIGHT TO BLOCK THE I.P. ADDRESS AT WHICH THE UNLAWFUL COPYING APPEARED TO HAVE OCCURRED. THANK YOU FOR RESPECTING THE RIGHTS OF COPYRIGHT OWNERS.
During the 19th century the Government of India employed various types of local people to obtain information about Tibet. The most important of these were the pandits (trained surveyors, native to the Indian Himalayas, who travelled in various disguises to clandestinely map Tibet), and the school teacher Rai Bahadur Sarat Chandra Das CIE. (1849-1917).[2]

The pandits' main duty was to gather geographical data, and they were extremely successful in this task. But whereas they travelled among the lower social classes in Tibet, Chandra Das's mission was to contact powerful figures in Tibetan society in order to collect political information. Just as Political officers were directed to 'cultivate the friendship of the local Ruling Chiefs', Das was under instructions to 'cultivate the friendship of influential persons'.[3]

Chandra Das, a Tibetan speaking Bengali

, was the first headmaster of the

Bhotia [Bhutia] Boarding School

in Darjeeling, which was opened in 1874 specifically to train Bhotia and Sikkimese intermediaries in preparation for the opening of Tibet to the British. In 1891 the Bhotia school merged with the Darjeeling school to become Darjeeling High School.[4]

Das became the first of many intermediaries from the school when he was given a nominal government post as a school inspector, freeing him to travel to Tibet. He was accompanied by

Rai Bahadur Urgyen Gyatso

, a Sikkimese lama from an aristocratic family, who had been employed as a teacher at the Bhotia School after serving on the staff of the Rajah of Sikkim.

Urgyen Gyatso

made a number of journeys to Tibet under British auspices, alone, or accompanying Chandra Das. Unlike the pandits, the two schoolteachers continued to be employed as Tibetan specialists after their return to India. [5]

When the Tibetan Government later discovered that Chandra Das had visited Lhasa, and correctly assumed that he had been spying for the British, the strength of their reaction underlined the Lhasa Government's determination to preserve Tibet's isolation. The Panchen Lama's Prime Minister, Kyabying Sengchen Tulku, an incarnate lama from Dongtse Monastery who had been Das's principal sponsor, was

executed,

and the Dongtse ruling family, the Palhes, close associates of Sengchen Tulku, were

severely punished.[6]

The last re-incarnate Lama bearing this title [Re-embodied Lama in western Tibet, Sen-c'en-Rin-po-ch'e], and the tutor of the Tashi Grand Lama, was beheaded about 1886 for harbouring surreptitiously Sarat C. Das, who is regarded as an English spy; and although the bodies of his predecessors were considered divine and are preserved in golden domes at Tashi-lhunpo, his headless trunk was thrown ignominiously into a river to the S.W. of Lhasa, near the fort where he had been imprisoned. On account of his violent death, and under such circumstances, this re-incarnation is said to have ceased. From the glimpse got of him in Sarat's narrative and in his great popularity, he seems to have been a most amiable man.

-- The Buddhism of Tibet, or Lamaism With Its Mystic Cults, Symbolism and Mythology, and in its Relation to Indian Buddhism, by Laurence Austine Waddell

The ruin thus brought about by the Babu's visit extended also to the unfortunate Lama's relatives, the governor of Gyantsé (the Phal Dahpön) and his wife (Lha-cham), whom he had persuaded to befriend Sarat C. Das. These two were cast into prison for life, and their estates confiscated, and several of their servants were barbarously mutilated, their hands and feet were cut off and their eyes gouged out, and they were then left to die a lingering death in agony, so bitterly cruel was the resentment of the Lamas against all who assisted the Babu in this attempt to spy into their sacred city.

-- Laurence Austine Waddell, Lhasa and Its Mysteries: With a Record of the Expedition of 1903-1904, Cosimo, Inc., 2007, 740 pages, p. 79

The decision to force the Tibetans to open diplomatic relations with British India meant that a new type of intermediary was required, one who was accustomed to dealing with the Lhasa aristocracy. Such people were particularly difficult to locate in such an isolationist society as Tibet, where the ruling class appeared to present a united front against high-level foreign contact. Increasing Western contact with Tibet in the late 19th century had produced a small body of men with experience in guiding European travellers there, but these guides, such as caravan leader Mahmood Isa, were mostly members of the Central Asian trading class, and they had little social status. [7]

Individuals of low social status had neither the contacts, nor the prestige and social skills, necessary to approach and influence the Tibetan ruling class. However the punishment inflicted on the aristocratic Palhe family had alienated them from the Lhasa ruling classes, creating an opportunity for the British to exploit their estrangement, as well as to reward the assistance they had given the British agents.

Kusho Palhese, (later Dewan Bahadur Palhese) exiled scion of the Palhe family, came to Kalimpong when Bell was seeking a suitable Tibetan instructor, and he became Bell's personal assistant. Bell's notebooks reveal the enormous contribution Palhese made to his understanding of Tibet, and Bell was, by the standards of the time, generous in his praise of the Tibetan's contribution to his work. The two men became close friends, and Bell brought Palhese to Britain in the 1920s to assist his research. Palhese's association with the British enabled him to restore the family estates, although Bell's account attributes his primary motivation to more personal factors.[8]

The punishment of the Palhe family also provided O'Connor with his principal assistant, a Buriat monk, Sherab Gyatso (later Rai Sahib Sherab Gyatso; d.1909), known as Shabdrung Lama. He had been a personal attendant of Sengchen Tulku when the lama was executed for assisting Chandra Das. Imprisoned and tortured along with his master, Shabdrung Lama escaped to Darjeeling. There he was given employment as a teacher at the Bhotia school, and as a British agent gathering information from Tibetans in Darjeeling bazaar, before being employed by O'Connor as his personal secretary on the Younghusband Mission. [9]-- Tibet and the British Raj, 1904-47: The Influence of the Indian Political Department Officers, by Alexander McKay
The usual lessons in the Tibetan grammar and Buddhism over, the suspicious monk, who posed for a learned scholar, suddenly addressed me, saying that having been in India, I must have seen Sarat Chandra Das, who explored Tibet. I replied that I did not know him, even by name. There were three hundred millions of people in India, and however famous a man might be, he must always be unknown to some. There was a great difference between India and[224] Tibet, and I asked to hear something about the man the monk referred to. The monk then narrated how Sarat Chandra Das, twenty-three years ago, had cheated the Tibetan authorities with a passport; how he had robbed Tibet of her Buddhism, with which he had returned to India; how on the discovery of the affair, the greatest scholar and sage in Tibet, Sengchen Dorjechan, had been executed, not to mention many other priests and laymen who were put to death and many others whose property was confiscated.

After this the monk added that as Sarat Chandra Das was a renowned personage in India, it was impossible for me not to be acquainted with him. Probably I pretended not to know him. These words were spoken in a most unpleasant manner, but I put him off with a smile, saying that I had never seen the face of the Queen of England, who was so renowned, and that such a big country as India made such investigations hopeless. The stories about Sarat Chandra Das are quite well known in Tibet, even children being familiar with them; but there are few who know him by his real name, for he goes by the appellation of the 'school bābū' (school-master). The story of the Tibetans who smuggled a foreigner into Tibet and were killed, and of those who concealed the fact from the Government and forfeited their property, are tales that Tibetan parents everywhere tell to their children.

Owing to the discovery of the adventures of Sarat Chandra Das, all the Tibetans have become as suspicious as detectives, and exercise the greatest vigilance towards foreigners. I was fully acquainted with these facts, so that I too exercised great caution even in dropping a single word, however innocent and empty that word might be. But the Tibetans were very cunning questioners; and the monk was one of the most cunning. When I tried to laugh away his questions, he put other queries on every imaginable point. Other Tibetans who were[225] equally suspicious joined him in harassing me. I felt for the moment just as though I were besieged by an overwhelming force of the enemy.-- Three Years in Tibet, by Shramana Ekai Kawaguchi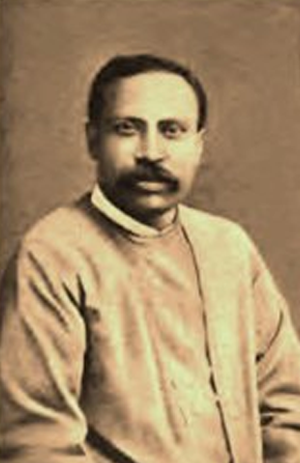 Sarat Chandra Das
শরৎচন্দ্র দাস
Born: 1849, Chittagong, Bengal, British India
Died: 1917
Nationality: British India
Occupation: Explorer, Scholar
Sarat Chandra Das (Bengali: শরৎচন্দ্র দাস) (1849–1917) was an Indian scholar of Tibetan language and culture most noted for his two journeys to Tibet in 1879 and in 1881–1882.
Biography
Born in Chittagong, eastern Bengal to a Bengali Hindu Vaidya-Brahmin family, Sarat Chandra Dash attended Presidency College, as a student of the University of Calcutta. In 1874 he was appointed headmaster of the Bhutia Boarding School at Darjeeling. In 1878, a Tibetan teacher, Lama Ugyen Gyatso arranged a passport for Sarat Chandra to go the monastery at Tashilhunpo. In June 1879, Das and Ugyen-gyatso left Darjeeling for the first of two journeys to Tibet. They remained in Tibet for six months, returning to Darjeeling with a large collection of Tibetan and Sanskrit texts which would become the basis for his later scholarship. Sarat Chandra spent 1880 in Darjeeling poring over the information he had obtained. In November 1881, Sarat Chandra and Ugyen-gyatso returned to Tibet, where they explored the Yarlung Valley, returning to India in January 1883.[1] Along with Satish Chandra Vidyabhusan, he prepared Tibetan-English dictionary.[2]
Officers such as Bell and Gould, who wrote Tibetan dictionaries, helped define the Tibetan language in European understanding, just as the British defined the Tibetan border with India. They imposed a linguistic standard which complemented other contemporary definitions, of Tibet's territory, leadership and so on, which were required if Tibet was to be within European definitions of a modern nation state. The Tibetans' separate language was, and is, an important part of their claim to a separate identity, and hence separate state, from the Chinese. Thus the cadre's language studies helped to bring out Tibet's separate status, enhancing the political aims of the British and their Tibetan allies.

The effect of this classification of identity was to impose conformity to European definitions as a pre-condition for acceptance of elements as 'Tibetan'. The power of definition was appropriated by European authority. For example, Tibetans were seen by the British as reliant on astrological calculations as to the most auspicious date on which to carry out significant activities. Yet when the Dalai Lama was to visit Calcutta, Bell noted that 'not until I reminded them of the necessity of doing so did the Dalai Lama and party remember to enquire as to auspicious dates'.[4]-- Tibet and the British Raj, 1904-47: The Influence of the Indian Political Department Officers, by Alexander McKay
For a time, he worked as a spy for the British, accompanying Colman Macaulay on his 1884 expedition to Tibet[3] to gather information on the Tibetans, Russians and Chinese. After he left Tibet, the reasons for his visit were discovered and many of the Tibetans who had befriended him suffered severe reprisals.[4]
For the latter part of his life, Das settled in Darjeeling. He named his house "Lhasa Villa" and
played host to many notable guests including Sir Charles Alfred Bell and Ekai Kawaguchi. Johnson stated that, in 1885 and 1887 Das met with Henry Steel Olcott, co-founder and first President of the Theosophical Society.[5]
Publications
• Contributions on the religion, history &c., of Tibet: Rise and progress of Jin or Buddhism in China. Publisher: s.n. (1882).
• Narrative of a journey to Lhasa in 1881-82. Publisher: s.n. (1885).
• Narrative of a journey round Lake Yamdo (Palti), and in Lhokha, Yarlung, and Sakya, in 1882. publisher: s.n (1887).
• Avadānakalpalatā: a collection of legendary stories about the Bodhisattvas. Asiatic Society (1890).
• The doctrine of transmigration. Buddhist Text Society (1893).
• Indian Pandits in the Land of Snow. Originally published at the end of the 19th century. Reprint: Rupa (2006).ISBN 978-8129108951.
• Sarat Chandra Das, Graham Sandberg & Augustus William Heyde A Tibetan-English dictionary, with Sanskrit synonyms. 1st Edition - Calcutta, 1902. Reprint: Sri Satguru Publications, Delhi, 1989 and Motilal Banarsidass, Delhi, 1970, 1973, 1976, 1979, 1983, 1991, 1995 and 2000.
• Journey To Lhasa & Central Tibet. 1st Edition: John Murray (England) (1902). Reprint: Kessinger Publishing, LLC (2007). ISBN 978-0-548-22652-0. Republished as: Lhasa and Central Tibet, Cosmo (Publications, India); New edition (2003). ISBN 978-81-7020-435-0.
• An introduction to the grammar of the Tibetan language;: With the texts of Situ sum-tag, Dag-je sal-wai melong, and Situi shal lung. Darjeeling Branch Press, 1915. Reprint: Motilal Banarsidass, Delhi, 1972 and 1983.
• Autobiography: Narratives of the incidents of my early life. Reprint: Indian studies: past & present (1969).
References
1. Journey to Lhasa and Central Tibet, Das, Sarat Chandra, pp xi–xiii, Paljor Publications, New Delhi, 2001
2. Padmanabh S. Jaini. "Collected Papers on Buddhist Studies". Retrieved 2 May 2018.
3. Arora, Vibha (2008). "Routing the Commodities of Empire through Sikkim (1817-1906)". Commodities of Empire: Working Paper No.9 (PDF). Open University. p. 12. ISSN 1756-0098.
4. Laurence Austine Waddell, Lhasa and Its Mysteries: With a Record of the Expedition of 1903-1904, Cosimo, Inc., 2007, 740 pages, p. 79:
"The ruin thus brought about by the Babu's visit extended also to the unfortunate Lama's relatives, the governor of Gyantsé (the Phal Dahpön) and his wife (Lha-cham), whom he had persuaded to befriend Sarat C. Das. These two were cast into prison for life, and their estates confiscated, and several of their servants were barbarously mutilated, their hands and feet were cut off and their eyes gouged out, and they were then left to die a lingering death in agony, so bitterly cruel was the resentment of the Lamas against all who assisted the Babu in this attempt to spy into their sacred city."
5. The Masters Revealed: Madame Blavatsky and the Myth of the Great White Lodge, Johnson, Paul K., p 191-192, State University of New York Press, Albany, 1994
External links
• Subramanian, Samanth (16 March 2016). "The Indian Spy Who Fell for Tibet". The New York Times.
• Map of Tashilhunpo in 1902, Perry–Castañeda Library Map Collection
• Grand Temple at Lhasa in 1902, Perry–Castañeda Library Map Collection
• Fort of Shigatse in 1902, Perry–Castañeda Library Map Collection
*************************
The Scholar-Spy Who Saw Tibet's Densatil Monastery in All Its Glory
by Asia Society
April 11th, 2014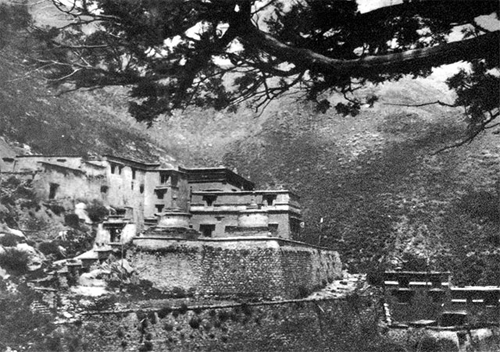 A historic photograph of the Densatil Monastery taken by an anonymous photographer at an unknown date. Image courtesy of David Holler.
"There's Nirvana to be glimpsed in much of the art here," is how The New Yorker recently described Asia Society Museum's exhibition Golden Visions of Densatil: A Tibetan Buddhist Monastery, on view in New York City through May 18. Co-curated by Olaf Czaja and Adriana Proser, Asia Society Museum's John H. Foster Senior Curator for Traditional Asian Art, the exhibition explores the history, iconography, and extraordinary artistic production associated with the central Tibetan Buddhist monastery called Densatil until its destruction during China's Cultural Revolution (1966—1978).
Below, Adriana Proser introduces one of the two foreign observers whose descriptions of the Densatil Monastery became a critical resource for later generations of art historians and scholars of Tibetan Buddhism. A fuller version of this chapter in the Densatil story appears in the official Golden Visions of Densatil exhibition catalogue.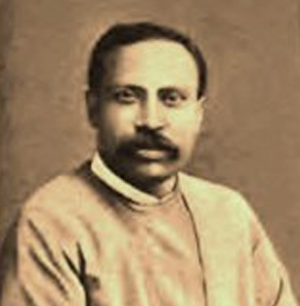 Sarat Chandra Das
Sarat Chandra Das (1849–1917) was born in eastern Bengal and began to learn the Tibetan language during his appointment as headmaster of
Bhutia Boarding School in Darjeeling
. He first traveled to Tibet with the school's Tibetan language teacher,
lama Ugyen-gyatso
, and studied there for six months in 1879. He made a second visit in 1881, also accompanied by Ugyen-gyatso, and stayed for another 14 months.
Das became a prolific Tibetan scholar, but his exploits in Tibet were not limited to academic study.
He also played a role in what became known as the Great Game, the imperial struggle between Victorian Britain and Tsarist Russia for supremacy in regions from the Caucasus to China. Tibet was one of the places the British wished to explore and chart, in the hopes of preventing the Russians from finding alternate access to India that avoided the difficult Khyber Pass route. Disguised as an explorer, Das aided the British in this covert mission. Along with his descriptive notations about the places where he traveled, he included what might serve as strategic details about geography, distances, and altitudes.
While making his way through central Tibet, Das noted the following about Densatil Monastery:
At the village of Jong we began the ascent of the steep hill on whose summit is the old lamasery of Densa-til, the principal building nestled amidst frowning crags, on which grow here and there a few firs and juniper trees.…Of all the monasteries in Tibet, this is perhaps the richest in religious treasures, and the Government of Lhasa takes particular care of it. Among the curious objects placed before the images of the gods in the principal temple, I saw some bowls filled with various kinds of seed and some fossils, among which some grains of barley.

— From Sarat Chandra Das, Journey to Lhasa and Central Tibet. Edited by William Woodville Rockhill. Published by J. Murray, London, 1902.
*************************
The Indian Spy Who Fell for Tibet: Sent by Britain to carry out a secret survey, Sarat Chandra Das became enchanted instead.
by Samanth Subramanian
New York Times
March 16, 2016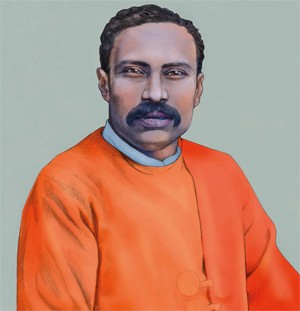 Portrait by Martine Johanna
If it hadn't been for a bout of malaria, Sarat Chandra Das might never have become a spy. As a civil engineer, he might have worked in Calcutta forever. But in 1874, upon recovering from his illness, he was offered a position as headmaster of
the Bhutia Boarding School in Darjeeling
. The mountain air would do him good, he thought, so he accepted. This was how,
at 25, Das came to run a school for spies, training agents to work along the India-Tibet border
, growing so besotted with Tibet himself that he made two surreptitious journeys to the kingdom.
In the European imagination, Tibet and its capital, Lhasa, were a fantasy
, a fabled paradise of spirituality locked away from the world. In the late 1700s, Tibet began denying entry to Westerners, its government — under pressure from China — reluctant to play the games of imperial geopolitics. For Britain, Tibet's inward turn was ill timed, disrupting its plans to dominate Central Asia. In desperation, as the scholar Derek Waller found,
the British cultivated ''pundits,'' Indians who had helped map the subcontinent and were now dispatched, in disguise, into Tibet, equipped with compasses and 100-bead rosaries to discreetly count their steps.

Among the pundits, Das stood out, a scholar who offered his services as a spy in order to pursue his academic interests. It was as if James Bond volunteered to hunt down Blofeld, booking his own flights and hotels, all to improve his Japanese. Das persuaded his assistant, a lama named Ugyen Gyatso, to visit the Tashilhunpo monastery, in south-central Tibet, and talk him up as a theology student. The monastery's prime minister was keen to learn Hindi, so Ugyen Gyatso, promising that Das was a fine tutor, wangled a passport for him. Presented with this document, Indian officials, now enthusiastic, gave Das indefinite leave and a crash course in spycraft. During his first trip, to Tashilhunpo in 1879, he studied Tibetan customs and so impressed the prime minister that he was invited back. In November 1881, Das returned, the vision of Lhasa glimmering before him.
The two reports Das wrote about his second, 14-month journey were kept confidential until the 1890s and then published, with severe redactions, in small print runs. In 1902, they were compiled into a book, ''Journey to Lhasa and Central Tibet.'' The opening pages are tough going, brimming with place names: ''On ascending about 3,000 feet above the Kalai valley, we enjoyed distant views of Pema-yangtse, Yantang, Hi, Sakyang, and other villages.'' Still, all this was valuable information. In those days, so little was known that even the most quotidian details — the appearance of houses, the location of a pasture — shone with significance.
The first month wasn't easy. The Himalayas are punishing in early winter. ''How exhausted we were with the fatigue of the day's journey, how overcome by the rarefication of the air, the intensity of the cold, and how completely prostrated by hunger and thirst, is not easy to describe,'' Das writes. Das's guide is frequently drunk.
Suspicions must be allayed everywhere. One village council permits his party to pass only after testing Das's knowledge of Buddhism; even so, someone hollers, ''That Hindu will surely die in the snows.'' But Das makes it to Tashilhunpo, where he remains for five months, absorbing the news.
China is flexing its muscle. Tibetans who rebuff a Chinese official's attempts at extortion receive ''four hundred blows with the bamboo.''
Just before summer, Das departs for Lhasa, attired as a monk in dark goggles. For a while, he travels with a princess but falls so ill midway that she leaves him behind. Smallpox has seized Tibet, but Das finds only quacks to treat his fever.
One night, he writes, ''I felt so weak and ill that . . . I called my companions to my side and wrote my will.''
Food is scarce, the hamlets of the Tibetan steppe are poor and miserable
. Finally, one May evening, Das and his company trudge around a hill, and Lhasa reveals itself: ''It was a superb sight, the like of which I have never seen. On our left was Potala'' — the legendary palace — ''with its lofty buildings and gilt roofs; before us, surrounded by a green meadow, lay the town with its tower-like, whitewashed houses and Chinese buildings with roofs of blue glazed tiles. Long festoons of inscribed and painted rags hung from one building to another, waving in the breeze.''
We expect paroxysms of wonder from Das in Lhasa; instead, he turns all business, recording every conceivable detail: the dimensions of lintels, the tallow stirred into tea, the offerings at temples.
He slips into Potala, joining pilgrims who have finagled an audience with the Dalai Lama, ''a child of eight with a bright and fair complexion and rosy cheeks.'' Lhasa is both squalid and grand, the filthy lanes of the inner city close by the magnificent 1,200-year-old Jokhang Temple and the majestic nine-storied Potala.
One fat chapter in ''Journey'' explains Tibet's political and religious hierarchies, the judiciary and the structure of taxation. This is Das pleasing his sponsors, singing for the supper he has already consumed.
In the end, Das lingers in Lhasa for only two weeks and returns, via Tashilhunpo, to Darjeeling. In a sense, though, he never leaves Tibet. He names his house Lhasa Villa, and
he spends the remainder of his life translating Tibetan texts, compiling a Tibetan-English dictionary
, thinking incessantly about the land he left behind.
The epilogue mars the tale.
After the nature of Das's trip was discovered, the Chinese persecuted anyone who assisted him. Tashilhunpo's prime minister was murdered, his body thrown into a river. In 1903-4, a British expedition finally broke into Lhasa, and soldiers freed a former official, imprisoned for 20 years for helping Das. The old man, The North China Herald reported, blinked ''at the unaccountable light like a blind man whose sight had been miraculously restored.'' The analogy is impossible to miss: Tibet, too, had been released from
China's iron fist
into the light. But much of this was ephemeral. Half a century later, China snatched Tibet back into its orbit; the Dalai Lama fled into exile. Only Das's beloved Lhasa endures, the gleaming white walls of Potala still draped over their outcrop of rock like fresh snow upon a mountaintop.
Samanth Subramanian is the author of ''The Divided Island: Life, Death and the Sri Lankan War.''