Modern Buddhism: So New, So Familiar: Modern Buddhism—with its roots in colonial Asia—claims to return to the essence of the Buddha's teachings. Has a new sect emerged?
by Donald S. Lopez Jr.
Tricycle
Fall 2002
NOTICE: THIS WORK MAY BE PROTECTED BY COPYRIGHT
YOU ARE REQUIRED TO READ

THE COPYRIGHT NOTICE AT THIS LINK

BEFORE YOU READ THE FOLLOWING WORK, THAT IS AVAILABLE SOLELY FOR PRIVATE STUDY, SCHOLARSHIP OR RESEARCH PURSUANT TO 17 U.S.C. SECTION 107 AND 108. IN THE EVENT THAT THE LIBRARY DETERMINES THAT UNLAWFUL COPYING OF THIS WORK HAS OCCURRED, THE LIBRARY HAS THE RIGHT TO BLOCK THE I.P. ADDRESS AT WHICH THE UNLAWFUL COPYING APPEARED TO HAVE OCCURRED. THANK YOU FOR RESPECTING THE RIGHTS OF COPYRIGHT OWNERS.
By seven o'clock on the morning of August 26, 1873, a crowd of some five thousand had gathered around a raised platform in the town of Panadure outside of Colombo, Ceylon—what is now Sri Lanka. On one side of the platform stood a table covered in white cloth and adorned with evergreens. This was the side occupied by the Christian party and its spokesman, Rev. David de Silva. The other side, more richly decorated, was filled by some two hundred Buddhist monastics and their spokesman,
a monk named Gunananda
. For the next two days, that platform would be the sparring ground for a heated debate over which religion would liberate the people of Ceylon: Buddhism or Christianity.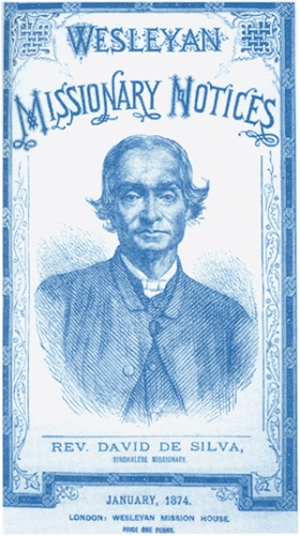 Rev. David de Silva: From Vain Debates: The Buddhist-Christian Controversies of Nineteenth-Century Ceylon by R. F. Young and G.P.V. Somaratna.
The Rev. de Silva spoke first, quoting Pali scriptures that declare there is no soul, that a person is only the aggregation of various impermanent parts. According to Buddhism, then, human beings have no immortal soul and are "on a par with the frog, pig, or any other member of the brute creation." If there is no soul, there can be no punishment for sin or reward for virtue in the next life. Hence, he concluded, "no religion ever held out greater inducements to the unrighteous than Buddhism did."
When it was his turn, Gunananda attacked the missionary's knowledge of Pali, explaining that according to Buddhist doctrine, a person reborn was neither precisely the same as nor different from the person who had previously died. He then turned to the shortcomings of Christianity, noting that in the Book of Exodus, God instructs the Hebrews to mark their doors with blood so that he would know which houses to pass over as he killed the Egyptians' firstborn children. The monk concluded that an omniscient god would not need such instructions. In the end, the five thousand onlookers declared Gunananda the winner. It was not the first time that Buddhists and Christians had debated the primacy of their respective faiths. Jesuit missionaries had challenged Buddhist doctrine in Japan, China, and Tibet. In each case, the Christians failed to conquer these lands or convert their peoples. But because Ceylon was a British colony, Gunananda's denunciation of Christianity would have far-reaching ramifications. He painted the first broad strokes of what could be called Modern Buddhism.
The dharma that Gunananda sought to describe was not the result of a long historical evolution, but the Buddhism of the Buddha himself.
While the missionaries' success as preachers remained limited, they wielded more influence through the distribution of religious pamphlets and tracts. The Wesleyans acquired a printing press in 1815 and were followed by the CMS in 1823 and the Baptists in 1841. These presses were not only used to print translations of the Bible, Catechisms or Prayer Books, but to produce periodicals and pamphlets as well.10 The Christian tracts were issued in fairly large numbers and enjoyed a comparatively wide circulation. According to the managers of the printing presses, 1,500,000 copies had been circulated between 1849 and 1861." These pamphlets were of rather limited use in the making of converts. But this was not the direct goal of the missionaries anymore. The Christian missions had realised that their proselytising efforts would not show any effect as long as the Buddhist community did not react in some way. Therefore, the religious tracts primarily aimed at the provocation of the Buddhist leaders. They should induce the bikkhus to accept the Christian challenge and openly confront the missionaries. With the publication of a treatise called "Kristiyani Prajnapti" ("The Evidences and Doctrines of the Christian Religion") by the Wesleyan Rev. D. J. Gogerly in 1849 the missionaries finally achieved their goal. The treatise was reprinted in 1853 and 1856 and enlarged in 1861.12 Unlike previous Christian pamphlets "Kristiyani Prajnapti" did not so much rely on religious polemics but tried to give evidences and proofs for the superiority of Christianity. The treatise repeatedly challenged the Buddhist community to disprove its theses.13

The Christians finally got the Buddhist response that they had been waiting for so long. Surprisingly to the missionaries, the Buddhist did not merely respond by attending public debates. Buddhist reaction came in all three spheres of missionary activity: the acquisition of a printing press and the publication of Buddhist tracts was the first adopted measure. In the 1860s and 1870s, eloquent bikkhus successfully challenged missionary preachers in public debates. And in the 1870s and more significantly in the 1880s and 1890s the Buddhist community -- with outside help -- managed to expand their educational activities considerably. Therefore, the so-called revival of Buddhism was not caused by "the vigorous effort which is being made to revive Buddhism in Ceylon, upon the foundation of European interest and encouragement"14 -- an explanation frequently offered by the missionaries --, but by the missionaries' "vigorous effort" to provoke a Buddhist reaction to their frequent offences.

In 1855, the Church missionaries sold their Kotte printing press, because other presses had been established and the old press had become obsolete for the mission. Through various middlemen the Buddhists managed to acquire that press and started to issue Buddhist pamphlets on the same press that had been used against them for such a long time.

Mohottivatte Gunananda founded the Sarvajna Sasanabhivrddhidayaka Dharma Samagama (the Society for the Propagation of Buddhism) in 1862 and used the press to issue replies to Gogerly's "Kristiyani Prajnapti." In the same year, a second press was established at Galle called the Lamkopokara Press. Hikkaduve Sumangala was responsible for most of the Lunkopokara publications.15-- Chapter Twelve: Revivals. 12.1 Christian Missionary Activity and Buddhist Response [Excerpt], From Coffee to Tea Cultivation in Ceylon, 1880-1900: An Economic and Social History, by Roland Wenzlhuemer
This article challenges two general assumptions shared by scholars of Western Buddhism: (1) that the earliest Buddhist missions to the West were those established in California from 1899 onwards; and (2) that Ananda Metteyya's (Allan Bennett's) London mission of 1908 was the first Buddhist mission to London and thus to Europe. Recent collaborative research by scholars in Ireland and Japan demonstrates instead that the Japanese-sponsored 'Buddhist Propagation Society' (BPS) launched in London in 1889 and led for three years by the Irish-born Japanese Buddhist Charles Pfoundes predates both of the above-mentioned 'first' Buddhist missions....

In this article, we set out to demonstrate that the first London Buddhist mission was in fact established in 1889, predating even the Californian missions by a decade. From 1889 to 1892, the Irish-born Japanese Buddhist Charles J. W. Pfoundes (1840-1907) headed an official Buddhist mission known as the 'Buddhist Propagation Society'. This was based in Westminster, operated throughout London and its suburbs and was the first and indeed only foreign outpost of the Kaigai Senkyo Kai (lit. 'Overseas Propagation Society' but normally translated 'Buddhist Propagation Society'), an initiative of a group of reformist Jodo Shinshu (True Pure Land) Buddhists based in Kyoto.

The Buddhist Propagation Society in London and Pfoundes' role in it were of course known to, and publicised by, his Buddhist sponsors in Japan at the time5 and at least one contemporary Japanese account6 was available to Notto Thelle, who in 1987 wrote:

The Society for Communication with Western Buddhists (Obei Bukkyo Tsushinkai) was founded in 1887; it was later reorganized as the Buddhist Propagation Society (Kaigai Senkyo Kai, literally Overseas Missionary Society), under the leadership of Akamatsu Renjo. Its purpose was to propagate Buddhism in the West, through missionaries and publications. A branch office was established in London in 1890, and a journal was published, entitled Bijou of Asia [Ajia no hōshu].

…[a]nother Western Buddhist, C. Pfoundes, also supported Japanese Buddhists against Christianity. He had first come to Japan in the 1860s as an officer in the British navy and remained for about twelve years, of which he reportedly spent seven or eight years in Buddhist temples. As an admirer of the ancient Japanese civilization and of Buddhism, he had dedicated much of his time to lecturing on Buddhism in the United States (1876-1878) and in England (1878-1893).

He served as secretary of the London branch of the Buddhist Propagation Society and came to Japan again in 1893 at the invitation of his Buddhist friends. In his many meetings he appealed to the national sentiment and attacked Christian missionaries for slighting Buddhism and despising Japan as a barbarian country. Both Olcott and Pfoundes left Japan after controversies with their Japanese sponsors.

-- The First Buddhist Mission to the West: Charles Pfoundes and the London Buddhist mission of 1889 – 1892, by Brian Bocking, University College Cork; Laurence Cox, National University of Ireland Maynooth; and Shin'ichi Yoshinaga, Maizuru National College of Technology
Indeed, what I am calling Modern Buddhism seeks to distance itself from those forms of Buddhism that immediately precede it and even those that are contemporary with it. Its proponents viewed—and still view—ancient Buddhism, and especially the enlightenment of the Buddha 2,500 years ago, as the most authentic moment in the long history of Buddhism. It was also the form of Buddhism most compatible with the ideals of the European Enlightenment, ideals such as reason, empiricism, science, universalism, individualism, tolerance, freedom, and the rejection of religious orthodoxy—precisely those notions that have appealed so much to Western converts. It stresses equality over hierarchy, the universal over the local, and often exalts the individual above the community. In fact, what we regard as Buddhism today is a modern creation. Its widespread acceptance, both in the West and in much of Asia, is testimony to the influence of an array of figures from a variety of Buddhist lands, including the United States and Europe.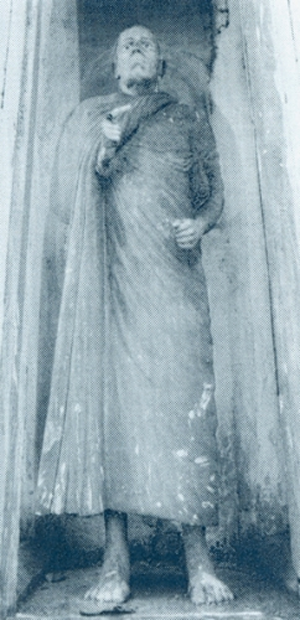 Guananda: From Vain Debates: The Buddhist-Christian Controversies of Nineteenth-Century Ceylon by R. F. Young and G.P.V. Somaratna
Gunananda's presentation signaled important changes that would spread throughout the Buddhist world into the twenty-first century. In the first place, Gunananda was an educated monk who not only knew the sutras but had studied the Bible as well. Like him, the leaders of the various Modern Buddhist movements in Asia would be drawn from the small minority of learned monks and not from the vast majority who chanted sutras, performed rituals for the dead, and maintained monastic properties. Second, the Buddhism portrayed in the debate, and in Modern Buddhism more generally, had to do with technical doctrine and philosophy rather than daily practice. Indeed, Buddhism came to be portrayed—whether in Sinhalese, Chinese, or Japanese—as a world religion, fully the equal of Christianity in antiquity, geographical expanse, membership, and philosophical profundity, with its own founder, sacred scriptures, and fixed body of doctrine.

The debate made its impact in circuitous ways, but one person who read about it was to have a huge bearing on the contours of Modern Buddhism: In 1878 Colonel Henry Steel Olcott, cofounder, with Helena Blavatsky, of the Theosophical Society, saw an embellished account of the debate published in Boston. Blavatsky and Olcott had set out to found a scientific religion, one that accepted new discoveries in geology and archaeology while touting an ancient and esoteric system of spiritual evolution. By 1878 Blavatsky and Olcott were claiming affinities between Theosophy and the wisdom of the East, specifically Hinduism and Buddhism. And inspired by Olcott's reading of the account of Gunananda's defense of the dharma, they were determined to join the Buddhists of Ceylon in their battle against Christian missionaries. In 1880 they sailed to Ceylon and both took the vows of lay Buddhists.

While Blavatsky's interest in Buddhism remained peripheral to her Theosophy, Olcott embraced his new faith, being careful to note that he was a "regular Buddhist" rather than a "debased modern" Buddhist, and he decried what he regarded as the ignorance of the Sinhalese about their own religion. "Our Buddhism was that of the Master-Adept Gautama Buddha . . . the soul of the ancient world-faiths," he later wrote. "Our Buddhism was, in a word, a philosophy, not a creed."
In order to help restore true Buddhism to Ceylon
and stem the tide of Christianity, Olcott adopted many of the missionaries' techniques. He founded the Buddhist Theosophical Society and helped found the Young Men's Buddhist Association. In 1881 he published The Buddhist Catechism, modeled on works used by the missionaries. Olcott shared the view of many enthusiasts in Victorian Europe and America who saw the Buddha as the greatest philosopher of India's Aryan past and regarded his teachings as a complete philosophical and psychological system based on reason and restraint, opposed to ritual, superstition, and priestcraft. It demonstrated, they argued, how the individual could live a moral life without the trappings of institutional religion. This Buddhism was to be found in texts rather than in the lives of the contemporary Buddhists of Ceylon, who in Olcott's view had deviated from the original teachings.
334. Q. Is anything said about the body of the Buddha giving out a bright light?

A. Yes, there was a divine radiance sent forth from within by the power of his holiness.

335. Q. What is it called in Pālī?

A. Buddharansi, the Buddha rays.

336. Q. How many colours could be seen in it?

A. Six, linked in pairs.

337. Q. Their names?

A. Nīla, Pita, Lohita, Avadata, Mangastā, Prabhasvra.

338. Q. Did other persons emit such shining light?

A. Yes, all Arhats did and, in fact, the light shines stronger and brighter in proportion to the spiritual development of the person.

339. Q. Where do we see these colours represented?

A. In all vihāras where there are painted images of the Buddha. They are also seen in the stripes of the Buddhist Flag, first made in Ceylon but now widely adopted throughout Buddhist countries.

340. Q. In which discourse does the Buddha himself speak of this shining about him?

A. In the Mahā-Parinibbana Suttā, Ānanda his favourite disciple, noticing the great splendour which came from his Master's body, the Buddha said that on two occasions this extraordinary shining occurs, (a) just after a Tathāgatā gains the supreme insight, and (b) on the night when he passes finally away.

341. Q. Where do we read of this great brightness being emitted from the body of another Buddha?

A. In the story of Sumedha and Dipānkāra Buddha, found in the Nidānakathā of the Jātaka book, or story of the reincarnations of the Bodhisattva Siddhārtha Gautama.

342. Q. How is it described?

A. As a halo of a fathom's depth.

343. Q. What do the Hindus call it?

A. Tejas; its extended radiance they call Prākāsha.

344. Q. What do Europeans call it now?

A. The human aura.

345. Q. What great scientist has proved the existence of this aura by carefully conducted experiments?

A. The Baron Von Reichenbach. His experiments are fully described in his Researches, published in 1844-5. Dr. Baraduc, of Paris, has, quite recently, photographed this light.

346. Q. Is this bright aura a miracle or a natural phenomenon?

A. Natural. It has been proved that not only all human beings but animals, trees, plants and even stones have it.

347. Q. What peculiarity has it in the case of a Buddha or an Arhat?

A. It is immensely brighter and more extended than in cases of other beings and objects. It is the evidence of their superior development in the power of Iddhī. The light has been seen coming from dāgobas in Ceylon where relics of the Buddha are said to be enshrined.

348. Q. Do people of other religions besides Buddhism and Hindūism also believe in this light?

A. Yes, in all pictures of Christian artists this light is represented as shining about the bodies of their holy personages. The same belief is found to have existed in other religions.-- The Buddhist Catechism, by Henry S. Olcott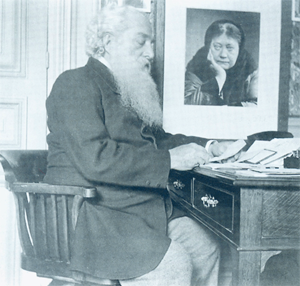 Henry Steel Olcott and Helena Blavatsky: Courtesy of the Theosophical Society of America
This would not be his only contribution to Modern Buddhism. In 1885, Olcott set out on the grander mission of healing the schism he perceived between "the Northern and Southern Churches," that is, between the Buddhists of Ceylon and Burma (Southern) and those of China and Japan (Northern). Olcott believed that a great rift had occurred in Buddhism 2,300 years earlier and that if representatives of the Buddhist nations would simply agree to his list of fourteen "Fundamental Buddhistic Beliefs," then it might be possible to create a "United Buddhist World." These principles were sufficiently bland as to be soon forgotten. But Olcott was again prescient: many later Modern Buddhists would attempt to reduce Buddhism to a series of propositions. Olcott was also the first to try to unite the various Buddhisms of Asia into a single organization, an effort that bore fruit long after his death with the founding of the World Fellowship of Buddhists in 1950.

Olcott left one more legacy. Authority in Buddhism is usually a matter of lineage, traced backward in time from student to teacher, ending with the Buddha himself. A lineage of Modern Buddhism might begin with Gunananda (who clearly saw himself as representing the original teachings of the Buddha), then be picked up by Colonel Olcott, then by a young Sinhalese named David Hewaviratne [Anagarika Dharmapala] (1864—1933). At the age of nine he sat with his father in the audience of the Panadure debate, cheering for Gunananda. He met Blavatsky and Olcott during their first visit to Sri Lanka in 1880 and was initiated into the Theosophical Society four years later. In 1881 he changed his name to Anagarika Dharmapala ("Homeless Protector of the Dharma"), and though he remained a layman until late in life, he wore the robes of a monk.

Dharmapala became Colonel Olcott's closest associate and achieved international fame after a bravura performance at the World's Parliament of Religions, held in conjunction with the Columbian Exposition in Chicago in 1893. His eloquent English and ability to quote from the Bible captivated audiences as he argued that Buddhism was clearly the equal, if not the superior, of Christianity in both antiquity and profundity. Moreover, his meetings with other Buddhist delegates to the parliament, such as the Japanese Zen priest Shaku Soen, and with American enthusiasts of Buddhism like the philosopher Paul Carus, helped shape the course of things to come.


Dharmapala spread the lineage of Modern Buddhism to China when he stopped in Shanghai on his journey back from the World's Parliament of Religions. There he met Yang Wen-hui (1837—1911), a civil engineer who had become interested in Buddhism. Yang organized a lay society to disseminate the dharma by carving woodblocks for the printing of the Buddhist canon (a traditional form of merit-making). After serving at the Chinese embassy in London, he resigned in order to devote all his energies to the publication of Buddhist texts.
Yang did not think it possible for Chinese monks to go to India to help restore Buddhism there, as Dharmapala asked, but he suggested that Indians be sent to China to study the Buddhist canon. Here is yet another element of Modern Buddhism. Dharmapala felt that the Buddhism of Ceylon was the purest version of the Buddha's teachings and would have rejected as spurious most of the texts that Yang was publishing. Yang, on the other hand, felt that the Buddhism of China was the most authentic, such that the only hope of restoring Buddhism in India lay in returning the Chinese canon of translated Indian texts to the land of their birth. The ecumenical spirit found in much of Modern Buddhism does not preclude championing one's own form of the religion.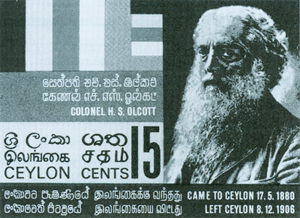 Colonel H.S. Olcott 15 Ceylon Cents
Buddhist monks in China faced different obstacles than those faced by monks in Ceylon. The challenge came not so much from Christian missionaries, though they had a strong presence in China, but from a growing community of intellectuals who saw Buddhism as a form of primitive superstition impeding the country's entry into the modern world. Buddhism had periodically been regarded with suspicion by the state, and such suspicion intensified in the early decades of the twentieth century, when Buddhism was denounced by both Christian missionaries and Chinese students who returned from abroad with the ideas of
Dewey
,
Russell,
and
Marx
.
Buddhist leaders responded by founding schools to train monks in the Buddhist classics, who would in turn teach the laity (as Christian missionaries did). Although most of these academies were short-lived, they trained many of the future leaders of Modern Buddhism in China, who sought to defend the dharma through founding Buddhist organizations, publishing Buddhist periodicals, and leading lay movements to support the monastic community.
Meanwhile, Buddhist intellectuals in late nineteenth-century Japan strove to show the relevance of Buddhism to the interests of their nation. They promoted a New Buddhism that was fully consistent with Japan's attempts to modernize and expand its realm. Buddhism had been attacked in the early years of the Meiji as a foreign and anachronistic institution, riddled with corruption and superstition and impeding progress. This New Buddhism was represented as both purely Japanese and purely Buddhist—more Buddhist, in fact, than the other Buddhisms of Asia. It was also committed to social welfare, urging the foundation of public education, hospitals, and charities. Indeed, Buddhist leaders were consistent in their call to restore true Buddhism (which existed only in Japan, they said) throughout the rest of Asia, beginning with the Sino-Japanese War of 1894-95 and continuing to the defeat of Japan in 1945.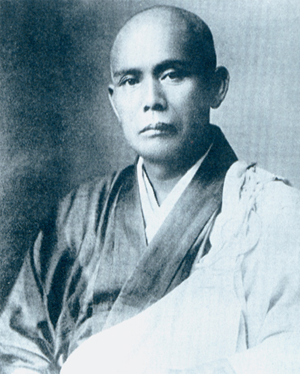 Shaku Soen: Courtesy of the Zen Studies Society
One of the leading figures of Japan's New Buddhism was Shaku Soen (1859-1919). Ordained as a novice of the Rinzai Zen sect at the age of twelve, he received dharma transmission and authority to teach at twenty-four. Seeking to combine Buddhist training and Western-style education, he attended university and then traveled to Ceylon to study Pali and live as a Theravada monk. Upon his return, he coedited a book called The Essentials of Buddhism—All Sects. Like many of the leading figures of Modern Buddhism, Soen was devoted to teaching meditation to laypeople. At the World's Parliament of Religions in 1893, he described his country's position as follows:
… the Japanese are people with abundantly loyal and patriotic spirits… Buddhism has exercised great influence on Japanese spirituality and has had influence on successive emperors… Buddhism is a universal religion, and it closely corresponds to what science and philosophy say today…
Soen and his visit to the United States were to have a huge influence on another proponent of Zen in the West: his lay disciple D. T. Suzuki, whose writings have provided many Americans with an introduction to Buddhism.
My relative has been living in this city [i.e., Rüdesheim am Rhein] for a long time and has many acquaintances. When he meets his acquaintances they exchange greetings by giving the Nazi salute and saying, "Heil Hitler!" When I asked my relative the reason for his celebration of Hitler, what he told me is briefly as follows:

Before Hitler arrived on the scene there were many political parties in Germany. As a consequence, political affairs were unable to find a direction and citizens became more and more depressed as time went on. They were at their wit's end, wondering what was to become of them.

Hitler, however, was able to unite the people and lead us with a definite goal in mind

. Thus we have never experienced a greater sense of relief than we have today. While we don't know much about politics, we have never enjoyed greater peace of mind than we have now. Isn't that reason enough to praise Hitler?

This is what my relative told me, and

I agree this is quite reasonable

.

Changing the topic to

Hitler's expulsion of the Jews, it appears there are considerable grounds for this

, too. While it is a very cruel policy, when looked at from the point of view of the current and future happiness of the entire German people,

it may be that, for a time, some sort of extreme action is necessary in order to preserve the nation

. From the point of view of the German people, the situation facing their country is that critical.

On occasion, in England, too, I have encountered Jews. I recently met a young self-professed wealthy poet who had been persecuted and expelled from Germany. After listening to his story, I felt sorry for him because he suddenly found himself living in poverty in a foreign land. As regards individuals, this is truly a regrettable situation.

Fig. 4 - 1936 Nazi Rally in Nuremburg

Recently the Nazis held a major rally in Nuremburg. At that time

Hitler announced what may be considered to be the principles underlying the expulsion of the Jews

. These principles are as follows:

The Jews are a parasitic people who are not indigenous, i.e., who develop no connection to the land. They are neither farmers nor industrial workers. Instead, they are merchants situated between producers and consumers. As such they are the class that extracts profits from both groups. In this respect, i.e., in intellectual terms, it can be said that they are far more developed than the indigenous German people. After the Great War [WW I] they rushed like a flood into Germany. Taking advantage of the German people's exhaustion, they monopolized profits in the commercial sector while utilizing their power in the political arena solely to advance their own interests. As a result, the German people became increasingly fearful with the result that someone like Hitler appeared on the scene. That is to say, the expulsion of the Jews is an action taken in self-defense. It is the resistance of indigenous people to immigrants from outside.

The fact that they have no country is karmic retribution (J. gōhō) on the Jews. Because they have no attachment to the land and are wanderers, it is their fate to intrude into state structures created by others. As a result they are primarily involved in intellectual activities, an area in which they have shown great ability. Intellectual activities broadly interpreted means that they are members of the ruling class. In the case of today's German people they find it extremely difficult to accept their country being disturbed by a foreign race.

This appears to be the feelings and assertion of Hitler and others.

It is for this reason that the Nazis fiercely attack Soviet Russia. They claim that the core of the Communist Party, beginning with Stalin himself, is composed of either Jews themselves or their relatives who have some connection to them and that, since people like these are up to no good, one of the great missions of the German people is to crush Soviet Russia.

The speeches given by the leaders at the recent Nazi rally in Nuremburg, among others, were very extreme. They directly attacked the Soviet Union as their great enemy of the moment. They said as much as could be said in words, completely ignoring diplomatic niceties and attacking them viciously.

From looking at the newspapers, you can get a good sense of their truly fierce determination

. People are saying that if, in the past, the leaders of one country had done something like this it is inevitable that within twenty-four hours the other country would have declared war. In any event,

the Nazis' determination is deadly serious!

Fig. 5 - Hitlerjugend

The Nazis have focused their attention on youth movements, including engagement in volunteer labor and marching with spades on their shoulders with the goal of communing with nature.

I believe this is something that is truly fine no matter in what country it takes place. I will, however, not immediately judge the rights and wrongs of a situation in which totalitarianism (J. zentaishugi) is overly emphasized and everyone has to wear military uniforms. That said, placing a spade on one's shoulder and harvesting the bounty of the earth without payment as a form of mutual assistance is something I would most definitely like to have Japanese youth do.

Setting aside the question of Communism's ideology, the people at its core are intellectuals who have never been intimately connected with the land. Furthermore, their ideology is something that has been directly imported from abroad and has no roots in the history of that country. Taking their claims to be absolute, they butcher those who oppose them without hesitation. This is something that others and I can in no way approve. While it is true that Nazis and Fascists also insist on totalitarianism, in one sense it can be said that theirs is a form of resistance to Communist actions.

Or it can also be understood as turning the Communists' methods to their own advantage.

Fig. 6 - Stahleck Castle

About an hour and a half boat ride south from the city of Rüdesheim is an old city on the other shore known as Bacharach. On the mountain behind this city is an old castle called Stahleck Castle. This has been restored in recent years as a lodging for male and female youth groups. The outside of the castle has been maintained as it was with stones piled one on top of another in what is clearly a solid structure. The interior, though plain, has been modernized and made into a well-appointed facility.

During the summer, youth groups are accommodated here where they lead a disciplined life and visit nearby historical sites. Nazi lecturers are invited to speak on such things as Nazi views and institutions as well as engage in discussions. The room where medieval knights once met is now used as a lecture hall, and in it is a bust of Hitler. The youth in the hall explained that this is the only bust that Hitler had made for youth groups. Although only half of the castle tower remains, I was informed there are plans to completely restore it in the near future. If I had more historical and architectural knowledge of old castles I would be able to share more interesting impressions but, unfortunately, I am unlearned in these matters so I cannot do any better than this.

In any event, in Japan there should be a better understanding of the purpose of the lifestyle followed in a Zen temple. I would like to have youth experience this. Further,

inasmuch as youth in the True Pure Land sect [of Buddhism] and others have aspects that appear to be overly aristocratic I would like to see them, too, practice the lifestyle of Zen training monks (J. unsui), communing with the earth and developing the habit of unstintingly devoting themselves to labor. This is, of course, what the German youth movement is doing

, but we have had a method of character building in Japan from ancient times.

-- D.T. Suzuki, Zen and the Nazis, by Brian Daizen Victoria
If the domain of Modern Buddhism encompassed rationalism, individualism, nationalism, and science, it also envisioned more active and visible roles for women. Perhaps no issue has been more important in this regard than the question of the ordination of women as nuns. The Buddha is reported to have asserted that women are capable of following the path to enlightenment, but to have only grudgingly permitted an order of nuns. This order eventually spread to Sri Lanka, Burma, China, Vietnam, Korea, and Japan. However, it was difficult for the order of nuns to withstand periods of social upheaval, and although it survives in China, Korea, and Vietnam, it has died out in Sri Lanka and in most of Southeast Asia. Modern Buddhists have sought to revive it.
As with all Buddhist reform movements over the centuries,
Modern Buddhism represents itself as a return to the teachings of the Buddha, or better, to his ineffable experience beneath the Bodhi tree on a full moon night in May.
Definition of ineffable: incapable of being expressed in word.

-- Ineffable, by Merriam-Webster
Implicit in this claim, however, is a criticism of traditional Buddhism, of the Buddhism of turn-of-the-century Asia. The supposed resurrection of the original dharma allowed Modern Buddhists to concede many of the charges made by Buddhism's critics, whether they were Orientalists, colonial officials, Christian missionaries, or Asian secularists. They saw contemporary Buddhists as benighted idolaters crushed by centuries of superstition and exploited by an effete and corrupt monastic order. Rather than defending the Buddhism they knew, many of the leading figures of Modern Buddhism accepted the claim that the religion had suffered an inevitable decline since the master passed into nirvana. The time was ripe to remove the encrustations of the past centuries and return to the essence.

This Buddhism is seen, above all, as a religion dedicated to bringing an end to suffering. Suffering was often interpreted by Modern Buddhists not as the sufferings of birth, aging, sickness, and death, but of those caused by poverty and social injustice. The Buddha's ambiguous statements on caste were selectively read by Europeans and Asians alike to portray him as a crusader against inequality based on birth rather than merit. Because of this view, Modern Buddhism came to promote the social good in the form of rebellion against political oppression (especially by colonial powers), projects on behalf of the poor, and through the more general claim that Buddhism was the religion most compatible with the technological and economic benefits that result from modernization.

Modern Buddhists also argued that the Buddhism of the Buddha was free from the veneration of images. They described reverence of Buddha images as the simple expression of thanksgiving for his teachings, given in full recognition that the Buddha had long ago entered into nirvana. But this interpretation was at odds with traditional practice. Relics of the Buddha are believed to be infused with his living presence and thus capable of bestowing all manner of blessing upon those who venerate them. That Modern Buddhists (especially in the West) either ignored this practice or dismissed it as superstition points to the influence of the colonial legacy of Christian missionaries, who consistently labeled Buddhists as idolaters.

Modern Buddhists proclaimed superiority over Christianity in the domain of science. Such disparate figures as Dharmapala in Sri Lanka, T'ai Hsu in China, Shaku Soen in Japan, and more recently the Dalai Lama have asserted the compatibility of Buddhism and Western science. They argue that the Buddha himself denied the existence of a creator deity, rejected a universe controlled by the sacraments of priests, and set forth a rational approach by which the world operates according to the law of cause and effect. Elements of traditional cosmology that conflicted with science (such as a flat earth) were dismissed as local myths that had nothing to do with the Buddha's original teaching.
More to the point, Dharmapala maintained his affinity for the mahatmas and Blavatsky until the end of his diary keeping in 1930. Throughout the 1920s, his daily entries often begin with an injunction from Master Koot Hoomi: "The only refuge for his who aspires to true perfection is the Buddha alone."....

Dharmapala was much more deeply influenced by Theosophy than scholarly accounts have allowed. Neglecting those Theosophical influences derives from the allure of a national subjectivity – specifically Buddhist and Sinhala – as a tool for interpreting postcolonial Sri Lanka. Such accounts reduce Theosophy to a vehicle for Buddhist reform or limit Theosophy's influence on Dharmapala's life to the period between 1891 and 1905, when he left Theosophy behind and became a Buddhist pure and simple. Often they mark the turn at the point when Blavatsky told him to fix his mind on learning Pali or when he fell out with Olcott. For many of the Sinhala Buddhists who joined the Theosophical Society after Olcott's arrival, what recommended Theosophy was the society's Western associations and willingness to help the Buddhist cause. For Dharmapala, Theosophy was quite a lot more. He learned how to embody the brahmacarya role by reading Sinnett's Occult World.1 The mahatmas (advanced spiritual beings) gave him a compelling example of selfless service. Right up to the end of his diary keeping, he continued to invoke the mahatmas who watched over humanity from their Himalayan retreats. They provided him with examples that advanced spiritual states were possible, and they modeled the service to humankind that he pursued throughout his life.

Theosophy served as an instrument for his own high aspirations and idealism: the content remained largely Buddhist, but the notion that one could aspire to higher states of consciousness came from the mahatmas, who had themselves achieved those states. In contrast with the low spiritual aspirations of local monks, the mahatmas gave him a paradigm for his perfectionism. Theosophy gave him a rationale for carrying Buddhism to the West.2 Theosophy taught him that doing so was an act of the highest wisdom (parama vijnana). Summing up his life just before his death, he focused on people who had shaped his career; two were his parents and two Theosophists:

Sadhu! Sadhu!! Buddhists of Japan, China, Tibet, Siam, Cambodia, Ceylon & Burma are dead. The germ of Bodhi was impregnated in my heart by my father. The germ of renunciation was impregnated by my Mother, and the Devas induced

Mrs. Mary Foster of Honolulu

to help me. The path of perfection was shown to me by

Mme. Blavatsky

in my 21st year. (Diary, December 20, 1930).

-- Rescued from the Nation: Anagarika Dharmapala and the Buddhist World, by Steven Kemper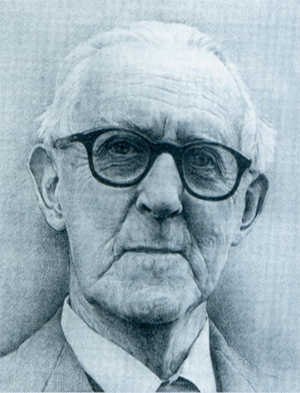 Christmas Humphreys: Courtesy of the Buddhist Society, U.K.
Modern Buddhists have sought to liberate the teachings of the Buddha from centuries of cultural and clerical ossification to reveal a Buddhism that was neither Theravada nor Mahayana, neither monastic nor lay, neither Sri Lankan, Japanese, Chinese, nor Thai. This was a Buddhism whose essential teachings could be codified.
For the first time in the history of Buddhism, writers began to summarize the religion in a single book. There was Olcott's Buddhist Catechism, Paul Carus's The Gospel of the Buddha According to Old Records (which D. T. Suzuki translated into Japanese), and Christmas Humphreys' 1951 work, Buddhism. Humphreys, who had founded the Buddhist Society in London in 1924, explained that his interest was in a "world Buddhism as distinct from any of its various Schools," and that "only in a combination of all Schools can the full grandeur of Buddhist thought be found." Such a "world Buddhism," transcending all regional designation and sectarian affiliation, had not existed before the advent of Modern Buddhism.
This was the only sense in which Buddhism could be regarded as a universal religion. But as such, many of the distinctions of other forms of Buddhism faded. For example, whereas Buddhism had not existed before without the presence of an ordained clergy, many of the leaders of Modern Buddhism were laypeople, and many of the monks who became leaders of Modern Buddhism did not always enjoy the respect, or even the recognition, of the monastic establishment. Indeed, one of the characteristics of Modern Buddhism is that teachers—including women teachers—who were marginal in their own cultures became central on the international scene.
Still,
Modern Buddhism did not dispense with monastic concerns. Rather, it blurred the boundary between the monk and the layperson, with laypeople taking on the traditional vocations of elite monks: the study and interpretation of scriptures and the practice of meditation. In this sense, Modern Buddhism has shifted emphasis away from the community (especially the community of monks) to the individual, who was able to define a new identity, sometimes even designing new robes that marked a difference in status between the categories of monk and layperson.

Meditation came to be the essential practice of Modern Buddhism. In their quest to return to the origin of Buddhism, Modern Buddhists looked to the image of the Buddha seated in silent meditation beneath a tree, contemplating the ultimate nature of the universe. This practice allowed Modern Buddhists to dismiss the rituals of consecration, purification, and exorcism so common throughout Asia as extraneous elements that had crept into the tradition. Meditation allowed Modern Buddhism again to transcend local expressions, which required form and language. At the same time, the very silence of meditation provided a medium for moving beyond sectarian concerns of institutional and doctrinal formulations by making Buddhism, above all, an experience.
The emphasis on meditation marked one of the most extreme departures of Modern Buddhism from previous forms. The practice of meditation had been the domain of monks throughout Buddhist history, and even here, meditation was merely one of many monastic activities.
Much of what we regard as Buddhism today is Modern Buddhism.
And Modern Buddhism seems to have begun in part as a response to the threat of modernity, as perceived by certain Asian Buddhists, especially those, like Gunananda, who had encountered colonialism. Yet these Modern Buddhists were very much products of modernity themselves, influenced by the rise of the middle class, the power of the printing press, and the ease of international travel.
Many of these leaders were deeply involved in independence movements and identified Buddhism with the interests of the state, as the exiled Dalai lama does today.
Yet together they have forged an international Buddhism that transcends cultural and national boundaries, and they have created a new generation of intellectuals who write the dharma in English.
It is perhaps best to consider Modern Buddhism not a universal religion beyond sectarian borders but a Buddhist sect itself. There is Thai Buddhism, there is Tibetan Buddhism, there is Korean Buddhism, and there is Modern Buddhism. Unlike previous forms of national Buddhism, however, this new sect does not stand in a relation of mutual exclusion to the others. One may be a Chinese Buddhist and a Modern Buddhist, but one also can be a Chinese Buddhist without being a Modern Buddhist. Like other Buddhist sects, Modern Buddhism has its own lineage, doctrines, and practices. And like other Buddhist sects, it has its own canon of sacred scriptures—scriptures that have created a Buddhism so new, yet also so familiar.
Donald S. Lopez Jr. is Professor of Buddhist and Tibetan Studies in the Department of Asian Languages at the University of Michigan.
From Tavistock to Rand

In 1967, the head of the Tavistock Institute of Human Relations in London was a man named Dr. Fred Emery, an expert on the 'hypnotic effects' of television. Dr. Emery was particularly struck by what he observed of crowd behavior at rock concerts, which were a relatively new phenomenon at that time. Emery referred to the audiences as 'swarming adolescents.' He was convinced that this behavior could effectively be refined and used to bring down hostile or uncooperative governments. Emery wrote an article about this for the Tavistock Institute's journal, Human Relations, which he confidently titled, "The Next Thirty Years: Concepts, Methods and Anticipations." The article detailed ways in which to safely channel or directly manipulate what he termed 'rebellious hysteria.' This is precisely what the RAND studies later observed, and manufactured, as 'swarming.' [19]

Following World War I, the British Military had created the Tavistock Institute to serve as its psychological warfare arm.

The Institute received its name from the Duke of Bedford, Marquis of Tavistock, who donated a building to the Institute in 1921 to study the effect of shell-shock on British soldiers who had survived World War I. Its purpose was not to help the traumatized soldiers, however, but instead to establish the 'breaking point' of men under stress. The program was under the direction of the British Army Bureau of Psychological Warfare. For a time Sigmund Freud worked with Tavistock on psychoanalystical methods applied to individuals and large groups.

After World War II, the Rockefeller Foundation moved in to finance the Tavistock Institute and, in effect, to co-opt its programs for the United States and its emerging psychological warfare activities. [20] The Rockefeller Foundation provided an infusion of funds for the financially strapped Tavistock, newly reorganized as the Tavistock Institute for Human Relations. Its Rockefeller agenda was to undertake "under conditions of peace, the kind of social psychiatry that had developed in the army under conditions of war." [21]

That was a fateful turn.

Tavistock immediately began work in the United States, sending its leading researcher, the German-born psychologist, Kurt Lewin, to the Massachusetts Institute of Technology in 1945 to establish the Research Center for Group Dynamics. Lewin was interested in the scientific study of the processes that influence individuals in group situations, and is widely credited as the founder of 'social psychology.' After Lewin's death, the Center moved to the University of Michigan in 1948 where it became the Institute for Social Research. [22]

Tavistock's work over the next two decades was to co-opt legitimate psychological insights into social groups and social dynamics in order to refine techniques for social manipulation.

-- Full Spectrum Dominance: Totalitarian Democracy In The New World Order, by F. William Engdahl