Part 1 of 3
From the Guimet Museum to De-Chen Ashram: Alexandra David-Neel, Buddhism and Fiction
1
by Samuel Thévoz
2016
NOTICE: THIS WORK MAY BE PROTECTED BY COPYRIGHT
YOU ARE REQUIRED TO READ

THE COPYRIGHT NOTICE AT THIS LINK

BEFORE YOU READ THE FOLLOWING WORK, THAT IS AVAILABLE SOLELY FOR PRIVATE STUDY, SCHOLARSHIP OR RESEARCH PURSUANT TO 17 U.S.C. SECTION 107 AND 108. IN THE EVENT THAT THE LIBRARY DETERMINES THAT UNLAWFUL COPYING OF THIS WORK HAS OCCURRED, THE LIBRARY HAS THE RIGHT TO BLOCK THE I.P. ADDRESS AT WHICH THE UNLAWFUL COPYING APPEARED TO HAVE OCCURRED. THANK YOU FOR RESPECTING THE RIGHTS OF COPYRIGHT OWNERS.
(2016 Research Fellow, The Robert H. N. Ho Family Foundation Program in Buddhist Studies)
This is a pre-published draft of an article published by Transcultural Studies (Heidelberg), 2016/1, 149–186, under the title: On the Threshold of the "Land of Marvels:" Alexandra David-Neel in Sikkim and the Making of Global Buddhism available online: https://heiup.uni-heidelberg.de/journal ... view/23541
This draft deals in more details with biographical and literary issues than the definitive published version.
I look around and I see these giant mountains and my hermit hut.

All of this is too fantastic to be true

. I look into the past and watch things that happened to me and to others ; […] I am giving lectures at the Sorbonne, I am an artist, a reporter, a writer; images of backstages, newsrooms, boats, railways unfold like in a movie. […]

All of this is a show

produced by shallow ghosts,

all of this is brought into play by the imagination

. There is no 'self' or 'others,' there is only an eternal dream that goes on, giving birth to transient characters,

fictional adventures

.2
An icon: Alexandra David-Néel in the global public sphere
Alexandra David-Néel
(Paris, 1868–Digne-les-bains, 1969) certainly ranks among the most celebrated Western Buddhist pioneers who contributed to popularize the modern perception of Tibet and Tibetan Buddhism at large. As is well known,
it is her illegal trip from Eastern Tibet to Lhasa in 1924 that made her famous.
Her global success as an intrepid explorer of Himalayan Buddhism started with her first published travel narrative: Voyage d'une Parisienne à Lhassa, that was published in 1927 in Paris, London and New York simultaneously.3 In this book, she explains how she overcame the difficulties of
journeying to a forbidden country and entering its capital city right under the nose of Tibetan and British authorities
.
The publication of Voyage d'une Parisienne à Lhassa was widely acclaimed. From this point on, this French-Belgian traveler was to become a national hero in France4 and, on the larger international scale, stood out both as an iconic woman adventurer and as a popular authority on Tibet and Buddhism.5
As such, she was to be acknowledged by generations of readers interested in Asia as a key figure for spiritual seekers of Eastern religion and philosophy. Not least of them were
Alan Watts (1915–1973), who wrote the prefaces of several English translations of her books
, and representatives of the Beat Generation such as Jack Kerouac (1922–1969), Allen Ginsberg (1926–1997) or Gary Snyder (1930–). For instance,
Snyder prompted Ginsberg to read back and forth David-Néel's The Secret Oral Teachings in Tibetan Buddhist Sects6 (1951, English transl. 1967) claiming that it was 'a great book, with absolute answers on some questions.'7 Ginsberg admitted himself that 'Blakean imagery in Alexandra David-Neel's Magic and Mystery in Tibet [her second bestselling book] magnetized [him] toward Buddhist meditation.'8
Alexandra, the adventurer of the Tibetan highlands, eventually became famous as the explorer of the Tibetan spiritual world. Indeed,
Alexandra David-Néel's name has been associated to an image of Tibet as a 'land of marvels' and her books clearly participated in creating a global understanding of Buddhism as a path towards personal liberation consisting in a set of techniques of meditation that she herself learned from Tibetan 'yoguis.'
Her life narrative thus established a scheme that many Westerners would later reproduce either by traveling eastward or by benefiting from Western or Eastern Buddhist teachers coming from Asia to the West. David-Néel was not the only Westerner at the time to head toward Asia on a spiritual quest. Since the 1890s,
Buddhism had drawn the attention of Westerners as a serious alternative religion to Christianity, both as an arguably 'modern' and 'rational' religion9 and as a potentially 'World religion,' such as it was introduced to the first World Parliament of Religion (Chicago, 1893)10 by prominent Asian Buddhist monks such as Anagarika Dharmapala (1864–1963) from Ceylon (Sri Lanka) and Sôen Shaku (1859–1919) from Japan.11
As recent studies have showed, by the 1920s 'Western Buddhist pioneers' having taken Buddhist vows already were quite numerous such as famous British
Ananda Metteyya
(1872–1923) or German Nyanatiloka (1878–1959).12 In the process, there was a growing audience for international Buddhist networks such as the
International Buddhist Society
(Buddhasasana Samagama) Metteyya founded in 1903.13 Recent inquiries highlighting the role of Buddhism in the processes of globalization have identified both neglected Western and Eastern actors in the development of Buddhist networks and the rise of global Buddhism between 1860 and 1960.14
Surprisingly enough, a prominent — but controversial — Western Buddhist figure such as
Alexandra David-Néel has been expelled from the scholarly narratives of modern Buddhism.15 Nevertheless, in the light of the recent interest in the globalization of Buddhism, David-Néel deserves to be reconsidered, insofar as the successive stages of her encounter with Asia contribute to understand the historical complexity of the rise of modern and global Buddhism.16 Prior to her incursions beyond the political border to Tibet in 1924, incursions that made her name famous worldwide, Alexandra David-Néel had already acquainted herself with the Himalayas for a long time. In fact, her encounter with Tibet and Tibetan Buddhism took place not in Tibet but in Sikkim.
17 First visiting India in 1911, she then arrived to the edges of the Raj in Sikkim in 1912 on the border with Tibet. This invites us to reconsider the construction of Alexandra David-Néel's own heroic image of an explorer of what she herself called the 'land of marvels.' The lofty images of a spiritual Tibet — a 'mind's Tibet'18— she has contributed to create in the West are rooted in time and space and need to be connected to concrete encounters with local Buddhist representatives in Sikkim.
In so doing,
this inquiry highlights not only Alexandra David-Néel's travels to Asia and spiritual evolution, but more importantly the place and the actors who literally gave birth to her widely acclaimed vision of Tibet
. Sikkim and Buddhist lamas in Sikkim actually changed and nourished her view on Tibetan Buddhism and ultimately left a lasting imprint on her own authorial identity. Through her, they were to play a major role in the advent of modern Buddhism. The story told here extends far beyond the figure of Alexandra David-Néel: it shows a Western Buddhist woman convert going eastward; it symmetrically highlights Buddhist representatives from Sikkim going westward without even stepping into the Western world.
Sikkim beneath the heroic adventurer's bestsellers: the traveler's letters to her husband
Alexandra David-Néel sojourned in Sikkim twice, first from April to October 1912 and then again from December 1913 to June 1916. She gives some insights on these two stays very briefly in the opening pages of My Journey to Lhasa and offers more details in the two first chapters of With Mystics and Magicians in Tibet.19 But
the circumstances and encounters that triggered her interest in Tibet in the first place are scarcely accounted for in these travel narratives
. She reshaped the course of her travels from a retrospective point of view, adding some details, and leaving out others. It is precisely this prequel of the well-known story of her encounter with Tibet that I would like to explore in this paper.
For this purpose
I rely on an alternative source: her letters to Philippe Néel (1861–1941), whom she had married in 1904. Mr. Néel resided in Tunis, where he worked as a railway engineer.
20 It is through these letters that he followed his wife's travels in Asia from 1911 onwards, travels, which he supported financially.
These letters have first been published in 1975
, after the death of David-Néel in 1969 under the title 'journal de voyage' (travelogue).21
This title is somewhat misleading, since it is not a log book per se. The information is primarily addressed to
her husband who, one must note, was rather reluctant to her departure to Asia for what he called her 'growing mysticism.'22 This may explain why she states that she 'only focuses on what is likely to be of concern to [him], leaving aside the philosophical or mystical aspects which prevail here.'23 One can thus discern in these letters a strategy of persuasion at a time when she was still in need of her husband's financial support and of social recognition.
In this respect, it is striking for the modern reader accustomed to David-Néel's style that the very topics which she became famous for are notably absent or given reduced importance in her letters. These documents, on the other hand, allow one to follow almost day after day David-Néel's trips and encounters. In this way they give us an insight into the more concrete aspects of her travels and help us give flesh to the local agents she met in her travels, hear voices that would become muffled or anonymous in her print oeuvre and sense how they altogether modified her own agenda. Moreover, these letters contribute to shed light on the progressive evolution of her perception of the Tibetan world.24
Based on these letters, I will first analyze the different
issues that presented themselves at this time in her sudden interest for Tibet. This interest was directly linked to the encounters both with British officials and Buddhist representatives that took place upon her arrival in Kalimpong in April 1912, following her trip through India.
I will then show how these get into play in the way she pictures Tibet from the southeastern Himalayan slopes of Sikkim. Finally, looking for comparative purpose at her With Mystics and Magicians in Tibet, I will underline to what extent Alexandra David-Néel's stay in Sikkim served as a decisive epiphany, gave birth to the traveler's authorial voice, shifted the way the Tibetan world was depicted in the long run, and delineated specific features of modern Buddhism.25
From theatre to orientalism: finding a signature name
To fully understand what happened during David-Néel's stay in Sikkim, one needs to keep in mind David-Néel's distinctive 'career-paths' as an author and as a Buddhist convert. The former sheds light on what was at stake in the rising interest toward Buddhism at the time, while the latter more specifically defines her specific approach to it.
Regarding the first aspect,
Alexandra endorsed many personae and elected several signatures by which she signed her works — the most commonly known being 'Alexandra David-Néel.' Born Louise Eugénie Alexandrine Marie David, it is only since 1919 that Alexandra — she would herself choose this first name as a stage and pen name much later26 — hyphenated her married name with her maiden name to sign articles and her first bestselling book My Journey to Lhasa. 'Alexandra David-Néel' was to become the definitive signature under which she would be acknowledged worldwide as an adventurer and a popular writer. The author's name even took a transnational turn, since the hyphenated French names 'David' and 'Néel' (pronounced /dævıd/ and /nel/) were immediately spelt 'David-Neel' in the first edition of My Journey to Lhasa by Harper & Brothers. In the process, the compound lost its French spelling distinctive 'touch' and acquired an Anglo-Saxon flair in its newly standardized pronunciation /deıvıdni:l/.

Before 1924, she made herself known through a series of publications under various other signature names. From 1893 to 1899, she signed articles on social matters (as is well known, she made no secret of being a feminist and an anarchist).27 She used the pen name 'Mitra,' after the old Vedic god and guardian of cosmic order. After publishing a few articles in Le Lotus bleu, the French journal of the Theosophy Society, she had 'Notes sur le Bouddhisme' published in L'Étoile socialiste, revue populaire hebdomadaire du socialisme international in 1895 under the same name. From 1900 to 1908, she published several articles under the name 'Alexandra Myrial,' among which a contribution on the religious power in Tibet and its origins, that appeared in the Mercure de France in 1904. 'Alexandra Myrial' was not only a pen name but also a stage name: between 1893 and 1900, she toured outside of France as an opera singer, in Athens, Hanoi, Haiphong, Saigon, and Tunis, playing leading roles in Lakmé, Thaïs and other famous musical dramas of the time. She also wrote under this name a novel entitled Le Grand Art (unpublished), a satirical fiction, which transcribed her vision of fin de siècle artistic milieus.28 From 1909 onward, she devoted herself to Eastern studies more eagerly and tried to get recognition from scholarly circles. In this context, she signed several articles on Buddhism and her first book-length opus on Buddhism29 by her maiden name 'Alexandra David.' It is only a decade later that her success story — belonging to another literary genre — was to appear associated with the name 'Alexandra David-Néel.'30
A Buddhist convert: from the cult of nothingness to Buddhist modernism
As far as David-Néel's acquaintance with Buddhism is concerned, one needs now to sort out the successive steps that finally led her to Asia from 1911 to 1924, traveling through India, Japan, China and Tibet.
The starting point can be identified as her stay in London in 1889, when she met members of the Theosophical Society who shared their ideas on Buddhism with her.31 It prompted her to attend Sylvain Lévi (1863–1969)'s32 and Philippe-Édouard Foucaux (1811–1894)'s teachings on Indian and Tibetan Buddhism at the Collège de France when she went back to Paris at the end of the same year. The library of the Guimet Museum, which had just opened, was the place where she claims to have had her 'calling,' following which she converted to Buddhism.33 In 1891, she left Europe for a first stay in India (she would return there in 1896 and 1901), where she met Theosophists, Buddhist reformists, and Vedāntins.34
Through her readings and her own commitment, David-Néel developed an understanding of Buddhism that tended to depart both from the spiritual syncreticism of her Theosophical fellows and from the philological rigor of the French scholars (although she expected to obtain a position in Eastern studies sooner or later).35
At first, she shared the conception of Buddhism as the 'cult of nothingness'36 that was widespread in fin de siècle Europe. This pessimistic conception, popular in disenchanted philosophical and artistic milieus, was inspired both from Schopenhauer's philosophy37 and from philological debates on the notion of nirvānaṇ rooted in Eugène Burnouf (1801–1852)'s pioneering Introduction au Buddhisme indien (1844).
Indeed, in a note from 1889, David-Néel reflects on the notion of nirvānaṇ as follows: 'Sleeping... dying... dreaming, maybe! [...] Do you understand, now that you know life, that the Buddhist asks Nirvana as the price of their virtue!
The unconscious union to the universal mind, a kind of nothingness, rather than living again and again.
[…] Be ready to undergo anything with the same calmness.'38
However, two decades later, she came to defend as a 'practicing and militant Buddhist'39 what she herself called 'Buddhist modernism.' While supporting the 'revival of Buddhism around and inside India,'40 she intended to remove Western forms of 'Buddhisms' that in her opinion amounted to 'esoteric, spiritualistic, theosophical or occultist nonsensical mixtures of ideas borrowed here and there.'
41 Her project at the time when she decided to go back to India in 1911 is best described in her own words in Le Modernisme bouddhiste et le Bouddhisme du Bouddha:
One will find here not the Buddhism taught by this or that sect, but the Buddhism of the Buddha himself, as close as the scholars' research works can bring us to it. It is the very Buddhism reformists or 'modernists,' if I may use a vivid word that has become common nowadays, are struggling to establish in the East and to spread in the West

, which is quite an unprecedented phenomenon.42
She adds that the practice of Buddhism in most of Asia at the time amounted to degenerate forms of Buddhism. This idea was widely shared at the time; Tibetan Buddhism, for example, was labeled 'Lamaism' and was held to be a despicable collection of gross superstitions and barbaric practices maintained by despotic lamas exerting their power on ignorant people.43 What David-Néel claims to portray in her book instead, is the 'living Buddhism true to the spirit of the primitive doctrine,' which in no way resembles the 'corpse dissected by Orientalist scholars.' The book addresses the questions of the life of the (historical) Buddha, the Four Noble Truths, Meditation, Karma, Nirvana, Sangha (the community), and ends with considerations on the modernity of Buddhism as regards the role of women in society and, more generally, social inequality.
Two years before the publication of Le Modernisme bouddhiste et le Bouddhisme du Bouddha, she had already introduced European and Asian 'Buddhist modernists' to the reader of the Mercure de France as vanguard thinkers who held Buddhism for a rational method of liberation and developed realistic plans of social reforms out of it.44
Multiple aspects of David-Néel's biography thus delineate her approach to Buddhism at the time she entered Sikkim:
not only was she a convert, but also an active promoter of Buddhist modernism, be it in the West or in the East
. Her encounter with Buddhist practitioners in Sikkim will put to the test her conception of Buddhism. It will trigger a shift in her appreciation of Tibetan practices and beliefs, and will also nuance her perception of Tibet as a whole.
At the edge of the British Rāj: the two stays in Sikkim
When she arrives in Ceylon on 18 November 1911, David-Néel is no longer an opera singer touring French colonies in North Africa and South Asia. She is now an 'Orientalist' scholar traveling across territories of the British Empire. Her one-year travel from Southern to Northern India made her aware of the specific geopolitical issues linked with recent events in the British policy regarding Tibet, and David-Néel writes to her husband time and again that 'here the events in Tibet are the main topic all the time.'
45 Indeed, after
Francis Younghusband
(1863–1942) led the infamous Frontier Commission to Lhasa in 1904,46 regulations between the
British Raj of India and Tibet
generated what Charles Sherring called a 'British borderland.'47 They gave rise to new central posts for the British officials — the so-called 'Frontier cadre' of recent historians48 — on the Eastern border between India and Tibet. Thus,
Gangtok in Sikkim had been the administrative capital since 1894 and the residence of British Political Officers since 1868
. Sikkim itself had become a British protectorate since 1890. Yatung on the Nathula Pass and Gyantse further on the trade route into Central Tibet became trade agencies in the wake of the Younghusband expedition.
Tibet consequently became a strongly restricted area supervised both by Tibetan and British authorities. This geopolitical situation explains the turn David-Néel's stay in Sikkim took since. In order to dwell in the borderland, she could but lean on the British colonial economic and administrative structure and local Western networks. However, the imperial framework that had enabled her to reach India and the remote slopes of Sikkim soon proved to her a coercive force which she would gradually try to loosen or escape
— eventually at her own expense.
A brief analysis of the places where David-Néel's traveled during her two successive sojourns in Sikkim shows how each of them responded to a very different dynamic in terms of interactions with the colonial power and with local representatives. David-Néel first stayed in Sikkim during five months (14 April–5 October 1912).49 After her arrival in Darjeeling from Calcutta by train, she reached Kalimpong and spent one week there before going to Gangtok. As the headings of her letters show, her entire stay was then based in Gangtok. From there, David-Néel made several trips up North, notably one important journey from 28 May to 11 June to Lachen and from there to Thangu on the border of Tibet, and another shorter excursion from 23 to 30 June on the way to the Jelepla pass (Eastern Sikkim), close to another border with Tibet (see Figure 1). In October, she left Sikkim for Nepal. As I shall explain later,
the highlight of David-Néel's first stay certainly was her trip to Lachen and Thangu
. There she could both have her first glimpse of the Tibetan landscape and meet a Buddhist lama who would be of crucial importance to her.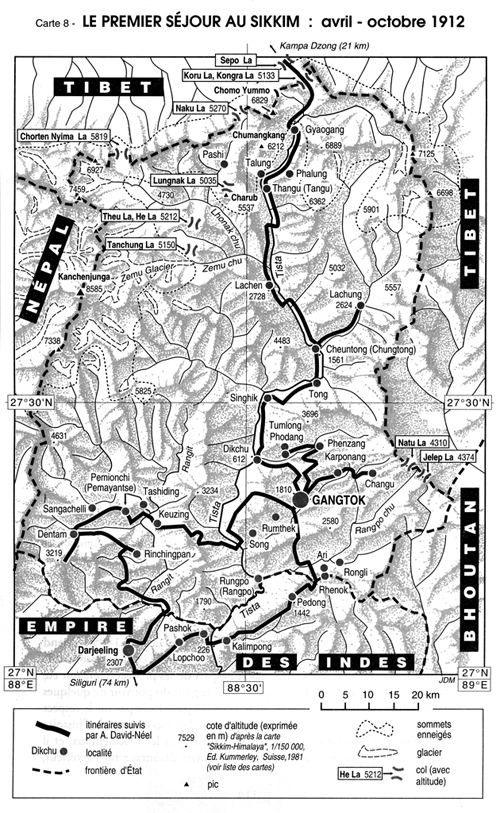 Figure 1: Alexandra David-Néel's first stay in Sikkim (April–October 1912). Map courtesy of Joëlle Désiré-Marchand, from her book Alexandra David-Néel. Vie et voyages, Paris: Arthaud, 2009, p. 161.
This trip to the border of Tibet deeply affected her second stay in Sikkim. David-Néel came back to Eastern Himalayas in December 1913 with the intention of going to Bhutan. The trip to Bhutan had to be canceled and David-Néel then decided to stay once again in Sikkim, a stay that ended up extending to almost three years.
Gangtok was again her 'base-camp' during the first nine months (7 December 1913–25 August 1914), limiting her explorations to Podang Monastery (a few kilometers North).
Her letter dated 28 September 1914 signals that she was in Lonak Valley ('High Himalayas'), a remote location that itself accounts for the two-month gap in her correspondence since her last letter in August (she just received her husband's letters dated 3 and 22 August).50 After that, her stay was centered in the area of Lachen, where she spent the 'winter months' (November 1914–May 1915). She then spent a remarkably long time in high and remote places on the border of Tibet, notably so in Dewa Thang between Thangu and Gyaogang, at an altitude of over 13,000 feet (May 1915–August 1916). There she famously lived in a cave before having a cabin built
('De-Chen Ashram,' 1 June 1915–2 July 1916 and August 1916).51
As one can see from this sketch of David-Néel's itineraries in Sikkim,
her first stay relied strongly on the colonial structure, while her second stay was more erratic until its center of gravity was displaced to the farthest edge of the Raj.
The logic of David-Néel's itineraries clearly reflected her endeavor to distance herself from the Western world, embodied, as she often writes to Philippe, by British authority and colonial community, as well as by missionaries.52 In order to explain the shift revealed by this brief overview and to understand the growing and somehow surprising appeal Tibet and 'Lamaism' suddenly exerted on the 'Buddhist modernist' she claimed to be, one needs to go into more details about two aspects: firstly, her interactions with some specific figures she met in Sikkim, and secondly, her perception of landscape.
The 'civilized yogui' between British colonials and Asian Highnesses
The British community of officials and the missionaries of the Scandinavian Alliance Mission stand at the background of the significant daily events that David-Néel chooses to highlight in her letters.
The Scandinavian Alliance Mongolian Mission was a Scandinavian Protestant Christian missionary society that was involved in sending missionaries to Mongolia and China during the late Qing Dynasty (late 19th and early 20th century).

See also

• Swedish Mongolian Mission

• Protestant missionary societies in China (1807–1953)

• Timeline of Chinese history

• Protestant missions in China 1807–1953

• List of Protestant missionaries in China

• Christianity in China

-- Scandinavian Alliance Mongolian Mission, by Wikipedia
She first praises her European fellows' kindness and generosity.53 However, after her first trip to Lachen, she confesses to her husband in a letter dated 27 July 1912 that they perceived her as a 'civilized yogui' violating colonial social codes due to her establishing personal 'links with natives.'54 As a counterpart, she quickly makes overall fun of the English middle-class and of the tea-parties held in the bungalows on the Himalayan hills: 'I did not come here to live among British bourgeois […] pledged to the missionaries. They are all servants of the politics of the White,
' she writes to Philippe.55 A fierce anticlerical, she shows no mercy either to Rev. E. H. Owen, whom she thinks is a poor interpreter of her Tibetan-speaking interlocutors. Owen is, she feels, too concerned with preaching the Gospel in Lachun and taking care of the Mission House community to understand anything about Buddhism.56
A special meeting of the Diocesan Synod of Moray, Ross, and Caithness [Scottish Episcopal Church], was held in the Cathedral of Inverness on Thursday the 18th inst. There were prsent -- the Most Rev. the Primus; the Very Rev. Dean Christie; the Very Rev. Provost Powell; the Rev. Canon Roughead; the Rev. George Boyes, Aberchirder; the Rev. J. Brodie Innes of Milton Brodie; the Rev. Farquhar Smith, Arpafeelie; the Rev. W.J. Bussell, Dingwall;

the Rev. E.H. Owen, Forres

; the Rev. Archibald MacGillivray, Strathnairn; the Rev. H.J. Allardice, Craigellachie.

Election of Synod Clerk.

The Primus intimated that he had received the resignation of the Rev. J.F. Macdonald, Huntley, Synod Clerk; and it would now be the duty of the Synod to elect another clerk in his room.

Dean Christie had much pleasure in proposing that the Synod should select the Rev. E.H. Owen

, Forrest, as successor to the late Synod Clerk. Mr. Owen was well known for his administrative capacity and business habits. He had long been chosen to act on the Committee on Claims, and had there proved extremely attentive and useful.

Canon Roughead seconded the resolution, and it was unanimously agreed to.

The Primus expressed a hope that the office would by-and-bye be of greater importance and the value to its holder than it is at present.

The Rev. E.H. Owen begged to express his warm sense of this mark of confidence. He felt that he was not worthy

of the terms in which the proposer of this resolution had alluded to him; but it would be his earnest endeavour so far to justify their choice, as to strive to fulfil the duties of the office to the very best of his ability.

-- Special Synod of Moray, Ross, and Caithness, From Our Own Reporter, The Scottish Guardian, May 1, 1872
Sir Charles Bell (1870–1945), the Political Officer for Sikkim, Bhutan and Tibet and Official Resident at Gangtok, was a central figure involved in the political affairs of Tibet in particular.57 It is nonetheless surprising how little David-Néel mentions him, although his impact on her travel is significant. At first, she admits the Resident 'Mr. Bel' and his wife's 'cordiality' and 'kindness.'58 Charles Bell incites her to buy the Tibetan–English dictionary published by the government59 and plays the middleman between her and the Dalai Lama60 and later the Panchen Lama.61 But, when she comes back to Sikkim the second time, he is 'too busy with the Sino-British-Tibetan conference' held at Simla and 'simply fails to write' and recommend her to the Maharaja of Bhutan.62 But above all he is the one who forbids her to 'go beyond the frontier that marks the limit of British domination'63 at a time when 'England is slowly taking hold of Tibet.'64 In this respect, she mentions Bell's name one last time when telling her husband about her return from her illegal excursion to Shigatse in June 1916. He severely penalized local people for helping the traveler and banished her from Sikkim. This prompted her to undertake a trip to Japan before coming back to Tibet through China in the 1920s.
But at the time of her banishment, she confesses to her husband with melancholy that her 'adventures' are over and that her 'dream' has come to an end, giving a unique and matchless value to her stay in Sikkim.65
The British colonial world and some of its main representatives thus offer support to David-Néel's stays in Sikkim, but also progressively come to represent the grim side in her encounter with Tibet. In contrast, the bright side is represented by encounters with various prestigious figures that embody the Tibetan world to her.
In her first letter after leaving Tunis for Colombo, David-Néel proudly claims to her husband that she is 'in friendly relationship with Asian highnesses and majesties.'
66 Her encounters with Tibetan monks and dignitaries in Kalimpong, and then in Gangtok or Lachen Monastery, are to be related to her own spiritual quest and conception of Buddhism as well as to her scholarly ambitions. She had already made clear to her husband when writing to him from India that
'there is a highly respectable position to take in French Orientalism.'
67 As I will show below, much later, provided with the means to meet her ambitions, she will re-use the exact same phrase.68
One must remember that
David-Néel had dwelt among the Parisian circles as well as the British and German circles of Buddhist studies. French scholars focused on the study of what was then called the school of Northern Buddhism, or Mahayana Buddhism.69 David-Néel often refers to her teacher Philippe-Édouard Foucaux and his famous translation of the Lalitavistara from Tibetan manuscripts, a Mahayana sutra devoted to the the life of the Buddha and filled with what was considered at the time legendary and superstitious elements.70 As for the British and the German scholars, they focused on the so called orthodox Southern Buddhism and tended to focus on the historicity of the Buddha's life and teaching: David-Néel met Thomas W. Rhys Davids (1843–1922) and his wife Caroline Augusta Foley (1857–1942) in London in 1910,71 who considered Buddhism as a 'science of mind,'72 and corresponded with Hermann Oldenberg (1854–1920).
73 Although David-Néel expects to find a place in French Buddhist studies, she consistently challenges Western Orientalism (and overall philosophy) and its 'dry and dead erudition,'74 taking the perspective of a Buddhist practitioner endowed with a unique experience from the inside. At the end of her first stay in Sikkim,
she sums up her position to Philippe: 'You know my projects: be active as an Orientalist in a more learned way than previously. Write, teach at the Sorbonne. These occupations are in perfect harmony with my position among promoters of the religious reform trend in Asia.'75 As a modern Buddhist reformer focusing mainly on Southern Buddhism as it was reconstructed
, in the wake of Burnouf's pioneering work, by British and German scholars, David-Néel definitely took an irregular stand in French intellectual field and tried to insert her public persona on a more transnational level.
In this respect,
being allowed to meet Thubten Gyatso (1876–1933), the 13th Dalai Lama, is a happy coincidence David-Néel could not have dreamed of. Thanks to the support of Charles Bell, the Dalai Lama was offered to stay in Sikkim at the time of his three-year exile after Chinese warlord and former imperial resident (amban) in Lhasa Zhao Erfeng (1845–1911)'s troupes had attacked the Tibetan capital in 1909 and forced him to flee to India. After staying in Darjeeling, the Dalai Lama moved his court to Kalimpong — then a famous hill station and an important trading outpost — until his return to Tibet in June 1912, the Republican Revolutionaries having overthrown the Qing Dynasty. This situation immediately appears to David-Néel as an opportunity to build an exclusive network for the sake of her own scholarly ambitions. The French Buddhist Orientalist traveler is granted an extraordinary audience with 'His yellow Highness.' David-Néel gives a long account of the meeting to her husband and writes of the 'Pope of Asia'76 that 'his Tibetan brain hardly grasps that one can become a Buddhist by studying Oriental philosophy on the benches of a European university. That I have not had a guru, a mentor, escapes him. Moreover, I understand, from what he says, that he has a poor knowledge of Southern Buddhism.'77
By the time of the Parliament, the preceding decades of debate and scholarship had established and agreed upon certain facts: Buddhism was founded by a historical man, Sakyamuni, who had taught a system of ethical philosophy that had later (for variously contended reasons) developed features of a religion. This Buddhism was atheistic or at least agnostic, denied the existence of an immortal soul, and taught self-reliance rather than reliance on a savior. Both supporters and detractors also agreed that the teachings of the Buddha had much in common with contemporary Western philosophy. The division of Southern and Northern Buddhism was generally accepted. Southern Buddhism was the Buddhism of the Pali texts, associated with the Buddhist practices of Ceylon, Siam, and Burma. These preserved the "essence" of Buddhism, variously referred to as "Pure Buddhism," "Original Buddhism," or "Real Buddhism." Northern Buddhism was the Buddhism of Sanskrit texts and their derivatives in the languages of northern Asia. This was the Mahayana, considered to be a later corruption of the Founder's teachings. Southern Buddhism was "Protestant"; Northern Buddhism was "Romish."

So well established were these "truths" of Buddhism that Western scholars quite confidently corrected Asian Buddhist authorities who attempted to modify them. The Reverend Dr. F. F. Ellinwood, for example, wrote at length explaining the real meaning of nirvana to Japanese Buddhist abbot Shaku Soen.4 Eminent Pali scholar T. W. Rhys Davids also criticized Japanese delegate Ashitsu Jitsuzen's understanding of this key term. According to Rhys Davids, Ashitsu's paper at the World's Parliament of Religions demonstrated "how astounding is the gulf on all sides between popular beliefs and the conclusions of scholarship."5 Western scholars alone possessed the truth of Buddhism. Asian practitioners became "merely nominal Buddhists who know little if anything about genuine Buddhism as elucidated in the texts."6-- Presenting Japanese Buddhism to the West: Orientalism, Occidentalism, and the Columbian Exposition, by Judith Snodgrass
She explains on this occasion to the Dalai Lama that 'Northern Buddhism and Tibetan Buddhism in particular were not well received in the West probably because they are misunderstood.'78 This is why she 'had thought to speak directly to the head of Northern Buddhism in order to get some authoritative clarification on the theories of the Tibetan School.'79
The Dalai Lama will later send written answers to her inquiries through Charles Bell.
In her letters the episode of her encounter with the Dalai Lama is described over several pages and clearly appears as the highlight of her stay at Kalimpong as a prestigious gateway to the 'threshold of Tibet.'80 She hardly mentions it on the other hand in her personal diary.81 She also writes of her encounter with the Dalai Lama in the famous literary periodical Mercure de France82 and gives further expositions to British Indian journals at the time.83 It is thus clear that she expects it to provide her with a new prestige not only in the eyes of her husband, but also in the French scholarly circles and the British official community.84 Although she still felt that her convictions were at odds with Lamaism,
she confesses to Philippe that 'coming back [to Europe] with a study on Lamaism completed by the side of the Dalai Lama would prove a fabulous Orientalist piece of work.'85
This underlines her ambition to provide the West with a personal experience and first-hand knowledge of Buddhism, but first and foremost to turn Tibetan Buddhism into her own 'field of investigation.'86
However, her meeting with the Dalai Lama is only a first step into the Tibetan Buddhist world.
A more lasting and close relationship soon develops with the Maharaja Thutob Namgyal (1860–1914)'s son, Maharajkumar Sidkeong Tulku Namgyal (1879–1914). Sidkeong Tulku was both the crown prince (Maharajkumar) of Sikkim and the reincarnated abbot (Tulku) of Podang Monastery. David-Néel has with him long discussions on primitive and 'authentic' Buddhism in his incongruous cottage-like and Chinese-looking bijou private house in Gangtok.87 Sidkeong Tulku 'has been raised in Europe'88
and shares with her the pious modernist wish to spread the true Buddhist teaching in Sikkim and Tibet. This goes together with the ambition to eradicate the Lamaist superstitious and degenerate cult. With the support of Sidkeong Tulku, David-Néel is invited to preach at the monastery of Podang and across Sikkim. She explains to Philippe that she introduced the Western Buddhist scholarly studies and the spread of Buddhism in the West to the lamas. First and foremost, she urged them to 'rise above the differences between schools and sects, so as to revive the primitive philosophical doctrine.'89
It is noteworthy that another Western Buddhist convert, J.F. McKechnie, aka Silacara Bhikku (1871–1952), the 'Scottish Orientalist' as David-Néel calls him,90 spent some time in Sikkim in Fall 1914. Silacara was the disciple of another famous Western Theravada monk, Anton Gueth, aka Nyanatiloka, who shortly joined Silacara and David-Néel in Sikkim.91 As followers of the doctrine of 'Southern Buddhism,' the two bhikkhus shared Sidkeong Tulku and David-Néel's reformist views. Sidkeong's sudden and precocious death in December 1914 just after he had succeeded his father as the Maharaja of Sikkim brings an end to their plans.92

David-Néel's views on Tibetan Buddhism are further influenced by the encounter of Lama Kazi Dawa Samdup (1868–1922), headmaster of the state Bhutia Boarding School at Gangtok and her personal interpreter.93 It is only later that Dawa Samdup's name will become famous in the Western world through Dr. Walter Y. Evans-Wentz (1878–1965)'s publications a few years later, notably so with the bestseller The Tibetan Book of the Dead in 1927.94 David-Néel discovers through him many aspects of Tibetan literature such as the story of the Tibetan hermit and poet Milarepa. She plans to collaborate with him on a study on Padmasambhava, 'Tibet's great apostle,' she says, and an 'intriguing character.'95 But Dawa Samdup will follow Charles Bell to be his interpreter during the Simla Convention and will only reappear at the end of her stay in March 1916.96
In the first stage of Alexandra David-Néel's stay, Sikkim strikingly appears as a significant cosmopolitan hub of Buddhist modernism, in which European and Asian Buddhists happened to meet, discuss their respective agendas and share their common views on the advent of a globalized form of Buddhism. David-Néel sums up in her own words and from her own standpoint the local and global issues of this unique situation, which took place in the framework of British colonial empire and testified to a certain extent to cultural imperialism: while reading the Dhammapada97 and discussing philosophical questions together with Sidkeong Tulku at Lachun, she writes that they 'planned several useful reforms regarding the lamas, the religious education, etc.' She then adds: 'I think that my coming in this country will not be absolutely useless for the population's progress and instruction.'98 Nevertheless, as I would like to show now, her acquaintance with
Tantrist Kazi Dawa Samdup
and Nyingma teachings of Tibetan Buddhism practiced in Sikkim certainly triggered an unexpected countercurrent to take effect in the process of modern Buddhism. This allows us to ascribe noteworthy forms of agency to local Buddhist representatives on this unforeseen 'middle ground'99 where European and Asian political and religious players came to meet.