Aphur Yongden
by Wikipedia (France)
Accessed: 1/22/20
NOTICE: THIS WORK MAY BE PROTECTED BY COPYRIGHT
YOU ARE REQUIRED TO READ

THE COPYRIGHT NOTICE AT THIS LINK

BEFORE YOU READ THE FOLLOWING WORK, THAT IS AVAILABLE SOLELY FOR PRIVATE STUDY, SCHOLARSHIP OR RESEARCH PURSUANT TO 17 U.S.C. SECTION 107 AND 108. IN THE EVENT THAT THE LIBRARY DETERMINES THAT UNLAWFUL COPYING OF THIS WORK HAS OCCURRED, THE LIBRARY HAS THE RIGHT TO BLOCK THE I.P. ADDRESS AT WHICH THE UNLAWFUL COPYING APPEARED TO HAVE OCCURRED. THANK YOU FOR RESPECTING THE RIGHTS OF COPYRIGHT OWNERS.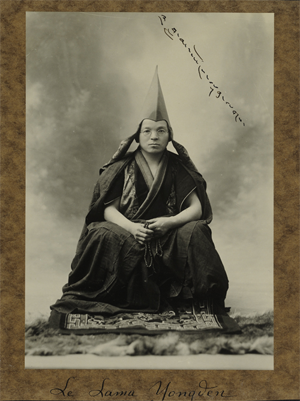 Aphur Yongden
Yongden in 1933.
Birth: December 25, 1899, Mando, Sikkim (India)
Death: October 7, 1955 (at 55), Digne (France)
Nationality: Indian
School / tradition: Tibetan Buddhism
masters Lachen Gomchen Rinpoche
Aphur Yongden also called Albert Arthur Yongden and Lama Yongden or his Tibetan dharmic name: སྙིང རྗེ་ རྒྱ་ མཚོ, Wylie: snying-rje rgya mtsho, THL: Nyingje Gyatso (December 25, 1899 in Sikkim [1], - October 7, 1955 in Digne-les-Bains) was a lama of Sikkim, of Tibetan parents. He was recognized as a tulku [2].
Biography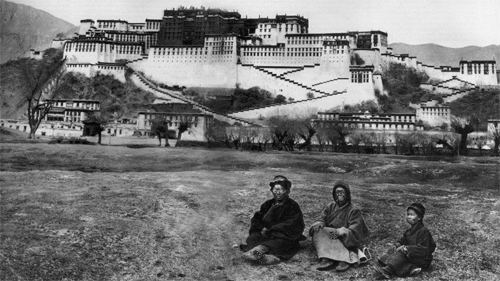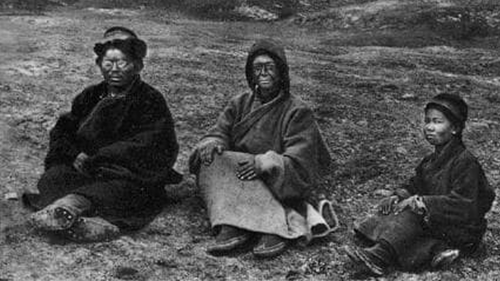 Yongden (left) and Alexandra David-Neel (center) in front of de Potala in 1924.
He accompanied Alexandra David-Néel since 1914, and in 1929 she made him his adopted son [3].
They retreat to the cave of a hermitage at 3,900 meters above sea level, north of Sikkim, near the Lachen Gomchen Rinpoche near Lachen. The city is close to the Indo-Tibetan border, and both will cross it twice, going to Chigatsé where they are received between 17 and July 26, 1916 by the 9 th Panchen Lama at the Tashilhunpo Monastery, of which Alexandra described [4]. In 1916, Yongden and Alexandra were expelled from Sikkim by the British for having gone to Tibet without having asked for authorization. [5]
They stay two months in Lhasa, the capital of Tibet, with Alexandra, during which they visited the holy city and the surrounding great monasteries: Drepung, Séra, Ganden, Samye ... But Alexandra David-Néel, disguised as a beggar, is finally unmasked (because of too great a cleanliness: she would wash herself every morning at the river), and denounced to the Tsarong Shape (governor of Lhasa ) who decides to leave them alone and continue their quest. Yongden was the key that enabled Alexandra to achieve all that she did, it was also a little bit of Tibet that allowed the old lady not to feel too lonely in the West. He was certainly the most important person for her.
In 1925, he arrived in France with Alexandra David-Néel who settled in Toulon before joining in 1928 Digne-les-Bains where she acquired a house. Aphur Yongden legally becomes his adopted son and accompanies him on his conference tours in France and Europe. Between 1937 and 1946, they returned to Asia. He accompanies Alexandra David-Néel when she definitively leaves Asia by plane from Calcutta in June 1946. On July 1, they arrived in Paris, where they stayed until October when they joined Digne-les-Bains [6], where Yongden died on October 7, 1955 to Samten Dzong of an attack of lightning uremia [7].
His ashes were transported to Vârânasî in 1973 by Marie-Madeleine Peyronnet to be dispersed with those of Alexandra David-Néel in the Ganges.
Aphur Yongden is the author of several works.
A literary prize was named after the illustrious explorer of Tibet and her adopted son, the Alexandra-David-Néel / Lama-Yongden Prize.
Works
• Gods and demons of Tibetan solitudes, Alexandra David-Néel, Lama A Yongden
• Transcendent knowledge from the Tibetan text and commentaries, 1958, Alexandra David-Néel, Lama Yongden, Adyar; (ISBN 2850000167)
• The superhuman life of Guésar de Ling, the Tibetan hero, told by the bards of his country of Gesar, 1931, Alexandra David-Néel and Lama Yongden, preface by Sylvain Levi, Editions du Rocher, (ISBN 2268000303)
Novels
• 1935: The Lama with the five wisdoms Alexandra David-Néel, Lama Yongden, Plon, ASIN B0000DPLK9
• 1954: The Power of Nothingness, novel by Lama Yongden, translated and annotated by Alexandra David-Néel (Plon)
References
1. Joëlle Désiré-Marchand Alexandra David-Néel: From Paris to Lhasa, from adventure to wisdom (1998) Artuad editions, (ISBN 2700311434)
2. Ruth Middleton, Alexandra David-Néel: portrait of an adventurer, Shambhala, 1989, (ISBN 0877734135 and 9780877734130 ) p. 147 "One day a tall, well-dressed lama with gray hair entered her room, without so much as knocking, and insisted on talking with her. Always nervous about giving away her identity, Alexandra did not welcome this intrusion, but she tried to make light of it, so as not to arouse suspicion. This unexpected visitor had an unusual presence, difficult to ignore. He questioned her at length about herself and Yongden, their country of origin, where they had lived, and their motives for adopting the religious life. He then intensified his discourse with a moving commentary on the sad condition of this present world, in which men were completely obsessed with the demands of their own egos, and the tremendous need for committed teachers to expound the doctrine. Referring suddenly to Yongden, he observed that he was a tulku. Alexandra asked him how he had known this. He replied, "One can sense it even if he is not officially recognized. He will have an unusual life." He offered to share with Yongden the teachings he had received from his own master, and invited him to visit him in his quarters in the nearby monastery. For the remainder of their stay Yongden visited him every day. His importance as a man of letters was evident, and great respect was shown him by the other monks. As she pored over her texts, Alexandra mused that Yongden's "unusual life" had indeed already begun. The strange lama's penetrating mind had apparently seen through their disguise. "
3. François Pouillon, Dictionary of French-speaking orientalists, KARTHALA Editions, 2008, (ISBN 2845868022), p. 262
4. Fabienne Jagou, The 9th Panchen Lama (1883-1937): issue of Sino-Tibetan relations, Paris: EFEO, 2004 (Monographs: 191). "As for Alexandra David-Neel, who lived in Tashilunpo from July 17 to 26, 1916, here is what she says. "
5. Biography 5
6. Jean Chalon, The Luminous Destiny of Alexandra David-Néel, p. 418-419.
7. Jacques Brosse, Alexandra David-Neel, p. 232
Related articles
Alexandra David-Néel Foundation, association for the sponsorship of Tibetan children in exile founded in 1977 and based in Digne-les-Bains.
External links
• Authority records:
• Virtual international authority file
• International Standard Name Identifier
• National Library of France (data)
• University documentation system
• Library of Congress
• Gemeinsame Normdatei
• Royal Netherlands Library
• Czech National Library
• WorldCat
• Lama Aphur Yongden 1899-1955, alexandra-david-neel.org