General Sir Walter Mervyn St George Kirke
by Wikipedia
Accessed: 2/1/20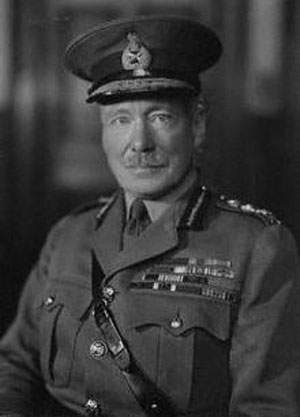 Sir Walter Kirke
Gen. Sir Walter Kirke
Born: 19 January 1877
Died: 2 September 1949 (aged 72)
Allegiance: United Kingdom
Service/branch: British Army
Years of service: 1896–1940
Rank: General
Commands held 5th Infantry Division
Western Command
Territorial Army
Home Guard
Battles/wars: First World War; Second World War
Awards:
Knight Grand Cross of the Order of the Bath
; Companion of the Order of St Michael and St George
Distinguished Service Order
General Sir Walter Mervyn St George Kirke GCB CMG DSO (19 January 1877 – 2 September 1949) was the Commander in Chief of the British Home Forces during the Second World War.
Military career
Born the second son of Colonel St. George Mervyn Kirke RE and his wife Sarah, Walter Kirke was commissioned into the Royal Artillery in 1896.[1]
He served in Waziristan on the North West Frontier of India between 1901 and 1902.[1]

He served in the First World War as a General Staff Officer at GHQ in France and Belgium.[1] In 1918 he became Deputy Director of Military Operations at the War Office and was then moved to Aldershot in 1922.[1] In 1924 he was appointed Head of the British Military Mission to Finland and in 1925 President of Inter-Allied Commission of Investigation for Hungary.[1]

Then in 1926 he became Deputy Chief of the General Staff for India moving on to be General Officer Commanding 5th Division in 1929.[1] In 1933 he was appointed General Officer Commanding-in-Chief for Western Command and in 1936 he became Director-General of the Territorial Army.[1]

He served in the Second World War initially as Inspector-General of Home Defence and then as Commander-in-Chief, Home Forces.[2] in that role he always thought that the threat of a German invasion was exaggerated.[3] He retired in 1940.[1]

He was also an Aide-de-Camp General to the King from 1937 to 1940.[4]
References
1. Liddell Hart Centre for Military Archives
2. World War II: Great Britain at War Daily Telegraph, 4 September 1939
3. The home guard: a military and political history By S. P. Mackenzie, Page 19. Oxford University Press, 1995, ISBN 978-0-19-820577-7
4. Army List July 1940
Further reading
• Private Papers of General Sir Walter Kirke GCB CMG DSO can be found in the Imperial War Museum, Documents and Sound section, ref: Documents.20171 (82/28/1 & Con Shelf).