Part 1 of 2
Edward Frederick Lindley Wood, 1st Earl of Halifax [Lord Halifax] [Lord Irwin] [Baron Irwin]
by Wikipedia
Accessed: 2/1/20
In general, I have undoubtedly made mistakes in my lists of members, but the mistakes, such as they are, are to be found rather in my attribution of any particular person to the outer circle instead of the inner core, rather than in my connecting him to the Group at all. In general, I have attributed no one to the inner core for whom I do not have evidence, convincing to me, that he attended the secret meetings of the Group. As a result, several persons whom I place in the outer circle, such as Lord Halifax, should probably be placed in the inner core.

-- The Anglo-American Establishment: From Rhodes to Cliveden, by Carroll Quigley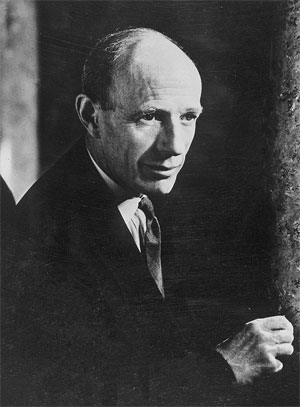 The Right Honourable
The Earl of Halifax
KG OM GCSI GCMG GCIE TD PC
The Earl of Halifax in 1947
20th Viceroy and Governor-General of India
In office
3 April 1926 – 18 April 1931
Monarch George V
Prime Minister
Stanley Baldwin
Ramsay MacDonald
Preceded by The Earl of Reading
Succeeded by The Earl of Willingdon
Secretary of State for War
In office
7 June 1935 – 22 November 1935
Monarch George V
Prime Minister Stanley Baldwin
Preceded by The Viscount Hailsham
Succeeded by Duff Cooper
Secretary of State for Foreign Affairs
In office
21 February 1938 – 22 December 1940
Prime Minister
Neville Chamberlain
Winston Churchill
Preceded by Anthony Eden
Succeeded by Anthony Eden
British Ambassador to the United States
In office
23 December 1940 – 1 May 1946
Monarch George VI
President
Franklin Roosevelt
Harry Truman
Prime Minister
Winston Churchill
Clement Attlee
Preceded by The Marquess of Lothian
Succeeded by The Lord Inverchapel
Leader of the House of Lords
In office
22 November 1935 – 21 February 1938
Monarch
George V
Edward VIII
George VI
Prime Minister
Stanley Baldwin
Neville Chamberlain
Preceded by The Marquess of Londonderry
Succeeded by The Earl Stanhope
In office
3 October 1940 – 22 December 1940
Monarch George VI
Prime Minister Winston Churchill
Preceded by The Viscount Caldecote
Succeeded by The Lord Lloyd
Lord President of the Council
In office
28 May 1937 – 9 March 1938
Prime Minister Neville Chamberlain
Preceded by Ramsay MacDonald
Succeeded by The Viscount Hailsham
Lord Privy Seal
In office
22 November 1935 – 28 May 1937
Prime Minister Stanley Baldwin
Preceded by The Marquess of Londonderry
Succeeded by The Earl De La Warr
Chancellor of the University of Oxford
In office
1933–1959
Preceded by The Viscount Grey of Fallodon
Succeeded by Harold Macmillan
Personal details
Born Edward Frederick Lindley Wood
16 April 1881
Powderham Castle, Devon, England
Died 23 December 1959 (aged 78)
Garrowby Hall, Yorkshire, England
Nationality British
Spouse(s) Lady Dorothy Onslow (m. 1909)
Children
Anne Duncombe, Countess of Feversham
Lady Mary Wood
Charles Wood, 2nd Earl of Halifax
Major Hon Francis Wood
Richard Wood, Baron Holderness
Parents
Charles Wood, 2nd Viscount Halifax
Lady Agnes Courtenay
Alma mater Christ Church, Oxford
Edward Frederick Lindley Wood, 1st Earl of Halifax, KG, OM, GCSI, GCMG, GCIE, TD, PC (16 April 1881 – 23 December 1959), styled The 1st Baron Irwin from 1925 until 1934 and The 3rd Viscount Halifax from 1934 until 1944, was a senior British Conservative politician of the 1930s. He held several senior ministerial posts during this time, most notably those of Viceroy of India from 1925 to 1931 and of Foreign Secretary between 1938 and 1940. He was one of the architects of the policy of appeasement of Adolf Hitler in 1936–38, working closely with Prime Minister Neville Chamberlain. However, after the German occupation of Czechoslovakia in March 1939 he was one of those who pushed for a new policy of attempting to deter further German aggression by promising to go to war to defend Poland.
On Chamberlain's resignation early in May 1940, Halifax effectively declined the position of Prime Minister as he felt that Churchill would be a more suitable war leader (his membership of the House of Lords was given as the official reason). A few weeks later, with the Allies facing apparently catastrophic defeat and British forces falling back to Dunkirk, Halifax favoured approaching Italy to see if acceptable peace terms could be negotiated. He was overruled by Churchill after a series of stormy meetings of the War Cabinet. From 1941 to 1946, he served as British Ambassador in Washington.
Early life and education
Wood was born on 16 April 1881 at Powderham Castle in Devon, home of his maternal grandfather William Courtenay, 11th Earl of Devon. He was born into a Yorkshire family, the sixth child and fourth son of Charles Wood, 2nd Viscount Halifax (1839–1934), and Lady Agnes Elizabeth Courtenay (1838–1919). His father was President of the English Church Union, which pushed for ecumenical reunion, in 1868, 1919, and 1927–1934. His great-grandfather was Earl Grey, the Prime Minister who introduced the Great Reform Act of 1832.[1]
Between 1886 and 1890, Wood's three older brothers died young, leaving him, at the age of nine, heir to his father's fortune and seat in the House of Lords.[2] He was brought up in a world of religion and hunting. His religiosity as a devout Anglo-Catholic like his father earned him the nickname, possibly coined by Churchill, of the "Holy Fox". He was born with an atrophied left arm and no left hand, which did not stop him from enjoying riding, hunting and shooting.[1] He had an artificial left hand with a spring-operated thumb, with which he could hold reins or open gates.[3]
Wood's childhood was divided mainly between two houses in Yorkshire: Hickleton Hall, near Doncaster, and Garrowby.
Halifax attended St David's Prep School from September 1892 and Eton College from September 1894. He was not happy at school as he was not talented either at sport or classics. He went up to Christ Church, Oxford, in October 1899. He took no part in student politics but blossomed academically, graduating with a first class degree in Modern History.[1]
From November 1903 until 1910, he was a Fellow of All Souls College, Oxford.[1] After a year at All Souls, he went on a Grand Tour of South Africa, India, Australia and New Zealand with Ludovic Heathcoat-Amory. In 1905, he returned to England for two years of study at All Souls.[4] He visited Canada in 1907.[5] He wrote a short biography of the Victorian cleric John Keble (1909).[4]
Early political career and war service
Wood had not stood in the 1906 general election, at which the Liberals won a landslide victory, choosing to devote his energies to his All Souls Fellowship. By 1909 the political tides had turned enough for Wood to put himself forward for the Conservative candidacy at Ripon in Yorkshire, and he was easily selected through local influence.[6] Ripon had gone Liberal in 1906; Wood won it with a 1,000 vote majority in January 1910 and held it with a reduced majority in December 1910. He remained Member of Parliament for Ripon until his elevation to the Lords in 1925.[4] He was a Ditcher (i.e. opposed to the bitter end and ready to "die in the last ditch" to defend the House of Lords' right to veto legislation) in the disputes over the Parliament Act 1911 but really made little impact on politics before 1914. He was vigorously opposed to Welsh Disestablishment.[4]
Before the First World War he was already a captain in the Queen's Own Yorkshire Dragoons, a West Riding yeomanry regiment. He made a rare intervention in debate, urging that conscription be introduced immediately. He was sent to the front line in 1916. In January 1917 he was Mentioned in dispatches ("Heaven Knows What For" he wrote). He rose to the rank of major. He was then Deputy Director of Labour Supply at the Ministry of National Service from November 1917 to the end of 1918. He was initially sympathetic to Lord Lansdowne's proposal for a compromise peace, but ultimately demanded all-out victory and a punitive peace.[4]
Wood was unopposed in the general elections of 1918, 1922, 1923 and 1924. He was a signatory to the April 1919 Lowther Petition calling for harsh peace terms against Germany in the Treaty of Versailles then being negotiated. In the 1918–1922 Parliament, Wood was an ally of Samuel Hoare, Philip Lloyd-Greame and Walter Elliot, all ambitious younger MPs in favour of progressive reform.[4]
In 1918, he and George Ambrose Lloyd (later Lord Lloyd) wrote "The Great Opportunity", a tract aiming to set an agenda for a revived Conservative and Unionist Party following the end of the Lloyd George coalition. They urged the Conservative Party to concentrate on the welfare of the community rather than the good of the individual. With the Irish War of Independence then in progress Wood urged a federal solution. At this time he concentrated on housing and agriculture and Ireland.[7]
Early ministerial career
In May 1920, he accepted the Governor-Generalship of South Africa, but the offer was withdrawn after the South African government announced that it wanted a Cabinet minister or a member of the Royal Family.[7]
In April 1921, he was appointed Under-Secretary for the Colonies, under Churchill who was initially reluctant to meet him (on one occasion he stormed into Churchill's office and told him that he "expected to be treated like a gentleman"). In the winter of 1921–1922, Wood visited the British West Indies and wrote a report for Churchill.[7]
On 16 October 1922, Wood attended the meeting of the junior ministers who expressed disquiet at the Lloyd George Coalition. On 19 October 1922, he voted at the Carlton Club meeting for the Conservatives to fight the next election as an independent force. The Coalition ended and Bonar Law formed a purely Conservative government. Wood was promoted to the Cabinet on 24 October 1922 as President of the Board of Education. Some saw this as an improvement in the moral character of the government. Austerity policies left no room for constructive policies. Wood, who spent two days hunting each week, was neither interested nor particularly effective in the job but saw it as a stepping stone to greater things. He was not happy about Stanley Baldwin's adoption of tariffs in December 1923, which saw the Conservatives lose their majority and give way to a minority Labour government.[7]
When the Conservatives were returned to power, on 6 November 1924, Wood was appointed Minister for Agriculture, a more onerous job than Education had been. He took an Agriculture and Tithes Bill through the Commons.[7]
Viceroy of India

Appointment
In October 1925, Lord Birkenhead, Secretary of State for India, offered Wood the job of Viceroy of India at the suggestion of King George V. His paternal grandfather Sir Charles Wood had been Secretary of State for India in 1859–1865. He almost declined, as he had two sons of school age and his aged father seemed unlikely to live until 1931 when his term was due to end. He accepted on the advice of his father (who in the event lived to see him return). He was created Baron Irwin, of Kirby Underdale in the County of York. He left for India on 17 March 1926,[7] and arrived in Bombay on 1 April 1926.
Irwin was honoured with the GCSI and GCIE in 1926.[8]
Irwin relished the pomp of the Viceroyalty. He was an able horseman, and stood 6' 5". He had a "Cecilian stoop and sympathetic kindly eyes" and gave an impression of a Prince of the Church (R. Bernays Naked Fakir 1931). Several attempts were made to assassinate him. He was more sympathetic to Indians than his predecessors had been, although he had no compunctions about signing death warrants when he thought them justified. He wanted Indians to be more united and friendly to the UK; his first major speech as Viceroy, and several more throughout his term of office, urged an end to communal violence between Hindus and Muslims.[7]
Simon Commission
The 1919 Government of India Act had incorporated the Montagu–Chelmsford Reforms ("Diarchy" - shared rule between British and Indians at the local level) and had promised that after ten years there would be a commission to inquire about a new constitution and to advise on whether further reforms were needed. Irwin accepted that greater self-government was necessary, as Indian national aspirations had grown since 1919. Birkenhead brought forward the date of the commission, and put it under Sir John Simon. Irwin recommended an all-British inquiry, as he thought that the Indian factions would not agree among themselves but would fall into line behind the results of the inquiry.[7] David Dutton believes that this was "the most fateful mistake of his viceroyalty, and one he came bitterly to regret".[8]
In November 1927, the composition of the Simon Commission was announced. All the leading Indian parties, including the Indian National Congress, boycotted it. Irwin assured Birkenhead that Simon could win over moderate Indian opinion. Simon arrived in Bombay on 3 February 1928. He achieved some limited successes, but Irwin became convinced that a new gesture would be necessary.[8]
Indian responses to Simon's arrival included the All-Parties Conference, a committee of which produced the Nehru Report (May 1928), advocating dominion status for India. However, there was also violence, including the death of Lala Lajpat Rai in November 1928 and the revenge attack of Bhagat Singh in December 1928. Other responses included the Muslim League leader Mohammad Ali Jinnah's 14 points (March 1929).
The Irwin Declaration
In June 1929, a new Labour government took office in the UK, with Ramsay MacDonald Prime Minister for the second time and William Wedgwood Benn as Secretary of State for India. On 13 July 1929, Irwin arrived in the UK on leave, bringing with him a "suggested" draft exchange of letters between MacDonald and Simon. His plan was for Simon to write proposing a Round Table Conference to discuss the findings of the Commission, and that MacDonald would then reply pointing out that the 1917 Montagu Declaration implied a commitment to dominion status (i.e. that India should become completely self-governing, like Canada or Australia). Simon saw the drafts and had serious misgivings about the planned Round Table Conference. The exchange of letters did not mention Dominion Status as the other Commissioners did not favour it, although Simon did not report the depth of their feeling, which he came to share, that such a declaration would undermine the findings of the Commission and that Dominion Status would now become a minimum demand for the Indian leaders rather than an ultimate goal. The author David Dutton finds it "curious" that Irwin, who had believed that Simon would not object to Dominion Status, did not understand this.[8]
The Irwin Declaration of October 1929 committed Britain to eventual Dominion Status for India. Despite such a policy having been implicit for a decade, the Declaration was denounced by many on the Tory Right. Lord Reading (Irwin's predecessor as Viceroy) denounced it, and Simon made his displeasure known. There was brief hope of a breakthrough in Anglo-Indian relations, but the New Delhi Conference of December 1929 between Irwin and the Indian leaders failed to reach agreement. Gandhi now began a campaign of civil disobedience with a view to achieving complete independence. He walked for 24 days to the sea, where he proceeded to make salt, in breach of the government's historic monopoly. Irwin had all the Congress leaders put behind bars, including Gandhi eventually.[8]
Some criticism of Irwin may have been unfair, but he had made an error and the consequences were serious and unrest grew. Irwin's position was seen as excessively lenient by London but as half-hearted in India. With little room for manoeuvre, Irwin resorted to repression using his emergency powers to ban public gatherings and crush rebellious opposition. Gandhi's detention, however, only made matters worse.
Agreement with Mahatma Gandhi
In November 1930, King George V opened the First Round Table Conference in London; no Congress delegates took part because Gandhi was in gaol.[8]
In January 1931, Gandhi was released and at Irwin's invitation they had eight meetings together. Irwin wrote to his aged father that "it was rather like talking to someone who had stepped off another planet onto this for a short visit of a fortnight and whose mental outlook was quite other to that which was regulating most of the affairs on the planet to which he had descended". But they had mutual respect based on their respective religious faiths.[8]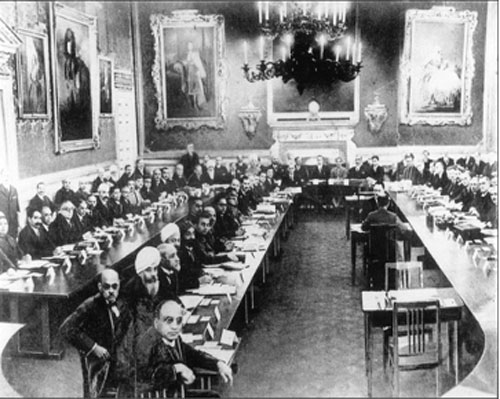 The First Round Table Conference was inaugurated by King George-V on Nov.12, 1930 in London, Dr Babasaheb Ambedkar, Delegate, seen in the left row (9th)
The fortnight-long discussions resulted in the Gandhi-Irwin Pact of 5 March 1931, after which the Civil Disobedience Movement and the boycott of British goods were suspended in exchange for a Second Round Table Conference that represented all interests.[8]
The salient points were:
• The Congress would discontinue the Civil Disobedience Movement.
• The Congress would participate in the Round Table Conference.
• The Government would withdraw all ordinances issued to curb the Congress.
• The Government would withdraw all prosecutions relating to offences not involving violence.
• The Government would release all persons serving sentences of imprisonment for their activities in the civil disobedience movement.
It was also agreed that Gandhi would join the Second Round Table Conference as the sole representative of the Congress.
On 20 March 1931, Irwin paid tribute to Gandhi's honesty, sincerity and patriotism at a dinner given by ruling princes.
Assessments
A month following the Gandhi-Irwin Pact, Lord Irwin's term ended and he left India. On Irwin's return to England in April 1931, the situation was calm, but within a year the conference collapsed and Gandhi was again arrested.
Despite the mixed outcomes, Irwin was overall a successful Viceroy; he had charted a clear and balanced course and had not lost the confidence of his home government. He had demonstrated toughness and independence. His successful term as Viceroy ensured that he returned to British politics with significant prestige.
British politics 1931–1935
Irwin returned to the UK on 3 May 1931. He was honoured with the KG (he became chancellor of the order in 1943). In 1931 he declined the Foreign Office in the new National Government, not least because the Tory Right would not have liked it. Officially, he declared that he wanted to spend time at home. He went to Canada, at the invitation of Vincent Massey, to speak at the University of Toronto.[8]
He was still a firm protégé of Stanley Baldwin. In June 1932, on the sudden death of Sir Donald Maclean, he returned to the Cabinet as President of the Board of Education, for the second time, having been apparently genuinely reluctant to accept. His views were somewhat old-fashioned: he declared: "We want a school to train them up to be servants and butlers".[8]
Irwin became Master of the Middleton Hunt in 1932 and was elected as Chancellor of Oxford University in 1933. In 1934 he inherited the title Viscount Halifax on the death of his 94-year-old father.[9]
He helped Hoare draft what became the Government of India Act 1935, the largest single piece of legislation of the 1931–1935 government.[9]
In June 1935, Baldwin became Prime Minister for the third time, and Halifax was appointed Secretary of State for War. He was pleased to give up the Education job. He felt the country was unprepared for war, but he resisted the Chiefs of Staffs' demands for rearmament.[9]
In November 1935, after the general election, Halifax became Lord Privy Seal and Leader of the House of Lords.[9]
Foreign policy

Colleague of Eden
By this time, Halifax was becoming increasingly influential in foreign affairs.[9] Cabinet met on the morning of 18 December 1935 to discuss the public outcry over the Hoare–Laval Pact. Halifax, who was due to make a statement in the Lords that afternoon, insisted that the Foreign Secretary Samuel Hoare must resign to save the government's position, causing J. H. Thomas, William Ormsby-Gore and Walter Elliott also to come out for his resignation. Anthony Eden was appointed Foreign Secretary in Hoare's place.[10] The following year, Halifax said the provisions of the Pact "were not so frightfully different from those put forward by the Committee of Five [of the League]. But the latter were of respectable parentage: and the Paris ones were too much like the off-the-stage arrangements of nineteenth-century diplomacy".[11]
Effectively, although not formally, Halifax was deputy Foreign Secretary to Eden. In general they got on well.[9] Halifax and Eden were in agreement about the direction of foreign policy (and in line with prevailing opinion throughout Britain) that Germany's remilitarization of the Rhineland, its "own backyard", would be difficult to oppose and should be welcomed insofar as it continued Germany's seeming progress towards normality after the tribulations of the post-First World War settlement.[citation needed]
In 1936, Neville Chamberlain recorded that Halifax was always saying he wanted to retire from public life.[12] In May 1937, when Neville Chamberlain succeeded Baldwin as Prime Minister, Halifax became Lord President of the Council, as well as remaining Leader of the House of Lords.[9] Chamberlain began increasingly to intervene directly in foreign policy, activity for which his background had not prepared him, and which caused increasing tension with Eden.[citation needed]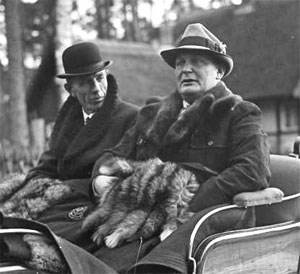 Lord Halifax with Hermann Göring at Schorfheide, Germany, 20 November 1937.
In his capacity as Master of the Middleton Hunt, Halifax accepted an invitation from Hermann Göring to go to a hunting exhibition in Berlin and hunt foxes in Pomerania in November 1937. Halifax later put it on the record that, far from this being an attempt by Chamberlain to bypass the Foreign Office, Eden had pressed him to accept. Halifax was not keen about the way the meeting was arranged.[9] Göring was a passionate hunter and gave Halifax the nickname Halalifax, after Halali!, a German hunting call, but Halifax was publicly and correctly regarded as acting on behalf of the British government to renew dialogue with the German government.[13]
On being taken to meet Adolf Hitler at Berchtesgaden, Halifax almost created an incident by nearly handing his coat to him, believing him to be a footman:
"As I looked out of the car window, on eye level, I saw in the middle of this swept path a pair of black trousered legs, finishing up in silk socks and pumps. I assumed this was a footman who had come down to help me out of the car and up the steps and was proceeding in leisurely fashion to get myself out of the car when I heard von Neurath or somebody throwing a hoarse whisper at my ear of Der Führer, der Führer; and it then dawned upon me that the legs were not the legs of a footman, but of Hitler."[14]
A long and barbed meeting with the Führer then ensued.[14] In discussions with Hitler, Halifax spoke of "possible alterations in the European order which might be destined to come about with the passage of time". Ignoring Eden's reservations, he did not object in principle to Hitler's designs on Austria and parts of Czechoslovakia and Poland, although he stressed that only peaceful processes of change would be acceptable.[9] Writing to Baldwin on the subject of the conversation between Karl Burckhardt (the League of Nations' Commissioner of Danzig) and Hitler, Halifax said:
"Nationalism and Racialism is a powerful force but I can't feel that it's either unnatural or immoral! I cannot myself doubt that these fellows are genuine haters of Communism, etc.! And I daresay if we were in their position we might feel the same!"[15]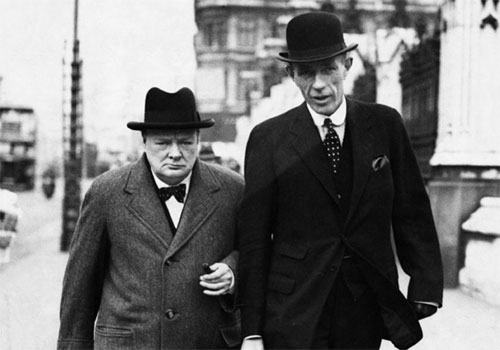 Halifax and Winston Churchill in 1938. Note Halifax's artificial left hand, concealed under a black glove.
In December 1937, Halifax told the Cabinet that "we ought to get on good terms with Germany", as despite the best efforts of Eden and Chamberlain, Britain was still faced with the prospect of war with Germany, Italy and Japan.[9]
By February 1938, Halifax warned Chamberlain of strains in the Cabinet, and tried to broker a deal between Chamberlain and Eden. Eden resigned as Foreign Secretary on 20 February, in protest at Chamberlain's wish to make further concessions to Benito Mussolini, whom Eden regarded as an untrustworthy gangster, without gestures of good faith on his part. Halifax was appointed Foreign Secretary on 21 February 1938, despite some criticism from Labour and elsewhere that so important a job was being given to a peer.[9]
Halifax commented "I have had enough obloquy for one lifetime" (i.e., as Viceroy of India) before accepting appointment as Foreign Secretary.[16] Chamberlain preferred him to the excitable Eden: "I thank God for a steady unruffled Foreign Secretary."[9]
Foreign Secretary

Analysis
Halifax's political line as Foreign Secretary must be seen in the context of existing British foreign policy, which was predicated on a broad consensus that in none of the democracies was there popular support for war, military pressure, or even rearmament. There was debate about the extent to which the dictatorships' very separate interests could be teased apart. It was clear that an alignment of Germany and Italy would divide Britain's forces in any general war and that, without at least a neutral Italy, Britain would be unable to move large naval forces east to confront Japan, given America's refusal to help. For many, especially in the Foreign Office, appeasement was a necessary compromise to buy time for rearmament, a process to which Britain was already heavily committed.[17] Others, especially Churchill, hoped that a strong military alliance with France would permit a more robust foreign policy towards the dictators. Many shared Churchill's confidence in the large French Army, although fewer shared his belief that France would be a resilient ally.
Chamberlain embraced the policy of appeasement as a moral force for good, as did many others who were deeply opposed to war and defence spending. By comparison, Halifax's policy appears more pragmatic, like that of Samuel Hoare, coupled to a firm commitment to rearmament, albeit unenthusiastically. All parties recognised the hostility of public opinion to war or military preparations, and the difficulty of acting without a readiness on the part of America or the Soviet Union to play their part (the Labour Party opposed rearmament until well after the Munich Agreement). Nonetheless, Halifax was criticised as an appeaser, along with Chamberlain, Hoare, and twelve others, in the anonymous 1940 book Guilty Men.
Munich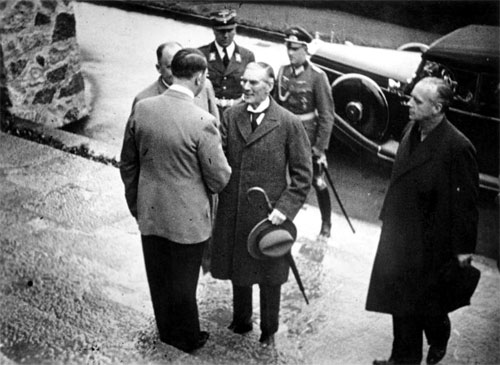 Adolf Hitler greets British Prime Minister Neville Chamberlain on the steps of the Berghof, 15 September 1938 during the crisis over Czechoslovakia. Joachim von Ribbentrop stands on the right.
Hitler's annexation of Austria in March 1938 made Halifax keener on rearmament. Czechoslovakia was clearly next on the agenda, but neither Britain nor France believed they had the military capacity to support her, and in the summer of 1938, Halifax still wanted to urge the Czechs in private to make concessions to Germany, which was making demand about the status of the Sudeten Germans.[18]
Halifax remained in London and did not accompany Chamberlain on his dramatic flights to Germany in the autumn of 1938. This was once seen as a sign of Chamberlain's dominance of his Cabinet.[18]
It appears that a frank conversation with his pugnacious Permanent Secretary, Sir Alexander Cadogan, brought Halifax to the sharp realisation that the road to appeasement had taken Britain into a series of concessions that were unwise and that were unlikely to secure the necessary pacification of Germany.
On 25 September 1938, Halifax spoke out in Cabinet against the inflated demands presented by Hitler in the Godesberg Memorandum after his second summit meeting with Chamberlain.[19] It is now known that Halifax, under Cadogan's influence, persuaded the Cabinet to reject the Bad Godesberg terms. Britain and Germany came close to war until Chamberlain flew to Munich. Chamberlain could hardly afford to lose a second Foreign Secretary, and his dominance of his Cabinet was never so overwhelming again.[18]
The eventual Munich Agreement, signed after Chamberlain's third summit meeting with Hitler, was apparently popular around the world and humiliating to many in the British government, but it was short of Hitler's desires (and of Chamberlain's proposed concessions) and increased Hitler's determination to return to destroy Czechoslovakia in the spring.
On 3 October 1938, Halifax defended the Munich Agreement in the House of Lords, in much more measured terms than the Prime Minister had done, not as a triumph but as the lesser of two evils.[18]
The Munich crisis had seen Halifax begin to take a stronger line than Chamberlain against further concessions to Germany. Andrew Roberts argues that from this point on, Halifax set his face firmly towards a policy of deterrence. He hoped that increased rearmament—including strengthening of alliances with and economic support to the countries of Eastern Europe, and the reintroduction of conscription—coupled with a firmer line towards Germany, Italy, and Japan would reduce the risks of those three hostile powers acting in combination. (It is of note that, when war did begin, neither Japan nor Italy was prepared to join in until the pendulum had swung much further in Germany's favour.)