John Claude White
by Wikipedia
Accessed: 2/2/20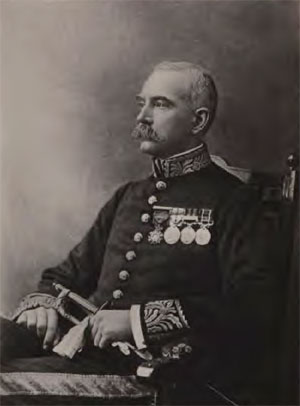 John Claude White around 1908
John Claude White (1 October 1853 – 1918) CIE was an engineer, photographer, author and civil servant in British India.
Early life
The son of army surgeon John White (1871-1920) and Louise Henriette (Claude) Pfeffer White, he was born in Calcutta (now Kolkata), India. His education included a period at Rugby School for six months in 1868. White later studied at the Royal Indian Engineering College in Cooper's Hill, Surrey before joining the Bengal Public Works Department as Assistant Engineer in 1876.[1]
India and Sikkim
White originally worked in Bengal, Nepal and Darjeeling. In 1883, he was assigned to the British Residency in Kathmandu, Nepal where he photographed the architecture and monuments.[2] He was appointed Political Officer in the north east Indian Kingdom of Sikkim in 1889.[1] He became chairman of the council that advised Sikkim's Chogyal Thutob Namgyal whereafter he reorganised Sikkim's administration before going on to order land and mineral surveys and develop unused wasteland.
He also established a forestry department and the first police post in Aritar as well as introduced English apple cultivation in the northern towns of Lachung and Lachen.[3]
Following the 1890-1893 Convention of Calcutta signed by Britain and Qing dynasty China, White was despatched to Yatong at the foot of the Chumbi Valley in Tibet to assess the trade situation at the new outpost.
He subsequently reported that although the Chinese were friendly towards him, they "had no authority whatever" and were unable to control the Tibetans. White concluded that "China was suzerain over Tibet only in name".[4]
In 1903, under orders from Viceroy of India Lord Curzon, White became Deputy Commissioner of the Tibet Frontier Commission under Francis Younghusband, a Political Officer on secondment to the British Army,[5] which led the 1903-04 British expedition to Tibet.
The putative aim of the expedition was to settle disputes over the Sikkim-Tibet border but in reality it became (by exceeding instructions from London) a de facto invasion of Tibet. White was unhappy with his secondment to the mission as he would lose the benefits of his current role and went so far as to cable Viceroy Lord Curzon and
Indian Army Commander-in-Chief Lord Kitchener
to have the order cancelled. Younghusband saw this as insubordination, as did his masters in Shimla, and the appointment was confirmed. Younghusband would have his revenge for White's truculence when he later left him in the leech-infested jungles of Sikkim to arrange mule and coolie transport to Tibet.[5]
White is claimed to have been the only member of the Tibet expedition permitted to photograph Lhasa's monasteries.[2]
He made five trips to Bhutan and in 1907 photographed the coronation of the country's first king.[2]
Personal life
On 12 September 1876, before departing for India, White married his distant cousin Jessie Georgina Ranken at All Saints Church in Kensington, London. They had a daughter, Beryl born in Bengal in 1877.[1]
Photography
White created a rich and detailed photographic account of the culture and scenery of the Himalayas during his travels through the region.
John Falconer, curator of photographs at the British Library's Oriental and India Office Collections described White's work as "probably one of the last, and certainly among the most impressive products of a tradition of quasi-amateur photography which had flourished among administrators and military personnel in India since the 1850's."[6]
The 2005 book In the Shadow of the Himalayas: Tibet, Bhutan, Nepal, Sikkim : a Photographic Record by John Claude White, 1883-1908 contains an anthology of Himalayan photos taken by White.
Works
• Sikhim & Bhutan: Twenty-one years on the North East Frontier 1887-1908. London: Edward Arnold. 1909.
See also
• History of Sikkim
References
1. "John Claude White - career". King's College London. Retrieved 19 August 2015.
2. Hannavy, John (2013). Encyclopedia of Nineteenth-Century Photography. Routledge. p. 1496. ISBN 978-1-135-87327-1.
3. Rajiv Rai (2015). The State in the Colonial Periphery: A Study on Sikkim's Relation with Great Britain. Partridge Publishing India. ISBN 978-1-4828-4871-7.
4. Younghusband 1910, p. 54.
5. Patrick French (2011). Younghusband: The Last Great Imperial Adventurer. Penguin Books Limited. p. 269. ISBN 978-0-14-196430-0.
6. "John Claude White - politics". King's College London. Retrieved 19 August 2015.
Bibliography
• Younghusband, Francis (1910). India and Tibet: a history of the relations which have subsisted between the two countries from the time of Warren Hastings to 1910; with a particular account of the mission to Lhasa of 1904. London: John Murray.
Further reading
• Meyer, Kurt; Meyer, Pamela Deuel (2005). In the Shadow of the Himalayas: Tibet, Bhutan, Nepal, Sikkim : a Photographic Record by John Claude White, 1883-1908. Mapin. ISBN 978-1-89-020661-1.
External links
• Media related to John Claude White at Wikimedia Commons
• Works written by or about John Claude White at Wikisource