Part 1 of 2
Nicholas Roerich
by Wikipedia
Accessed: 2/4/20
Nicholas Roerich and the Kalachakra Tantra:

A further two individuals who won the most respect for the Shambhala myth in the West before the flight of the Fourteenth Dalai Lama, were also Russians, Nicholas Roerich (1874–1947) and his wife Helena Ivanovna (1879–1955). Roerich was a lifelong painter, influenced by the late art nouveau movement. He believed himself to be a reincarnation of Leonardo da Vinci. Via his paintings, of which the majority featured Asian subjects, especially the mountainous landscapes of the Himalayas, he attempted to spread his religious message. He became interested in the ideas of Theosophy very early on; his wife translated Madame Blavatsky's Secret Doctrine into Russian. The occultist led him to Buddhism, which was as we have said en vogue in the society of St. Petersburg at the time. We have already briefly encountered him as a designer of Agvan Dorjiev's Kalachakra temple. He was a close friend of the Buriat. In contrast, he hated Albert Grünwedel and regarded his work with deep mistrust. Between the years of 1924 and 1928 he wandered throughout Central Asia in search of the kingdom of Shambhala and subsequently published a travel diary.

In 1929 he began a very successful international action, the Roerich Banner of Peace and the Peace Pact, in which warring nations were supposed to commit themselves to protecting each other's cultural assets from destruction. In the White House in 1935 the Roerich Pact was signed by 21 nations in the presence of President Franklin Delano Roosevelt. The migrant Russian succeeded in gaining constant access to circles of government, especially since the American agricultural minister, Henry Wallace, had adopted him as his guru. In 1947 the painter died in the Himalayan foothills of northern India.

With great zeal his wife continued her husband's religious work up until the nineteen-fifties. Helena Ivanovna had from the outset actively participated in the formation of her husband's ideas. Above all it is to her that we owe the numerous writings about Agni Yoga, the core of their mutual teachings. Roerich saw her as something like his shakti, and openly admitted to her contribution to the development of his vision. He said in one statement that in his understanding of the world "the duty of the woman [is] to lead her male partner to the highest and most beautiful, and then to inspire him to open himself up to the higher world of the spirit and to import both valuable and beautiful aspects and ethical and social ones into life" (Augustat, 1993, p. 50). In his otherwise Indian Buddhist doctrinal system there was a revering of the "mother the world" that probably came from the Russian Orthodox Church.

Roerich first learned about the Kalachakra Tantra from Agvan Dorjiev during his work on the temple in St. Petersburg. Later, in Darjeeling, he had contact to the lama Ngawang Kalzang, who was also the teacher of the German, Lama Govinda, and was well versed in the time teachings. It is, however, most unlikely that Roerich received specific initiations from him or others, as his statements about the Kalachakra Tantra do not display a great deal of expertise. Perhaps it was precisely because of this that he saw in it the "happy news " of the new eon to come. He thus took up exactly the opposite position to his contemporary and acquaintance, Albert Grünwedel, who fanatically denounced the supreme Buddhist doctrinal system as a work of the devil. "Kalachakra", Roerich wrote, "is the doctrine which is attributed to the numerous rulers of Shambhala. ... But in reality this doctrine is the great revelation brought to humankind ... by the lords of fire, the sons of reason who are and were the lords of Shambhala" (Schule der Lebensweisheit, 1990, pp. 79, 81).

According to Roerich, the "fiery doctrine was covered in dust " up until the twentieth century. (Schule der Lebensweisheit, 1990, p. 122). But now the time had come in which it would spread all over the world. As far as their essential core was concerned, all other religions were supposed to be included in the Time Tantra already: "There are now so many teachers — so different and so hostile to one another; and nonetheless so many speak of the One, and the Kalachakra expresses this One", the Russian has a Tibetan lama say. "One of your priests once asked me: Are the Cabala and Shambhala not parts of the one teaching? He asked: Is the great Moses not a initiate of the same doctrine and a servant of its laws?" (Schule der Lebensweisheit, 1990, p. 78).

Agni yoga:

For Roerich and his wife the Time Tantra contains a sparkling fire philosophy: "This Teaching of Kalachakra, this utilization of the primary energy, has been called the Teaching of Fire. The Hindu peoples know the great Agni — ancient teaching though it be, it shall be the new teaching for the New Era. We must think of the future; and in the teaching of Kalachakra we know there lies all the material which may be applied for greatest use. […] Kalachakra is the Teaching ascribed to the various Lords of Shambhala […] But in reality this Teaching is the Great Revelation brought to humanity at the dawn of its conscious evolution in the third race of the fourth cycle of Earth by the Lords of Fire, the Sons of reason who were an are the Lords of Shambhala" (Reigle, 1986, p. 38). The interpretation which the Russian couple give to the Kalachakra Tantra in their numerous publications may be described without any exaggeration as a "pyromaniac obsession". For them, fire becomes an autocratic primary substance that dissolves all in its flames. It functions as the sole creative universal principle. All the other elements, out of the various admixtures of which the variety of life arises, disappear in the flaming process of creation: "Do not seek the creative fire in the inertia of earth, in the seething waves of water, in the storms of the air (H. I. Roerich, 1980, vol. I, p. 5). Keep away from the other "elements" as "they do not love fire" (H. I. Roerich, 1980, vol. I, p. 7). Only the "fiery world" brings blessing. Everyone carries the "sparks of the fiery world in their hearts" (H. I. Roerich, 1980, vol. II, p. 8). This announces itself through "fiery signs". "Rainbow flames" confirm the endeavors of the spirit. But only after a "baptism of fire" do all the righteous proceed with "flaming hearts" to the "empire of the fiery world" in which there are no shadows. They are welcomed by "fire angels". "The luminosity of every part of the fiery world generates an everlasting radiance" (H. I. Roerich, 1980, vol. II, p. 8). The "song of fire sounds like the music of the spheres" (H. I. Roerich, 1980, vol. II, p. 8). At the center of this world lies the "supreme fire". Since the small and the large cosmos are one, the "fiery chakras" of the individual humans correspond to "the fiery structures of space" (H. I. Roerich, 1980, vol. I, p. 240).

This fire cult is supposed to be ancient and in the dim and distant past its shrines already stood in the Himalayas: "Beyond the Kanchenjunga are old menhirs of the great sun cult. Beyond the Kanchenjunga is the birthplace of the sacred Swastika, sign of fire. Now in the day of Agni Yoga, the element of fire is again entering the spirit." (N. Roerich, 1985, p. 36, 37). Madame Blavatsky's above-mentioned god of electricity, Fohat, is also highly honored by the Roerichs.

The Roerichs' fiery philosophy is put into practice through a particular sacred system which is called Agni Yoga. We were unable to determine the degree to which it follows the traditions of the already described Sadanga Yoga, practiced in the Kalachakra Tantra. Agni Yoga gives the impression that is conducted more ethically and with feelings than technically and with method. Admittedly the Roerich texts also talk of an unchaining of the kundalini (fire serpent), but nowhere is there discussion of sexual practices. In contrast -the philosophy of the two Russians requires strict abstinence and is antagonistic to everything erotic.

In 1920 the first Agni Yoga group was founded by the married couple. The teachings, we learn, come from the East , indeed direct from the mythical kingdom: "And Asia when she speaks the Blessed Shambhala, about Agni Yoga, about the Teaching of Flame, knows that the holy spirit of flame can unite the human hearts in a resplendent evolution" (N. Roerich, 1985, p. 294). Agni Yoga is supposed to join the great world religions together and serve as a common basis for them.

With great regret the Roerichs discover that the people do not listen to the "fiery tongues" that speak to them and want to initiate them into the secrets of the flames. They appropriated only the external appearances of the force of fire, like electricity, and otherwise feared the element. Yet the "space fire demands revelation" and whoever closes out its voice will perish in the flames (H. I. Roerich, 1980, p. 30).

Even if it is predicted in the cosmic plan, the destruction of all dark and ignorant powers does not happen by itself. It needs to be accelerated by the forces of good. It is a matter of victory and defeat, of heroic courage and sacrificial death. Here is the moment in which the figure of the Shambhala warriors steps into the plan and battles with the inexorably advancing Evil which wants to extinguish Holy Flame: "They shall come — the extinguishers; they shall come — the destroyers; they shall come — the powers of darkness. Corrosion that has already begun cannot be checked" (H. I. Roerich, 1980, vol. I, p. 124).

Shambhala:

We hear from Helena Ivanova Roerich that "the term Shambhala truly is inseparably linked to fiery apparitions" (H. I. Roerich, 1980, vol. I, p. 26). "Fire signs introduce the epoch of Shambhala", writes her spouse (Schule der Lebensweisheit, 1990, p. 29). It is not surprising that the Russian visionaries imagined the temple of Shambhala as an "alchemic laboratory", then a fire oven, the athanor, also stood at the heart of the hermetic art, as western alchemy was known.

The couple consider Shambhala, the "city of happiness", to be the "geographic residence or workplace of the brotherhood and seat of the interplanetary government in the trans-Himalaya" (Augustat, 1993, p. 153). In an official fundamental declaration of the two it says: "The brotherhood is the spiritual union of highly developed entities from other planets or hierarchs, which as a cosmic institution is responsible to a higher institution for the entire evolution of the planet Earth. The interplanetary government consists of cosmic offices, which are occupied by the hierarch depending on the task and the age" (Augustat, 1993, p. 149). The Mahatmas, as these hierarchs are called in reference to Madame Blavatsky, have practical political power interests and are in direct contact with certain heads of state of our world, even if the ordinary mortals have no inkling of this.

Then it is impossible for normal humans to discover the main lodge of the secret society: "How can one find the way to our laboratories? Without being called no-one will get to us", Roerich proclaims (Schule der Lebensweisheit, 1990, p. 9). From there the Mahatmas coordinate an army of in part paid agents, who operate here on Earth in the name of the hidden kingdom. In the meantime the whole planet is covered by a net of members, assistants, contacts, and spies of the "international government" who are only waiting for the sign from their command center in Shambhala in order to step into the light and reveal themselves to humanity.

Likewise, the activities and resolutions of the "invisible international government" are all but impenetrable for an outsider. There is a law which states that each earthly nation will only be visited and "warned" by an envoy from Shambhala once in a century. An exception was probably made during the French Revolution, then "hierarchs" like the Comte de Saint Germain for example were extremely active at this troubled time. Sadly he died in the year 1784 "as a result of the undisciplined thinking of one of his assistants". (Schule der Lebensweisheit, 1990, p. 117). The dissolute life of his sadhaka (pupil), Cagliostro, was probably to blame for his not being able to participate in the great events of 1789 (the storming of the Bastille).

According to Roerich the members of the government of Shambhala have the ability to telepathically penetrate into the consciousness of the citizens of Earth without them realizing where particular ideas come from: "Like arrows the transmissions of the community bore into the brains of humanity" (Schule der Lebensweisheit, 1990, p. 10). Sometimes this takes place using apparatuses especially constructed for this purpose. But they are not permitted to openly reveal their amazing magical abilities: "Who can exist without food? Who can get by without sleep? Who is immune to heat and cold? Who can heal wounds? Truly only one who has studied Kalachakra" (Schule der Lebensweisheit, 1990, p. 77).

Tableau of N. Roerich: "The command of Rigden-jyepo"

For the Russian couple all the interventions of the governing yogi caste have just one goal, to prepare for the coming of the future Buddha Maitreya Morya or Rigden-jyepo, who shall then make all important decisions. According to the Roerichs both names are synonyms for the Rudra Chakrin, the "wrathful wheel turner" and doomsday ruler of the Kalachakra Tantra. We thus await a fairytale oriental despot who cares about his subjects: "Just like a diamond the light shines from the tower of Shambhala. He is there — Rigden-jyepo, untiring, ever watchful for the sake of humanity. His eyes never close. In his magic mirror he sees everything which happens on Earth. And the power of his thoughts penetrates through to the distant countries. ... His immeasurable riches lay waiting to help all the needy who offer to serve the cause of uprightness" (Augustat, 1993, p. 11).

In passing, this doomsday emperor from Shambhala also reveals himself to be the western king of the Holy Grail, who holds the Holy Stone in his hands and who emigrated to Tibet under cover centuries ago. He is returning now, messengers announce him. True Knights of the Holy Grail are already incarnated on Earth, unrecognized . The followers of the Roerichs even believe that their master himself protected the grail for a time and then returned it to Shambhala on his trip to Asia (Augustat, 1993, p. 114).

Apocalypse now:

"Why do clouds gather when the Stone [the Grail] becomes dull? If the Stone becomes heavy, blood shall be spilled", we learn mysteriously (Schule der Lebensweisheit, 1990, p. 88). Behind this secret of the grail lies the apodictic statement known from almost all religions that total war, indeed the destruction of the world, is necessary in order to attain paradise. It is essential because in a good dualist cliché the "brotherhood of Good" is always counterposed by the "brotherhood of Evil". The "sons of darkness" have succeeded in severing humanity's connection to the "higher world", the "bright hierarchy". The forces of the depths lurk everywhere. Extreme caution is required since an ordinary mortal can barely distinguish the Evil from the Good, and further, "the brotherhood of Evil attempts to imitate the Good's method of action" (Schule der Lebensweisheit, 1990, p. 126).

The final battle between Light and Darkness is — the Roerichs say- presaged in the prophecies of the ancestors and the writings of the wise and must therefore take place. When natural disasters and crimes begin to pile up on Earth, the warriors from Shambhala will appear. At the head of their army stands the Buddha Maitreya Morya, who " [combats] the prince of darkness himself. This struggle primarily takes place in the subtle spheres, whereas here [on earth] the ruler of Shambhala operates through his earthly warriors. He himself can only be seen under the most exceptional circumstances and would never appear in a crowd or among the curious. His appearance in fiery form would be disastrous for everybody and everything since his aura is loaded with energies of immense strength" (Schule der Lebensweisheit, 1990, p. 152). It could be thought that this concerned an atomic bomb. At any rate the battle will be conducted with a fire and explosive power which allows of comparison only to the atomic detonations in Hiroshima and Nagasaki:

Fiery the battle
with blazing torches,
Blood red the arrows
against the shining shield

(Schule der Lebensweisheit, 1990, p. 110)

Thus the armies of Shambhala storm forth. "Space is filled with fire. The lightning of the Kalki avatar [Rudra Chakrin] — the preordained Maitreya — flashes upon the" (N. Roerich, 1985, p. 76). Even if Kalki also goes by the epithet of "Lord of Compassion", with his enemies he knows no mercy. Accompanied by Gesar, the mythic war hero of the Tibetans, he will storm forward mounted on a "white horse" and with a "comet-like, fiery sword" in his hand. Iron snakes will consume outer space with fire and frenzy (N. Roerich, 1988 p. 12). "The Lord", we read, " strikes the people with fire. The same fiery element presides over the Day of Judgment. The purification of evil is performed by fire. Misfortunes are accompanied by fires" (H. I. Roerich, 1980, vol. I, 46).

Those who fight for Shambhala are the precursors of a new race who take control of the universe after Armageddon, after the "wheat has been separated from the chaff" (Augustat,1993, p. 98). That is, to put it plainly, after all the inferior races have been eradicated in a holocaust.

Distribution in the west:

As far as the fate of Tibet is concerned, the prophecies that Roerich made at the end of the twenties have in fact been fulfilled: "We must accept it simply, as it is: the fact that the true teaching shall leave Tibet", he has a lama announce, "and shall again appear in the South. In all countries, the covenants of Buddha shall be manifested. Really, great things are coming." (N. Roerich, 1985, p. 3) In 1959 the Fourteenth Dalai Lama fled to India in the south and from this point in time onwards Tibetan Buddhism began to be spread all around the world.

Roerich and his wife saw themselves as agents of Shambhala who were supposed to make contact with those governing our world in order to warn them. They could at any rate appeal to a meeting with Franklin Delano Roosevelt. Their followers, however, believe that they were higher up in the hierarchy and that they were incarnated Mahatmas from the kingdom.

In the meantime the Roerich cult is most popular in Eastern Europe, where even before the fall of Communism it had penetrated the highest circles of government. The former Bulgarian Minister for Culture, Ludmilla Shiffkova, daughter of the Communist head of state Todor Shiffkov, was almost fanatically obsessed with the Agni master's philosophy, so that she planned to introduce his teachings as part of the official school curriculum. For a whole year, cultural policy was conducted under the motto "N. K. Roerich — A cultural world citizen", and she also organized several overseas exhibitions including works by her spiritual model as well.

Mikhail Gorbachev and his wife also supported numerous Roerich initiatives. In Russia, the renaissance of the visionary painter was heralded for years in advance in elaborate symposia and exhibitions, in order to then fully blossom in the post-Communist era. In Alma Ata in October 1992, a major ecumenical event was organized by the international Roerich groups under the patronage of the president of Kazakhstan, at the geographical gateway, so to speak, behind which the land of Shambhala is widely believed to have once lain. The Fourteenth Dalai Lama hesitated as to whether he ought to visit the Congress before deciding for scheduling reasons to send a telegram of greeting and a high-ranking representative.

-- The Shadow of the Dalai Lama: Sexuality, Magic and Politics in Tibetan Buddhism, by Victor and Victoria Trimondi
Nicholas Roerich
Born: October 9, 1874, Saint Petersburg, Russian Empire
Died: December 13, 1947 (aged 73), Naggar, Dominion of India (present-day Himachal Pradesh, India)
Nationality: Russia
Occupation: painter, archaeologist, costume and set designer for ballets, operas, and dramas
Spouse(s): Helena Roerich
Children: George de Roerich, Svetoslav Roerich
Nicholas Roerich (/ˈrɛrɪk/; October 9, 1874 – December 13, 1947) – known also as Nikolai Konstantinovich Rerikh (Russian: Никола́й Константи́нович Ре́рих) – was a Russian painter, writer, archaeologist, theosophist, philosopher, and public figure, who in his youth was influenced by a movement in Russian society around the spiritual. He was interested in hypnosis and other spiritual practices and his paintings are said to have hypnotic expression.[1][2]
Born in Saint Petersburg, Russia, to a well-to-do notary public Baltic German father and a Russian mother,[3] Roerich lived in various places around the world until his death in Naggar,[4] Himachal Pradesh, India. Trained as an artist and a lawyer, his main interests were literature, philosophy, archaeology, and especially art. Roerich was a dedicated activist for the cause of preserving art and architecture during times of war. He was nominated several times to the long list for the Nobel Peace Prize.[5] The so-called Roerich Pact was signed into law by the United States and most nations of the Pan-American Union in April 1935.
Biography

Early life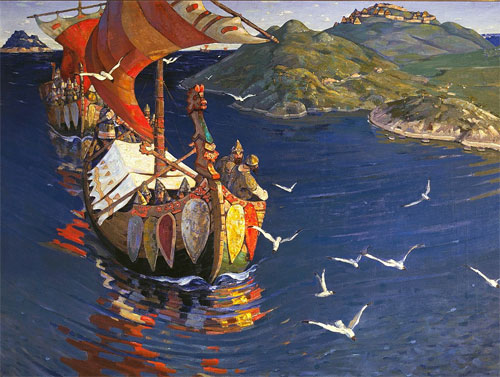 Guests from Overseas, 1901 (Varangians in Rus')
Raised in late-19th-century St. Petersburg, Roerich enrolled simultaneously at St. Petersburg University and the Imperial Academy of Arts during 1893. He received the title of "artist" in 1897 and a degree in law the next year. He found early employment with the Imperial Society for the Encouragement of the Arts, whose school he directed from 1906 to 1917. Despite early tensions with the group, he became a member of Sergei Diaghilev's "World of Art" society; he was president of the society from 1910 to 1916.
Artistically, Roerich became known as his generation's most talented painter of Russia's ancient past, a topic that was compatible with his lifelong interest in archaeology. He also succeeded as a stage designer, achieving his greatest fame as one of the designers for Diaghilev's Ballets Russes. His best-known designs were for Borodin's Prince Igor (1909 and later productions), and costumes and set for The Rite of Spring (1913),[6] composed by Igor Stravinsky.
Along with Mikhail Vrubel and Mikhail Nesterov, Roerich is considered a major representative of Russian Symbolism in art.[7] From an early period of his life, he was influenced by apocrypha and medieval sectarian writings such as the mysterious Dove Book.[8]
Another of Roerich's artistic subjects was architecture. His acclaimed publication "Architectural Studies" (1904–1905), consisting of dozens of paintings he made of fortresses, monasteries, churches, and other monuments during two long trips through Russia, inspired his decades-long career as an activist on behalf of artistic and architectural preservation. He also designed religious art for places of worship throughout Russia and Ukraine, most notably the Queen of Heaven fresco for the Church of the Holy Spirit which the patroness Maria Tenisheva built near her Talashkino estate; and the stained glass windows for the Datsan Gunzechoinei during 1913–1915. His designs for the Talashkino church were so radical that the Orthodox church refused to consecrate the building.[7]
During the first decade of the 1900s and in the early 1910s, Roerich, largely due to the influence of his wife Helena, developed an interest in eastern religions, as well as alternative (to Christianity) belief systems such as Theosophy. Both Roerichs became avid readers of the Vedantist essays of Ramakrishna and Vivekananda, the poetry of Rabindranath Tagore, and the Bhagavad Gita.
The Roerichs' commitment to occult mysticism increased steadily. It was especially intense during World War I and the Russian revolutions of 1917, to which the couple, like many Russian intellectuals, accorded apocalyptic significance. The influence of Theosophy, Vedanta, Buddhism, and other mystical topics can be detected not only in many of Roerich's paintings, but in the many short stories and poems Roerich wrote before and after the 1917 revolutions, including the Flowers of Morya cycle, begun in 1907 and completed in 1921.
Revolution, emigration, and the United States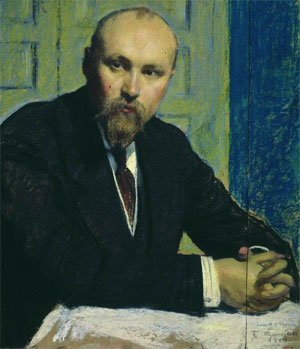 Nicholas Roerich by Kustodiev. 1913
After the February Revolution of 1917 and the end of the czarist regime, Roerich, a political moderate who valued Russia's cultural heritage more than ideology and party politics, had an active part in artistic politics. With Maxim Gorky and Aleksandr Benois, he participated with the so-called "Gorky Commission" and its successor organization, the Arts Union (SDI). Both attempted to gain the attention of the Provisional Government and Petrograd Soviet on the need to form a coherent cultural policy and, most urgently, protect art and architecture from destruction and vandalism.
At the same time, illness forced Roerich to leave the capital and reside in Karelia, the district bordering Finland. He had already quit the presidency of the World of Art society, and he now quit the directorship of the School of the Imperial Society for the Encouragement of the Arts. After the October Revolution and the acquisition of power of Lenin's Bolshevik Party, Roerich became increasingly discouraged about Russia's political future. During early 1918, he, Helena, and their two sons George and Svetoslav emigrated to Finland.
Two unresolved historical debates are associated with Roerich's departure. First, it is often claimed that Roerich was a major candidate to direct a people's commissariat of culture (the Soviet equivalent of a ministry of culture) which the Bolsheviks considered establishing during 1917–1918, but that he refused to accept the job. In fact, Benois was the most likely choice to direct any such commissariat. It seems that Roerich was a preferred choice to manage its department of artistic education; the topic is rendered moot by the fact that the Soviets elected not to establish such a commissariat.
Second, when Roerich later wished to reconcile with the USSR, he maintained that he had not left Soviet Russia deliberately, but that he and his family, living in Karelia, had been isolated from their homeland when the civil war began in Finland. However, Roerich's extreme hostility to the Bolshevik regime – prompted not so much by a dislike of communism as by his revulsion at Lenin's ruthlessness and his fear that Bolshevism would result in the destruction of Russia's artistic and architectural heritage – was amply documented. He illustrated Leonid Andreyev's anti-communist polemic "S.O.S." and had a widely published pamphlet, "Violators of Art" (1918–1919). Roerich believed that "the triumph of Russian culture would come about through a new appreciation of ancient myth and legend".[9]
After some months in Finland and Scandinavia, the Roerichs relocated to London, arriving in mid-1919. Engrossed with Theosophical mysticism, they now had millenarian expectations that a new age was imminent, and they wished to travel to India as soon as possible. They joined the English-Welsh chapter of the Theosophical Society. It was in London, in March 1920, that the Roerichs founded their own school of mysticism, Agni Yoga, which they referred to also as "the system of living ethics."
To earn passage to India, Roerich worked as a stage designer for Thomas Beecham's Covent Garden Theatre, but the enterprise ended unsuccessfully in 1920, and the artist never received full payment for his work. Among the notable people Roerich befriended while in England were the famed British Buddhist Christmas Humphreys, philosopher-author H. G. Wells, and the poet and Nobel laureate Rabindranath Tagore (whose grand-niece Devika Rani would later marry Roerich's son Svetoslav).
A successful exhibition in London resulted in an invitation from a director at the Art Institute of Chicago, offering to arrange for Roerich's art to tour the United States. During the autumn of 1920, the Roerichs traveled to America by sea.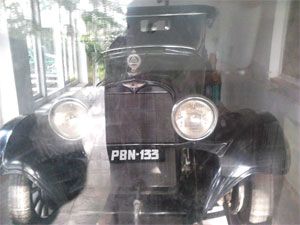 Car of Nicolas Roerich in his museum at Naggar
The Roerichs remained in the United States from October 1920 until May 1923. A large exhibition of Roerich's art, organized partly by U.S. impresario Christian Brinton and partly by the Chicago Art Institute, began in New York in December 1920 and toured the country, to San Francisco and back, during 1921 and early 1922. Roerich befriended acclaimed soprano Mary Garden of the Chicago Opera and received a commission to design a 1922 production of Rimsky-Korsakov's The Snow Maiden for her. During the exhibition, the Roerichs spent significant amounts of time in Chicago, New Mexico, and California.
Politically, Roerich was at first anti-Bolshevik. He gave lectures and wrote articles to White Russian populations in which he criticized the Soviet Union. However, his aversion to Communism - "the impertinent monster that lies to humanity" - changed in America. Roerich claimed that his spiritual masters, the "Mahatmas" in the Himalayas, were communicating telepathically with him, through his wife, Helena, who was a mystic and a clairvoyant.
These beings from an esoteric Buddhist community in India were said to have told Roerich that Russia was destined for a mission on Earth. This led him to formulate his "Great Plan", envisaging the unification of millions of Asian peoples through a religious movement using the Future Buddha, or Maitreya, into a "Second Union of the East." Here, the King of Shambhala would, following the Maitreya prophecies, make his appearance to fight a great battle against all evil forces on Earth. Roerich understood this as "perfection towards Common Good". This new polity was to include southwestern Altai, Tuva, Buryatia, Outer and Inner Mongolia, Xinjiang and Tibet, with its capital situated in "Zvenigorod", the "City of Tolling Bells", which was to be built at the foot of Mount Belukha in Altai. According to Roerich, the same Mahatmas revealed to him in 1922 that he was an incarnation of the Fifth Dalai Lama[10].
In 1923, Roerich, the "practical idealist", set out to the Himalayas with his wife and son Yuri. Roerich initially settled in Darjeeling, in the same house where the 13th Dalai Lama had stayed during his exile in India. Roerich spent his time painting the Himalayas with visitors such as F. M. Bailey, Lady Lytton, and members of the 1924 British Everest Expedition, as well as Sonam Wangfel Laden La, Kusho Doring, and Tsarong Shape, influential Tibetans. According to British intelligence, lamas from the Moru monastery recognized Roerich as the incarnation of the Fifth Dalai Lama due to a mole pattern on his right cheek. It was during his stay in the Himalayas that Roerich learned about the flight of the 9th Panchen Lama, which he interpreted as the fulfillment of the Matreiya prophecies and the bringing about of the Age of Shambhala[11].
In 1924, the Roerichs returned to the West. On his way to America, Roerich stopped at the Soviet embassy in Berlin, where he told the local plenipotentiary about a Central Asian expedition he wanted to take. He asked for Soviet protection on his way, and shared his impressions of politics in India and Tibet. Roerich commented on the "occupation of Tibet by the British", claiming that they "infiltrate in small parties... conduct extensive anti-Soviet propaganda" by talking about "anti-religious activity of the Bolsheviks". The plenipotentiary later pointed out to one of Roerich's old university classmates, Chicherin, that he had "absolutely pro-Soviet leanings, which looked somewhat Buddho-Communistic", and that his son, who spoke 28 Asian languages, helped him in gaining good favor with the Indians and Tibetans[12].
The Roerichs settled in New York City, which became the base of their many American operations. They founded several institutions during these years: Cor Ardens ("Flaming Heart") and Corona Mundi ("Crown of the World"), both of which were meant to unite artists around the globe in the cause of civic activism; the Master Institute of United Arts, an art school with a versatile curriculum, and the eventual home of the first Nicholas Roerich Museum; and an American Agni Yoga Society. They also joined various theosophical societies; their activities with these groups dominated their lives.