Geological Survey of India
by Wikipedia
Accessed: 2/4/20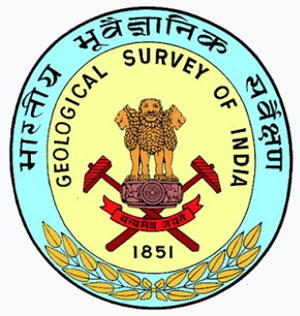 Geological Survey of India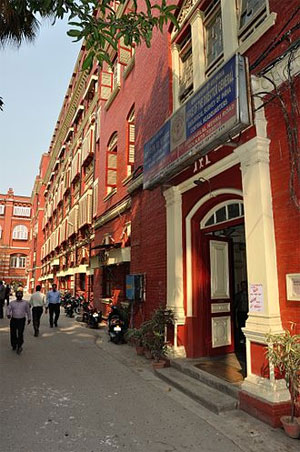 Central Headquarters. 27 JN Road, Kolkata.
Agency overview
Formed 1851
Jurisdiction British India (1851-1947)
Republic of India (From 1947)
Headquarters Kolkata
Agency executive
Shri. Mondreti Sridhar, C.G.S., ADG (G) Director General Additional Charge
Parent department Ministry of Mines
Website
https://www.gsi.gov.in/
The Geological Survey of India (GSI), founded in 1851, is a Government of India Ministry of Mines organisation, one of the oldest of such organisations in the world and the second oldest survey in India after Survey of India (founded in 1767), for conducting geological surveys and studies of India, and also as the prime provider of basic earth science information to government, industry and general public, as well as the official participant in steel, coal, metals, cement, power industries
and international geoscientific forums.
GSI (geology) as well as ASI (archaeology), BSI (botany), FiSI (fisheries), FSI (forests), IIEE (ecology), NIO (oceanography), RGCCI (population survey) and language survey), SI (cartography), and ZSI (zoology) are key national survey organisations of India.
History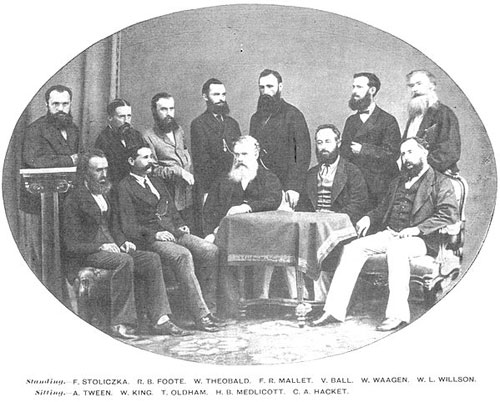 The GSI in 1870. Standing: Ferdinand Stoliczka, Robert Bruce Foote, William Theobald, F. R. Mallet, Valentine Ball, Wilhelm Heinrich Waagen, W. L. Willson; Sitting: A. Tween, W. King, Thomas Oldham, Henry Benedict Medlicott, C. A. Hackett.
British colonised India for the systematic financial exploitation of resources,[1] leading to India's deindustrialization and Britain's Industrial Revolution,[2][3][4] by using India as both a significant supplier of raw goods to British manufacturers and a large captive market for British manufactured goods (see Economy of India under the British Raj).[5] Formed in 1851 by East India Company, its roots can be traced to 1836 when the "Coal Committee", followed by more such committees, was formed to study and explore availability of coals in the eastern parts of India.
[6][7] David Hiram Williams, one of the first surveyors for the British Geological Survey, was appointed 'Surveyor of coal districts and superintendent of coal works, Bengal' on 3 December 1845 and arrived in India the following February.[6][7] The phrase "Geological Survey of India" was first used on his Dec 1847 map of the Damoodah and Adji Great Coal Field,[8] together with Horizontal[9][10] and Vertical sections of the map.[11] On 4 February 1848, he was appointed the "Geological Surveyor of the Geological Survey of India", but he fell off his elephant and, soon after, died with his assistant, F. B. Jones, of 'jungle fever' on 15 November 1848,[12] after which John McClelland took over as the "Officiating Surveyor" until his retirement on 5 March 1851.[6][7]
Until 1852, Geological Survey primarily remained focused on exploration for coal, mainly for powering steam transport, oil reserves, and ore deposits, when Sir Thomas Oldham, father of Richard Dixon Oldham, broadened the ambit of the scope of functioning of the Geological Survey of India by advancing the argument with the government that it was not possible to find coal without first mapping the geology of India. Thus, the Geological Survey commenced to map the rock types, geological structures and relative ages of different rock types.
The age of rock strata was estimated from the presence of index fossils, which consumed much of the geologists' efforts in finding these index fossils, as the method of Radiometric dating for estimating the age of rock strata was not developed at that time.[6][7] In 1869 Frederick Richard Mallet was first to visit Ramgarh crater.[13][14] Later studies include by those of Arthur Lennox Coulson
In 19th century GSI undertook several surveys including Great Trigonometrical Survey, 1869 Kailash-Mansarovar expedition, 1871-1872 Shigache–Lhasa expedition, 1873-1874 Yarkand–Kashgar expedition, second expedition of this area by Sir Thomas Douglas Forsyth, 1878-1882 Darjeeling–Lhasa–Mongolia expedition, etc.[15][16][17][18] The native surveyors were called pandit, some notable ones include cousins Nain Singh Rawat and Krishna Singh Rawat.[19][17][18]
In 19th and early 20th century GSI made important contributions to Seismology by its studies and detailed reports on numerous Indian earthquakes. Richard Dixon Oldham, like his father also worked for GSI, first correctly identified p- and s-waves, and hypothesised and calculated the diameter of the Earth's core.[6][7]
On 8 April 2017 GSI began pilot project, with the first ever aerial survey of mineral stocks by GSI, to map the mineral stocks up to a depth of 20 km using specially-equipped aircraft.[20]
The GSI was restructured into 5 Missions, respectively relating to "Baseline Surveys";"Mineral resource Assessments";"Geoinformatics";"Multi-disciplinary Geosciences"; and "Training and Capacity Building", on the basis of the Report of a High-level Committee chaired by Mr S.Vijay Kumar[21] Additional Secretary in the Ministry of Mines of the Government of India.
Chief of GSI
Template:Dinesh gupta
The Superintendent and The Directors of GSI

Sr. No. / Name / Period / Country
1. Dr. Thomas Oldham, The Superintendent 1851–1876 Dublin, Republic of Ireland
2. H. B. Medlicott, The Superintendent 1876–1885 Loughrea, County Galway, Ireland
3. H. B. Medlicott, The Director 1885–1887 Loughrea, County Galway, Ireland
4. William King Jr. 1887–1894 Ireland; an Anglo-Irish
5. C.L.Griesbach 1894–1903 Vienna, Austria
6. Sir T. H. Holland 1903–1910 Helston, Cornwall, England
7. Sir Henry. H. Hayden 1910–1921 Derry, Ireland
8. Sir Edwin Hall Pascoe 1921–1932 England
9. Sir L.L. Fermor 1932–1935 Peckham, south London, England
10. Dr. A. M. Heron 1935–1939 British, Duddingston, Edinburgh, Scotland
11. Dr. Cyril S. Fox 1939–1943 -
12. Dr. Edward Leslie Gilbert Clegg 1943–1944 Manchester, England
13. H. Crookshank 1944–1945 -
14. J.A. Dunn 1945 -
15. Dr. William Dixon West 1945–1951 Bournemouth, England
16. Dr. M. S. Krishnan, First Indian Director 1951–1955 Thanjavur, Tamil Nadu
17. V. P. Sondhi 1955–1958 -
18. Dr. B. C. Roy 1958–1964 -
The Director General of GSI

Sr. No. / Name / Period / Stream

1. Dr. B. C. Roy 1964–1965 Geology
2. R. A. G. Jhingran 1965–1966 Geology
3. G. C. Chatterji 1966–1969 Geology
4. M. S. Balasundaram 1969–1972 Geology
5. Dr. M. K. Roychoudhury 1972–1974 Geology
6. C. Karunakaran 1974–1975 Geology
7. Dr. V. K. S. Vardan 1976–1977 Geology
8. V. S. Krishnaswamy 1978–1981 Geology
9. J. Swami Nath 1981–1982 Geology
10. S. K. Mukherjee 1982–1986 Geology
11. D. P. Dhoundial 1986–1990 Geology
12. Dr. D. K. Ray 1990–1991 Geology
13. C. P. Vohra 1991–1992 Geology
14. S. N. Chaturvedi 1992–1993 Geology
15. D. B. Dimri 1993–1996 Geology
16. Dr. S. K. Acharya 1996–2000 Geology
17. K. Krishnanunni 2000–2001 Geology
18. Ravi Shankar (Acting) 01.04.2001–30.11.2001 Geology
19. P. C. Mondal 2001–2004 Chemistry
20. Dr. K. N. Mathur 2004–2005 Chemistry
21. Dr. M. K. Mukhopadhyay (Acting) 01.10.2005–31.12.2005 Geology
22. P. M. Tejale 2006–2009 Instrumentation
23. Dr. N. K. Dutta (Acting) 2009–2010 Geology
24. Jaswant Singh (Acting) 2010–2011 Engineering
25. A. Sundaramoorthy 2011–2013 Geology
26. Sisir Chandra Rath (Acting) 01.11.2013–31.12.2013 Geology
27. Dr. Sudesh Kumar Wadhawan (Acting) 01.01.2014–31.07.2014 Geology
28. Harbans Singh 31.07.2014–30.05.2016 Geology
29. M. Raju (Acting) 01.06.2016–30.08.2017 Geology
30. M. Raju 30.08.2017–31.08.2017 Geology
31. N. Kutumba Rao 01.09.2017–31.05.2018 Geology
32. Dr. Dinesh Gupta (Acting) 01.06.2018–31.03.2019 Geophysics
33. Bipul Pathak (Acting) 01.04.2019–17.09.2019 IAS, Joint Secretary, Ministry of Mines, GoI
33. S.N. Meshram (Acting) 18.09.2019–27.01.2020 Geology
33. Mondreti Sridhar (Acting) 28.01.2020–Till date Geology
Geological parks
Some of the geological parks include Tiruvakkarai National Fossil Wood Park national geo-heritage site with wood fossils scattered over 247 acres nine separate enclaves, Sathanur National Fossil Wood Park national geo-heritage site with an 18-meter 120 million years old fossilised tree trunk from the Cretaceous period, Nehru Zoological Park at Hyderabad with life size figures of T-Rex and other dinosaurs, and Saketi Fossil Park near Chandigarh with a fossil museum and life size fiberglass models of six pre-historic animals.
See also
• Geography of Asia
• Outline of geography
• List of National Geological Monuments in India
References
1. Rajat Kanta Ray (1998). "Indian Society and the Establishment of British Supremacy, 1765–1818". In P. J. Marshall (ed.). The Oxford History of the British Empire. Volume II: The Eighteenth Century. Oxford University Press. pp. 508–29. ISBN 978-0-19-164735-2.
2. Junie T. Tong (2016). Finance and Society in 21st Century China: Chinese Culture Versus Western Markets. CRC Press. p. 151. ISBN 978-1-317-13522-7.
3. John L. Esposito, ed. (2004). The Islamic World: Past and Present. Volume 1: Abba - Hist. Oxford University Press. p. 174. ISBN 978-0-19-516520-3.
4. Indrajit Ray (2011). Bengal Industries and the British Industrial Revolution (1757-1857). Routledge. pp. 7–10. ISBN 978-1-136-82552-1.
5. Henry Yule, A. C. Burnell (2013). Hobson-Jobson: The Definitive Glossary of British India. Oxford University Press. p. 20.
6. Kumar, Deepak (1982). "Economic Compulsions and the Geological Survey of India". Indian Journal of History of Science. 17 (2): 289–300.
7. Chakrabarty, S (2012). "Geological Survey of India". In Islam, Sirajul; Jamal, Ahmed A. (eds.). Banglapedia: National Encyclopedia of Bangladesh (Second ed.). Asiatic Society of Bangladesh.
8. Damoodah and Adji Great Coal Field Map, Bavarian State Library.
9. GSI Map of horizontal sections 1 & 2, Bavarian State Library.
10. GSI Map of horizontal sections 3 & 4, Bavarian State Library.
11. GSI Map of vertical section 5, Bavarian State Library.
12. Allen's Indian Mail, Vol VII, No 117 London, 22 January 1849, p41.
13. Mallet, F. R., 1869, Memoir, Geological Survey of India, vol 7, page 129.
14. BALASUNDARAM, M., DUBE, A. Ramgarh, 1973, "Structure, India", Nature (journal), 242, 40doi:10.1038/242040a0.
15. Clements R. Markham, 1878, "A Memoir on The Indian Surveys", 2nd Ed., W H Allen & Co., London, p.189.
16. Charles E. D. Black, 1891, "A Memoir on The Indian Surveys (1875-90)" , London , p.168.
17. Derek J. Waller, 2004, "The Pundits: British Exploration of Tibet and Central Asia," University Press of Kentucky.
18. Account of the Pundit's Journey in Great Tibet - Capt. H. Trotter, The Journal of the Royal Geographic Society (1877).
19. Peter Hopkirk, 1982, "Trespassers on the Roof of the World: The Race for Lhasa", Oxford University Press.
20. "In a first in India, GSI to use modern aircraft to map mineral stocks". The Financial Express. 7 April 2017. Retrieved 6 April 2017.
21.
http://www.teriin.org/index.php?option= ... Itemid=181
External links
• Official website