Dwarkanath Tagore
by Wikipedia
Accessed: 2/11/20
NOTICE: THIS WORK MAY BE PROTECTED BY COPYRIGHT
YOU ARE REQUIRED TO READ

THE COPYRIGHT NOTICE AT THIS LINK

BEFORE YOU READ THE FOLLOWING WORK, THAT IS AVAILABLE SOLELY FOR PRIVATE STUDY, SCHOLARSHIP OR RESEARCH PURSUANT TO 17 U.S.C. SECTION 107 AND 108. IN THE EVENT THAT THE LIBRARY DETERMINES THAT UNLAWFUL COPYING OF THIS WORK HAS OCCURRED, THE LIBRARY HAS THE RIGHT TO BLOCK THE I.P. ADDRESS AT WHICH THE UNLAWFUL COPYING APPEARED TO HAVE OCCURRED. THANK YOU FOR RESPECTING THE RIGHTS OF COPYRIGHT OWNERS.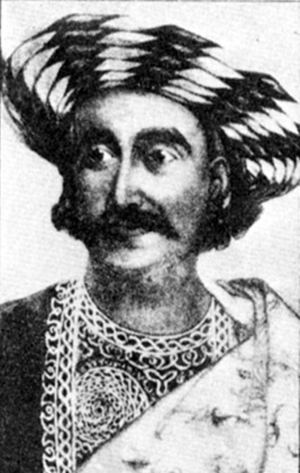 Dwarkanath Tagore
Born: 1794, Calcutta, Bengal, British India (Now in West Bengal)
Died: 1 August 1846, London, England
Nationality: British Indian
Occupation: Entrepreneur
Parent(s): Rammoni Tagore (father) Menoka Devi (biological mother) Alokasundari Devi adopted Dwarakanath as son. Alokasundari was elder sister of Menoka Devi.
Dwarkanath Tagore (Bengali: দ্বারকানাথ ঠাকুর, Darokanath Ţhakur) (1794–1846),
one of the first Indian industrialists
[1] and entrepreneurs, was the founder of the Jorasanko branch of the Tagore family, and is notable for making substantial contributions to the Bengal Renaissance.
Family History
The original surname of the Tagores was Kushari. They were Rarhi Brahmins and originally belonged to a village named Kush in the district named Burdwan in West Bengal. Rabindra-Biographer Shri Prabhat Kumar Mukherjee wrote in page no.2 of the first volume of his book named "Rabindrajibani O Rabindra Sahitya Prabeshika" that, "The Kusharis were the descendants of Deen Kushari, the son of Bhatta Narayana; Deen was granted a village named Kush (in Burdwan zilla) by Maharaja Kshitisura, he became its chief and came to be known as Kushari."[2]
Childhood
Dwarakanath Tagore was a descendant of Rarhiya Brahmins of the Kushari (Sandilya gotra) division.
Their ancestors were called Pirali Brahmin, as they were connected to a Brahmin family which had converted to Islam.
[3][4]
He was the biological son of Rammani Tagore, son of Nilmoni Tagore, through Menoka Devi. But with the death of his mother, early in his birth, he was adopted by Rammani's brother Ramlochan Tagore and his wife Alokasundari Devi, who was incidentally the sister of Menoka Devi. Dwarakanth was the half brother of Radhanath and Ramanath Tagore, sons of Rammoni Tagore through Menoka Devi and Durga Devi respectively.
He was named so, because the Tagores were Baishnavites and Alokasundari,
Devi considered him as a boon of their "kuladevata" i.e. home deity -- Radhagobinda, hence named the child as a name of Lord Krishna.
Dwarakanth's mother [aunt], Alokasundari Devi was a woman of strong personality, which greatly influenced him in his childhood.
His early education and upbringing was within the family home (Thakur Bari) by Gayanth Bhattacharya "Tarkalankar", a pandit from Agradwip. He and his half-elder brother, Radhanath also studied Arbi and Farsi under a "maulavi" at home.
At age 10 in 1804, realising the importance of English education, he was admitted to Sherbourne's school on the Chitpur Road by Ramlochan Tagore. Mr. Sherbourne, a self-confessed half Brahmin (because of his Bengali Brahmin mother and English father) influenced Dwarakanath deeply with his liberal thoughts and eventually, he became one of Mr. Sherbourne's favourite pupils.
On 12 December 1807, Ramlochan died leaving all his property to his adopted son Dwarkanath, who was then a minor. This property consisted of zamindari estates governed by the complicated Regulations of Permanent Settlement introduced by Lord Cornwallis in 1792. The Zamindars were the ruling authority of a certain sub-division or region under The British ruling authority in India and they (the Zamindars) had the authority to collect tax or to rule their fellow residents inside the territory of their Zamindaris on behalf of the British Government in India. Therefore, to participate in the Zamindari left by his adopted father Ramlochan Thakur as the forthcoming Zamindar, Dwarkanath left school in 1810 at the age of 16 and apprenticed himself under a renowned barrister at Calcutta Robert Cutlar Fergusson and shuttled between Calcutta and his estates at Behrampore and Cuttack.[5]
His tryst with district magistrate William Willsby, while setting a dispute in Birahimpur, was a testimony to the courage and personality of a 16-year-old standing up to a tyrannical and hot-headed magistrate.
On 7 February 1811 Dwarkanath was married to Digambaridevi (then 9 years old) from Jessore.
Dwarkanath and Zamindari
Dwarkanath attained the rare quality of being
well versed in languages like English, Bengali, Arabic, Farsi
, etc. & also in the legal matters, which he studied under Robert Cutlar Fergusson.
He quickly realised the opportunity of enormous income to increase the family wealth (which was not much, compared to the other big zamindars) through translation jobs of property wills & other official documents.
He took upon his first assignment from the wealthy zamindar of Jessore, Baradakanta Roy, who promised him 2 guineas per line to translate a firman by Murshid Quli Khan from Arabic to English.
"As a zamindar Dwarkanath was mercilessly efficient and businesslike, but not generous".[6] Dwarkanath looked upon his investment in land as investment in any other business or enterprise and claimed what he deemed a fair return. In later years Dwarkanath would appoint European managers for his estates at Sahajadpur and Behrampore. In time Dwarkanath would convert his estates to integrated commercial-industrial complexes with indigo, silk and sugar factories. In the cut-throat world of zamindari politics Dwarkanath took no nonsense and gave no quarter to either European or native.
His knowledge of the tenancy laws stood him in good stead. Unlike his good friend Rammohan Roy, who pleaded for the rights of the poor ryots, Dwarkanath Tagore was the best corporate-minded entrepreneur of his contemporary age. His innovative ideas, sharp intelligence, disciplined approaches and dedication established his greatness in the history of Indian entrepreneurs of all time.
Service with the company
In 1822 Dwarkanath, while carrying on his private ventures, took additional service in the British East India Company as Shestidar to Trevor Plowden, Collector for the 24 Parganas. Although the pay was meagre at under Rs.500 per year, the prestige and avenues for additional income were considerable and gave Dwarkanath an intimate insight into the functioning of the government.
Trevor Plowden formed a lifelong friendship with Dwarkanath. In 1827 there arose a great scandal in the Salt Revenue department, centred on a dishonest Dewan. Because of Dwarkanath's own personal integrity and character, he was requested to take over as Dewan of the Board. He did not take long to rend asunder the network of corruption which resulted in a counter-petition against him to the Board accusing him of defalcation. To clear his name an enquiry was ordered which at each stage of enquiry — by the Board, by the Governor General and finally by the
India Office
at London — cleared him unreservedly. By then Dwarkanath had had enough of Government service and resigned in June 1834 to launch into his spectacular career as a full-time entrepreneur.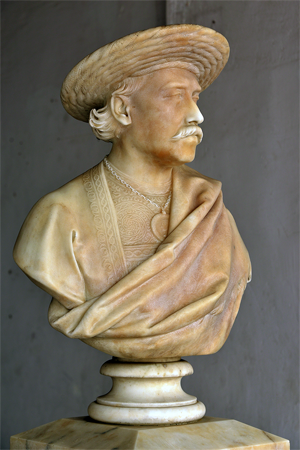 Bust of Dwarkanath Tagore at the National Library, Kolkata
Business life
Tagore was a western-educated Bengali Brahmin and an acknowledged civic leader of Kolkata who played a pioneering role in
setting up a string of commercial ventures—banking, insurance and shipping companies— in partnership with British traders. In 1828, he became the first Indian bank director. In 1829, he founded Union Bank in Calcutta.
While empire figured in metropolitan consciousness in London to an uneven degree, Calcutta was undoubtedly first and foremost an imperial city. The 'second city of the empire' and the British capital in India until 1911, Calcutta constituted the most important political and administrative centre of British power in India. Calcutta was also the most important commercial centre of the East India Company, acting as the trading hub for the opium, textile and jute industries. By 1856-7, Bengal contributed 44 per cent of the total British Indian revenue; in 1884-5 the figure remained as high as 25 per cent.35 The degree of revenue generated by the region has led Pradip Sinha to characterise Bengal as 'the most exploited region in colonial India, with Calcutta as the nodal point of this process of exploitation'.36 In the early nineteenth century, joint commercial enterprises between Europeans and the emergent Bengali bhadralok elite -- who has prospered as monied purchasers of estates following the Permanent Settlement of 1793 -- led to the creation of business networks which brought colonisers and colonised into mutual collaboration.37 The 1830s and 1840s have been characterised by Blair Kling as a 'Age of Enterprise', symbolised by Calcutta's largest business enterprise of the period, the Union Bank, which operated under joint European and Indian management with both European and Indian stockholders, and whose policy, until 1844, was essentially controlled by the zamindar (landowner), businessman and social leader Dwarkanath Tagore.38 Commercial collaborations of this kind were, of course, restricted in general to Calcutta's rich and powered elite.

When the trade and business connections between British and elite Bengali businessmen continued throughout the nineteenth century, the global financial crisis of 1848, which led to the collapse of the Union Bank and, ultimately, to the end of Calcutta as an independent centre of capital accumulation and investment, profoundly altered the nature of commercial relations between Britons and Bengali elites in the city. Post 1848, collaboration between Bengali and British businessmen became less common, capital investment came increasingly from Britain, and the economy of Eastern India was divided increasingly into an agrarian social order and a Calcutta-centred commercial world.39 As Andrew Sartori has observed, 'The Calcutta-centred commercial world would be marked as constitutively white and Western by the marked exclusivity of European control and management of capital-based enterprise -- in the sense of the profound subordination of the regional economy to the metropolitan capital market and in the sense of the racial exclusivity of the locally based business interests that were no longer dependent on native investment'.40 By the 1870s, the commercial collaboration evident in the 1830s and 1840s had been fractured irrevocably along racial lines.

The racial divisions which became increasingly apparent in the commercial sphere from the mid-nineteenth century were evident earlier in the spatial division of Calcutta into a 'White Town', based around Chowringhee, and a 'Black Town', located in the north of the city. Sinha has contended that the 'White Town' and the 'Black Town' were separated to such a degree that the former exerted little impact, at a 'cognitive level', on the latter.41 However, other historians have stressed the extent to which a variety of 'contact zones', facilitating interaction between Europeans and Calcuttans of all classes, emerged in the city in spite of the divisions between the two 'towns'.42 Such contact, however, always took place within the context of fundamental inequalities of power immanent in the imperial relationship.

The economy and topography of Calcutta, along with its status as the centre of British administrative power in India, lent the city an overtly imperial character in comparison to other Indian urban centres. The impact of Western culture was also particularly pronounced. The Calcutta bhadralok elite came to prominent not only as a result of economic opportunities generated by the Permanent Settlement, but also due to their access to English education, which facilitated their employment in a variety of lower-level Company and government positions. Calcutta was affected more than any other Indian city by the proliferation of institutions offering English education, which resulted from the triumph of the Anglicist camp in the Orientalist/Anglicist debates of the 1830s.43 A vast literature exists exploring the effects of English education in Bengal, and the role which Indian exposure to 'Western' knowledge played in engendering the 'Bengal renaissance'.

-- Keshab: Bengal's Forgotten Prophet, by John A. Stevens
He helped found the first[1] Anglo-Indian Managing Agency (industrial organizations that ran jute mills, coal mines, tea plantations, etc.,[7]) Carr, Tagore and Company.
Even earlier, Rustomjee Cowasjee, a Parsi in Calcutta, had formed an inter-racial firm but in the early 19th century, Parsis were classified as a Near Eastern community as opposed to South Asian.
Tagore's company managed huge zamindari estates spread across today's West Bengal and Odisha states in India, and in Bangladesh, besides holding large stakes in new enterprises that were tapping the rich coal seams of Bengal, running tug services between Calcutta and the mouth of the river Hooghly and transplanting Chinese tea crop to the plains of Upper Assam.
Carr, Tagore and Company was one of those Indian private companies engaged in the opium trade with China. Production of opium was in India and it was sold in China. When the Chinese protested, the East India Company transferred the opium trade to the proxy of certain selected Indian companies, of which this was one.
In 1832 Tagore purchased the first Indian coal mine in Raniganj,[1] which eventually became the Bengal Coal Company. Very large schooners were engaged in shipments. This made Dwarkanath extremely rich
, and there are legends about the extent of his wealth.
Dabbling in politics
Dwarkanath Tagore was of the firm conviction that at those times "the happiness of India is best secured by her connection with England".
Dwarkanath was no doubt a loyalist, and a sincere one at that, but he was by no means a toady. Servility was as far from his character as was lack of generosity from his nature. He was also firm in defending the interest and sentiments of his people against European prejudices. With this in view,
he established on 21 March 1838 an Association for Landholders (later known as the Landholder's Society). The association was overtly a self-serving political association, founded on a large and liberal basis, to admit landholders of all descriptions, Englishmen, Hindus, Muslims, and Christians.
What is interesting is that it cut across racial and religious divides being founded along with his old rival Raja Radhakanta Deb with whom he had earlier founded the Gaudiya Sabha. It was the first political association in India to ventilate in a constitutional manner the grievances of the people or a section of them that were outspoken.
From this grew the British Indian Association, the precursor to the Indian National Congress.
Death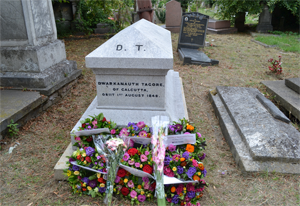 Monument of Dwarkanath Tagore at Kensal Green Cemetery London clicked on 11 August 2018.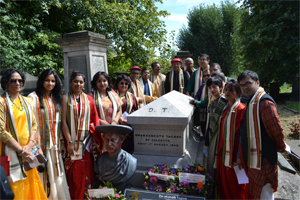 A commemoration to Dwarkanath Tagore at Kensal Green Cemetery on 11 August 2018 was organised by Bengal Heritage Foundation.
Dwarkanath Tagore died "at the peak of his fortune"[1] on the evening of 1 August 1846 at the St. George's Hotel in London during a tremendous thunderstorm with hail the size of walnuts.
He was buried at Kensal Green Cemetery on 5 August 1846 in a private ceremony without any religious observances.
His heart, which had been previously extracted, was sent to Calcutta to conduct the Brahmo rites amidst great controversy. After his death, a Death mask was made. However, the remains of the death mask and his heart have not yet been found in England or India and are presumably lost.
In his obituary, The London Mail newspaper of 7 August wrote:
"Descended from the highest Brahmin caste of India his family can prove a long and undoubted pedigree. But it is not on account of this nobility that we now review his life but on far better grounds. However gifted, his claims rest on a higher pedestal — he was the benefactor of his country... [T]hey testified to his merits in the encouragement of every public and private undertaking likely to benefit India."[8]
A commemoration, organised by Bengal Heritage Foundation, was held on 11 August 2018 at Kensal Green Cemetery to celebrate Dwarkanath's life and completion of phase 1 of conservation of his monument. Scores of people joined in the commemoration and with eulogies reflecting on business, social and philanthropic contributions. Jnanadanandini Devi, wife of India's first Civil Servant Satyendranath Tagore, elder brother of Nobel laureate Rabindranath Tagore, claimed in her book that while she was in London in 1878, she gave birth to a still-born baby and the baby was buried in Dwarkanath Tagore's grave area. Another two-year-old son of Jnanadanandini Devi, named 'Chobi' died in England during that tour. But it is not clear whether he was also buried in this grave or not.
References
1. Wolpert, Stanley (2009). A New History of India (8th ed.). New York, NY: Oxford UP. p. 221. ISBN 978-0-19-533756-3.
2. "https://ia801600.us.archive.org/BookReader/BookReaderImages.php?zip=/5/items/in.ernet.dli.2015.339410/2015.339410.Rabindrajibani-O_jp2.zip&file=2015.339410.Rabindrajibani-O_jp2/2015.339410.Rabindrajibani-O_0041.jp2&scale=13.50599520383693&rotate=0"
3. Thompson, Jr., E (1926), Rabindranath Tagore: Poet and Dramatist, Read, p. 12, ISBN 1-4067-8927-5, The [Tagores] are Pirili Brahmans [sic]; that is, outcastes, as having supposedly eaten with Musalmans in a former day. No strictly orthodox Brahman would eat or inter-marry with them.
4. (Dutta & Robinson 1995, pp. 17–18).
5. "History of the Adi Brahmo Samaj (1906)"
6. Kling, Blair B., Partner in Empire: Dwarkanath Tagore and the Age of Enterprise in Eastern India, p. 32. University of California Press, 1976; Calcutta, 1981. ISBN 0-520-02927-5
7. Kulke, Hermann; Rothermund, Dietmar (2004). A History of India (4th ed.). New York, NY: Routledge. p. 265. ISBN 0-415-32920-5. Retrieved 18 September 2011.
8. Kripalani, Krishna (1981). Dwarkanath Tagore, A Forgotten Pioneer: A Life. New Delhi, India: National Book Trust, India. pp. 246–7. Retrieved 18 September 2011.
Further reading
• Blair B Kling, Partner in Empire: Dwarkanath Tagore and the Age of Enterprise in Eastern India, University of California Press, 1976; Calcutta, 1981. ISBN 0-520-02927-5
• NK Sinha, The Economic History of Bengal 1793–1848, III, Calcutta, 1984.
• Sengupta, Subodh Chandra and Bose, Anjali (editors), 1976/1998, Sansad Bangali Charitabhidhan (Biographical dictionary) Vol I, (in Bengali), p223. ISBN 81-85626-65-0
External links
• Islam, Sirajul (2012). "Tagore, Prince Dwarkanath". In Islam, Sirajul; Jamal, Ahmed A. (eds.). Banglapedia: National Encyclopedia of Bangladesh (Second ed.). Asiatic Society of Bangladesh.