Brahmo
by Wikipedia
Accessed: 2/11/20
NOTICE: THIS WORK MAY BE PROTECTED BY COPYRIGHT
YOU ARE REQUIRED TO READ

THE COPYRIGHT NOTICE AT THIS LINK

BEFORE YOU READ THE FOLLOWING WORK, THAT IS AVAILABLE SOLELY FOR PRIVATE STUDY, SCHOLARSHIP OR RESEARCH PURSUANT TO 17 U.S.C. SECTION 107 AND 108. IN THE EVENT THAT THE LIBRARY DETERMINES THAT UNLAWFUL COPYING OF THIS WORK HAS OCCURRED, THE LIBRARY HAS THE RIGHT TO BLOCK THE I.P. ADDRESS AT WHICH THE UNLAWFUL COPYING APPEARED TO HAVE OCCURRED. THANK YOU FOR RESPECTING THE RIGHTS OF COPYRIGHT OWNERS.
A Bengali Brahmo or the traditional Bengali elites are Bengal's upper class. They form the bulk of the historical colonial establishment of eastern India. Educated mostly in a select few schools and colleges, they were one of the wealthiest and most anglicised communities of colonial India. Presidency College's control over the development of and continued influence on the Brahmos and vice versa was complete in the nineteenth and twentieth centuries.
Presidency University, Kolkata, formerly known as Hindoo College and Presidency College,[2] is a public state university located in College Street, Kolkata.[3] It is probably the oldest institution in the world to have no religious connection, having being established in 1817...

With the creation of the Supreme Court of Calcutta in 1773 many Hindus of Bengal showed an eager interest in learning the English language. David Hare, in collaboration with Raja Radhakanta Deb had already taken steps to introduce English language education in Bengal. Babu Buddinath Mukherjee advanced the introduction of English as a medium of instruction further by enlisting the support of Sir Edward Hyde East, Chief Justice of the Supreme Court of Fort William, who called a meeting of 'European and Hindu Gentlemen' at his house in May 1816.[9] The purpose of the meeting was to "discuss the proposal to establish an institution for giving a liberal education to the children of the members of the Hindu Community". The proposal was received with unanimous approbation and a donation of over Rs. 100, 000 was promised for setting up the new college.

Raja Ram Mohan Roy showed full support for the scheme, but chose not to come out in support of the proposal publicly for fear of "alarming the prejudices of his orthodox countrymen and thus marring the whole idea".[10]

The College was formally opened on Monday, 20 January 1817 with 20 'scholars'.

The foundation committee of the college, which oversaw its establishment, was headed by Raja Rammohan Roy.

The control of the institution was vested in a body of two Governors and four Directors. The first Governors of the college were Maharaja Tejchandra Bahadur of Burdwan and Gopee Mohan Thakoor. The first Directors were Gopi Mohun Deb of Sobhabazar, Joykissen Sinha, Radha Madhab Banerjee, and Gunganarain Doss. Buddinath Mukherjee was appointed as the first Secretary of the college.

The newly established college mostly admitted Hindu students from affluent and progressive families, but also admitted non-Hindu students such as Muslims, Jews, Christians and Buddhists.

At first, the classes were held in a house belonging to Gorachand Bysack of Garanhatta (later renamed 304, Chitpore Road), which was rented by the college. In January 1818 the college moved to 'Feringhi Kamal Bose's house' which was located nearby in Chitpore.[11] From Chitpore, the college moved to Bowbazar and later to the building that now houses

the Sanskrit College on College Street

.[12]

-- Presidency University, Kolkata, by Wikipedia
Drawn from the ranks of the newly emerging colonial ruling class, considered to be junior partners in the enterprise of the British Empire, the Brahmos were typically employed as Bengal Presidency governors, high court judges, commissioners, collectors, magistrates, railway managers, university vice chancellors, Presidency College and Calcutta Medical College principals and professors, research think tank directors as well as those who made their major profits in big business. Politically, they were considered to be moderates in nationalist politics, with the aim of joining council politics for the furtherance of the constitutional question within the framework of the Empire. Influenced by the teachings of the Upanishads.
Brahmo

Definition
A Brahmo (Bengali: ব্রাহ্ম) is either an adherent, with or without a diksha, of
Brahmoism
to the exclusion of all other sects, castes and even religions, except Hinduism, or a person with at least one Brahmo parent or guardian and who has never denied his faith. This definition has evolved from legal acts and juristic decree since previously "the word Brahmo did not admit of a clear definition."[1]
Spread
The 2001 Census of India [2] counted only 177 Brahmos in India
, but the number of followers (Brahmo Samajists) who constitute the wider community of
Brahmo Samaj
(assembly for Brahmo worship) is significantly higher, and reliably estimated at about 20, 000
Sadharan Brahmo Samajists
, 10, 000 other Brahmo denominations and 8, 000,000 declared Adi Dharmists.[3] Since the Brahmo Samaj does not sanction caste, many low caste Brahmo converts in Upper India, benefiting under India's social development policies, prefer to declare themselves as followers of
Adi Dharm
, a practice fostered by the Brahmo Samaj of North India since the 1931 census. A state-wise study by the Brahmo Conference Organisation has tabulated 7. 83 million Adi Dharm declarants in the 2001 Census.
Influence
A recent publication describes the disproportionate influence of Brahmos on India's development post-19th Century as unparalleled in recent times,[4] It states that the "... Brahmos are amongst the elite groups of modern India, along with the Parsis of Bombay, the Chitpavans of Pune, the Iyers, Nairs and Ayyangars of the South, the Kashmiri Pandits of Uttar Pradesh and the Kayasthas of the Punjab and Bihar..."
This publication further states that the Brahmos are "... the most cosmopolitan, having been overwhelmingly drawn from three castes – Brahmins, Vaidyas and Kayasthas – while the others were from a single caste..."
It was the Brahmos who played an important role in organizing the Indian Political Association, which was the forerunner to the Indian National Congress.
Brahmo Samaj
The
Brahmo Samaj
refers to the wider socio-religious community either following the principles for Brahmo worship or subscribing to membership of a Brahmo Samaj, which is an association established for maintaining premises for assembly and worship of Brahma. A follower or subscriber member of this community is referred to as Brahmo Samajist.
When is a Brahmo not a Brahmo Samajist?
One aspect of Brahmoism is recognition that not only explicit faith and worship makes for a Brahmo, but also genealogy, which is implicit. People with even a single Brahmo parent or a Brahmo guardian are treated as Brahmos until they absolutely renounce the Brahmo faith. This often causes tension within the Samaj, for example, when an offspring of a Brahmo follows communism or atheism or another religious belief without renouncing Brahmoism formally.
There are differing views between the Theist and Deist streams of Brahmoism on the retention of such people within the fold. Additionally, a Brahmo who opts not to subscribe to membership of a Brahmo Samaj remains a Brahmo but ceases to be a Brahmo Samajist.[5]
Co-faith and conversion
Brahmoism does not forbid its followers from retaining other faiths like Islam or Christianity. Neither is formal conversion to Brahmoism required nowadays, thereby affirming a very well settled legal controversy between Sir J.C. Bose and Rani Bhagwwan Koer[6] which states that a non-Brahmo Brahmo Samajist does not cease to be (say) a Hindu or Sikh by following the Samaj.
Brahmo families

Banerjee
• Sasipada Banerji (1840–1924), Social reformer.
o Sir Albion Rajkumar Banerjee, CSI, CIE (1871–1950), Diwan of Cochin.
• Amiya Charan Banerjee (1891–1968), Vice Chancellor of Allahabad University.
• Probha Banerji, first lady magistrate of India.
o Kalyan Banerji, Deputy Managing Director of the State Bank of India.
o Milon K. Banerji (1928–2010), Attorney General of India.
 Gourab Banerji, Additional Solicitor General of India.
Chakrabarty
• Nikhil Chakravarty, Founder-Editor, Mainstream Weekly.[7]
o Sumit Chakravarty, Editor, Mainstream Weekly.
• Uma Shehanobis (née Chakrabarty), Principal, Patha Bhavan, Calcutta.
Chattopadhayay
• Aghorenath Chattopadhyaya, Principal, Nizam's College, Hyderabad.
o Sarojini Naidu (1879–1949), Politician.
 Padmaja Naidu (1900–1975), Governor of West Bengal.
 Leela Naidu (1940–2009), Artist.
o Suhasini Chattopadhyay, Indian freedom fighter.
o Virendranath Chattopadhyaya (1880–1937), Indian nationalist.
o Harindranath Chattopadhyaya (1898–1990), Padma Bhushan, Member of Parliament, Vijayawada.
o Kamaladevi Chattopadhyaya, Padma Vibhushan, Social reformer.
 Krishna Chattopadhyay (1935–2009), Singer.
Bose
• Rajnarayan Basu, Writer and intellectual of the Bengal Renaissance.
o Krishnadhan Ghosh (son-in-law of Rajnarayan Basu), Civil Surgeon, Pabna, Bengal.
 Sri Aurobindo, Indian nationalist; vice principal of Baroda College.
• Girindrasekhar Bose, Psychoanalyst.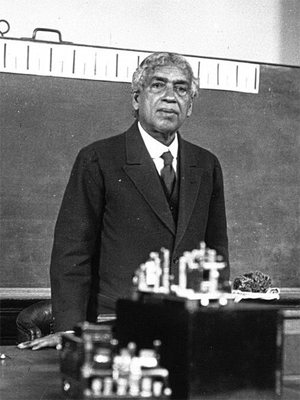 Jagadish Chandra Bose
• Sir Jagadish Chandra Bose (1858–1937), Polymath who was Professor of Physics, Presidency College, Calcutta.
• Lady Abala Bose (1864–1951), Social reformer who founded the Nari Sikhshya Samities.
o Debendra Mohan Bose (1887–1975) (Sir J.C. Bose was his maternal uncle), Director, Bose Institute, Calcutta
• Anandamohan Bose (1847–1906) (brother-in-law of Sir J.C. Bose and paternal uncle of D.M. Bose), Co-founder of Indian National Association; first Indian Wrangler at Cambridge University.
• Rajsekhar Bose (1880–1960), Author
• Girindrasekhar Bose (1887–1953), Psychiatrist.
Das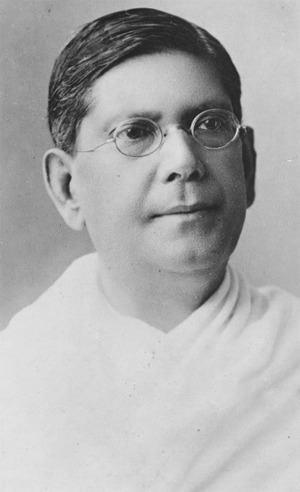 Chittaranjan Das
• Bhuban Mohan Das
o Chittaranjan Das, Mayor of Calcutta.
o Basanti Devi, Padma Vibhushan, Social reformer.
 Siddhartha Shankar Ray (grandson), Chief Minister of West Bengal.
 Justice Manjula Bose (granddaughter), Judge of the High Court of Calcutta.
 Jaidip Mukherjea (grandson) (1942-), Sportsman.
• Durga Mohan Das (1841–1897), Social reformer.
o Satish Ranjan Das (1870–1928), Law Member of the Viceroy's Executive Council; founder of Doon School.
 Shomie Ranjan Das (1935-), Headmaster of Doon School, Mayo College and Lawrence School, Sanawar.
• Rakhal Chandra Das
o Sudhi Ranjan Das, 5th Chief Justice of India.
 Group Captain Suranjan Das
 Anjana Sen (née Das)
 Ashoke Kumar Sen, Law Minister of India.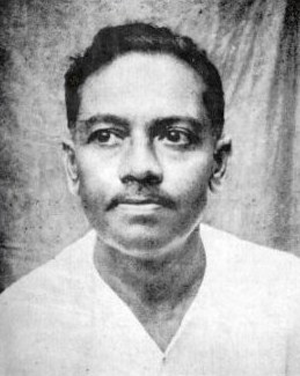 Jibanananda Das
• Kusumkumari Das, Social Worker.
o Jibanananda Das, Poet.
 Chidananda Dasgupta, Filmmaker.
• Beni Madhab Das (1866–1952), Social reformer.
o Bina Das (1911–1986), Member, West Bengal Legislative Assembly, 1947–51.
• Arun Kumar Das, FRCS (Eng. & Edin.) (1924–2015), Orthopedist; Professor, NRS Medical College and Hospital, Calcutta.
• Nandita Dutta (1935–2007), Founder-Principal, Patha Bhavan, Calcutta.
Dey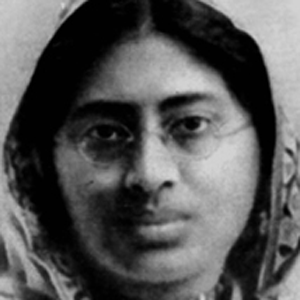 Saroj Nalini Dutt
• Brajendranath Dey, Esq., ICS (1852–1932), Bar-at-Law, Commissioner (Actg.) of Burdwan.
o Saroj Nalini Dutt (née Dey), M.B.E., (1887–1925), Social reformer.
o Hemanta Kumar Dey, Esq., Bar-at-Law, Presidency Magistrate, Calcutta.
o Lieutenant Colonel Jyotish Chandra Dey, (son-in-law), I.M.S., 2nd Indian Principal of Calcutta Medical College.
o Major (Hon.) Basanta Kumar Dey (1897–1975), 2nd Indian Commercial Traffic Manager, Bengal Nagpur Railway.
 Professor Barun Dey (1932–2013), Chairman, West Bengal Heritage Commission.
Dutta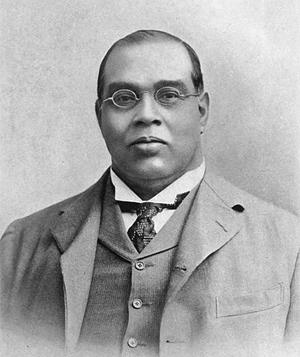 Romesh Chunder Dutt
• Romesh Chandra Dutta (1848–1908), C.I.E., Dewan of Baroda.
o Jnanendranath Gupta, Esq., ICS (son-in-law of R.C. Dutt), Commissioner of Chittagong.
 Sudhindranath Gupta, Esq., 1st Indian Commercial Traffic Manager, Bengal Nagpur Railway.
•
Akshay Kumar Datta
(1820–1886), Poet.
o Satyendranath Dutta (1882–1922), Poet.
Ganguly
• Dwarkanath Ganguly (1844–1898), Social reformer.
• Kadambini Ganguly (1861–1923), First female medical graduate in South Asia.
Gupta
• Behari Lal Gupta, ICS, (1849–1916), Dewan of Baroda.
o Satish Gupta, IAAS.
 Ranajit Gupta, ICS, Chief Secretary, West Bengal.
 Indrajit Gupta (1919–2001), Home Minister of India (1996–98).
 Sunanda K. Datta-Ray (1937-), Journalist.
• Sir Krishna Govinda Gupta, ICS, Member of the Secretary of States Council in London.
o Atul Prasad Sen, Barrister-at-Law, Lawyer, composer and singer.
Mahalanobis
• Gurucharan Mahalanobis, President and Treasurer of Brahmo Samaj.
• Subodh Chandra Mahalanobis, Founder of the Physiology Department of Presidency College, Calcutta; 1st Indian Head of Department of Physiology, University of Cardiff.
• Prabodh Chandra Mahalanobis.
o Prasanta Chandra Mahalanobis, F.R.S., pioneer statistician and teacher of statistics, Member, 1st Planning Commission of India.
Mitra
• Braja Sundar Mitra, Excise Collector, Calcutta.
o
 Deba Prasad Mitra (1902–1978), Pathologist.
• Peary Chand Mitra (1814–1883), Deputy Librarian, Calcutta Public Library.
• Kishori Chand Mitra (1822–1873), Police Magistrate.
Mukherjee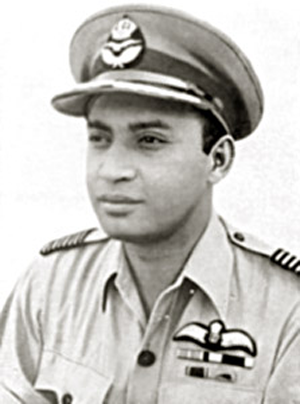 Subroto Mukherjee
• Nibaran Chandra Mukherjee, Social reformer.
o Satish Chandra Mukherjee (1865–1948), Educationist.
 Renuka Ray (née Mukherjee) (1904–1997), Politician.
 Subroto Mukerjee (1911–1960), First Chief of Air Staff of the Indian Air Force.
 Prasanta Mukherjee, Chairman, Railway Board.
Nag Chaudhuri
• Basanti Dulal Nag Chaudhuri, Physicist; Vice Chancellor, Jawaharlal Nehru University, New Delhi.
Pal
• Bipin Chandra Pal (1858–1932), Indian nationalist leader.
o Niranjan Pal (1889–1959), Playwright, screenwriter and director.
 Colin Pal (1923–2005), Film director.
 Deep Pal (1953-), Cinematographer.
o S. K. Dey (son-in-law), ICS, Union Minister for Panchayati Raj.
Palchaudhuri
• Ila Palchaudhuri, Member of Parliament, Nabadwip, 1957.
o Amitabha Palchaudhuri, Treasurer, Bengal Congress.
Ray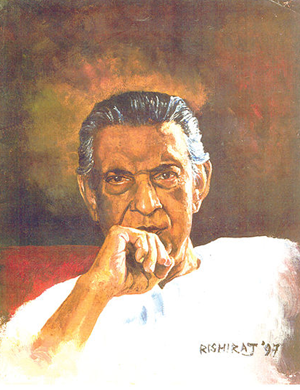 Satyajit Ray
• Upendrakishore Ray Chowdhury (1863–1915), Scholar and entrepreneur.
o Sukumar Ray (1887–1923), Writer.
 Satyajit Ray (1921–1992), Film-maker
 Bijoya Ray (1917–2015),
 Sandip Ray (1953-), Film-maker.
 Leela Majumdar (1908–2007), Author.
Roy
• Bidhan Chandra Roy, 2nd Chief Minister of West Bengal.
o Subimal Roy, Judge of the Supreme Court of India.
• Prasanna Kumar Roy (1849–1932), Educationist.
• Sarala Roy (1859–1946), Educationist.
o Charulata Mukherjee (née Roy), Social reformer.
Sanyal
• Trailokyanath Sanyal (1848–1950), Social reformer.
o Aruna Asaf Ali (née Ganguly), Indian freedom fighter and prominent leader of the Quit India Movement.
o Purmina Banerjee (née Ganguly), Member, Indian Constituent Assembly.
Sarkar
• Susobhan Sarkar (1900–1982), Professor of History, Presidency College, Calcutta.
o Sumit Sarkar (1939-), Professor of History, Delhi University.
Sen
• Bhupati Mohan Sen, Wrangler, 2nd Indian Principal of Presidency College, Calcutta, (son-in-law of Sir Nilratan Sircar)
o Monishi Mohan Sen (1920-2019), ICS Officer
o Subrata Kumar Sen (1924–2016), MIT Graduate, Electrical Engineering
o Abhijit Sen (son-in-law), Proprietor, Sen and Pandit Co. Ltd.
Sen family[8]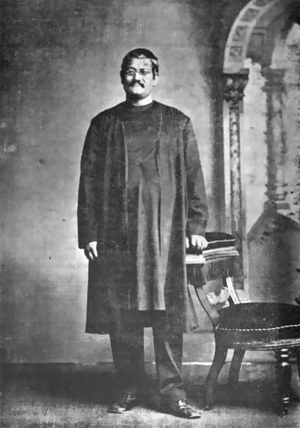 Keshab Chandra Sen
• Keshub Chandra Sen (1838–1884), Religious reformer & founder of the Nababidhan Brahmo Samaj.
o Suniti Devi (1864–1932), Maharani of Coochbehar & founder of Sammilan Brahmo Samaj.
o Sucharu Devi (1874–1961), Maharani of Mayurbhanj.
o Saral Chandra Sen, Bar-at-Law
 Sunit Chandra Sen, Collector, Calcutta Municipal Corporation.
 Benita Roy, Politician.
 Sadhana Bose, Artist.
 Nilina Singh, Singer.
 Pradip Chandra Sen, Deputy Managing Director, Mackinnon Mackenzie.
o Pramathalal Sen (1866–1930) (nephew of Keshub Chandra Sen), Social reformer.
o Benoyendranath Sen (1868–1913) (nephew of Keshub Chandra Sen), Social reformer and leader of the New Dispensation.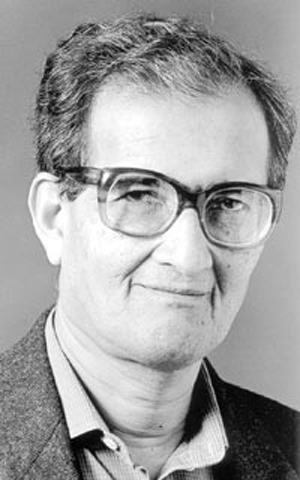 Amartya Kumar Sen
• Kshitimohan Sen (1880–1960), 2nd Vice Chancellor of Visva Bharati, Santiniketan.
o Ashutosh Sen (son-in-law), Chairman, West Bengal Public Service Commission.
 Amartya Sen (1933-), 1st Asian Master of Trinity College, Cambridge; Nobel Laureate in Economics.
• Barrister Kumud Nath Sen
o P.K. Sengupta, Income Tax Commissioner.
o K.P. Sen, Post-Master General, Eastern India.
o Malati Choudhury (née Sen), Social Worker.
• Nitish Chandra Sen, Mayor of Calcutta.
• Kamini Roy (née Sen) (1864–1933), Social reformer and poet.
Sinha
Baron Sinha family
• Satyendra Prasanno Sinha, 1st Baron Sinha (1863–1923), Politician.
o Rt. Honourable Sushil Kumar Sinha, ICS.
o Romola Sinha (1913–2010), Social reformer.
o Major N.P. Sen, IMS.
 Mohit Sen (grandson) (1929–2003), Politician.
Tagore

Tagore family[9]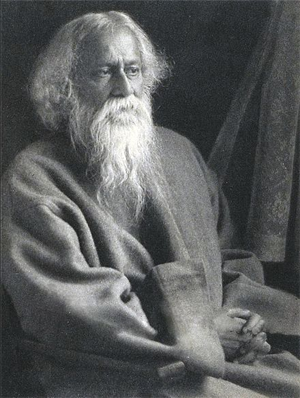 Rabindranath Tagore
• Debendranath Tagore (1817–1905), Social reformer.
o Satyendranath Tagore (1842–1923), First Indian ICS officer, (1863).
o Jnanadanandini Devi (1850–1941), Social reformer.
 Indira Devi Chaudhurani, Upacharya, Visva Bharati, Santiniketan.
 Surendranath Tagore, Author.
 Subirendranath Tagore
 Supriyo Tagore, Principal, Patha Bhavana, Santiniketan.
o Hemendranath Tagore (1844–1884), Religious savant, founder of Adi Dharm development of Brahmoism.
o Rabindranath Tagore (1861–1941), Bengali poet and Nobel laureate in Literature
• Swarnakumari Devi (1855–1932), Noted Bengali poet, novelist, musician and social worker.
Others
• Sir Nilratan Sircar(1861–1943), famous doctor, swadeshi entrepreneur, educationist, philanthropist, Vice-Chancellor of Calcutta University
• Heramba Chandra Maitra, famous educationist after whom Heramba Chandra College is named
• Sir Nalini Ranjan Chatterjee, Judge of the High Court of Calcutta.
• Kalinath Bose, first Indian Superintendent of Police.
• Uma Bose (1921–1942), Singer.
• Kiran Chandra De, ICS, Commissioner, Chittagong.
• Sib Chandra Deb, Deputy Collector in Bengal.
• Umesh Chandra Dutta, Founder of the Harinavi Brahmo Samaj.
• Sucheta Kriplani, First woman Chief Minister of an Indian State.
• Subrata Mitra (1931–2001), Padma Shri, Cameraman; Emeritus Professor, Satyajit Ray Film and Television Institute, Calcutta.
• Sir Brojendra Lal Mitter, Advocate General of Bengal.
• Harish Chandra Mukherjee, Journalist.
• Girish Chandra Sen, Translated the Quran into Bengali.
• Sir Nripendra Nath Sircar, Advocate General of Bengal.
• Shree Suresh Chandra Roy, Padma Bhushan, Sheriff of Calcutta (1957, 1958).
See also
• Brahmo Dharma
• History of Bengal
• Indian National Congress
• Kayastha
• Prarthana Samaj
• Tattwabodhini Patrika
• Trust deed of Brahmo Sabha
• Vaishya
References & notes
1. finding of the Legal member of Viceregal Council Sir Henry Maine cited in Pt. Sivanath Sastri's History of the Brahmo Samaj 1911/1912 1st edn. p.229
2. Minor religious groups Census of India data dissemination publication of 2006, limited circulation.
3. "Brahmo Samaj FAQ Frequently asked Questions". brahmo.org. Archived from the original on 2010-01-24. Retrieved 2019-09-23.[dubious – discuss]
4. Roy, Samaren (2005). Calcutta: Society and Change 1690–1990. iUniverse. ISBN 978-0-595-79000-5: Fair use of extract vide section 52(1)(f) of Indian Copyright Act, 1957
5. "DELHI BRAHMO SAMAJ". brahmo.org. Archived from the original on 2010-12-29. Retrieved 2019-09-23.
6. Rani Bhagwan Koer & Ors v. J.C.Bose & Ors 1903, 31 Cal 11 in the Privy Council of British Empire upholding the decision of the High Court of the Punjab 1897.
7. "Mainstream Weekly".
http://www.mainstreamweekly.net
.
8. "SEN FAMILY". members.iinet.net.au.
9. "Tagore Family".
External links
• brahmo.org
• brahmosamaj.org