Clemens Palme Dutt
by The Open University: Making Britain
Accessed: 3/20/20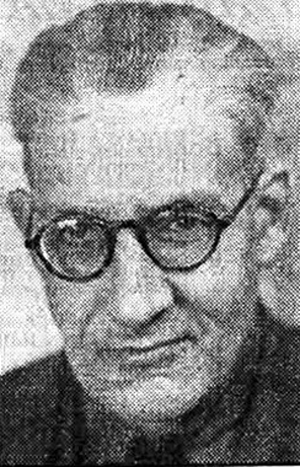 Date of birth: 15 Apr 1893, Cambridge, England
Date of death: 01 Apr 1975, Goring on Thames
Location: Cambridge, London.
Clemens Palme Dutt was the elder brother of Rajani Palme Dutt. Both were active in the Communist Party of Great Britain. Clemens worked as a journalist, translator and editor, in particular of the works of Marx and Engels. The brothers' Communist ideals were influenced from an early age by their father Dr Upendra Krishna Dutt's activities as a doctor in a working-class part of Cambridge.
Date of birth: 01 Jan 1857, Calcutta, India

Date of 1st arrival in Britain: 01 Jan 1876

Upendra Krishna Dutt travelled to Britain in 1875 or 1876 on a Gilchrist Scholarship to study medicine at London University. After qualifying, he remained in Britain practising at Leicester and then buying a medical practice in Cambridge. He faced a deal of racial prejudice in securing employment as a doctor after qualifying.

Dutt married the Swedish writer Anna Palme in England. She was a distant relative of Olaf Palme, later Swedish Prime Minister.

The Dutt family were close-knit despite financial insecurity.

From 1891, Dutt hosted the Cambridge Majlis society meetings in his home.

Two of Dutt's sons, Rajani and Clemens, became active members of the Communist Party of Great Britain....

Organizations:

Cambridge MajlisEast India Association-- Upendra Krishna Dutt, by The Open University, Making Britain
While at university, Clemens and Rajani were involved with the Socialist Club where both came to the attention of the British authorities and remained under constant surveillance.
Both brothers were founding members of the Communist Party of Great Britain (CPGB).
In the 1920s, both brothers were writing for Labour Monthly and for a time Clemens took over from his brother as editor. In the 1920s, he became actively involved with the Indian independence movement. Working as a journalist in London, he wrote in particular on India and the Indian independence struggle. In July 1923, he visited Berlin from Moscow, where he became closely associated with M. N. Roy, who was heading the Indian section of Comintern. He returned to London later that year under instructions from Comintern to assist Shapurji Saklatvala. In 1925, the CPGB established its own colonial bureau, which Clemens Palme Dutt headed. The bureau attempted to form connections in India, Palestine, China, Egypt and Ireland. He became the link between the CPGB colonial bureau the Comintern's Indian section and Indian Communists in Europe and India. In 1927, together with N. J. Upadhyaya and Ajoy Banerji, he founded the Indian Seamen's Union in London. By then he was also on the London Council of the Workers' Welfare League of India, working in close cooperation with Saklatvala. During this period Palme Dutt visited Liverpool several times to help with the organization of Indian seamen by local Communists active in the port.
In March 1928, Clemens Palme Dutt was asked by Reginald Bridgeman to join the Executive Committee of the British Section of the League Against Imperialism. In 1928, Palme Dutt returned to Moscow as a member of a sub-committee of the Executive Committee of the Comintern to advise on the Indian situation. In the 1930s, he worked on the editorial staff of the Daily Worker, the organ of the Communist Party of Great Britain, and acted as the Chairman of the Indian Section of the Communist Party of Great Britain. He also represented the Indian Seamen's Union on the Executive of the League Against Imperialism. Palme Dutt worked as part of the Meerut Prisoners' Defence Committee. In August 1930, he replaced Percy Glading as head of the Colonial Department of the CPGB. In 1930, together with Saklatvala, he helped to found the Workers' Section of the London Branch of the Indian National Congress. In June 1931, he was part of a sub-committee of the Colonial Bureau of the CPGB to organize Indian students in Britain.
In late 1931 he moved to Berlin and later to Moscow where he met Violet Lansbury (daughter of George Lansbury, leader of the Labour Party in the early 1930s) whom he married in 1936 and with whom he had a daughter. During the Spanish Civil War, Palme Dutt worked together with Krishna Menon and the India League to collect donations for an ambulance for Spanish Republicans. By early 1939 Palme Dutt, his wife and daughter had returned to Britain permanently. He continued to work for the CPGB, addressing meetings and writing articles.
Connections:
Robert Page Arnot, Olive Budden, Ajoy Banerji, Reginald Bridgeman, Rose Cohen, Claud Cockburn, Shripat Amrit Dange, Upendra Krishna Dutt (father), Rajani Palme Dutt (brother), Pazl Elahi, Percy Glading, Don Phillip Rupasangha Gunawardena, W. M. Holmes, Douglas Hyde, George Lansbury, Harold Laski, V. K. Krishna Menon, Jawaharlal Nehru, Sylvia Pankhurst, Picasso, M. P. Rathbones, M. N. Roy, Bill Rust, Shapurji Saklatvala, Pulin Behari Seal, Mohamed Ali Sepassi (Khushi Mohammed), Philip Spratt, Robert Stuart, John Strachey, N. J. Upadhyaya.
Communist Club, Battersea; Communist Party of Great Britain; Indian Bureau; Indian Seamen's Union; Meerut Prisoners Defence Committee; National Union of Journalists; Workers' Welfare League for India.
Network:
Shapurji Saklatvala
Rajani Palme Dutt
Krishna Menon
Organizations:
Indian Writing
Lawrence & Wishart
League Against Imperialism
Involved in events:
Meerut Conspiracy Trials
Published works:
Biology: An Introductory Course for Casses and Study Circles (London: Labour Research Department, 1925)
Labour and the Empire (London: Communist Party of Great Britain, 1929)
As editor and translator:
Engels, Friedrich, Herr Eugen Duehring's Revolution in Science-Anti-Duehring, trans. by Emile Burns and ed. by C. P. Dutt (London: Martin Lawrence, 1934)
Engels, Friedrich, Ludwig Feuerbach and the Outcome of Classical German Philosophy...With an appendix of other material of Marx and Engels relating to dialectical materialism, ed. by C. P. Dutt (London: Martin Lawrence, 1934)Engels, Friedrich, The Housing Question, ed. by C. P. Dutt (London: Martin Lawrence, 1935)
Marx, Karl, The Poverty of Philosophy, with an introduction by Frederick Engels, ed. by C. P. Dutt and V. Chattopadhyaya (London: Martin Lawrence, 1936)
Frolov, Yury Petrovitch, Pavlov and his School. The Theory of Conditioned Reflexes, trans. by C. P. Dutt (London: Kegan Paul & Co., 1937)
Critique of the Gotha Programme...With Appendices by Marx, Engels and Lenin, ed. by C. P. Dutt (London: Lawrence & Wishart, 1938)
Engels, Friedrich, Dialectics of Nature, trans. by C. P. Dutt (London: Lawrence & Wishart, 1940)
Marx, Karl, Selected Works of Karl Marx, ed. by C. P. Dutt (London: Lawrence & Wishart, 1942)
The Soviet Worker Looks at the War: Selections from the Moscow Fortnightly War and the Working Class, ed. by C. P. Dutt (London: Labour Monthly, 1944)
Kommunistische Partei Deutschlands, Weissbuch der Kommunistischen Partei Deutschlands ueber die muendliche Verhandlung im Verbotsprozess...in Karlsruhe ('The Karlsruhe Trial for banning the Communist Party of Germany'), trans. by C. P. Dutt (London: Lawrence & Wishart, 1956)
Contributions to periodicals:
Daily Worker
Labour Monthly
Secondary works:
'Announcement of Death', The Times (14 April 1975), p. 24
Owen, Nicholas, The British Left and India (Oxford: Oxford University Press, 2007)
Visram, Rozina, Asians in Britain: 400 Years of History (London: Pluto, 2002)
Archive source:
L/PJ/12/28, India Office Records, Asian and African Studies Reading Room, British Library, St Pancras
L/PJ/12/29, India Office Records, Asian and African Studies Reading Room, British Library, St Pancras
KV2/2504, National Archives, Kew
KV2/2505, National Archives, Kew