Brooke Dolan II
by Wikipedia
Accessed: 3/15/20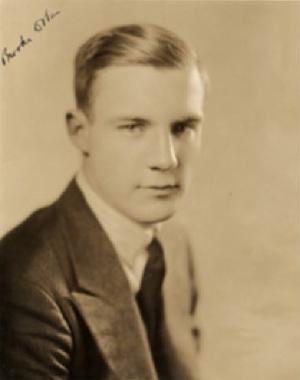 Brooke Dolan II (1908 – Chongqing, China, August 19 or 29, 1945) was an American adventurer and naturalist in the 1930s and 1940s.[1][2][3]
His father was Brooke Dolan, a wealthy American industrialist in Philadelphia. During World War II, he served as a lieutenant and captain.
[4][5]
Overview
Brooke Dolan II was educated at Princeton University and Harvard University.[1][4][6][7] He was a trustee of the Academy of Natural Sciences in Philadelphia. He led two expeditions to China and eastern Tibet in 1931 to 1932 and 1934 to 1936.[4][7][8] The first expedition comprised Ernst Schäfer, a German zoologist, Gordon Bowles, Otto Gneiser, and Hugo Weigold.[4][8] The second comprised Schäfer[4][7][8] and Marion Duncan, an American missionary.
Dolan's second expedition may have been motivated partly by the need to take a leave of absence from Philadelphia society after a January 1934 arrest on disorderly conduct charges.[4]
On April 15, 1934, Dolan married Emilie Campan Gerhard, daughter of Albert Pepper Gerhard, of Overbrook, Philadelphia[6] who accompanied him for a while on his second trip to China.[4]
Dolan joined the United States Army Air Forces after the attack on Pearl Harbor.[1][4] In 1942 he traveled to Lhasa with Ilia [Ilya Andreyevich] Tolstoy, a grandson of Leo Tolstoy, as a member of the Office of Strategic Services (OSS), to meet with the Tibetan government. On December 20, 1942, they met the young 14th Dalai Lama and his Regent, the 3rd Taktra Rinpoche.[5][7][9] They were the first Americans ever to meet a Dalai Lama.[5] Tolstoy and Dolan, who were nicknamed "Mud" and "Slug" by their fellow OSS officers, both received the Legion of Merit for the mission.[9][10] They are considered to have gone beyond their authority in leading the Tibetan government to believe the United States had given international political recognition to Tibet.
After the Tibetan expedition Dolan transferred from the OSS to the Army Air Forces and joined the United States Military Observer Group in Yunnan, China.[1][11] Dolan died in Chongqing, China. According to some accounts, he was killed on an OSS mission to rescue downed Allied bomber crews;[1] according to other accounts, he took his own life on August 19, 1945.[3]
References
1. Beolens, Bo; Watkins, Michael (2003). Whose Bird? Common Bird Names and the People They Commemorate. New Haven, London: Yale University Press. p. 108. ISBN 0-300-10359-X. LCCN 2003113608.
2. The Anglers' Club Story, Our First Fifty Years, 1906-1956. Anglers' Club of New York. 1956. p. 47.
3. Meyer, Karl E.; Brysac, Shareen Blair (2006). Tournament of Shadows: The Great Game and the Race for Empire in Central Asia. New York: Basic Books. p. 550. ISBN 978-0-465-04576-1.
4. Meyer & Brysac 2006, pp. 534–536
5. Starks, Richard (2012). Lost in Tibet: The Untold Story of Five American Airmen, a Doomed Plane, and the Will to Survive. Rowman & Littlefield. pp. 90–92. ISBN 978-0-7627-8931-3.
6. Carter, Thomas T. (May 11, 1934). "Tibetan Explorer Trapped". Princeton Alumni Weekly. XXXIV (31): 716.
7. Coleman, Katie. "PhilaPlace - Academy of Natural Sciences: From Science to War – Brooke Dolan II of The Academy of Natural Sciences". Historical Society of Pennsylvania. Retrieved July 29, 2017.
8. Troelstra, A.S. (2016). Bibliography of Natural History Travel Narratives. Brill Publishers. p. 375. ISBN 9789004343788.
9. Moon, Tom (2000). This Grim and Savage Game: OSS and the Beginning of U.S. Covert Operations in World War II. Da Capo Press. pp. 76–79. ISBN 0-306-80956-7.
10. Meyer & Brysac 2006, p. 546
11. Meyer & Brysac 2006, p. 548
Sources
• Meyer, Karl Ernest; Brysac, Shareen Blair (2006). Tournament of Shadows: The Great Game and the Race for Empire in Central Asia. Basic Books. ISBN 978-0-465-04576-1.
• Dolan II, Brooke, Road to the Edge of the World, Frontiers, October 1936, pages 5–9
• Dolan II, Brooke, Road to the Edge of the World, Proceedings of the Academy of Natural Sciences (Philadelphia), 1937
• Duncan, Marion, The Yangtze and the Yak, Alexandria Va, 1952
• Hale, Christopher, Himmler's Crusade, Hoboken NJ: Wiley & Sons, 2003
• Knaus, John Kenneth, Orphans of the Cold War: America and the Tibetan Struggle for Survival, Chapter 1, New York: Public Affairs, 1999
***********************************
The OSS and the Dalai Lama
by Rob Crotty
National Archives Office of Strategy and Communications staff writer
February 8, 2011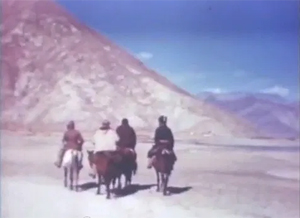 OSS spies Brooke Dolan and Ilia Tolstoy traveling to Lhasa (still from "Inside Tibet", Records of the Office of Strategic Services)
In the summer of 1942, the Allies' war against Japan was in dire straits. China was constantly battling the occupying Japanese forces in its homeland, supplied by India via the Burma Road. Then Japan severed that supply artery. Planes were flown over the Himalayan mountains, but their payloads were too little, and too many pilots crashed in the desolate landscape to continue the flights.
The Allies were desperate to find a land route that would reconnect China and India. The task fell to two OSS men—Ilia Tolstoy, the grandson of Leo Tolstoy, and explorer Capt. Brooke Dolan. To complete the land route would require traversing Tibet, and to traverse the hidden country required the permission of a seven-year-old boy, the Dalai Lama.
When the two men arrived in Lhasa, the remote capital of Tibet, these spies were received as ambassadors. A military brass band played, and they were treated as guests of honor in a city that only a few decades earlier had forbidden Westerners to enter.
They came carrying a message from President Franklin Delano Roosevelt. On December 20, at 9:20 in the morning, they were granted an audience with His Holiness. As a further sign of his respect for these two emissaries, the men were allowed to ride horses up the Potala to the quarters of the Dalai Lama. After a brief wait, they entered the highest room in Lhasa. Lt. Col. Ilia Tolstoy wrote of his first glimpse of Tibet's leader in a 1946 National Geographic:
His Holiness was seated cross-legged, a high-peaked yellow hat on his head. We were immediately impressed by his young but stern face and not at all frail constitution. His cheeks were a healthy pink.
Tolstoy proceeded through the tradition of offering gifts to the Dalai Lama—bread and butter followed by an image of Buddha, a religious book, and a chorten (a Buddhist reliquary). Then, for the first time in history, he made direct contact between the Dalai Lama and the President of the United States by passing a letter written by FDR to the young leader.
After half an hour of discussion, the men left. A week later, they received the permission they were seeking to cross Tibet. It was the first such permission granted in 22 years, according to Tolstoy.
Five months later, they crossed the Tibetan plateau, and the two men arrived in northern China, completing their journey. They had traveled over a thousand miles and spent over a hundred days in the saddle to pioneer a route to connect allied supplies with allied fighters across some of the world's harshest terrain. Their mission was complete.
While the route was never employed during the war—a diplomatic crisis prevented its use, and planes continued to fly "the hump" across the Himalayan mountains—Tolstoy and Brooke made history, bridging two cultures that before had never formally met. Brooke Dolan filmed the entire journey, and the reels are now housed in the motion picture holdings of the National Archives. The video is below.
For more on spies and the National Archives, join us at 7 p.m. tonight at the International Spy Museum for "Spies and Conspiracies: Espionage in the Civil War." For more footage from the OSS, CIA, and FBI, you can pick up our latest offering from the National Archives eStore: FBI/CIA Films Declassified.
http://www.youtube-nocookie.com/v/cBgP9 ... n_US&rel=0
***********************************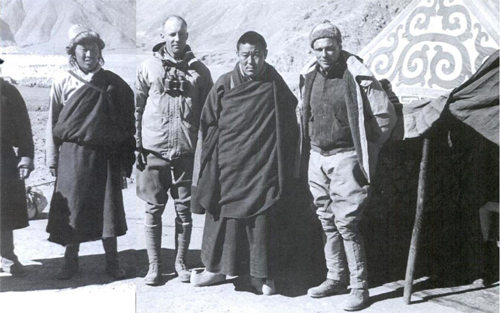 Description: Brooke Dolan (second from left) and Ilya Tolstoy (right) with their monk-interpreter, Kusho Yonton Singhe, standing in front of a traditional Tibetan tent set up outside Lhasa for the expedition's official greeting ceremony. Date 1942. Author Brooke Dolan and Ilya Tolstoy.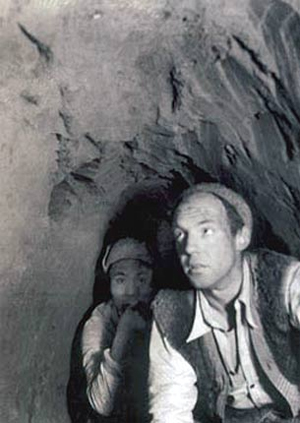 US Captain Brooke Dolan II in local tunnel warfare in north China in 1945. [File photo] Captain Brooke Dolan II traveled to the central battlefront of Hebei province as a US observer in January of 1945 when China was undergoing the final crucial phase of the anti-Japanese war. The captain visited the local tunnel warfare and marveled at the fortifications created by the Chinese people. Unfortunately, his where-abouts were detected by the Japanese military and soon he was surrounded. The captain was escorted by Shi Shaohua, deputy editor-in-chief of Jinchaji Huabao (a local official magazine), and retreated together with the local people. In the tunnel, he, together with the residents, was saved at the cost of the life of an eight-month-old crying baby, who was suffocated to death by his mother with her breast in order not to be heard by the enemies.
-- US captain's China adventure, by ChinaDaily.com, 8/24/15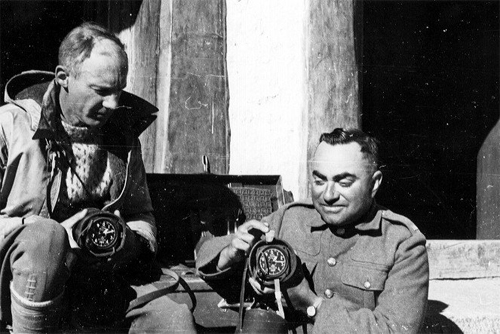 In October 1942, Brooke Dolan II traveled with fellow OSS officer Ilya Tolstoy to Lhasa, and met the young Dalai Lama, Tenzin Gyatso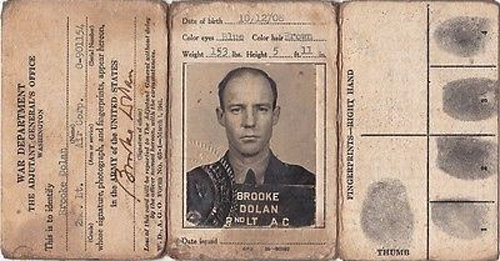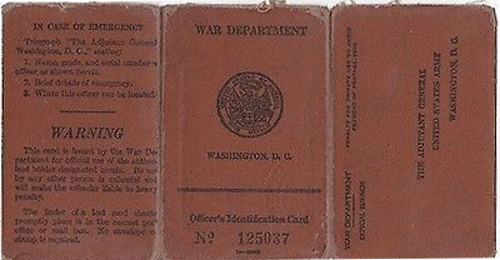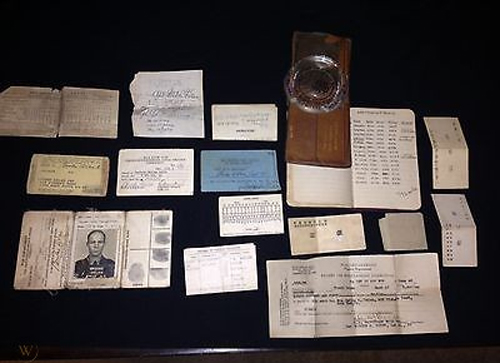 Brooke Dolan WWII OSS, Tibet Expedition ID Card, Wallet, Notebook & Ephemera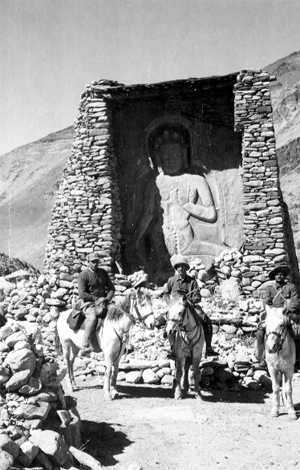 Count Ilya Tolstoy, left, Captain Brooke Dolan, centre, and a mounted Gurkha guide can be seen riding across Tibet in 1942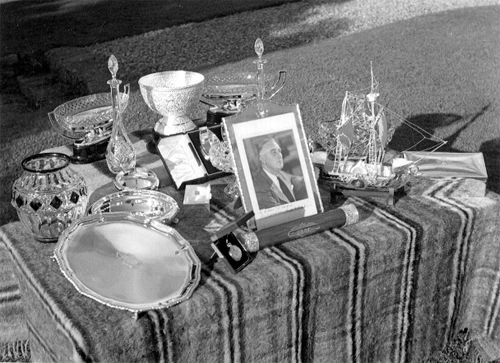 With the silver framed photograph of President Roosevelt went a personal letter to the Dalai Lama in a cylindrical casket, a gold watch and other gifts. The silver galleon (right centre) was presented to His Holiness by Colonel Tolstoy and Captain Dolan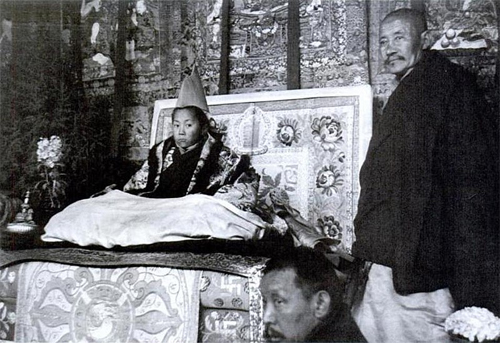 Description: English: The Dalai Lama, photographed in 1942 by the official United States expedition to Tibet headed by Ilya Tolstoy and Brooke Dolan. Date 20 December 1942. Source https://books.google.fr/books?hl=fr&id=bHnJSq8yH4AC&dq. Author Brooke Dolan and Ilya Tolstoy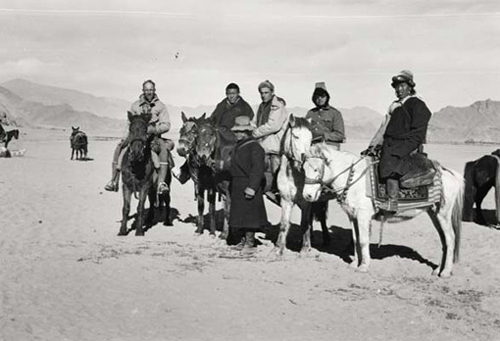 Members of the 1943 Dolan expedition to Tibet. Brooke Dolan is on the left. Ilya Tolstoy, grandson of Leo Tolstoy, is just to the right of the man on foot. Ewell Sale Stewart Library & Archives Coll. no. 64.