Part 1 of 2
William Morris
by Wikipedia
Accessed: 3/27/20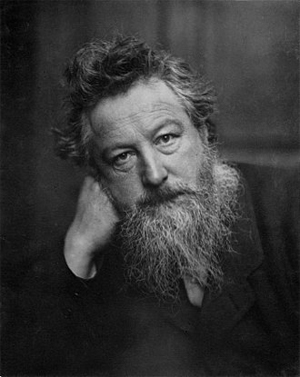 William Morris
William Morris by Frederick Hollyer, 1888
Born: 24 March 1834, Walthamstow, Essex, England
Died: 3 October 1896 (aged 62), Hammersmith, Middlesex, England
Occupation: Artist, designer, writer, socialist
Known for: Wallpaper and textile design, fantasy fiction / medievalism, socialism
Notable work: News from Nowhere, The Well at the World's End
Spouse(s): Jane Burden (m. 1859)
Children: Jenny Morris; May Morris
William Morris (24 March 1834 – 3 October 1896) was a British textile designer, poet, novelist, translator, and socialist activist associated with the British Arts and Crafts Movement. He was a major contributor to the revival of traditional British textile arts and methods of production. His literary contributions helped to establish the modern fantasy genre, while he played a significant role proliferating the early socialist movement in Britain.
Morris was born in Walthamstow, Essex to a wealthy middle-class family. He came under the strong influence of medievalism while studying Classics at Oxford University, there joining the Birmingham Set. After university, he trained as an architect, married Jane Burden, and developed close friendships with Pre-Raphaelite artists Edward Burne-Jones and Dante Gabriel Rossetti and with Neo-Gothic architect Philip Webb. Webb and Morris designed Red House in Kent where Morris lived from 1859 to 1865, before moving to Bloomsbury, central London. In 1861, Morris founded the Morris, Marshall, Faulkner & Co. decorative arts firm with Burne-Jones, Rossetti, Webb, and others, which became highly fashionable and much in demand. The firm profoundly influenced interior decoration throughout the Victorian period, with Morris designing tapestries, wallpaper, fabrics, furniture, and stained glass windows. In 1875, he assumed total control of the company, which was renamed Morris & Co.
Morris rented the rural retreat of Kelmscott Manor, Oxfordshire from 1871 while also retaining a main home in London. He was greatly influenced by visits to Iceland with Eiríkr Magnússon, and he produced a series of English-language translations of Icelandic Sagas. He also achieved success with the publication of his epic poems and novels, namely The Earthly Paradise (1868–1870), A Dream of John Ball (1888), the Utopian News from Nowhere (1890) and the fantasy romance The Well at the World's End (1896). In 1877, he founded the Society for the Protection of Ancient Buildings to campaign against the damage caused by architectural restoration. He embraced Marxism and was influenced by anarchism in the 1880s and became a committed revolutionary socialist activist. He founded the Socialist League in 1884 after an involvement in the Social Democratic Federation (SDF), but he broke with that organization in 1890. In 1891, he founded the Kelmscott Press to publish limited-edition, illuminated-style print books, a cause to which he devoted his final years.
Morris is recognised as one of the most significant cultural figures of Victorian Britain. He was best known in his lifetime as a poet, although he posthumously became better known for his designs. The William Morris Society founded in 1955 is devoted to his legacy, while multiple biographies and studies of his work have been published. Many of the buildings associated with his life are open to visitors, much of his work can be found in art galleries and museums, and his designs are still in production.
Early life

Youth: 1834–1852
Morris was born at Elm House in Walthamstow, Essex, on 24 March 1834.[1] Raised into a wealthy middle-class family, he was named after his father, a financier who worked as a partner in the Sanderson & Co. firm, bill brokers in the City of London.[2] His mother was Emma Morris (née Shelton), who descended from a wealthy bourgeois family from Worcester.[3] Morris was the third of his parents' surviving children; their first child, Charles, had been born in 1827 but died four days later. Charles had been followed by the birth of two girls, Emma in 1829 and Henrietta in 1833, before William's birth. These children were followed by the birth of siblings Stanley in 1837, Rendall in 1839, Arthur in 1840, Isabella in 1842, Edgar in 1844, and Alice in 1846.[4] The Morris family were followers of the evangelical Protestant form of Christianity, and William was baptised four months after his birth at St. Mary's Church, Walthamstow.[5]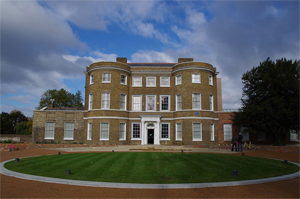 Water House, Morris' childhood home; renovated in 2012, it now houses The William Morris Gallery
As a child, Morris was kept largely housebound at Elm House by his mother; there, he spent much time reading, favouring the novels of Walter Scott.[6] Aged 6, Morris moved with his family to the Georgian Italianate mansion at Woodford Hall, Woodford, Essex, which was surrounded by 50 acres of land adjacent to Epping Forest.[7] He took an interest in fishing with his brothers as well as gardening in the Hall's grounds,[8] and spent much time exploring the Forest, where he was fascinated both by the Iron Age earthworks at Loughton Camp and Ambresbury Banks and by the Early Modern Hunting Lodge at Chingford.[9] He also took rides through the Essex countryside on his pony,[10] and visited the various churches and cathedrals throughout the country, marveling at their architecture.[11] His father took him on visits outside of the county, for instance to Canterbury Cathedral, the Chiswick Horticultural Gardens, and to the Isle of Wight, where he adored Blackgang Chine.[12] Aged 9, he was then sent to Misses Arundale's Academy for Young Gentlemen, a nearby preparatory school; although initially riding there by pony each day, he later began boarding, intensely disliking the experience.[13]
In 1847, Morris's father died unexpectedly. From this point, the family relied upon continued income from the copper mines at Devon Great Consols, and sold Woodford Hall to move into the smaller Water House.[14] In February 1848 Morris began his studies at Marlborough College in Marlborough, Wiltshire, where he gained a reputation as an eccentric nicknamed "Crab". He despised his time there, being bullied, bored, and homesick.[15] He did use the opportunity to visit many of the prehistoric sites of Wiltshire, such as Avebury and Silbury Hill, which fascinated him.[16] The school was Anglican in faith and in March 1849 Morris was confirmed by the Bishop of Salisbury in the college chapel, developing an enthusiastic attraction towards the Anglo-Catholic movement and its Romanticist aesthetic.[17] At Christmas 1851, Morris was removed from the school and returned to Water House, where he was privately tutored by the Reverend Frederick B. Guy, Assistant Master at the nearby Forest School.[18]
Oxford and the Birmingham Set: 1852–1856
In June 1852 Morris entered Oxford University's Exeter College, although since the college was full, he only went into residence in January 1853.[19] He disliked the college and was bored by the manner in which they taught him Classics.[20] Instead he developed a keen interest in Medieval history and Medieval architecture, inspired by the many Medieval buildings in Oxford.[21] This interest was tied to Britain's growing Medievalist movement, a form of Romanticism that rejected many of the values of Victorian industrial capitalism.[22] For Morris, the Middle Ages represented an era with strong chivalric values and an organic, pre-capitalist sense of community, both of which he deemed preferable to his own period.[23] This attitude was compounded by his reading of Thomas Carlyle's book Past and Present (1843), in which Carlyle championed Medieval values as a corrective to the problems of Victorian society.[24] Under this influence, Morris's dislike of contemporary capitalism grew, and he came to be influenced by the work of Christian socialists Charles Kingsley and Frederick Denison Maurice.[25]
At the college, Morris met fellow first-year undergraduate Edward Burne-Jones, who became his lifelong friend and collaborator. Although from very different backgrounds, they found that they had a shared attitude to life, both being keenly interested in Anglo-Catholicism and Arthurianism.[26] Through Burne-Jones, Morris joined a group of undergraduates from Birmingham who were studying at Pembroke College: William Fulford, Richard Watson Dixon, Charles Faulkner, and Cormell Price. They were known among themselves as the "Brotherhood" and to historians as the Birmingham Set.[27] Morris was the most affluent member of the Set, and was generous with his wealth toward the others.[28] Like Morris, the Set were fans of the poet Alfred, Lord Tennyson, and would meet together to recite the plays of William Shakespeare.[29]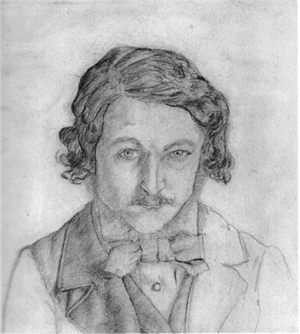 William Morris self-portrait, 1856; Morris grew his beard that year, after leaving university.[30]
Morris was heavily influenced by the writings of the art critic John Ruskin, being particularly inspired by his chapter "On the Nature of Gothic Architecture" in the second volume of The Stones of Venice; he later described it as "one of the very few necessary and inevitable utterances of the century".[31] Morris adopted Ruskin's philosophy of rejecting the tawdry industrial manufacture of decorative arts and architecture in favour of a return to hand-craftsmanship, raising artisans to the status of artists, creating art that should be affordable and hand-made, with no hierarchy of artistic mediums.[32][33] Ruskin had achieved attention in Victorian society for championing the art of a group of painters who had emerged in London in 1848 calling themselves the Pre-Raphaelite Brotherhood. The Pre-Raphaelite style was heavily Medievalist and Romanticist, emphasising abundant detail, intense colours and complex compositions; it greatly impressed Morris and the Set.[34] Influenced both by Ruskin and by John Keats, Morris began to spend more time writing poetry, in a style that was imitative of much of theirs.[35]
Both he and Burne-Jones were influenced by the Romanticist milieu and the Anglo-Catholic movement, and decided to become clergymen in order to found a monastery where they could live a life of chastity and dedication to artistic pursuit, akin to that of the contemporary Nazarene movement. However, as time went on Morris became increasingly critical of Anglican doctrine and the idea faded.[36] In summer 1854, Morris travelled to Belgium to look at Medieval paintings,[37] and in July 1855 went with Burne-Jones and Fulford across northern France, visiting Medieval churches and cathedrals.[38] It was on this trip that he and Burne-Jones committed themselves to "a life of art".[39] For Morris, this decision resulted in a strained relationship with his family, who believed that he should have entered either commerce or the clergy.[40] On a subsequent visit to Birmingham, Morris discovered Thomas Malory's Le Morte d'Arthur, which became a core Arthurian text for him and Burne-Jones.[41] In January 1856, the Set began publication of The Oxford and Cambridge Magazine, designed to contain "mainly Tales, Poetry, friendly critiques and social articles". Mainly funded by Morris, who briefly served as editor and heavily contributed to it with his own stories, poems, reviews and articles, the magazine lasted for twelve issues, and garnered praise from Tennyson and Ruskin.[42]
Apprenticeship, the Pre-Raphaelites, and marriage: 1856–1859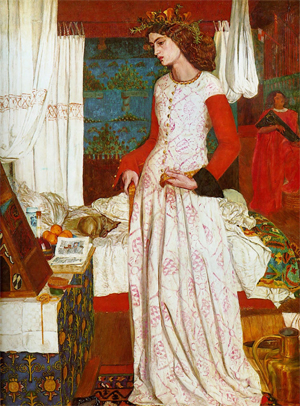 Morris's 1858 painting La belle Iseult, also inaccurately called Queen Guinevere, is his only surviving easel painting, now in the Tate Gallery. The model is Jane Burden, who married Morris in 1859.
Having passed his finals and been awarded a BA, Morris began an apprenticeship with the Oxford-based Neo-Gothic architect George Edmund Street in January 1856. His apprenticeship focused on architectural drawing, and there he was placed under the supervision of the young architect Philip Webb, who became a close friend.[43] Morris soon relocated to Street's London office, in August 1856 moving into a flat in Bloomsbury, Central London with Burne-Jones, an area perhaps chosen for its avant-garde associations.[44] Morris was fascinated by London but dismayed at its pollution and rapid expansion into neighbouring countryside, describing it as "the spreading sore".[45]
Morris became increasingly fascinated with the idyllic Medievalist depictions of rural life which appeared in the paintings of the Pre-Raphaelites, and spent large sums of money purchasing such artworks. Burne-Jones shared this interest, but took it further by becoming an apprentice to one of the foremost Pre-Raphaelite painters, Dante Gabriel Rossetti; the three soon became close friends.[46] Through Rossetti, Morris came to associate with poet Robert Browning, and the artists Arthur Hughes, Thomas Woolner, and Ford Madox Brown.[47] Tired of architecture, Morris abandoned his apprenticeship, with Rossetti persuading him to take up painting instead, which he chose to do in the Pre-Raphaelite style.[48] Morris aided Rossetti and Burne-Jones in painting the Arthurian murals at Oxford Union, although his contributions were widely deemed inferior and unskilled compared to those of the others.[49] At Rossetti's recommendation, Morris and Burne-Jones moved in together to the flat at Bloomsbury's No. 17 Red Lion Square by November 1856. Morris designed and commissioned furniture for the flat in a Medieval style, much of which he painted with Arthurian scenes in a direct rejection of mainstream artistic tastes.[50]
Morris also continued writing poetry and began designing illuminated manuscripts and embroidered hangings.[51] In March 1857, Bell and Dandy published a book of Morris's poems, The Defence of Guenevere, which was largely self-funded by the author. It did not sell well and garnered few reviews, most of which were unsympathetic. Disconcerted, Morris would not publish again for a further eight years.[52] In October 1857 Morris met Jane Burden, a woman from a poor working-class background, at a theatre performance. Rosetti initially asked her to model for him. Controversially both Rosetti and Morris were smitten with her, however Morris entered into a relationship with her and they were engaged in spring 1858; Burden would later admit however that she never loved Morris.[53] They were married in a low-key ceremony held at St Michael at the North Gate church in Oxford on 26 April 1859, before honeymooning in Bruges, Belgium, and settling temporarily at 41 Great Ormond Street, London.[54]
Career and fame
Red House and the Firm: 1859–1865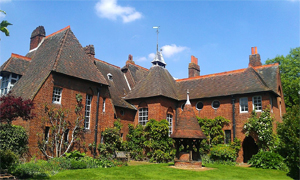 Red House in Bexleyheath; it is now owned by The National Trust and open to visitors
Morris desired a new home for himself and his daughters resulting in the construction of the Red House in the Kentish hamlet of Upton near Bexleyheath, ten miles from central London. The building's design was a co-operative effort, with Morris focusing on the interiors and the exterior being designed by Webb, for whom the House represented his first commission as an independent architect.[55] Named after the red bricks and red tiles from which it was constructed, Red House rejected architectural norms by being L-shaped.[56] Influenced by various forms of contemporary Neo-Gothic architecture, the House was nevertheless unique,[57] with Morris describing it as "very mediaeval in spirit".[58] Situated within an orchard, the house and garden were intricately linked in their design.[59] It took a year to construct,[60] and cost Morris £4000 at a time when his fortune was greatly reduced by a dramatic fall in the price of his shares.[61] Burne-Jones described it as "the beautifullest place on Earth."[62]
After construction, Morris invited friends to visit, most notably Burne-Jones and his wife Georgiana, as well as Rossetti and his wife Lizzie Siddal.[63] They aided him in painting murals on the furniture, walls, and ceilings, much of it based on Arthurian tales, the Trojan War, and Geoffrey Chaucer's stories, while he also designed floral embroideries for the rooms.[64] They also spent much time playing tricks on each other, enjoying games like hide and seek, and singing while accompanied by the piano.[65] Siddall stayed at the House during summer and autumn 1861 as she recovered from a traumatic miscarriage and an addiction to laudanum; she would die of an overdose in February 1862.[66]
In April 1861, Morris founded a decorative arts company, Morris, Marshall, Faulkner & Co., with six other partners: Burne-Jones, Rossetti, Webb, Ford Madox Brown, Charles Faulkner, and Peter Paul Marshall. Operating from premises at No. 6 Red Lion Square, they referred to themselves as "the Firm" and were intent on adopting Ruskin's ideas of reforming British attitudes to production. They hoped to reinstate decoration as one of the fine arts and adopted an ethos of affordability and anti-elitism.[67] For additional staff, they employed boys from the Industrial Home for Destitute Boys in Euston, central London, many of whom were trained as apprentices.[68]
Although working within the Neo-Gothic school of design, they differed from Neo-Gothic architects like George Gilbert Scott who simply included certain Gothic features on modern styles of building; instead they sought to return completely to Medieval Gothic methods of craftmanship.[69] The products created by the Firm included furniture, architectural carving, metalwork, stained glass windows, and murals.[70] Their stained glass windows proved a particular success in the firm's early years as they were in high demand for the surge in the Neo-Gothic construction and refurbishment of churches, many of which were commissioned by the architect George Frederick Bodley.[71] Despite Morris's anti-elitist ethos, the Firm soon became increasingly popular and fashionable with the bourgeoisie, particularly following their exhibit at the 1862 International Exhibition in South Kensington, where they received press attention and medals of commendation.[72] However, they faced much opposition from established design companies, particularly those belonging to the Neo-Classical school.[73]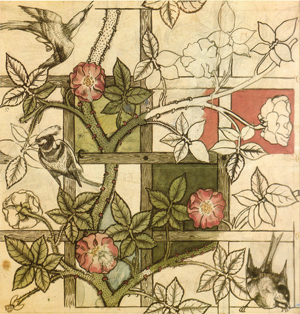 Design for Trellis wallpaper, 1862
Morris was slowly abandoning painting, recognising that his work lacked a sense of movement; none of his paintings are dated later than 1862.[74] Instead he focused his energies on designing wallpaper patterns, the first being "Trellis", designed in 1862. His designs would be produced from 1864 by Jeffrey and Co. of Islington, who created them for the Firm under Morris's supervision.[75] Morris also retained an active interest in various groups, joining the Hogarth Club, the Mediaeval Society, and the Corps of Artist Volunteers, the latter being in contrast to his later pacifism.[76]
Meanwhile, Morris's family continued to grow. In January 1861, Morris and Janey's first daughter was born: named Jane Alice Morris, she was commonly known as "Jenny".[77] Jenny was followed in March 1862 by the birth of their second daughter, Mary "May" Morris.[78] Morris was a caring father to his daughters, and years later they both recounted having idyllic childhoods.[79] However, there were problems in Morris's marriage as Janey became increasingly close to Rossetti, who often painted her. It is unknown if their affair was ever sexual, although by this point other members of the group were noticing Rossetti and Janey's closeness.[80]
Imagining the creation of an artistic community at Upton, Morris helped develop plans for a second house to be constructed adjacent to Red House in which Burne-Jones could live with his family; the plans were abandoned when Burne-Jones' son Christopher died from scarlet fever.[81] By 1864, Morris had become increasingly tired of life at Red House, being particularly unhappy with the 3 to 4 hours spent commuting to his London workplace on a daily basis.[82] He sold Red House, and in autumn 1865 moved with his family to No. 26 Queen Square in Bloomsbury, the same building to which the Firm had moved its base of operations earlier in the summer.[83]
Queen Square and The Earthly Paradise: 1865–1870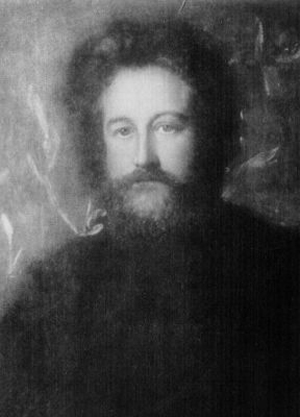 Portrait of William Morris by George Frederic Watts, 1870.
At Queen Square, the Morris family lived in a flat directly above the Firm's shop.[84] They were joined by Janey's sister Bessie Burton and a number of household servants.[85] Meanwhile, changes were afoot at the Firm as Faulkner left, and to replace him they employed a business manager, Warrington Taylor, who would remain with them till 1866. Taylor pulled the Firm's finances into order and spent much time controlling Morris and ensuring that he worked to schedule.[86] During these years the Firm carried out a number of high-profile designs; from September 1866 to January 1867, they redecorated the Armoury and Tapestry Room in St James's Palace,[87] in the latter year also designing the Green Dining Room at the South Kensington Museum (it is now the Morris Room at the Victoria and Albert Museum).[88] The Firm's work received increasing interest from people in the United States, resulting in Morris's acquaintance with Henry James and Charles Eliot Norton.[89] However, despite its success, the Firm was not turning over a large net profit, and this, coupled with the decreasing value of Morris' stocks, meant that he had to decrease his spending.[90]
Janey's relationship with Rossetti had continued, and by the late 1860s gossip regarding their affair had spread about London, where they were regularly seen spending time together.[91] Morris biographer Fiona MacCarthy argued that it was likely that Morris had learned of and accepted the existence of their affair by 1870.[92] In this year he developed an affectionate friendship with Aglaia Coronio, the daughter of wealthy Greek refugees, although there is no evidence that they had an affair.[93] Meanwhile, Morris's relationship with his mother had improved, and he would regularly take his wife and children to visit her at her house in Leyton.[94] He also went on various holidays; in the summer of 1866 he, Webb, and Taylor toured the churches of northern France.[95]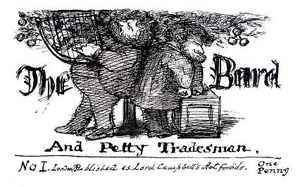 A caricature sketch of Morris by Rossetti, The Bard and Petty Tradesman, reflecting his behaviour at the Firm
In August 1866 Morris joined the Burne-Jones family on their holiday in Lymington, while in August 1867 both families holidayed together in Oxford.[96] In August 1867 the Morrises holidayed in Southwold, Suffolk,[97] while in the summer of 1869 Morris took his wife to Bad Ems in Rhineland-Palatinate, central Germany, where it was hoped that the local health waters would aid her ailments. While there, he enjoyed walks in the countryside and focused on writing poetry.[98]
Morris had continued to devote much time to writing poetry. In 1867 Bell and Dandy published Morris's epic poem, The Life and Death of Jason, at his own expense. The book was a retelling of the ancient Greek myth of the hero Jason and his quest to find the Golden Fleece. In contrast to Morris's former publication, The Life and Death of Jason was well received, resulting in the publishers paying Morris a fee for the second edition.[99] From 1865 to 1870, Morris worked on another epic poem, The Earthly Paradise. Designed as a homage to Chaucer, it consisted of 24 stories, adopted from an array of different cultures, and each by a different narrator; set in the late 14th century, the synopsis revolved around a group of Norsemen who flee the Black Death by sailing away from Europe, on the way discovering an island where the inhabitants continue to venerate the ancient Greek gods. Published in four parts by F. S. Ellis, it soon gained a cult following and established Morris' reputation as a major poet.[100]
Kelmscott Manor and Iceland: 1870–1875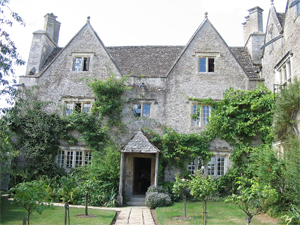 Main Entrance to Kelmscott Manor
By 1870, Morris had become a public figure in Britain, resulting in repeated press requests for photographs, which he despised.[101] That year, he also reluctantly agreed to sit for a portrait by establishment painter George Frederic Watts.[102] Morris was keenly interested in Icelandic literature, having befriended the Icelandic theologian Eiríkr Magnússon. Together they produced prose translations of the Eddas and Sagas for publication in English.[103] Morris also developed a keen interest in creating handwritten illuminated manuscripts, producing 18 such books between 1870 and 1875, the first of which was A Book of Verse, completed as a birthday present for Georgina Burne-Jones. 12 of these 18 were handwritten copies of Nordic tales such as Halfdan the Black, Frithiof the Bold, and The Dwellers of Eyr. Morris deemed calligraphy to be an art form, and taught himself both Roman and italic script, as well as learning how to produce gilded letters.[104] In November 1872 he published Love is Enough, a poetic drama based on a story in the Medieval Welsh text, the Mabinogion. Illustrated with Burne-Jones woodcuts, it was not a popular success.[105] By 1871, he had begun work on a novel set in the present, The Novel on Blue Paper, which was about a love triangle; it would remain unfinished and Morris later asserted that it was not well written.[106]
By early summer 1871, Morris began to search for a house outside London where his children could spend time away from the city's pollution. He settled on Kelmscott Manor in the village of Kelmscott, Oxfordshire, obtaining a joint tenancy on the building with Rossetti in June.[107] Morris adored the building, which was constructed circa 1570, and would spend much time in the local countryside.[108] Conversely, Rossetti would be unhappy at Kelmscott, and eventually suffered a mental breakdown.[109] Morris divided his time between London and Kelmscott, however when Rossetti was there he would not spend more than three days at a time at the latter.[110] He was also fed up with his family home in Queen Square, deciding to obtain a new house in London. Although retaining a personal bedroom and study at Queen Square, he relocated his family to Horrington House in Turnham Green Road, West London, in January 1873.[111] This allowed him to be far closer to the home of Burne-Jones, with the duo meeting on almost every Sunday morning for the rest of Morris' life.[112]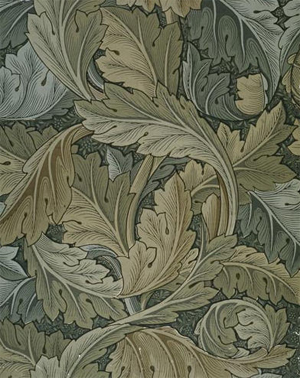 Morris' Acanthus wallpaper design, (1875)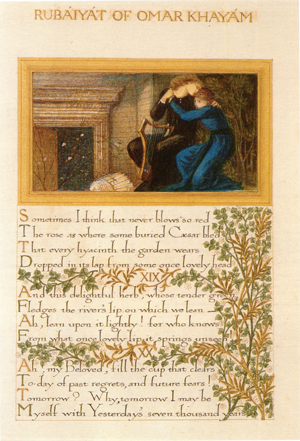 and a page from Morris' illuminated manuscript of the Rubaiyat of Omar Khayyam, illustrated by Edward Burne-Jones
Leaving Jane and his children with Rossetti at Kelmscott, in July 1871 Morris left for Iceland with Faulkner, W.H. Evans, and Magnússon. Sailing from the Scottish port of Granton aboard a Danish mail boat, they proceeded to the island via Tórshavn in the Faroe Islands before arriving at Reykjavik, where they disembarked. There they met the President of the Althing, Jón Sigurðsson, with Morris being sympathetic to the Icelandic independence movement. From there, they proceeded by Icelandic horse along the south coast to Bergþórshvoll, Thórsmörk, Geysir, Þingvellir, and then back to Reyjkavik, where they departed back to Britain in September.[113] In April 1873, Morris and Burne-Jones holidayed in Italy, visiting Florence and Siena. Although generally disliking the country, Morris was interested in the Florentine Gothic architecture.[114] Soon after, in July, Morris returned to Iceland, revisiting many of the sites he had previously seen, but then proceeding north to Varna glacier and Fljótsdalur.[115] His two visits to the country profoundly influenced him, in particular in his growing leftist opinions; he would comment that these trips made him realise that "the most grinding poverty is a trifling evil compared with the inequality of classes."[116]
Morris and Burne-Jones then spent time with one of the Firm's patrons, the wealthy George Howard, 9th Earl of Carlisle and his wife Rosalind, at their Medieval home in Naworth Castle, Cumberland.[117] In July 1874, the Morris family then took Burne-Jones' two children with them on their holiday to Bruges, Belgium.[118] However, by this point Morris' friendship with Rossetti had seriously eroded, and in July 1874 their acrimonious falling out led Rossetti to leave Kelmscott, with Morris' publisher F.S. Ellis taking his place.[119] With the company's other partners drifting off to work on other projects, Morris decided to consolidate his own control of the Firm and become sole proprietor and manager. In March 1875, he paid £1000 each in compensation to Rossetti, Brown, and Marshall, although the other partners waived their claims to financial compensation. That month, the Firm was officially disbanded and replaced by Morris & Co, although Burne-Jones and Webb would continue to produce designs for it in future.[120] This accomplished, he resigned his directorship of the Devon Great Consols, selling his remaining shares in the company.[121]
Textile experimentation and political embrace: 1875–1880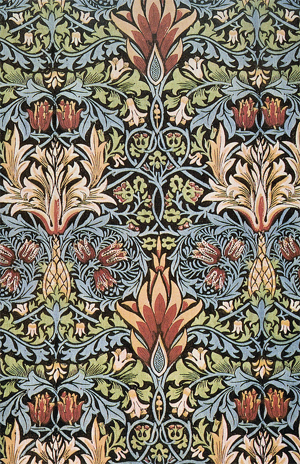 Two of Morris' designs: Snakeshead printed textile (1876)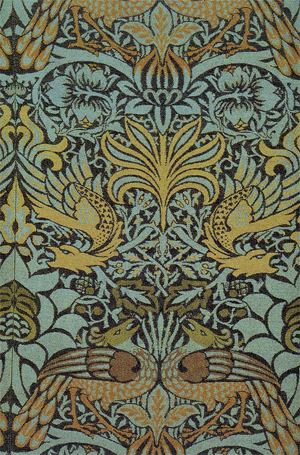 and "Peacock and Dragon" woven wool furnishing fabric (1878)
Now in complete control of the Firm, Morris took an increased interest in the process of textile dyeing and entered into a co-operative agreement with Thomas Wardle, a silk dyer who operated the Hencroft Works in Leek, Staffordshire. As a result, Morris would spend time with Wardle at his home on various occasions between summer 1875 and spring 1878.[122] Deeming the colours to be of inferior quality, Morris rejected the chemical aniline dyes which were then predominant, instead emphasising the revival of organic dyes, such as indigo for blue, walnut shells and roots for brown, and cochineal, kermes, and madder for red.[123] Living and working in this industrial environment, he gained a personal understanding of production and the lives of the proletariat, and was disgusted by the poor living conditions of workers and the pollution caused by industry; these factors greatly influenced his political views.[124] After learning the skills of dyeing, in the late 1870s Morris turned his attention to weaving, experimenting with silk weaving at Queen's Square.[125]
In the Spring of 1877, the Firm opened a store at No. 449 Oxford Street and obtained new staff who were able to improve its professionalism; as a result, sales increased and its popularity grew.[126] By 1880, Morris & Co. had become a household name, having become very popular with Britain's upper and middle classes.[127] The Firm was obtaining increasing numbers of commissions from aristocrats, wealthy industrialists, and provincial entrepreneurs, with Morris furnishing parts of St James's Palace and the chapel at Eaton Hall.[128] As a result of his growing sympathy for the working-classes and poor, Morris felt personally conflicted in serving the interests of these individuals, privately describing it as "ministering to the swinish luxury of the rich".[127]
Continuing with his literary output, Morris translated his own version of Virgil's Aeneid, titling it The Aeneids of Vergil (1876). Although many translations were already available, often produced by trained Classicists, Morris claimed that his unique perspective was as "a poet not a pedant".[129] He also continued producing translations of Icelandic tales with Magnússon, including Three Northern Love Stories (1875) and Völuspa Saga (1876).[130] In 1877 Morris was approached by Oxford University and offered the largely honorary position of Professor of Poetry. He declined, asserting that he felt unqualified, knowing little about scholarship on the theory of poetry.[131]
In summer 1876 Jenny Morris was diagnosed with epilepsy. Refusing to allow her to be societally marginalised or institutionalised, as was common in the period, Morris insisted that she be cared for by the family.[132] When Janey took May and Jenny to Oneglia in Italy, the latter suffered a serious seizure, with Morris rushing to the country to see her. They then proceeded to visit a number of other cities, including Venice, Padua, and Verona, with Morris attaining a greater appreciation of the country than he had on his previous trip.[133] In April 1879 Morris moved the family home again, this time renting an 18th-century mansion on Hammersmith's Upper Mall in West London. Owned by the novelist George MacDonald, Morris would name it Kelmscott House and re-decorate it according to his own taste.[134] In the House's grounds he set up a workshop, focusing on the production of hand-knotted carpets.[135] Excited that both of his homes were along the course of the River Thames, in August 1880 he and his family took a boat trip along the river from Kelmscott House to Kelmscott Manor.[136]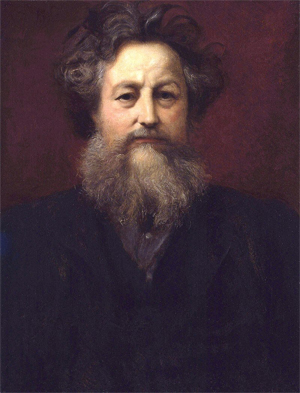 Portrait of William Morris by William Blake Richmond
Morris became politically active in this period, coming to be associated with the radicalist current within British liberalism. He joined the Eastern Question Association (EQA) and was appointed the group's treasurer in November 1876. EQA had been founded by campaigners associated with the centre-left Liberal Party who opposed Prime Minister Benjamin Disraeli's alliance with the Ottoman Empire; the Association highlighted the Ottoman massacre of Bulgarians and feared that the alliance would lead Disraeli to join the Ottomans in going to war with the Russian Empire.[137] Morris took an active role in the EQA campaign, authoring the lyrics for the song "Wake, London Lads!" to be sung at a rally against military intervention.[138] Morris eventually became disillusioned with the EQA, describing it as being "full of wretched little personalities".[139] He nevertheless joined a regrouping of predominantly working-class EQA activists, the National Liberal League, becoming their treasurer in summer 1879; the group remained small and politically ineffective, with Morris resigning as treasurer in late 1881, shortly before the group's collapse.[140]
However, his discontent with the British liberal movement grew following the election of the Liberal Party's William Ewart Gladstone to the Premiership in 1880. Morris was particularly angered that Gladstone's government did not reverse the Disraeli regime's occupation of the Transvaal, introduced the Coercion Bill, and oversaw the Bombardment of Alexandria.[141] Morris later related that while he had once believed that "one might further real Socialistic progress by doing what one could on the lines of ordinary middle-class Radicalism", following Gladstone's election he came to realise "that Radicalism is on the wrong line, so to say, and will never develope [sic] into anything more than Radicalism: in fact that it is made for and by the middle classes and will always be under the control of rich capitalists".[142]
In 1876, Morris visited Burford Church in Oxfordshire, where he was appalled at the restoration conducted by his old mentor, G.E. Street. He recognised that these programs of architectural restoration led to the destruction or major alteration of genuinely old features in order to replace them with "sham old" features, something which appalled him.[143] To combat the increasing trend for restoration, in March 1877 he founded the Society for the Protection of Ancient Buildings (SPAB), which he personally referred to as "Anti-Scrape". Adopting the role of honorary secretary and treasurer, most of the other early members of SPAB were his friends, while the group's program was rooted in Ruskin's The Seven Lamps of Architecture (1849).[144] As part of SPAB's campaign, Morris tried to build connections with art and antiquarian societies and the custodians of old buildings, and also contacted the press to highlight his cause. He was particularly strong in denouncing the ongoing restoration of Tewkesbury Abbey and was vociferous in denouncing the architects responsible, something that deeply upset Street.[145] Turning SPAB's attention abroad, in Autumn 1879 Morris launched a campaign to protect St Mark's Basilica in Venice from restoration, garnering a petition with 2000 signatures, among whom were Disraeli, Gladstone, and Ruskin.[146]