Part 1 of 2
Jeremy Bentham
by Wikipedia
Accessed: 5/19/20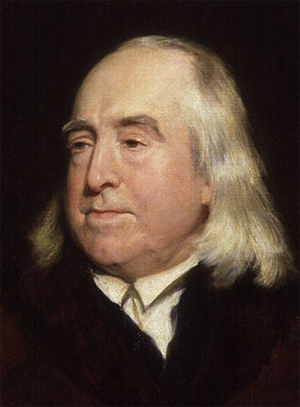 Jeremy Bentham
Portrait by Henry William Pickersgill
Born: 15 February 1748, London, England, Kingdom of Great Britain
Died: 6 June 1832 (aged 84), London, England, United Kingdom
Education: The Queen's College, Oxford (BA 1763; MA 1766)
Era: 18th-century philosophy; 19th-century philosophy
School: Utilitarianism; Legal positivism; Liberalism; Epicureanism
Main interests: Political philosophy, philosophy of law, ethics, economics
Notable ideas: Greatest happiness principle, Radical Consequentialism[1]
Influences: Protagoras Epicurus John Locke David Hume Montesquieu Helvétius Hobbes Beccaria Adam Smith
Influenced: John Stuart Mill Thomas Hodgskin William Thompson Henry Sidgwick Michel Foucault Peter Singer John Austin Robert Owen H. L. A. Hart Francis Y. Edgeworth A. V. Dicey[2] Étienne Dumont
Jeremy Bentham (/ˈbɛnθəm/; 15 February 1748 [O.S. 4 February 1747][3] – 6 June 1832) was an English philosopher, jurist, and social reformer regarded as the founder of modern utilitarianism.[4][5]
Bentham defined as the "fundamental axiom" of his philosophy the principle that "it is the greatest happiness of the greatest number that is the measure of right and wrong."[6][7] He became a leading theorist in Anglo-American philosophy of law, and a political radical whose ideas influenced the development of welfarism. He advocated individual and economic freedoms, the separation of church and state, freedom of expression, equal rights for women, the right to divorce, and (in an unpublished essay) the decriminalising of homosexual acts.[8][9] He called for the abolition of slavery, capital punishment and physical punishment, including that of children.[10] He has also become known as an early advocate of animal rights.[11][12][13][14] Though strongly in favour of the extension of individual legal rights,
he opposed the idea of natural law and natural rights (both of which are considered "divine" or "God-given" in origin), calling them "nonsense upon stilts".
[4][15] Bentham was also a sharp critic of legal fictions.
Bentham's students included his secretary and collaborator James Mill, the latter's son, John Stuart Mill, the legal philosopher John Austin, as well as Robert Owen, one of the founders of utopian socialism.
He "had considerable influence on the reform of prisons, schools, poor laws, law courts, and Parliament itself."[16]
On his death in 1832, Bentham left instructions for his body to be first dissected, and then to be permanently preserved as an "auto-icon" (or self-image), which would be his memorial. This was done, and the auto-icon is now on public display in the entrance of the Student Centre at University College London (UCL). Because of his arguments in favour of the general availability of education, he has been described as the "spiritual founder" of UCL. However, he played only a limited direct part in its foundation.[17]
Biography

Early life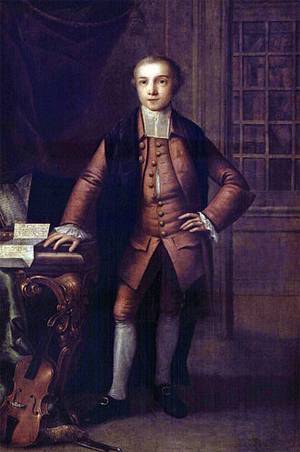 Portrait of Bentham by the studio of Thomas Frye, 1760–1762
Bentham was born on 15 February 1748 in Houndsditch, London,[18] to a wealthy family that supported the Tory party.
He was reportedly a child prodigy: he was found as a toddler sitting at his father's desk reading a multi-volume history of England, and he
began to study Latin at the age of three.[19] He learnt to play the violin, and at the age of seven Bentham would perform sonatas by Handel during dinner parties.
[20] He had one surviving sibling, Samuel Bentham (1757–1831), with whom he was close.
He attended Westminster School; in 1760, at age 12, his father sent him to The Queen's College, Oxford, where he completed his bachelor's degree in 1763 and his master's degree in 1766. He trained as a lawyer and, though he never practised, was called to the bar in 1769. He became deeply frustrated with the complexity of English law, which he termed the "Demon of Chicane".[21] When the American colonies published their Declaration of Independence in July 1776, the British government did not issue any official response but instead secretly commissioned London lawyer and pamphleteer John Lind to publish a rebuttal.[22] His 130-page tract was distributed in the colonies and contained
an essay titled "Short Review of the Declaration" written by Bentham, a friend of Lind, which attacked and mocked the Americans' political philosophy.
[23][24]
In examining this singular Declaration, I have hitherto confined myself to what are given as facts, and alleged against his Majesty and his Parliament, in support of the charge of tyranny and usurpation.

Of the preamble I have taken little or no notice. The truth is, little or none does it deserve. The opinions of the modern Americans on Government, like those of their good ancestors on witchcraft, would be too ridiculous to deserve any notice, if like them too, contemptible and extravagant as they be, they had not led to the most serious evils.

When in the Course of human events it becomes necessary for one people to dissolve the political bands which have connected them with another and to assume among the powers of the earth, the separate and equal station to which the Laws of Nature and of Nature's God entitle them, a decent respect to the opinions of mankind requires that they should declare the causes which impel them to the separation.

We hold these truths to be self-evident, that all men are created equal, that they are endowed by their Creator with certain unalienable Rights, that among these are Life, Liberty and the pursuit of Happiness. — That to secure these rights, Governments are instituted among Men, deriving their just powers from the consent of the governed, — That whenever any Form of Government becomes destructive of these ends, it is the Right of the People to alter or to abolish it, and to institute new Government, laying its foundation on such principles and organizing its powers in such form, as to them shall seem most likely to effect their Safety and Happiness. Prudence, indeed, will dictate that Governments long established should not be changed for light and transient causes; and accordingly all experience hath shewn that mankind are more disposed to suffer, while evils are sufferable than to right themselves by abolishing the forms to which they are accustomed. But when a long train of abuses and usurpations, pursuing invariably the same Object evinces a design to reduce them under absolute Despotism, it is their right, it is their duty, to throw off such Government, and to provide new Guards for their future security.

-- Preamble, The Declaration of Independence: The Unanimous Declaration of the Thirteen United States of America, In Congress

In this preamble however it is, that they attempt to establish a theory of Government; a theory, as absurd and visionary, as the system of conduct in defence of which it is established is nefarious. Here it is, that maxims are advanced in justification of their enterprises against the British Government. To these maxims, adduced for this purpose, it would be sufficient to say, that they are repugnant to the British Constitution.

To possess ourselves of a clear idea of what government is, or ought to be, we must trace it to its origin. In doing this we shall easily discover that governments must have arisen either out of the people or over the people. Mr. Burke has made no distinction. He investigates nothing to its source, and therefore he confounds everything; but he has signified his intention of undertaking, at some future opportunity, a comparison between the constitution of England and France. As he thus renders it a subject of controversy by throwing the gauntlet, I take him upon his own ground. It is in high challenges that high truths have the right of appearing; and I accept it with the more readiness because it affords me, at the same time, an opportunity of pursuing the subject with respect to governments arising out of society.

But it will be first necessary to define what is meant by a Constitution. It is not sufficient that we adopt the word; we must fix also a standard signification to it.

A constitution is not a thing in name only, but in fact. It has not an ideal, but a real existence; and wherever it cannot be produced in a visible form, there is none. A constitution is a thing antecedent to a government, and a government is only the creature of a constitution. The constitution of a country is not the act of its government, but of the people constituting its government. It is the body of elements, to which you can refer, and quote article by article; and which contains the principles on which the government shall be established, the manner in which it shall be organised, the powers it shall have, the mode of elections, the duration of Parliaments, or by what other name such bodies may be called; the powers which the executive part of the government shall have; and in fine, everything that relates to the complete organisation of a civil government, and the principles on which it shall act, and by which it shall be bound. A constitution, therefore, is to a government what the laws made afterwards by that government are to a court of judicature. The court of judicature does not make the laws, neither can it alter them; it only acts in conformity to the laws made: and the government is in like manner governed by the constitution.

Can, then, Mr. Burke produce the English Constitution? If he cannot, we may fairly conclude that though it has been so much talked about, no such thing as a constitution exists, or ever did exist, and consequently that the people have yet a constitution to form.

Mr. Burke will not, I presume, deny the position I have already advanced- namely, that governments arise either out of the people or over the people. The English Government is one of those which arose out of a conquest, and not out of society, and consequently it arose over the people; and though it has been much modified from the opportunity of circumstances since the time of William the Conqueror, the country has never yet regenerated itself, and is therefore without a constitution.

I readily perceive the reason why Mr. Burke declined going into the comparison between the English and French constitutions, because he could not but perceive, when he sat down to the task, that no such a thing as a constitution existed on his side the question. His book is certainly bulky enough to have contained all he could say on this subject, and it would have been the best manner in which people could have judged of their separate merits. Why then has he declined the only thing that was worth while to write upon? It was the strongest ground he could take, if the advantages were on his side, but the weakest if they were not; and his declining to take it is either a sign that he could not possess it or could not maintain it.

-- Rights of Man, by Thomas Paine

But beyond this they are subversive of every actual or imaginable kind of Government.

They are about "to assume," as they tell us, "among the powers of the earth, that equal and separate station to which" — they have lately discovered — "the laws of Nature, and of Nature's God entitle them." What difference these acute legislators suppose between the laws of Nature and of Nature's God, is more than I can take upon me to determine, or even to guess. If to what they now demand they were entitled by any law of God, they had only to produce that law, and all controversy was at an end. Instead of this,

what do they produce? What they call sell-evident truths. "All men," they tell us, "are created equal." This rarity is a new discovery

; now, for the first time, we learn, that a child, at the moment of his birth, has the same quantity of natural power as the parent, the same quantity of political power as the magistrate.

The rights of "life, liberty, and the pursuit of happiness" — by which, if they mean any thing, they must mean the right to enjoy life, to enjoy liberty, and to pursue happiness — they "hold to be unalienable." This they "hold to be among truths self-evident." At the same time, to secure these rights, they are content that Governments should be instituted.

They perceive not, or will not seem to perceive, that nothing which can be called Government ever was, or ever could be, in any instance, exercised, but at the expence of one or other of those rights. — That, consequently, in as many instances as Government is ever exercised, some one or other of these rights, pretended to be unalienable, is actually alienated.

That men who are engaged in the design of subverting a lawful Government, should endeavour by a cloud of words, to throw a veil over their design;

that they should endeavour to beat down the criteria between tyranny and lawful government, is not at all surprising.

But rather surprising it must certainly appear, that they should advance maxims so incompatible with their own present conduct. If the right of enjoying life be unalienable, whence came their invasion of his Majesty's province of Canada? Whence the unprovoked destruction of so many lives of the inhabitants of that province? If the right of enjoying liberty be unalienable, whence came so many of his Majesty's peaceable subjects among them, without any offence, without so much as a pretended offence, merely for being suspected not to wish well to their enormities, to be held by them in durance?

If the right of pursuing happiness be unalienable, how is it that so many others of their fellow-citizens are by the same injustice and violence made miserable, their fortunes ruined, their persons banished and driven from their friends and families?

Or would they have it believed, that there is in their selves some superior sanctity, some peculiar privilege, by which those things are lawful to them, which are unlawful to all the world besides? Or is it, that among acts of coercion, acts by which life or liberty are taken away, and the pursuit of happiness restrained, those only are unlawful, which their delinquency has brought upon them, and which are exercised by regular, long established, accustomed governments?

In these tenets they have outdone the utmost extravagance of all former fanatics.The German Anabaptists indeed went so far as to speak of the right of enjoying life as a right unalienable. To take away life, even in the Magistrate, they held to be unlawful. But they went no farther, it was reserved for an American Congress, to add to the number of unalienable rights, that of enjoying liberty, and pursuing happiness;

— that is,— if they mean any thing, —pursuing it wherever a man thinks he can see it, and by whatever means he thinks he can attain it: — That is, that all penal laws — those made by their selves among others—which affect life or liberty, are contrary to the law of God, and the unalienable rights of mankind: —

That is, that thieves are not to be restrained from theft, murderers from murder, rebels from rebellion.

Here then they have put the axe to the root of all Government; and yet, in the same breath, they talk of "Governments," of Governments "long established."

To these last, they attribute same kind of respect; they vouchsafe even to go so far as to admit, that "Governments, long established, should not be "changed for light or transient reasons."

Yet they are about to change a Government, a Government whose establishment is coeval with their own existence as a Community. What causes do they assign? Circumstances which have always subsisted, which must continue to subsist, wherever Government has subsisted, or can subsist.

For what, according to their own shewing, what was their original their only original grievance? That they were actually taxed more than they could bear? No; but that they were liable to be so taxed. What is the amount of all the subsequent grievances they alledge?

That they were actually oppressed by Government? That Government has actually misused its power? No; but that it was possible that they might be oppressed; possible that Government might misuse its powers.

Is there any where, can there be imagined any where, that Government, where subjects are not liable to taxed more than they can bear? where it is not possible that subjects may be oppressed, not possible that Government may misuse its powers?

He has refused his Assent to Laws, the most wholesome and necessary for the public good.

He has forbidden his Governors to pass Laws of immediate and pressing importance, unless suspended in their operation till his Assent should be obtained; and when so suspended, he has utterly neglected to attend to them.

He has refused to pass other Laws for the accommodation of large districts of people, unless those people would relinquish the right of Representation in the Legislature, a right inestimable to them and formidable to tyrants only.

He has called together legislative bodies at places unusual, uncomfortable, and distant from the depository of their Public Records, for the sole purpose of fatiguing them into compliance with his measures.

He has dissolved Representative Houses repeatedly, for opposing with manly firmness his invasions on the rights of the people.

He has refused for a long time, after such dissolutions, to cause others to be elected, whereby the Legislative Powers, incapable of Annihilation, have returned to the People at large for their exercise; the State remaining in the mean time exposed to all the dangers of invasion from without, and convulsions within.

He has endeavoured to prevent the population of these States; for that purpose obstructing the Laws for Naturalization of Foreigners; refusing to pass others to encourage their migrations hither, and raising the conditions of new Appropriations of Lands.

He has obstructed the Administration of Justice by refusing his Assent to Laws for establishing Judiciary Powers.

He has made Judges dependent on his Will alone for the tenure of their offices, and the amount and payment of their salaries.

He has erected a multitude of New Offices, and sent hither swarms of Officers to harass our people and eat out their substance.

He has kept among us, in times of peace, Standing Armies without the Consent of our legislatures.

He has affected to render the Military independent of and superior to the Civil Power.

He has combined with others to subject us to a jurisdiction foreign to our constitution, and unacknowledged by our laws; giving his Assent to their Acts of pretended Legislation:

For quartering large bodies of armed troops among us:

For protecting them, by a mock Trial from punishment for any Murders which they should commit on the Inhabitants of these States:

For cutting off our Trade with all parts of the world:

For imposing Taxes on us without our Consent:

For depriving us in many cases, of the benefit of Trial by Jury:

For transporting us beyond Seas to be tried for pretended offences:

For abolishing the free System of English Laws in a neighbouring Province, establishing therein an Arbitrary government, and enlarging its Boundaries so as to render it at once an example and fit instrument for introducing the same absolute rule into these Colonies

For taking away our Charters, abolishing our most valuable Laws and altering fundamentally the Forms of our Governments:

For suspending our own Legislatures, and declaring themselves invested with power to legislate for us in all cases whatsoever.

He has abdicated Government here, by declaring us out of his Protection and waging War against us.

He has plundered our seas, ravaged our coasts, burnt our towns, and destroyed the lives of our people.

He is at this time transporting large Armies of foreign Mercenaries to compleat the works of death, desolation, and tyranny, already begun with circumstances of Cruelty & Perfidy scarcely paralleled in the most barbarous ages, and totally unworthy the Head of a civilized nation.

He has constrained our fellow Citizens taken Captive on the high Seas to bear Arms against their Country, to become the executioners of their friends and Brethren, or to fall themselves by their Hands.

He has excited domestic insurrections amongst us, and has endeavoured to bring on the inhabitants of our frontiers, the merciless Indian Savages whose known rule of warfare, is an undistinguished destruction of all ages, sexes and conditions.

-- Preamble, The Declaration of Independence: The Unanimous Declaration of the Thirteen United States of America, In Congress

This I say, is the amount, the whole sum and substance of all their grievances. For in taking a general review of the charges brought against his Majesty, and his Parliament, we may observe that there is a studied confusion in the arrangement of them. It may therefore be worth while to reduce them to the several distinct heads, under which I should have classed them at the first, had not the order of the Answer been necessarily prescribed by the order — or rather the disorder, of the Declaration.

The first head consists of Acts of Government, charged as so many acts of incroachment, so many usurpations upon the present King and his Parliaments exclusively, which had been constantly exercised by his Predecessors and their Parliaments.1

In all the articles comprised in this head, is there a single power alleged to have been exercised during the present reign, which had not been constantly exercised by preceding Kings, and preceding Parliaments? Read only the commission and instruction for the Council of Trade, drawn up in the 9th of King William III addressed to Mr. Locke, and others.2 See there what powers were exercised by the King and Parliament over the Colonies. Certainly the Commissioners were directed to inquire into, and make their reports concerning those matters only, in which the King and Parliament had a power of controlling the Colonies. Now the Commissioners are instructed to inquire — into the condition of the Plantations, "as well with regard to the administration of Government and Justice, as in relation to the commerce thereof;"–into the means of making "them most beneficial and useful to England; — "into the staples and manufactures, which may be encouraged there;" — "into the trades that are taken up and exercised there, which may prove prejudicial to England;" — "into the means of diverting them from such trades." Farther, they are instructed "to examine into, and weigh the Acts of the Assemblies of the Plantations;" — "to set down the usefulness or mischief to the Crown, to the Kingdom, or to the Plantations their selves." — And farther still, they are instructed "to require an account of all the monies given for public uses by the assemblies of the Plantations, and how the same are, or have been expended, or laid out." Is there now a single Act of the present reign which does not fall under one or other of these instructions?

The powers then, of which the several articles now before us complain, are supported by usage; were conceived to be so supported then, just after the Revolution, at the time these instructions were given; and were they to be supported only upon this foot of usage, still that usage being coeval with the Colonies, their tacit consent and approbation, through all the successive periods in which that usage has prevailed, would be implied; — even then the legality of those powers would stand upon the same foot as most of the prerogatives of the Crown, most of the rights of the people, — even then the exercise of those powers could in no wise be deemed usurpations or encroachments.

But the truth is, to the exercise of these powers, on many occasions the Colonies have not tacitly, but expressly, consented; as expressly as any subject of Great Britain ever consented to Acts of the British Parliament. Consult the Journals of either House of Parliament; consult the proceedings of their own Assemblies; and innumerable will be the occasions, on which the legality of these powers will be found to be expressly recognised by Acts of the Colonial Assemblies. For in preceding reigns, the petitions from these Assemblies were couched in a language, very different from that which they have assumed under the present reign. In praying for the non-exercise of these powers, in particular instances, they acknowledged their legality; the right in general was recognised; the exercise of it, in particular instances, was prayed to be suspended on the sole ground of inexpedience.

The less reason can the Americans have to complain against the exercise of these powers, as it was under the constant exercise of the self-same powers, that they have grown up with a vigour and rapidity unexampled: That within a period, in which other communities have scarcely had time to take root, they have shot forth exuberant branches. So flourishing is their agriculture, that — we are told — "besides feeding plentifully their own growing multitudes, their annual exports have exceeded a million;" So flourishing is their trade, that — we are told — "it has increased far beyond the speculations of the most sanguine imagination."3 So powerful are they in arms, that we see them defy the united force of that nation, which, but a little century ago, called them into being; which, but a few years ago, in their defence, encountered and subdued almost the united force of Europe.

If the exercise of powers, thus established by usage, thus recognised by express declarations, thus sanctified by their beneficial effects, can justify rebellion, there is not that subject in the world, but who has, ever has had, and ever must have, reason sufficient to rebel: There never was, never can be, established, any government upon earth.

The second head consists of Acts, whose professed object was either the maintenance, or the amendment of their Constitution. These Acts were passed with the view either of freeing from impediments the course of their commercial transactions,4 or of facilitating the administration of justice,5 or of poising more equally the different powers in their Constitution;6 or of preventing the establishing of Courts, inconsistent with the spirit of the Constitution.7

To state the object of these Acts, is to justify them. Acts of tyranny they cannot be: Acts of usurpation they are not; because no new power is assumed. By former Parliaments, in former reigns, officers of customs had been sent to America: Courts of Admiralty had been established there. The increase of trade and population induced the Parliaments, under the present reign, for the convenience of the Colonists, and to obviate their own objections of delays arising from appeals to England, to establish a Board of Customs, and an Admiralty Court of Appeal. Strange indeed is it to hear the establishment of this Board, and these Courts, alleged as proofs of usurpation; and in the same paper, in the same breath, to hear it urged as a head of complaint, that his Majesty refused his assent to a much greater exertion of power: —to an exertion of power, which might be dangerous; the establishment of new Courts of Judicature. What in one instance he might have done, to have done in another, cannot be unconstitutional. In former reigns, charters had been altered; in the present reign, the constitution of one charter, having been found inconsistent with the ends of good order and government, was amended.

The third head consists of temporary Acts, passed pro re notá, the object of each of which was to remedy some temporary evil, and the duration of which was restrained to the duration of the evil itself.8

Neither in these Acts was any new power affirmed; in some instances only, the objects upon which that power was exercised, were new. Nothing was done but what former Kings and former Parliaments have shewn their selves ready to do, had the same circumstances subsisted. The same circumstances never did subsist before, because, till the present reign, the Colonies never dared to call in question the supreme authority of Parliament.

No charge, classed under this head, can be called a grievance. Then only is the subject aggrieved, when, paying due obedience to the established Laws of his country, he is not protected in his established rights.

From the moment he withholds obedience, he forfeits his right to protection. Nor can the means, employed to bring him back to obedience, however severe, be called grievances; especially if those means be to cease the very moment that the end is obtained.

The last head consists of Acts of self-defence, exercised in consequence of resistance already shewn but represented in the Declaration as Acts of oppression, tending to provoke resistance.9 Has his Majesty cut off their trade with all parts of the world?

They first attempted to cut off the trade of Great Britain

. Has his Majesty ordered their vessels to be seized?

They first burnt the vessels of the King

. Has his Majesty sent troops to chastise them?

They first took up arms against the authority of the King.

Has his Majesty engaged the Indians against them?

They first engaged Indians against the troops of the King

. Has his Majesty commanded their captives to serve on board his fleet? He has only saved them from the gallows.

By some, these acts have been improperly called "Acts of punishment." And we are then asked, with an air of insult, "What! will you punish without a trial, without a hearing?" And no doubt punishment, whether ordinary or extraordinary; whether by indictment, impeachment, or bill of attainder, should be preceded by judicial examination. But,

the acts comprised under this head are not acts of punishment; they are, as we have called them, this of self-defence.

And these are not, cannot be, preceded by any judicial examination. An example or two will serve to place the difference between acts of punishment and acts of self-defence in a stronger light, than any definition we can give. It has happened, that bodies of manufacturers have risen, and armed, in order to compel their masters to increase their wages: It has happened, that bodies of peasants have risen, and armed, in order to compel the farmer to sell at a lower price. It has happened, that the civil magistrate, unable to reduce the insurgents to their duty, has called the military to his aid. But did ever any man imagine, that the military were sent to punish the insurgents? It has happened, that the insurgents have resisted the military, as they had resisted the civil magistrate: It has happened, that, in consequence of this resistance, some of the insurgents have been killed: — But did ever any man imagine that those who were thus killed, were therefore punished?

No more can they be said to be punished, than could the incendiary, who should be buried beneath the ruins of the house, which he had feloniously set on fire.

Take an example yet nearer to the present case. When the Duke of Cumberland led the armies of the king, foreign and domestic, against the Rebels in Scotland, did any man conceive that he was sent to punish the Rebels? — Clearly not. — He was sent to protect dutiful and loyal subjects, who remained in the peace of the King, against the outrages of Rebels, who had broken the peace of the King. — Does any man speak of those who fell at the battle of Culloden, as of men that were punished? Would that man have been thought in his senses, who should have urged, that the armies of the King should not have been sent against these Rebels in Scotland, till those very Rebels had been judicially heard, and judicially convicted? Does not every man feel that the fact, the only fact, necessary to be known, in order to justify these acts of self-defence, is simply this: — Are men in arms against the authority of the King? — Who does not feel, that to authenticate this fact, demands no judicial inquiry? If when his Royal Highness had led the army under his command into Scotland, there had been no body of men in arms; if, terrified at his approach, they had either laid down their arms and submitted, or had dispersed and retired quietly, each to his own home, what would have been the consequence? The civil magistrate would have searched for and seized upon those who had been in arms would have brought them to a court of justice. That court would have proceeded to examine, and to condemn or to acquit, as evidence was, or was not, given of the guilt of the respective culprits. The Rebels did not submit, they did not lay down their arms, they did not disperse; they resisted the Duke: a battle ensued: some of the Rebels fled, others were slain, others taken. It is upon those only of the last class, who were brought before and condemned by Courts of justice, that punishment was inflicted. By what kind of logic then are these acts ranked in the class of grievances?

These are the Acts — these are the exertions of constitutional, and hitherto, undisputed powers, for which, in the audacious paper, a patriot King is traduced — as "a Prince, whose character is marked by every Act "which may define a tyrant;" as "unfit to be the ruler of a free people." These are the Acts, these exertions of constitutional, and, hitherto, undisputed powers, by which the Members of the Congress declare their selves and their constituents to be "absolved from all allegiance to the British Crown" pronounce "all political connection between Great Britain and America to be totally dissolved."

With that hypocrisy which pervades the whole of the Declaration, they pretend indeed, that this event is not of their seeking; that it is forced upon them

; that they only "acquiesce in the necessity which denounces their separation from us:" which compels them hereafter to hold us, as they hold the rest of mankind; enemies in war; in peace, friends."

How this Declaration may strike others, I know not. To me, I own, it appears that it cannot fail — to use the words of a great Orator— "of doing us Knight's service."10 The mouth of faction, we may reasonably presume, will be closed; the eyes of those who saw not, or would not see, that the Americans were long since aspiring at independence, will be opened;

the nation will unite as one man, and teach this rebellious people, that it is one thing for them to say, the connection, which bound them to us, is dissolved, another to dissolve it; that to accomplish their independence is not quite so easy as to declare it: that there is no peace with them, but the peace of the King

: no war with them, but that war, which offended justice wages against criminals. —

We too, I hope, shall acquiesce in the necessity of submitting to whatever burdens, of making whatever efforts may be necessary, to bring this ungrateful and rebellious people back to that allegiance they have long had it in contemplation to renounce, and have now at last so daringly renounced.

1. Under this head are comprised articles I. II. so far as they are true, III. VII. IX. so far as the last relates to the tenure of the Judges' offices. XI. XII. XIII. XIV. XVII. XVIII. so far as the last relates to the Declaration of the power of Parliament to make laws for the Colonies binding in all cases whatsoever.

2. See Com. Journ. vol. xii. , p. 70, 71, 72.

3. See Mr. Burke's speeches.

4. Article X.

5. Article XVIII, so far as it relates to the multiplication of the Courts of Admiralty.

6. Article XXI

7. Article VIII.

8. Under this head may be classed Articles IV., V. VI. IX. so far as the last relates to the payment of the Judges by the Crown. XV. XXII so far as the latter relates to the suspension of their legislatures.

9. Under this head may be classed Articles XVI.,XXIII, XXIV, XXV, XXVI, XXVII. Two other Acts there are, not comprised with any of the four heads, the XX and XXVIII. The former of there relates to the government of Quebec., with which the revolted Colonies have no more to do, than with the government of Russia: The latter relates to the humble petitions they pretend to have presented "in every stage," as they style it, "of the oppressions," under which they pretend to labour. This we have seen to be false. Not one one humble petition; no one decent representation, have they offered,

10. Mr. Burke's speech.

-- A Short Review of the Declaration, by Jeremy Bentham, 1776
Abortive prison project
In 1786 and 1787, Bentham travelled to Krichev in White Russia (modern Belarus) to visit his brother, Samuel, who was engaged in managing various industrial and other projects for Prince Potemkin.
His rule in the south is associated with the "Potemkin village", a ruse involving the construction of painted façades to mimic real villages, full of happy, well-fed people, for visiting officials to see.

-- Grigory Potemkin, by Wikipedia
It was Samuel (as Jeremy later repeatedly acknowledged) who conceived the basic idea of a circular building at the hub of a larger compound as a means of allowing a small number of managers to oversee the activities of a large and unskilled workforce.
[25][26]
Bentham began to develop this model, particularly as applicable to prisons, and outlined his ideas in a series of letters sent home to his father in England.[27] He supplemented the supervisory principle with the idea of contract management; that is, an administration by contract as opposed to trust, where the director would have a pecuniary interest in lowering the average rate of mortality.[28]
The Panopticon was intended to be cheaper than the prisons of his time, as it required fewer staff; "Allow me to construct a prison on this model," Bentham requested to a Committee for the Reform of Criminal Law, "I will be the gaoler. You will see ... that the gaoler will have no salary—will cost nothing to the nation." As the watchmen cannot be seen, they need not be on duty at all times, effectively leaving the watching to the watched. According to Bentham's design, the prisoners would also be used as menial labour, walking on wheels to spin looms or run a water wheel. This would decrease the cost of the prison and give a possible source of income.
[29]
The ultimately abortive proposal for a panopticon prison to be built in England was
one among his many proposals for legal and social reform.
[30] But
Bentham spent some sixteen years of his life developing and refining his ideas for the building and hoped that the government would adopt the plan for a National Penitentiary appointing him as contractor-governor.
Although the prison was never built, the concept had an important influence on later generations of thinkers. Twentieth-century French philosopher Michel Foucault argued that the panopticon was paradigmatic of several 19th-century "disciplinary" institutions.[31]
Bentham remained bitter throughout his later life about the rejection of the panopticon scheme, convinced that it had been thwarted by the King and an aristocratic elite. It was largely because of his sense of injustice and frustration that he developed his ideas of "sinister interest"—that is, of the vested interests of the powerful conspiring against a wider public interest—which underpinned many of his broader arguments for reform.
[32]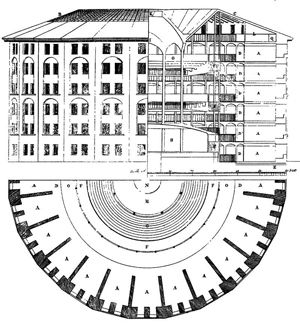 Elevation, section and plan of Bentham's panopticon prison, drawn by Willey Reveley in 1791.
On his return to England from Russia, Bentham had commissioned drawings from an architect, Willey Reveley.[33] In 1791, he published the material he had written as a book, although he continued to refine his proposals for many years to come. He had by now decided that he wanted to see the prison built: when finished, it would be managed by himself as contractor-governor, with the assistance of Samuel.
After unsuccessful attempts to interest the authorities in Ireland and revolutionary France,[34] he started trying to persuade the prime minister, William Pitt, to revive an earlier abandoned scheme for a National Penitentiary in England, this time to be built as a panopticon. He was eventually successful in winning over Pitt and his advisors, and in 1794 was paid £2,000 for preliminary work on the project.
[35]
The intended site was one that had been authorised (under an act of 1779) for the earlier Penitentiary, at Battersea Rise; but the new proposals ran into technical legal problems and objections from the local landowner, Earl Spencer.[36]
Other sites were considered, including one at Hanging Wood
, near Woolwich, but all proved unsatisfactory.[37] Eventually Bentham turned to a site at Tothill Fields, near Westminster. Although this was common land, with no landowner, there were a number of parties with interests in it, including Earl Grosvenor, who owned a house on an adjacent site and objected to the idea of a prison overlooking it. Again, therefore, the scheme ground to a halt.[38] At this point, however, it became clear that a nearby site at Millbank, adjoining the Thames, was available for sale, and this time things ran more smoothly. Using government money, Bentham bought the land on behalf of the Crown for £12,000 in November 1799.[39]
From his point of view, the site was far from ideal, being marshy, unhealthy, and too small.
When he asked the government for more land and more money, however, the response was that he should build only a small-scale experimental prison—which he interpreted as meaning that there was little real commitment to the concept of the panopticon as a cornerstone of penal reform.
[40] Negotiations continued, but in 1801 Pitt resigned from office, and in 1803 the new Addington administration decided not to proceed with the project.[41] Bentham was devastated:
"They have murdered my best days."
[42]
Nevertheless, a few years later the government revived the idea of a National Penitentiary, and in 1811 and 1812 returned specifically to the idea of a panopticon.[43] Bentham, now aged 63, was still willing to be governor. However, as it became clear that there was still no real commitment to the proposal,
he abandoned hope, and instead turned his attentions to extracting financial compensation for his years of fruitless effort. His initial claim was for the enormous sum of nearly £700,000, but he eventually settled for the more modest (but still considerable) sum of £23,000.
[44] An Act of Parliament in 1812 transferred his title in the site to the Crown.[45]
More successful was his cooperation with Patrick Colquhoun in tackling the corruption in the Pool of London. This resulted in the Thames Police Bill of 1798, which was passed in 1800.[a] The bill created the Thames River Police, which was the first preventive police force in the country and was a precedent for Robert Peel's reforms 30 years later.[47]
Correspondence and contemporary influences
Bentham was in correspondence with many influential people. In the 1780s, for example, Bentham maintained a correspondence with the aging Adam Smith, in an unsuccessful attempt to convince Smith that interest rates should be allowed to freely float.[48] As a result of his correspondence with Mirabeau and other leaders of the French Revolution, Bentham was declared an honorary citizen of France.[49]
He was an outspoken critic of the revolutionary discourse of natural rights
and of the violence that arose after the Jacobins took power (1792). Between 1808 and 1810, he held a personal friendship with Latin American revolutionary Francisco de Miranda and paid visits to Miranda's Grafton Way house in London. He also developed links with José Cecilio del Valle.[50][51]
South Australian colony proposal
Bentham contributed to a plan to found a new colony in South Australia: in 1831 a "Proposal to His Majesty's Government for founding a colony on the Southern Coast of Australia" was prepared under the auspices of Robert Gouger, Charles Grey, 2nd Earl Grey, Anthony Bacon and Bentham, but its ideas were considered too radical, and it was unable to attract the required investment.[52]
Westminster Review
In 1823, he co-founded The Westminster Review with James Mill as a journal for the "Philosophical Radicals"—a group of younger disciples through whom Bentham exerted considerable influence in British public life.
[53][54] One was John Bowring, to whom Bentham became devoted, describing their relationship as "son and father": he appointed Bowring political editor of The Westminster Review and eventually his literary executor.[55]
Another was Edwin Chadwick, who wrote on hygiene, sanitation and policing and was a major contributor to the Poor Law Amendment Act: Bentham employed Chadwick as a secretary and bequeathed him a large legacy.
[56]
Chadwick is remembered at the London School of Hygiene & Tropical Medicine where his name appears among the names of 23 pioneers of public health and tropical medicine chosen to be honoured when the School was built in 1929.

[34]

-- Edwin Chadwick, by Wikipedia
An increasing number of academic and research institutions, in the UK and globally, are responding to calls to decolonise the university.

Starting at the University of Cape Town in 2015, the

Rhodes must fall

movement made its way to the University of Oxford.

More recently, in the summer of 2019, the University of Glasgow signed a historic agreement with the University of the West Indies acknowledging the former's historic links with slavery and setting out to raise and spend £20 million over the next 20 years on research and events highlighting the history of enslavement (University of Glasgow, 2019). In London, University College London (UCL) is currently in the midst of a one-year process to investigate UCL's links to the British eugenics movement. These processes, crucially, place an emphasis on 'decolonisation, not diversification' (RMFO, 2015), that is to say they demand an in-depth engagement with the colonial and racist history that has and continues to shape knowledge production and institutional development at these universities, rather than the mere 'tokenistic' hiring of BME staff.

At LSHTM, the Decolonising Global Health group formed in March 2019 with the aim of creating a space to (self-) reflect and discuss how colonial legacies still shape global health internationally and at the school. A particular focus was hereby placed on colonial legacies in research, career progression and learning and teaching. These questions have particular salience in light of LSHTM's 120th anniversary, which celebrated the school's founding by Sir Patrick Manson in 1899. Manson, then Chief Medical Officer to the Colonial Office, is one of the most obvious links between the School and Britain's colonial Empire. The Decolonising Global Health group was consulted in the writing of this protocol....

Individuals, Publications, Race-related issues

This theme builds on recent internal concerns with past expressions of racist or white supremacist attitudes by staff/school representatives, for example in discussion of Cicely Williams' early writing. Several sources have made reference to a Chair of Racial Hygiene, which used to exist at the School and some research will be directed to investigate this as well as racist writings contained in the LSHTM archives. L.W.G. Malcolm, an Australian anthropologist worked as Lecturer on Racial Hygiene at the School in the early 1930s. Major Greenwood, director of the department of Epidemiology and Vital Statistics studied under Karl Pearson, a known eugenicist at UCL, and seems to have been a member of the Eugenics Education Society (EES), although this still needs to be verified in the EES archives, which are held by the Wellcome Archives. Other alumni or past staff members whose writing may yield valuable case studies include Cecil Cook and Kenneth Mellanby.-- The LSHTM [London School of Hygiene & Tropical Medicine] and colonialism: history and legacy – Draft protocol
Meanwhile in Western Europe, especially Britain and Germany, the adaptation of Darwin's ideas by his colleague and half-cousin Francis Galton -- as 'social Darwinism' -- led to the eugenics movement.

Eugenics established itself as a powerful dogma at the prestigious London School of Hygiene and Tropical Medicine (LSHTM)

and equally prominent University College London in Gower Street. In the second of two papers on 'Hereditary Talent and Character', which is commonly held to mark the start of modern British psychology (Billig 1982, p. 72), Galton (1865), a renowned anthropologist and psychologist, claimed that European 'civilised races' alone possessed the 'instinct of continuous steady labour' while non-European 'savages' showed an innate 'wild untameable restlessness' and being 'incapable of progress ... remain children in mind with passions of grown men' (pp. 325-326). Galton's views were regarded with much respect by the British establishment at the time and were certainly not regarded as eccentric or offensive. He received many awards during his career. He was made a fellow of the Royal Society in 1860, and was knighted shortly before he died (Brignell 2010). The main thrust of eugenics (accepted at the time as a scientific endeavour) was to identify 'inferior' races. Protege of Galton and first holder of the Galton Chair of Eugenics at University College,

Karl Pearson

(1901) saw the extermination of such races as an inevitable part of the evolutionary process. Yet the racist eugenic movement (like most academic discourses) formed links across the Atlantic into the wider English-speaking world. Work carried out on Ellis Island (where immigrants to the USA were held when they first arrived) by H.H. Goddard -- America's leading eugenicist psychologist [at the time] according to Richards (2012, p. 78) -- led to a scale for the estimation of 'mental defect' [sic] (Knox 1914).

-- Institutional Racism in Psychiatry and Clinical Psychology: Race Matters in Mental Health, by Suman Fernando