Part 1 of 5
The Story of Happy Valley [Ojai Valley School, Upper Campus] [The Ojai Foundation] [Besant Hill School of Happy Valley]
Compiled and Narrated by Radha Rajagopal Sloss
The Happy Valley Foundation, Ojai, California
2nd Edition Copyright © 2006 Radha Rajagopal Sloss
Original Edition Copyright © 1998 Radha Rajagopal Sloss
Chapters XI and XII Copyright © 2016
The Happy Valley Foundation, P.O. Box 804, Ojai, California 93024-0804
NOTICE: THIS WORK MAY BE PROTECTED BY COPYRIGHT
YOU ARE REQUIRED TO READ

THE COPYRIGHT NOTICE AT THIS LINK

BEFORE YOU READ THE FOLLOWING WORK, THAT IS AVAILABLE SOLELY FOR PRIVATE STUDY, SCHOLARSHIP OR RESEARCH PURSUANT TO 17 U.S.C. SECTION 107 AND 108. IN THE EVENT THAT THE LIBRARY DETERMINES THAT UNLAWFUL COPYING OF THIS WORK HAS OCCURRED, THE LIBRARY HAS THE RIGHT TO BLOCK THE I.P. ADDRESS AT WHICH THE UNLAWFUL COPYING APPEARED TO HAVE OCCURRED. THANK YOU FOR RESPECTING THE RIGHTS OF COPYRIGHT OWNERS.
Osel [Rangdrol Mukpo/Sakyong Mipham] was in boarding school in Ojai, California. We thought that an intense residential situation might help overcome his difficulties learning to read and write in English...

The day of his enthronement [1976], Gesar and I were driven by members of the Dorje Kasung to the dharmadhatu in Berkeley... Osel was also there to witness the enthronement. He was in boarding school at the Ojai Valley School near Santa Barbara at this time, a school founded on, the teachings of Krishnamurti and Rudolf Steiner. He was maturing into a much more confident and outgoing young man [14 yrs. old].-- Dragon Thunder: My Life with Chogyam Trungpa, by Diana J. Mukpo with Carolyn Rose Gimian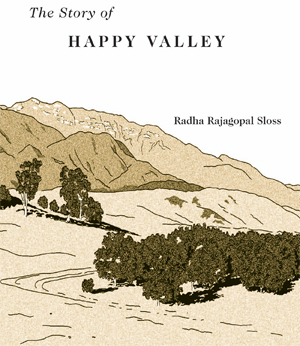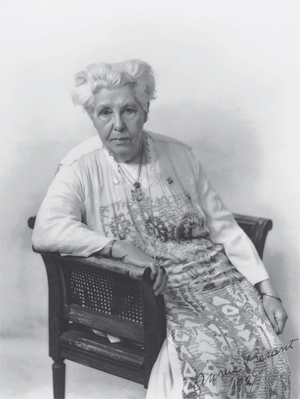 Annie Besant, 1927
In loving memory of my mother Rosalind Rajagopal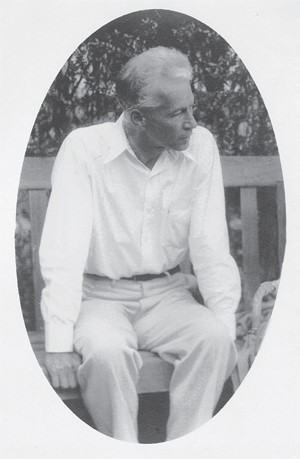 Robert Logan, c. 1927
The Happy Valley

There lies a valley in the West,

Between the ocean and the stars,

Surrounded by a magic crest

Of mountains seamed with scars.

There stolidly the cactus clings,

His thorns with fairy flowers crowned,

While the more daring yucca springs

Impatient from the ground.

The boisterous torrents which assail

The echoing boulders of the steep

Grow drowsy as they reach the vale

And on its meadows sleep.

Citrus and almonds and the tang

Of eucalyptus scent the breeze

And fruit and flower together hang

On dark leaved orange trees.

And there the gopher guards his home

And there the lark protects her nest

While hillside flanks of purple loam

Are by the plow caressed.

And there the sower as he throws

His golden handfuls to the air

Beholds in visions as he shows

A mightier Sower there

Whose seeds of wisdom, love and power

Shall in that valley find increase

Until the human race shall flower

in brotherhood and peace.

-- Robert R. Logan, 1928
Acknowledgements
Sources of information for this book include: seventy-five years of The Happy Valley Foundation minutes and relevant correspondence, as well as the first twenty years of The Happy Valley School Board minutes. Of great value was the fortuitous discovery of Frank Gerard's diary.
The author is indebted to The Happy Valley Foundation trustees for valuable insights, corrections, and anecdotes.
Photographs are from the archives of the The Happy Valley Foundation, The Happy Valley School, and the private collections of Rosalind and D. Rajagopal, Erma Williams Zalk, Beatrice Wood, Mabel Zimmers, Austin Bee, Jorge Uribe, and Radha Sloss.
Contents
• frontispiece
• "The Happy Valley"
• Contents
• Illustrations
• Preface
• I Annie Besant
• II High Ideals and the Realities of Real Estate
• III Holding on in the Great Depression
• IV Onward Through the War Years
• V The Greening of Happy Valley
• VI Nuts, Bolts, and Principles
• VII The Time Has Come
• VIII Losses and Changes
• IX Through the Looking Glass
• X The Vision Revisited
• XI Down the Rabbit Hole
• XII Wonderland
• Endnotes
• Appendix A: "The Guest Lecturer"
• Appendix B: "Aun Aprendo"
• Appendix C: "Qualifications of Trustees"
• Appendix D: Frank Gerard's Map
• Appendix E: Happy Valley Foundation Study Map
• Appendix F: List of Happy Valley Trustees
• Appendix G: Happy Valley Cultural Center Events 2001 – 2005
• Appendix H: M:OME Renditions
• Index
Illustrations
• Annie Besant 1927
• Robert Logan c. 1927
• Gathering at Arya Vihara c. 1927
• Annie Besant and Krishnamurti, Ojai, 1927
• Krishnamurti c. 1927
• Annie Besant c. 1895
• D. Rajagopal c. 1927
• Happy Valley 1927
• Grace and George Hall
• Star camp cafeteria c. 1927
• Sara and Robert Logan, Ojai, c. 1930
• Louis Zalk as a young man
• Robert Logan 1927
• Robert Logan and Rosalind Rajagopal c. 1940
• Rosalind Rajagopal c. 1943
• Gathering at the old barn, Happy Valley, 1946
• The old barn 1997
• Tucker's farm house 1997
• Louis Zalk, Ojai, c. 1950
• Gathering at Adobe House 1948
• Adobe House 1997
• Rajagopal, Louis Zalk, Robert Logan c. 1945
• Rajagopal, Krishnamurti, Maria and Aldous Huxley c. 1947
• Happy Valley School early 1950s
• Krishnamurti, Arya Vihara, 1946
• Aldous Huxley c. 1950
• Happy Valley School performance, Twelfth Night, 1947
• Happy Valley School folk dance exhibition 1950s
• Lili Kraus 1954
• Dr. Ferrando with students early 1950s
• Rosalind with students mid-1950s
• Jorge A.Uribe c. 1978
• Meeting on Happy Valley 1968
• Franklin Lacey c. 1958
• Austin Bee c. 1955
• Happy Valley School 1997
• Saro Vihara c. 1930
• Beatrice Wood (Beato) and James Sloss, Ojai, 1967
• Logan and Wood Houses 1997
• Beato and Rosalind c. 1982
• Sean Wellesly-Miller at Bio-shelter foundation c. 1979
• Joan Halifax, Virginia Coyle, and Radha Sloss, Happy Valley, 1988
• Happy Valley Foundation meeting 1988
• Trustees at lunch, Logan House, 1988
• Rosalind with Molly, Happy Valley, c. 1988
• Dennis Rice 1997
• Director's House 1997
• Arrow House 1997
• Jorge Uribe, Happy Valley School commencement talk, 1988
• Austin Bee, after his Happy Valley School commencement talk, 1982
• Yurt 1997
• Happy Valley School dormitory fire 1990
• James Sloss with Sindhu at the Happy Valley School gazebo 1988
• Helen Bee and John Gorsuch
• Logan House c. 1988
• Walnut trees gone 1995
• James Sloss, as Chairman
• Assembly/Theater foundation, December 1997
• Happy Valley School dormitories 1997
• Beato 1985
• David Anderson, Interim Director 2004-2006
• Matt Storey and Family
• Kevin Wallace, Curator of the Beatrice Wood Center for the Arts
• Paul Amadio, Head of Happy Valley School 2006
• Besant Hill School and Center for the Arts Sign
• Happy Valley as Annie saw it
• Randy Bertin, 2015 Besant Hill School Graduation
• Aerial Photo, school campus
• Snow on Topa Topa
• Gladys & Franklin Lacey
• Beato Atelier
• Lili Kraus' Steinway
• Beatrice Wood Center for the Arts Permanent Collection
• Children's Art Workshop
• Heidi Lehwalder with the Harp Designed by Carlos Salzedo
• Heidi Lehwalder, Artistic Director of Chamber On The Mountain
• Sunset on Topa Topa
Preface
One of the beauty spots of the world is the Ojai Valley in California.

Mountains ring it round; it has remained secluded till recent times, and is still but sparsely inhabited. In winter snow lies on the high mountain-tops, but does not touch the Valley. The climate is superb; orange-trees laden with golden fruit grow in parts of it, apricots and other fruit-trees in other parts. The sun shines out from behind a sky of deepest blues and, as it sets behind the mountain peaks, it paints the mountainsides in various purples and violets, and, when clouds float in the clear air and stream across the blue, it paints them in deepest crimson and glowing orange, and through the gaps we see lakes and rivulets of greenish blue,

a panorama of gorgeous splendor, that I have only seen rivaled in Egypt or, in the rainy season, in India.

The Valley itself has stretches of flat land broken by curving mounds and hillocks of considerable height, with the great mountains, barren and rugged, holding within their protecting arms the smiling Vale from end to end.

Such is the setting for the cradle of the New Civilization in America.

-- Annie Besant, Ojai, 19271
This is the story of how that vision became a reality. It all began with a visit to Ojai valley. The vision was based on the conviction of Annie Besant and those who believed with her that certain spiritual ideals can bring about practical and effective social changes, alleviating misery and human violence. Though her vision may not be completely fulfilled, it is an ongoing process presently being realized through the Happy Valley School and the community slowly forming on the land.
Considering the seventy years that have passed since her description, remarkably little desecration has marred the Ojai valley and virtually none in Happy Valley itself. Growth is inevitable, some ugly, some tolerable. Sometimes sheer economic restriction does more to protect scenic beauty than the best of organized efforts. In the case of Happy Valley there has been time for careful and deliberate development. As we are about to complete the high school campus, it seems appropriate to look back at our origins, to reiterate and contemplate the visions and efforts of the original guardians of this land.
I. Annie Besant
Unquestionably Happy Valley began with Annie Besant and her vision. Annie Besant had been involved in various progressive movements of the nineteenth century before she joined the Theosophical Society in 1889. As an atheist she had worked through a wide range of social reforms including birth control, women's suffrage and trade unions. She had been a Fabian Socialist. She had achieved fame in reform circles for organizing one of the first union strikes for the London "match girls."
Along the way she came to realize that the worldwide improvements of the human condition, for which she and her fellow workers strove so arduously, needed a much deeper revolution, a basic change in human nature; otherwise there could be no lasting social transformation. Her early experiences with orthodox Christianity precluded her turning back in that direction. She discovered instead the Secret Doctrine, an evolutionary system of human spiritual development through which human salvation could be achieved. Written by H.P. Blavatsky, the co-founder of The Theosophical Society, the Secret Doctrine combined Hindu/Buddhist doctrines of reincarnation and karma into an elaborately laid out divine plan. The plan was thought to be guided by a brotherhood of adepts, (masters or superhuman agents) dedicated to helping humanity and
preparing for the world teacher who would lead humanity to a new civilization
. Throughout the ages it had been the work of this brotherhood to bring to the human world, at regular intervals, the guidance of a spiritual teacher such as the Buddha and Jesus Christ had given in their times.
The somewhat confusing concept of "root races" was woven throughout the doctrine whereby humanity, over long periods of time evolved through a series of mother or root races (each including seven subraces), the word race, referring to different human qualities or potentials. According to Blavatsky, in this present age, humanity is largely made up of the fifth root race with an emphasis on the mental and technological aspects of the human mind. The sixth subrace, already being born, would have a greatly developed intuitive and spiritual potential, enabling it to recognize a common oneness of all life.

This sixth subrace would comprise the "seed" people who would herald and provide for the coming sixth root race. California was looked upon as a probable location for this new development. Seismic activity in the Pacific rim conjured up associations with Atlantis, the lost continent, as the ultimate home of the sixth root race. A new continent would arise over eons in the Pacific ocean. Rumors of exceptional children being born in Southern California bolstered these imaginative speculations. Energy would soon gather like clouds of welcome rain over the pristine Ojai Valley.
Indigo children, according to a pseudoscientific New Age concept, are children who are believed to possess special, unusual, and sometimes supernatural traits or abilities. The idea is based on concepts developed in the 1970s by Nancy Ann Tappe and further developed by Lee Carroll and Jan Tober. The concept of indigo children gained popular interest with the publication of a series of books in the late 1990s and the release of several films in the following decade. A variety of books, conferences and related materials have been created surrounding belief in the idea of indigo children and their nature and abilities. The interpretations of these beliefs range from their being the next stage in human evolution, in some cases possessing paranormal abilities such as telepathy, to the belief that they are more empathetic and creative than their peers.

No scientific studies give credibility to the existence of indigo children or their traits. Some parents choose to label their children who have been diagnosed with learning disabilities as an indigo child to alternatively diagnose them. Critics view this as a way for parents to avoid considering pediatric treatment or a psychiatric diagnosis. Some lists of traits used to describe indigo children have also been criticized for being vague enough to be applied to most people, a form of the Forer effect.

-- Indigo children, by Wikipedia
***
Annie Besant was an activist and not one to set her sights on another millennium. The purchase of what she would name the Happy Valley and the establishment of the Happy Valley Foundation would be her final achievement in a long life of extraordinary achievements.
Early on
as a Fabian Socialist
she had recognized that education was the essential element of progressive reform. And now her goal was to establish a nucleus of those committed to the universal brotherhood of man, "without distinction of race, creed, sex, caste or color" (a remarkably radical statement for the late nineteenth century). Among her selection for foundation members were those particularly committed to this principle. Coming, as Theosophists, from widely different geographic and cultural traditions, among others, the brahmanical teacher, rabbinical Judaism and the Quakers' faith in "gentle persuasion," they joined in a common goal at Happy Valley.
The year of 1926 would prove to be a landmark in the complex relationships around Annie Besant. She was traveling westward with an entourage including her protégé, the probable World Teacher J. Krishnamurti, D. Rajagopal, his future wife Rosalind Williams, and Fritz Kunz a dedicated and highly placed member of the Theosophical Society. Her arrival in Ojai was awaited with unsuppressed joy by numerous members of the local Theosophical headquarters at Krotona, already well-established in Ojai.
Krishnamurti, familiar with the valley for the past four years, hoped to establish a center here where he could hold talks and discussions. Fritz Kunz had been asked to scout for land for this purpose.
Annie had a parallel purpose. An experiment in living in which the concepts of brotherhood, nonviolence, and what Albert Schweitzer would much later call a "reverence for life," had been foremost in Annie Besant's mind for some years. She recognized the efficacy of starting with well directed small groups, drawn together in work and study, by a greater purpose. She realized that the results could not be forced. There must develop within each individual those ideals that would create a better society at large. She had not yet focused on a specific site for such a pilot community. But awaiting her in Ojai was a vast acreage of virgin land, said to be sacred to the Chumash.
***
The seeds of Happy Valley's future had been planted two years before Annie Besant arrived in Ojai for the first time on October 1, 1926. The idea of a school was forming in the mind of a young Theosophist, Frank Gerard. Frank had been involved in trade in India in 1923, where he had known Annie Besant and other eminent members of the Society and he had been a devotee of Krishnamurti since 1915.
Frank first came to Ojai in February of 1924, with his wife Mary and infant daughter, for a weekend visit at the home of the well-to-do Theosophist Mary Gray. He hoped also to call on Krishnamurti (or Krishna, as he was familiarly called) and his ailing brother Nitya, who were in residence next door at Arya Vihara, the redwood ranch house recently purchased for them by some well-to-do Theosophists. Frank was attempting to establish himself as a businessman in Los Angeles but to his great distress, he was finding that
L.A. was just about as rotten a place to conduct business as it would be possible to find anywhere in the world….

All the way from Ventura to the Ojai I was conscious of a growing sense of future importance and as soon as I came in to the Valley I knew that my future would be in some way connected with the place.2
Frank investigated various real estate possibilities in the area. He also became convinced of the advantages to the society in procuring the local newspaper to better prepare the way for the coming of the World Teacher in that community. He was concerned that because the present owners of the newspaper were Catholics in the process of building a large boys school near the Theosophical headquarters of Krotona, there might develop some opposition to these Theosophical goals. Meanwhile, economic necessity compelled him to take a teaching job at Thacher School, a well-established boarding school for boys.
This job further convinced Frank that there should be a Theosophical school in Ojai. While he enjoyed teaching, he found there was "not much scope for individuality on the part of members of the staff," at Thacher School nor any accommodation for vegetarians. Just as well that he was told he would not be needed there the following year. He had his hands full preparing Arya Vihara for the return of the "brothers." Nitya was reportedly in dire ill health.
Fritz Kunz was already staying at Arya Vihara when in that summer of 1925, the party arrived from Australia consisting of Krishna, Nitya and Rosalind Williams, who had been caring for Nitya during his last recurrence of tuberculosis.
Only a few days elapsed before Frank and Fritz talked to Krishna about buying the local newspaper the Ojai. They gained his approval and raised the $11,000 necessary from private sources. By August 1, Frank was running the paper and the attached printing business, encountering only minor suspicion from the local residents who were aware that he was a Theosophist.
At Nitya's request, his friend D. Rajagopal, having just completed his L.L.D. degree from Cambridge University, returned to Ojai during the summer to help Rosalind with Nitya's care and, as it turned out, to be prepared by Nitya to shoulder responsibility in the burgeoning activity around the World Teacher. (Rajagopal, like Krishnamurti, had been a young protégé of Annie Besant and would remain involved, officially and unofficially with Happy Valley.)
There was also the problem of sufficient water at Arya Vihara for domestic needs, which was only temporarily solved by drawing on Mary Gray's well next door. Frank took Krishna and Rajagopal down to the bottom of McAndrew Road to consider buying fifteen acres west of the Marengo farm, where he believed a well could provide water for Arya Vihara.3 Subsequently Fritz was able to raise funds from the Star Trust, which had been established for the World Teacher, for a down payment on the Marengo acreage and the development of the well.
Although Nitya was far from recovered, Krishna, Rosalind, and Rajagopal were summoned by Annie Besant to attend the Theosophical Golden Jubilee in Adyar, India. Krishna was convinced that nothing could happen to his brother as the masters had assured him (via the authorized occult communicator Bishop Leadbeater) that Nitya was essential to the work. When news came of Nitya's death, as their ship passed through the Suez Canal, Krishna was shocked to the core. He would never again rely on the masters for guidance and would eventually doubt their very existence. This new perspective would have a profound future effect on his relationship to Happy Valley.
Meanwhile Frank, being a practical-minded man was, with Fritz's help, busily developing the new well for Arya Vihara. Water had to be pumped one mile up hill. Eventually pipes and pump were installed and a good flow of water established. In the course of this project, Fritz and Frank had explored the seventy-acre Sarzotti Mesa, accessible by a rough dirt track from the foot of McAndrew Road.
Both men felt it would be the perfect site for a future school. The views of the valley and upper Ojai were spectacular. Gently rolling terrain, studded with oaks and eucalyptus, overlooked Tucker's walnut orchards to the south.
There was one major drawback, aside from that of no decent right of way from the north. "The oil rights are in the hands of other parties but we hope to get these in time," Frank wrote optimistically in his diary. He could not have guessed at the ups and downs, disputes and worries that would intermittently surround this oil rights issue and remain, to present times, not entirely resolved. Undeterred by any discouraging premonitions, Fritz and Frank struggled with options, bargaining with Sarzotti to obtain land sufficient for the possible future school and community that they both felt to be a necessary component in the grand scheme. Fritz was so convinced about the future purpose that he optioned, on his own account, another eighty acres to the east of Sarzotti Mesa. Frank attempted to track down the owners of the oil rights on the Sarzotti parcel but found only confused records of one of the owners and that the other had died, whereupon he abandoned the matter for the time being.
They were also concerned about a clear right of way and recognized the importance of obtaining a private road but again were reluctant to lose the Sarzotti deal and so proceeded with the down payments. Later Fritz would find it difficult to explain why they proceeded without first clearing up these two issues, and the resulting sense of criticism he felt in later days might have had something to do with his discouragement and ultimate withdrawal from the whole enterprise.
Finally in the summer of 1926, word came that Annie Besant and her entourage could be expected in Ojai in October, after attending the Theosophical Society Convention in Chicago. Upon Nitya's death, Rajagopal had been appointed the General Secretary/Treasurer of the Order of the Star, an organization founded with enthusiasm, in the face of some criticism from other Theosophists, by Annie Besant and Leadbeater to prepare the way for the World Teacher. The charismatic Krishnamurti as the candidate for this role had galvanized public interest far beyond the reaches of Theosophists. Frank urged Fritz to attend the Chicago convention in case discussion came up regarding a California center. It is unlikely however, that this was an opportune moment to get serious attention from any of the "top bananas" as they had jokingly been dubbed by Rajagopal. Annie Besant had to deal with a burdensome amount of publicity, some fair, some humorous, and some unpleasant. Headlines ranged from "the Messiah in Tennis shoes" to "Gentlemen Prefer Blondes," (referring to Rosalind as a member of the party). Rosalind was sent home to her family in Ojai and Annie embarked on a strenuous lecture tour. (In Everett, Washington, she met a boy of twelve, Austin Bee, who would one day play a vital part in the development of Happy Valley, and who would be for many years a trustee as well as Chairman of the Happy Valley Foundation.) The "top bananas" were all re-united at Arya Vihara on October 1.
II. High Ideals and the Realities of Real Estate
Annie Besant was accustomed to coping with the whirlwinds which she herself generated wherever she went. While Ojai must have appeared to her as a haven of tranquility, for Frank, Fritz, and the other Theosophists involved in arranging for her arrival, life in Ojai was anything but tranquil. There were lectures attended by such celebrities as the dancer, Isadora Duncan. Local Theosophists had already discovered that they were an attraction for the nearby world of Hollywood and soon the arrival of the World Teacher would intensify this magnetism.
In this euphoric atmosphere most people were carried away by the presence of Annie and Krishna. She speaking of the objectives of the Society and he of his love for the valley. After nine days the whole party departed to continue their tour of America and then to return to India. Evidently Frank had not found an opportunity to discuss with any of them his ideas for a school or to show them again the land that he and Fritz were now so convinced was the perfect location for that enterprise.
Frank and his family moved in as caretakers of Arya Vihara, only to receive notice a few days later that Annie and Krishna had decided not to go to India that winter but would return instead to Ojai. The Gerards considered it an honor to have stayed in a place "which will some day be of historical fame" and cheerfully packed up and moved out.
Fritz, overworked by organizational problems, had become ill with pneumonia and had taken off for Mexicali without a chance to speak to Annie on her return. This left Frank alone to press on with ideas for the land acquisitions, the school, and a center for the World Teacher. After several conferences with Krishna and Rajagopal he felt he was not getting the hoped for response.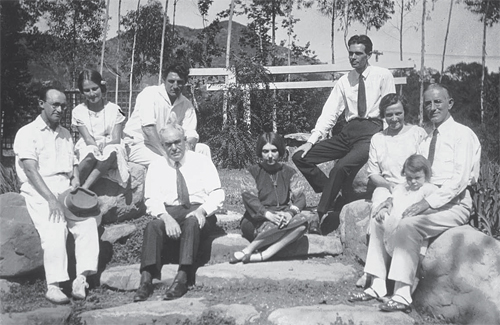 Gathering at Arya Vihara, c. 1927. Fritz and Dora Kunz, Max Wardall, Judge Holland, Beatrice Wood, Reginald Pole, Mary Gerard and child, A. P. Warrington
There are a great many different sets of opinions and the whole matter is very much complicated by 'snap judgments' on the part of those who have not been closely in touch with the situation. 4
But this slight setback was allayed by the presence of Annie who
is most wonderfully charming and genial. Words cannot describe the perfection of her life. She radiates love and happiness and wisdom. Her talks are full of life and hope and encouragement. 5
Frank still did not know that Krishna, both spiritually and psychologically, was moving away from the Theosophical view of the masters and was seeking another base from which to launch "the teachings." In private, Krishna was tentatively describing his consciousness as merging with the Buddha, a concept that was puzzling to Annie, but with her characteristic loyalty she left him free to find his own path. That this path would eventually lead him across the valley – away from Happy Valley and onto his own turf was as yet unforeseen.
She never fully resigned herself to his "blending of consciousness" theory. But at the same time, she gave him her unflinching public support and did her utmost to reconcile the two views. 6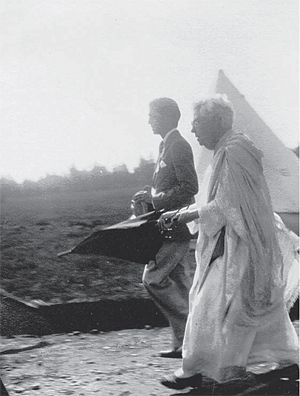 Annie Besant and Krishnamurti, Ojai, 1927
At eighty years of age, Annie Besant still retained the pilgrim spirit that had guided her whole life and she would not deny this freedom to another, no matter what the consequences to her own dream. George Bernard Shaw wrote that:
Annie Besant is a woman of swift decisions. She sampled many movements and societies before she finally found herself; and her transitions were not gradual; she always came into a movement with a bound, and was preaching the new faith before the old one was shaken….One day I was speaking to…the editor of the Star I glanced at the proofs…one of them headed "Why I became a Theosophist." I immediately looked…for the signature, and saw that it was Annie Besant. Staggered by this unprepared blow, which meant to me the loss of a powerful colleague and of a friendship that had become part of my daily life, I rushed to her office in Fleet Street and there delivered myself of an unbounded denunciation of Theosophy in general, of female inconstancy, and in particular of H.P.Blavatsky, one of whose books – I forget whether it was The Secret Doctrine or Isis Unveiled – had done all the mischief. The worst of it was that I had given her this book myself as one that she might like to review… She listened to me with complete kindness and genuine amusement, and then said that she had become a vegetarian (as I was) and that perhaps it had enfeebled her mind. In short, she was for the first time able to play with me; she was no longer in the grip of her pride; she had after many explorations found her path and come to see the universe and herself in their real perspective.
Meanwhile Fritz had been discussing plans with Krishna and Rajagopal for the development of a center for the World Teacher's work. Frank persuaded Krishna to appoint a committee for this purpose.
Where the center was to be was as yet undetermined. George Hall, an active realtor as well as a Theosophist, was pushing for a tract of land adjacent to Krotona at the west end of the valley. At that point Krishna was unimpressed with the property. He persuaded Annie and the whole entourage from Arya Vihara, including Sara and Robert Logan, two prominent Philadelphia Theosophists, to go and see the land over which Frank and Fritz had "sweated so much blood."
One can imagine, given the issues and personalities involved, that this whole process of selecting a site for such momentous happenings was not entirely smooth.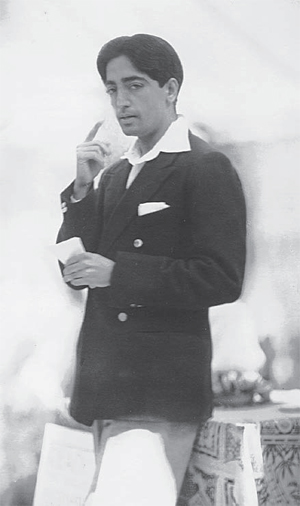 Krishnamurti, c. 1927
On the one hand George Hall and most of the leading Theosophists were bent on having the new center adjacent to Krotona. But Fritz and Frank had become convinced over the past months, and for reasons more esoteric and aesthetic than practical, that the site should be at the other end of the valley. Rajagopal with his characteristic caution was preeminently deterred by the lack of oil and access rights. Fritz was somewhat at odds with Rajagopal over their relative managerial posts and may have felt that the younger man had been placed over him as General Secretary/Treasurer of the Order of the Star, while he, Fritz, had labored hard to carry out what he believed to have been Krishna's wishes. Ever since the previous fall Fritz had been discouraged by the lack of headway made on the plans he had thought so promising, before the "top bananas" came to town. It appears also that there was even some confusion as to what the "center" should be. Fritz found he could accomplish more when the "top-bananas" weren't around, so when he heard they were returning after only a few weeks' absence and feeling discouraged by the prospect of more conflicting opinions, he had retired to the desert. Frank had wired him in December to return, believing Fritz to be the prime mover in their plans and that nothing at all was likely to be accomplished in his absence. In spite of his continuing bad health, Fritz had complied.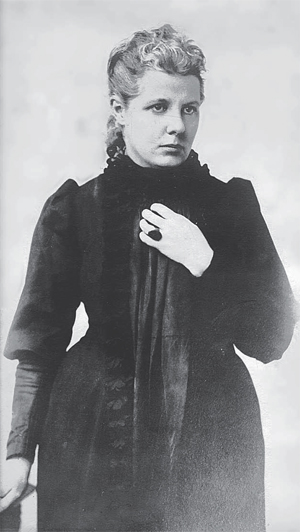 Annie Besant, c. 1895, wearing H.P. Blavatsky's ring, as G.B. Shaw remembered her
On that morning of January 3, 1927, exceptionally fair after some days of rain, the party started off in two cars, down McAndrew Road to the Marengo well site and up the dirt track toward Sarzotti Mesa. This happy expedition was soon stalled in the mud. Fritz's car was rescued by mules, gathered from the neighboring farm. But Frank's was so deeply mired that he had to abandon it to a crane from the Ojai garage. Fritz backed down his car with Annie, Krishna, Rajagopal, Rosalind and Sara Logan inside (the Logans would eventually be eminently instrumental in future Happy Valley development). They went around by the Dennison grade through Tucker's farm while Frank and fellow Theosophist Max Wardall walked up the mesa to meet them.
Meanwhile, on the other side of the mountain, Annie had insisted on walking to the top where she could look out over the entire valley. Sitting for a few quiet moments alone with Rosalind, she had a strong vision which she related only later, that this land would be a center for the new race of humans just beginning to emerge. At that point she cast the World Teacher as the prophet for this new civilization.
It was a vision far beyond the wildest imaginings of Frank or Fritz, but it took an immediate and powerful hold upon her mind and her resolve. She listened carefully to the account of the land deals already initiated – the seventy-acre Sarzotti Mesa and the additional eighty acres privately optioned by Fritz.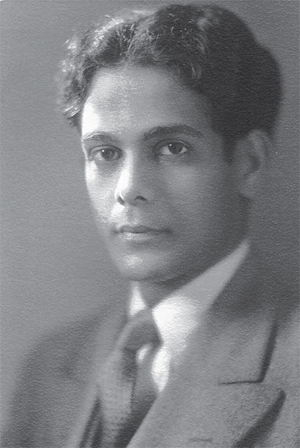 D. Rajagopal, c. 1927
As the party left the hill and crossed through the Tucker farm to the south, they ran into Tucker himself, and Annie stopped and asked him for an option. He quoted her a figure of $120,000 for his whole 300 acres which was considerably less than he had offered George Hall a few weeks before. This California farmer, who knew nothing of
her philosophy
, may well have been awed by the elderly but vital woman with piercing blue eyes. He may also have felt astonished by the whole entourage – the two handsome young Indians, a lovely blonde girl and the indomitable Sara Logan with her no-nonsense mien of the aristocratic Philadelphia Quaker.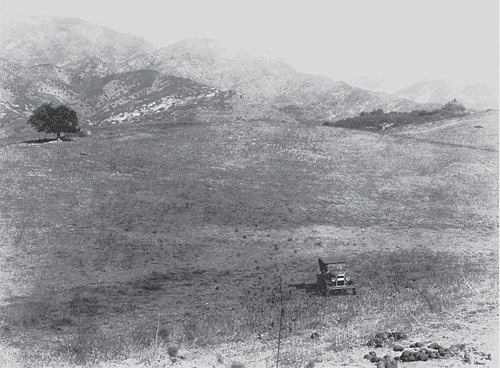 Happy Valley, 1927, as Annie first saw it and possibly the tree under which she sat
The next day, January 4, while Annie was forming a committee for the new land, Fritz, Frank, and George Hall returned to Tucker's farm to complete the purchase preliminaries. With George Hall doing most of the talking, the deal with Tucker was verbally closed on the terms stated the day before. The Sarzotti Mesa and the adjacent eighty acres, on which down payments had been made, were already approved by Krishna. At this point Fritz decided to resign as national representative of the Star. The land struggle over the past months had taken a toll on his health. There were hints over the years of other issues between him and Krishna that had led to this decision but neither of them ever disclosed what these might be.
Frank fully expected January 8, 1927, to be a momentous day as the first meeting of the land committee was to take place. On being presented by Annie with the situation to date, three members of the committee, none of whom had been present on the initial trip to the land, took an adamant stand against proceeding without the oil rights. Annie and Krishna saw the force of this argument. Meanwhile Tucker and his attorney were standing outside expecting momentarily to be invited in to sign the final documents. When they were presented instead with an option, while negotiations for the oil rights continued, Tucker was not at all pleased. After some wrangling it developed that the western 160 acres of Tucker's farm, owned by his son, had clear oil rights and a separate deal could be made for those while the remaining 140 acres would be investigated. The whole group decided to adjourn to the upper Ojai for another inspection of the land and to allow the three opposing members a chance to see it and, it was hoped, to glean some of the enthusiasm that had fueled Fritz and Frank for the past months.
Unfortunately that expedition had just the opposite effect. The doctor, the lawyer, and the businessman (Ingelman, Holland, and Hotchener) came away absolutely opposed to the Sarzotti land, in spite of Krishna's initial approval of the $3,700 already used for a down payment. While Hotchener insisted it would be throwing good money after bad to proceed with the purchase, Holland was increasingly concerned with how Annie was going to raise the large sum for this entire venture. However, she assured him in her quietly confident way that he need not worry about that end of it.
Much to Frank's dismay, the conclusion of the meeting was that the Sarzotti land should be thrown up and Hall should make every effort to recover what had been paid down and apply that to the 160 acres of Tucker land that could be proven to have clear oil rights instead of to any portion of Sarzotti land. Frank's words, written that same evening, poignantly convey his disappointment.
It has been a bad day for us who have for two years yearned and struggled over the 70 acre deal. It is quite impossible for us who live here, and who have walked on the hills in the quiet of the evenings, to translate what we know inside into terms of business considerations pure and simple. I personally feel that these oil right difficulties are insignificant when compared to the tremendous occult value which I feel sure this land has. After all, oil has only a comparatively short time to go as the chief fuel of the world. The time cannot be far off when electric energy in some form will supplant the clumsy and ill-smelling oil as the motor power on which we all have to depend. I feel that a hundred years hence people will wonder what in the world made us worry so about the possibility of oil being discovered on the land where we want a community and school. It seems to me that if the site is the right one we have to take a certain amount of chance, having faith that we shall be supported from Inside. The land will be there for centuries to come, while oil is not likely to be an issue for many years more. I believe that intuition is worth more than business foresight and acumen in some cases.7
Frank had yet to learn how quickly the winds can change in a spiritual climate. Back at Krotona, while Frank was helping Fritz to wash his car, Hotchener drove up and announced that at an informal meeting that morning at Arya Vihara, it had been agreed to go ahead with the 70 Sarzotti acres as well as the 160 acres of the Tucker ranch. They had all awakened feeling that the oil rights issue must not be allowed to stand in the way of Annie Besant's vision!
Annie wasted no time in moving forward. On Sunday, January 9, she called a special meeting of the new committee to read the announcement and the accompanying appeal for funds for the new venture. Two hundred thousand dollars was needed immediately for the land; she intended to reach beyond the Theosophical community for contributors. Prudently, all efforts would be confined to raising money to acquire the land. No attempt would be made as yet to encourage settlers. Annie decided to raise the funds in her own name and have checks payable to her. She set up an account in the Security Trust Bank in Hollywood to hold all funds on which she, Annie Besant, Holland and Ingelman would sign. On January 11, she announced the members of her new organizing committee in The Ojai.8
The committee was to be separate from the Star committee which would continue to be responsible for Star activities such as the camp, the headquarters and The Ojai press and paper. Annie stated that Krishna would not be on this new committee to hold the land as "she thinks it better to relieve him of any responsibility of that kind."9 This would prove to be a fortunate decision.
Finally came the question of a name.
The President agreed that 'Community' was a poor name as it had a bad association just now, besides as she pointed out, if you called it a Community, you could hardly talk about a communist, whereas if you called it a Colony, you could use the old word colonist. Here Krishnaji spoke up and objected. He disliked colonist very much.10
Quite naturally! So Annie suggested they sleep on it and a name would come. Within a few days, to everyone's satisfaction, she choose "Happy Valley," for this had special meaning to her in view of Krishna's present theme, the Kingdom of Happiness. In her mind there was still a relationship between the work to be done on Happy Valley and the wider work of the World Teacher. She envisioned the eventual settlers on Happy Valley working out the teachings of the World Teacher as a model for the new civilization.
The land negotiations had been complex enough without allowance for Krishna's continuing withdrawal in spirit and in fact from Annie's vision for Happy Valley. In this venture she felt herself to be guided directly by her own master, when she had often relied on an intermediary for this form of communication in the person of Charles Leadbeater. But Annie had always defended individual freedom of belief and had never claimed spiritual authority for herself through communion with the masters. Krishnamurti was saying that the teachings – not the teacher – should be the focus, that this was an individual process and that instant enlightenment could occur without reference to past lives or occult practices. Eventually he found a way to carry on his teaching without enveloping himself in the cloak of world teacher.
If Krishna's growing independence from his Theosophical origins was disturbing to Annie, she did not allow it to cloud her present mission. She left no ambiguous loose ends to confuse future generations. In this spirit she wrote a check to Krishna to cover all funds raised by the Order of the Star for the amounts paid down on Happy Valley land. She thereby freed him to go his own way, at the same time delineating her goals for Happy Valley by insisting on collecting funds in her own name, and making a clear separation for it from any other organization, group or personality.
Through the next decades and perhaps into the future as well, the Happy Valley Foundation would need to reiterate and re-enforce the independence with which it had been founded.
But there were still hitches in the land deal. George Hall did not want to close on the 160 acres until there was a direct access to the 70-acre Sarzotti Mesa. So he proposed to buy the 70 acres (B on the map, Appendix D) and the 80 acres (C on the map, Appendix D) in spite of no oil rights clear on either. The 160 acres of the Tucker ranch appeared to be clear of oil claims but as this had no common boundary with the first two parcels it was necessary to buy 30 acres of the 154 acres without oil rights along the north fence in order to gain access to the mesa (E on the map, Appendix D). They all piled into cars to have another look at the land, driving as far as possible through the Tucker land, from where they had a glorious view over the valley.
On returning to Arya Vihara, Annie presented Hall with a check for the down payment and – unknown then to Frank – instructions to buy the whole 154 acres (E on the map, Appendix D). This meant buying all of the available land under consideration. However, that same afternoon of January 14, Hall discovered that the oil rights on the 160 acres which they had thought were clear, were, like all the rest, still under a cloud.
Frank, as editor/printer of The Ojai, was constantly having to revise the announcements that Annie wanted released to the world. Late on January 18, he got a final message from her that the deal on all the land was closed and under purchase. By this time exhaustion seems to have outrun his enthusiasm.
No oil rights go with the land so here we are with 465 acres of land under purchase and not one acre clear of oil rights, after all the fuss and fury and excitement of the last two weeks!

Notwithstanding all the hectic comings and goings, conferences, debates and legal investigations, the final result is exactly the same as was proposed a month ago by Fritz and me, to buy the 70 and the 80 acre pieces and get an option on the Tucker farm.

It does not seem to have occurred to any of the "top bananas" that after living in the Valley and thinking and planning and debating over things for a couple of years, Fritz and I might have acquired a little inside dope not picked up in a moment by visitors.11
Presiding over a Happy Valley committee meeting the following month, Annie Besant reported that money was coming in steadily and that she felt "no apprehension about being able to meet the payments as they came due." She still did not favor spending any money for anything whatsoever until the land payment was assured.
To Frank's dismay, before Annie left for Europe in April, she appointed George Hall her representative in all matters in Ojai. This included The Ojai newspaper, as well as Happy Valley. Frank had thought of the paper as his special enterprise. Its acquisition had been his idea and he had been the successful editor through all the months of heady announcements regarding the Happy Valley purchase. He had also hoped to develop a modest realty business, selling parcels to the anticipated pre-settlers for Happy Valley and those at liberty to pull up roots and bask in the radiant message of the apparently manifested World Teacher.
There are a great many enquiries coming in regarding the Happy Valley and apparently there are plenty of T.S. people who would like to come here to settle. I think that, by being in the real estate business I can help many of them to find suitable places besides making a living myself. However very few of the enquirers seem to have any money so there is not much danger of growing fat!12
Grace and George Hall
Unfortunately for Frank, George Hall was also aware of the profit potential in Theosophical settlers. Hall, having been put in charge of all the key activities by Annie Besant, was in a much better position to make the most of his real estate ventures. He planned a subdivision at the east end of the village called Siete Robles, in which he expected to interest most of the would-be settlers. Frank candidly expressed his displeasure.
It may be well to record that I am not especially happy over Hall's being in charge of everything, especially the paper. He is a queer bird and while I recognize many admirable qualities in him I must confess that I do not like him. He is a strange combination of spirituality (in spots) and a hard business attitude that almost approaches foxiness. He is given to standing around listening in on conversations that he thinks may be useful to him… Through his T.S. connections he is getting agents through-out the section so it looks as if there will be a great competition for the incoming Theosophists!… I dislike intensely the idea of competition between us for the few T.S. people who may be in the market for land in the Ojai.13
Preparations for Krishnamurti's first Ojai Star camp were progressing under George Hall's direct supervision, with the overall guidance of Louis Zalk, the official manager of the camp. Three bath houses and a cafeteria were under construction and land was prepared to set up tents.
Frank was not a part of all this although he did express his opinion:
I still do not like the location as I think the land on the north side is too low. It is my belief that in the course of time the main activities after K has gone will center in the Happy Valley… After the camp and chiefly because Dr Besant had not come back to continue her Happy Valley plans everyone began to change their mind… It was simply a case of an emotional interest in the Ojai on the part of our members over the Happy Valley idea and the camp. When it came to practical things most people realized the impossibility of living in the Ojai unless one had money. I feel quite definitely that my work here is finished. Furthermore I have myself undergone a considerable change of attitude towards the "work" and the "movements". I have been fully persuaded by Krishnaji's words that I have been on the wrong tack heretofore. I believe that the conception that there is such a thing as the "Master's Work" to be done is a mistake. This idea tends to make one look outside oneself for inspiration and guidance… we allow ourselves to lean on the Masters and to substitute Their ideas for our own… Therefore I have set aside all my previous notions as to my relationship to the Masters and Their (so-called) "work"… The question of Krishnaji's teachings is raising quite a furor in the T.S. The old regulars are loudly proclaiming that there is nothing in what he says that contraverts in any way the T.S. teachings. As far as most of them are concerned he might be just another theosophical lecturer. I believe quite differently. I believe that he is doing far more than merely presenting us with a new set of ideas… As a result of my new viewpoint, I find it quite simple to drop all my ideas regarding the Masters and Their work… My first intention is to get away from Ojai and to find my place in the commercial world again.14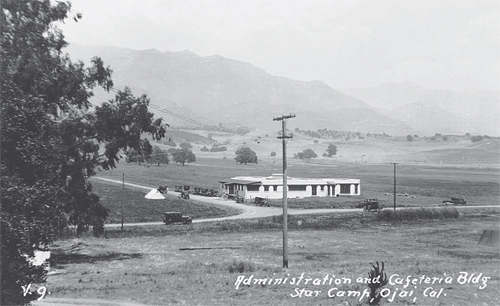 Star camp cafeteria, c. 1927, later the Happy Valley School
Frank left Ojai in the winter of 1928 and, as he had hoped, eventually found his place in the commercial world. He represented General Motors in India and his branch survived the crash of '29. He saw Annie Besant for the last time on her final return to India. Her memory had failed and she scarcely knew him. At the end of this diary (1931) Frank acknowledged the importance for Krishna of the years of Theosophical backing and he also recognized the difficult position of many Theosophists due to Krishna's defection.
They must either repudiate him or else face the task of tearing down much that they have built up on the basis of Teachers and doctrines based on authority. It is doubtful if their position will be clear during this generation. My own feeling is that we have definitely reached the end of an era… I have found great relief in having broken away from the idea of helping the world through spiritual organizations.15
Fortunately for the Happy Valley, most of the founding board members appointed by Annie Besant were able to reconcile the new message of Krishnamurti with their commitment to her vision. Two members in particular were to shoulder the financial responsibility for safeguarding the land. A heavy enough task without the withdrawal of many Theosophists whose interpretation of Krishna's words somehow absolved them from honoring their pledges.